Do you purchase fresh cilantro only to have it go bad in a matter of a few days? Use this method for keeping cilantro fresh in your refrigerator for almost one month!
If you've ever found yourself wondering how to make fresh cilantro last longer, you're in the right place. I've been using this method of preserving cilantro from the store (when it's too cold outside to grow it myself) for years, and it never fails me. To make it interesting, and for the sake of this post I decided to test my favorite method against 4 other popular methods. I'm happy to report I've been getting the most out of the cilantro I buy with the method I've been using.
So let's cut to the chase…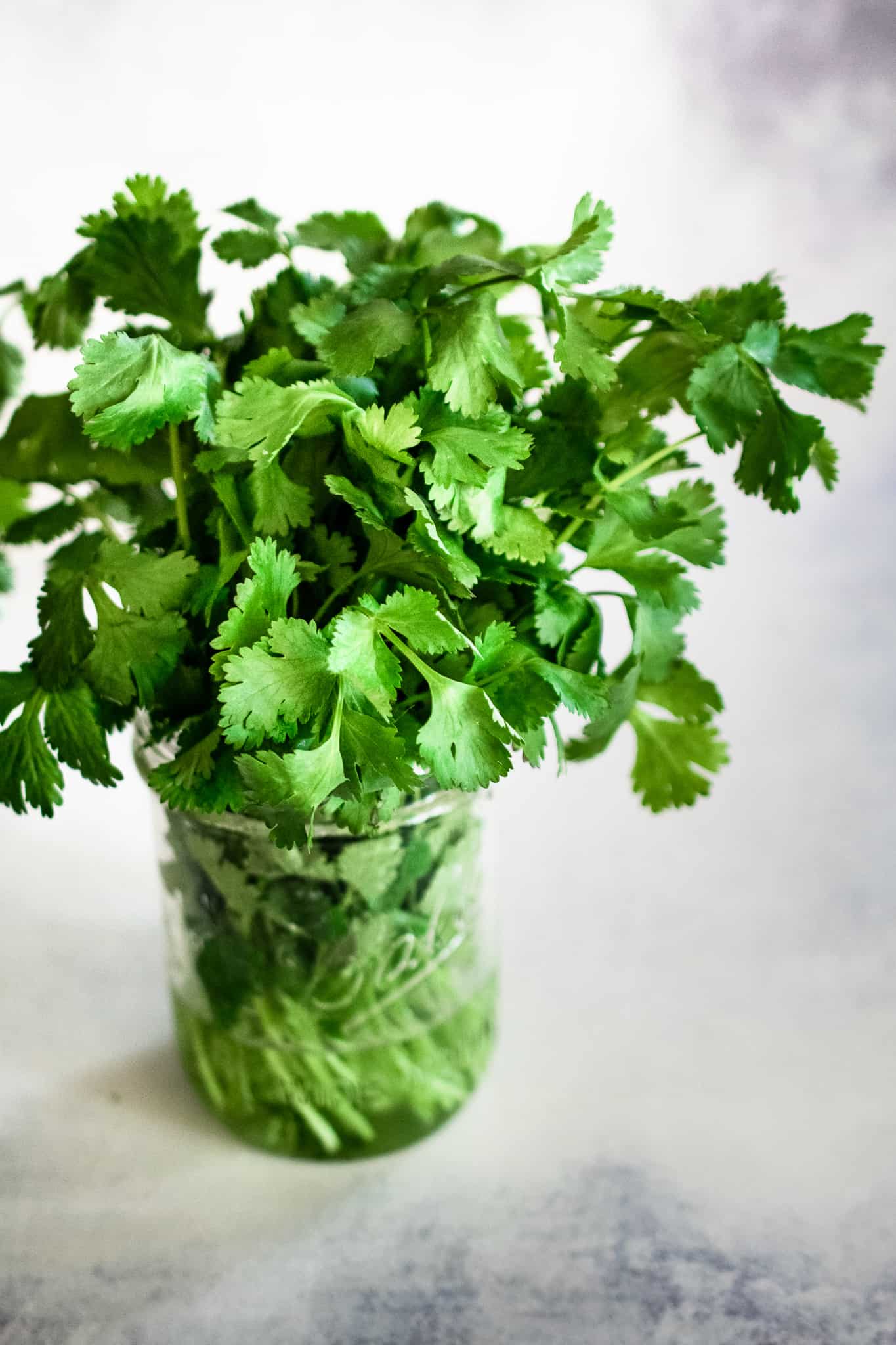 what is the best way to store fresh cilantro?
The best way to store fresh cilantro is in a clean, glass jar with about an inch of water in it, and covered loosely with a plastic bag. Keep reading… it's not enough to set it up this way and leave it. This will get you past the one week mark, but if you want to stretch it even further, it's going to make all the difference to go through the following before and after tips:
First things first.
clean away any debris and bad leaves
Right when you get home with it, it's important to remove the band around it and clear away and wilted, yellow, or slimy leaves and stems. They have a way of passing their icky-ness on to the other stems.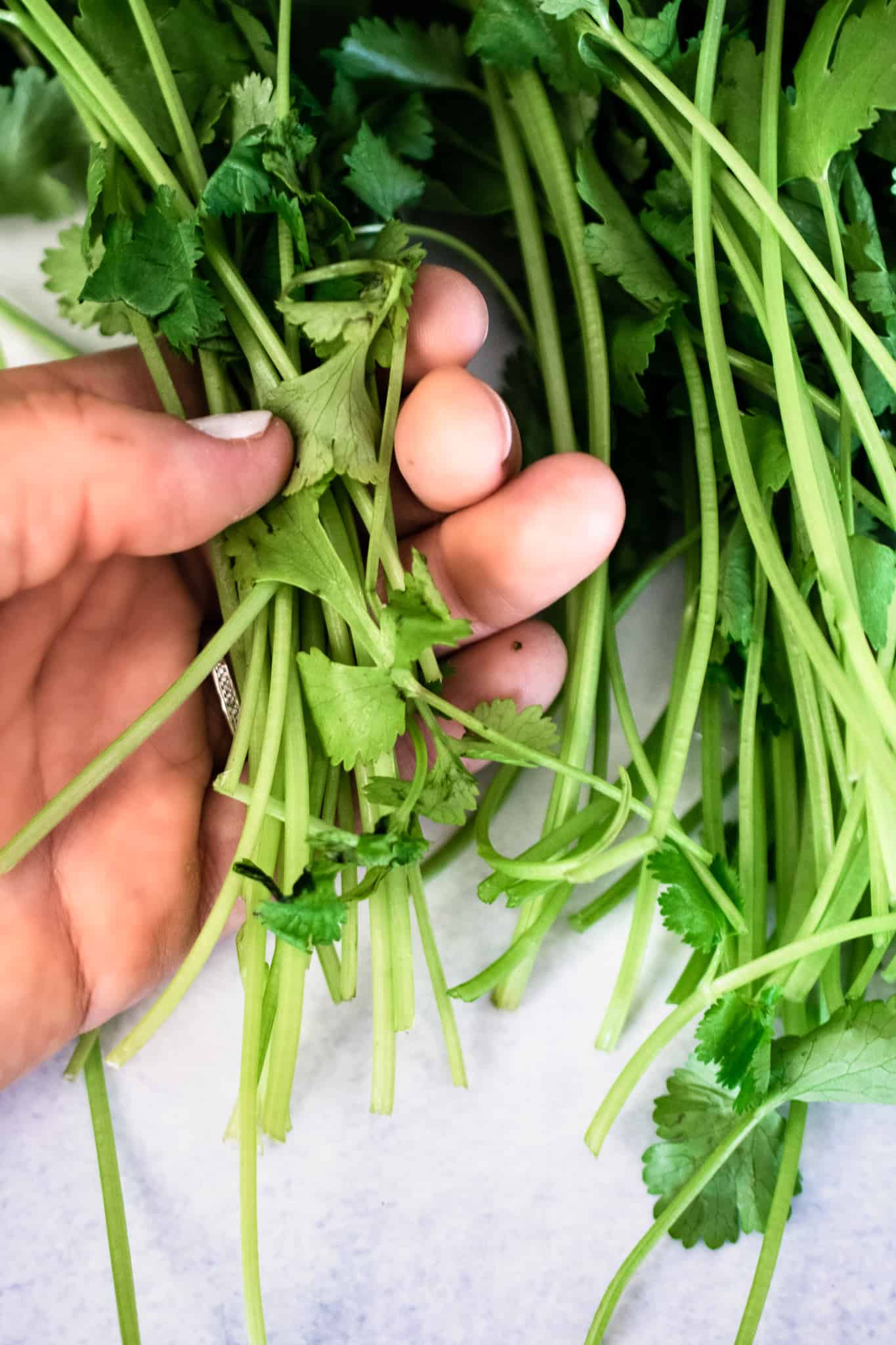 don't rinse it
Do not, I repeat, DO NOT rinse the cilantro until you are ready to use it. As mentioned before, clean away the bad leaves and stems with dry hands but don't rinse the cilantro leaves. When you are ready to use the cilantro, remove what you need from the glass and rinse it at that time.
trim the ends
When you have cleaned away the bad leaves, hold the cilantro bundle in one hand and trim about an inch off the ends. This gives the stems a fresh, healthy cut which always gives any plant a boost when it's in water. It will also help them rest flush on the bottom of the glass, in about one inch of clean, cold water.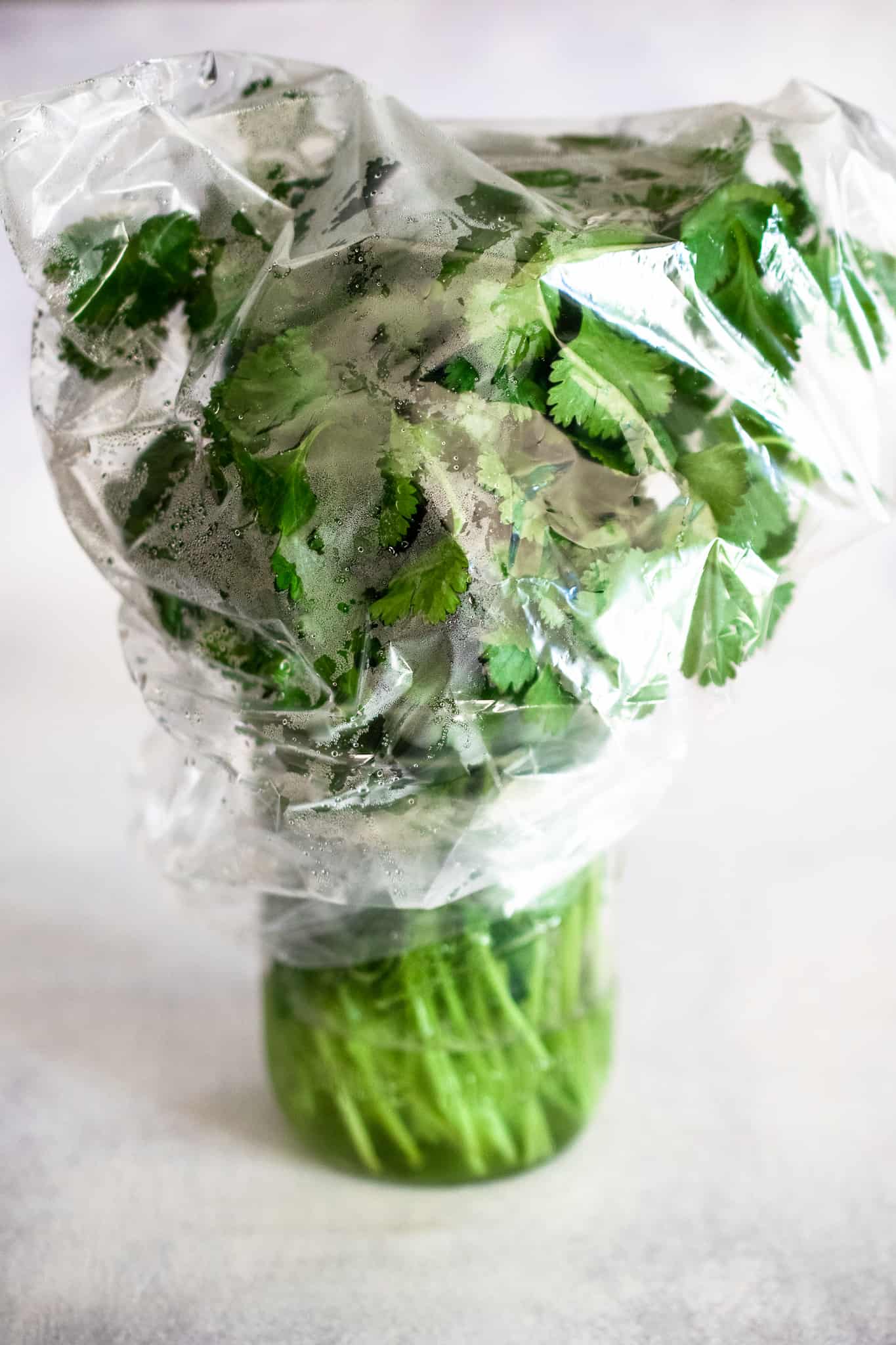 cover loosely with a plastic bag
Use a light weight, clear plastic bag to cover the cilantro. Don't fix a rubber band around it or secure it in any way. Something about the air circulation helps prevent the break down of the leaves by keeping them dry. You can use the bag from the produce department that the cilantro was placed in, but turn it inside out first and dry it off well, removing any loose cilantro pieces that are clinging to it.
change the water often
It's very important to change the water every few days. This means dumping out the old, rinsing the glass clean and adding an inch of fresh, cold water (try to get it as close to cold as the refrigerated water was).
This is always an opportunity to remove any new yellow or slimy leaves from the cilantro bunch again. Place the cilantro back into the fresh water in the same way as before.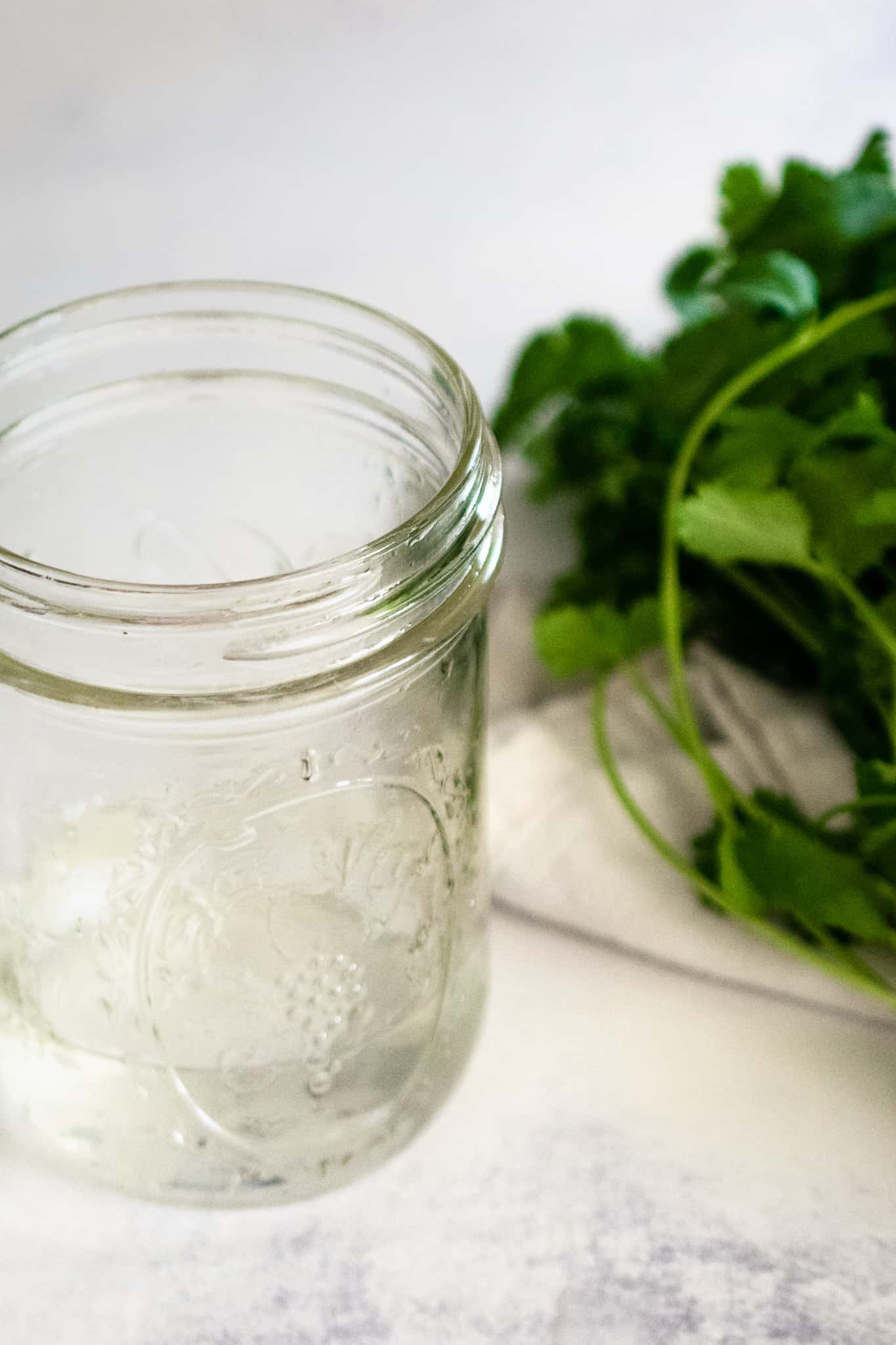 your cilantro will last for weeks
As long as you continue to care for the cilantro in this way, you're cilantro can last anywhere from 2 weeks up to one month. Yes, I said one month. It's not going to look identical to the day you brought it home, but it will certainly be green, turgid, and tasty. On average, you can expect about 3 weeks of fresh cilantro from one bunch if you clean it right away, trim it, and keep the water and stems clean and fresh.
I mentioned that I tested this method against some others. I'm guessing if you've read this far, you're wanting to know exactly how those other methods stacked up. Here's the stats:
The jar of water (no plastic bag) looked pretty limp after one week, it actually kicked the curb before the cilantro just left alone in the produce bag did. That one made it about 10 days. The cilantro that's stems were wrapped in a damp paper towel, then wrapped in a plastic bag made it just over two weeks before it started leaving me. And the final method, the cilantro in a glass of water on the counter top made it a whopping 5 days before it gave up on life (which was surprising, because in my experience that's the best way to store fresh basil). I should note, that with all of these test methods I did clean and trim the stems the same way that I did with the "good one".
And that's it! If you ask me 3-4 weeks out of an 88 cent bunch of cilantro is doing alright. I'd love to hear if this works for any of you. Or, if you have another method you'd like to share in the comments! I'm always open to learning new tricks.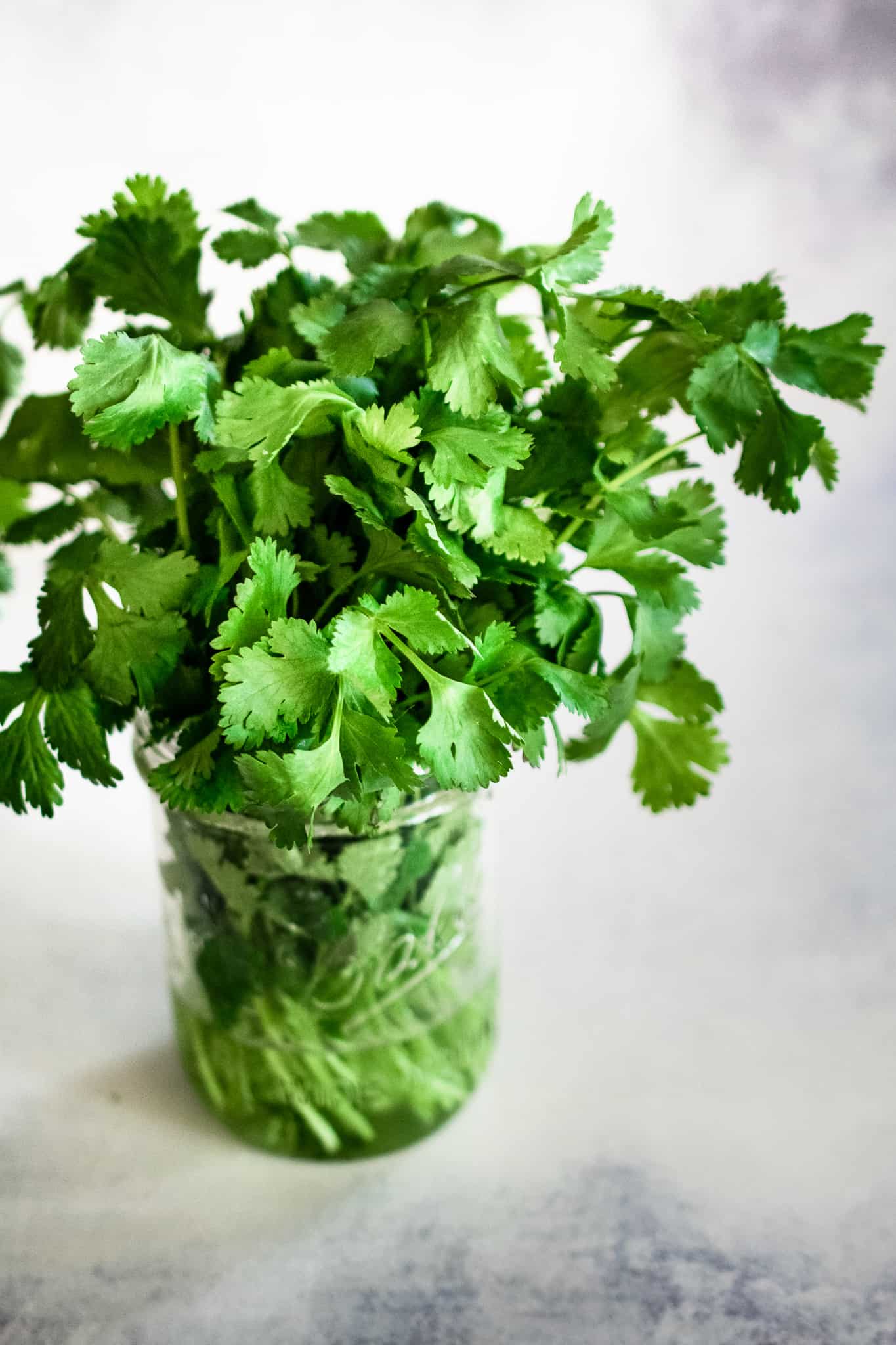 recipes using fresh cilantro
If you are looking for some cilantro recipe inspo, try this Mango Salsa! It's sweet and spicy, and is great topped on grilled chicken or steak, street tacos, or as a fun and healthy side dish for grilled seafood.
Cilantro is so, so, so yummy on BBQ Chicken Flatbread Pizza too! Especially when you drizzle a little Homemade Ranch Dressing over it 🙂
Lastly, I cannot talk about cilantro without bringing up the Cantina Style Chips and Salsa with Cabbage. You know the restaurant style salsa? With the cabbage in it? This is just like that. This is hands down, my absolute favorite salsa on the planet. Be careful though, it's highly addictive.
Until next time,
Happy cilantro stashing! Let me know how it goes for you 🙂