A.K.A. Hangover Casserole. But this casserole can be served at any time of day, and doesn't require a hangover to experience it's deliciousness. Country style potatoes, fluffy beaten eggs, and cheese are layered to start. Then sausage gravy is ladled all over the top, followed by more cheese and baked until hot and bubbly. It's sloppy, it's savory, and it's satisfying.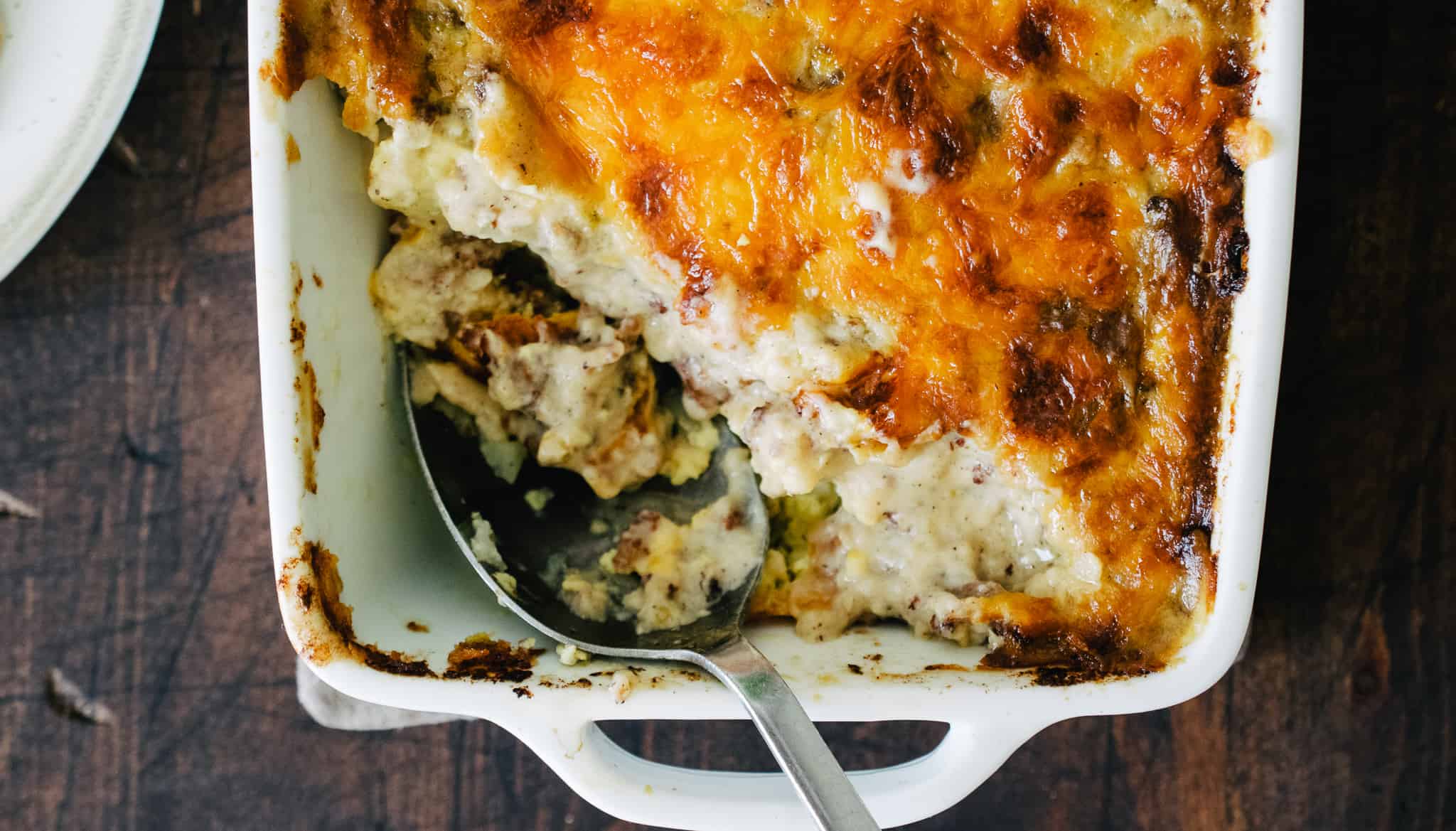 it's the perfect, make a head freezer meal
Not only is it a breakfast casserole, brunch, lunch, dinner, supper…you name it; but this can be made in advance and frozen until ready to bake. My favorite thing to do when I make this is double the batch and freeze the other one. Then, one unsuspecting lazy Saturday morning, the casserole gets pulled out of hiding and an hour later it's getting devoured, and the entire family decides that it's the perfect day to stay in our pj's. The bonus is that it reheats really well for dinner later! This casserole is my hero.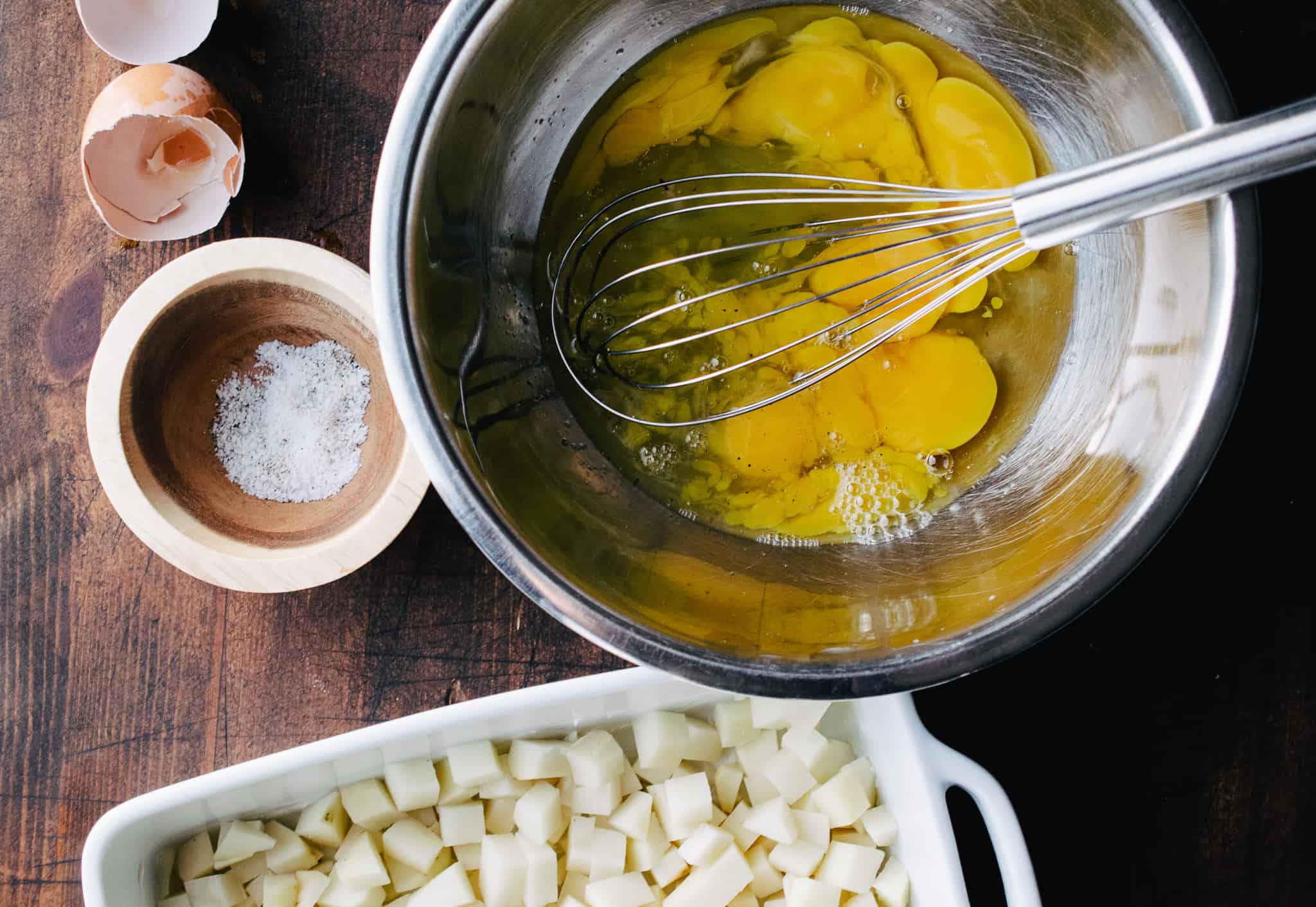 making sausage gravy
Start with the gravy. It's the only thing that needs to cook outside of the oven, and as it's doing so, you'll be able to prep all the other ingredients for assembly. 
cast iron is the best 
To start, use ground pork in a nice, hot skillet. Cast iron is always preferred, especially when making something like a country style gravy. There is something about using cast iron that sears and browns things in it's special way that you can't get with another pan. So if you have one, use that. If you don't own a cast iron skillet of any kind, definitely don't let that stop you; you're favorite skillet will work fine. If you're new to using cast iron, it is so worth the small expense. 
brown the sausage until it's very crispy
Brown the sausage up until it is super crispy. Emphasis on super. Because this is going into a gravy, there is no such thing as too crispy, so long as it doesn't cross over into burnt territory. Watch it, and when it looks like it cannot get any darker without burning, then it's done.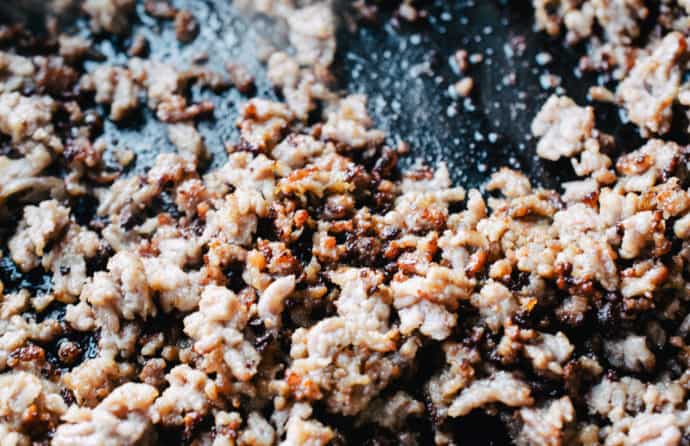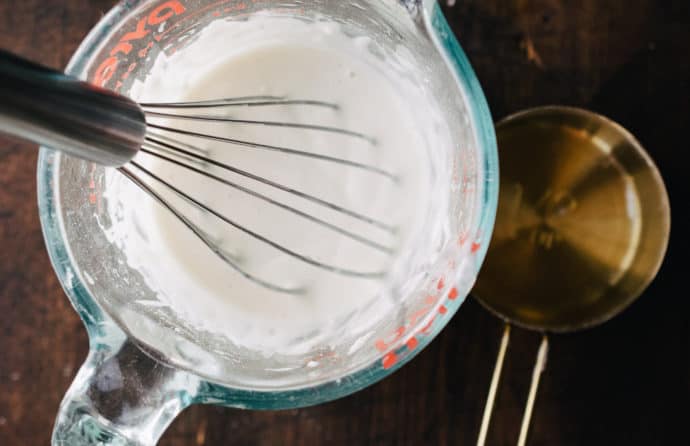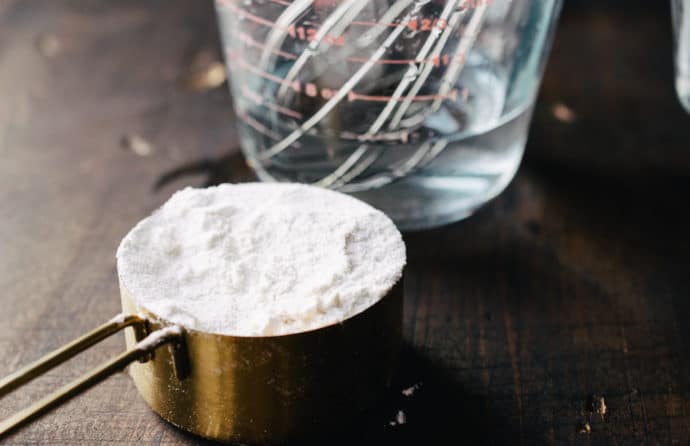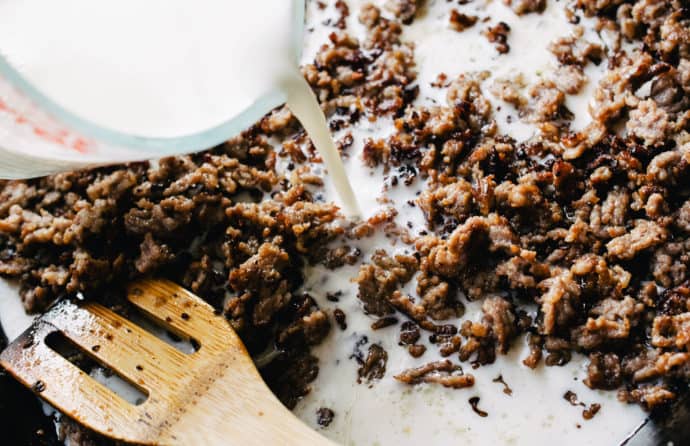 Drain as much of the grease as possible. The pan can be wiped, and the sausage can be drained on towels to eliminate more fat. Traditionally, some of the fat is wanted for the sake of the flavor of the gravy. Being as this is not exactly a "diet" casserole anyways, there's no need to go crazy trying to get every last drop of grease out. 
Once the grease has been drained, add the milk. Don't do this over the hot burner. If you pour milk into the pan and it boils right away too hot, it runs the risk of curdling. Whisk up the flour and water until there are no lumps of flour, and then whisk this into the milk. Then the pan can be returned to the heat and gradually brought to a simmer. Salt and pepper is key here. Make sure to salt and pepper to taste. 
The gravy is done once its simmered for at least 5 minutes, is thickened, and the flour taste in no longer detectable.  
prep the other ingredients
Use the time that the sausage is browning, and the gravy is simmering, to preheat the oven and prepare the casseroles other ingredients. 
Peel and dice 3 pounds of russet potatoes. Depending on the size of the potatoes, this could be anywhere from 4-7 potatoes. If you are unsure how many pounds you have, just use your judgment and eyeball a good layer. Do however, make sure to dice them into uniform cubes, about 1/4 inch in width. 
Beat the eggs in a medium bowl and season lightly with salt and pepper. 
don't use pre shredded cheese
Shred cheddar cheese. It is always important to shred off of a block, and not buy pre-shredded cheese as it doesn't melt as well. This is due to anti caking ingredients that they include in the cheese to keep it looking nice in the bag, but it doesn't give you the "yum effect" that cheese shredded off the block does. It's worth the extra couple minutes to shred off the block.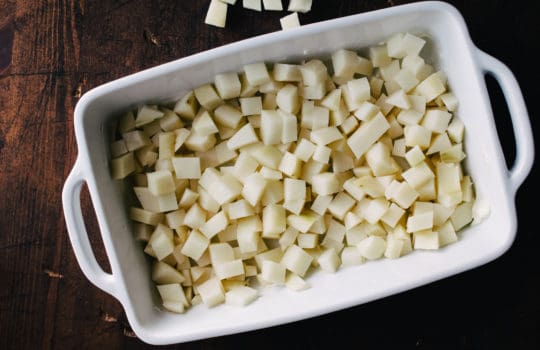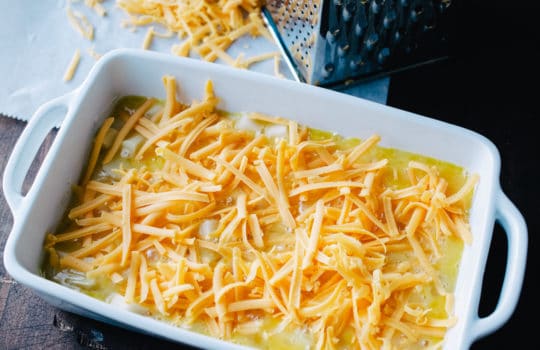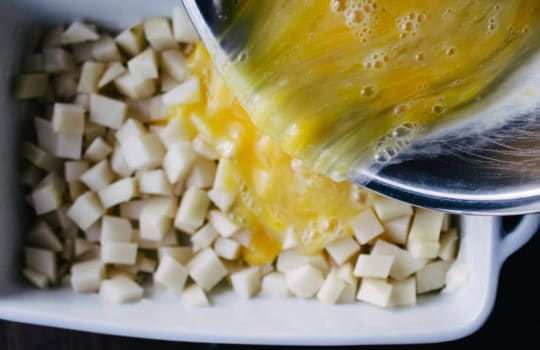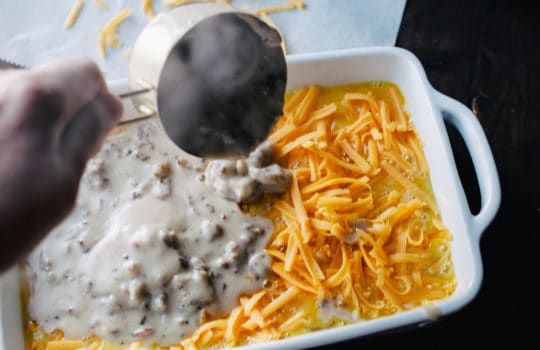 grease and layer the dish
Lightly grease the bottom and sides of the casserole dish with butter to prevent sticking, or, use a spoonful of the gravy to spread on it as a greaser. Either works fine, but it needs to be done to prevent the eggs and potatoes from sticking. 
Start by layering the diced potatoes in an even layer. Pour the eggs over the potatoes evenly, so that they fill in the cracks. If necessary, tip the dish to encourage some egg to run into corners and sides so that everything spreads evenly.
Sprinkle a light layer of cheese over the egg layer. This provides a slight barrier from the sausage gravy. Using a large spoon or ladle, scoop spoonfuls of the gravy onto the casserole, focusing on the center and working towards the edges. 
Finally, sprinkle the gravy layer with a last layer of shredded cheese. Looks like it's going to be good, doesn't it?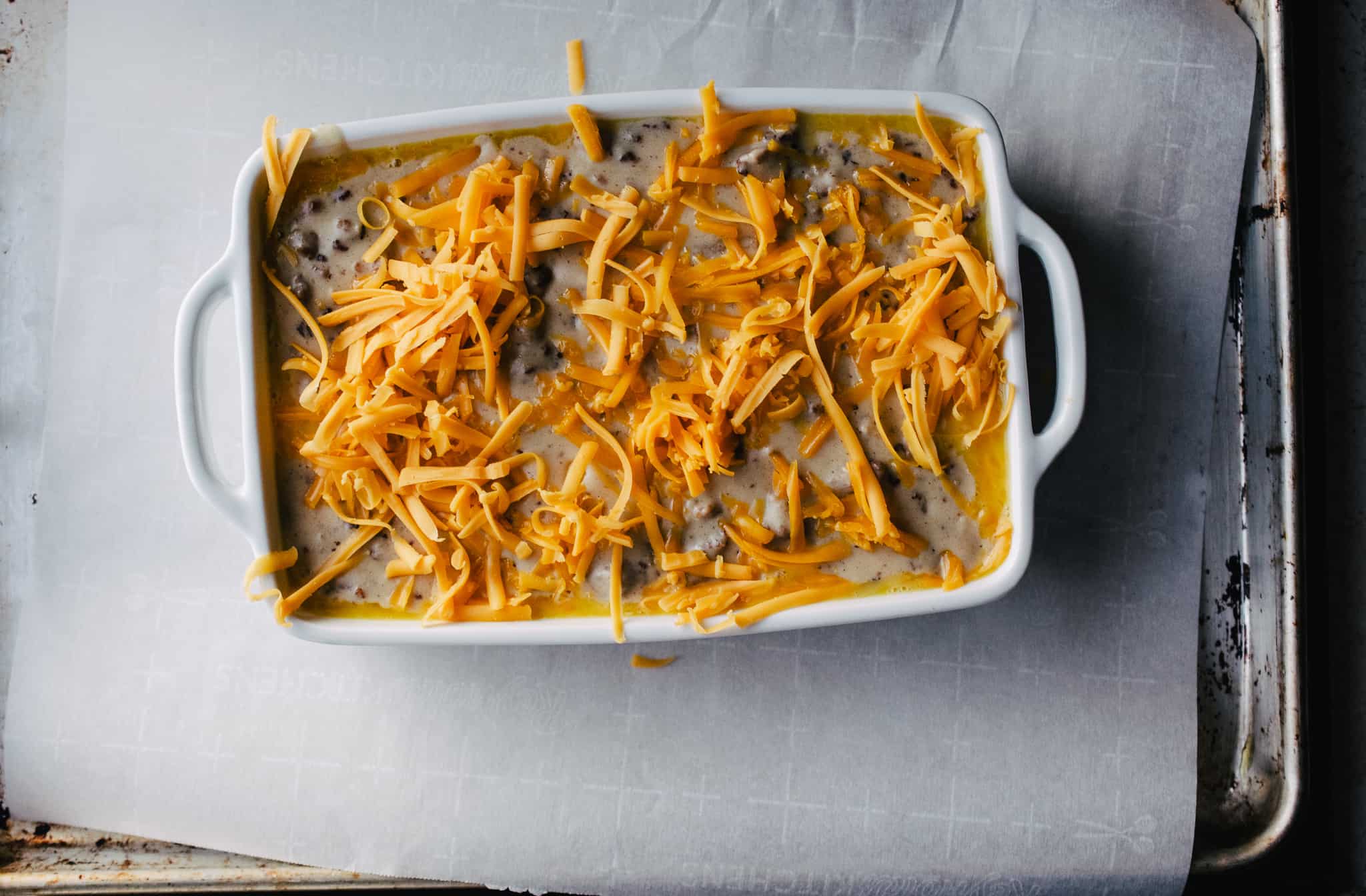 cook at a lower temperature, for longer
It's a good idea, especially if the casserole dish looks on the full side, to bake it on another baking sheet to prevent drips from accumulating in your oven. Lining with parchment paper means easy cleanup.
Bake in a 350 degree oven for 45 minutes, to an hour, until the potatoes are tender. They need to be completely cooked through. If the cheese is getting too browned, simply cover with foil or a lid, and continue to bake until done. It's best to do it at this lower temperature for a longer period of time, to allow the potatoes to soften. Cooking it at say, 425 would cook the eggs and top of the casserole and leave you with crunchy potatoes. The good news, is that you don't actually need to be doing anything as it's cooking; so just go about your morning/night as it does it's thing.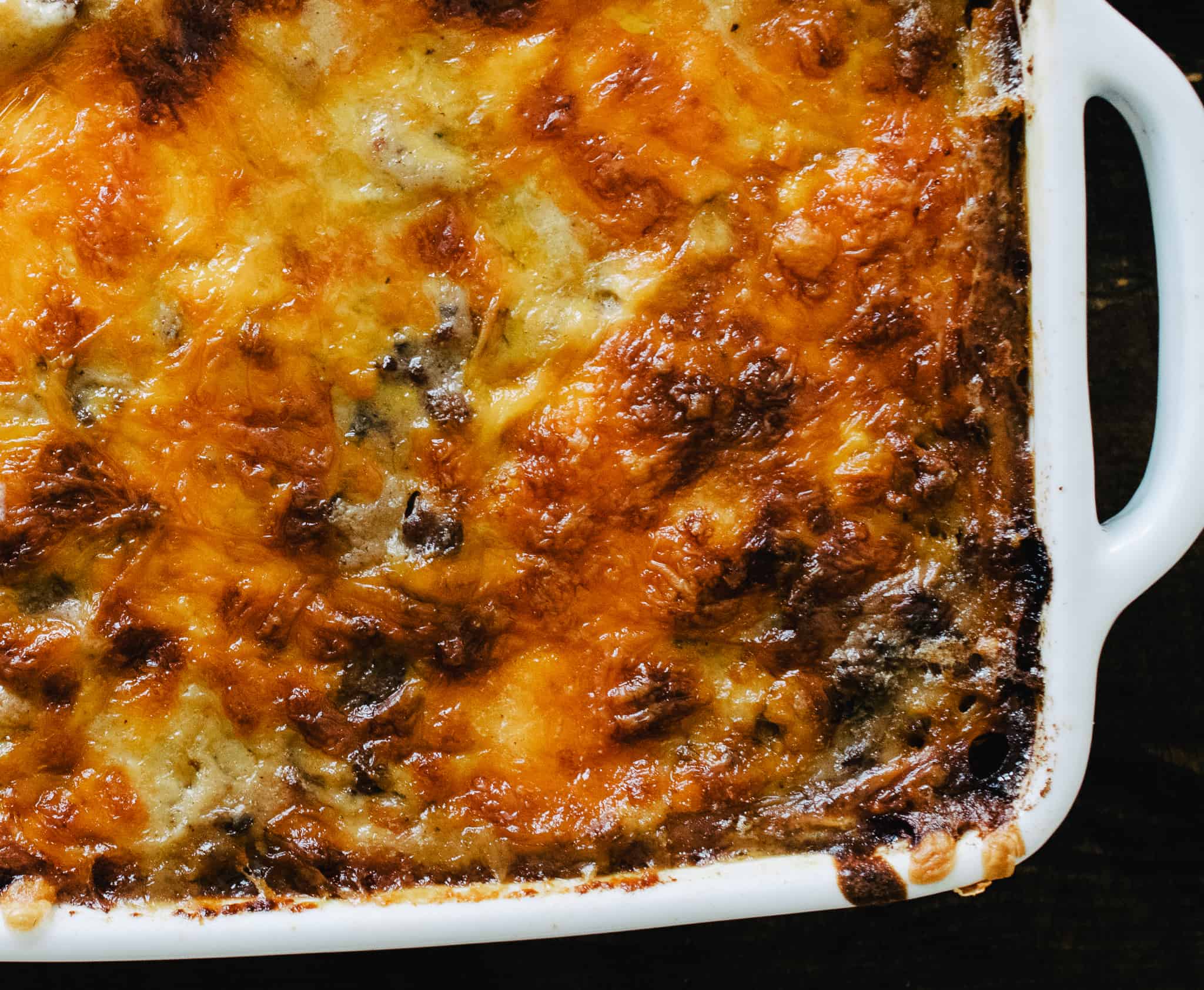 making the casserole ahead for later
If you want to make the casserole ahead of time, just assemble it up until the point that you'd put it in the oven. Cheese and all, in the dish that you'll be baking it in. If you are saving it for quite a long time, the disposable baking trays linked below work awesome and I use them all the time to stock my freezer with meals, without using my dishes. 
When you go to cook it from frozen (there's no need to thaw it first), increase cooking time by 20-30 minutes. Keep an eye on it, and if it's getting too browned on top while the center is still cool, or the potatoes still firm, cover it loosely with foil and continue to cook it.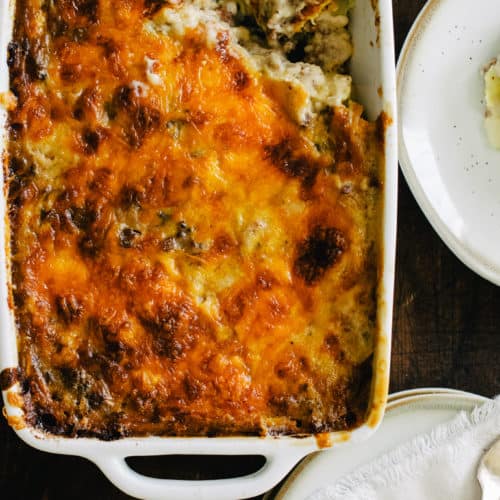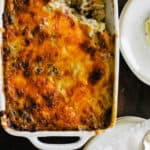 Print Recipe
Sausage Gravy Breakfast Casserole
Diced potatoes, fluffy beaten eggs, scratch made sausage country gravy, and bubbly cheddar cheese, baked in a casserole dish. Can be made ahead and refrigerated or frozen for overnight breakfast casserole.
Ingredients
For the Country Sausage Gravy
1

lb

ground pork

4

cups

milk

1/2

cup

flour

whisked into 3/4 cup of water until lumps are completely gone

salt and black pepper to taste
For the Rest of the Casserole
2

lbs

russet potatoes

peeled and diced into 1/4 inch cubes

6

large

eggs

8

ounces

cheddar cheese

shredded

3

tbsp

butter

for greasing, or use the sausage gravy

salt and pepper
Instructions
Preheat oven to 350 degrees.

Whisk together flour and water until smooth and lump-free. You'll have something that is about the consistency of pancake batter.

In a heavy skillet, add ground sausage and cook until completely browned and very crispy. It should look very dark in areas, and have a lot of crisp texture to it. The crispier the better, (without burning). Remove from heat, drain excess grease.

Add milk, flour slurry, and salt and pepper. Return to heat and simmer on medium until the gravy bubbles and thickens. Taste that salt and pepper level is to your liking. Turn off heat.

Grease a 13x9 inch, or equivalently large casserole dish with either a small amount of butter, or a bit of the gravy. Layer the diced potatoes first, in an even layer.

Beat eggs, along with a pinch of salt and pepper in a dish. Pour evenly over potatoes. If necessary, tilt the dish to encourage eggs to flow into the corners and sides.

Sprinkle with half of the shredded cheese.

Spoon on the sausage gravy over the cheese, in an even layer.

Top with remaining shredded cheese. If it looks pretty full, put it on a baking dish, to catch any overflow or drips.

Bake in a 350 degree oven for 45 minutes to 1 hour, until potatoes are completely tender. Test by piercing them with a fork. If you notice that the cheese is getting too dark, cover with foil or a lid, and continue to bake until done.

If you are making this ahead, complete the entire assembly instructions, and cover. Refrigerate or freeze. Refrigerated casserole bakes in the same time. Frozen casserole will need to add 20-30 minutes cooking time.
more make-ahead breakfasts
If you're looking for other make-ahead breakfasts, try these Pumpkin Spice Toaster Pastries! They are a cozy and homemade version of Pop-Tarts. Easy, homemade "Instant" Fruit and Cream Oatmeal, is a remake of those oatmeal packets that kids love so much, minus the extra additives.