Rich, dark chocolate ganache, sandwiched between the darkest chocolate cookies, and drizzled with milk chocolate.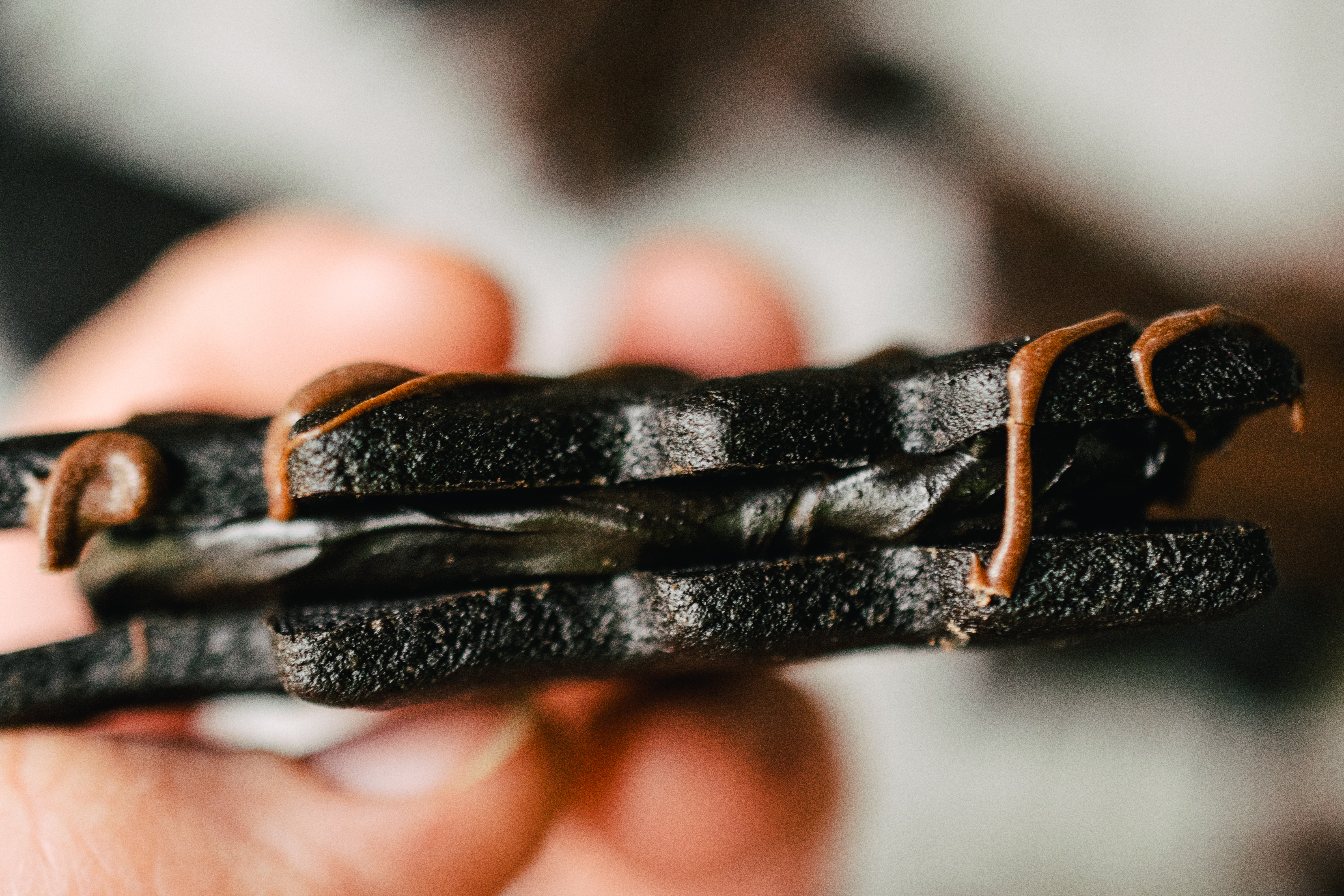 These Thin Mint Sandwich Cookies are delightfully rich dark chocolate ganache sandwiched between two dark chocolate butter cookies, and then drizzled with dark chocolate ribbons. They make the perfect holiday cookie plate for your kitchen counter, and great Christmas gifts! For another great Holiday Cookie, try these no molasses Gingerbread Cookies.
Using dutch process cocoa
The cocoa in this recipe is everything. You may notice, that I am a Dutch processed cocoa girl all the way. I talk a little bit about what Dutch processed cocoa is in my "unboxed Brownie Recipe", and how to make homemade brownies taste like boxed. The long and short of it is, that Dutch processed cocoa doesn't have the acidity of regular cocoa. It's smooth, mellow and oh-so addicting. I don't use anything else.
It's been my experience, that the best Dutch processed cocoa of a reasonable price comes from The Cocoa Trader. I've used other brands, but they lack the smoothness of The Cocoa Trader's and also, they have the best black cocoa. That's what's in these cookies. Think of the taste of black cocoa akin to the Oreo cookie. I order from Amazon, and I must make it clear that any orders generated from clicking on the links below will earn me a commission. But I promise you, regardless, this is the cocoa I would send you to, hands down. Not only that, but it's much less costly than other Dutch processed cocoas out there.
Chocolate peppermint cookies
You'll have no trouble at all using any cookie cutter shape with these. Just make sure to chill the dough first, and roll it between two pieces of parchment paper.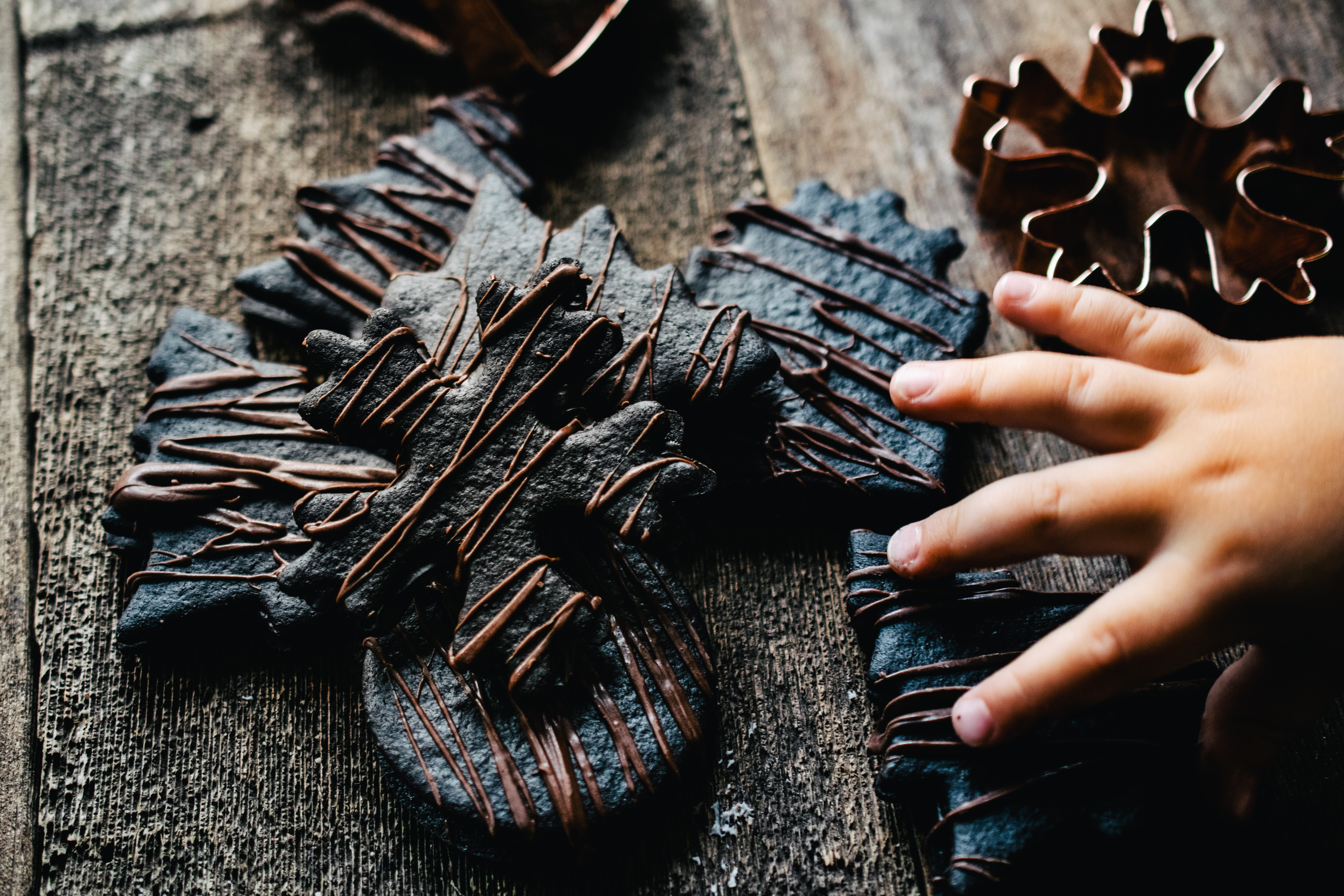 How to roll out even cookie dough
The best way to work with the cookie dough for the sandwiches is to begin by chilling the dough for at least 30 minutes in the refrigerator. Shape it into a thick rectangle or oval first, about an inch thick. This gives it a bit more structure and makes the edge pieces easy to pull away from the cut out cookie.
Once chilled, remove from the refrigerator, break off a portion of dough, and flatten it between two pieces of parchment paper. Using a rolling pin begin rolling from the center of the dough to the edges, across and back again until it is very thin, about ⅛th of an inch. Use a piece of parchment paper that will fit on a baking sheet. That way, you can peel away the excess dough and transfer the sheet directly to the baking sheet without having to lift off the cookie shapes.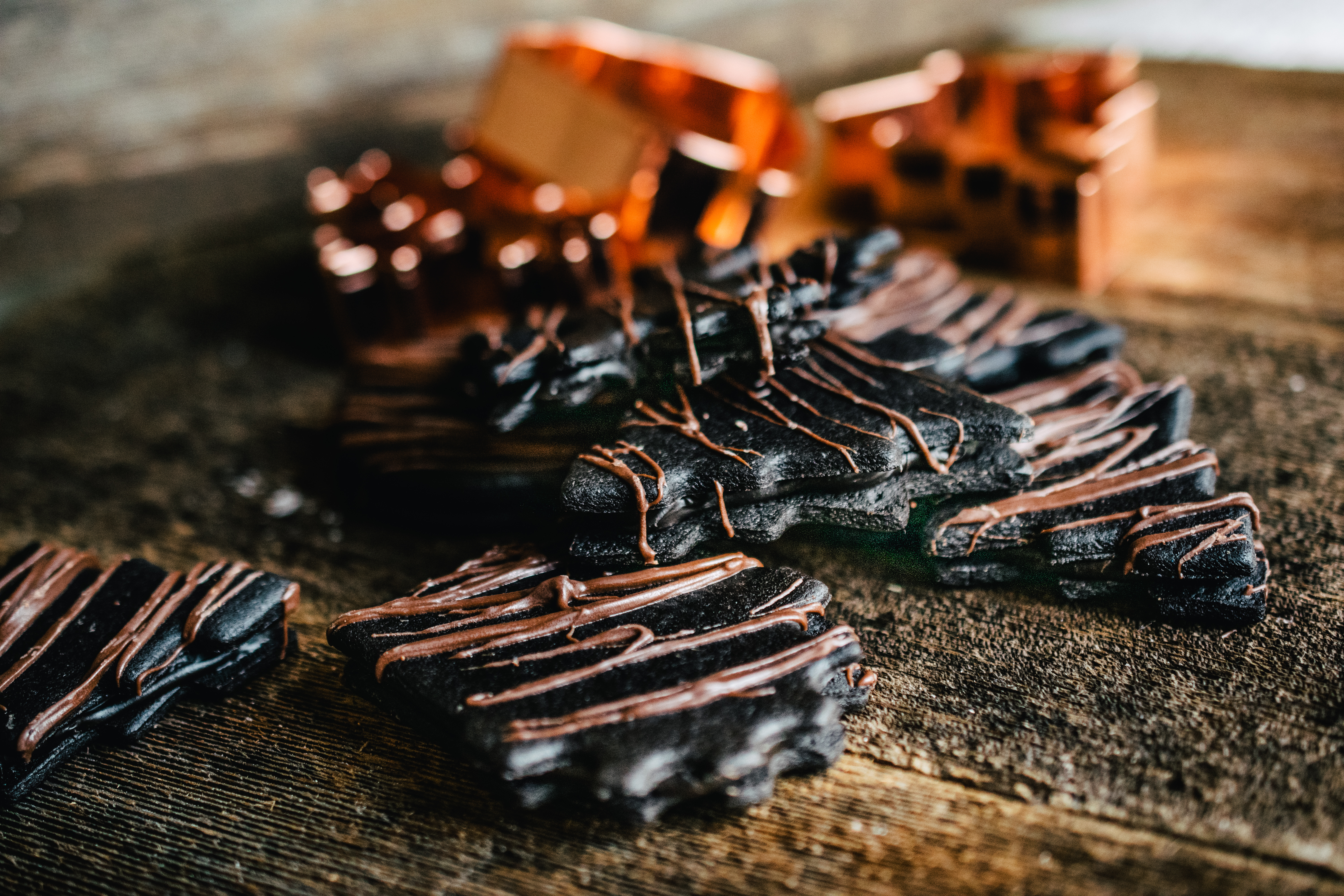 how to use cookie cutters
Once the dough has been rolled out evenly to ⅛ of an inch thick, peel the top piece of parchment paper off from one corner to the other. Press your cookie cutter shapes all the way into the dough. The cookies will hardly rise or expand at all, so you can make the shapes very close together. A minimum of ½ inch apart is all you will need, and this will also allow you to easily pull up the excess.
Once cut, and all the excess removed from the paper, simply pick up the bottom piece of parchment paper with the cookie shapes on it and carefully transfer it to a baking sheet. Bake for 8-10 minutes. Cookies will feel soft, but they will set and harden up perfectly as they cool.
chocolate ganache filling
Chocolate ganache is one of those beautiful things that sounds fancy, and looks gorgeous, but is deceivingly easy to make. It consists of two ingredients, and you really don't even need to use the stove. Heavy cream and chocolate chips are all you will need.
Heat the cream (I do this in the microwave, 30 seconds at a time until very warm.) Pour the chocolate chips into the cream and give it a little jiggle so that they are all submerged. Then wait. And stir. And wait some more. And stir some more. Eventually, the chocolate will be completely melted and incorporated into the cream and you will have a silky, shiny beautiful chocolate ganache.
chocolate ganache ratio
There's no single ratio of cream to chocolate when making ganache. It varyies depending on what you're using the ganache for. For a pour-able ganache, you'd use about equal parts cream and chocolate; a 1:1 ratio. In the case of these Thin Mint Cookie Sandwiches, we go in the direction of a thicker ganache. For this reason, I've chosen to use 2 cups of chocolate with 1 cups heavy cream. This results in a more sturdy filling, that is still soft, but won't squish out the sides too bad when bitten into.
When the ganache first comes together, it is still warm so it is too thin to spread between the cookies. Either letting it set at room temperature, or setting it in the refrigerator will harden it up enough to spread and sandwich between the two cookies. If you make the ganache way ahead of time, store it in the refrigerator and let it come to room temp to soften up.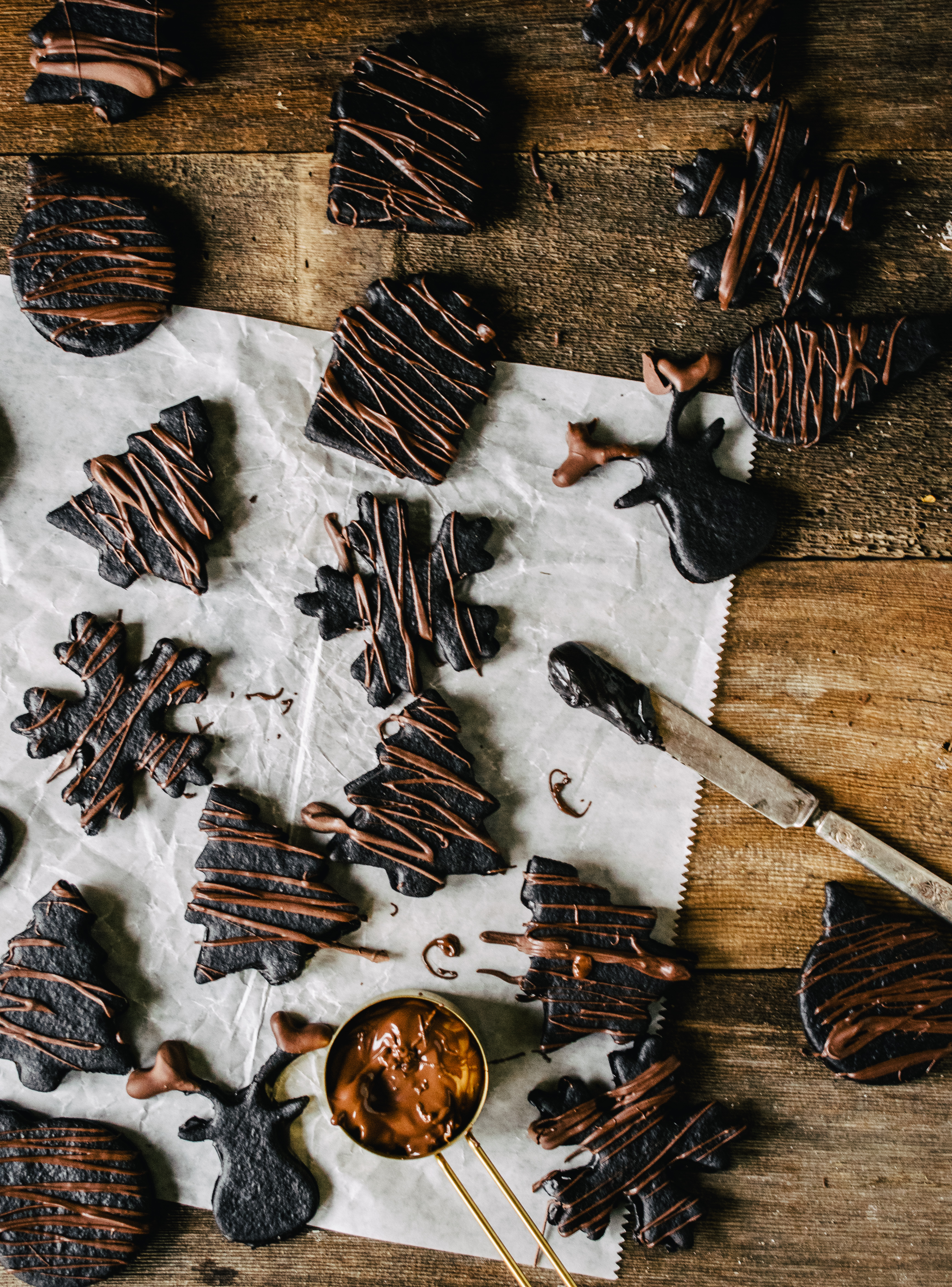 assembling the cookie sandwiches
With the cookies baked and completely cooled, and the ganache set to room temperature begin by spreading the ganache between two matching cookies. Make sure the cookie tops are facing out, so that the bottoms are inside of the sandwich.
Once all of the cookies have been made into sandwiches, lay them out next to each other on wax paper, foil, or other lined surface that can be easily cleaned up or thrown away. Microwave the melting chocolate in 30 second intervals, stirring in between. Once completely melted, microwave 20 seconds more to ensure that it is as thin as possible for drizzling.
Using a fork or whisk, dip into the melted chocolate and drizzle over the cookies. If the chocolate begins to get too thick to drizzle, just give it another 15 seconds in the microwave.
The Thin Mint Sandwich Cookies are done when the the chocolate drizzle has hardened to solid. Store covered, at room temperature for up to one week.
Happy cookie making!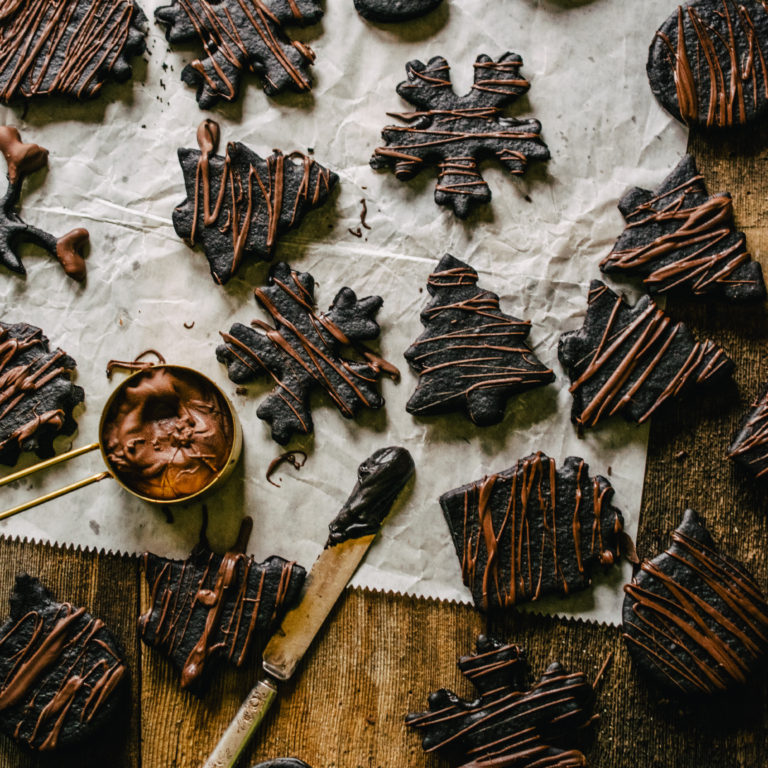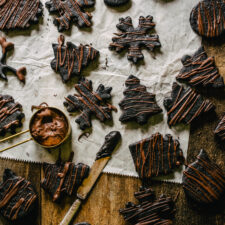 Thin Mint Sandwich Cookies
Thick, dark chocolate ganache filling, sandwiched between to dark chocolate mint cookies, finished with a decorative chocolate drizzle
Print
Pin
Rate
Servings:
24
cookie sandwiches
Ingredients
The Ganache
2

cups

dark chocolate chips

1

cup

heavy whipping cream
Cookies (adapted from King Arthur Flour Dark Chocolate Butter Cookie, and tweaked)
¾

cups

granulated sugar

1

stick butter

softened

1

large egg

1

teaspoon

vanilla

½

teaspoon

salt

¼

cup

dutched black cocoa powder

(can use all brown cocoa)

1/

cup

dutched brown cocoa powder

(can use all brown cocoa)

1 ½

cups

all purpose flour

1

teaspoon

peppermint extract
Chocolate Drizzle
1

cup

dark

semi sweet or milk chocolate melting wafers or bark (melted until smooth)
Instructions
The Ganache
Heat heavy cream on stove top or in microwave until hot but do not let it come to a simmer or scald.

Pour in the chocolate chips and let them settle to be submerged in hot cream. After 5 minutes stir to combine. Let sit another few minutes, stir again until smooth and shiny.
The Cookies
Cream together sugar, butter, egg, and vanilla.

Add flour, cocoa, salt and peppermint extract and combine until smooth dough forms.

Press into a thick slab, cover and refrigerate at least 30 minutes.

Preheat oven to 350 degrees.

Break of a section of the dough and roll out between two pieces of parchment paper to ⅛th of an inch thick. Make sure the bottom piece of parchment paper can fit on your baking sheet.

Peel off top piece of parchment paper.

Use cookie cutter to cut shapes out in pairs, about ½ inch apart.

Peel off excess dough away from shapes, lift up the parchment paper with cookies and transfer directly onto baking sheet.

Bake for 8-10 minutes until edges are set and centers are not glossy. Centers will feel soft, but will set when cool.
Assemble the Cookies
Let ganache cool on the counter or in the refrigerator and once it is set to room temperature (or just spreadable) spread between two matching cookies.

Repeat with all cookie pairs.

Heat melting wafers or bark in 30 second increments in the microwave, stirring between; or on the stove top until smooth and melted. Drizzle over every cookie.

Let the drizzle set to harden.

Cover cookies, store at room temp for up to one week.