Beer cheese potato soup with crispy bacon is an under 1 hour dinner recipe that combines the M.V.P's of favorite foods: Beer. Cheese. And Bacon. (It can also be made in the slow cooker.)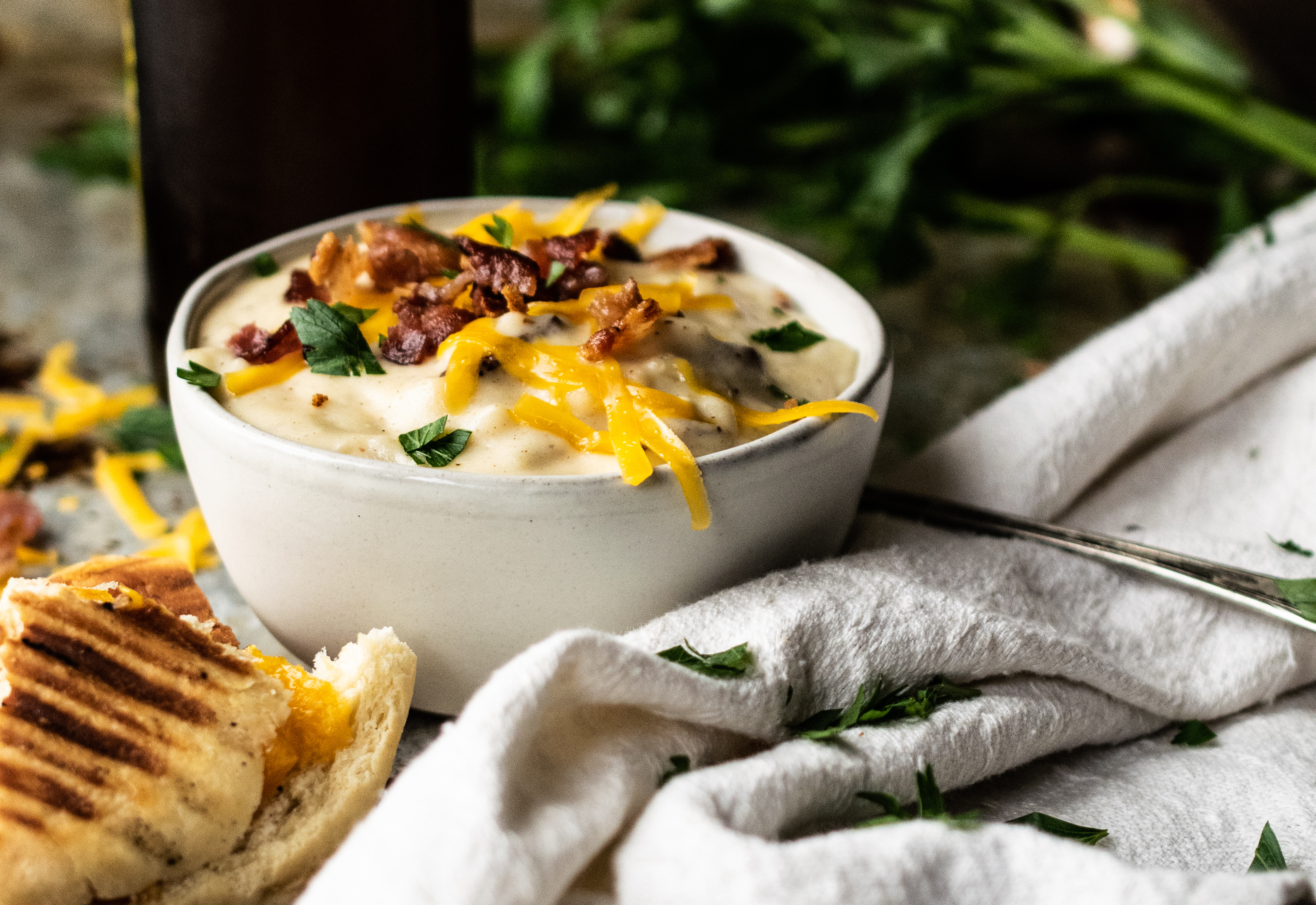 This recipe can be made:
On the stove top in under one hour (45 minutes to be exact)
Or in the slow cooker in 6-8 hours
Fry the bacon
Start by frying the bacon pieces in the bottom of a large stock pot until extremely crispy, but not burnt.
Otherwise, a semi-crisp bacon would end up being sort of ham-textured once it was allowed to simmer in the soup.
Do this first step of frying the bacon with nothing else in the pan to crowd the bacon; this also helps create super crispy bacon.
Crowding the bacon with other ingredients would end up having a steaming effect, resulting in soggy bacon.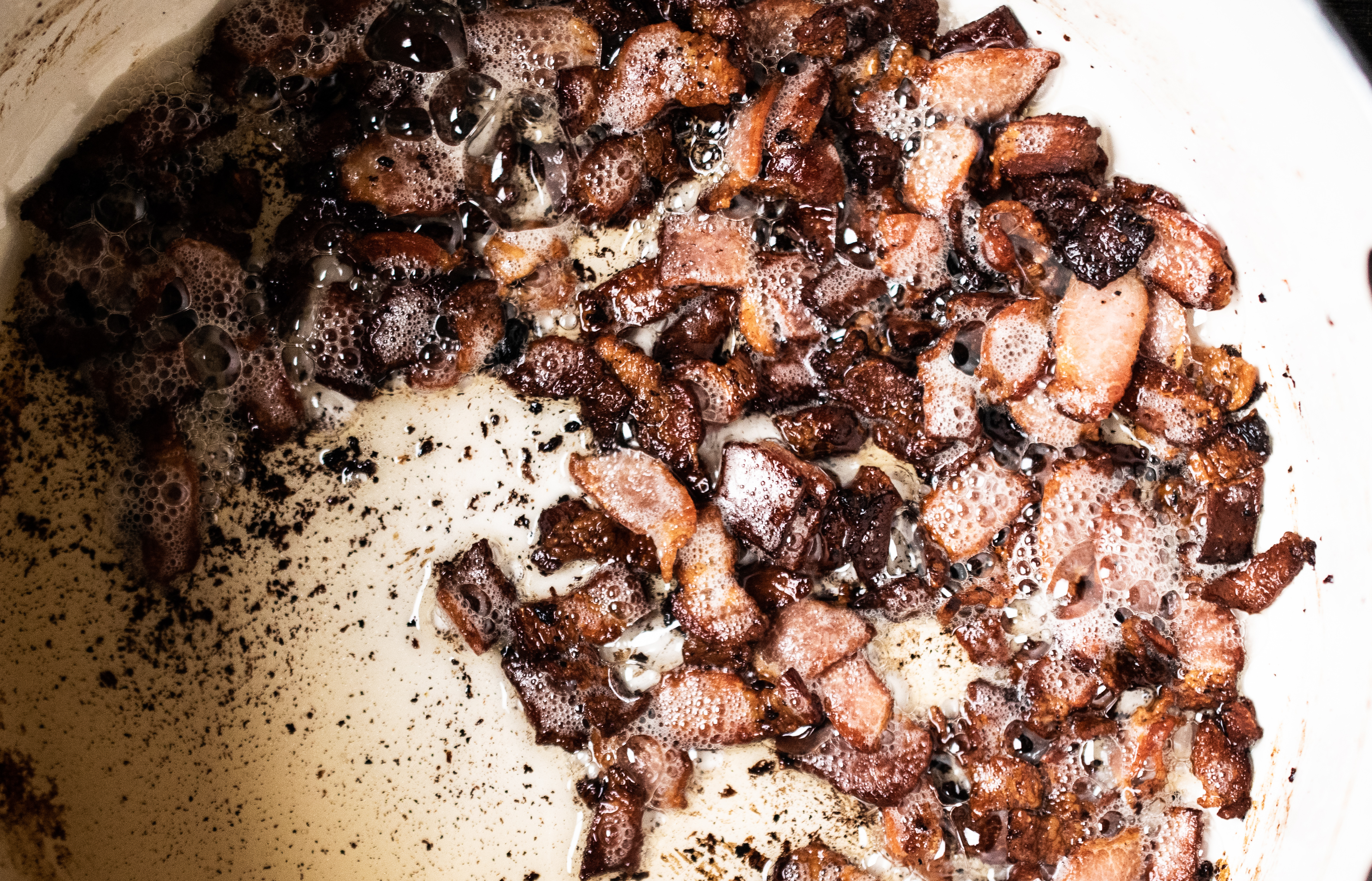 Drain the grease
Once the bacon is completely crispy, remove it from the pan to a paper towel lined plate to drain.
Give the pieces some room and scatter them, rather than just dumping them in one heap on the plate so that they can cool off without getting soggy.
Drain all but a couple of tablespoons worth of excess oil from the pan and remove the pan from the heat so that the grease doesn't smoke. You'll use this bacon grease instead of oil or butter for the next step of frying the potatoes.
Fry the potatoes
Fry the potatoes in the pan that the bacon was fried in, with the reserved bacon grease.
The bacon grease adds flavor, but frying them par-cooks the potatoes so that they don't have to cook as long in the soup.
Starting with the potatoes, peel and rinse them and dice them into ½ inch cubes. (To make uniform cubes, start by slicing the peeled potatoes into half inch thick ovals, then slice those ovals into ½ wide sticks, then slice the sticks long ways into the cubes.)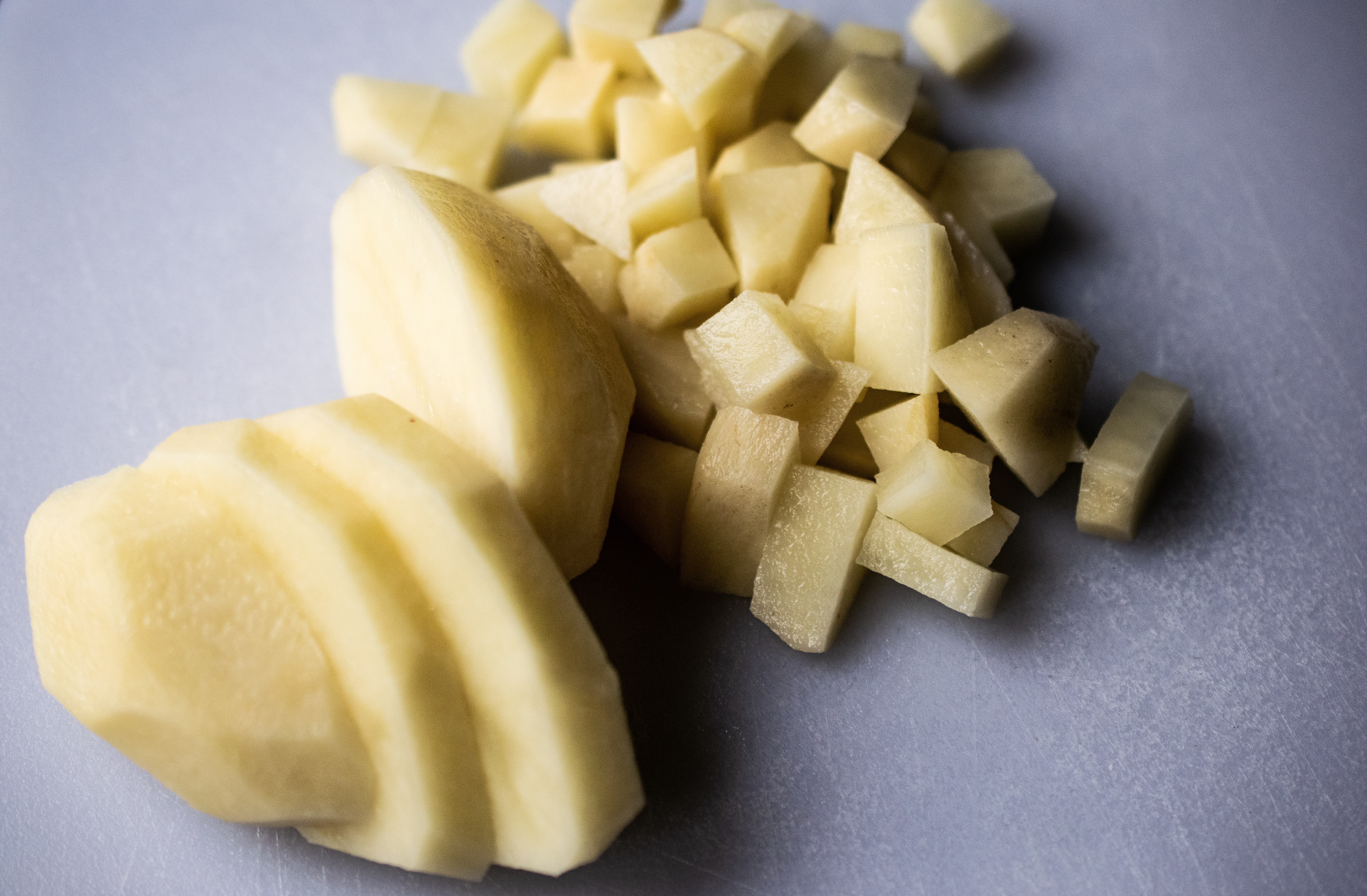 Add the potatoes to the bacon grease, and sauté on medium high heat. Stir them around so they don't burn. This gives the potato cooking process a jump start in softening, helping speed up cooking time.
Add onion and garlic
While the potatoes are frying in the pan, peel and mince one small to medium sized onion and add that to the potatoes.
When the onions are translucent, add the peeled, minced garlic cloves. Sauté for another minute or two, just until the garlic becomes fragrant.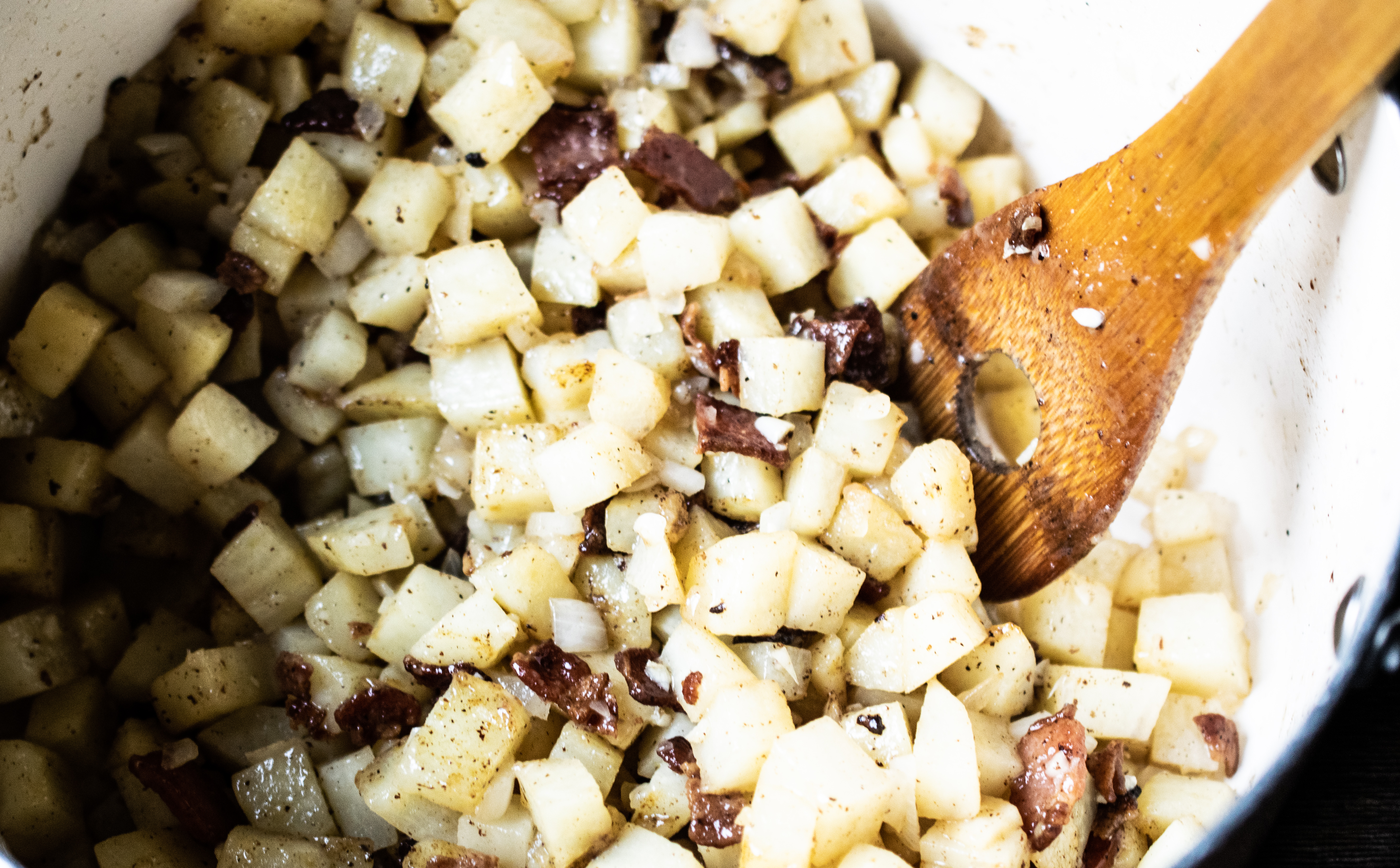 Deglaze
This next step is one of my favorite things to do in cooking, and it's called deglazing. Deglaze is just a term that describes adding liquid to a hot pan and the cooked pieces in it, loosening up everything that is stuck to the bottom of the pan.
Pour the beer into the pot, and let simmer for a few minutes to evaporate alcohol.
Then add the chicken stock and seasonings. Stir, and reduce heat to medium.
Let it simmer there for 20 minutes. During this time, the potatoes will cook through and liquids will reduce and flavors combine.
Thicken the soup
After 20 minutes, check that the potatoes are fork tender by piercing them with a fork. (If they need a bit longer, let them go until they are finished cooking.)
Remove the pot from the heat. Whisk the cornstarch together with a few tablespoons of water. Whisk until no lumps remain.
Add the cornstarch slurry to the pot, followed by the cream, shredded cheddar cheese, and crispy bacon pieces.
Stir those ingredients into the soup, and return the pot to the heat, and lower to a low simmer for 5 more minutes until thickened.
Remove from heat and serve with a crusty bread, grilled cheese or salad.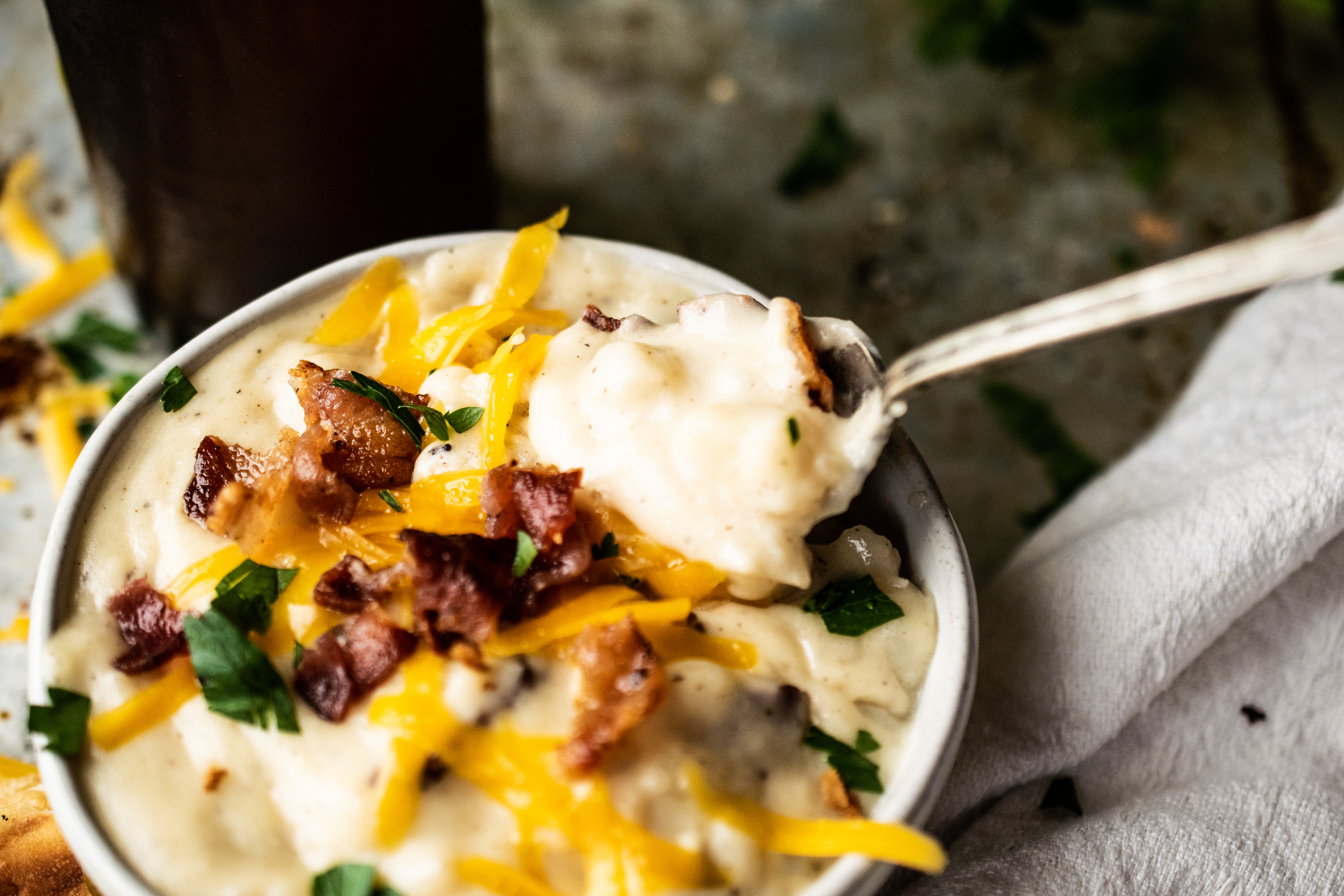 Notes
The best beer to use for this beer cheese type soup, is a medium bodied beer, like an amber ale, although light lagers can be used too.
The more full bodied beer like an amber is going to give a richer taste, and you'll taste the beer itself more.
The type of beer that works for this soup is definitely subject to personal preference, however do stay away from an extremely hoppy beer like an IPA. They will be too bitter.
Related recipes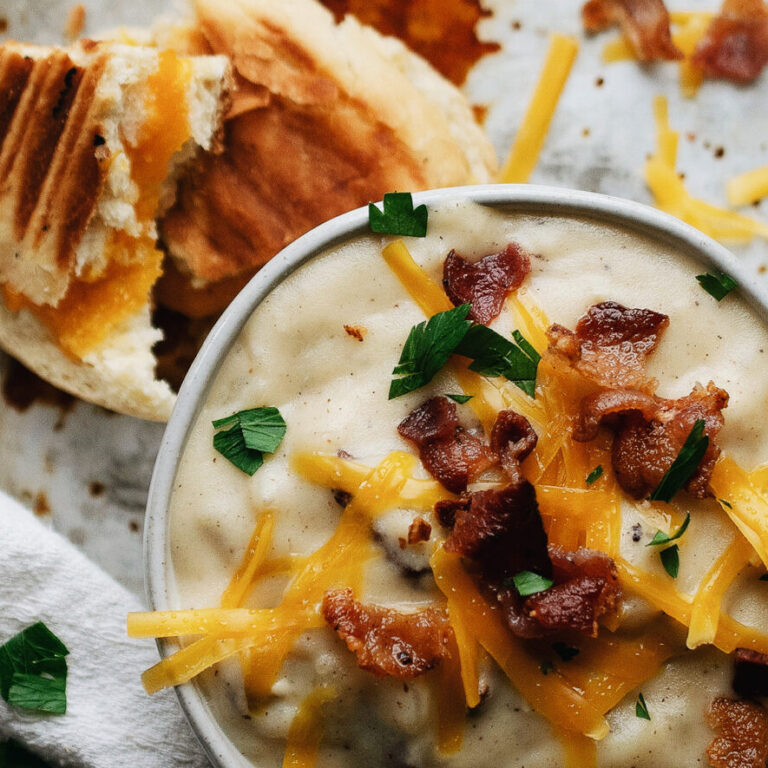 Bacon Potato Beer Cheese Soup
Thick and hearty stove-top beer cheese flavored potato bacon soup, cooks up in about 45 minutes
Print
Pin
Rate
Ingredients
½

pound

bacon

cut into pieces

1

small to medium sized onion

peeled, minced

1-2

clove

garlic

peeled, minced

12

oz

light lager

or amber ale beer

2

lbs

russet potatoes

peeled and diced into ½ inch cubes

3

cups

chicken stock

can substitute chicken broth, but note that broth is generally saltier, so taste before adding any extra salt

½

cup

heavy cream

3

tbsp

corn starch

whisked into a few tablespoons of water until dissolved and milky, a.k.a. "slurry"

8

oz

block extra sharp cheddar cheese

shredded

salt and pepper

to taste
Instructions
In a large pot, fry chopped bacon until crispy on medium high heat.

Drain bacon on paper towel lined plate, and drain all but 2 tablespoons of the grease.

Add diced potatoes, sauté for 5 minutes on medium high heat.

Add minced onion and sauté until translucent. Add minced garlic.

Pour in beer, scrape up any brown bits stuck to bottom of the pan and let alcohol evaporate for 3 minutes, then add stock and seasonings.

Simmer on medium high heat for 20-30 minutes, until potatoes are fully softened.

Reduce heat to a low simmer, and whisk in the cornstarch slurry, heavy cream and cheese.

Simmer for 10 minutes longer until thickened.

Stir in bacon, salt and pepper to taste, and serve.
Notes
To make this recipe in your slow cooker:
Cook bacon first by either frying the pieces in a pan, or cooking the strips in the microwave on a plate lined with several paper towels until crispy, and then crumble into pieces. 
Add all ingredients to slow cooker, except for the cornstarch slurry, heavy cream, and cheese. 
Cook on low for 6-10 hours, or high for 4-6 hours, adding the cornstarch slurry, heavy cream and shredded cheese in during the last hour.
2. To make this recipe in your Instant pot or pressure cooker:
Set pressure cooker to sauté function and sauté chopped bacon, onions, 
Add beer to pot and sauté for an additional 5-10 minutes.
Add the stock and diced potatoes, and set cooker to high pressure for 10 minutes.
Allow steam to naturally release. 
Add cornstarch slurry, heavy cream and shredded cheese. 
Turn the sauté function back on and let simmer for 10 minutes until thickened. 
Choose a light lager or mild ale. Nothing to hoppy or stout.
Nutrition
Calories:
457
kcal
|
Carbohydrates:
23
g
|
Protein:
10
g
|
Fat:
35
g
|
Saturated Fat:
17
g
|
Cholesterol:
64
mg
|
Sodium:
289
mg
|
Potassium:
510
mg
|
Fiber:
1
g
|
Sugar:
2
g
|
Vitamin A:
405
IU
|
Vitamin C:
6
mg
|
Calcium:
190
mg
|
Iron:
1
mg