Easy, cheesy beer cheese in under 30 minutes. Delicious with homemade soft pretzels (recipe at the end)!
Is there anything better than beer cheese? Making your own beer cheese dip, with real cheese is easy. You don't need a bunch of funky ingredients to make the best. damn. beer cheese. ever. A few of the ingredients listed below are optional, such as the red pepper and onion, so feel free to leave them out if that's more fussy than what you were hoping for. Mince them up first thing.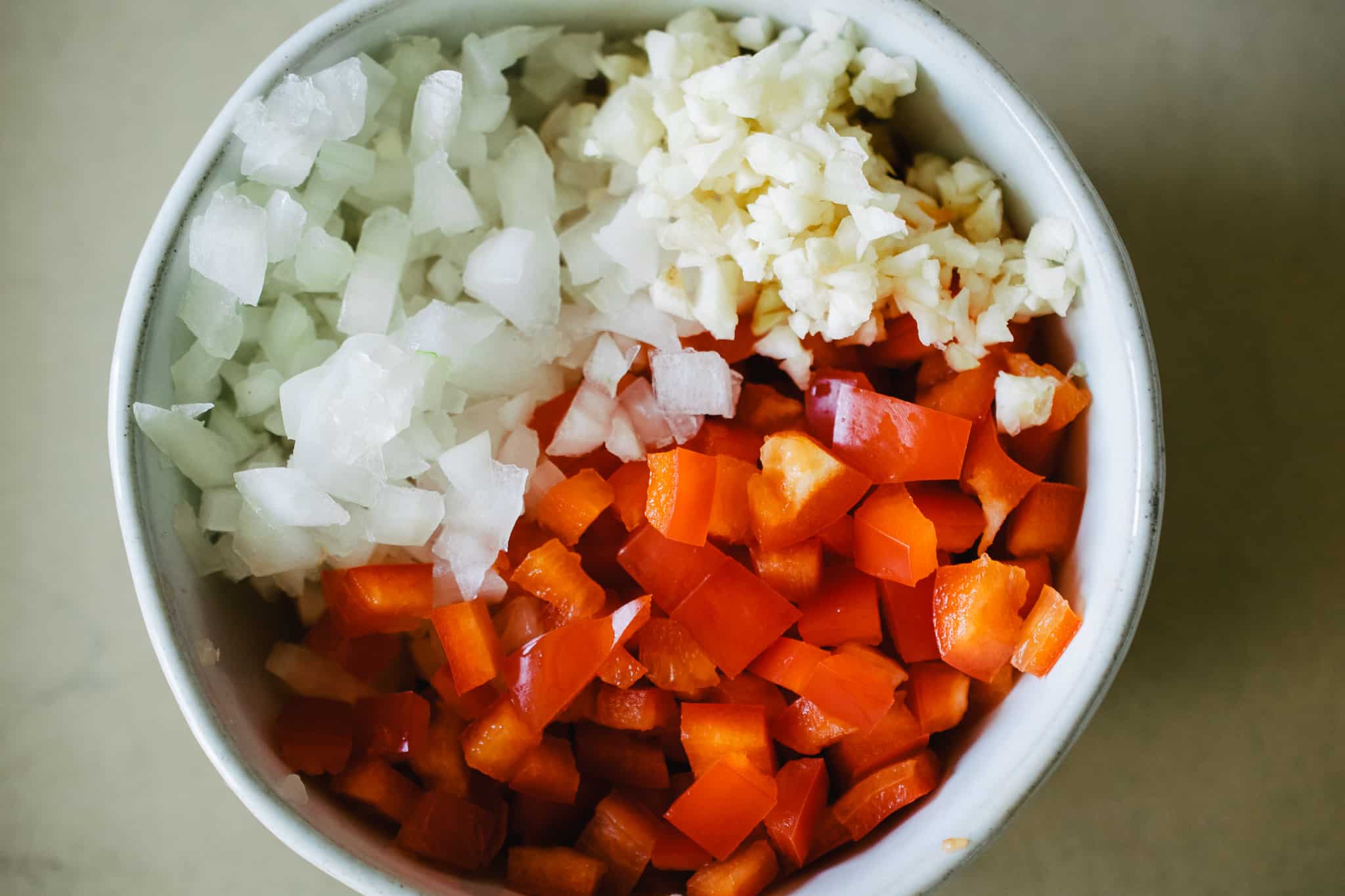 If you only use the garlic, or opt out of minced anything altogether, the rest of the process is the same. Just continue from where the vegetables leave off, by adding the butter and spices until they are toasty and brown. Then pour in the beer, which deglazes the bottom of the pan, bringing up all the bits and flavor and incorporates it. Simmer the beer mixture to cook out the alcohol on medium high heat. Then lower the heat to low and add the cream cheese. Stir and melt until smooth.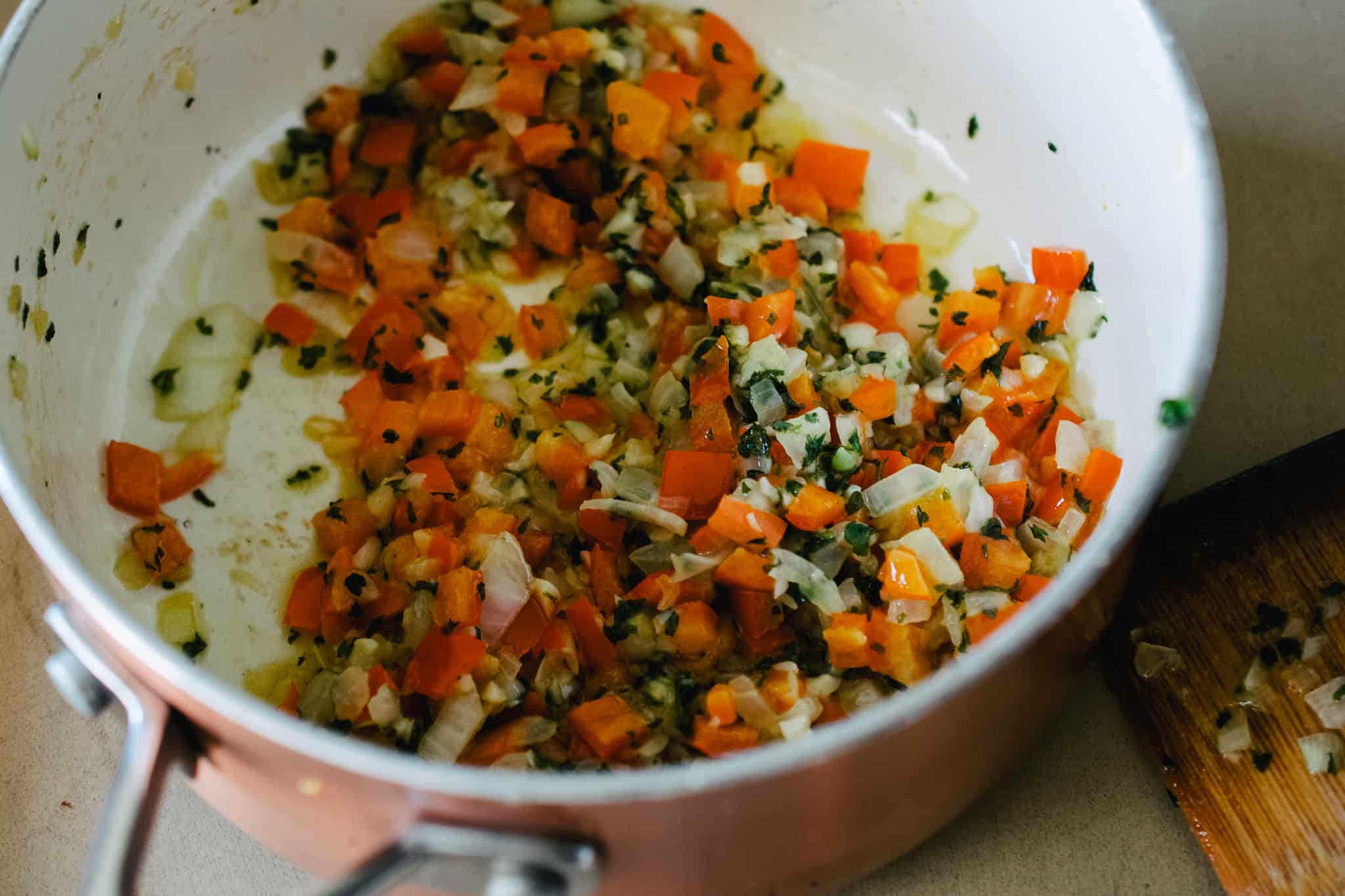 what kind of beer to use in beer cheese?
Here's the deal. The beer you use does make a huge impact in the flavor of your beer cheese. Wheat ales, like Blue Moon and Hefeweizen beers are perfect. Light lagers will give milder beer flavors. Of course, German beer makes great beer cheese. German-style Kolsch beer is somewhere in between a pale ale and a lager, and it is argued by some to be the beer to use in beer cheese recipes.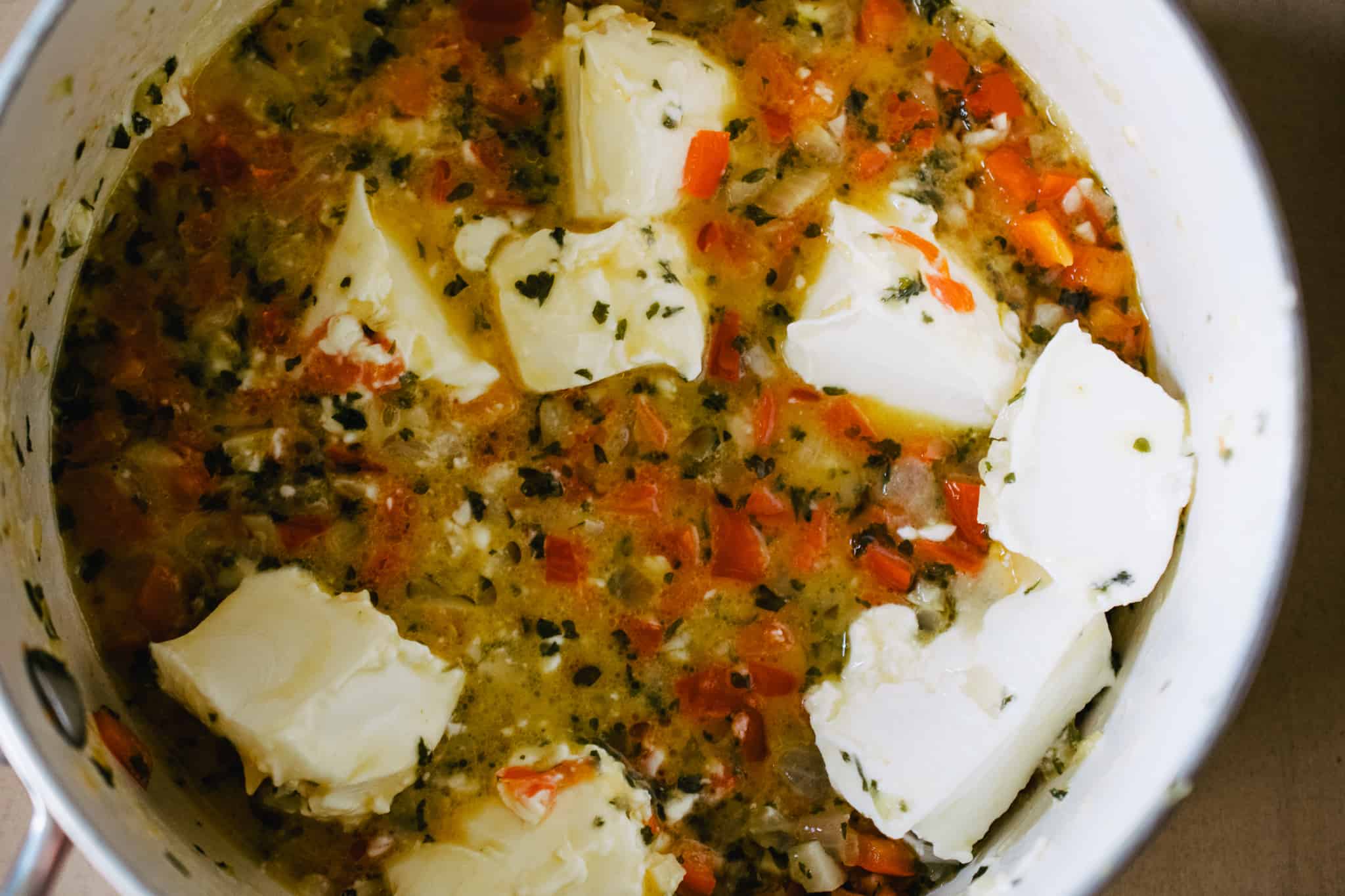 don't use strong beers with pronounced flavor profiles
It's a good idea to avoid IPA's because of their strong "hoppy" taste. Albeit, they are some of the most delicious style of beers to drink, they don't go too well in a beer cheese. Stout beers are also not commonly considered good beer candidates for beer cheese. So stick with a light lager or wheat ale for making beer cheese.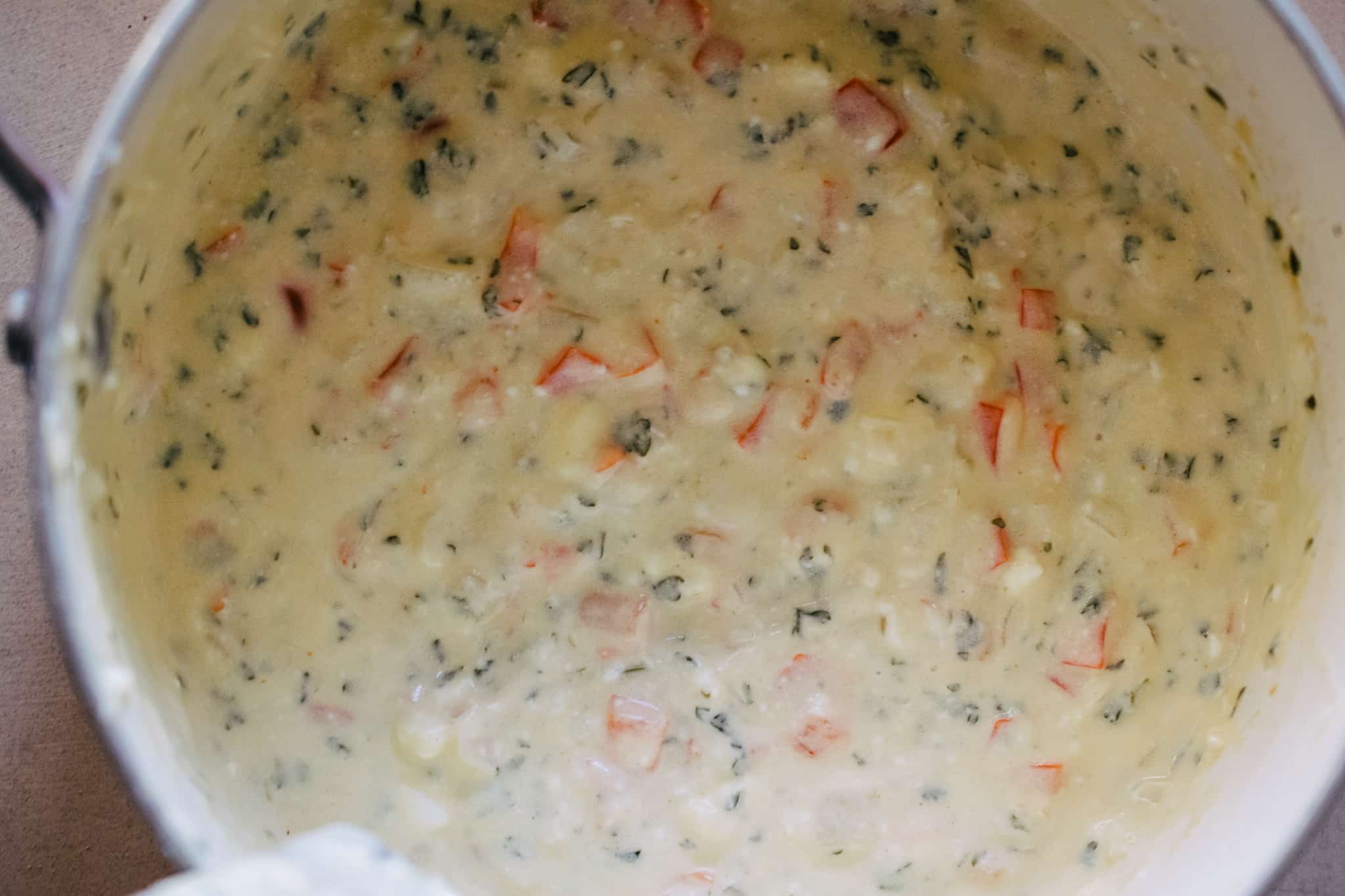 how to get a smooth homemade cheese sauce
You don't need to use "crazy" cheeses to yield a smooth, silky, dip-able beer cheese. A blend of sane, medium and sharp cheddar cheeses are perfect. It's a fact that milder cheddar cheeses melt better, while sharper cheddar has less moisture, and doesn't melt quite as easily. But, the flavor from sharp cheddar is what makes a great beer cheese. The key is in blending it with and other milder, melt-able cheese at a low temperature and with patience until everything has become one.
Also important: always, with any cheesy recipe you ever do. Shred the cheese right off the block. Don't buy pre-shredded cheese because it doesn't melt properly due to added ingredients to keep the shreds separated in packaging. I can feel your frustration, but it's the truth. It will result in a clumpier dip. And really, it only takes a few minutes to shred a block of cheese and it will make a big difference.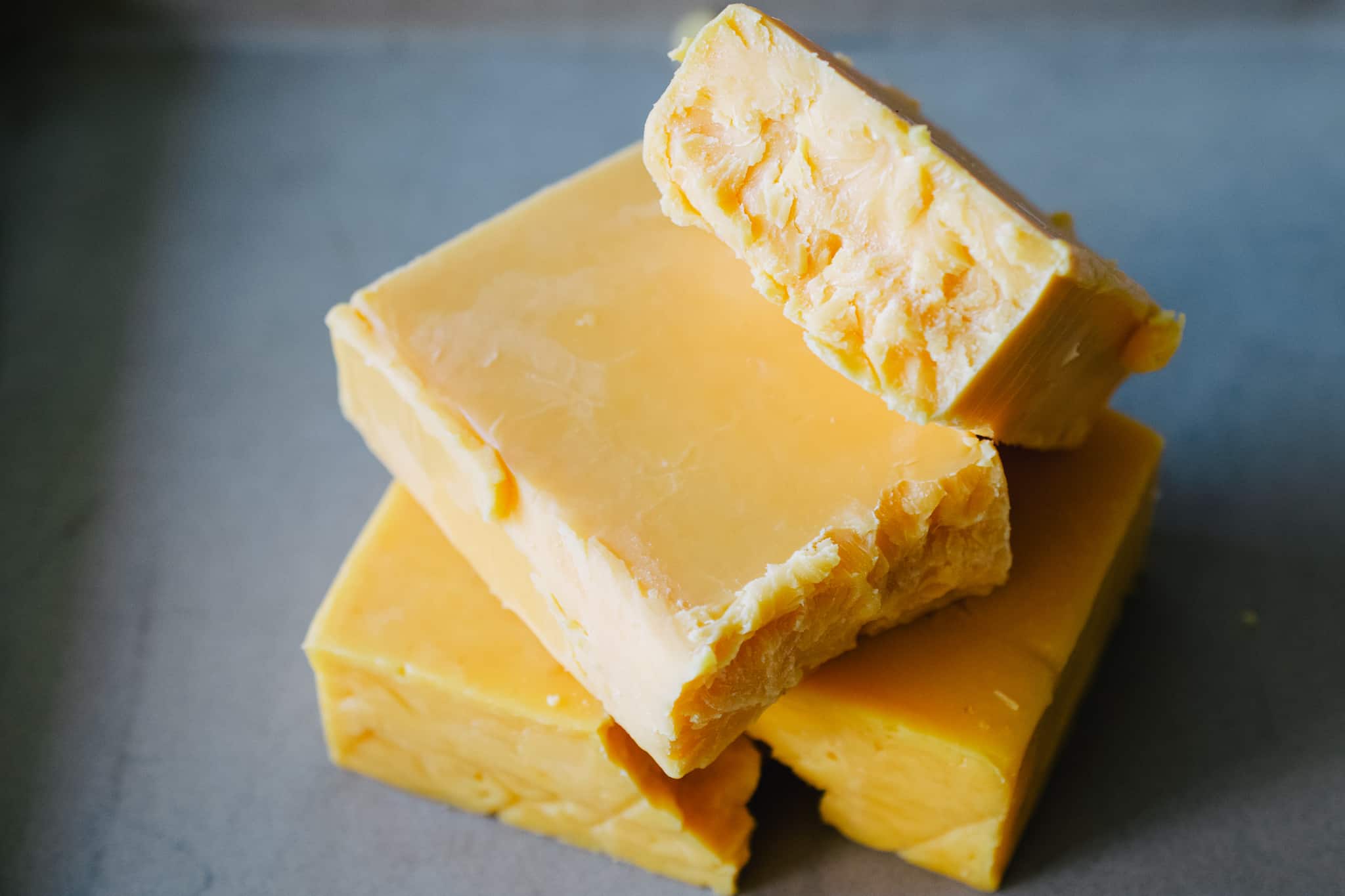 don't over heat!
This is the most important piece of information. Do not go over a low heat setting once the cheese is in. Medium low if your stove is on the low side already. Doing a cheese melt shesh on medium heat can cause the cheese to "break" which just means the solids will separate, and you'll have a greasy, grainy and clumpy mess that will never become a sauce. Don't take my word for it; here's an entire article on The Science of Cheese Melting from one of many reputable, qualified experts. (I know you must be wondering, how you've gone your entire life without reading it.)
This is where one must exercise patience. I'm the worst, but it gets me every time I don't. Let the cheese melt at it's own pace, and resist the urge to turn up the heat, even for that last little bit. It will melt, and the few extra minutes that it takes to do so at a low temperature, guarantees smooth, luscious beer cheese. Make sure to give it a little stir now and then.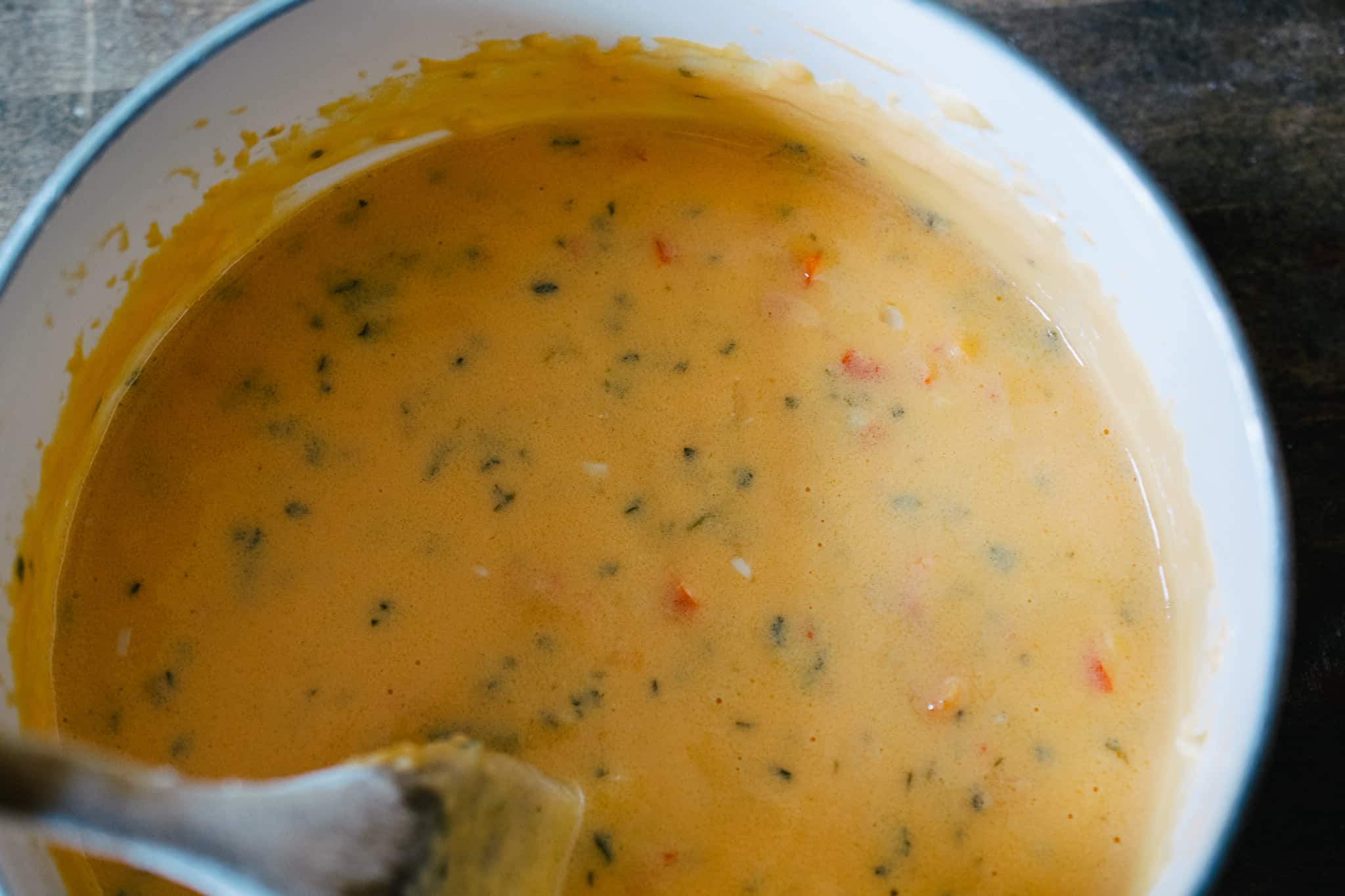 If you opt for using the peppers and onions (do it!) this all happens after they have done their thing at a medium high temperature in that very pan. But that's explained in detail in the recipe card. Just remember that once it's time for the cheddar, keep it low and slow. Low and slow. It's the Barry White technique of cheese sauce making.
good beer cheese deserves good soft pretzels for dipping
Great beer cheese deserves great soft, homemade pretzels to dip into it! Yes! The combination of beer cheese and soft pretzels is a gift. Soft pretzels are fairly easy to make, and they require one special step that "pretzelizes" them. It's very scientific. These soft pretzels are a recipe that I've tweaked again and again. And again. (Which is usually the case with me and bread baking of any kind. You can read about my long, hard road to soft hoagie rolls and see.) But, they are perfect for dunking into this homemade beer cheese. The frustration of bread making fuels me until I get it right, and I stand by these pretzels. And, they only took me 3,427 attempts.
Serve them for game day food, serve them for party appetizers, or just make them for yourself to Netflix and chill with. Beer Cheese and Soft Pretzels were made for each other! It's a match made in heaven.
Below is the recipe card for the Beer Cheese Dip recipe, and right below that you'll find the perfect soft pretzel recipe to go with it, if you choose to make them.
make it ahead
Yes, you can make beer cheese ahead of time! In fact, in my opinion its better the next day. Store it covered, in an air tight container for up to one week.
to reheat beer cheese on the stove
To reheat it on the stove just put it in a small sauce pan, cover the pan with a lid, and leave it on low, stirring occasionally until smooth and melted. If it's necessary, add another splash of milk. But don't forget the low and slow technique with the cheese. It still applies even after the cheese has been made.
to reheat beer cheese in the microwave
To reheat it in the microwave, just heat it (in it's container if it's microwave safe) in 60 second intervals at 40% power (because, low heat) stirring between each interval until completely smooth and melted again.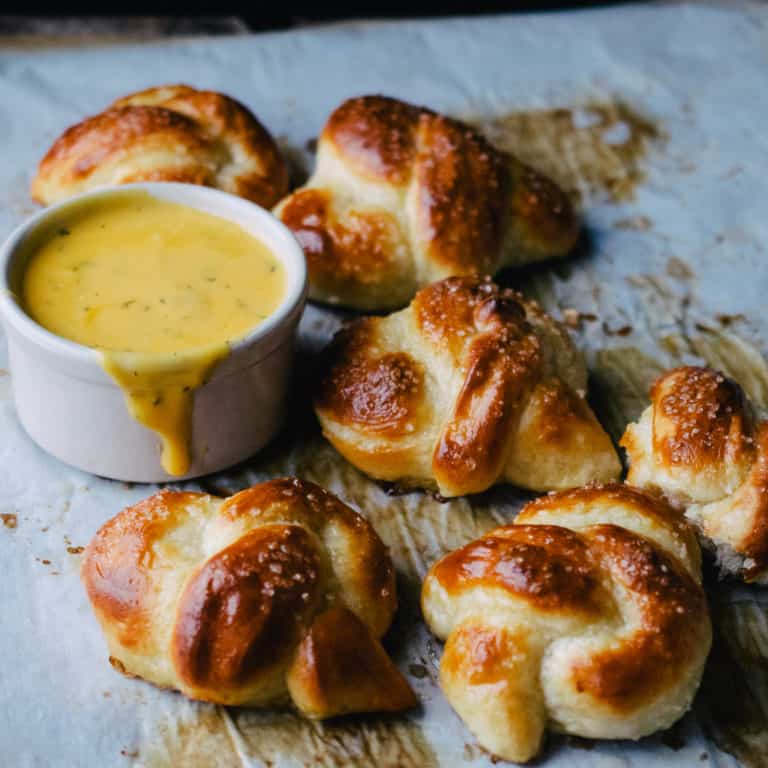 Beer Cheese Dip
Smooth, velvety, perfectly dip-able pub style beer cheese dip is ooey, gooey and totally cheesy and is best served with soft baked pretzels!
Print
Pin
Rate
Ingredients
2

tbsp

butter

1/2

red bell pepper

diced, optional

2

cloves

garlic

minced, optional

1/2

onion

minced, optional

1/2

tsp

onion powder

1/2

tsp

garlic powder

pinch

cayenne pepper

to taste

1

tbsp

dried parsley

3

oz

cream cheese

8

oz

medium cheddar cheese

shredded off the block

4

oz

sharp cheddar cheese

shredded off the block

1

cup

beer

pale wheat ale is best, like Blue Moon or a Hefeweisen
Instructions
If opting to use the fresh bell pepper, onion and garlic (totally optional) dice and mince them up first.

In a small sauce pan on medium high heat, add butter, diced bell pepper, minced garlic and onion, onion and garlic powders, cayenne, and dried parsley. Saute 4-5 minutes until veggies are soft and seasonings are fragrant.

Leaving heat on medium high, pour in the beer. Simmer and reduce for 3-4 minutes.

Reduce heat to low. Add in the cream cheese, in pieces.

Stir on low, until combined.

Shred the cheddar cheese directly off the block (do not use pre-shredded cheese) and add to pot. Stir on low until completely smooth and melted; about 10-15 minutes.

Serve warm, with soft pretzels. Store in airtight container for up to one week.
Notes
(Hint: it's better the next day!) To reheat the beer cheese:
Either on the stove top, on low, covered, stirring occasionally. Do not crank up the heat past low, medium low at the highest. 
Or, in the microwave, at 40% power for one minute intervals, stirring in between until loosened, creamy and warm again. 
making the soft pretzels to go with the beer cheese:
Combine 2 1/2 cups flour, 1 1/2 teaspoons salt, 2 teaspoons sugar, and 2 1/2 teaspoons yeast. Add 1 cup warm water and combine into a smooth dough ball. Do this either by using the dough hook on a standing mixer, in a food processor, or by hand with a spoon and bowl (and a lot of oomph!). The dough will look very sticky at first, but as it continues to be kneaded and mixed, it should begin to pull away from bowl and form a smooth ball. Flour measuring can be tricky, so if you feel that the dough is just too wet, go ahead and add one more tablespoon. It should be on the very soft side though. Place in a butter greased bowl and cover. Let rise 40-60 minutes until doubled in size.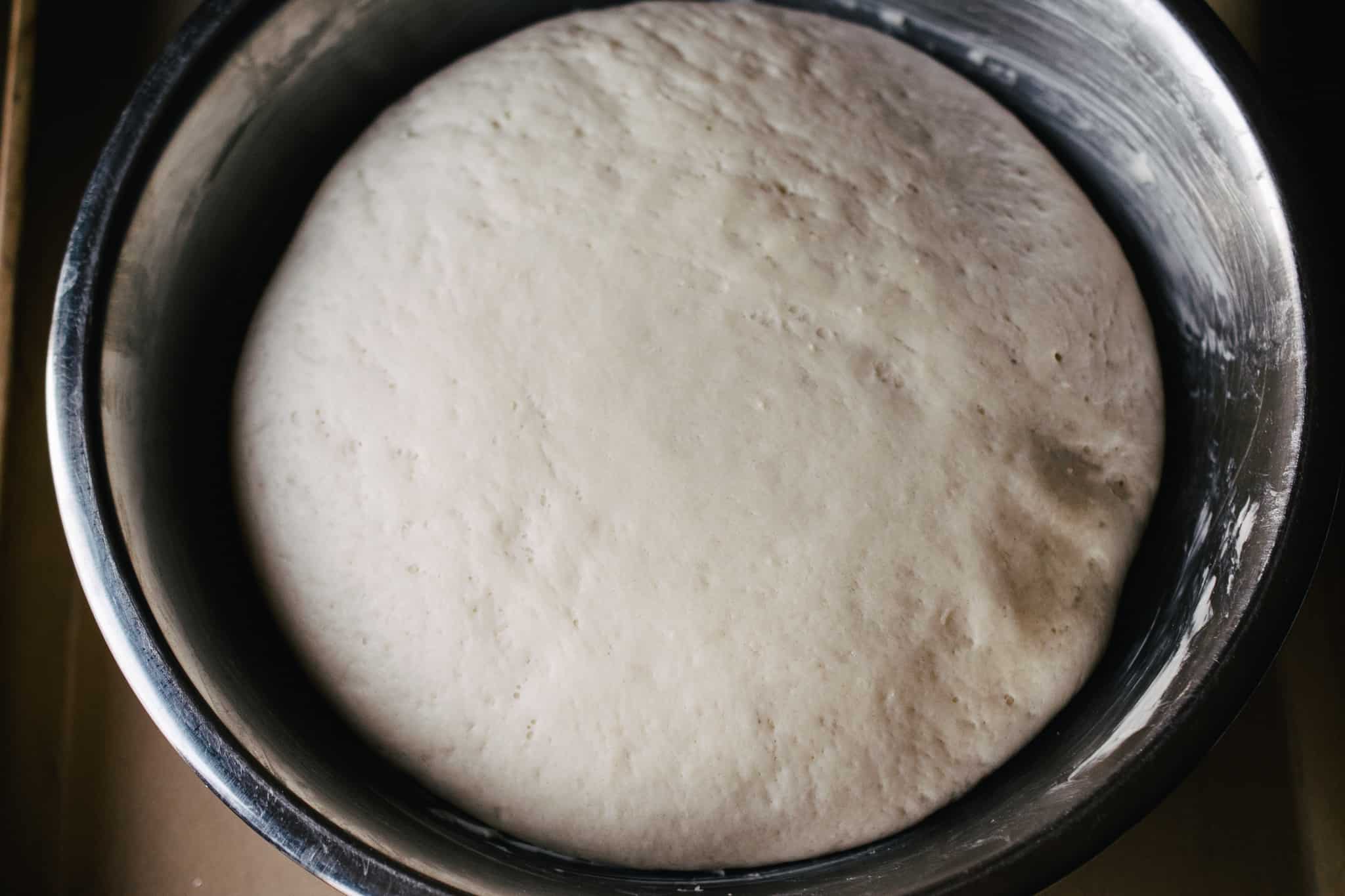 Now, for the pretzel-izing solution. Heat 2 cups of water to boiling. This can be done in the microwave or on the stove top, but use a container that has some room at the top for when the baking soda gets stirred in. Stir in 1/4 cup of baking soda. Be careful, because it will foam up, like it's going to "boil over." It'll settle right away, just give it a stir and dissolve it in.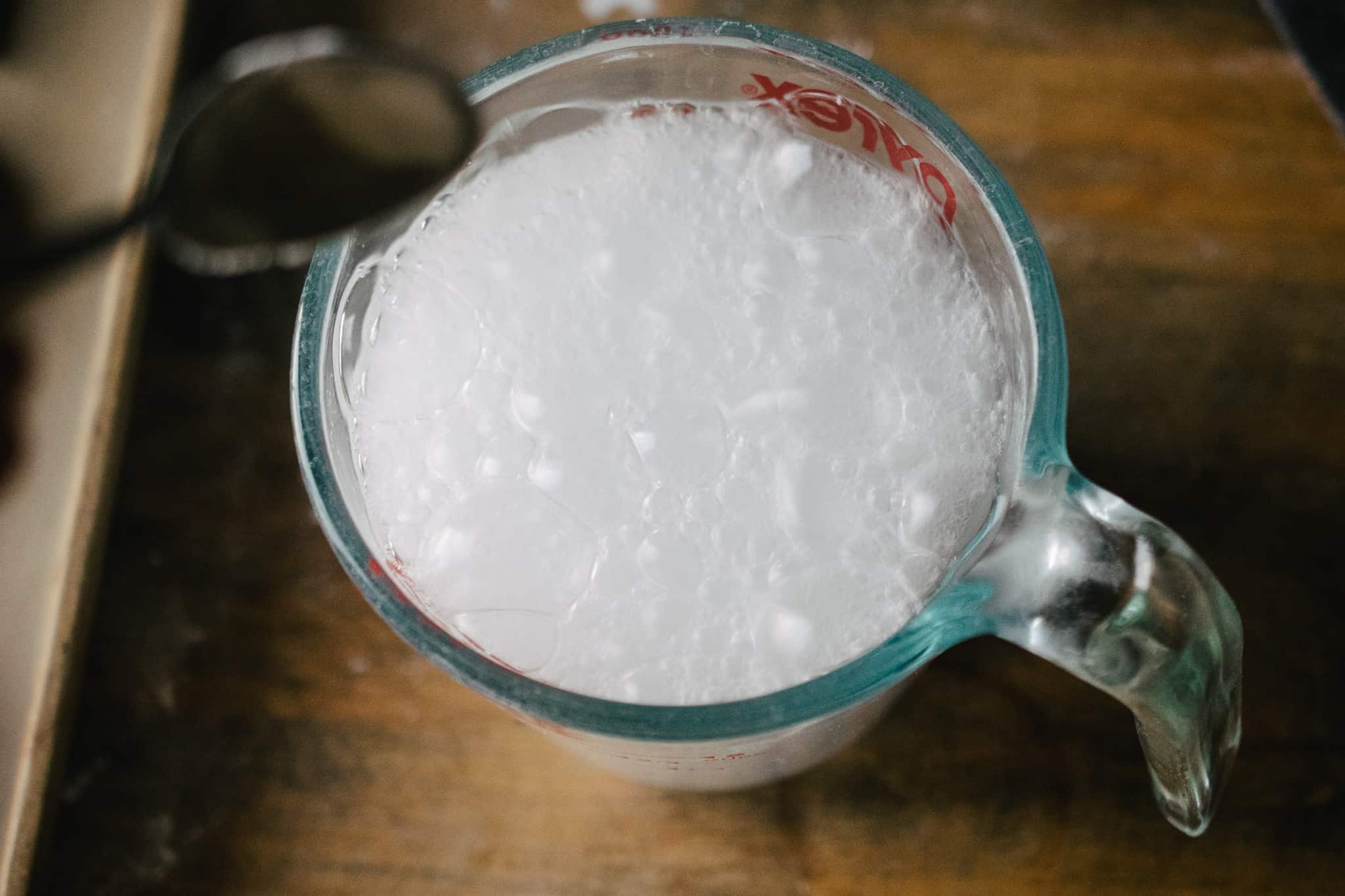 Divide into 6 equal portions, roll into 12 inch long strands. Form each into a pretzel shape by first creating a 'u' curve, twisting the two strands over the 'u', then pulling the ends down over the bottom of the 'u'. Lie all of the formed pretzels in a shallow dish.
Pour the baking soda and hot water bath over them, spooning the warm liquid over the tops. This is what will give the pretzels a nice, dark golden pretzel look. Leave them sit for only 2 to 3 minutes in the water and baking soda bath, and then transfer them to a parchment paper lined baking sheet. (If you don't have parchment paper, just use your most non-stick baking sheet.) You can do this with a spatula or your fingers. It may feel like the pretzels will stretch too much and break, but they won't. Move quickly and they'll keep their shape just fine. Sprinkle with coarse salt.
Bake at 475 degrees for 20 minutes, until golden brown. Remove them from the oven and immediately brush with melted butter. Serve warm, pull apart, and dip into lots of hot, melty beer cheese.