Mixed berry cheesecake baked in easy to handle bars atop a graham cracker crust, and swirled with tons of fresh summer berries.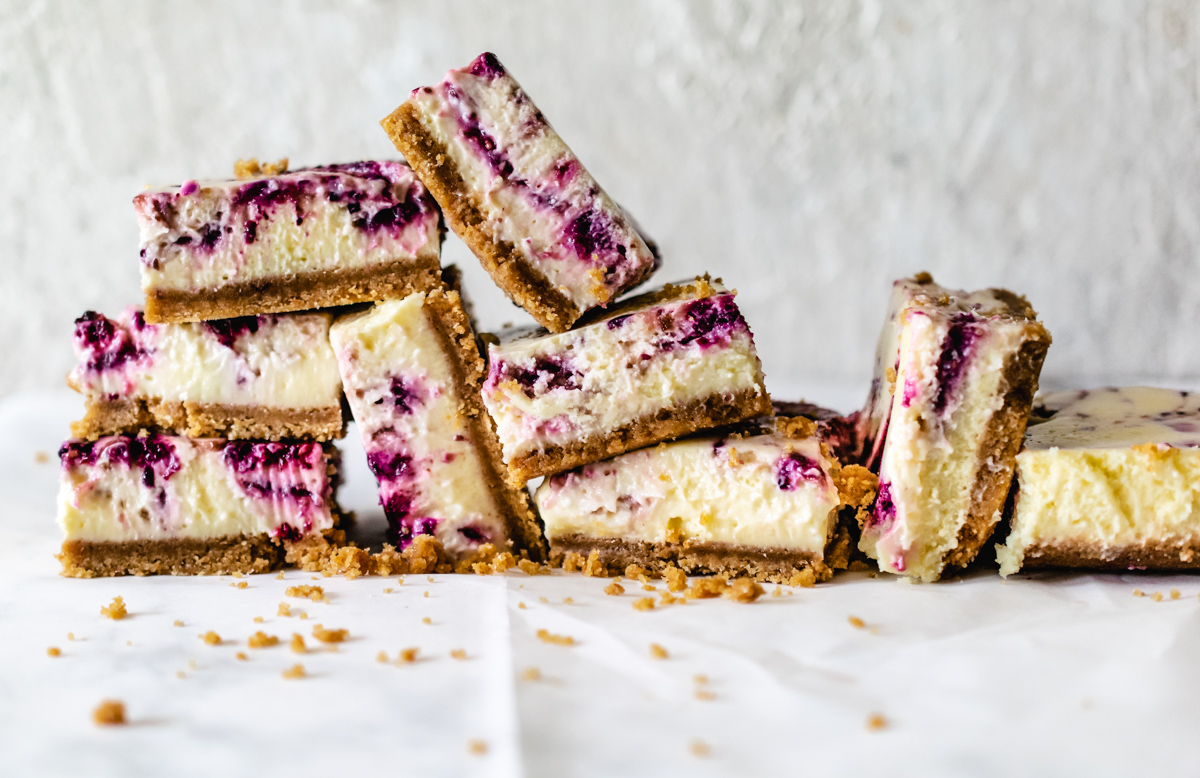 Using fresh, plump and ripe berries are the best way to go when making this simple mixed berry cheesecake.
However, you can opt to use frozen berries. Either way, they'll need to be cooked down slightly to remove excess moisture so that the cheesecake doesn't become soggy when they are swirled through.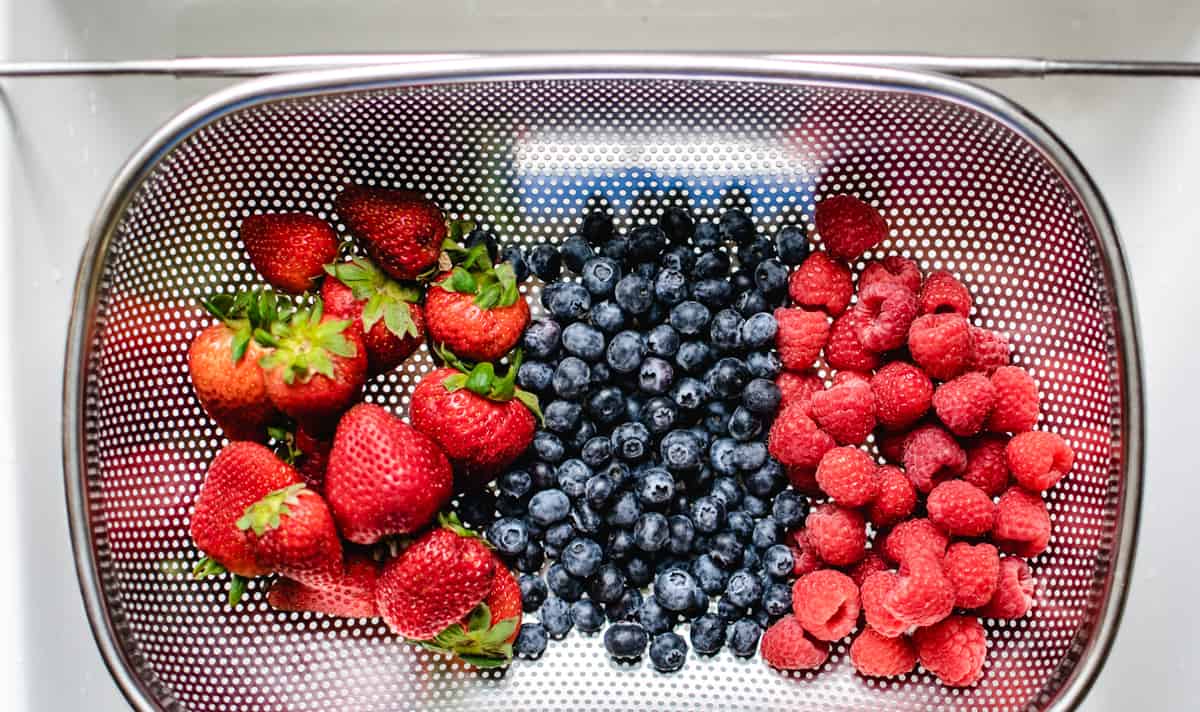 what are summer berries?
Summer berries can be a range of berries, depending on where you live. The usual suspects are strawberries, blueberries, raspberries and blackberries, but if you use blackberries, you'll want to strain out the seeds.
which berries are the sweetest?
Generally, when fully ripe, raspberries and strawberries are the sweetest. But, this totally all depends. You'll have to taste your actual haul of berries to see which came out the sweetest. Normally blackberries are more tart, but I've had blackberries that came out sweeter than raspberries! So, just do some taste testing 🙂
about those blackberries...
Blackberries are a delicious addition to the mixed berry swirl that runs through this cheesecake. Just be aware that their seeds tend to be harder and more noticeable than the other fruits, so you may want to push the puree through a mesh strainer.
Unless the seeds don't bother you, than there's no harm in leaving them!
prepping the berries
Rinse off all your berries. Trim the green tops off the strawberries and cut them into quarters. This helps get a more accurate measurement. Measure out 3 cups of berries total. So, depending on the amount of varieties you use, you'll measure a portion of each to make 3 cups in all. For example, a triple berry cheesecake would require one cup of each of the three varieties. 3 cups total, in any combination, is what you want.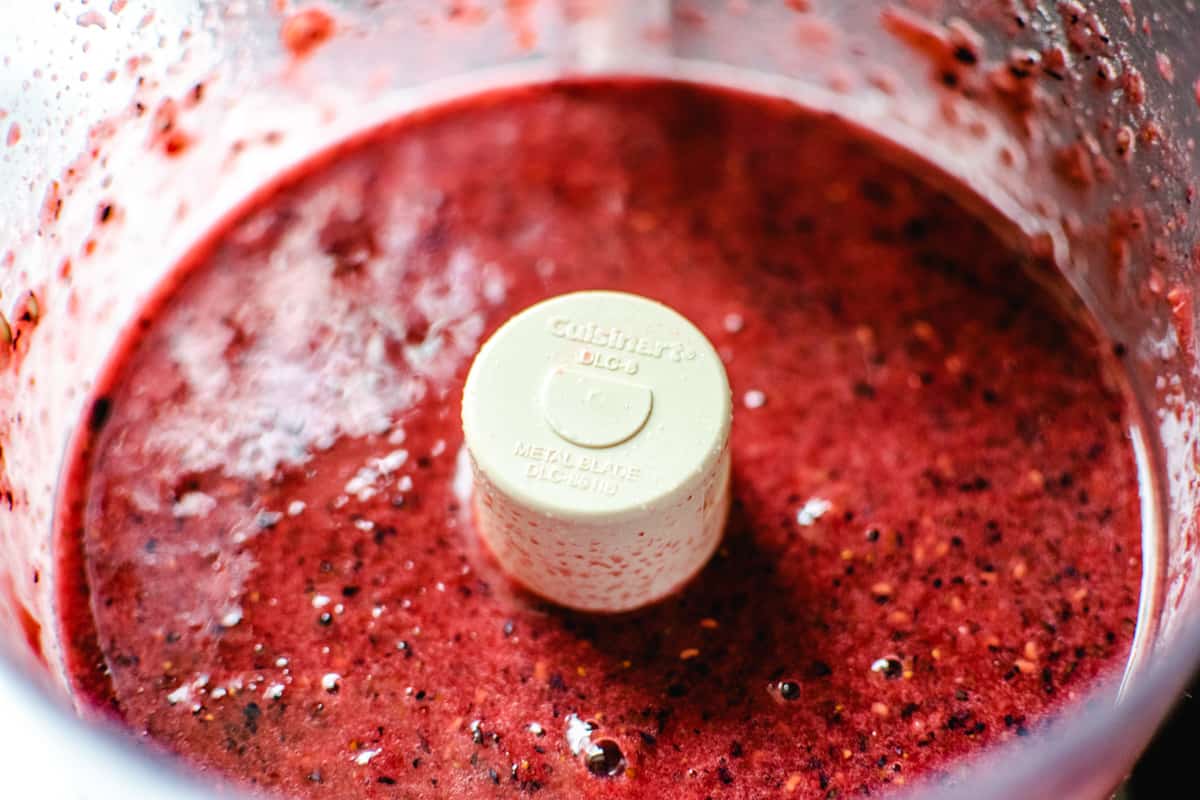 Puree the berries with granulated sugar until smooth. If desired, push the puree through a mesh strainer to remove seeds. This is not necessary, and I don't do this unless I'm using blackberries in my mix.
In a small sauce pan, simmer the puree on a low simmer until reduced and thickened. This way, excess moisture evaporates and you're left with a berry sauce for cheesecake that can be swirled and baked right in, without making the cheesecake soggy. Immediately place the finished, reduced fruit puree in the fridge to cool. (You could also do this a day or two in advance.)
how do i make graham cracker crust for cheesecake?
This is very easy, and it doesn't need to be baked prior to putting on the cheesecake filling.
Simply combine crushed graham crackers, melted butter (just melt the butter in a little dish in the microwave in 20 second intervals), and sugar.
These crackers can be pulverized into crumbs using a food processor or blender. If you don't have that equipment just crush the graham crackers in a zip lock bag with a rolling pin or your fists and toss it all together in a bowl.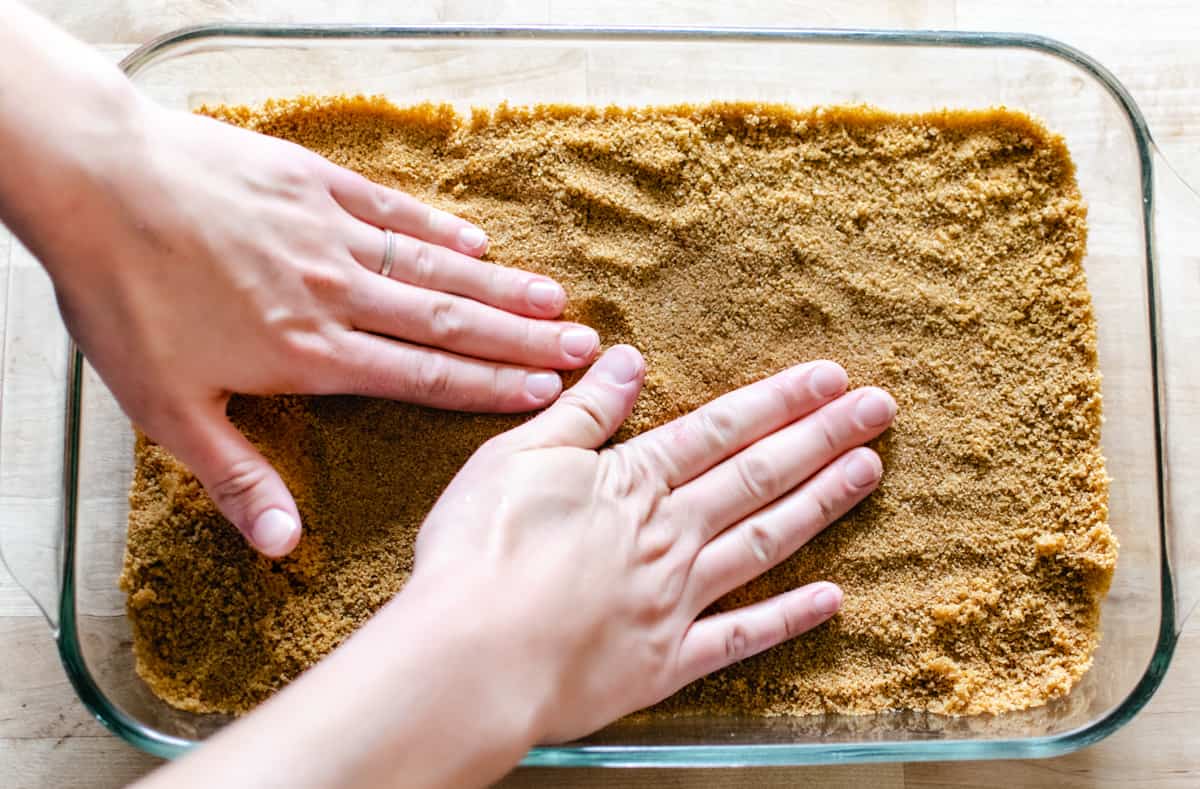 Once the crumbs are combined with the melted butter and sugar, press them into the bottom of a 13x9 inch baking pan.
diy graham crackers
Don't have or don't want to use store bought graham crackers? No problem! Homemade graham crackers are so easy to DIY, and they're delicious. If you are like me, and think the crust of cheesecake is the best part, then graham cracker crust made with homemade graham crackers will make you very happy.
Little tip: if you are only using the recipe for this cheesecake's crust, you don't need to bother with poking the holes in a perfect pattern. Just random pokes are fine, you'll be crushing them up anyways and the holes are needed to help air flow for crisping. When you roll them out and cut them into sections, they don't have to be perfectly shaped. But the separation will help them to cook and crisp up. Also, cut the recipe in half. (Or finish the other half into nice looking graham crackers.)
how to make the filling
Start with softened cream cheese. You'll want to have this softened on the counter at room temperature about an hour before you go to prepare the filling.
Or, use homemade cream cheese! Click here, and triple this recipe for homemade cream cheese. (It's already pretty soft, so it doesn't really require the softening that store bought cream cheese does.)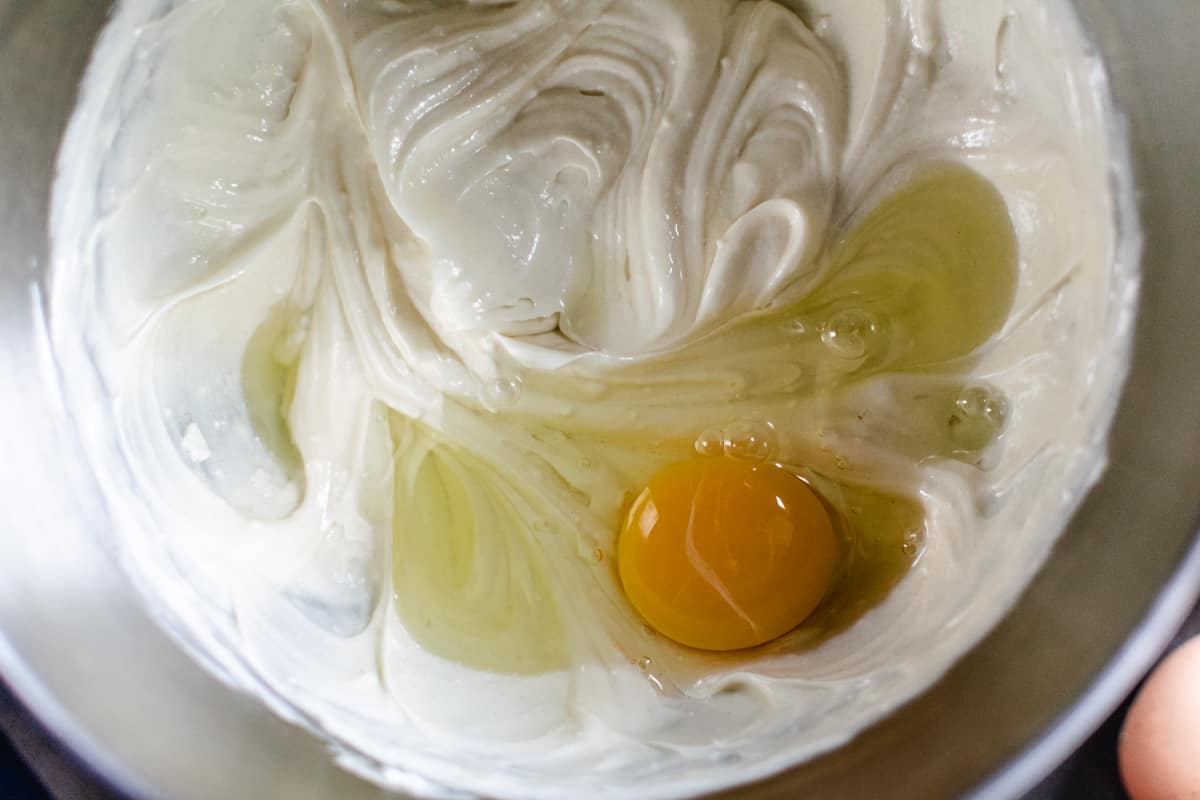 In a mixing bowl, combine the soft cream cheese with the sugar, vanilla and sour cream until smooth. One at a time beat in the eggs until completely combined.
assembling the bars
With the graham cracker crust already pressed evenly into the bottom of the pan, pour half of the prepared cheesecake filling evenly over the top of the crust, reserving the other half until later.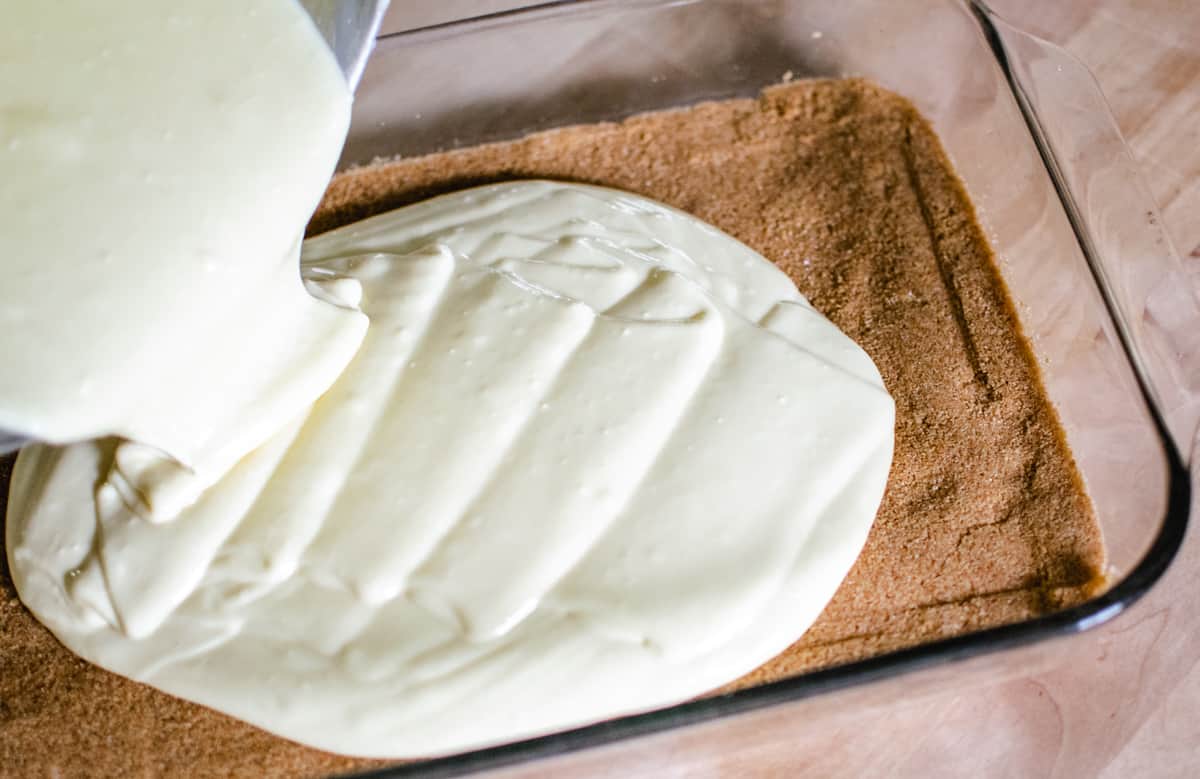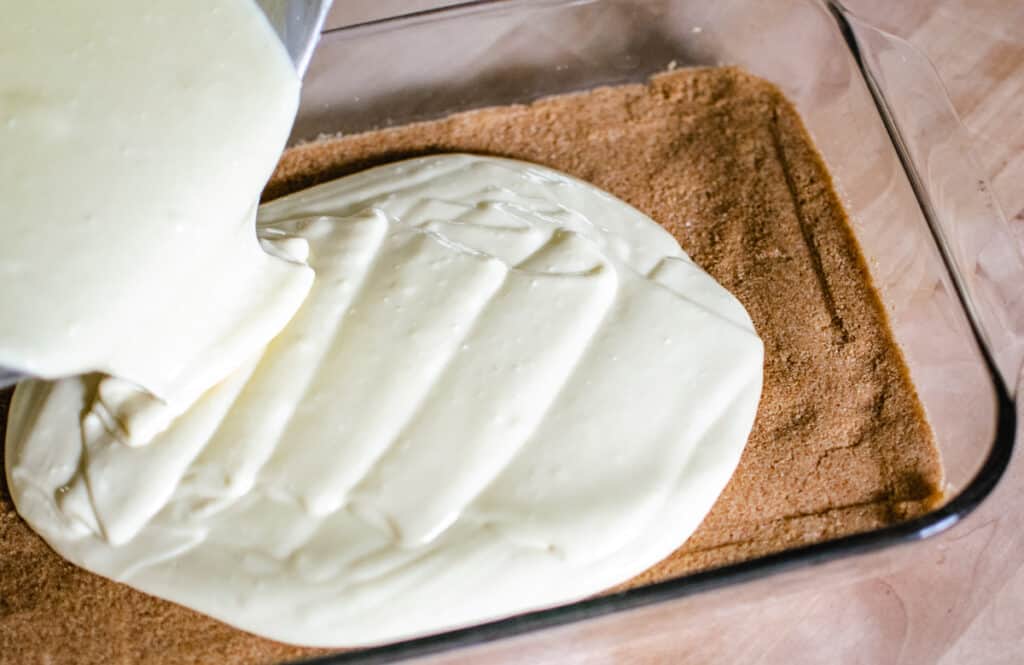 Dollop half of the (cooled) berry reduction in random plops over that first layer of cheesecake filling, and swirl with a knife.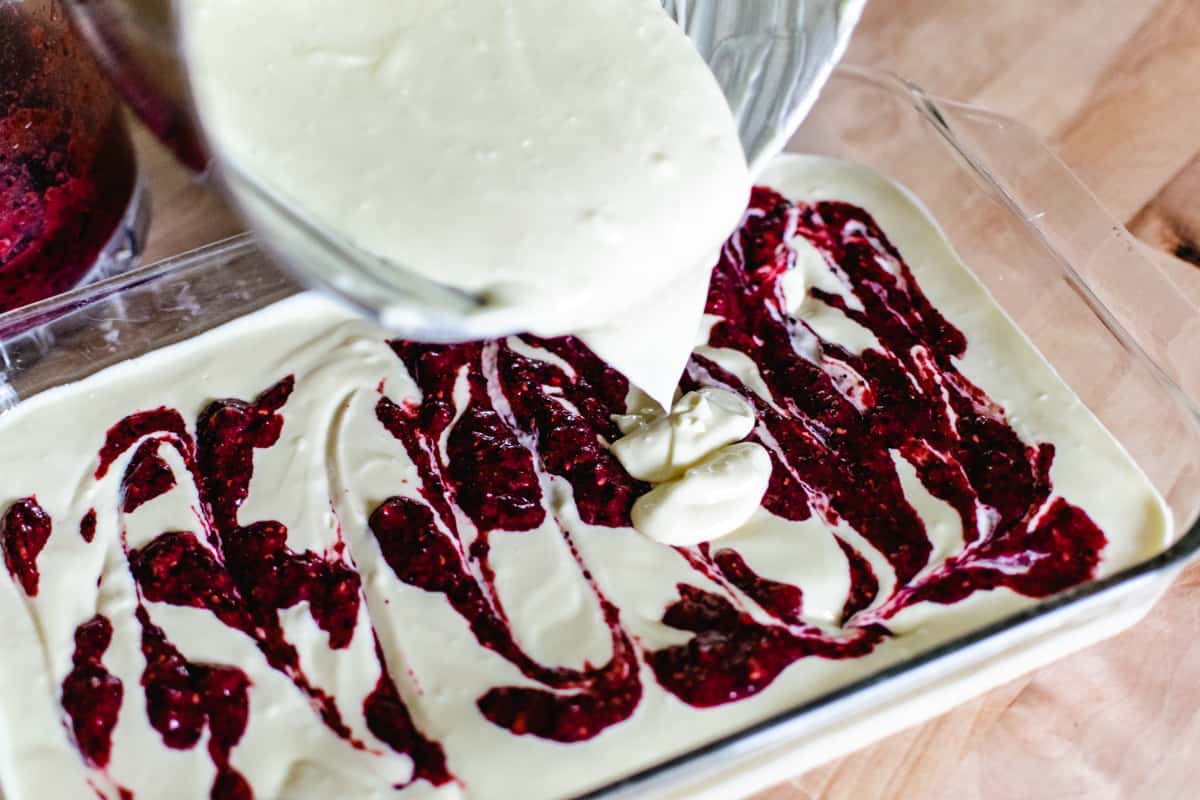 Repeat the dolloping of the remaining berry mixture over the top layer of cheesecake filling and swirl once more to create a nice pattern, without fully combining the berry swirl with the cheesecake filling.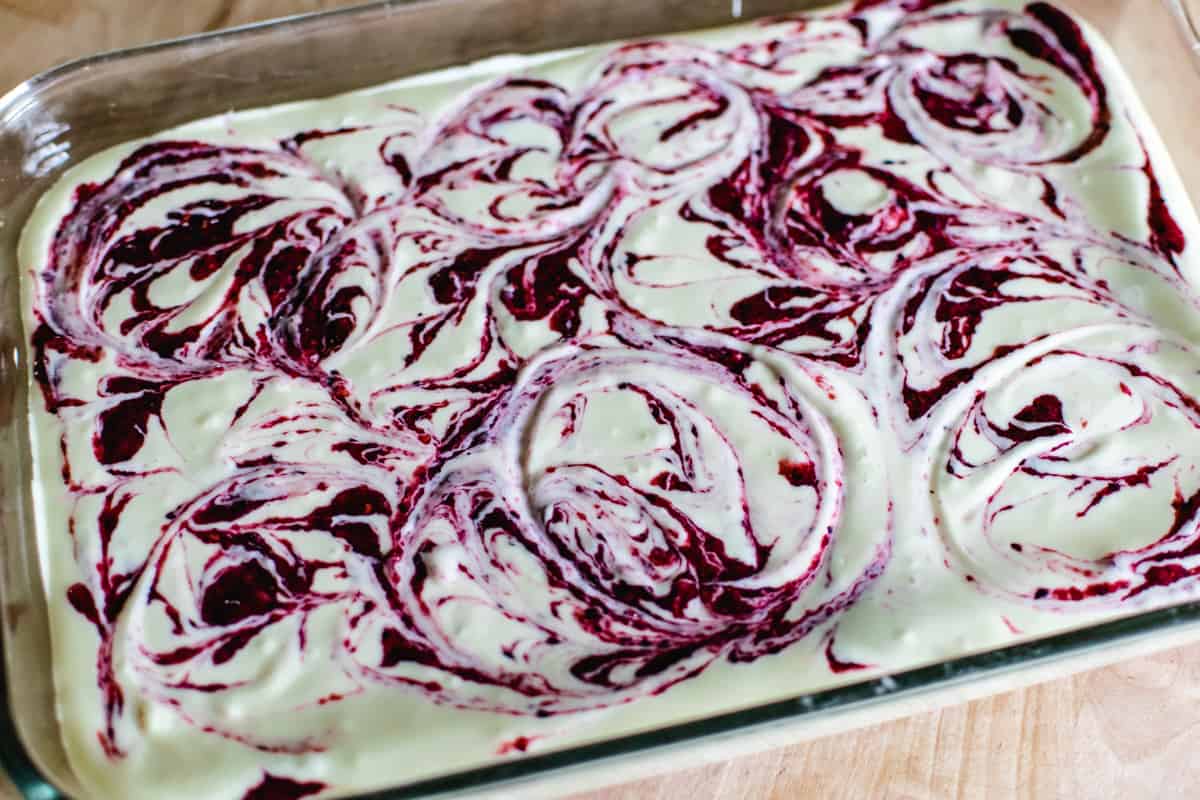 use a water bath
Baking the cheesecake pan on another pan that is filled with a shallow bit of water is called a water bath. It's especially helpful with cheesecake, because it helps keep the surface moisturized without cracking or browning while it bakes.
Bake the cheesecake at 325 degrees, and not over. If your oven runs a little hot, reduce the temperature a tad to account for it. Normally, you don't want the top of a cheesecake to become brown at all.
Bake for about 1 hour. Keep an eye on the cheesecake. When the edges look set and the center is just ever so slightly jiggle, it's done.
Remove it from the oven and out of the water and run a knife around the edges right away. This will also help the cheesecake to cool without cracking, as it releases from the sides of the baking dish.
Cool on the counter for 20 minutes and then finish chilling in the refrigerator for a minimum of 3 hours. Do not attempt to cut into bars until it's completely chilled.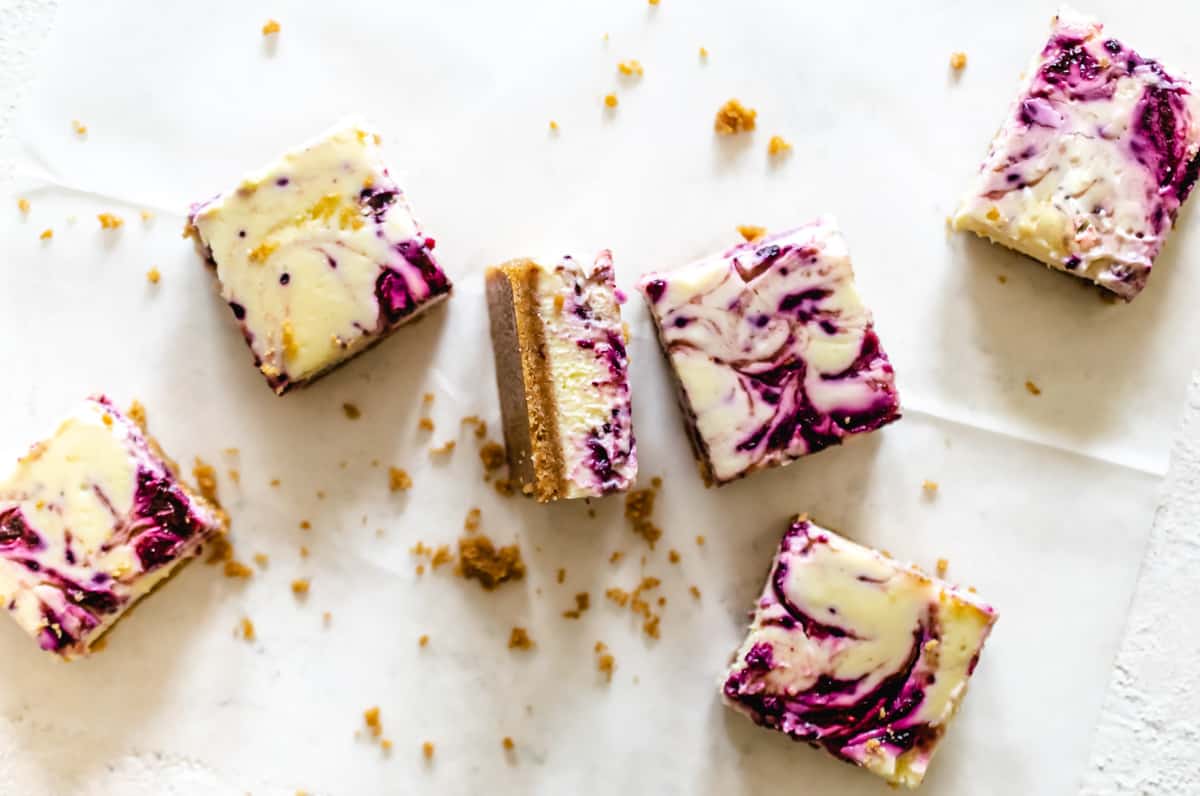 For more desserts using the season's best berries, try Triple Berry Bundt Cake, or this fun and fruity Lemon Raspberry Cake!
Also try Homemade Ice Cream Sandwiches, a classic summer dessert, just like from the ice cream truck!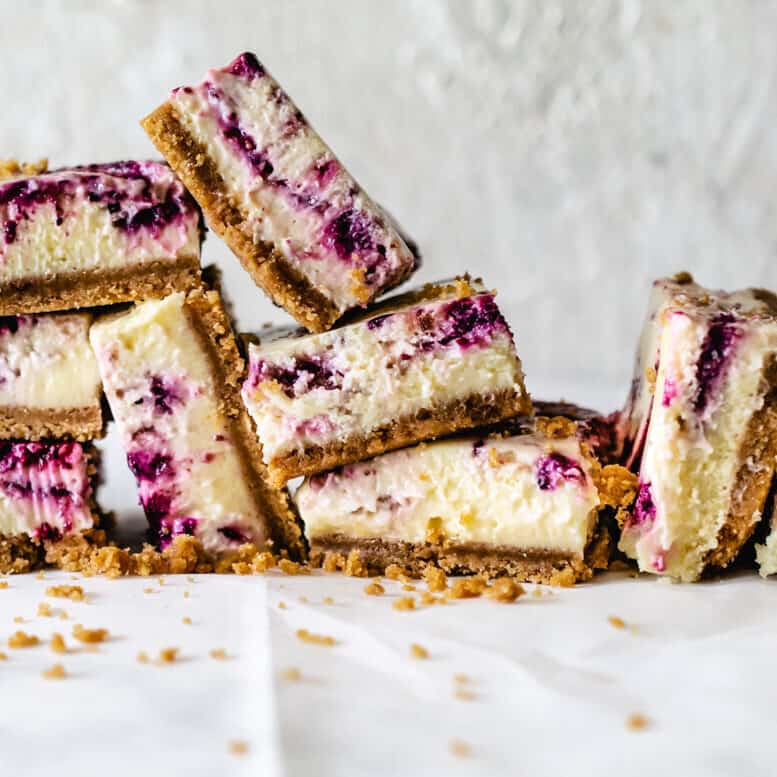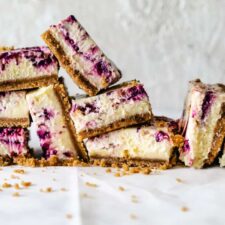 Berry Cheesecake
Cheesecake swirled with raspberry, blueberry, and strawberry, baked into a graham cracker crust and cut into easy bars.
Print
Pin
Rate
Ingredients
Crust
15

graham cracker sheets

pulverized into crumbs (about 2 ½ cups graham cracker crumbs)

8

tbsp

butter

melted

¼

cup

sugar

Berry Swirl

2

tablespoons

sugar

1

cup

each of strawberries

stems removed and quartered, blueberries and raspberries
Filling
24

oz

cream cheese

softened to room temperature

1 ¼

cups

granulated sugar

2

teaspoons

vanilla

¼

cup

sour cream

3

large eggs
Instructions
Puree berries with sugar and cook on a low simmer until thickened and reduced by half. Chill immediately in fridge.

Preheat oven to 320 degrees.

Combine graham crackers, melted butter, and sugar until moistened. Press into the bottom of a 13x9 inch baking dish.

In a large mixing bowl, combine cream cheese, sugar, vanilla and sour cream and beat until smooth.

One at a time, add eggs to cream cheese mixture until all are combined.

Pour half of the cream cheese mixture over graham crackers.

Dollop half the cooled, pureed berries randomly over cream cheese mixture and swirl with a knife. Top with remaining cream cheese mixture, and repeat with remaining berries.

Place pan in the inside of a larger pan filled ½ inch full with water. 

Bake at 325 degrees for about one hour. Cheesecake is done when edges are set and center is barely jiggly.

Remove from oven and water bath and immediately run a knife around the edges to loosen. 

Let cool on counter top for 20 minutes before transferring to the fridge, covered, and chilling for at least 3 hours but preferably overnight. 

Do not attempt to cut into bars until completely chilled. 

Cut into 20 bars, 4 wide by 5 long. 

Keep stored in fridge for up to 5 days.
Notes
If using blackberries, keep in mind their seeds are larger and more hard.
Soften cream cheese prior to use. 
Cool berry reduction prior to mixing into cream cheese mixture.
Do not attempt to cut bars until completely chilled.