Perfectly scoop-able restaurant style salsa with warm, homemade tortilla chips.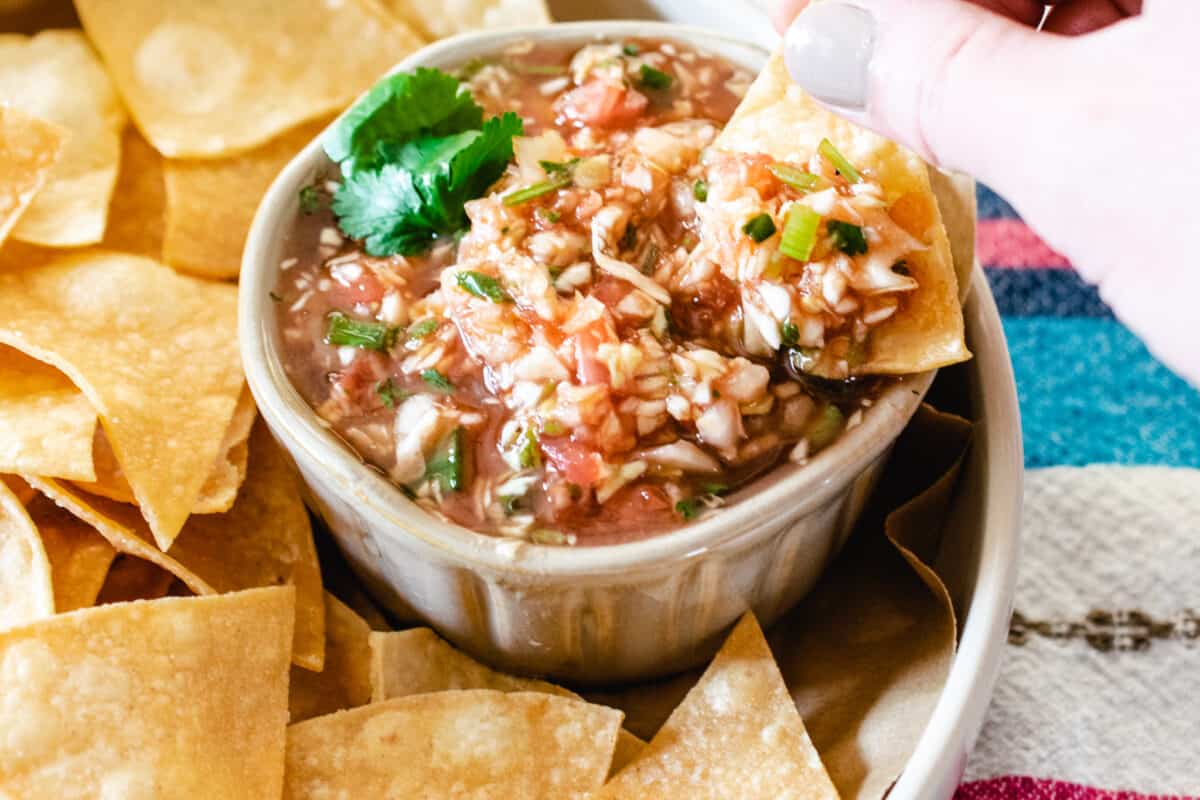 If you are looking for a restaurant style salsa, that has that super addicting quality to it, this is it. This is the perfect salsa that falls somewhere in between a pico de gallo and a fresh salsa; but with the addition of crunchy cabbage. The recipe comes with easy instructions on how to make your own warm, cantina style chips! It is so good. Little details are included in this recipe that are simple, yet make all the difference.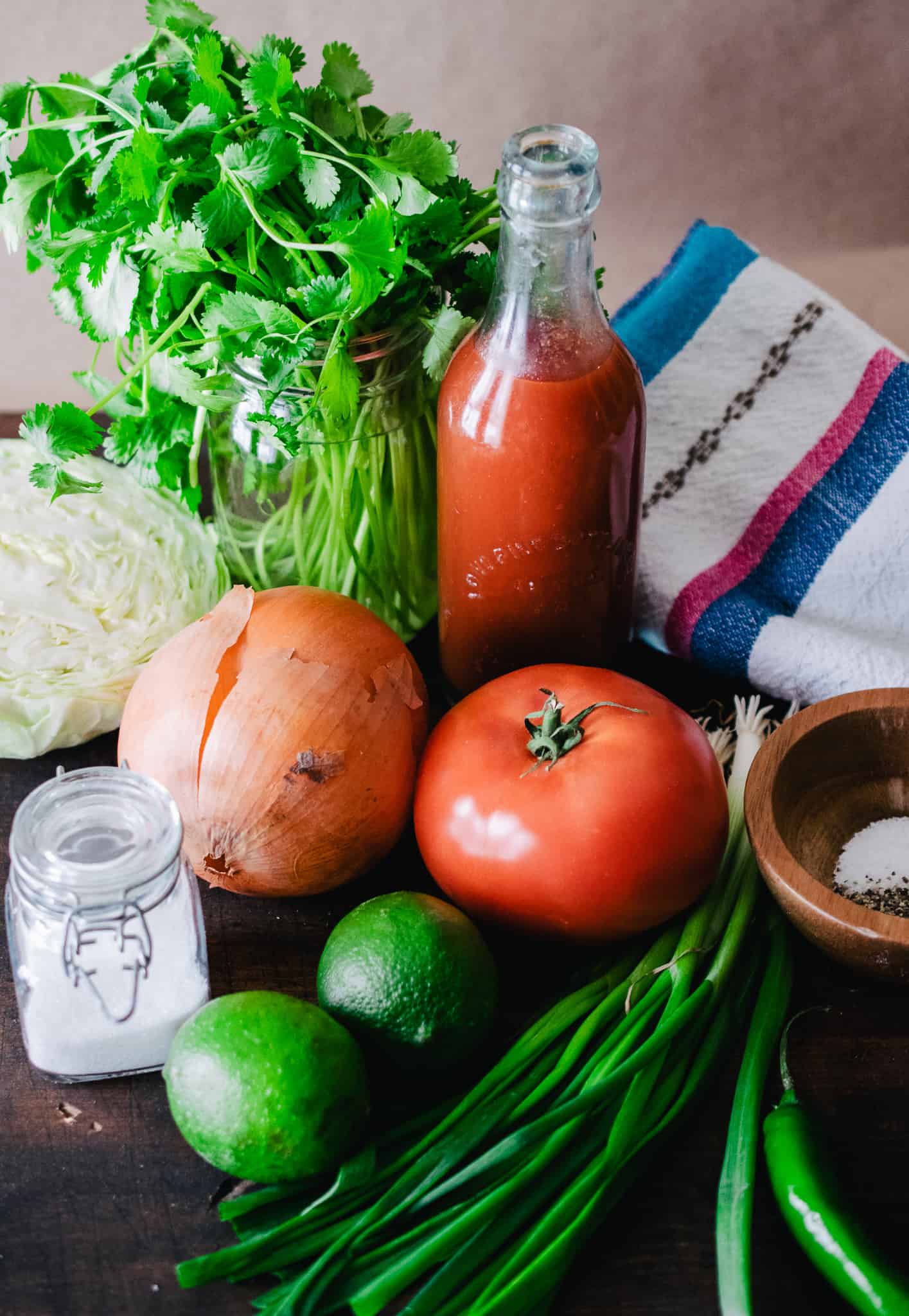 is it pico de gallo or salsa?
Here's the deal. I don't want to upset the Pico Police. Technically, it falls somewhere between pico de gallo and salsa. Pico de gallo is always fresh, never cooked ingredients and they don't typically vary much. Salsa is often cooked (although it can be fresh) and the ingredient list can be a whole range of different things. This recipe is closest to a pico de gallo, but has some elements of a fresh salsa in it which are necessary to produce the restaurant style chips and salsa that we are going for here.
it's got to have cabbage
It's no secret that I'm a big fan of homemade copycat recipes. Copycat Mexican restaurant pico de gallo recipes are something people seem to be searching for. And being that the stuff is half the reason to go out for Mexican, it's a given that I had to come up with the perfect at-home restaurant style salsa with cabbage. If you aren't sure why the restaurant salsa is always so much better, the addition of cabbage is a big part of it. It's the texture and size of the minced veggies with the cabbage. The cabbage adds a crunch and adds to the texture that makes this homemade restaurant style chips and salsa so addicting.
add a pinch of sugar 
Sugar? What? Yes. A pinch of sugar is another little something that makes a big difference. The reason for this is that it balances out the acidity of the tomato and lime. It's not enough to make the salsa sweet, but it's something that other recipes lack and why they don't quite taste the same as the stuff at the restaurant. (It's a concept like adding a teaspoon of sugar to cookie dough. It doesn't make the cookie salty, but it does add a certain something that bumps up the flavor.) You don't know it's there necessarily, but without it it's not quite hitting the spot. Same goes for a pinch of sugar in homemade salsa. 
what exactly does cantina style mean?
Simply put, cantina style in terms of salsa means restaurant salsa. It refers to smaller pieces, less chunky, and a little thinner. Perfect for scooping up with warm, fresh tortilla chips. We are using fresh ingredients, like a pico de gallo, and not simmering or roasting anything. But we are not pulverizing or pureeing it in a blender; we still want the pieces. We just want the pieces small. Uniform. Cantina style. So delicious. So addicting. 
As far as the chips go, cantina style (restaurant chips) typically refers to a thinner chip. As opposed to store bought, bagged chips which tend to be thicker. (The word 'cantina' doesn't have anything to do with smaller, or thinner; it actually just translates to bar or restaurant.)
size does matter
The one thing I have to absolutely recommend here is using a food processor instead of the knife and cutting board. The reason for this is texture. For perfect, homemade cantina style salsa, texture is everything. If you don't use a food processor, make sure you have a nice sharp knife, and a large cutting board and be intentional in cutting up small, uniform bits of the ingredients. See the photos to know what size to shoot for. The size does matter, because it determines the texture of the salsa. And all of these little details are what makes a truly delicious, addicting, and perfect restaurant style salsa.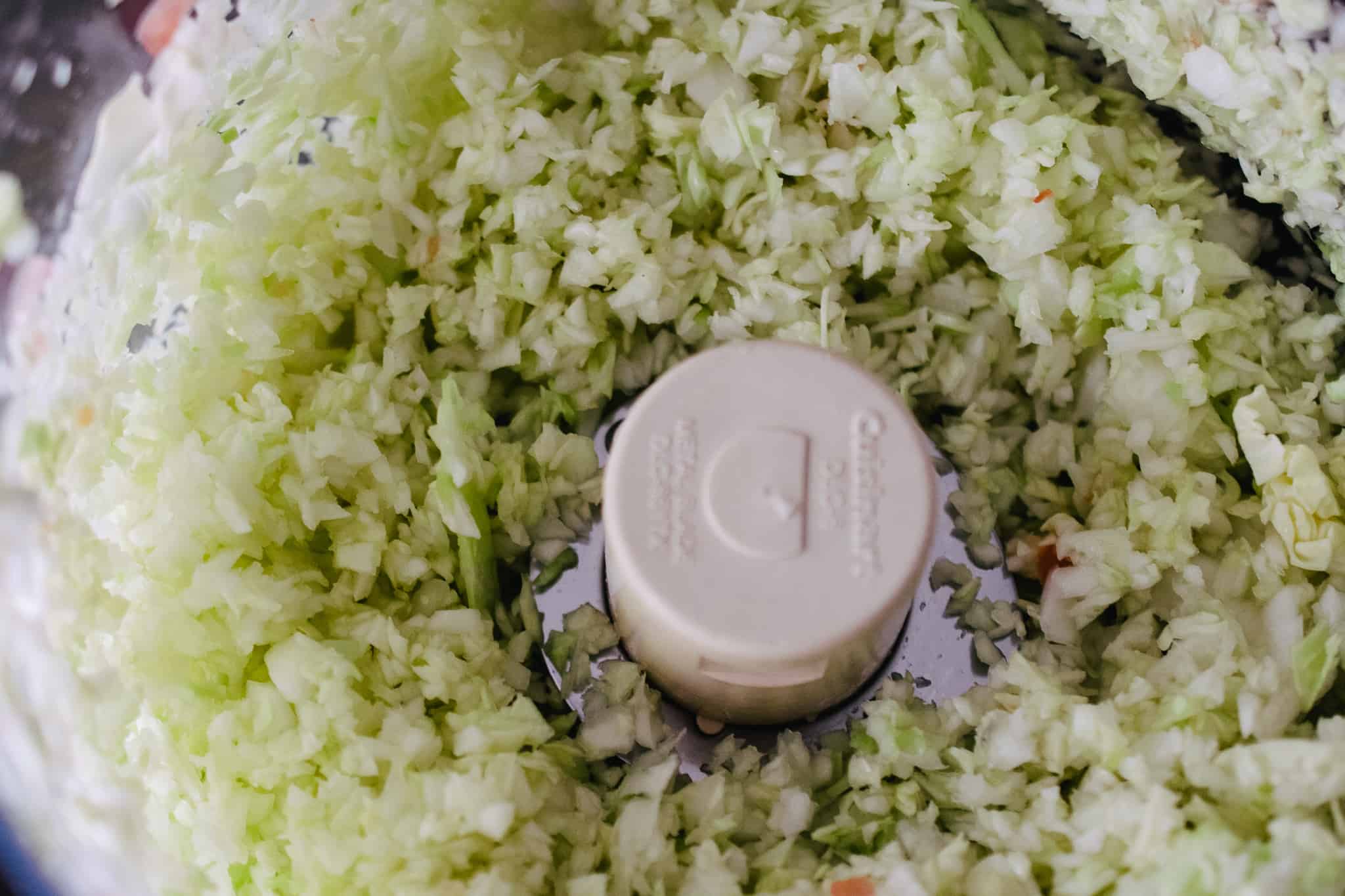 make homemade, warm tortilla chips
The perfect restaurant style salsa needs warm, homemade Cantina style tortilla chips for scooping it all up! Tortilla chips are really easy to make, and totally worth it when you have this amazing salsa to go with them. You can also keep them warm in the oven until you're ready to serve them.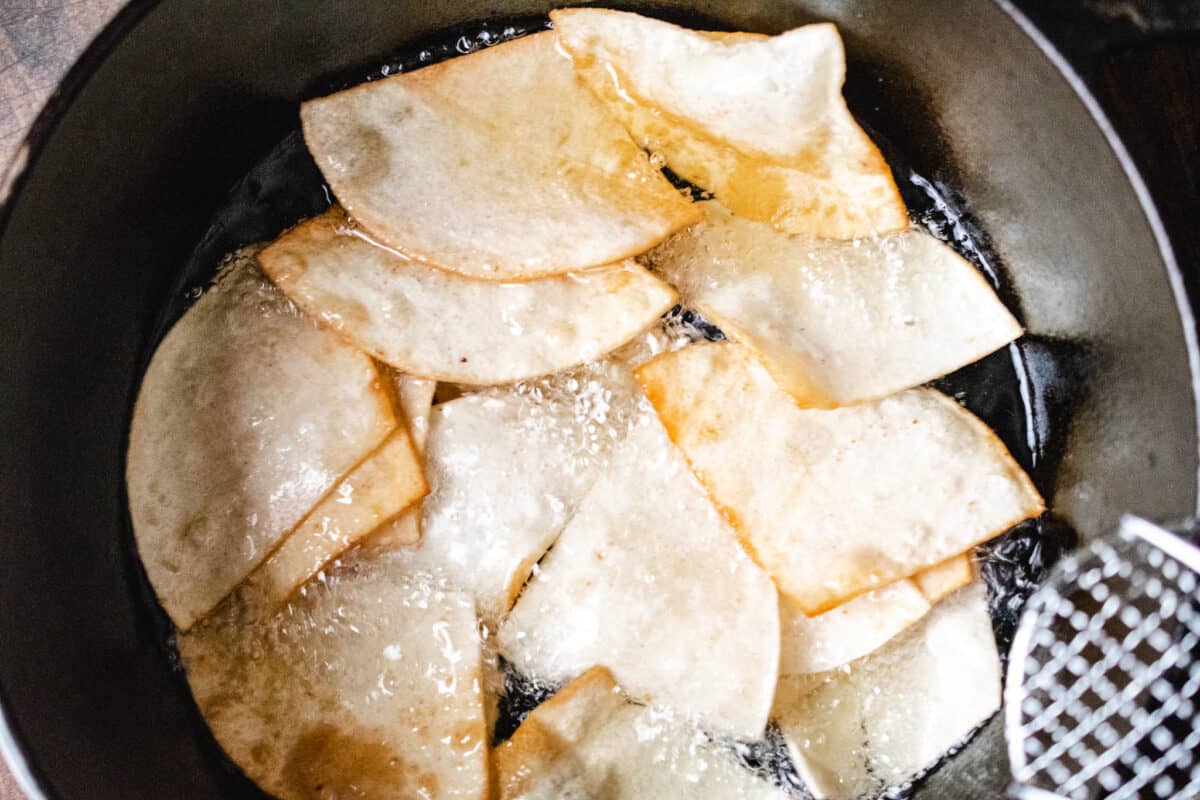 To make them, cut a stack of small, corn tortillas into six equal triangles to prepare them for frying. Heat a large, deep pot with a few inches of frying or vegetable oil to about 350 degrees. This is around the medium high setting on most stove top burners. You'll want to keep the level below halfway full, because it's going to rise rapidly once the tortillas get in. Don't walk away from the pot, as they become golden and crisp very quickly. Remove them with a slotted spoon or frying ladle and immediately salt them with fine salt. Work in batches of about 20 triangles at a time. Chips can be kept warm in a 180 degree oven, or stored in a paper bag and reheated in a 180 degree oven once ready to serve. 
keeping cilantro fresh
If you've found yourself frustrated by how fast fresh cilantro from the store goes bad, you're not alone. See my post on how to keep cilantro fresh for up to one month!
Print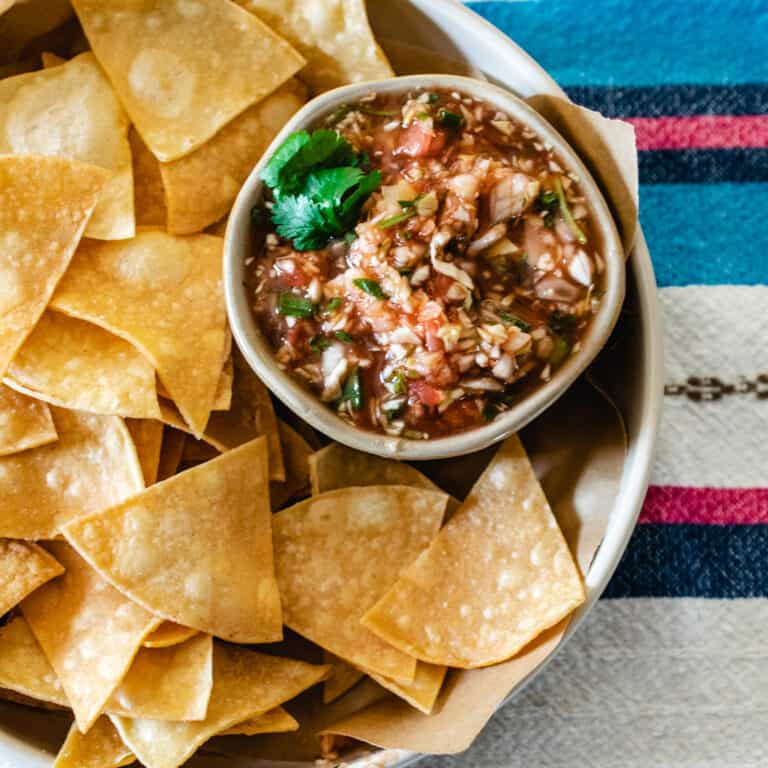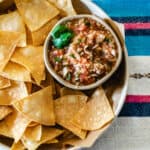 restaurant style salsa with cabbage
---
Description
Restaurant style salsa, with cabbage, perfectly scoop-able with warm, homemade tortilla chips!
---
Scale
Ingredients
1

large tomato

1/4

head cabbage

1

medium sweet onion

1

bunch green onion

1

bunch of cilantro

2

limes, juice of

1

Serrano pepper

15 oz

tomato juice, unseasoned

1 tsp

sugar
salt and pepper

20

corn tortillas

6 cup

s oil for frying
---
Instructions
For the Salsa:
In a food processor, or with a knife and cutting board, finely mince the tomato, onion, cabbage, cilantro and Serrano pepper; add to a large bowl.
Slice the green onion finely and add to bowl.
Pour in the tomato juice, and the juice of two limes.
Add the sugar.
Toss together, and salt and pepper to taste. 
For the Chips:
Heat about 2 inches of vegetable oil in a deep pot to 350 degrees.
Cut tortillas into 4 equal triangular portions
Fry in batches, for about 3 minutes until golden.
Remove with a slotted spoon onto a baking sheet or wide stainless steel bowl
Salt with fine salt immediately and toss to coat. 
---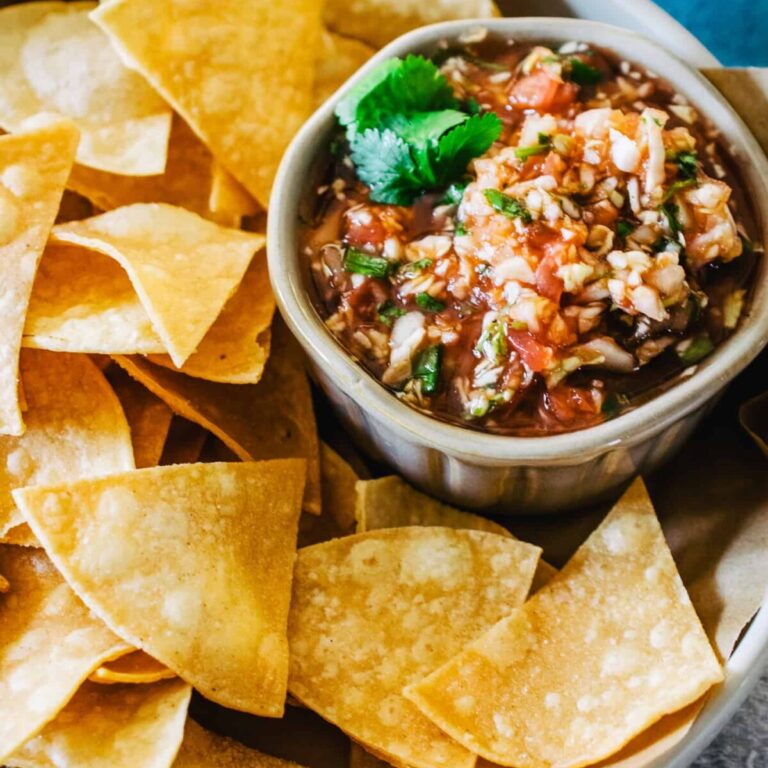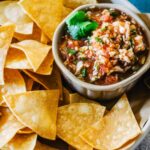 Pico de Gallo with Cabbage
Author:

Erin
Prep Time:

10 minutes

Total Time:

10 minutes

Yield:

1 gallon

(approx)

1

x
Category:

Appetizer, Side Dish, Snack

Cuisine:

Mexican
---
Description
Just like the Mexican restaurant salsa; filled with cabbage, cilantro, lime, onion and tomato, this salsa is very addicting! Serve with warm, homemade tortilla chips.
---
Scale
Ingredients
1

large tomatoes (or

4

if you are using the small on the vines)

1/2

head of green cabbage

1

sweet onion

1

bunch scallions

1

serrano pepper (use half for milder salsa)

1

bunch cilantro

2 cup

s tomato juice (unseasoned, just the plain canned stuff)
juice of

2

limes

2 teaspoon

s sugar

1/2 teaspoon

salt

1/2 teaspoon

pepper
For the Homemade Tortilla Chips
corn tortillas
oil, for frying
fine salt, for sprinkling on chips
---
Instructions
Designate a very large bowl to mix; this makes a lot. Cut tomatoes into large chunks, add to food processor.

Chop or process tomatoes to about 1/4″ pieces; add to bowl.

Cut cabbage into large pieces the size of the quartered tomato, then add to food processor. Pulse until finely chopped; add to bowl with tomatoes.

Repeat with onions, add to bowl.
Slice, do not process, scallions (green onions), into thin rings; add to bowl.
Chop or process the serrano. If you remove the ribs and seeds, you are lessening the heat level, if you leave them in, you are raising the heat level, so keep in mind your families heat tolerance during this step. (Using the food processor can give you finer pieces of pepper, so that the heat is more evenly distributed; as opposed to roughly chopping it, which would yield larger, extremely spicy bites of pepper.)
Quarter each lime (if they seem very unripe, microwave for 30 seconds and this helps to release the juice for squeezing) and squeeze into bowl. Rolling the limes between the counter top and palm of your hand also helps to loosen up the fruit and release more juice when squeezing.
Process or chop cilantro, add to bowl. Add tomato juice, sugar, salt and pepper. Mix, mix, mix.

For warm tortilla chips
Heat oil in a narrow stock  pot to medium high heat. (If you have a thermometer, 350 degrees is ideal.)
Cut tortillas into 6 wedges each.
When the oil is rippling on the top and one test tortilla sizzles when dropped in, fry in batches about 2 minutes, just until they begin to turn golden.

Using a slotted spoon, pull chips out onto paper towel lined bowl or plate and salt immediately.

Continue in batches until you have the desired amount of chips. Serve with the pico de gallo with cabbage!

---