Fresh, delicious restaurant style salsa with crunchy cabbage with fresh, warm tortilla chips.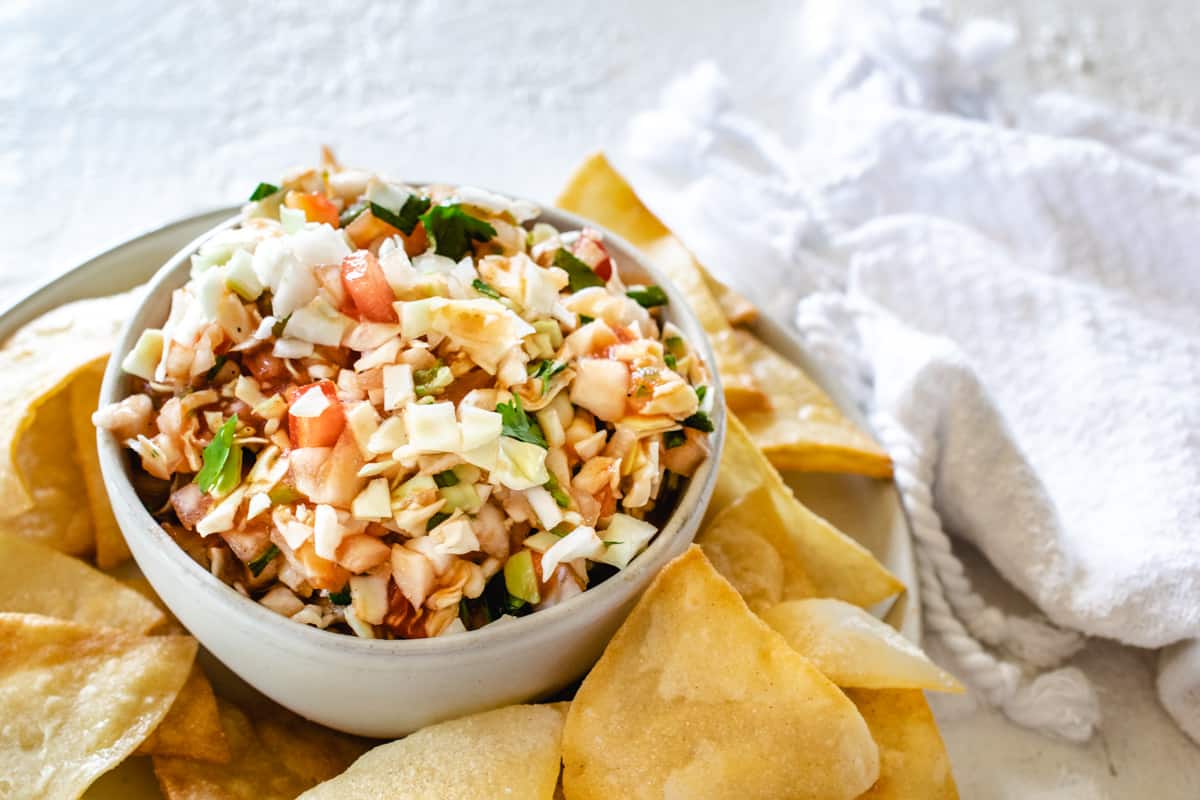 Ingredients
Green cabbage
A fresh tomato
Sweet onion
Green onion
Fresh cilantro (see post on How to Keep Cilantro Fresh for up to One Month)
Fresh lime
Serrano pepper (can substitute jalapeno)
Tomato juice (unseasoned, like Campbell's)
A pinch each of sugar, salt and pepper
The recipe comes with easy instructions (at the bottom) on how to make your own warm tortilla chips to serve the cabbage salsa with.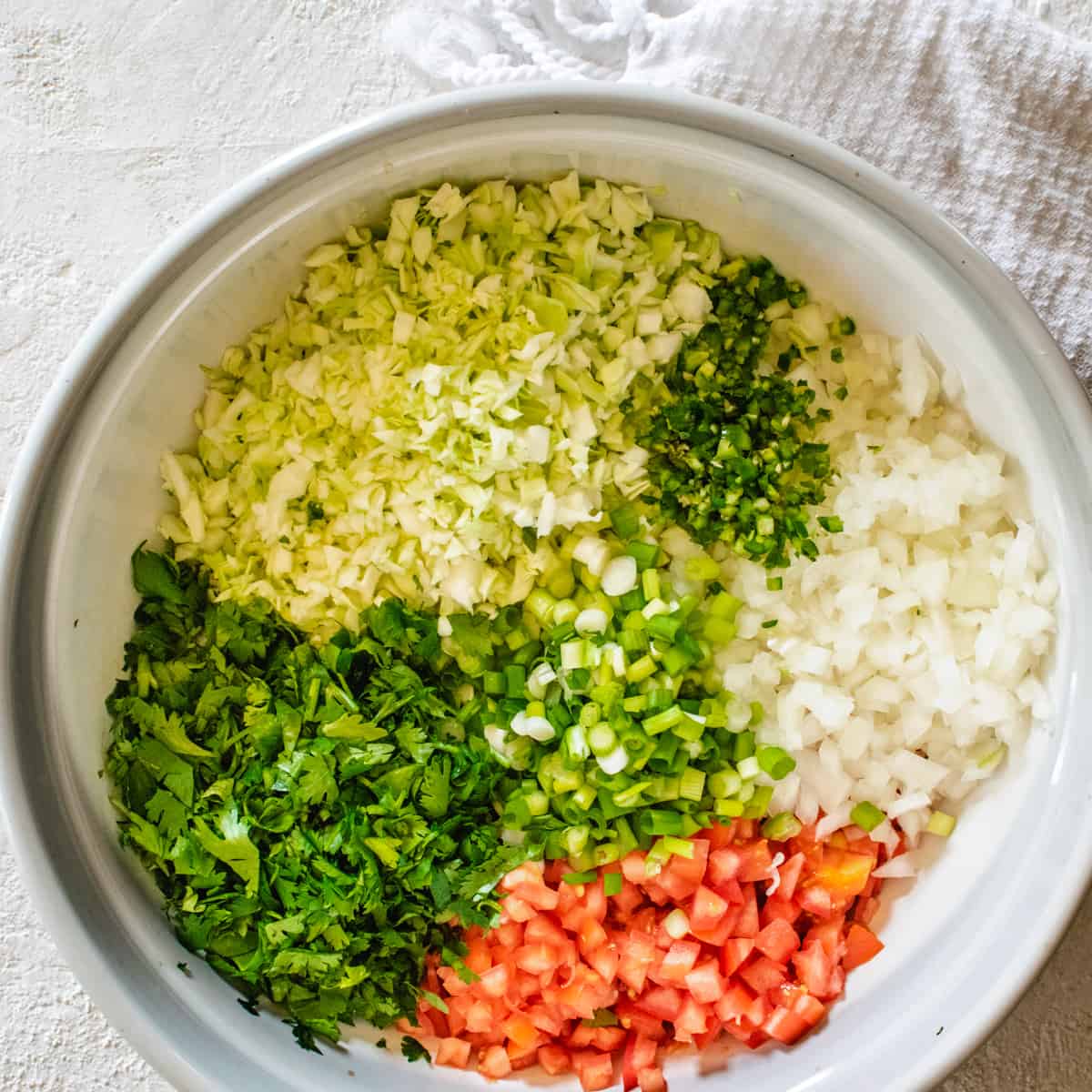 If you have one available, I recommend using a food processor for textural reasons. It helps to get tiny, uniform pieces that make the salsa so great.
If you don't have a food processor, use a sharp knife, and a large cutting board and be intentional in cutting up small, uniform bits of the ingredients.
This is especially important when it comes to the cabbage.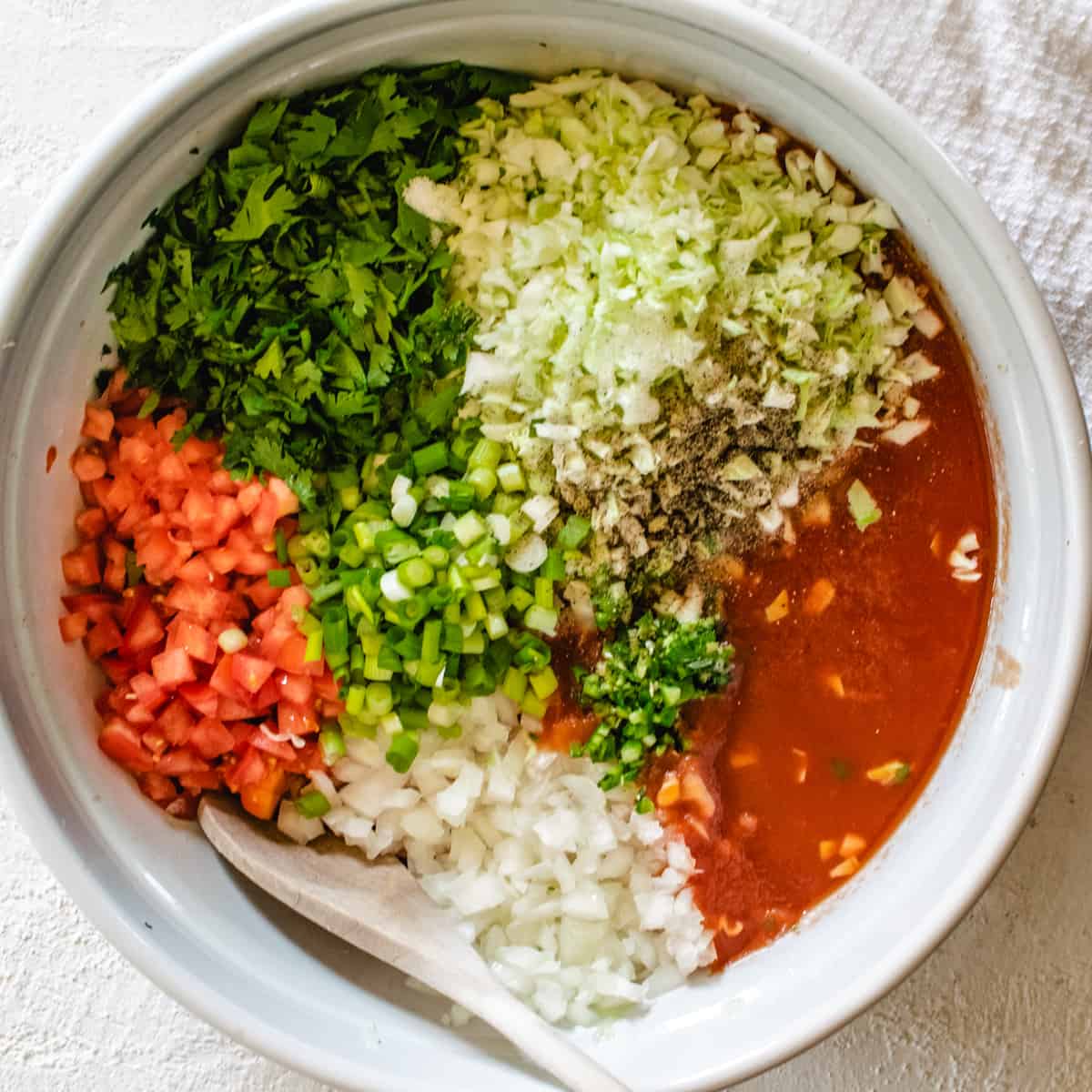 Storing
The cabbage salsa will keep in the fridge for up to five days.
It can be eaten right away, but it's actually best several hours to the next day after it's been in the fridge since the flavors have time to come together. 
How to make tortilla chips:
Tortilla chips are really easy to make, and definitely worth it when you have a great salsa to serve with them.
You can also keep them warm in the oven until you're ready to serve them. 
To make the chips cut a stack of small, corn tortillas into six equal triangles to prepare them for frying.
Heat a large, deep pot with a few inches of frying or vegetable oil to about 350 degrees. This is around the medium high setting on most stove top burners. (You'll want to keep the oil level below halfway full, because it's going to rise rapidly once the tortillas get in.)
Drop the tortilla triangles into the oil in batches of about 20 triangles. Give a little stir and flip here and there. Don't walk away from the pot, as they become golden and crisp very quickly.
Remove them with a slotted spoon or frying ladle and immediately salt them with fine salt; layer on a baking sheet or large plate.
Chips can be kept warm in a 170 degree oven, or even reheated at the same temperature for 5-10 minutes. Store in a plastic or paper bag for up to 5 days.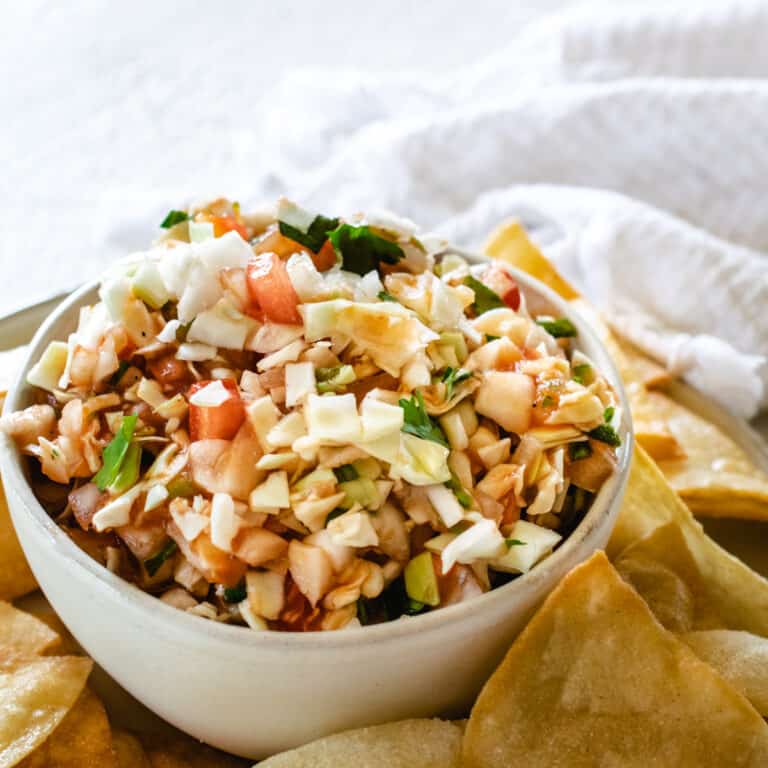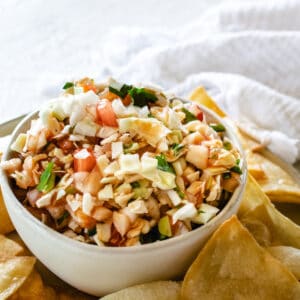 Cabbage Salsa
Restaurant style cabbage salsa; perfectly scoop-able with warm, homemade tortilla chips!
Print
Pin
Rate
Ingredients
1

large tomato

½

head cabbage

1

sweet onion

1

bunch

green onion

1

bunch

cilantro

1

lime

juice of, two if dry

1

Serrano pepper

more or less to taste

2

cups

tomato juice

unseasoned

½

teaspoon

sugar

1

teaspoon

salt

1/

teaspoon

black pepper

more or less to taste
Instructions
For the Salsa:
In a food processor, or with a knife and cutting board, finely mince the cabbage, cilantro and Serrano pepper; add to a large bowl.

Dice the onion and tomato and add to bowl.

Slice the green onion thinly and add to bowl.

Pour in the tomato juice, and the juice of one to two limes.

Add the sugar, salt and pepper.

Toss together, add more salt or pepper to taste.

Store in an airtight container in the fridge for up to 5 days.
Notes
Using a food processor is the best way to get the perfect texture, but a knife and cutting board will do if you make sure to get the cabbage minced very finely. It's all about the texture and uniform pieces. 
Store salsa covered, in refrigerator for up to 5 days. 
To make homemade tortilla chips:
Cut stacks of corn tortillas into 6 equal triangular sections.
Fry chips in batches, make sure oil is 350 degrees. Test tortilla should sizzle immediately when hitting oil.
Don't heat oil too hot; if it smokes it's too hot. 
Use a deep stock pot to pour oil in, and leave at least 6 inches head way. Don't fill oil deeper than 2 inches because oil level can rise quickly once tortillas are dropped in.
Drain chips on a parchment paper or paper bag lined baking sheet. 
Salt fried chips immediately with fine salt while still hot; this helps salt to stick.
Place pot of oil in a safe space (like in a turned off oven) while it cools down. Even oil that is off the burner can cause severe burns for several hours after frying. 
Nutrition
Serving:
1
g
|
Calories:
30
kcal
|
Carbohydrates:
7
g
|
Protein:
1
g
|
Fat:
1
g
|
Saturated Fat:
1
g
|
Sodium:
208
mg
|
Potassium:
229
mg
|
Fiber:
2
g
|
Sugar:
5
g
|
Vitamin A:
374
IU
|
Vitamin C:
26
mg
|
Calcium:
29
mg
|
Iron:
1
mg