I am pretty excited about this post. This was a spur-of-the-moment idea, that happened because we were super backed up on chicken eggs. Our chickens, have been laying a couple eggs a day, some of them which is amazing but we haven't been able to keep up with eating them. So I did what I usually do when we have a pile of eggs that need to be used up. French toast! Not only does my family love breakfast for dinner, but it's nice to have the leftover french toast for the freezer. That way they can just nuke it the morning for breakfast. I can easily use 18 eggs for one batch of french toast. And since I make the bread for it, it can be cut nice and thick–the way the best french toast is.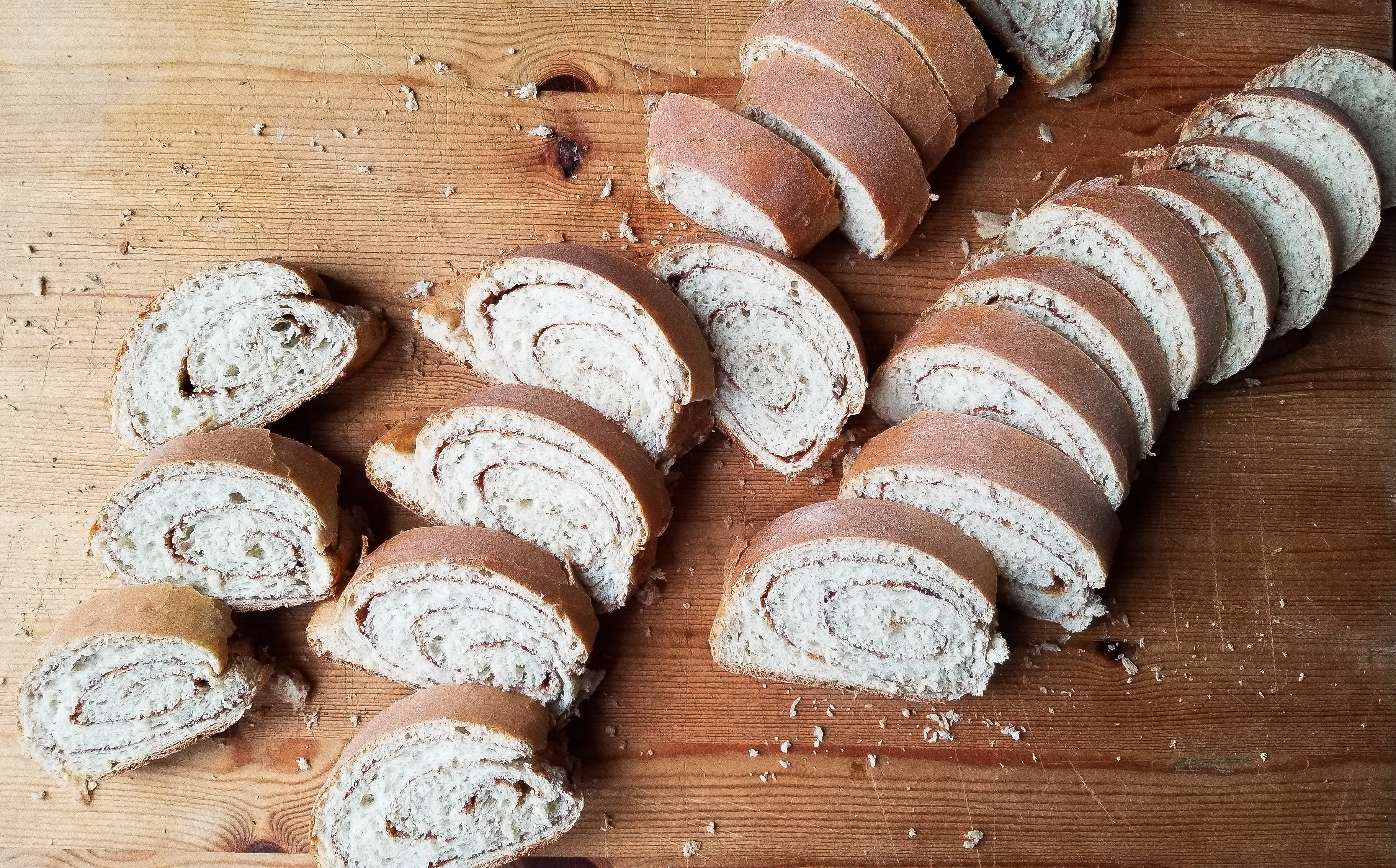 I started this bread just like I would any french loaf; by adding all of my ingredients to the dough cycle of my bread machine to knead and give the first rise. You could also do this manually by kneading everything together for a good ten to fifteen minutes, covering and letting it rise about an hour, until double in size. I use my bread machine because, I like it when things are easier. Crazy, I know. This time though, I added vanilla, cinnamon and extra salt and sugar to the dough, to bump up the flavor. Then, when it came time to form the loaf for the second rise, I actually rolled it out like you would when making cinnamon rolls, and added another layer of awesomeness by sprinkling the entire sheet with more cinnamon and brown sugar. Then, I rolled it up french-bread-loafy-style (it's culinary terminology, don't worry about it). After its second rise, it baked up just the way it should have, except this time with the added flavors and aromas of sweet cinnamon and vanilla. Honestly, I could have just stopped right there, sliced it up with some butter, and died happy. I did promise them french toast for dinner though….
Also, when you make this french toast, don't be too heavy-handed on the brown sugar part of it. It can be tempting, and it is for me too, but if you use too much, it'll gum up when it melts during the cooking process, and it will make your loaf heavy with areas of chewy brown sugar–total bummer. I find a heaping eighth of a cup did the job just right, for a 15×18 inch rectangle of dough. And when you roll it, its more of a floppy fold, than a straight up round roll. Does that make sense? If not, check out the photo for that step in the recipe.
This recipe works great on it's own, for breakfast or dinner, but I also like to serve it with something salty and savory, like a potatoes O'brien, or fluffy scrambled eggs. Depending on the size of your slices, this makes enough to feed a family of 5, plus some leftovers. If you are looking to have a good amount to freeze for future breakfasts, I would go ahead and double this, and use 2 separate pans for baking the loaves. It's worth the extra few minutes!
Cinnamon Vanilla Swirl French Toast
Soft, cinnamon-vanilla french bread, swirled with a cinnamon-sugar swirl, and grilled up french toast style!
Print
Pin
Rate
Servings:
20
slices (approx)
Ingredients
For the Bread Dough
3 1/4

cups

all-purpose or bread flour

2

large eggs

1/3

cup

sugar

2

tsp

salt

1

tbsp

active dry yeast

not instant

1/2

cup

water

1

tbsp

vanilla

1

tsp

cinnamon
For the Bread Swirl
1/8

heaping cup brown sugar

2

tsp

cinnamon
For the French Toast Batter
18

large eggs

2

tbsp

vanilla

1

tbsp

cinnamon
Instructions
Add bread dough ingredients to bread machine and select dough cycle. Dough needs to be able to form a ball and hold shape, if too dry add a bit more water, if it's too wet add a bit more flour until consistency is achieved. (If you are not using a bread machine, combine all ingredients, knead on a floured surface for 15 minutes, cover and let rise for 60 to 90 minutes, until doubled in size.)

After dough cycle (of first rise) is complete, turn dough out onto a floured surface. Using a floured rolling pin, roll the dough out into about a 15x18 inch sheet. It doesn't need to be exact.

Preheat oven to 350 degrees.

To create the swirl, sprinkle rolled out dough evenly with brown sugar, then cinnamon.

From edges, working your way to the center, begin to roll the sheet up. It will be more of a 2 inch wide fold-up, than a perfectly round roll.

Once you reach the end of the roll, seal everything up, including the ends, by pinching the dough together.

Transfer to an aluminum half sheet, or similar large baking sheet. You may have to lie it diagonally to get it to fit.

Bake for 20 to 25 minutes, until golden brown. Remove from oven, and let cool enough to handle.

Slice evenly into about 1 1/4 inch thick slices.

Preheat griddle to 350 degrees. Combine the 18 eggs, vanilla and cinnamon. Whisk until every yolk is incorporated.

Begin to dip each piece of swirl bread into the egg mixture and transfer straight to the griddle. Grill on one side until it is completely golden brown before flipping over to repeat on the other side.

Repeat until all of the pieces of french toast are completed! Serve with butter, syrup, or toppings of choice. Leftovers freeze well for easy reheat.