Homemade french bread with a cinnamon and brown sugar swirl, sliced thick, egg battered and cooked on the griddle.
French toast is a great way to use up plenty of extra eggs you might have.
If you're looking to keep some make ahead breakfasts stocked in your freezer, this is a great way to do it. Consider doubling the batch for this reason. (One batch yields about 24 pieces.)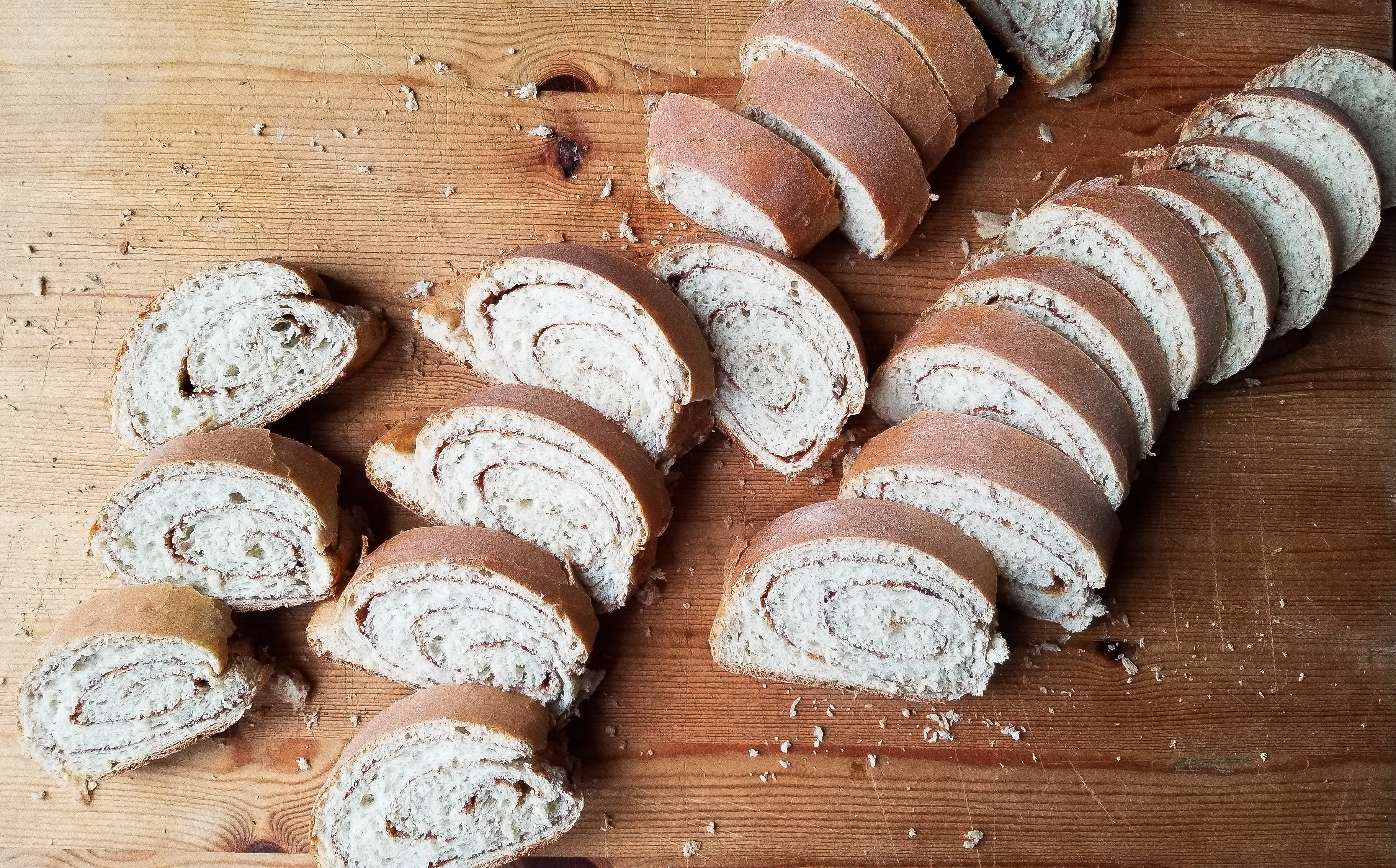 Start the bread just like any french loaf. Either add all of the ingredients to the dough cycle of a bread machine, or do this manually by kneading everything together for a good ten to fifteen minutes, covering and letting it rise about an hour, until double in size.
This french bread dough is just my basic White French Loaf, with the addition of vanilla, cinnamon and a pinch of extra salt and sugar.
After the first rise, roll it out into ¼ inch sheet (much like you would a french loaf) and sprinkle the entire sheet with more cinnamon and brown sugar before rolling it back up and tucking the ends in.
Don't be too heavy-handed on the brown sugar part of it. It can be tempting, but if you use too much it'll gum up when it melts during the cooking process, and it will make your loaf heavy with areas of chewy brown sugar instead of a light, sweet swirl. A heaping quarter of a cup did the job for a 15x18 inch rectangle of dough.
This recipe works great on it's own for breakfast or for dinner served with something savory, like a potatoes O'brien and eggs.
The leftover slices freeze great in a plastic zip lock bag, and can be reheated in the microwave on high for 1-2 minutes.
For more sweet cinnamon recipes, try:
For savory breakfast for dinner recipes to serve along side this one, try:
Cinnamon Vanilla Swirl French Toast
Soft, cinnamon-vanilla french bread, swirled with a cinnamon-sugar swirl, and grilled up french toast style!
Print
Pin
Rate
Servings:
20
slices (approx)
Ingredients
For the Bread Dough
3 ¼

cups

all-purpose or bread flour

2

large eggs

⅓

cup

sugar

2

tsp

salt

1

tbsp

active dry yeast

not instant

½

cup

water

1

tbsp

vanilla

1

tsp

cinnamon
For the Bread Swirl
¼

heaping cup brown sugar

2

tsp

cinnamon
For the French Toast Batter
18

large eggs

2

tbsp

vanilla

1

tbsp

cinnamon
Instructions
Add bread dough ingredients to bread machine and select dough cycle. Dough needs to be able to form a ball and hold shape, if too dry add a bit more water, if it's too wet add a bit more flour until consistency is achieved. (If you are not using a bread machine, combine all ingredients, knead on a floured surface for 15 minutes, cover and let rise for 60 to 90 minutes, until doubled in size.)

After dough cycle (of first rise) is complete, turn dough out onto a floured surface. Using a floured rolling pin, roll the dough out into about a 15x18 inch sheet. It doesn't need to be exact.

Preheat oven to 350 degrees.

To create the swirl, sprinkle rolled out dough evenly with brown sugar, then cinnamon.

From edges, working your way to the center, begin to roll the sheet up. It will be more of a 2 inch wide fold-up, than a perfectly round roll.

Once you reach the end of the roll, seal everything up, including the ends, by pinching the dough together.

Transfer to an aluminum half sheet, or similar large baking sheet. You may have to lie it diagonally to get it to fit.

Bake for 20 to 25 minutes, until golden brown. Remove from oven, and let cool enough to handle.

Slice evenly into about 1 ¼ inch thick slices.

Preheat griddle to 350 degrees. Combine the 18 eggs, vanilla and cinnamon. Whisk until every yolk is incorporated.

Begin to dip each piece of swirl bread into the egg mixture and transfer straight to the griddle. Grill on one side until it is completely golden brown before flipping over to repeat on the other side.

Repeat until all of the pieces of french toast are completed! Serve with butter, syrup, or toppings of choice. Leftovers freeze well for easy reheat.