Swirls of cinnamon and brown sugar through thick cut bread, battered and grilled fresh in this cinnamon swirl French Toast.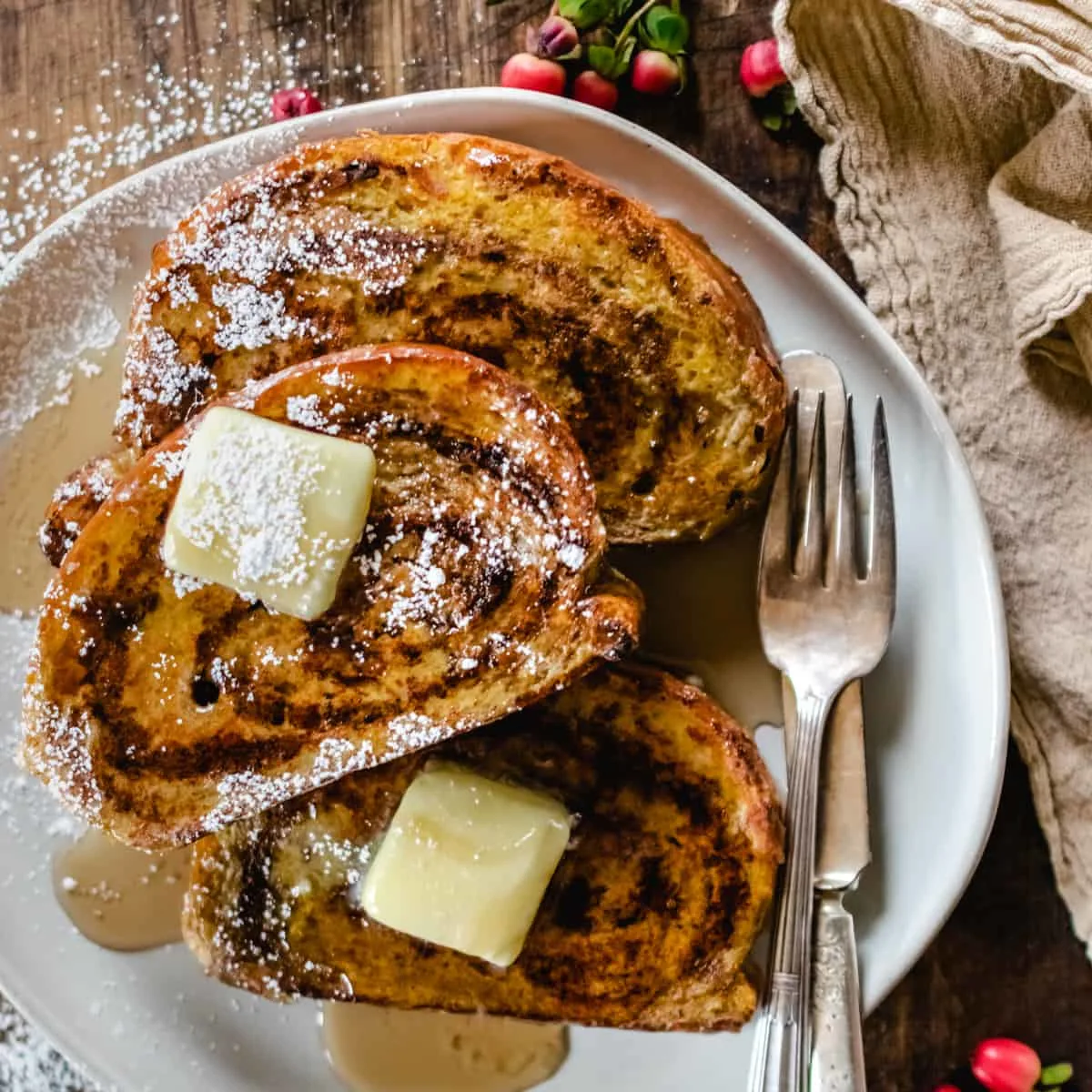 This cinnamon swirl French toast recipe is just perfect for winter breaks and the entire cold weather seasons.
The finished pieces of French toast can be stored in zipper bags in the freezer to easily reheat later.
The dough can be made ahead of time, and let to rise in the fridge if you want to make it ahead.
Ingredients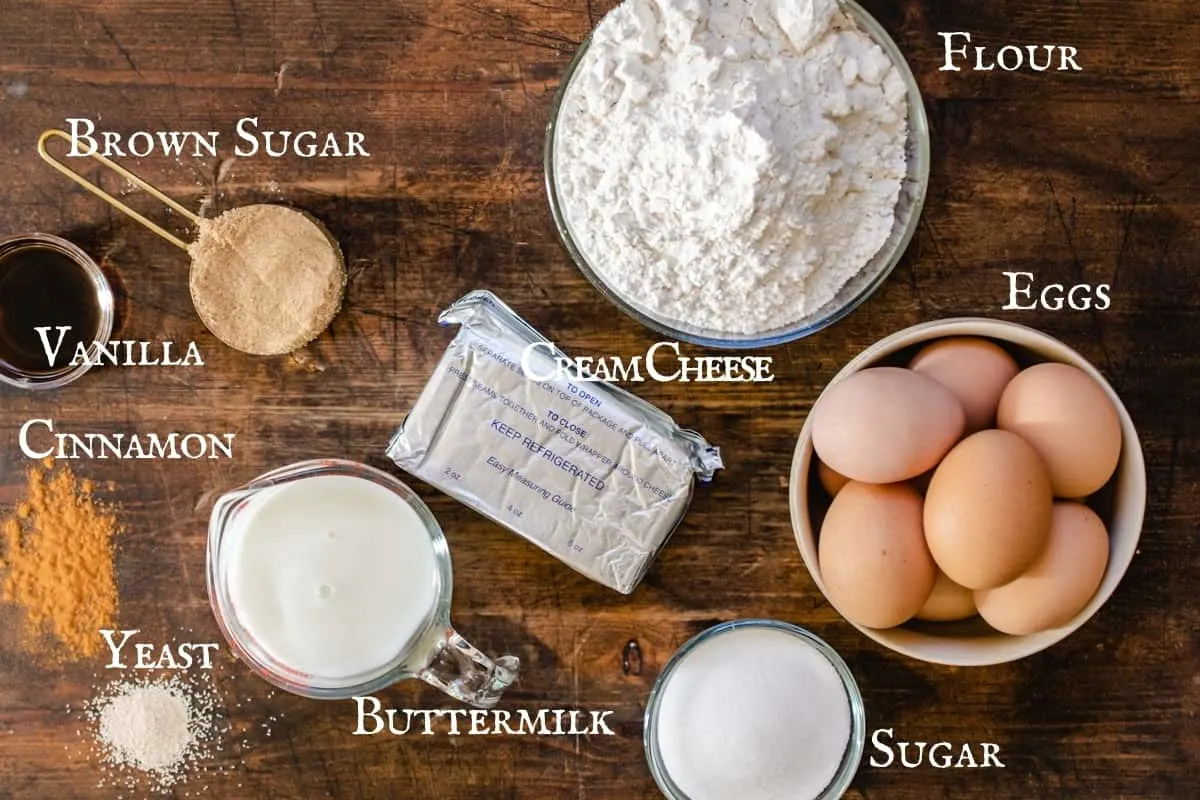 All purpose flour or bread flour are ideal for this recipe; if you are gluten free then you can opt for an all purpose gluten free flour as well.
Use full fat cream cheese (regular cream cheese). Low fat cream cheese isn't rich enough, and doesn't add enough fats to moisten the dough.
If you don't have buttermilk, you can make a buttermilk substitute with regular milk by following this recipe.
This recipe calls for instant yeast, which can be added to the ingredients as normal.
If you substitute active dry yeast then you'll need to heat the buttermilk to 120°F – 130°F before adding it to the ingredients.
Basic Instructions
This recipe consists of two parts.
First, you must make the French Toast dough and allow it to rise as you would any yeast bread loaf.
Much of the flavor comes from the yeast and the flavor that develops during the rise.
In addition to the flavor, the pillow-y texture that absorbs the egg batter and gets swirled with a layer of cinnamon and sugar is also the product of a proper rise.
Once the dough has risen, the loaf is rolled up with a swirl, and baked.
It gets sliced nice and thick, and dipped in egg batter to be grilled until golden brown.
Making the Dough
You can do this using a stand mixer, bread machine, or by hand with a bowl and spoon.
(Take note of the difference in kneading times; don't overdo it in the stand mixer. Hand kneading will require a few extra minutes to work the gluten.)
In a stand mixer:
Combine all of the dough ingredients except for the cream cheese in a stand mixer with dough hook on the lowest speed.
Cut the cream cheese into pieces, and add them one by one every few seconds (photo 1), allowing the dough to come together.
The dough will start out shaggy, become somewhat sticky, and then start to pull away from the sides of the bowl (photo 2).
Allow mixer to run for no longer than 2-3 minutes.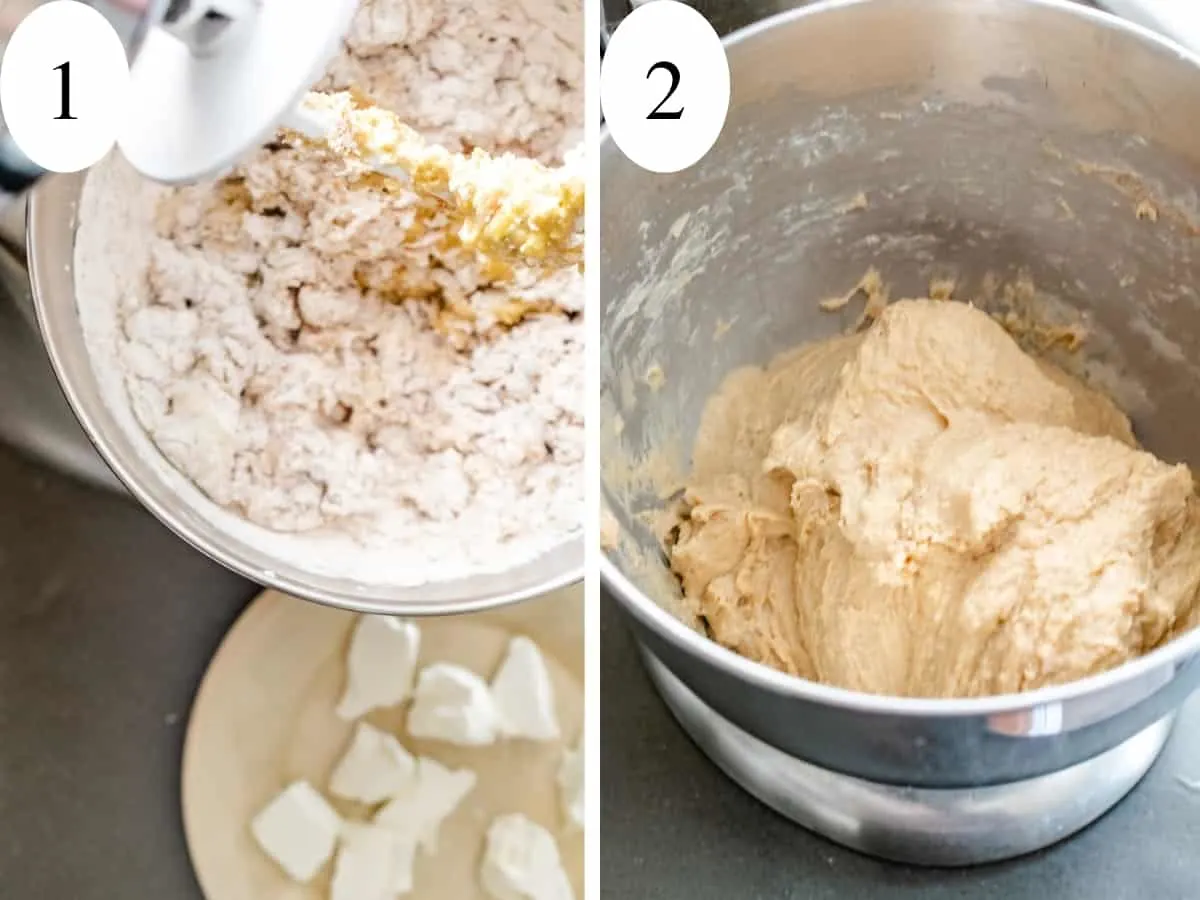 In a bread machine:
If you have a bread machine, you can just add everything, including the cream cheese, to the machine and set to the dough cycle. (This will include the first rise as well.)
By hand:
If you don't have a mixer or bread machine available, use a large bowl with a wooden spoon to combine everything, adding cream cheese pieces until dough ball forms.
Once the French toast dough is formed, knead by hand on a floured surface (to avoid sticking) for 5-7 minutes.
The First Rise
The dough must go through a first rise, either on the counter top for about an hour, or overnight in the fridge.
The first rise is just the process of the entire lump of dough rising.
The glutens develop, things stretch, yeast grows... lots of flavor is produced during this time.
Tuck the kneaded dough under itself to form a nice little ball.
Transfer the dough ball to a large bowl that is greased with butter, shortening or oil.
Turn the ball of dough over a couple of times to coat it in some of the oil that is on the bowl.
This helps keep the surface moisturized and able to stretch as it rises. Cover it with plastic wrap or a light towel.
Allow the dough to rise (photo 3), undisturbed in a warm, draft free area until doubled in size.
Depending on the conditions, this can take anywhere from 1-2 hours, or overnight if you do it in the fridge.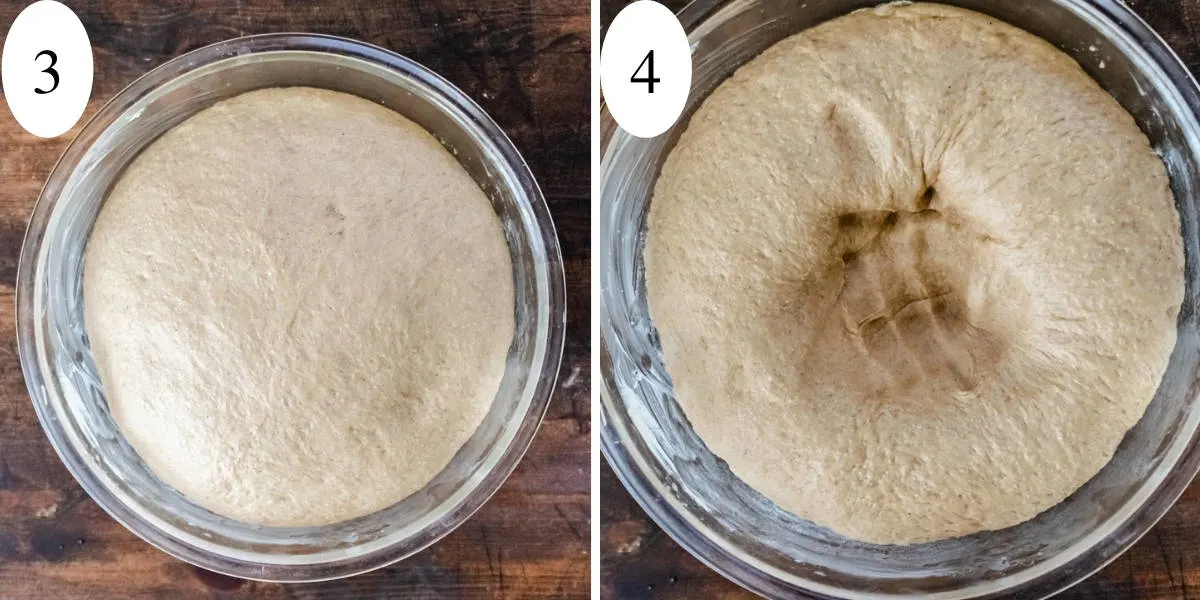 Deflate the dough by giving it a gentle punch with your fist (photo 4).
The dough is done rising, when two tests are passed:
Test 1: The dough looks like it's about doubled in size, and
Test 2: When you poke it lightly with your finger, it leaves an indentation (if it springs right back, it's not done).
Shaping the Dough
Lightly flour a counter top and plop the dough onto it. Flour the top of the dough, a rolling pin, even your hands lightly.
Stretch the dough and use a rolling pin to roll out a large rectangular-ish shape that is ¼ of an inch thick.
Sprinkle the cinnamon and brown sugar swirl ingredients evenly over the surface of the dough, using your finger tips to spread it to the edges, as shown below (photo 5).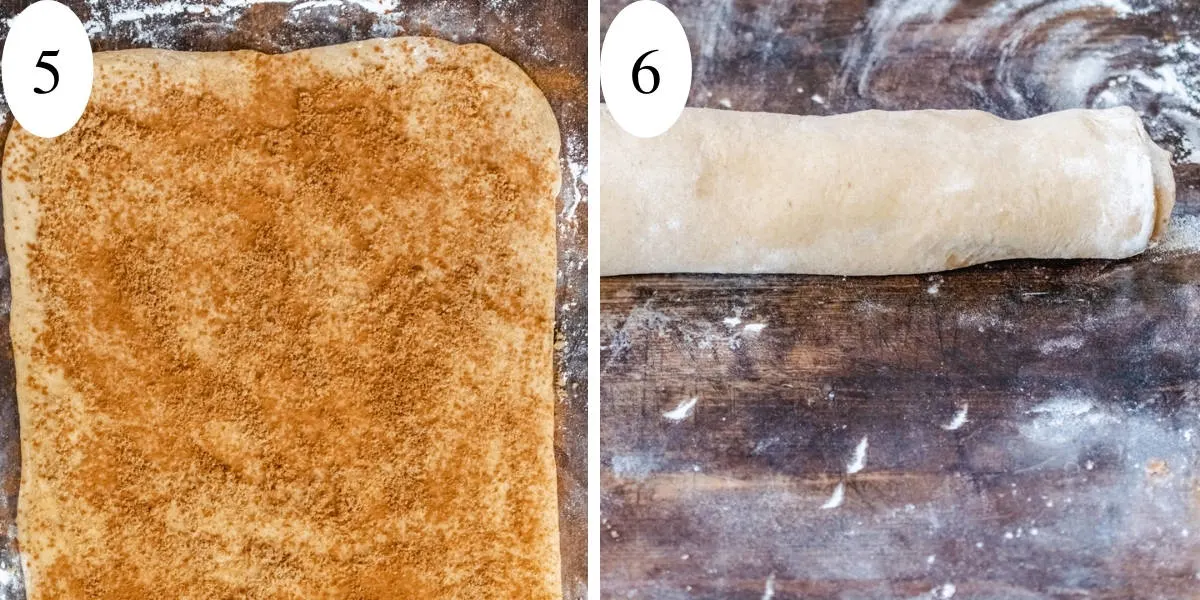 Roll the dough up, starting at the edges and working towards the middle, until it's completely rolled up like a log or jelly roll (photo 6).
Place seam side down, and if necessary, cut it in half to make two easier to handle rolls.
This is especially handy if you have a shorter baking sheet, as it's often easier to fit two shorter rolls that are side by side.
The Second Rise
The second rise requires no physical effort on your part.
Just as in the first rise, allow the loaf (or loaves, if you cut it in two) to rise again and double in size as before.
After the second rise, it's time to bake the bread.
Bake until browned and completely cooked through, and browned, about 195°F inside.
When it comes to baking bread for French toast, it's okay to bake it longer, because it allows for better absorption of egg batter later.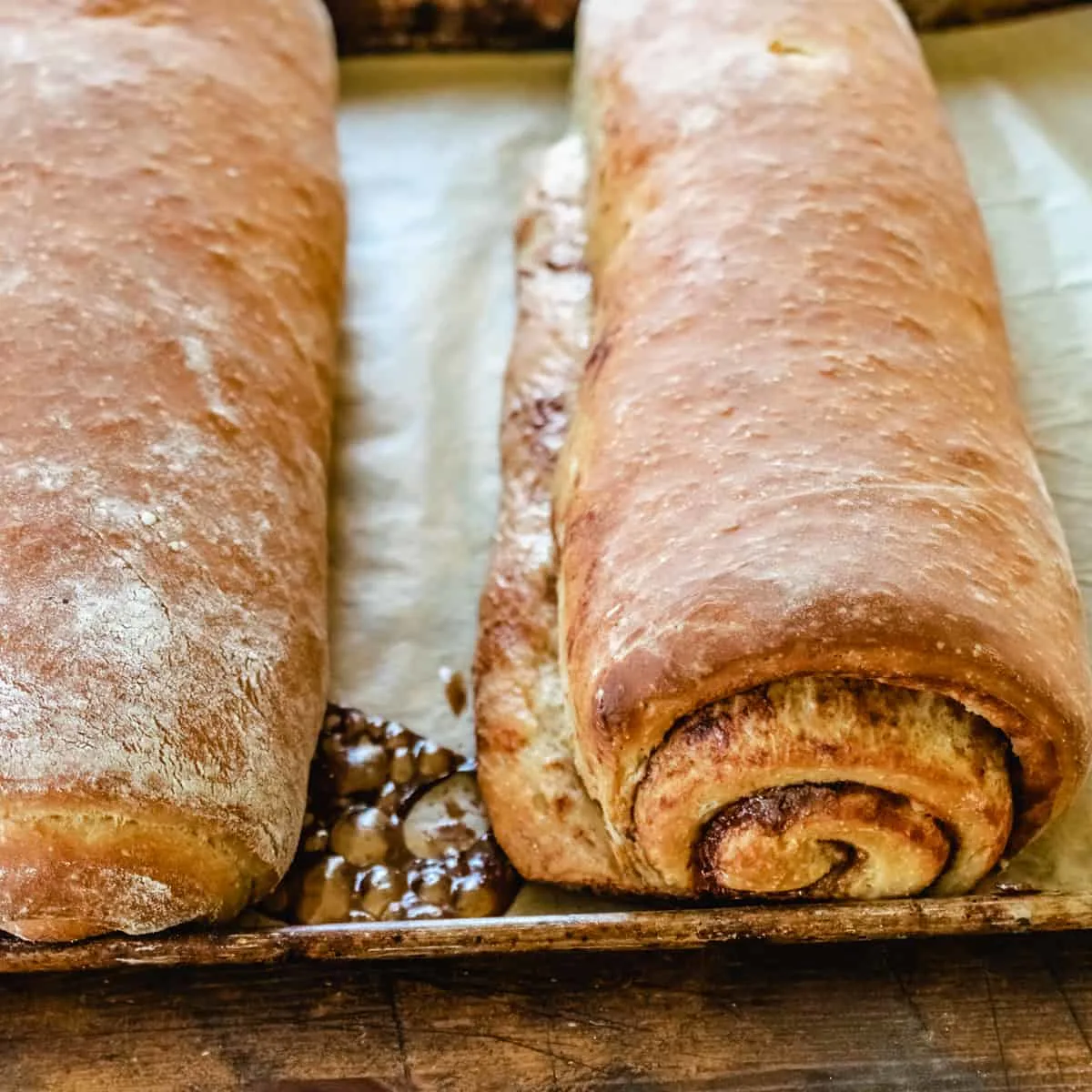 Cooking it on the Griddle
Preheat a griddle, or large skillet on the stove top.
Whisk together several eggs, vanilla, lots of cinnamon and a splash of milk.
Slice the bread nice and thick, between ¾ and 1 inch thick.
Work in batches, so that you don't make the French toast soggy.
Dip the slices in the beaten egg mixture, and turn to coat both sides and edges.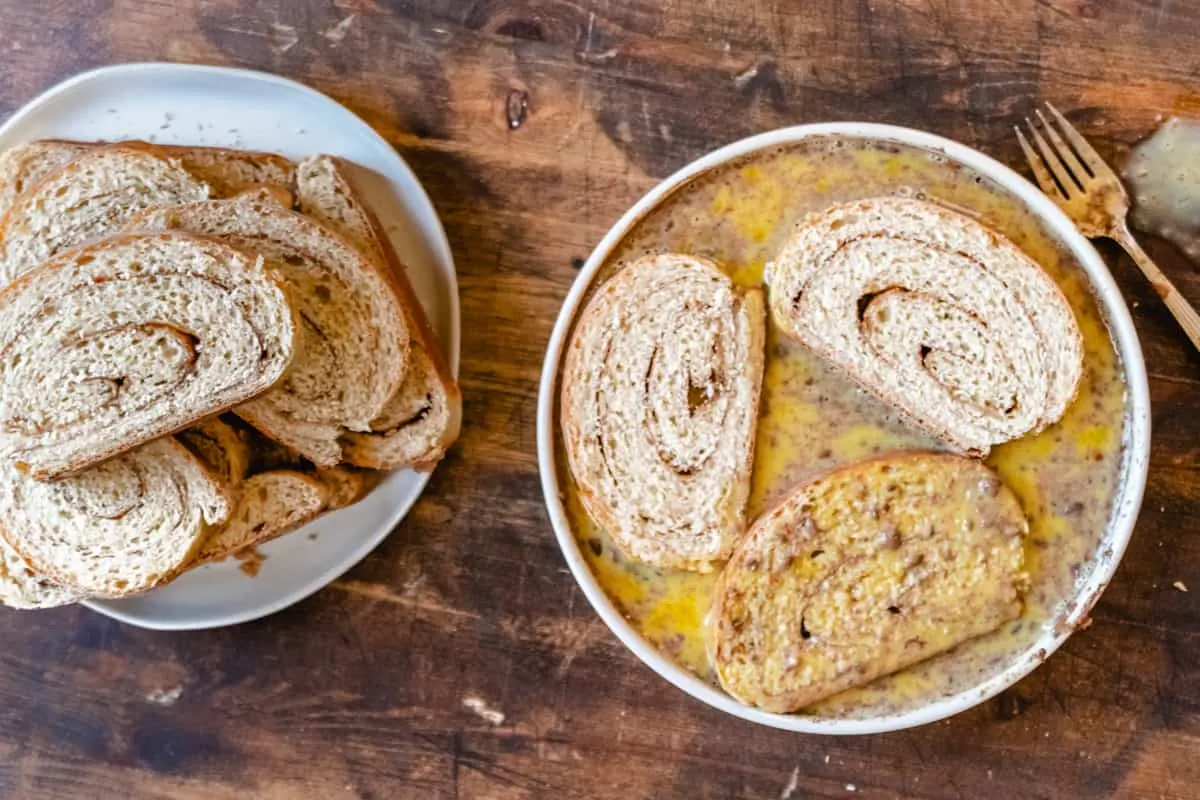 Throw a pad of butter on the hot griddle or skillet.
Cook the egg dipped slices for 3-4 minutes on each side, and transfer to a plate to cool.
Repeat until all the slices are done, adding more butter to the hot griddle/skillet as needed.
Avoid soaking the slices in the egg mixture for more than 30 seconds or so, because it won't cook to the inside.
Recipe Tips
If needed, allow the first rise to happen in the fridge, overnight, so long as the dough is covered.
If your baking sheet is not long enough, you can cut the rolled up cinnamon swirl bread in half, and bake the two halves side by side on one baking sheet.
Baking the cinnamon swirl bread a few minutes past golden, to browned, gives a toastier flavor and also dries the bread further, allowing it to absorb more egg mixture before grilling. This eliminates soggy French toast.
Don't oversoak the slices of bread in the egg mixture, because it will make the French toast soggy, and won't fully cook through.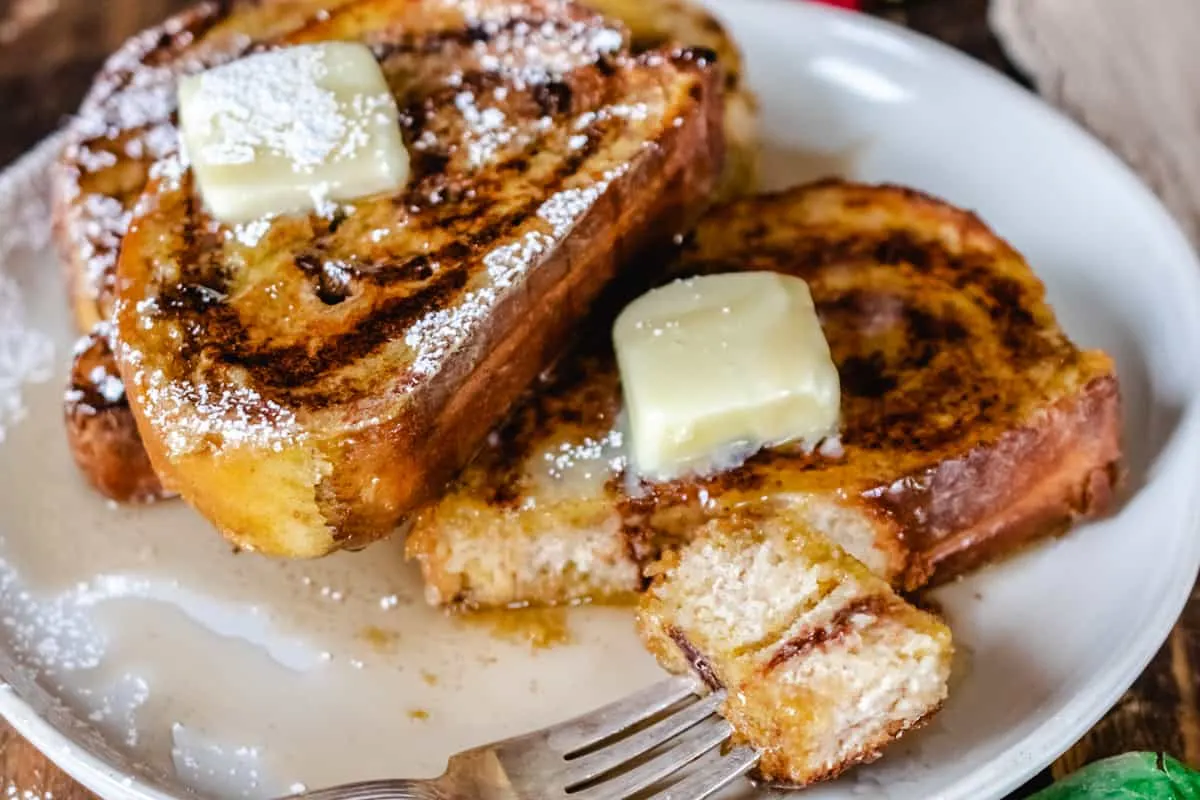 Related recipes...
Did you make this Cinnamon French Toast? Leave a comment below.
📖 Recipe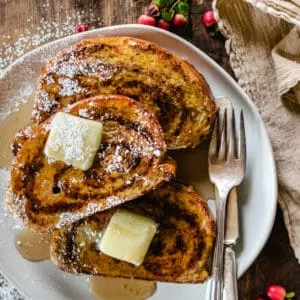 Cinnamon French Toast
Soft, sweet, cinnamon and brown sugar swirled French bread, hand battered and cooked on a griddle until golden brown.
Print
Pin
Rate
Ingredients
For the Bread Dough
3 ¼

cups

all-purpose or bread flour

2

large eggs

2

tablespoons

sugar

1

teaspoon

salt

2 ¾

tablespoon

instant yeast

½

cup

milk or buttermilk

1

teaspoon

vanilla

1

teaspoon

cinnamon

plus more for the swirl

2

ounces

cream cheese

cut into pieces
For the Bread Swirl
½

cup

brown sugar

packed

1

tablespoon

cinnamon
For the French Toast Batter
8

eggs

large

1

tablespoon

vanilla extract

1

tablespoon

cinnamon
Instructions
In a stand mixer combine flour, eggs, sugar, salt, instant yeast, milk/buttermilk, vanilla, and cinnamon for the bread dough, adding pieces of cream cheese one at a time until dough forms and pulls away from the sides of the bowl. If the dough seems too dry add one tablespoon more water, if it's too wet add add a bit more flour, one tablespoon at a time.

Grease a large bowl with butter or oil and place dough in it, turning it over a couple of times to coat the surface with oil. Cover, and let rise in a warm, non-drafty place for 60-90 minutes until doubled in size.

Once the dough has doubled in size, turn dough out onto a floured surface. Using a floured rolling pin, roll the dough out into about a 15x18 inch sheet. It doesn't need to be exact.

Preheat oven to 350 degrees.

To create the swirl, sprinkle rolled out dough evenly with brown sugar, then cinnamon, roll it up, and place it seam side down on a baking sheet. If necessary, cut it in half to make two shorter loaves.

Let the uncooked loaves go through a second rise, for about one hour (can take anywhere from 30-90 minutes) lightly covered with plastic wrap.

Bake for 20-24 minutes, until golden brown. Remove from oven, and let cool enough to handle.

Slice evenly into about 1-inch thick slices.

Preheat griddle to 375 degrees. Whisk the 8 eggs, vanilla and cinnamon until combined.

Begin to dip each piece of swirl bread into the egg mixture and transfer straight to the griddle. Grill on one side until it is completely golden brown (about 4 minutes) before flipping over to repeat on the other side.

Working in batches, repeat until all of the pieces of French toast are grilled. Serve with butter, syrup, or toppings of choice. Leftovers freeze well for easy reheat.
Notes
Soften cream cheese prior to using in the recipe, and cut into pieces.
If desired, allow dough to rise overnight in the fridge (covered).
It's better to over bake the bread, rather than under bake it because it dries out the bread and dryer bread is better for French toast.
Don't allow the slices of bread to soak in the egg batter, it will lead to soggy French toast.
Finished cinnamon French toast can be stored in freezer zip lock bags and frozen for up to two months.
Nutrition
Serving:
1
g
|
Calories:
309
kcal
|
Carbohydrates:
48
g
|
Protein:
12
g
|
Fat:
7
g
|
Saturated Fat:
3
g
|
Cholesterol:
171
mg
|
Sodium:
324
mg
|
Potassium:
174
mg
|
Fiber:
3
g
|
Sugar:
14
g
|
Vitamin A:
334
IU
|
Calcium:
78
mg
|
Iron:
3
mg