The simplest no-scald method for making Instant Pot Oatmeal in your pressure cooker using plain old-fashioned, rolled oats. (Plus substitution for steel cut oats!)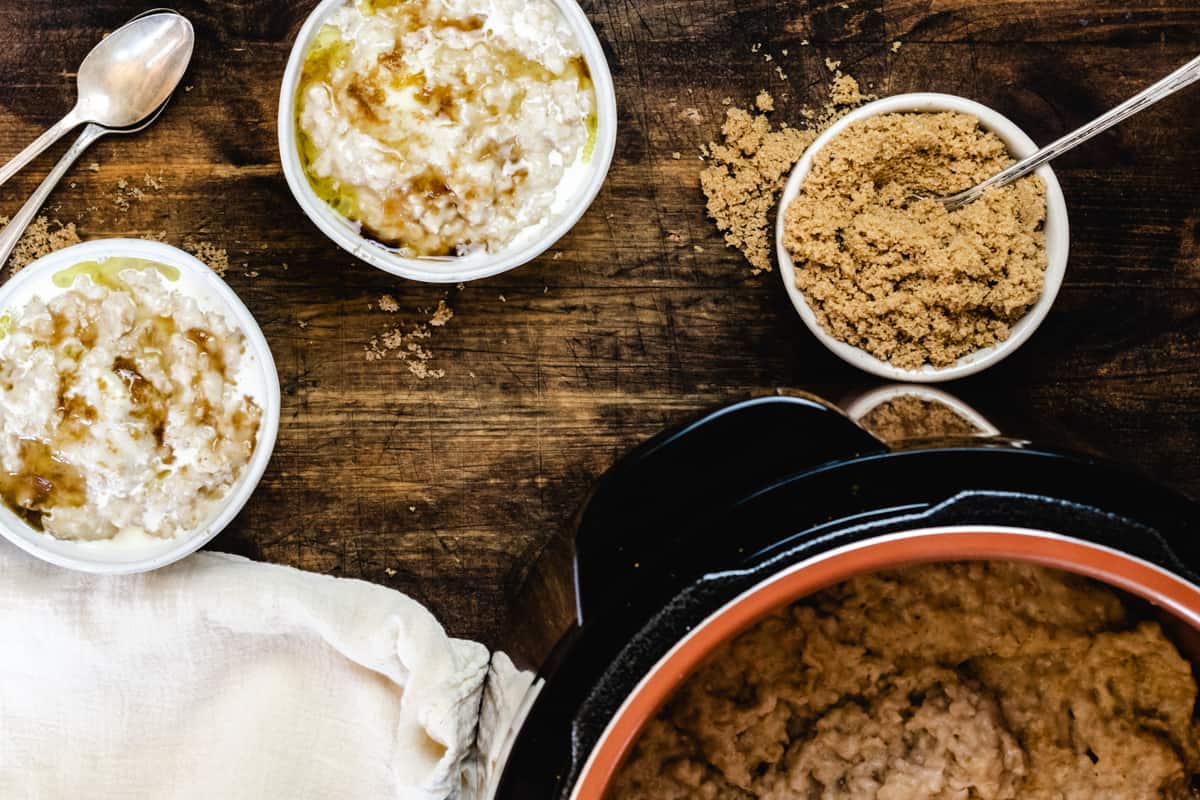 Let's cut right to the chase, and through the confusion. You can cook oatmeal in your Instant Pot or pressure cooker, without trivets or extra bowls, and without burning it.
This recipe works for both old fashioned rolled oats and steel cut oats alike. Click here for more information on the difference between the two oats. 
It's not recommended to use instant oats in the pressure cooker, as they are already almost fully cooked, and will turn out very mushy.
What you need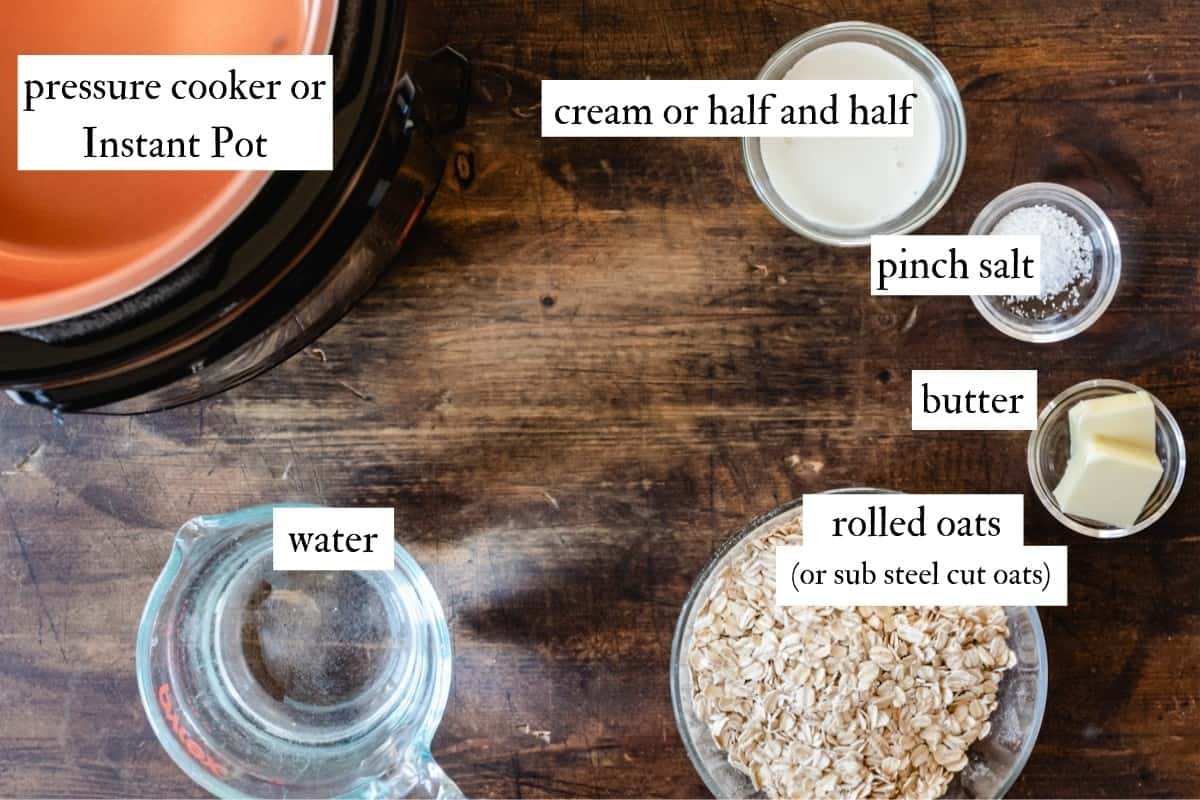 Oats of choice: this recipe is primarily for rolled oats. But to substitute steel cut oats is incredibly easy: you only need to up the water by one cup and the cooking time by one minute.
In addition: water, salt, cream (or half and half), and butter. Additional toppings or add-ins are up to you, and there is more information below on how to add prior to cooking, or top afterwards for serving.
How to do it:
By using primarily water (instead of milk) as the liquid, with only a splash of cream or half and half, you omit the risk of burning or scalding the oatmeal, while still maintaining a creamy consistency.
"Grease" the inner pot
Start by rubbing butter (or coconut oil, etc.) over the bottom and sides of the inner pot. You'll have extra chunks left, that's fine. It will melt and incorporate into the oatmeal as it cooks.
The reason for doing this, is to prevent sticking and burning, while also infusing creamy, buttery flavor.
Use water
While, normally, milk is the liquid of choice for making oatmeal, it has a tendency to scald in electric pressure cookers.
By using primarily water, with only a splash of cream, you maintain a milky, creamy consistency, but the steam from the water cooks the oats without scalding before hand.
It's a win-win.
Pressure cooking time
For old fashioned, rolled oats, the cooking time is 3 minutes, on high. Allow it to naturally release pressure before removing the lid and serving the way you and your household likes it best.
**If you are using steel cut oats, add one additional cup of water, and one additional minute of cooking time. 
Add in suggestions:
**Note, this is different than Serving suggestions (below). These are add-ins that go directly into the pot before cooking, to flavor the entire batch. To individually flavor each bowl, see the section on Serving suggestions, right after this section. 
1-2 cinnamon sticks
1 sliced and scraped vanilla bean pod
½ cup pumpkin puree and 1 tablespoon of pumpkin spice
1 apple, peeled, cored and diced into ¼ inch cubes (any variety)
¼ tablespoon flaxseed or chia seeds
Freeze dried peaches or strawberries
Serving suggestions
Oh, the possibilities! This recipe makes approximately 6 large servings, and they can individually be topped however you like. (For add ins to flavor the entire batch prior to cooking, see above section on Add in suggestions.)
Picky breakfast eaters:
Brown sugar and cinnamon
Sweetened or unsweetened coconut flakes
Sliced almonds, walnuts, or pumpkin seeds
Sliced fresh strawberries, bananas, blueberries, or apricots
Vanilla yogurt scoop
Savory breakfast oatmeal toppings:
Over easy, or fried egg
Crumbled bacon or sausage
Arugula
Sharp cheddar or Monterey jack Cheese
Sautéed peppers and onions
Avocado
Sliced scallions (green onions)
Hot sauce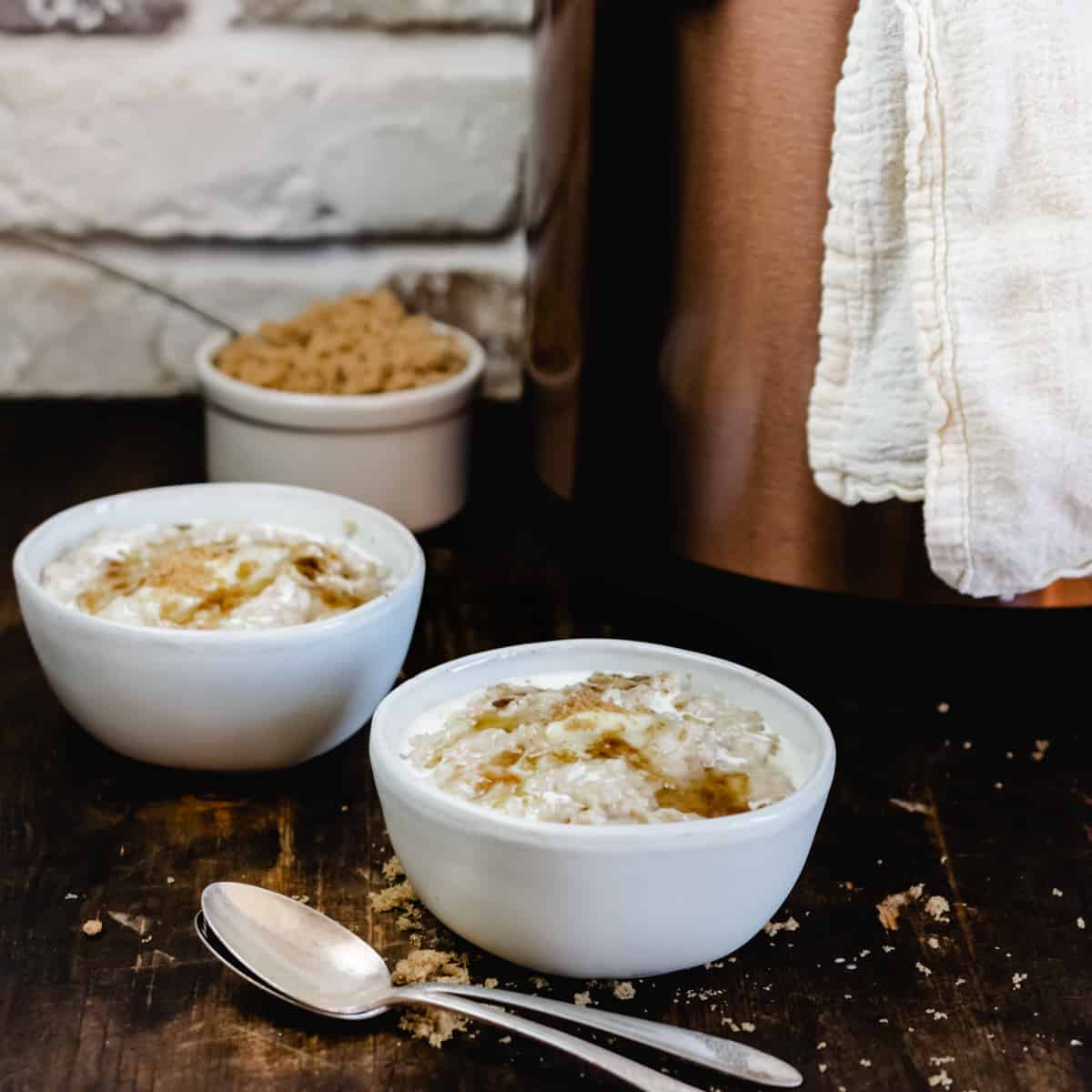 There are hundreds of ways to top your oatmeal, that haven't been mentioned here. Share your favorites in the comments below, and let's exchange ideas!
Also try Instant Pot Bone Broth!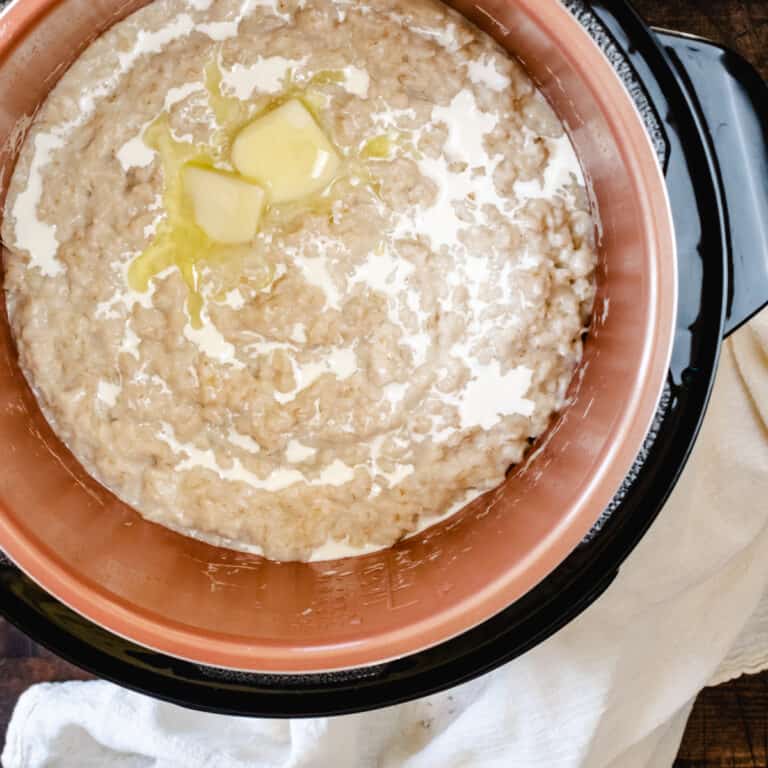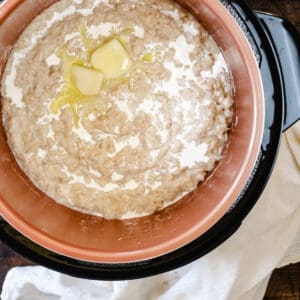 Instant Pot Oatmeal
Easy, no-scald, no-burn oatmeal recipe for your Instant Pot or electric pressure cooker. Use old fashioned rolled oats, or steel cut oats.
Print
Pin
Rate
Ingredients
2

tbsp

butter

2

cups

rolled oats

can substitute steel cut oats, see recipe notes below

4

cups

water

add an additional 1 cup of water if using steel cut oats

½

tsp

salt

2

tbsp

heavy cream

or half and half
Instructions
Rub butter all over the bottom and up the sides of the inner pot of the pressure cooker; there will still be chunks left, leave them to melt into the pot.

Add rolled oats, water, salt and cream to the pot and give a gentle stir to mix.

If adding cinnamon stick, diced apples, etc., do so now. (This does not include toppings).

Cover the lid, use the manual setting mode and set for 3 minutes at high pressure. (Add an additional minute of cooking time if using steel cut oats.)

Allow pot of oatmeal to naturally release pressure and turn off the 'keep warm' element as soon as possible.

After the pressure has somewhat released, you can carefully release the rest by opening the valve, if desired.

Open the lid away from your face, and give the oatmeal a light stir.

Serve oatmeal as desired, with desired toppings.

Oatmeal will keep in the fridge, covered, for up to 3 days.
Notes
Add ins are different than toppings: add ins are meant to infuse flavor as the oatmeal cooks, and toppings are added after the oatmeal has been served in bowls. 
If using steel cut oats, add one cup more water, (2 cups oats, 5 cups water) and 1 extra minute of cooking time (total of 4 minutes). 
Any variety of pressure cooked oats can be stored, covered in the fridge for 3-5 days. 
Nutrition
Serving:
1
g
|
Calories:
123
kcal
|
Carbohydrates:
19
g
|
Protein:
4
g
|
Fat:
4
g
|
Saturated Fat:
2
g
|
Cholesterol:
7
mg
|
Sodium:
210
mg
|
Potassium:
104
mg
|
Fiber:
3
g
|
Sugar:
1
g
|
Vitamin A:
74
IU
|
Calcium:
28
mg
|
Iron:
1
mg