Soft, chewy buttery chocolate chip cookies without brown sugar, in 15 minutes, using just 8 simple ingredients.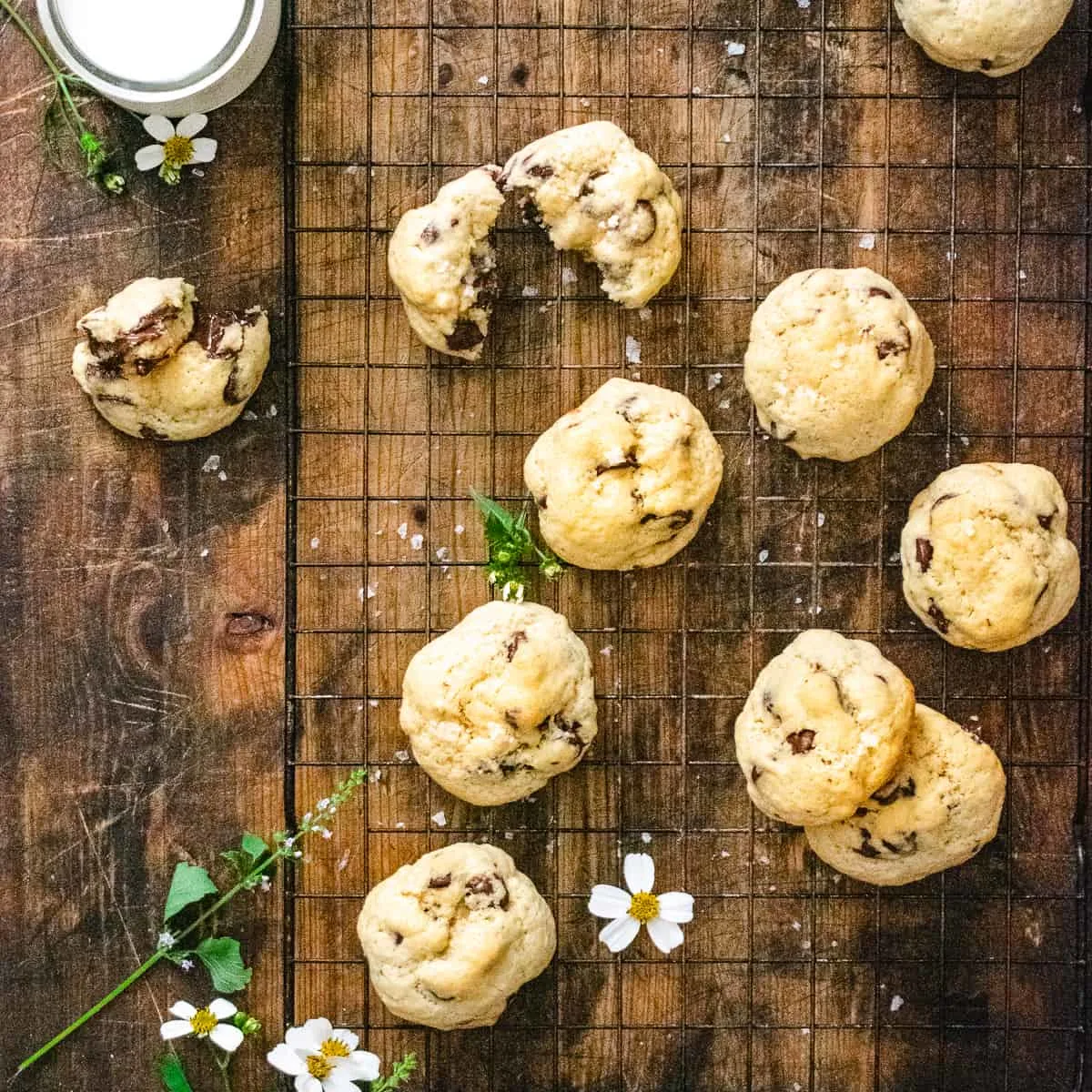 Don't worry if you have a craving for warm chocolate chip cookies fresh out of the oven, but you're out of brown sugar.
You can still make irresistible, chewy and soft chocolate chip cookies without brown sugar. And yes, these are just as chewy!
Brown sugar can help with making some cookies thick and chewy, but these chocolate chip cookies are still every bit as soft and delicious without using brown sugar.
What does brown sugar do for chocolate chip cookies?
Brown sugar adds more flavor and moisture to chocolate chip cookies. It increases the chewiness of the cookie due to its higher content of molasses, which helps hold all the ingredients in place as it bakes.
This results in a denser cookie with a chewy texture. Adding brown sugar can also help to give your cookies a richer flavor and a darker color.
But fear not because this easy cookie recipe can still obtain those delectable dessert all while lowering the overall sugar content of your cookies.
Why make a batch of these cookies
You get two dozen cookies at a time from this recipe and you do not have to waste time by chilling the dough before baking
These chewy chocolate chip cookies are ready in only 30 minutes
These are a family favorite, coveted by both the kids and adults
They're perfect for snacks, desserts, and taking to parties, potlucks and celebrations
They have the perfect chewy texture
Ingredients
Get more info on all of these pantry staple ingredients for your delicious chocolate chip cookies in the recipe card at the bottom of the post- it's printable too!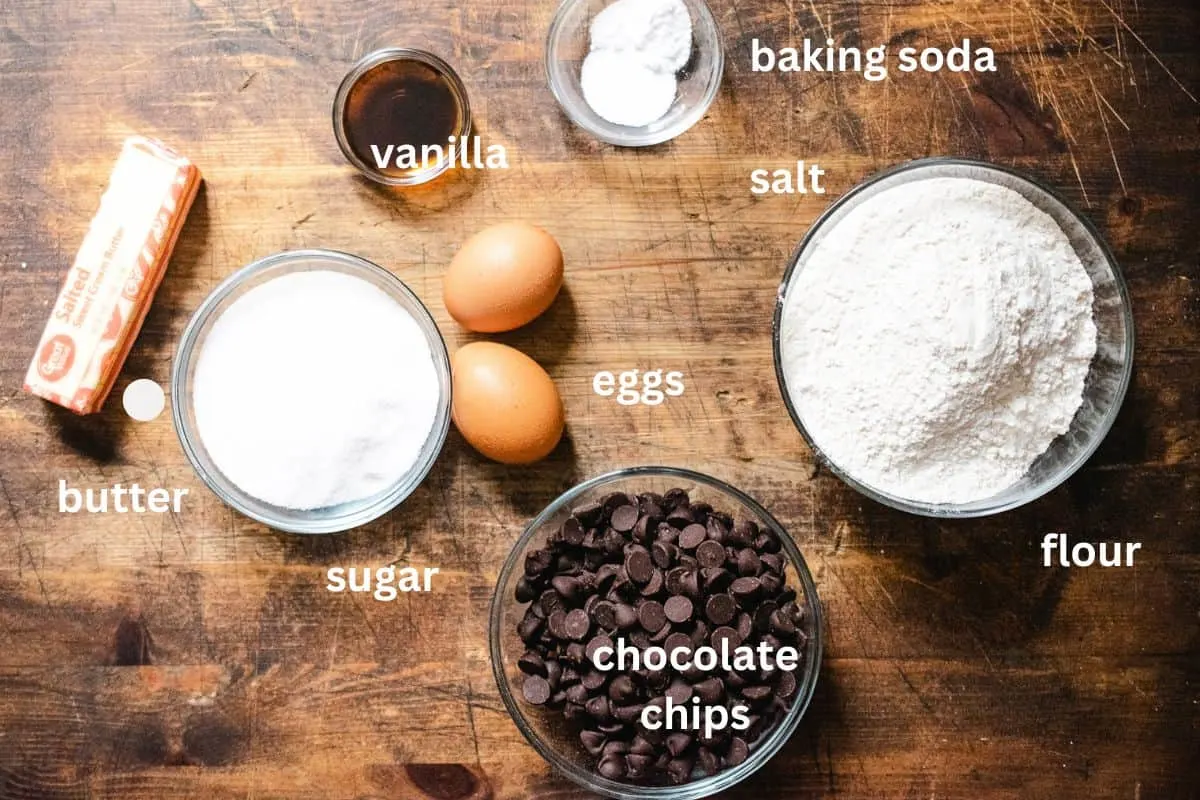 Flour- all purpose, sifted.
Chocolate chips- dark chocolate or semi sweet, or milk chocolate if you prefer a sweeter, milder chocolate.
Sugar- white, granulated.
Eggs- large.
Butter- salted, completely softened at room temperature (cut it into pieces to get it soften really quickly).
How to Make Chocolate Chip Cookies Without Brown Sugar
Preheat oven to 350 degrees Fahrenheit.
Combine butter, granulated sugar, vanilla and eggs until creamed together in a large bowl.
Add the dry ingredients- flour, baking soda, and salt and mix halfway, followed by the chocolate chips.
Mix until combined.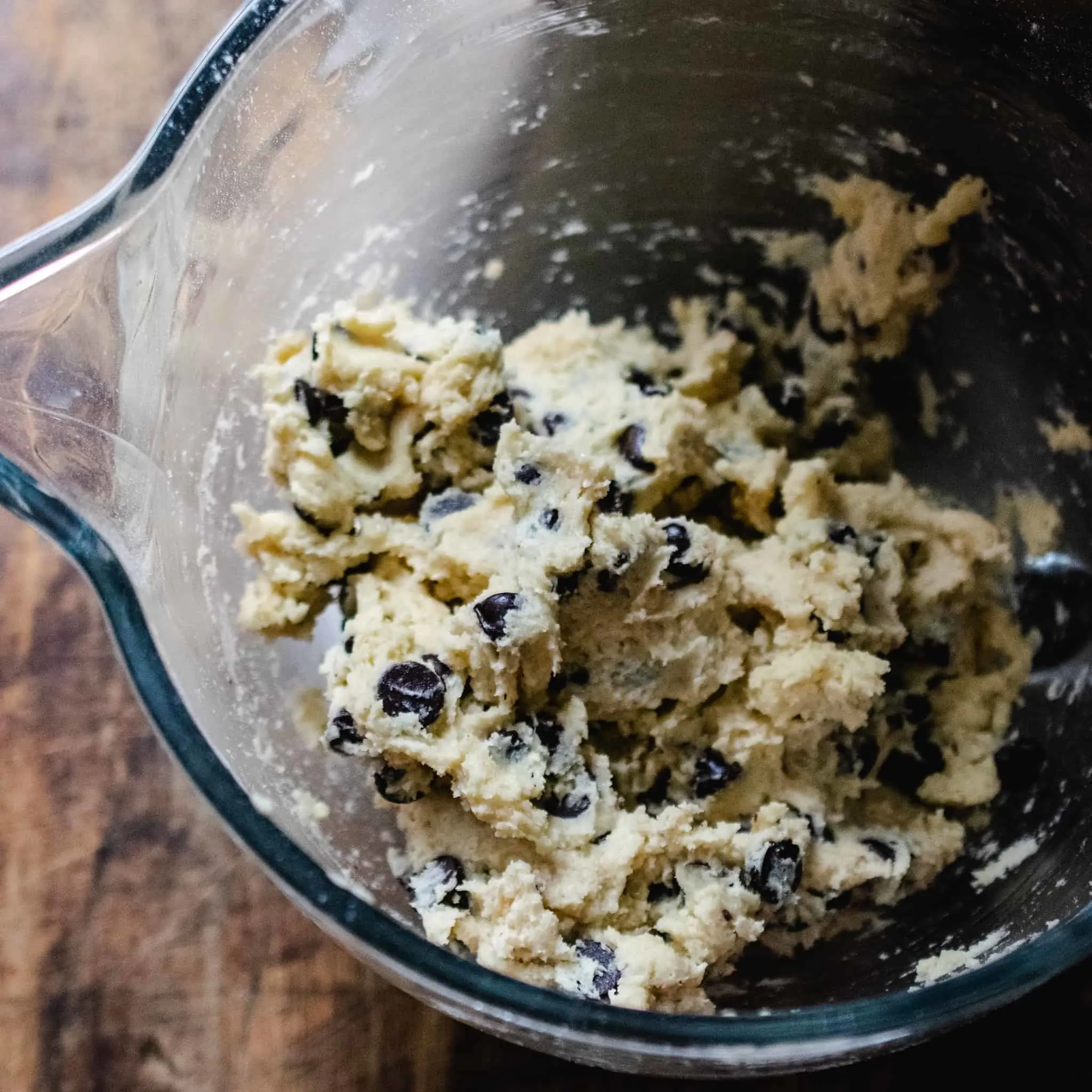 Roll the dough into 2 inch sized balls, and place the cookie dough balls on a baking sheet at least 2 inches apart.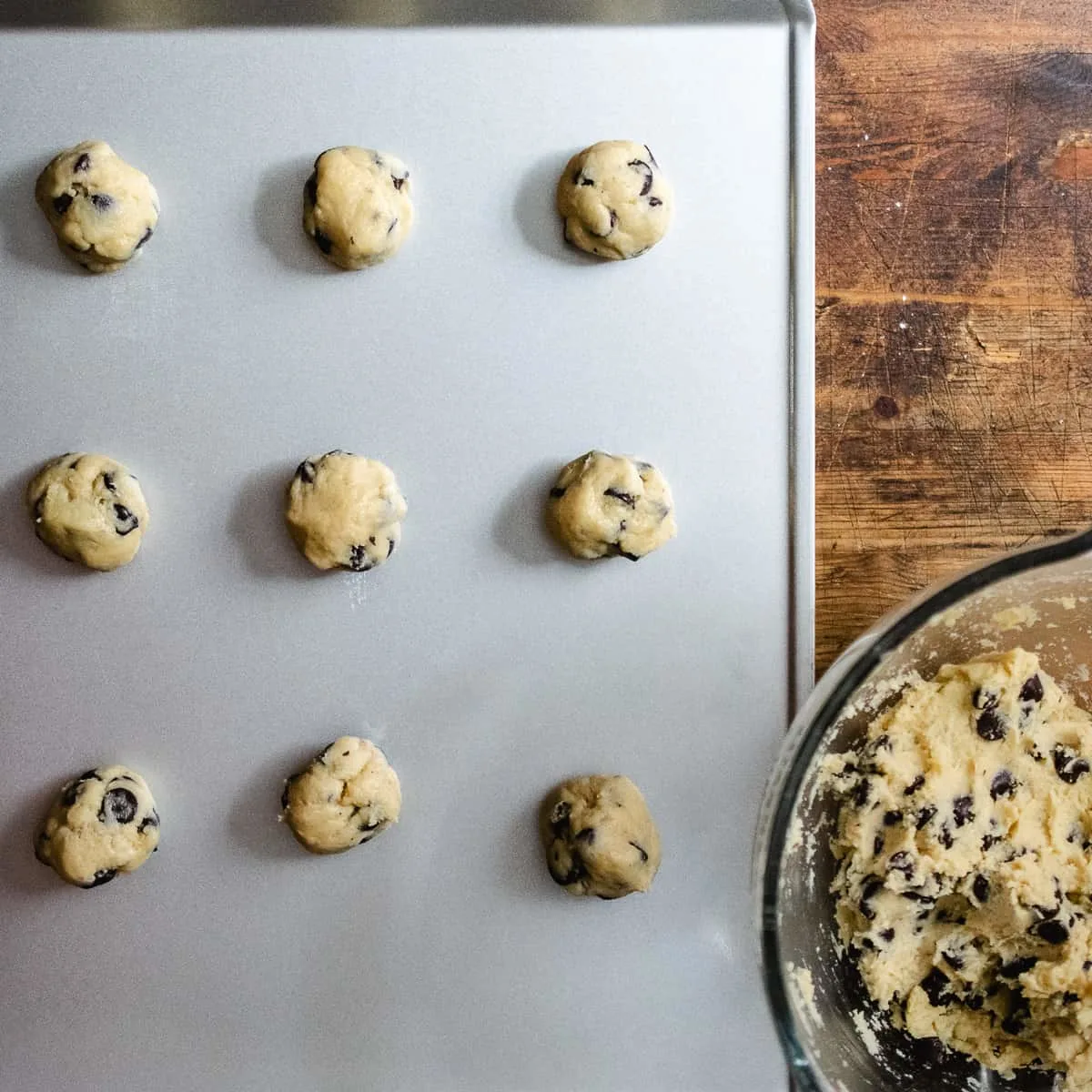 Bake at 350 degrees Fahrenheit oven for 8-10 minutes, until edges are set and centers are soft.
Cool the cookies on a cooling rack or plate.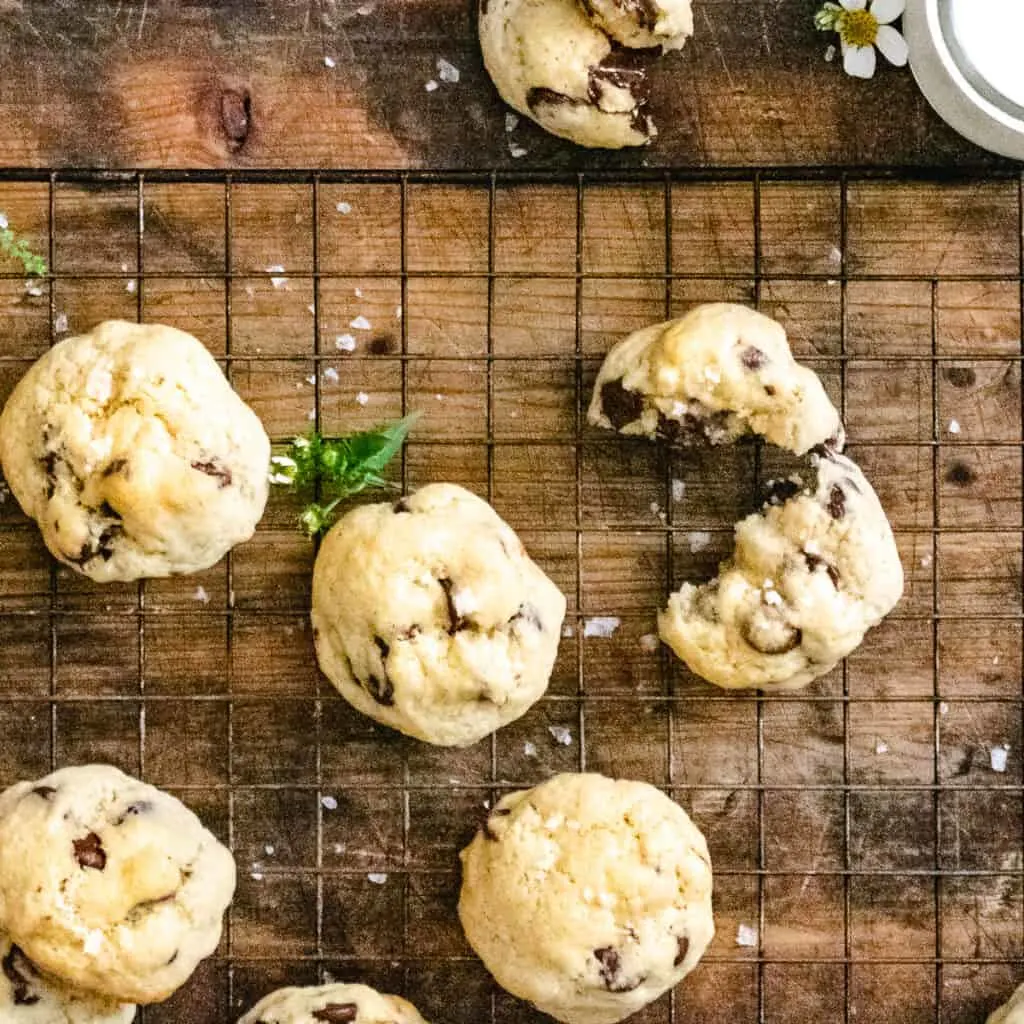 Storage
You can store the chocolate chip cookies without brown sugar on a plate, covered with plastic wrap for up to five days.
Can you freeze chocolate chip cookies?
Yes, you can freeze homemade chocolate chip cookies! For best results, simply place them on a baking sheet and freeze until solid. This process is called flash freezing.
It helps to freeze the individually first so they don't all clump together in the freezer container or freezer bag.
After the cookies are frozen, transfer them into an airtight container or bag. The cookies will stay fresh in the freezer for up to 3 months. When you're ready to eat them, let the cookies thaw at room temperature before enjoying!
Additionally, you can freeze your chocolate chip cookie dough for later use. I would make the dough using this classic chocolate chip cookie recipe, use your scooper to scoop out the dough balls and flash freeze them as suggested above.
Once you have frozen cookie dough, you can place them in a single layer, or in multiple layers with parchment paper or wax paper in between your layers and place them in a freezer safe container and freeze for up to 3 months.
Then you can grab as many as you want to bake at one time and they'll have the perfect soft texture.
Enjoy the best chocolate chip cookies whenever you want!
Tips
If desired, you can use a stand mixer to mix your cookie dough together.
You can line your cookie sheet with parchment paper to make clean up easier.
You don't want to use too much flour in your homemade cookie recipe. To make sure you don't overpack your measuring cup, use the spoon and level method. Spoon the flour into the measuring cup from the bag or container and then use a knife to level it off. Don't use the spoon to push it down or pack it.
You can use a cookie scoop when making your cookie dough balls to ensure that your cookies will end up the same size. Using an ice cream scoop or a cookie scoop is the best way to ensure the cookies are similar in size so they bake evenly as well.
Variations
For this easy recipe, you can use whatever chocolate chips you prefer. Dark chocolate, semi-sweet, or milk chocolate are all great to make cookies with. But have you tried chocolate chunks? They're slightly larger than your average baking chips and really bring out the chocolatey flavor without going overboard or having to add extra chocolate chips.
You can add a dash of vanilla extract in to your cookie batter for a little extra flavor.
For a little pop of color add some sprinkles to your batter along with the rest of the ingredients to really make some fun, delicious cookies.

Will the cookies spread differently if I don't use brown sugar?
Yes, the cookies will spread differently if you don't use brown sugar. Brown sugar contains molasses which can add a lot of moisture to your cookie dough and help your cookies spread while baking.
Without it, the cookies may be more dense and less even in shape. But just remember that the way the cookie looks does NOT change the way the cookie tastes.
Can I use honey or maple syrup as a substitute for brown sugar in chocolate chip cookies?
Yes, you can use honey or maple syrup as a substitute for brown sugar in chocolate chip cookies. However, the texture and flavor of your cookie may be slightly different because honey and maple syrup are both sweeter than brown sugar.
The sweetness will still come through but the moisture level may not be the same as when using brown sugar, leading to cookies that are less soft and chewy.
If you'd like to keep the texture of your cookies consistent with regular brown sugar-based recipes, then you may want to reduce the amount of honey or maple syrup used.
Or, just stick with our easy chocolate chip cookie recipe because I swear, it's just as delicious without brown sugar and there is no real need for an alternative sweetener to take it's place. They'll still be chewy and yummy.
Are there any other modifications I should consider when making chocolate chip cookies without brown sugar?
Yes, there are a few other modifications to consider. First, you can reduce the amount of oil or butter in the recipe. This will result in cookies that are less dense and more crisp than normal chocolate chip cookies.
You can also increase the amount of baking powder used (just half a teaspoon more should suffice) to give the dough a bit more rise during baking.
Finally, you could opt for a combination of different sugars like adding white sugar or coconut sugar to your honey or maple syrup to get a richer flavor profile in the finished product.
More Cookie Recipes
If you love easy chocolate chip cookies, you'll enjoy these other easy cookie recipes.
Gingerbread Cookies without Molasses
​Chocolate Chip Peanut Butter Skillet Cookie
Chocolate Mint Sandwich Cookies
Related recipes:
Did you try this recipe? Leave a comment below or rating in the recipe card.
📖 Recipe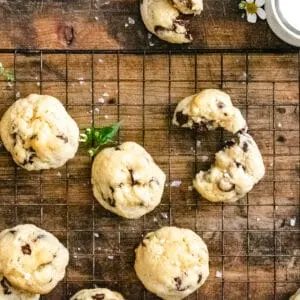 Chocolate Chip Cookies Without Brown Sugar
Thick, soft and chewy chocolate chip cookies without brown sugar in the recipe.
Print
Pin
Rate
Ingredients
½

cup

salted butter (1 stick)

softened on counter top

¾

cup

sugar

granulated

2

teaspoon

vanilla

2

large

eggs

room temperature

2 ¼

cups

all purpose flour

1

teaspoon

baking soda

1

teaspoon

salt

12

oz

chocolate chips

dark or semi-sweet
Instructions
Preheat oven to 350 degrees.

Combine 2 ¼ cups of all purpose flour, 1 teaspoon baking soda, and 1 teaspoon salt in a medium bowl until evenly combined. Set aside.

Combine 1 stick of softened butter, ¾ cup of sugar, 2 teaspoons vanilla, and 2 eggs until smooth. A few lumps are ok, and they will smooth out during the final mixing.

Add the flour mixture to the butter mixture and beat until dough forms.

Roll the dough into 2 inch balls, and arrange on a baking sheet at least 2 inches apart.

Bake the balls of cookie dough for 10-12 minutes until bottoms are golden brown and edges are set.

Cool for at least 5 minutes on a cooling rack or the baking sheet before serving.

Store cooled cookies at room temperature, covered for up to five days.
Notes
Soften butter directly on counter top for at least one hour. To speed up softening, cut it into 1-inch pieces and soften at room temperature.
Bring eggs to room temperature by leaving on counter top for at least 20 minutes.
The chocolate chip cookie dough should resemble the consistency of soft Play-Dough, if it is too wet and sticky, add more flour.
Nutrition
Serving:
1
g
|
Calories:
143
kcal
|
Carbohydrates:
20
g
|
Protein:
2
g
|
Fat:
6
g
|
Saturated Fat:
4
g
|
Polyunsaturated Fat:
0.3
g
|
Monounsaturated Fat:
1
g
|
Trans Fat:
0.2
g
|
Cholesterol:
28
mg
|
Sodium:
182
mg
|
Potassium:
20
mg
|
Fiber:
0.3
g
|
Sugar:
10
g
|
Vitamin A:
141
IU
|
Calcium:
5
mg
|
Iron:
1
mg