The perfect chocolate chip cookie can be just what you need some days. I feel like Mondays are good chocolate chip cookie days. And Wednesdays. Sundays too... Actually day when you find yourself needing that extra little pick-me-up, is the perfect day for the perfect cookie. Anyone in need of a warm, perfectly soft, fresh-from-the-oven chocolate chip cookie, I got you.
(Actually, my mom's got you. These are her cookies. But she used to sell them by the double-dozen; because they are the step-aside-all-other-cookies-because-you-no-longer-matter-COOKIE.) But I have her permission to share this edible therapy with all of you.
A perfect, back pocket chocolate chip cookie recipe is something everyone should have access to.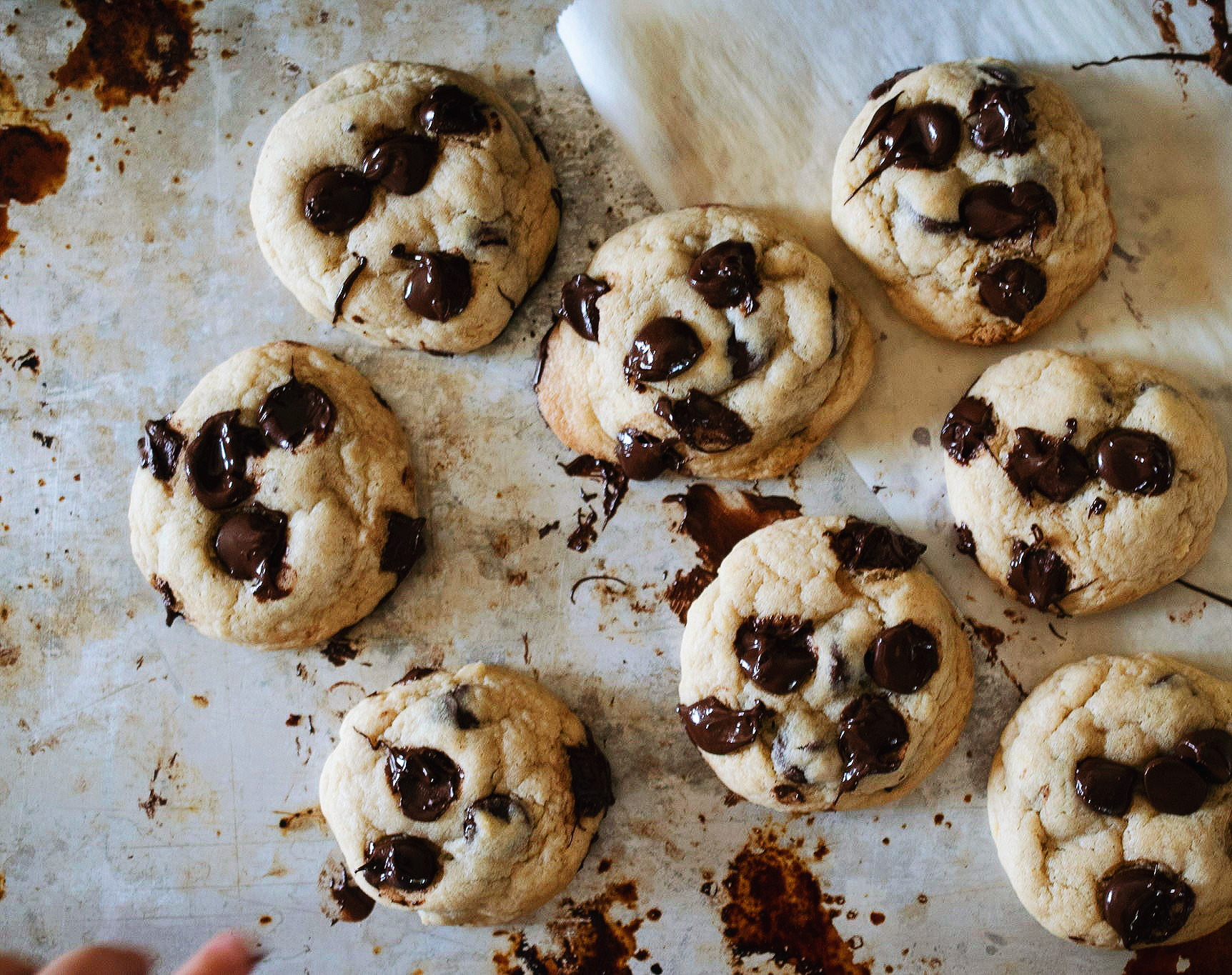 a thick cookie is a happy cookie
This recipe, right here, I'm telling you. It puts out the perfect cookie every time.  It's not flat and flabby, like some disappointing cookies can be. It is puffy, chewy and soft, and the bottoms get perfectly browned with just the right amount of subtle crisp. It does not get better than this.
how to keep chocolate chip cookies from going flat
The recipe is very straight forward, and it needs to be the consistency of play-dough when you've finished mixing the dough. That's the most important detail about this recipe. It's important that you let the butter soften naturally on the counter, for a minimum of 30 minutes. You don't want to use any melted butter, because it will affect the consistency of the dough and the way the cookies bake up. So, aim for that play-dough like consistency. If you can roll them into a ball, without them sticking to your hands in a goopy mess, and they hold their shape on the baking sheet, they should come out perfect.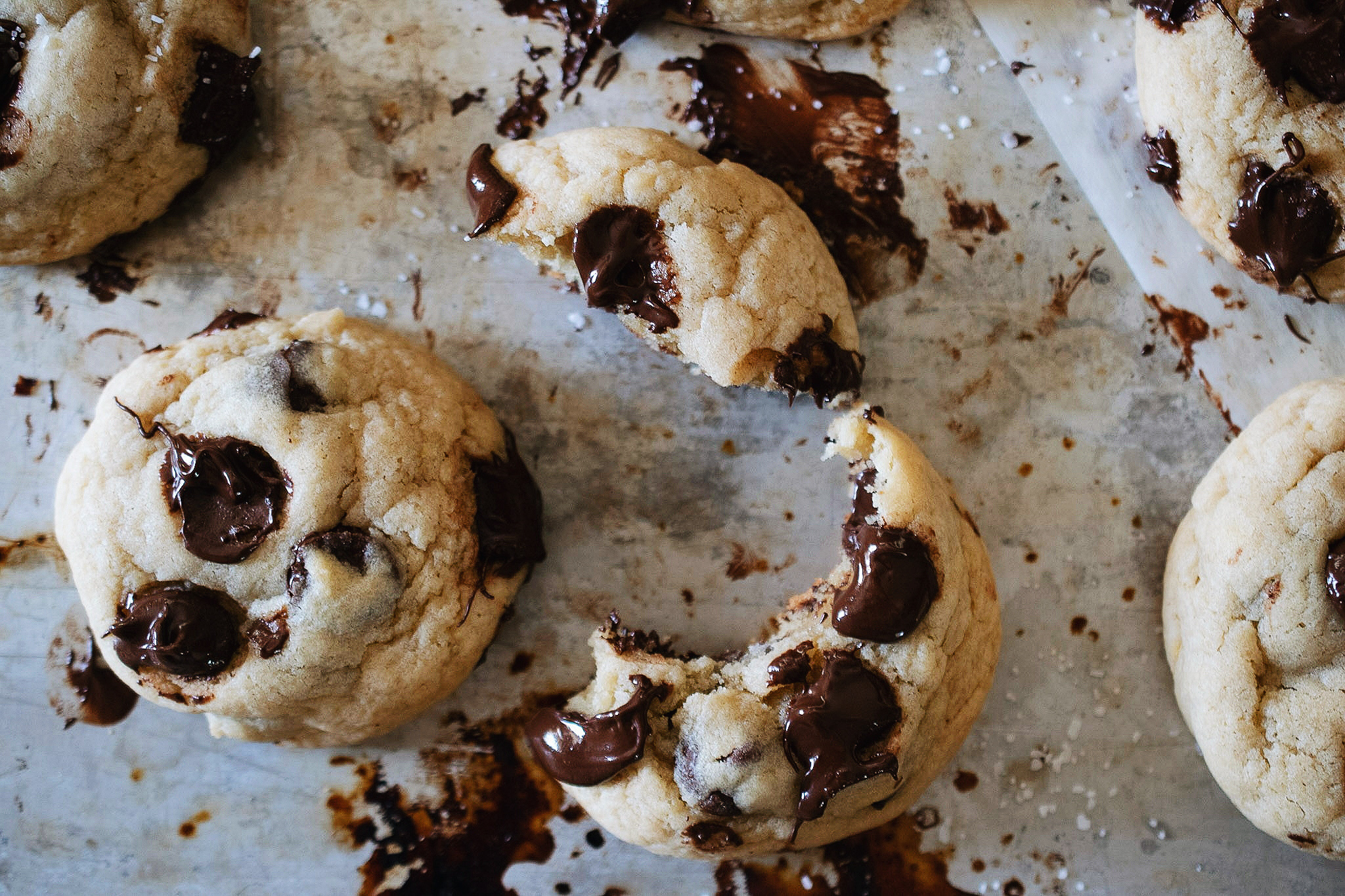 the best chocolate chips for cookies
So, there are definitely going to be some varying opinions out there, but most people will say that a darker chocolate chip is much better in a chocolate chip cookie. Rarely do I hear someone say they prefer milk. Typically, we see semi-sweet and more often the serious chocolate chip cookie lover swears by dark chocolate chips. Know that the darker the chocolate, the less sweet it will be, but the more "chocolaty" it will taste.
There are varying degrees of darkness, and if there is a percentage like 60% or 86% know that those are even darker than the standard dark chocolate. I often use Ghirardelli 60% Dark Chocolate Baking Chips, which I've included a link for below. They are affordable, and better quality than your typical chocolate chip, and I can usually always find them at the store. You can also find more premium, even higher quality dark chocolate baking chips online, like the ones below. And I know we all love how Amazon delivers at lightening speed, right? (Note that the prices are for bulk, so you are really getting a deal here, and I must note that I will make a small commission on any clicks resulting in an order, per my Amazon Associates Agreement.)
Another fun and decadent option is to buy the chocolate in bar form, and chop them up for a chunkier, rustic cookie. These jumbo size dark chocolate wafers also make for a show stopping, over the top chocolate chip cookie that won't be forgotten. Whatever your dark chocolate chip or chunk preference, this recipe for Dark Chocolate Chip Cookies, caters to any chip without discriminating!