Create DIY freezer pizza, to pop in the oven anytime. This recipe yields a stack of pizzas with real ingredients, and can be customized with your favorite toppings.
You can also opt to use my whole wheat crust recipe, if you'd like. Be sure to check out How to Make Mozzarella Cheese and super quick and easy Homemade Ricotta Cheese.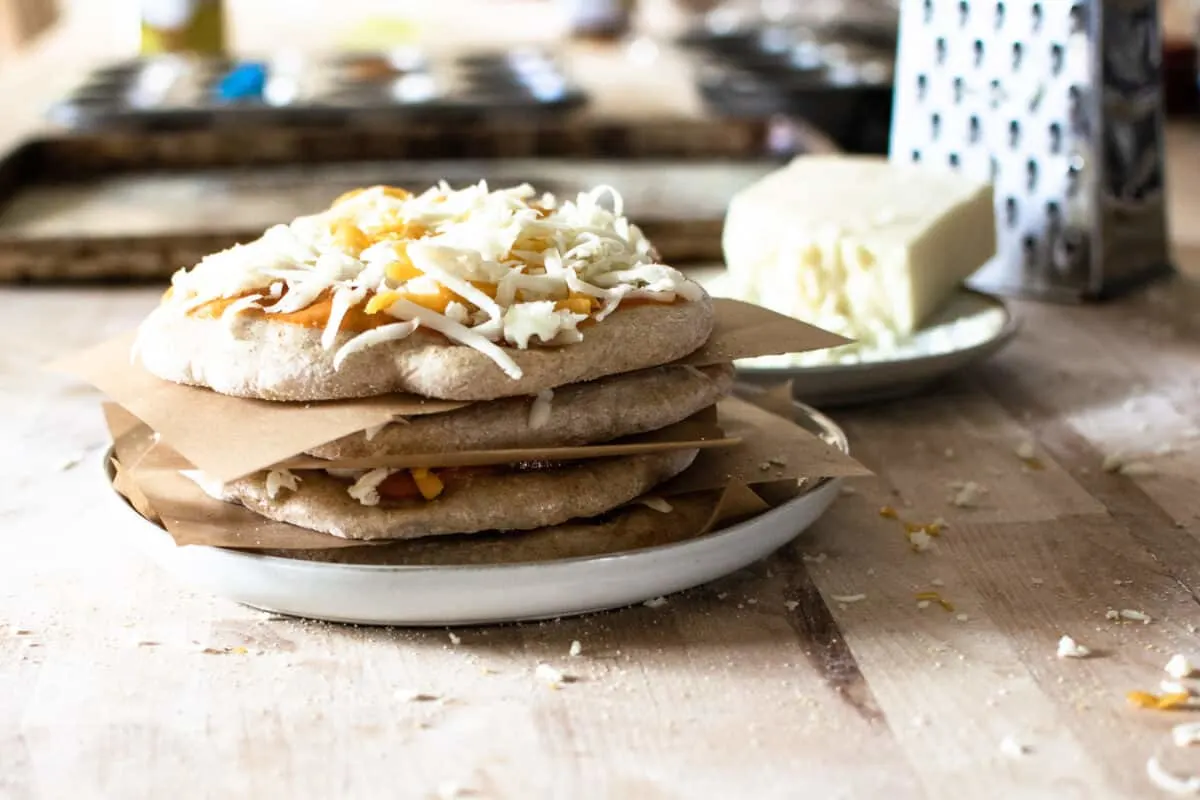 eliminate unwanted ingredients
I have four kids now, so I am no stranger to the convenience of freezer food. The little pizzas, burritos and pot pies that can just be pulled out and nuked in a matter of minutes are, in theory, nice to have around. I really try to stay away from the ingredient list those things pack, though. Have you ever turned the box over and looked at that thing? Eew. Half the stuff sounds more like something you would see in a cheap shampoo bottle or cleaning product.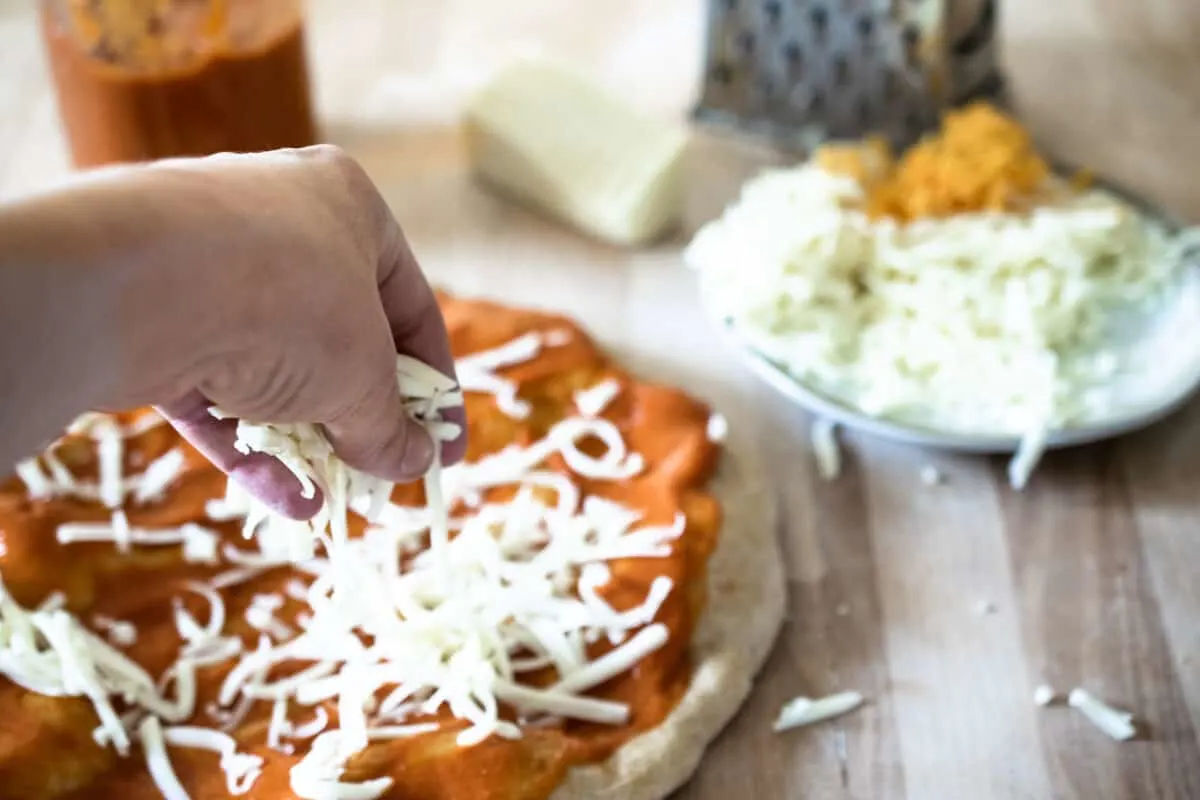 Every once in a awhile I like to spend a weekend afternoon making up a stack of homemade versions of these foods, instead of buying the frozen brands. Today, its frozen pizzas. This recipe will make half a dozen personal size frozen pizzas that can be pulled out and put in the oven for ten minutes; and each one costs under a dollar. Don't forget, a serving of tomato sauce counts as a serving of vegetables. Bonus!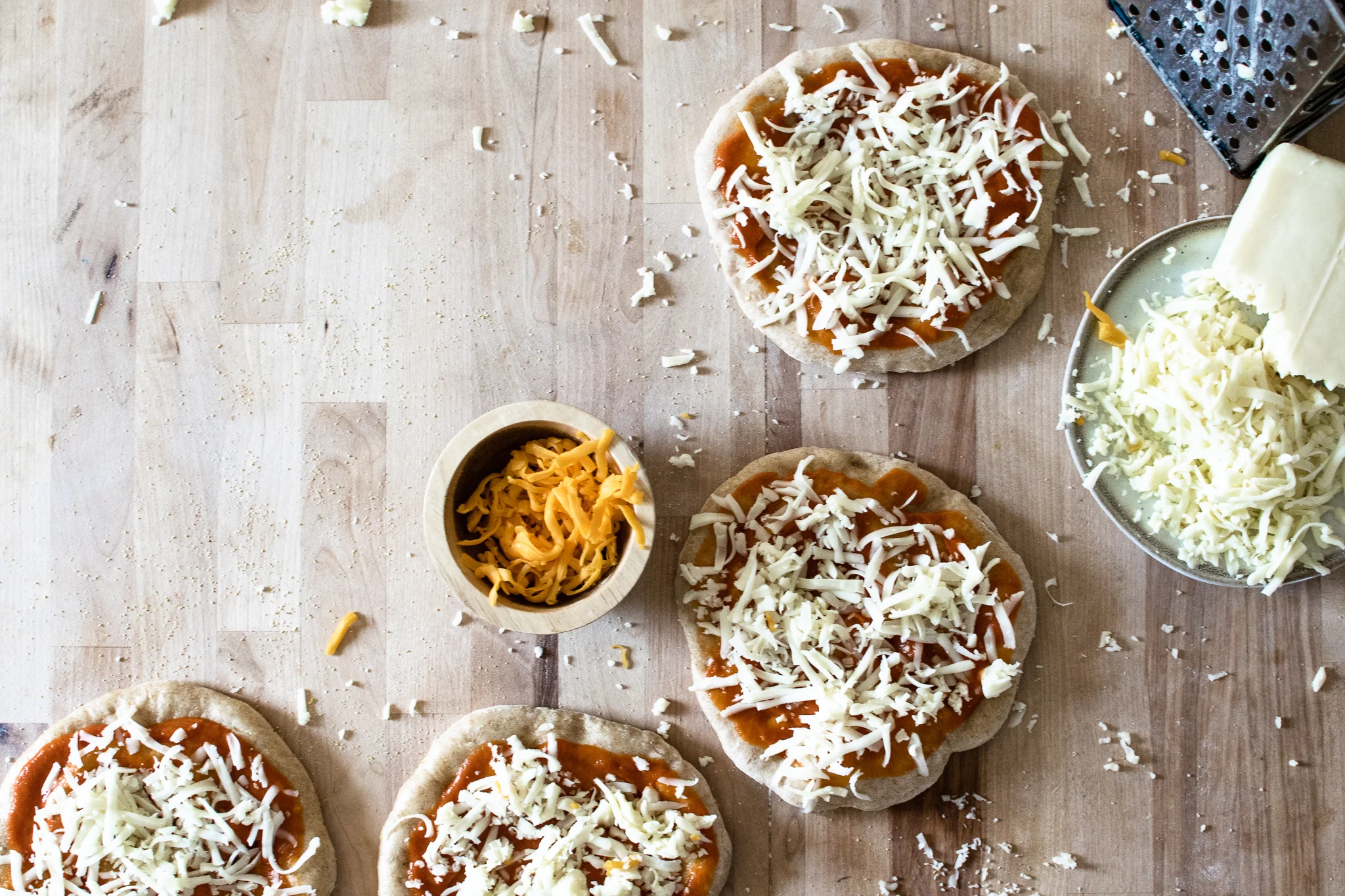 incorporate healthy ingredients
I cannot talk about healthy pizza without talking about this veggie sauce that has been a complete and total game changer in my house. My kids love it, I love it. My teenage daughter said verbatim, that it was the best pizza I'd ever made. I had to hand that one to my gal, Kimberly, and you can get her veggie sauce recipe here. That healthy pizza sauce is perfect compliment to this wheat crust, and topped with freshly grated mozzarella cheese and toppings, it's a healthy pizza that you can feel good about eating.
how to freeze homemade pizza
To make DIY frozen pizza is simple. Use my basic pizza crust recipe below, or try this whole wheat crust for a nutritional boost and a sweet and nutty flavor. Then top with homemade tomato sauce, shredded cheese and your favorite toppings.
Make sure to par bake the crusts before assembling the pizzas. This way, the pizzas can be cooked directly on the oven rack just the way they are from the freezer.
keeping the pizzas from sticking
Freeze them between pieces of parchment paper to avoid sticking. Once frozen solid, they can be arranged any way you like in the freezer, so long as they are wrapped in a freezer friendly plastic or freezer paper.
To bake, simply preheat the oven to 400 degrees, set frozen pizza(s) directly on rack, and bake for 8-14 minutes. Times will vary depending on pizza size and thickness of crust and toppings. You'll have to keep an eye on the first one to get a feel for how long it wants to be cooked. Like any pizza, its done with the cheese is melted and crust is becoming golden on the bottom.
And there you have it. A stash of frozen pizzas, with simple and nutritious ingredients, and all the toppings your heart desires.
Also try my Fall Pizza with Sausage and Sweet Potato
📖 Recipe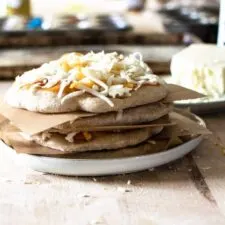 DIY Frozen Pizzas
Simple freezer friendly frozen pizzas from scratch, with thin crust, healthy sauce, and plenty of cheese to pop in the oven for an easy snack or meal.
Print
Pin
Rate
Ingredients
For the Crust
3

cups

all purpose flour

1

cup

water

1

teaspoon

instant yeast

1

tablespoon

olive oil

1

teaspoon

salt

2

teaspoon

sugar
For the Sauce
2

cups

canned tomato sauce or tomato puree

no added seasonings

1

tablespoon

sugar

more or less to taste

1

teaspoon

salt

more or less to taste

1

teaspoon

dried oregano

1

teaspoon

dried basil

1

teaspoon

garlic powder

pinch

pepper

to taste
For Topping
½

pound

shredded mozzarella

¼

pound

shredded Monterey jack

¼

pound

shredded cheddar

additional toppings as desired
Instructions
Combine the crust ingredients by hand or in a stand mixer. Knead until smooth (about 3 minutes by stand mixer, or 6 minutes by hand).

Cover dough and let dough rest 30 minutes on counter top, or overnight in fridge.

Divide dough into 6 equal portions for small, freezer size pizzas.

Preheat oven to 400 degrees.

Stretch the dough by hand to form round circles; avoid using a roller as the stretching of the dough produces a chewier crust and bite.

Sprinkle baking sheets lightly with cornmeal and transfer crusts onto baking sheets; par-bake for 6-8 minutes until dough is set underneath and no longer doughy in the centers. Cool.

Combine the sauce ingredients. Ladle onto crusts, followed by freshly shredded mozzarella, Monterrey jack, and cheddar cheeses or combination of all or similar cheeses.

Top as desired, and finish with a final light layer of cheese.

Cut parchment paper squares, roughly the width of the diameters of the pizzas, and stack pizzas in between squares to avoid sticking. This can be done on a plate for now, just long enough to freeze them solid.

Once frozen solid, pizzas can be bagged in freezer bags, or wrapped in freezer paper or plastic to keep fresh.

To bake, preheat oven to 400 degrees, and bake for 8-14 minutes until crust is done on the bottom and cheese is melted and golden brown on edges.
Notes
Dough can be divided into 4 medium, or 2 large portion pizzas; keep in mind 6 smaller are easy to freeze and closer to the "frozen pizza" size.
Par bake crusts first on a baking sheet so that bottoms of crust become solid, this way dough does not seep through the oven racks when baking directly on rack.
Use any combination of cheeses and toppings desired. If using meat: cook the meat separately first before topping the pizzas. Veggies and fruit can be topped as is.
Try the whole wheat crust version or a veggie sauce as mentioned above for a healthy frozen pizza.
Nutrition
Serving:
1
serving
|
Calories:
283
kcal
|
Carbohydrates:
31
g
|
Protein:
13
g
|
Fat:
12
g
|
Saturated Fat:
7
g
|
Cholesterol:
33
mg
|
Sodium:
635
mg
|
Potassium:
280
mg
|
Fiber:
2
g
|
Sugar:
4
g
|
Vitamin A:
518
IU
|
Vitamin C:
5
mg
|
Calcium:
248
mg
|
Iron:
3
mg