If you have ever made homemade mozzarella cheese before, you know how delicious it can be. If you are new to making homemade mozzarella, and you feel intimidated, I am here to tell you, don't be. It can seem intimidating at first, but much of that is just first time jitters, and not being super comfortable with the technique. There are a couple of items you need to have on hand, and although they may seem foreign if you've never used them before, there is nothing complicated about using them. If you can use a strainer and you know how to use a spoon and measuring cup, you're golden.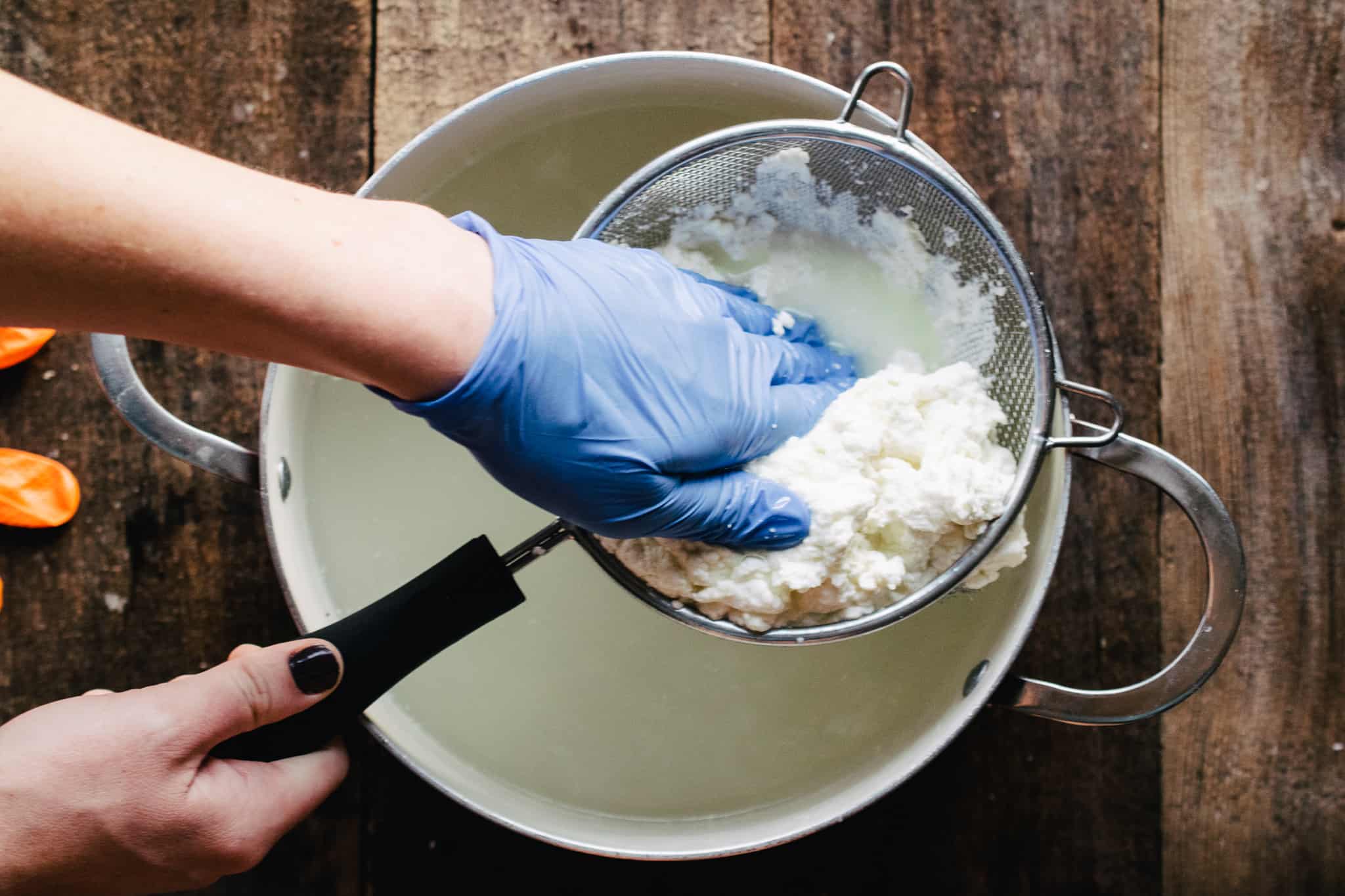 If you are extremely new to making simple homemade cheeses, but want to dip a little toe in first, try this simple recipe for Homemade Ricotta Cheese. It doesn't require any extra ingredients or equipment than what you have in your kitchen already. It's a great starting place if you aren't sure, and you can totally mix in some fresh herbs and garlic and have yourself a homemade, show stopping Garlic Herb Cheese Dip!
what items do you need to make homemade mozzarella cheese? 
Let's talk about those couple specific "ingredients" first. They are rennet and citric acid. Don't be afraid of these items, they are not as scary as they sound. (You do not need a Hazmat suit to handle citric acid, and people don't use rennet to cook meth.) Maybe you have already been around them before, or maybe one or both are new to you and make you feel a bit out of your element. This post is for you! Trust me, it's a super simple process. You just gotta get in there 😉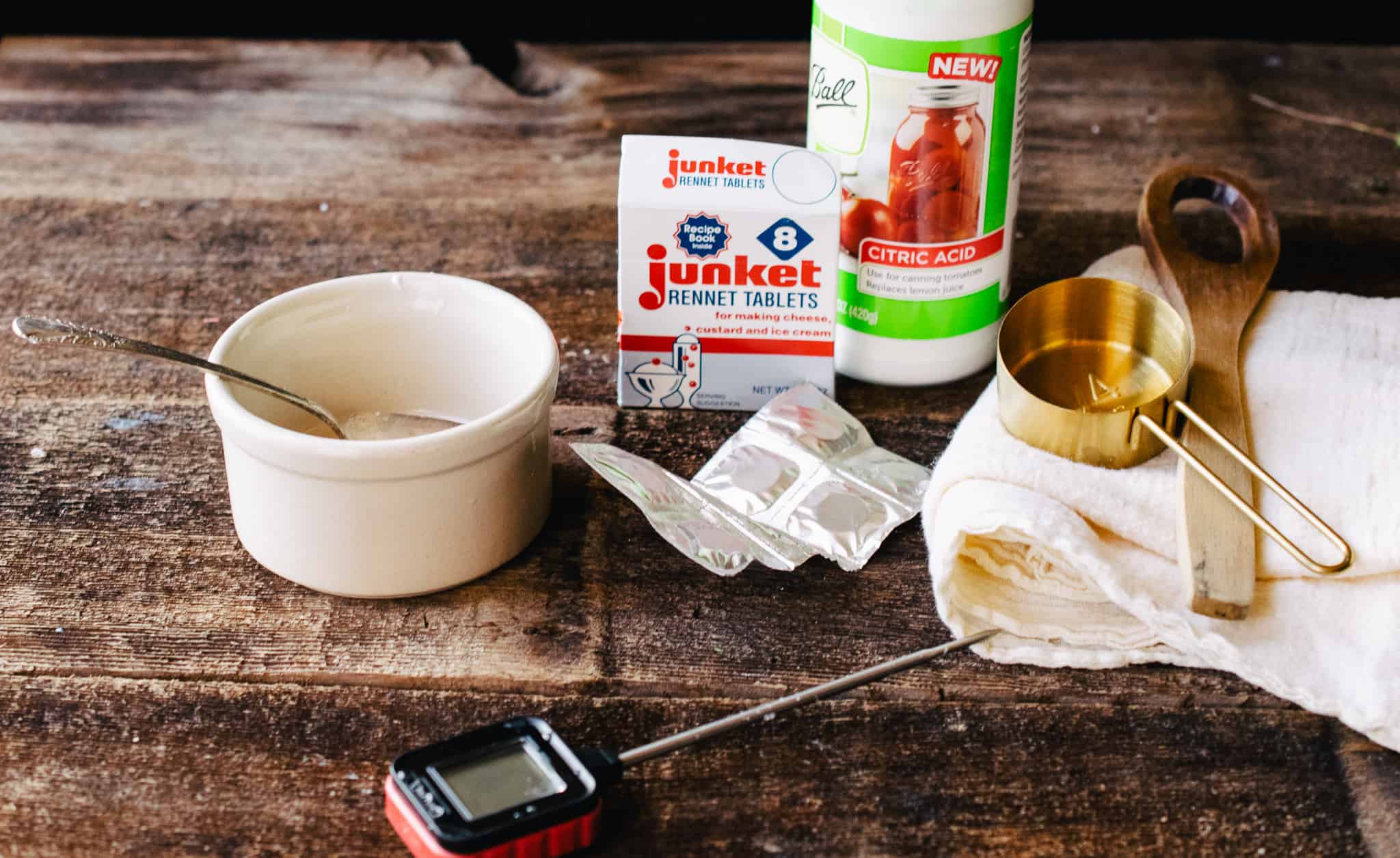 I will include links for the products below, but just know that I would make a small commission on them. I don't include links for products that I don't use, or wouldn't order myself. If you are feeling unsure about what exactly you need, the product links ensure that you know you are getting the right items. 
The other items that you will need are a digital read thermometer, a fine mesh strainer or cheesecloth, and a pair of heat protective rubber gloves. Along with your regular pots and pans, of course. Don't try to skimp on the thermometer and guess, because temperature is key. The strainer doesn't need to be anything fancy, I've actually used the same one that I strain my spaghetti noodles with before. Heat protective gloves are imperative. The last step requires you to handle it in almost boiling water (hot!), so make sure you are using the proper gloves.  
rennet tablets
Simply put, rennet contains enzymes that help separate the curds in milk from the way. Apparently it's a natural element that comes from the stomachs of certain animals like cattle and other bovine. Do we need to delve deeper into that one? Let's not. But yes, we need rennet to make certain types of cheeses; mozzarella being one of them. (Ok, if you really want to go down that rabbit hole, may I suggest one of my favorite sites, The Spruce Eats, and their tutorial on rennet... be warned friend. You are going to read about the stomach lining of the a calf, and such.) But! If you are interested to know, so be it! I am a curious person myself and I found it an interesting read. 
In this post, for this recipe, I specifically use 2 full tablets of Junket brand Rennet Tablets. Junket brand, for whatever reason, is less concentrated and you must use a full two tablets. I have linked the product below. It is also noted below, and in the recipe card, that if using any other brand other than Junket, you only use 1/4 of one tablet. If using liquid rennet, you use 1/4 teaspoon. It explains more as you scroll on. 
what is citric acid?
Citric acid is a very common ingredient and it's used in cheese making often as another way to raise the acidity level. In Homemade Ricotta Cheese, it is sufficient enough to use lemon juice, or even vinegar to coagulate the milk and separate the curds. This is because there is enough citric acid in those ingredients to coagulate the milk for the ricotta. So, if you are looking to test out an even simpler cheese that doesn't require any ingredients that you don't already likely have, I suggest trying the homemade Ricotta Cheese Recipe. It's probably the simplest, delicious homemade cheese you could make. (And by simple, I mean 5 minutes of hands-on time!)
So, in a nutshell, rennet and citric acid both aid in the curdling of milk for cheese!
using rennet 
The recipe in this post calls for rennet tablets. For some reason, the Junket brand is less concentrated, so you have to use 2 whole tablets. (Again, the link for Junket brand rennet tablets is below.) Any other brand only requires one quarter of one tablet, or 1/4 teaspoon if you're going with the liquid stuff. Does that make sense? It will also be included clearly in the recipe card, that per gallon of milk use:
2 whole Junket brand Rennet tablets, or
1/4 Rennet tablet, any other brand, or
1/4 teaspoon liquid rennet, any brand

which milk is used to make mozzarella
Whole milk is best for making mozzarella cheese. Technically, you can use 2%, 1% or even skim, but the resulting cheese is not going to be as good. Take a good look at the container that the milk is in, where the pasteurization method is printed. Stay away from ultra pasteurized milk. Ultra pasteurization is a process that heats the milk too high, and destroys the things in it that enable it to curdle. It'll be a big, fat waste of your time. Regular, or standard pasteurized is ok. It will simply say pasteurized with no ultra in front of it. 
Many people opt for raw milk, or milk from their local dairy for making mozzarella. This helps to eliminate the probability of ultra pasteurization, especially when they can go strait to the farmer and ask him. But that sort of milk can be hard to find for some people. (Also, if you are pregnant or nursing, you'd want to check with your doctor or midwife before consuming raw milk.)
Ok, I think we've covered everything on how to make your own homemade mozzarella cheese! Links are below for items just in case you might be unsure about what to buy, or where. Don't forget, I earn a small commission for clicking, but that is not why I've included them. I only include what I use myself and believe in. But, please feel free to do your own research and leave me a comment if you have a question! I love getting comments! Ready to get started? Let's make some MOZZ!
Try your homemade mozzarella cheese out on Zucchini Corn and Chicken Ranch Pizza, or this delicious Bourbon BBQ Chicken Flatbread Pizza! Or, for a super simple, one pan meal, use your new mozzarella in these Rustic Stuffed Pasta Shells!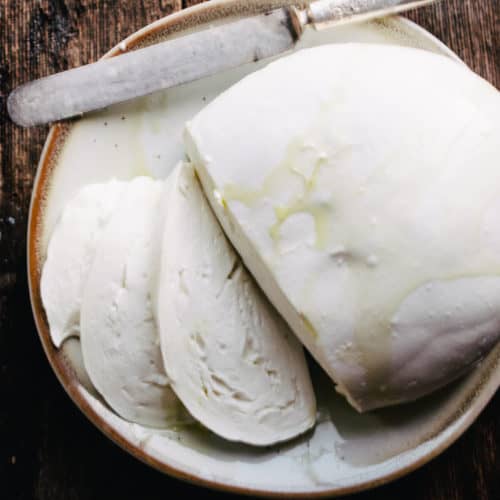 Homemade Mozzarella Cheese
A simple, easy, step by step recipe with instructions on how to make your own mozzarella cheese
Print
Pin
Rate
Ingredients
1

gallon

whole milk

avoid ultra pasteurized

1/4

cup

water

for dissolving rennet, plus another 1/4 cup water for citric acid

1 1/2

tsp

citric acid

2

junket brand rennet tablets

dissolved in 1/4 cup water or 1/4 teaspoon liquid rennet. See note on other brands (or 1/4 tablet other brands )

1-2

tsp

salt
Instructions
in a large pot, combine citric acid with 1/4 cup water and stir until dissolved.

Add milk, stir, heat to 90 degrees.

Stir rennet into water until dissolved.

When the milk and citric acid have reached 90 degrees (use an instant read thermometer) remove from heat, stir rennet (dissolved in 1/4 cup water also), stir until combined, and place a lid on it for 5 minutes. Do not touch or move or remove lid during this time.

After 5 minutes, check by putting your finger in and pulling back, this is what people refer to as a "clean break". You want to see the separation of the curds and the thin yellowy liquid (whey). If it does not look separated, let it go for another 5 minutes. Again, don't remove the lid during this final 5 minutes.

Once you get a "clean break", and the curds are nice and solid, cut a criss-cross-like pattern (or "checkerboard like pattern) through the pot, from left to right, and perpendicular to those lines, reaching the knife all the way to the bottom of the pan. Basically, you are just breaking the gelatinous whole into large chunks. Use a knife or offset spatula.

Return the pan to the burner, and heat to 105 degrees, only barely stirring to disperse heat, and not break up curds. Use an instant read thermometer to determine when the mixture has reached 105 degrees.

Using a large slotted spoon, or hand held strainer, transfer the curds to a fine mesh strainer or colander to drain.

Once the whey has drained off, pick up the remaining curds and squeeze a bit more over the bowl, further releasing some liquid, if possible.

Bring a large pot of water to almost boiling, but not actually bubbling. Once it looks like it's about to boil (about 180 degrees) remove from the heat. Lower the curds (they should be much tighter at this point) into the hot water. Note: The pot of water should be off the heat source now, this is done on the counter top. (See note for alternative microwaving technique below)

PUT ON YOUR HEAT SAFE GLOVES. Let the curds stay submerged in the hot water for a few minutes, while also reaching your hand in and squeezing them together to form them together. (Again, you can do this in the microwave if you want, but I prefer the hot water way...either way you have to wear the gloves! See recipe notes for microwave technique)

Remove them from the hot water, but keep the pot nearby. Fold and knead the curds together.

Stretch it out into a long strand, and fold it back up together into itself, kneading again.

Repeat this kneading and stretching for about 15 minutes. Submerge the cheese back into the hot water when it becomes tough and hard to stretch to soften it up and keep going. After about 15 minutes, the cheese should have a little sheen to it and seem very smooth and luscious. Tuck it into a little ball, pinching it neatly underneath itself.

Drop it into an ice bath for 5 minutes.

Done! Remove from the water and enjoy your cheese however way you like, or refrigerate for later use. Congratulations!

The more you do this, the more comfortable you will become with it. If the first go felt a little clumsy and confusing, just do it a time or two again and you'll feel much more confident. Always make sure you are not using ultra pasteurized milk, or your curds won't even form in the first place.
Notes
Double check that you are not attempting this with ultra pasteurized milk. 
The first time is the hardest, the second time is much easier. After that, you will feel like a pro. Making mozzarella cheese at home is so easy, and so worth it because it's so delicious!
MICROWAVE TECHNIQUE:
YOU MUST START WITH THE STOVE TOP METHOD, THE MICROWAVE ALTERNATE TECHNIQUE COMES INTO PLAY AT THE POINT WHERE YOU WOULD PROCEED HEAT THE WATER TO ALMOST BOILING...BUT YOU CAN DO THIS INSTEAD--
At the point where you heat the pot of water to almost boiling, you could choose to alternatively do this in the microwave. You would instead take the curds and place them in a bowl (pressing and draining out as much liquid/whey as possible) and microwave in 30 second intervals. After each 30 second interval, knead and stretch the dough. Stretch it far, and fold it up like a ribbon again and again, just as you would with the hot water method. Repeat the 30 second microwave burst intervals for a total of 3 times. Stretching and kneading, and draining off the whey as you go. Until you reach the point where (it should have a sheen) you can tuck it into a little ball into itself and give it it's ice bath.