Shortening based pie crust recipes, like this Crisco pie crust, result in the most tender pie crusts. The dough is pliable, and does not fall apart, making it perfect for any pie filling you desire.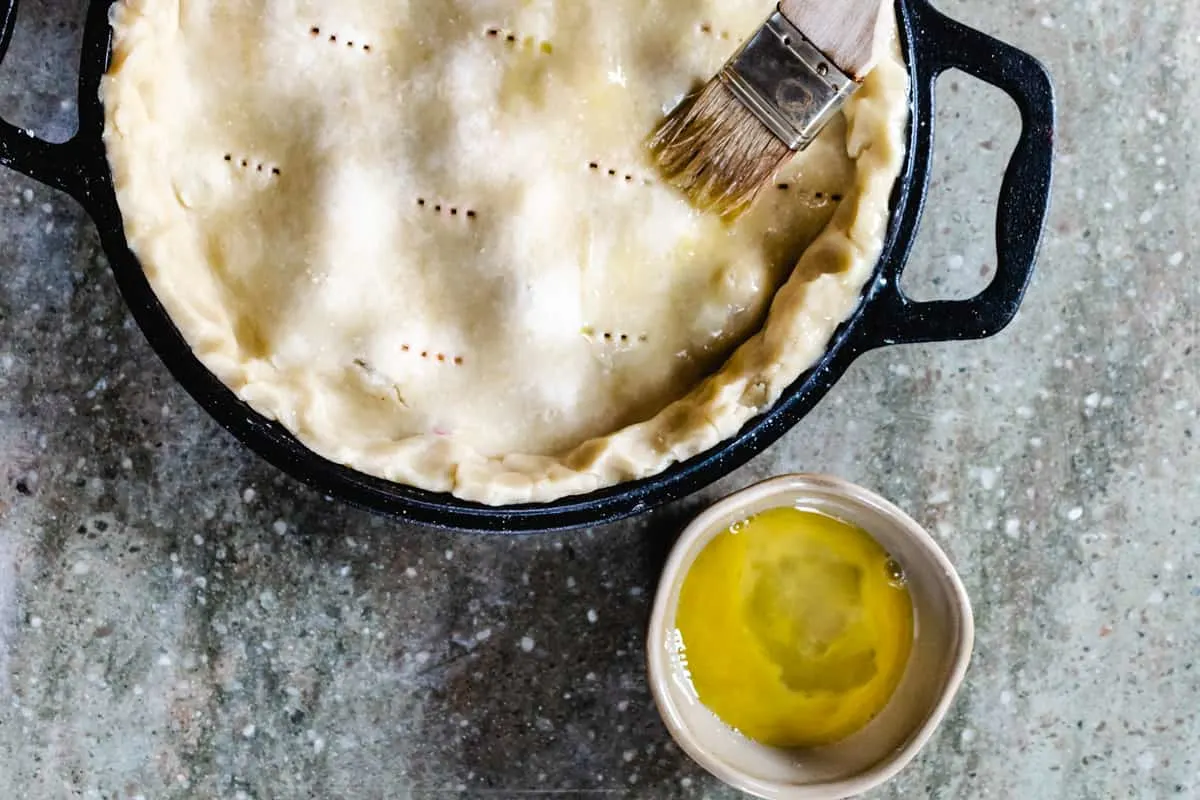 What's the secret to the best pie crust?
This perfect pie crust dough is so delicious and the flavor is perfect thanks to the addition of a bit of vinegar.
The pie crust dough can be made ahead of time and stored in the fridge for up to two days. I don't recommend freezing the dough.
The secret to this Crisco pie crust recipe is shortening. Like with biscuits, shortening works best over butter and results in a superior texture.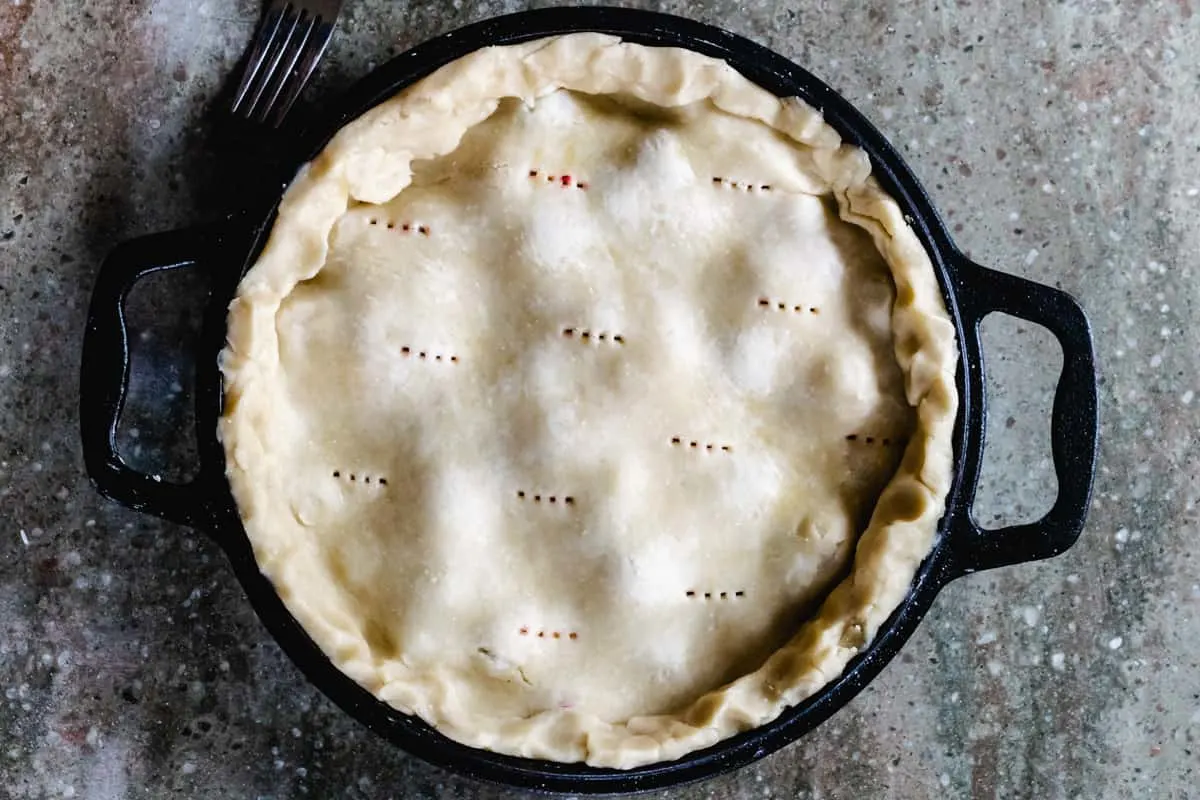 This Crisco pie crust recipe can be made with any type of shortening, I've had great results with all sorts of brands.
The vinegar in the recipe makes the pie crust more tender, but the taste cooks out.
However, it does leave behind a certain depth of flavor that will have you hooked on vinegar pie crust forever.
It also helps prevent the pie crust dough from oxidizing and turning gray, which is especially important if you plan on making this pie crust dough in advance.
Why make your own pie crust?
Making your own pie crust is a great way to control the ingredients of your pies. Store-bought pie crusts contain preservatives and other additives that can affect the flavor and texture of your final product, but by making your own pie crust you know exactly what goes into it and can make sure it's as fresh as possible when you bake it. \
Additionally, homemade pie crust is often flakier than store-bought because you can control how much fat is going into your recipe. And finally, homemade flaky pie crust just tastes better—it has a richness that commercial pie crusts don't have.
Ingredients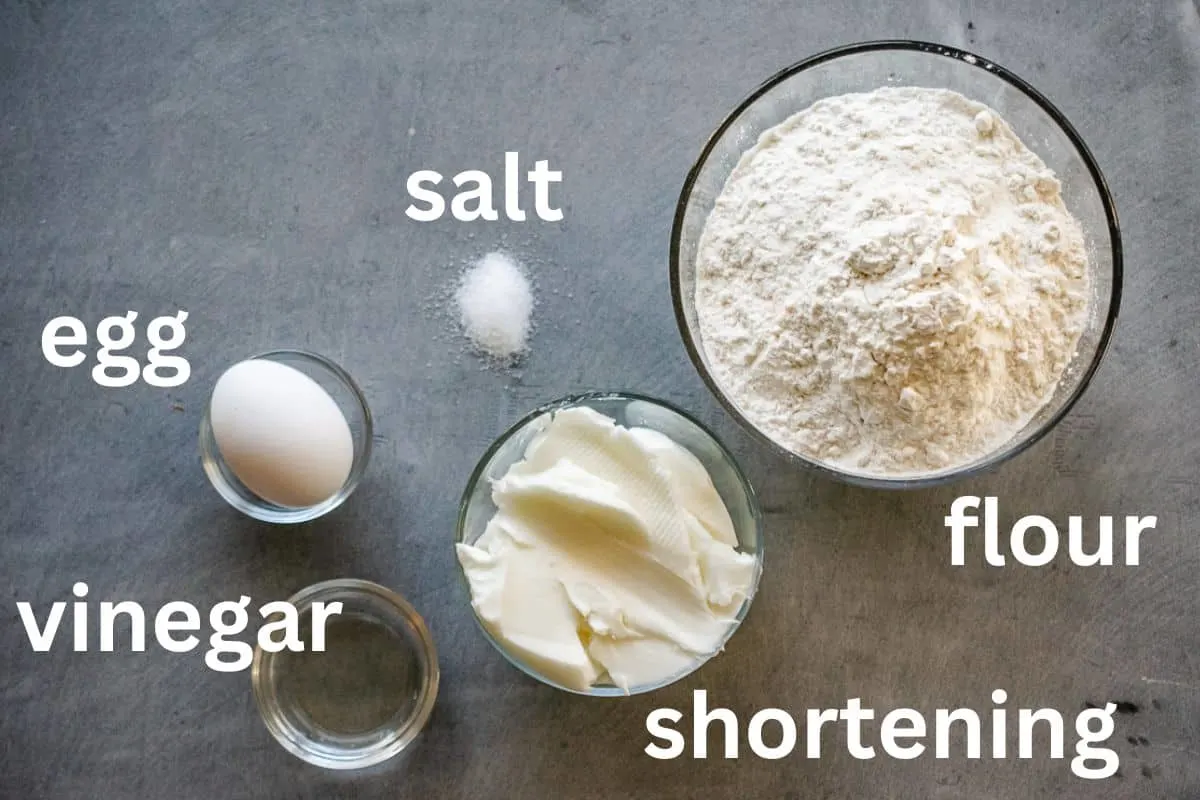 Get more info on these ingredients for the easy pie crust recipe at the bottom of the post.
all purpose flour
salt
shortening
cold water
white vinegar
egg, optional
How to Make A Crisco Pie Crust
Combine the flour and salt in a large bowl until mixed.
Then, use a fork or pastry cutter, cut in the shortening into the flour mixture until the mixture resembles coarse crumbs.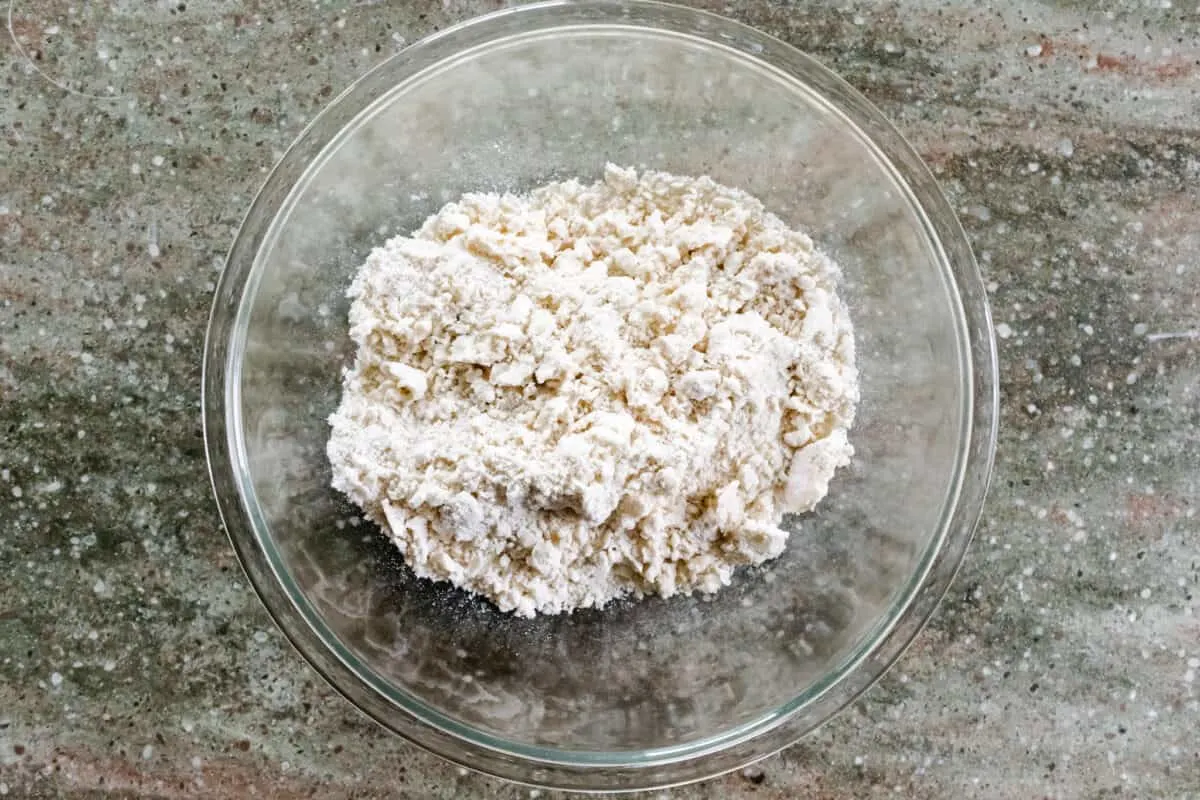 Finally, add the vinegar and cold water and combine until a smooth dough forms.
If the dough appears too wet, sprinkle in more flour one tablespoon at a time.
If it appears too dry, add 1 tablespoon of water, mixing until it comes together.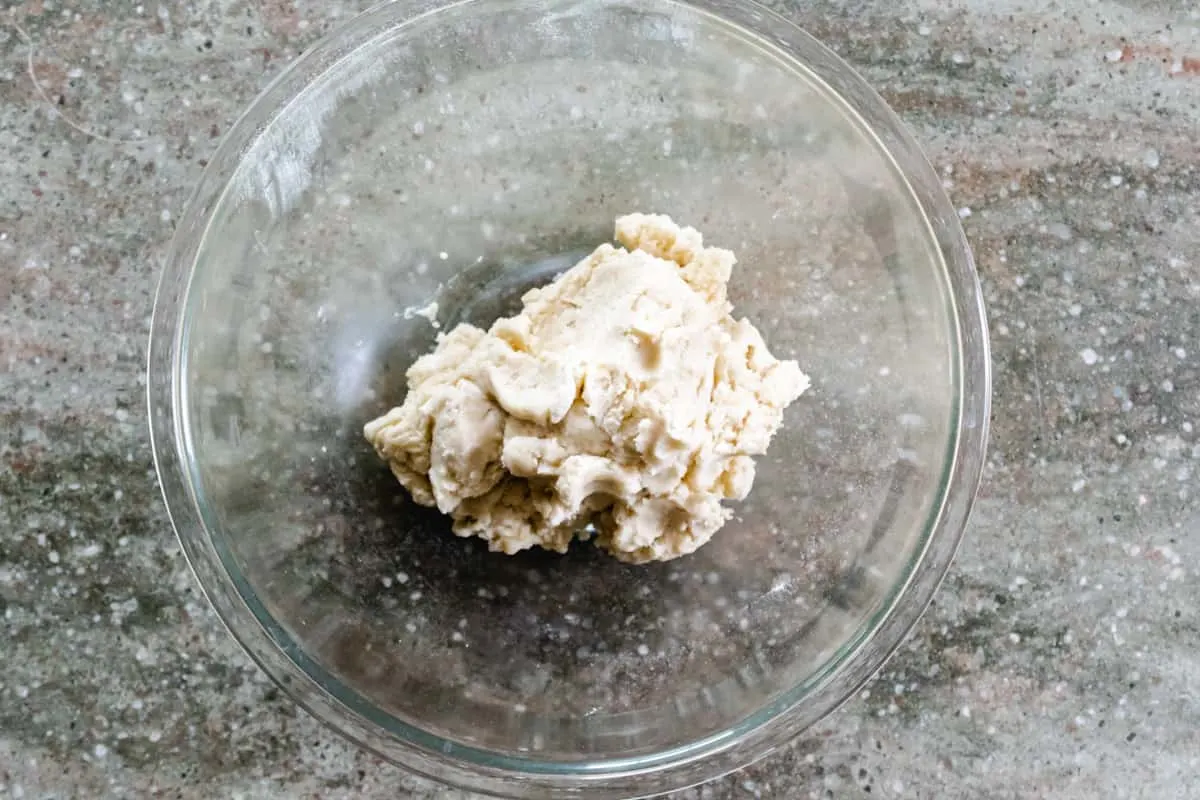 Once the dough is formed, wrap it in plastic wrap and chill it in the refrigerator for one hour.
You can also chill it for up to two days in the fridge to roll out and use later in a pie.
Divide the dough into 2 portions.
The portions should be mostly equal, but use the larger portion for the bottom crust since it needs to also go up the sides of the pie pan.
Reserve the smaller portion for the top of the pie crust.
Sprinkle a small bit of flour over your work place.
Once your lightly floured surface is ready, use a rolling pin to roll out the larger portion of dough into a circle that is approximately 4 inches larger than the diameter of your pie pan. It will come out to about ⅛th inch thick.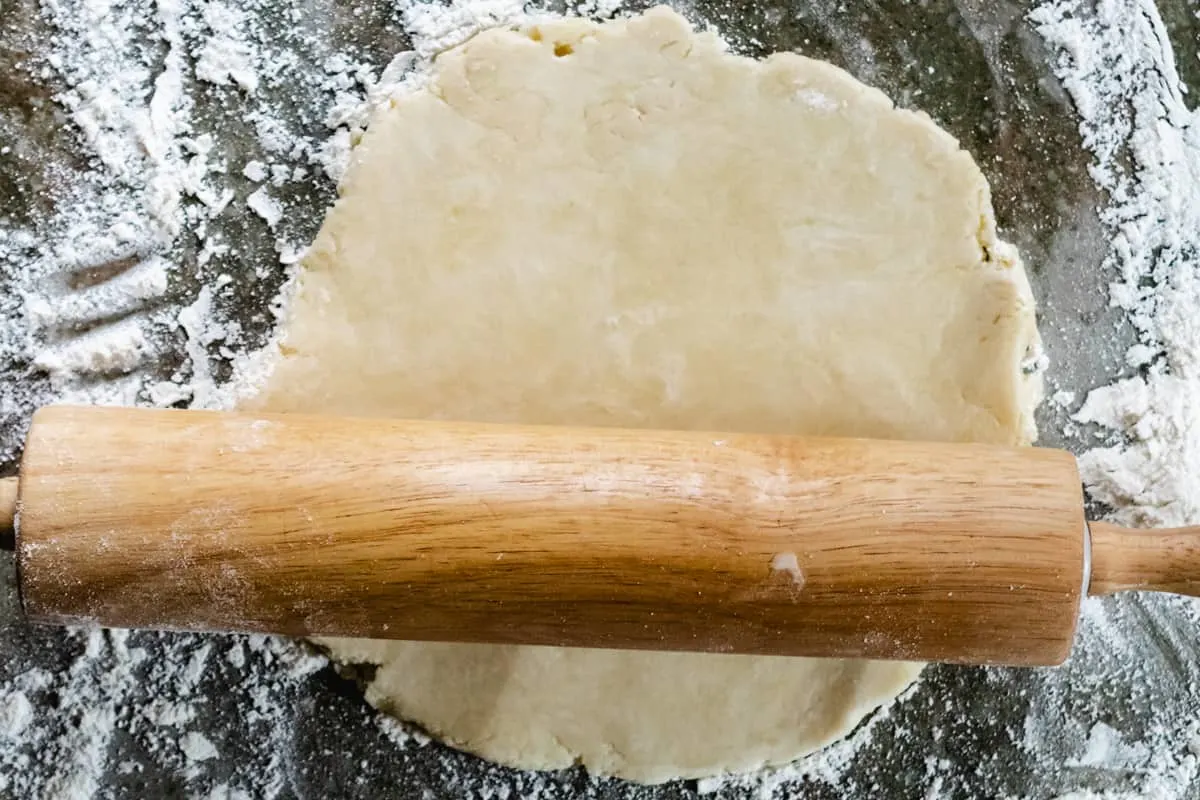 Carefully transfer that circular sheet of dough onto the pie pan, and allow it to settle into place. Use your fingertips to gently press it into the bottom of the pan.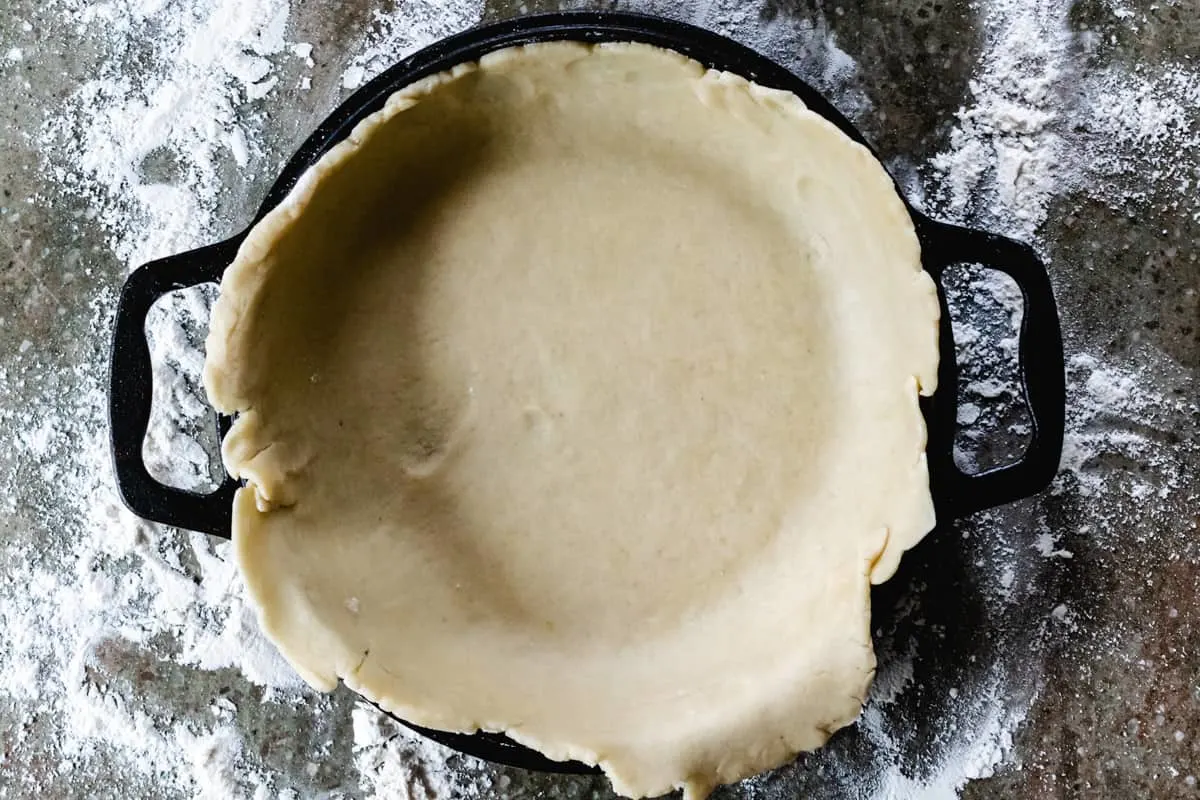 Fill the bottom crust of the pie pan with your desired pie filling.
Roll out the other portion of dough the same way as the first, and transfer it over the top of the pie filling.
Trim the edges of excess dough, pinch together all the way around the pie pan to seal.
Pierce holes into the top crust several times with a fork, or slit with a knife.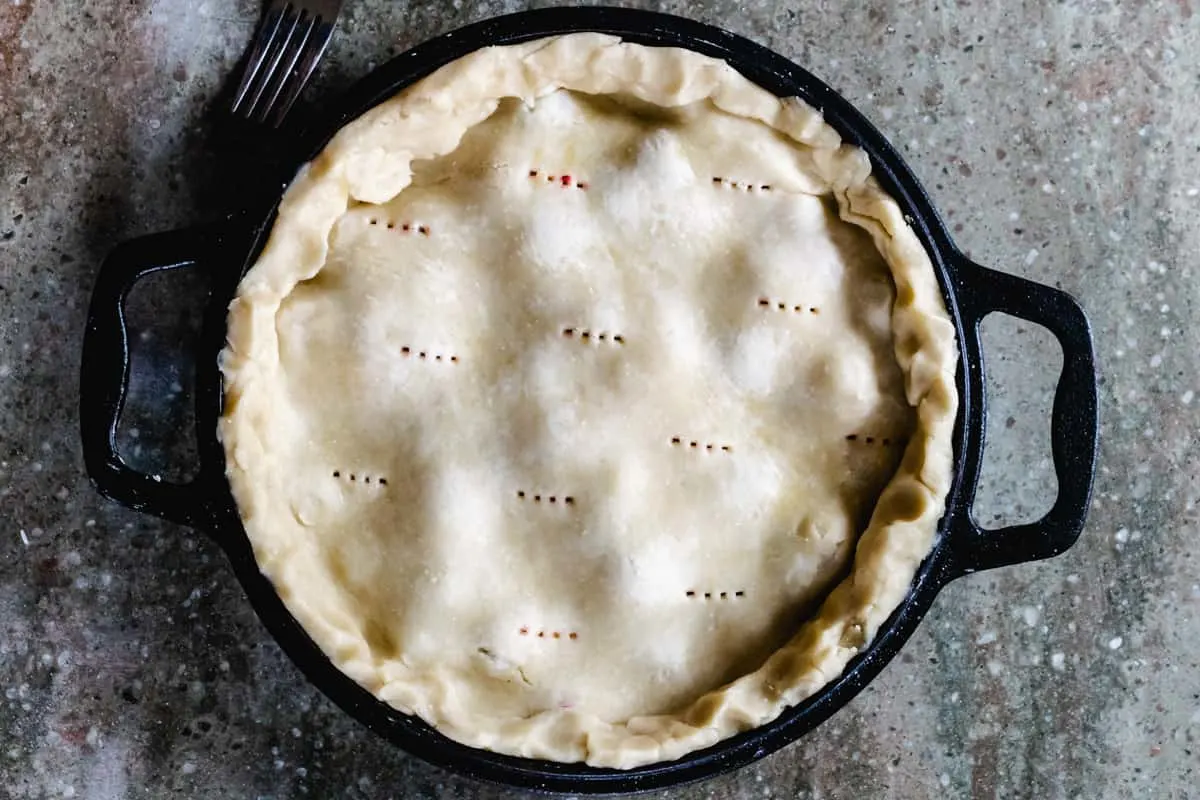 Brush the top unbaked pie crust with a beaten egg, which will make the crust shiny, golden and beautiful.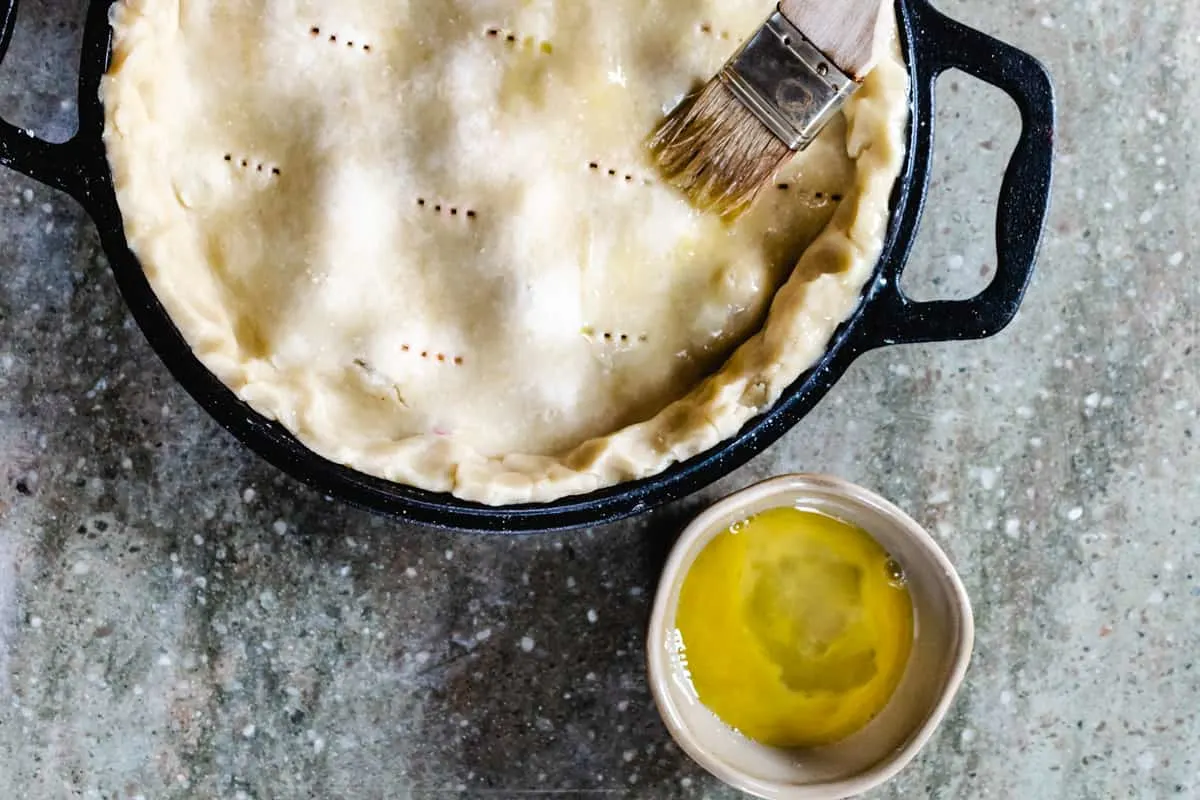 Bake the pie according to the recipe you are using. For a fruit or berry pie, this typically means 30 to 40 minutes at 400 degrees Fahrenheit.
Storage
The pie crust dough can be made ahead of time and stored in the fridge for up to two days. I don't recommend freezing the dough.
How do I get a golden brown pie crust?
Brushing the uncooked pie crust with a beaten egg before baking, makes the crust golden and shiny.
What size pie plate should I use?
Pie plates come in all sizes, so it depends on the recipe you are following. For a 9-inch pie plate, you'll need to make enough dough for two 9-inch rounds (or one double crust). Make sure your pie plate is deep-dish or at least 1.5 to 2 inches deep. If the edges of your crust start to burn too quickly, cover them with aluminum foil before baking.
Why is my pie crust crumbly?
One of the main reasons a pie crust can become crumbly is due to overworking it. If you knead or roll out too much, the shortening will begin to melt, making the dough very difficult to work with. Another reason could be that your shortening was not chilled enough before using.

To prevent crumbly dough, use shortening and handle it as little as possible when making the dough.

Additionally, make sure you are adding just enough liquid (cold water) to create a soft pie dough but not so much that it becomes sticky. Using enough water is crucial to getting the right texture for your flaky crust.

How do you cut in Crisco for this recipe?
For best results, when cutting in Crisco for this recipe, it is important to use a pastry blender or two forks and work quickly so that you don't overwork the dough.
The easiest way is to start by taking small amounts of shortening and working them into the flour until it starts to look like coarse crumbs. Be sure to work the shortening as far away from your body as possible - keeping it chilled will help keep it from melting - and keep blending until all of the fat is cut in uniformly.

Also, you want the pieces of vegetable shortening to be about the size of small peas when cutting the shortening pieces.
If you don't have a pastry cutter or want to use two forks, you can use a food processor to cur the shortening.


Tips and Tricks for the Best Pie Crust
When measuring your ingredients, make sure you use cold shortening and ice-cold water.
Use a light hand when mixing the dough – over-working it will result in a tough crust.
​Chill your pastry blender or forks in the freezer before using them to help keep the crisco from melting.
When you have finished cutting in the shortening, don't forget to chill the dough for a few minutes so that it stays crumbly and doesn't get sticky.
If measuring from the Crisco sticks, be sure to double check that you are using the correct set of measurements. I find the tub of Crisco easier to use simply because I know I am measuring the correct amount from that. The foil wrapped sticks can get confusing when making this classic Crisco pie crust recipe.
Don't let the thought of making your own homemade pie crust scare you away from trying this easy recipe. You'll be pleasantly surprised how easy it is to get the perfect crust for any sweet or savory pies with this easy crisco pie crust recipe using simple ingredients!
Similar recipes...
If you tried this pie crust recipe, leave a rating using the stars in the recipe card below, or leave a comment for others.
📖 Recipe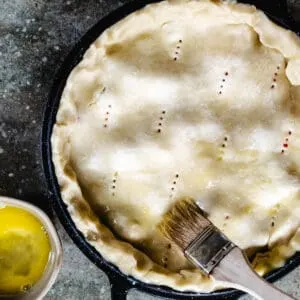 Crisco Pie Crust
Easy Crisco (shortening) style pie crust to make with any filling.
Print
Pin
Rate
Ingredients
2

cups

flour

plus more for dusting

½

teaspoon

salt

½

cup

shortening

3

tablespoon

water

cold

1

tablespoon

vinegar

1

egg

beaten, for brushing (optional)
Instructions
In a large bowl, or standing mixer, combine flour (2cups), salt (½ tsp) and shortening (½ cup) until mixture is crumbly.

Add cold water (3 tbsp) and vinegar (1tbsp) and combine just until dough ball forms.

Sprinkle the ball of dough with a bit of flour, and wrap in plastic wrap.

Chill the dough in the fridge for a minimum of one hour, or up to two days.

Divide into two portions, one slightly larger than the other, as the bottom crust will take slightly more dough to go up the sides of the pan.

On a generously floured surface, roll both sections out with a rolling pin, working from the center of the dough and pushing outwards.

Proceed to filling your pie as your recipe calls for.

Place the larger, rolled out portion into a greased pie pan and press up the sides.

Roll the smaller portion (the top crust) and lay over filled pie. Pinch edges together and cut/discard excess dough from the circumference of the pie.

Poke holes for steam to escape, using a knife or a fork in any pattern you like.

Brush with a beaten egg before baking for a shiny, golden finish.

Proceed with baking the pie as your pie recipe calls for (usually around 1 hour).
Notes
Pie crust recipe is to be used with any prepared pie filling, or pie filling recipe that calls for pie crust.
Pie dough can be made ahead of time, and stored in the fridge for up to 2 days uncooked.
Brushing with a beaten egg before baking, makes the crust golden and shiny.
Nutrition
Serving:
1
g
|
Calories:
236
kcal
|
Carbohydrates:
24
g
|
Protein:
4
g
|
Fat:
14
g
|
Saturated Fat:
3
g
|
Polyunsaturated Fat:
4
g
|
Monounsaturated Fat:
6
g
|
Trans Fat:
2
g
|
Cholesterol:
20
mg
|
Sodium:
156
mg
|
Potassium:
46
mg
|
Fiber:
1
g
|
Sugar:
1
g
|
Vitamin A:
30
IU
|
Calcium:
8
mg
|
Iron:
2
mg