Don't be deceived by the name of these bars. They've got a snickerdoodle crust, a gooey caramel apple pie filling, and a crumb topping that doesn't quit. I've said it before and I'll say it again. When it comes to crumb topping, go big or go out of the kitchen. I want all of the crumbs. Streusel goals.
Starting with the snickerdoodle crust, this part alone is special. It's the exact recipe I use for regular snickerdoodles, which is soft, buttery and sweet. And cinnamony. This gets pressed into a parchment lined sheet pan (I like to line with parchment because then I just lift the entire finished product out of the pan and cut it with a pizza cutter.) If you don't want to use parchment paper, line it with foil for easy removal.
For the second layer, the apple pie filling, begin by peeling and slicing apples into thin strips the way you would an apple pie. This means cut them into regular wedges, remove the peel and core and slice longways keeping them under 1/8 inch thick. This way they will layer nicely and bars will remain bar-like and flat. Toss the peeled and sliced apples in a mixture of brown sugar, flour, salt, cinnamon, nutmeg, clove and melted butter. Layer evenly over the snickerdoodle crust, making sure all the slices are laying flat over each other.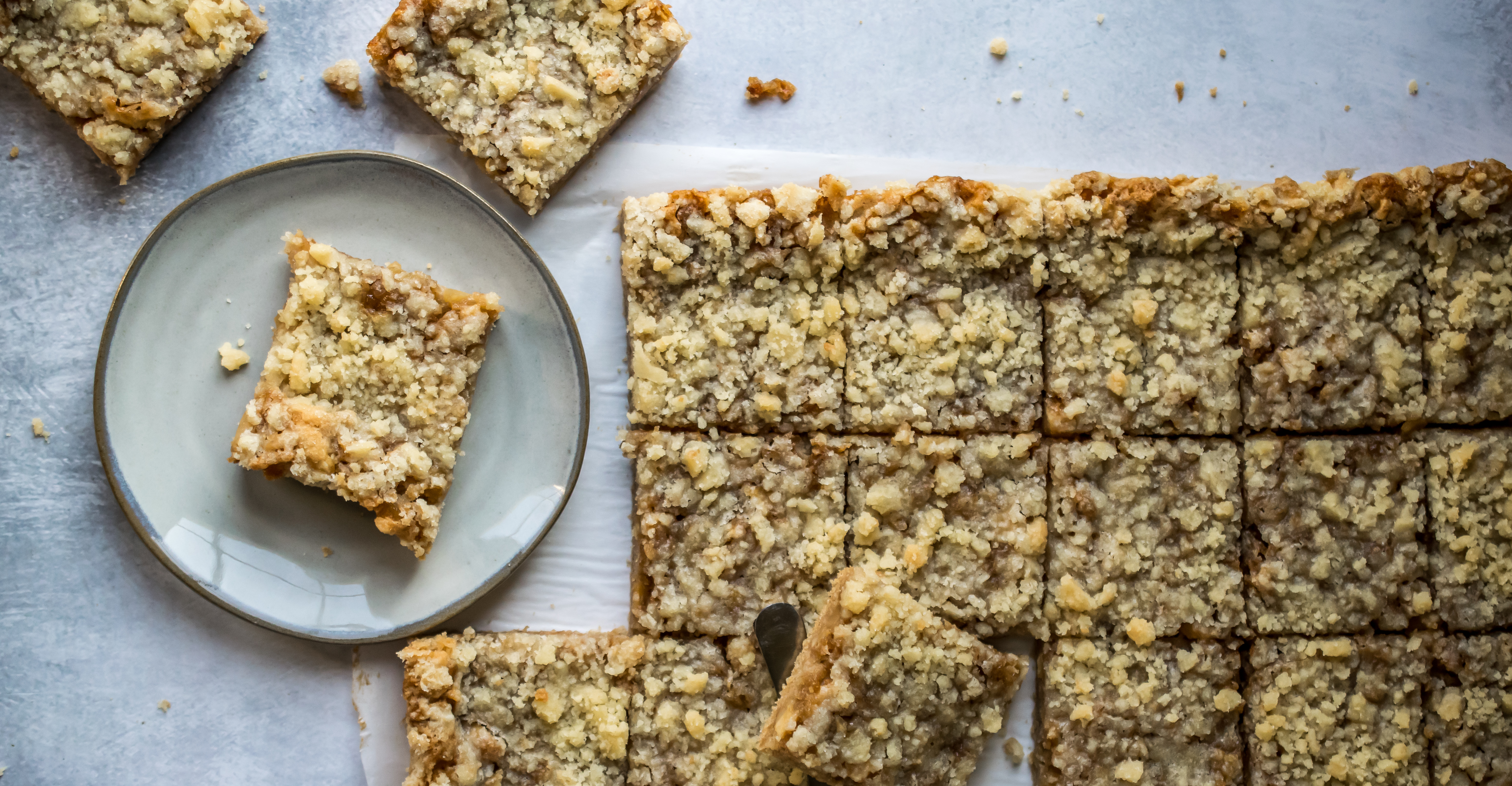 On to the crumbs. Which, in my opinion, are the star of the show. Nothing fancy here, just cut your butter into the flour, sugar and salt until you have a mixture that resembles crumbs and sprinkle evenly over the top. Don't pat the crumbs in, let them be their crumby, beautiful selves. However they fall is destiny.
Bake at 325 degrees for 40 to 50 minutes. This may seem like a long time, but the temperature is lower for this reason. Remember, there is an entire layer of raw cookie dough that needs to bake, underneath a layer of gooey pie filling. Keep an eye on the top and edges; a little golden color is what you want to see, if you see that it's getting too dark before the center sets, just cover the edges with foil and continue baking until the center no longer appears wet. The are done when set, and when you can slide a knife underneath the crust and see a golden, completely cooked bottom of the cookie crust. I find this is right around the 45 minute mark.
These bars are great for dessert, after school snack, or even on a busy morning for a quick breakfast out the door. I'd be lying if I said my household hasn't done all three.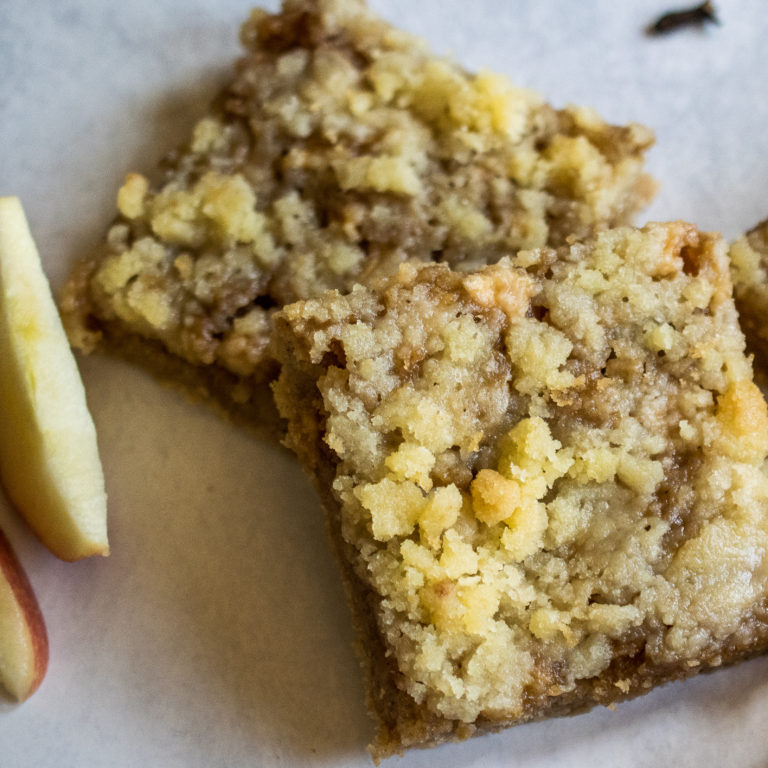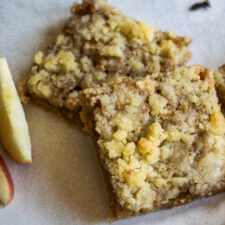 Snickerdoodle Apple Crumb Bars
Snickerdoodle crust, topped with apple pie filling, topped with a decadent crumb streusel topping
Print
Pin
Rate
Ingredients
Snickerdoodle crust
3/4

cup

butter or shortening

2

cups

granulated sugar

2

large eggs

1/2

tsp

vanilla

2

tsp

cream of tartar

1

tsp

soda

1/4

tsp

salt

3

cups

flour

1

tbsp

cinnamon
Apple pie filling
5

medium apples

any variety (peeled, cored and sliced into very thin wedges no thicker than 1/8th inch)

3/4

cup

packed brown sugar

1/3

cup

all purpose flour

1

tsp

cinnamon

1/4

tsp

nutmeg

1/8

tsp

ground clove

1/2

stick butter

melted
Crumb topping
1

cup

granulated sugar

1

cup

all purpose flour

1/2

stick butter

1/4

tsp

salt
Instructions
Preheat oven to 325 degrees. Line a half sheet pan with parchment paper or foil. Leave a slight excess on two sides for easier removal. If you are not lining the sheet pan, lightly grease.

Combine cookie ingredients, press evenly into the bottom of the lined half sheet.

Combine apple pie ingredients, including melted butter, and layer evenly over cookie layer.

Cut butter into the crumb ingredients until the mixture resembles coarse crumbs and sprinkle evenly over the apple filling.

Bake at 325 degrees for 40-50 minutes, until middle is set and bottom of crust is golden brown. If crumb edges begin to darken too quickly, cover the edges with foil and continue cooking until set. Cool completely before slicing. To remove from pan, simply lift the entire slab out by grabbing the excess lining (parchment or foil) on each side and carefully lifting out. Cool before slicing.