Fluffy and moist muffins studded with ripe, juicy red raspberries and white chocolate, finished with a white chocolate drizzle.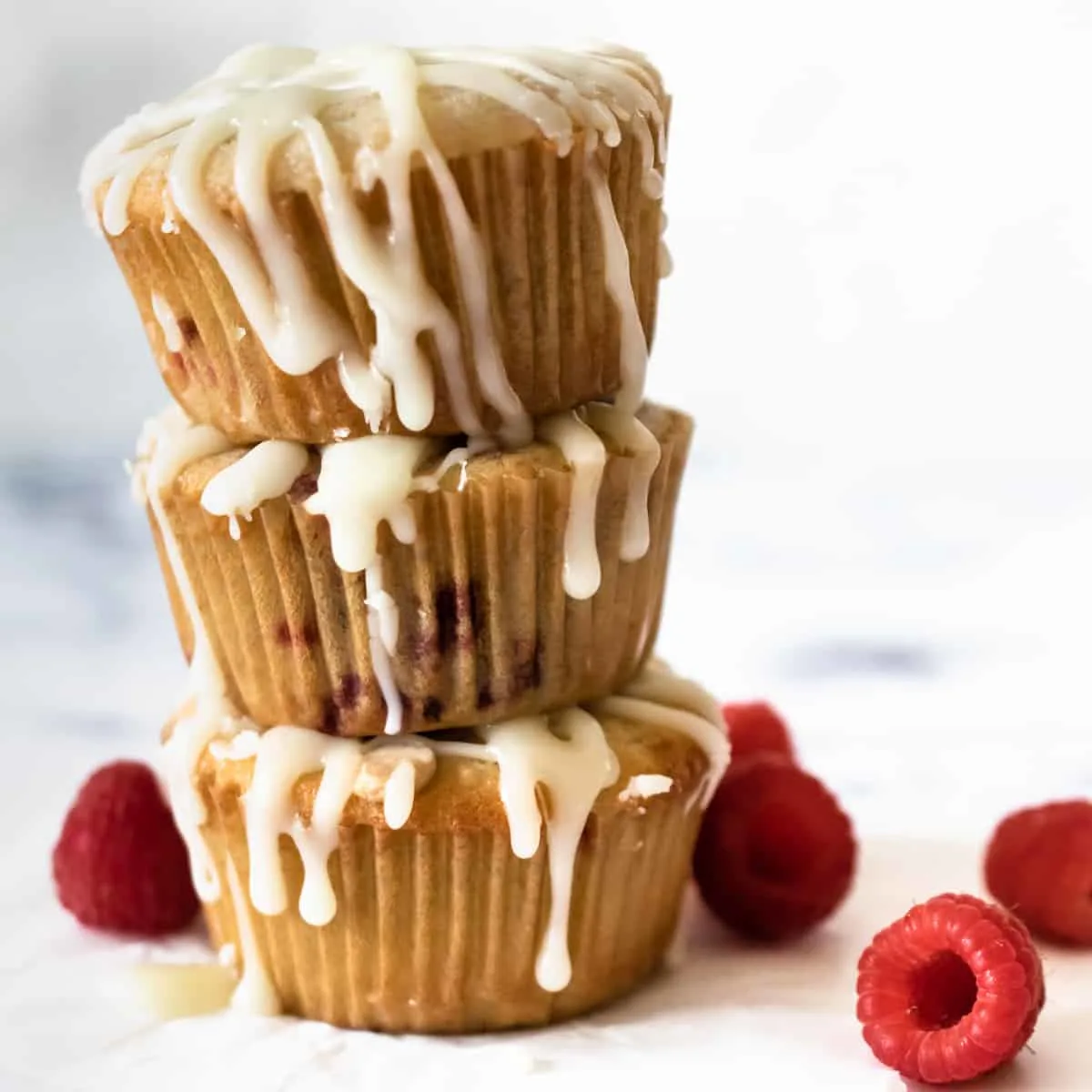 This is where dessert meets breakfast! These muffins are as indulgent as they are beautiful; the perfect way to start your day.
They're light and fluffy on the outside, but still moist and tender in the middle. The combination of raspberries and white chocolate is divine—a unique twist on a classic flavor. And to top it all off, a generous drizzle of white chocolate makes these muffins absolutely irresistible! Enjoy one warm with a cup of coffee or tea– they won't disappoint!
Why make these homemade muffins?
They're bursting with juicy raspberries
It takes less than an hour to make this easy recipe
They're affordable and can be used as breakfast, snack or dessert
This recipe is simple to scale and make an extra batch or two for later
The whole family will enjoy a raspberry tender muffin
Ingredients
Get more info on these basic pantry staple ingredients in the recipe card at the bottom of the post.
Muffin Batter
all purpose flour
sugar
baking powder
salt
vegetable oil
butter
large eggs
milk
vanilla extract
white chocolate chips or chunks
raspberries fresh or frozen
White Chocolate Drizzle
white chocolate pieces or chips
milk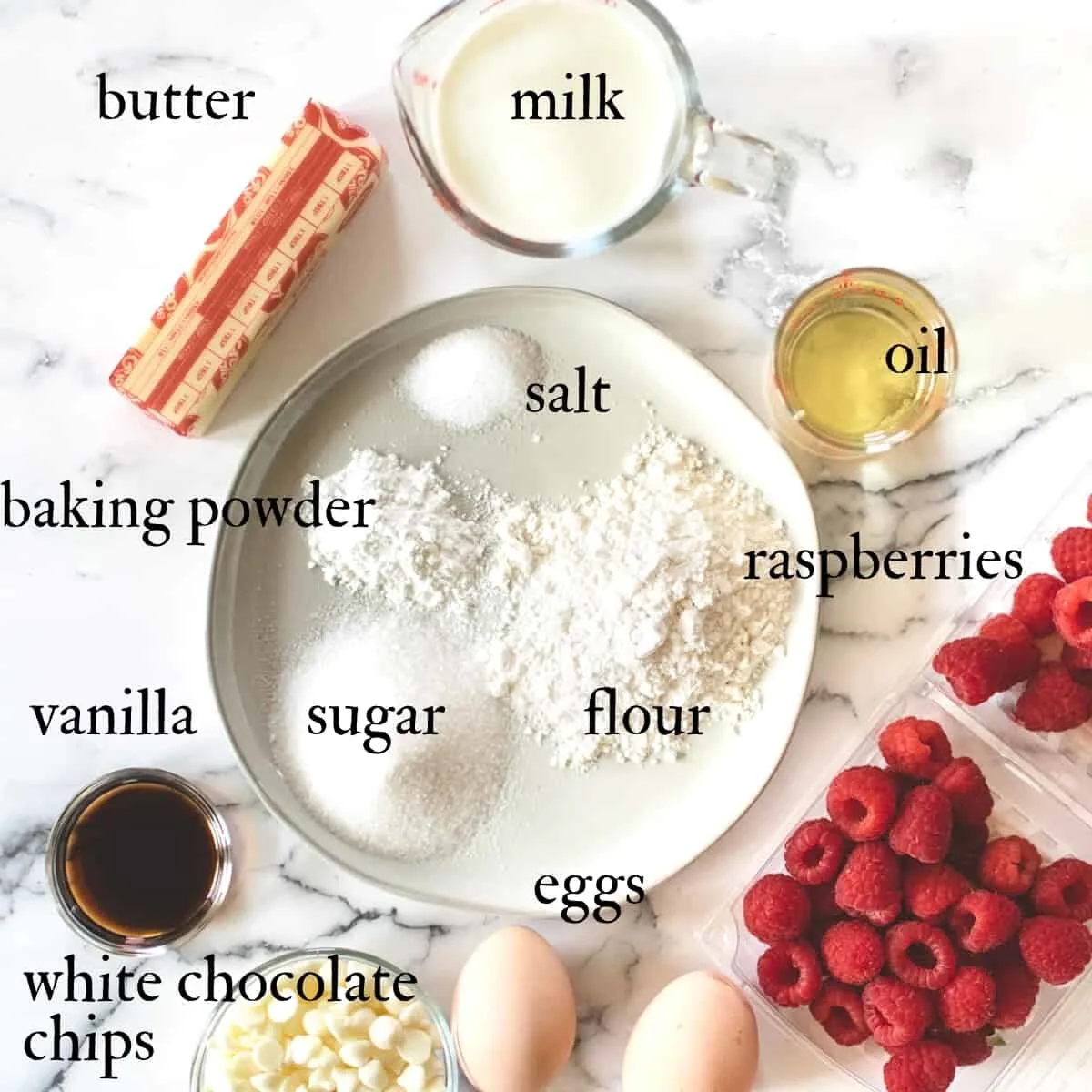 How to Make Raspberry White Chocolate Muffins
Start by combining the dry ingredients first. This ensures that things like the baking powder and salt get evenly dispersed.
Give the raspberries a rough chop. This just makes them lighter, and speckled within the muffin, instead of having heavy, wet chunks of berry that weigh it down.
Dusting the berries with a tiny bit of flour to coat them also helps them to "cling" to the batter, rather than sinking to the bottom.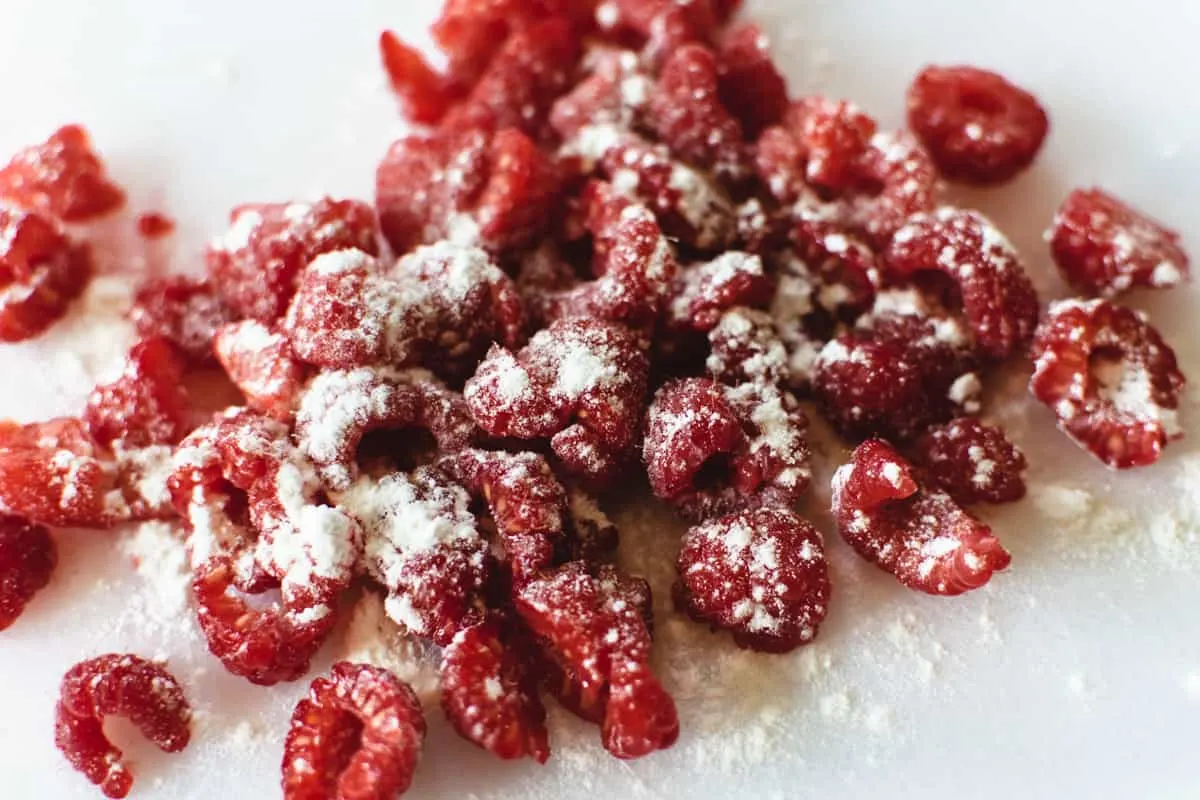 With the dry ingredients and white chocolate chips (or chunks) mixed together in a large mixing bowl, whisk in the wet ingredients just until the batter is formed. Don't over mix or this can deflate the muffin's texture.
With the batter mixed in the large bowl, gently fold in the chopped, flour-dusted raspberries. Avoid stirring or using a whisk, as the natural coloring of the juices can streak the batter. Instead, use a light hand and a broad spoon, wooden spoon, or spatula to fold them in.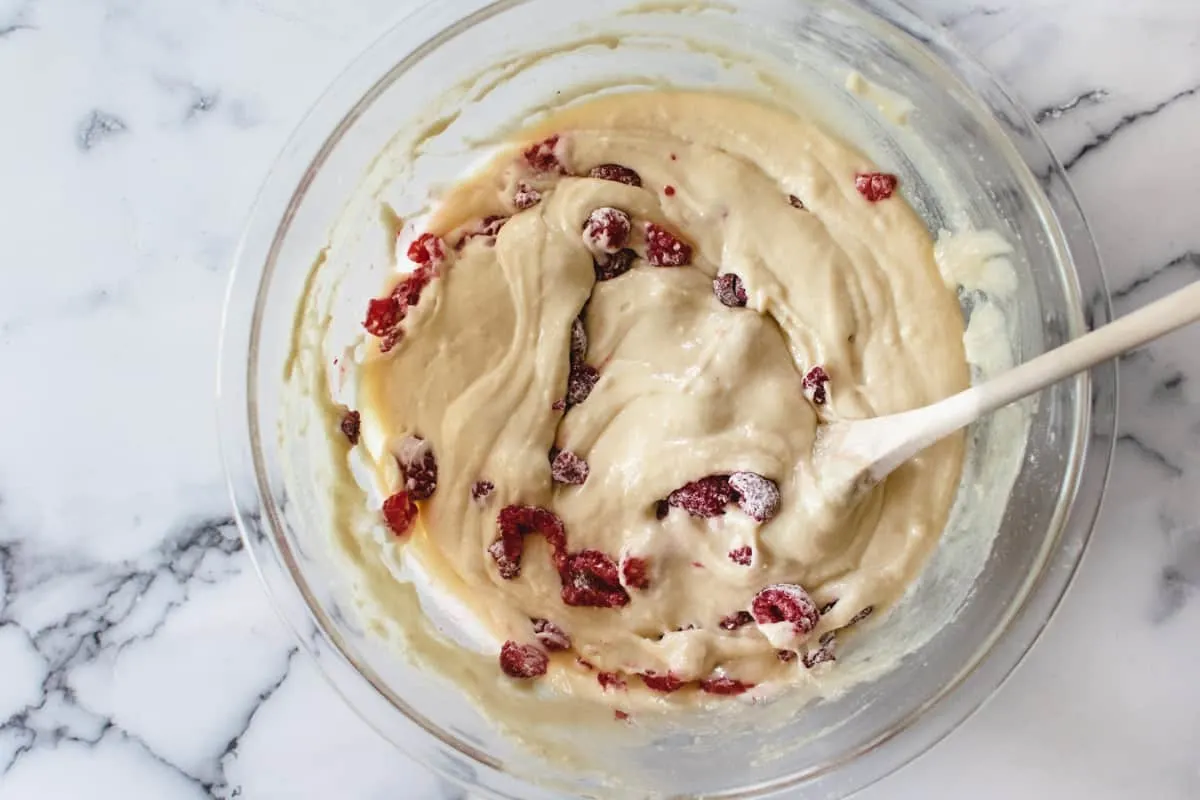 Fill the muffin cups of the muffin tins two-thirds of the way full and bake immediately. Baking powder reacts right away, as opposed to baking soda so it's important to not waste time getting these in the oven.
Don't be tempted to let the muffins become too browned. They are done when the top centers spring back when lightly poked with your fingertip. Your warm muffins will continue to set as they cool.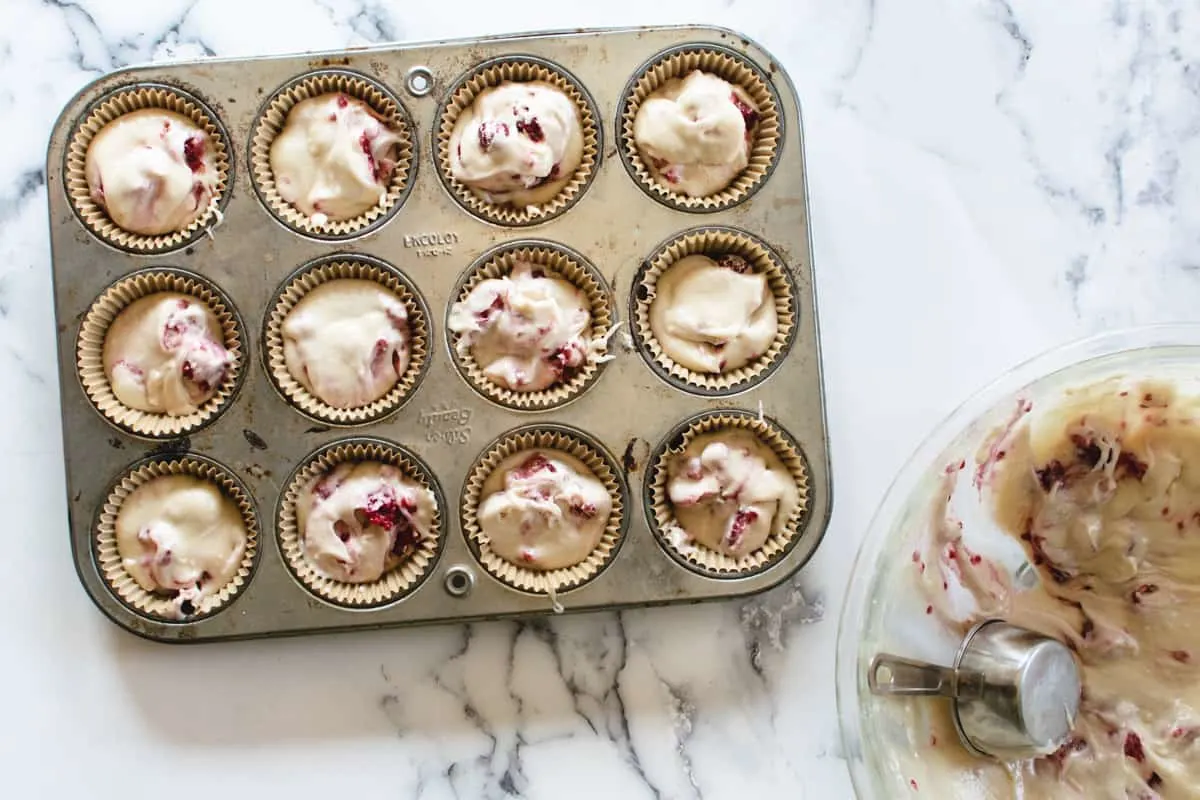 How to make the drizzle
The white chocolate drizzle for these muffins is as easy as melting white chocolate with a splash of milk until smooth. Use a fork or whisk to drizzle over the muffins once they are cooled.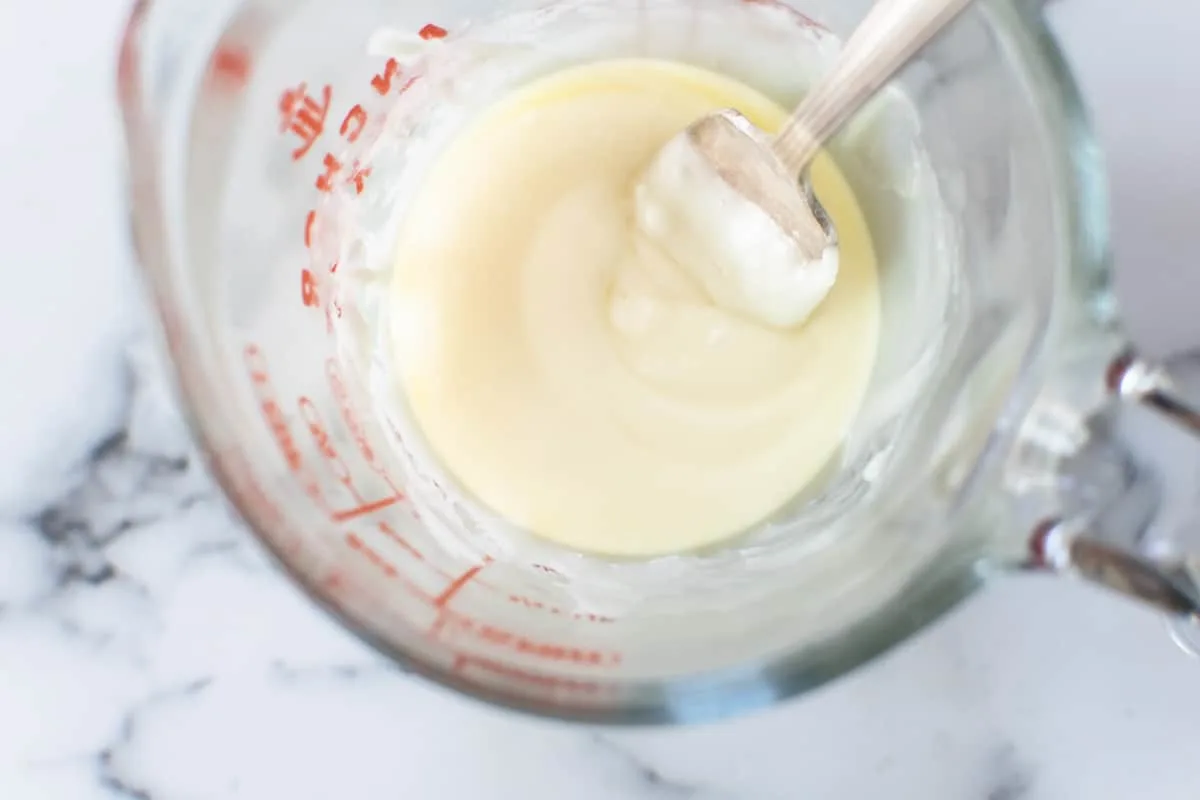 If the rich white chocolate mixture begins to harden before you are finished, just warm it back up again. Use a microwave in 30 second bursts (stirring between) or a small sauce pan.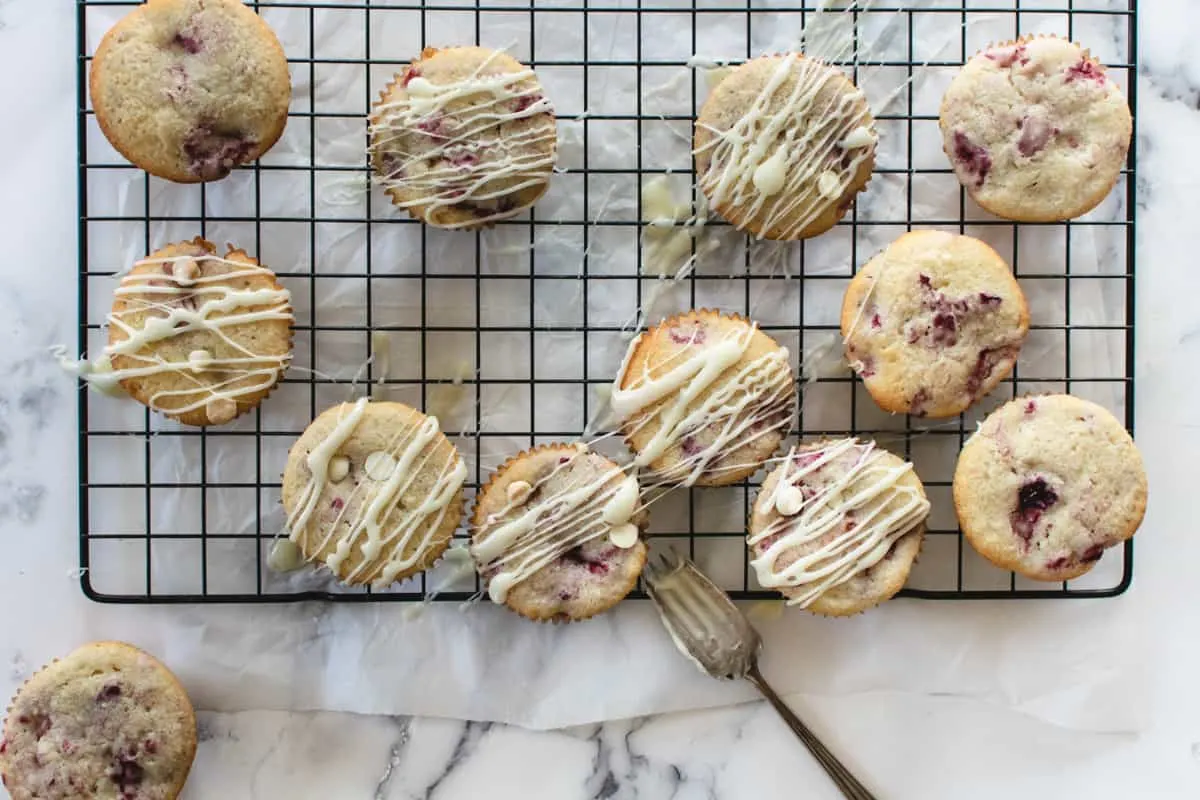 Storage
Store muffins, covered at room temperature for up to 5 days, or in the fridge for 10 days.
Muffins can also be frozen in a freezer-safe container, or. freezer bag, and thawed at room temperature.
I suggest storing your muffins in an airtight container or some muffin cases if you have them.
When you go to freeze the muffins, make sure they're completely cool. You can either flash freeze them, by placing them on a baking sheet and into the freezer until they're completely frozen, then removing them and placing them in your freezer container or freezer bag.
Or, you can place them in the container or bag and freeze them. Flash freezing helps prevent them from all sticking together in the freezer since they're frozen individually first.
Delicious Muffin Recipe Tips
The butter needs to be completely softened before starting. Don't attempt to melt it. Melted butter will not result in the same fluffy muffins that you're expecting.
Instead of the white chocolate drizzle, you can make a cinnamon brown sugar mixture and make a tender crumb topping to top the muffins with.
We don't use muffin liners in the muffin pan, but if you like to do so, you can.
Let your sweet muffins finish cooling on a wire rack.
Fresh berries really make these the perfect muffin, if possible stick to using them.
FAQ
Can I use frozen raspberries?
Fresh raspberries often have better flavor, and a nicer appearance, but can be a bit expensive and are not always in season. For this reason frozen raspberries may be used. Don't thaw them first though.
What kind of white chocolate should I use?
You can use creamy white chocolate chips, or cut up a bar of white chocolate for a rustic, more "chunky" appearance.
Do I need to use both oil and butter?
Notice this recipe calls for both oil and butter. The reason for that, is because butter adds more flavor and is indisputably delicious however, oil does add more moisture to the muffin. Using both fats means the muffin is super flavorful and super moist.
How do I make bakery-style muffins with the high tops?
If you're looking to achieve bakery-style muffins with high tops, here are a few tips:
Overmixing can cause your muffins to become tough and dense.
Fill your muffin tins all the way to the top: Don't be afraid to fill your muffin tins all the way to the top. The batter should be mounded above the rim of the muffin cup. This will allow your muffins to rise up and create those beautiful high tops.
Be sure to use fresh baking powder for best results.
Use room temperature ingredients: Room temperature ingredients mix together more easily and will help your batter rise better.
Preheat your oven: Preheating your oven ensures that it's at the proper temperature when you put your muffins in. This is crucial for achieving those perfect muffin tops.
Speaking of oven temperatures, if you want the high muffin tops, preheat your oven and bake this easy muffin recipe at 400F for the first 5 minutes and then lower the temperature to 350F (without opening the oven door) for the remainder of the baking time.

By following these tips, you should be able to achieve those bakery-style muffins with high tops with this raspberry muffin recipe.
Want more raspberry recipes?
Try these:
📖 Recipe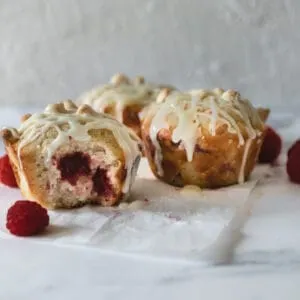 Raspberry and White Chocolate Muffins
Moist, fluffy muffins dotted with red raspberries and white chocolate pieces, finished with a white chocolate drizzle.
Print
Pin
Rate
Ingredients
Muffin Batter
2 ½

cups

all purpose flour

plus more for dusting raspberries

1 ¼

cup

sugar

1

tablespoon

baking powder

1

teaspoon

salt

¼

cup

vegetable oil

½

cup

butter

one stick, softened

2

large

eggs

1

cup

milk

1

teaspoon

vanilla

1

cup

white chocolate chips or chunks

2

cups

raspberries

fresh or frozen, roughly chopped
White Chocolate Drizzle
1

cup

white chocolate pieces or chips

3

tablespoon

milk
Instructions
Preheat oven to 350 degrees.

Mix flour, sugar, baking powder and salt.

Add oil, butter, eggs, milk, vanilla and white chocolate pieces and mix until combined.

Roughly chop raspberries and dust lightly with flour.

Fold the raspberries into the batter.

Fill lined muffin tins ⅔ of the way full and bake for 20-28 minutes until tops spring back when gently poked; cool.

Heat the 1 cup white chocolate chips/chunks with 3 tablespoons of milk in the microwave at 30 second bursts, stirring between, until melted. Can also use a small saucepan on low heat.

Use a fork or whisk to drizzle melted white chocolate mixture over cooled muffins.
Notes
Use fresh or frozen raspberries, but lightly dust with flour to prevent them from sinking to the bottom of the batter.
Only fold the raspberries in with a light hand to avoid mashing them and streaking the batter.
Cool muffins before drizzling with white chocolate.
Nutrition
Serving:
1
muffin
|
Calories:
281
kcal
|
Carbohydrates:
42
g
|
Protein:
5
g
|
Fat:
11
g
|
Saturated Fat:
7
g
|
Cholesterol:
27
mg
|
Sodium:
240
mg
|
Potassium:
134
mg
|
Fiber:
1
g
|
Sugar:
27
g
|
Vitamin A:
77
IU
|
Vitamin C:
4
mg
|
Calcium:
114
mg
|
Iron:
1
mg