Making your own brown sugar is surprisingly easy and with this simple post we are sharing with you today, my goal is for you to learn just how insanely simple it is to make brown sugar. Learning how to make brown sugar is one of the easiest things to do in the kitchen!
The best light or dark brown sugar recipe you can get your hands on is actually made at home, in seconds, and easy to make in a pinch when you're out.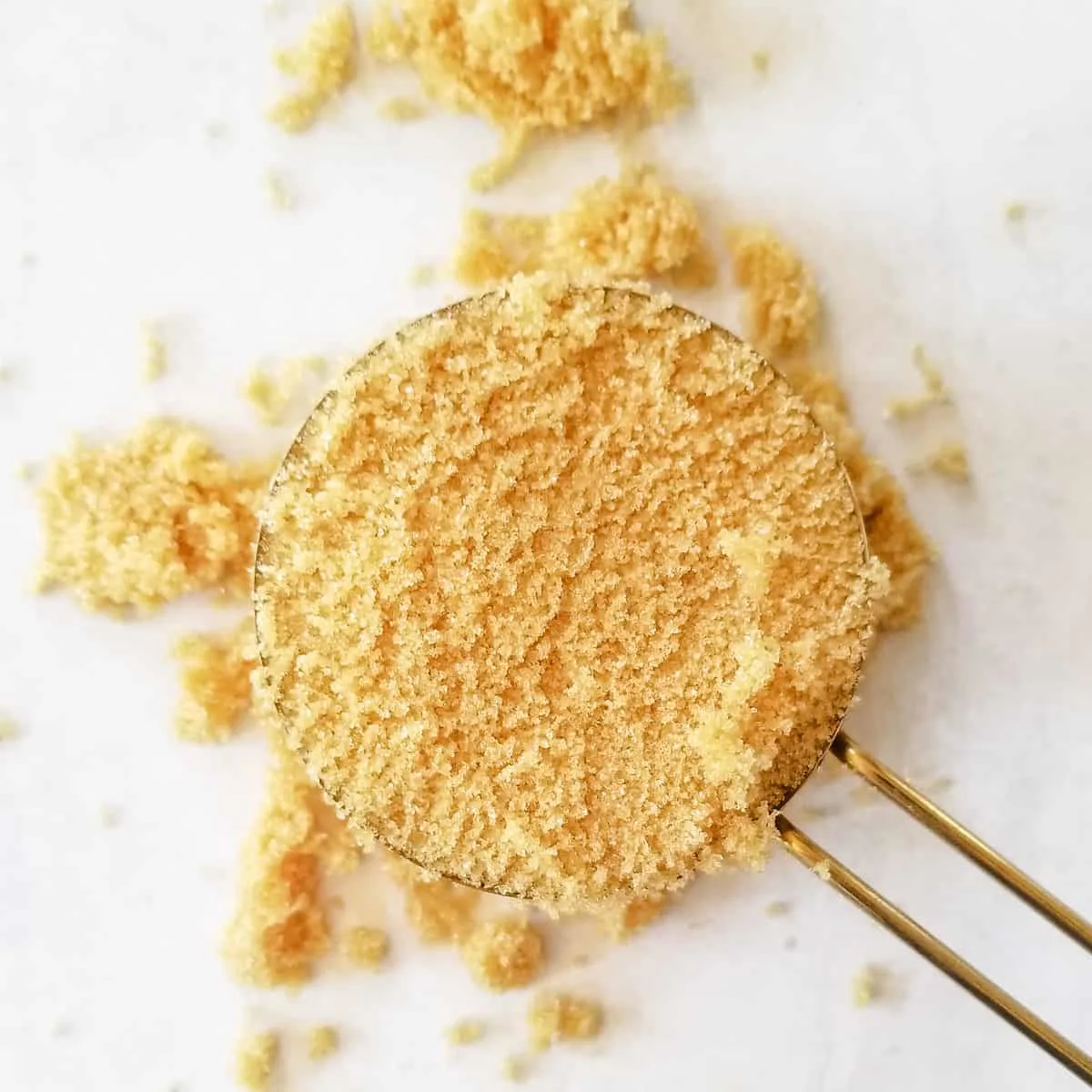 Have you ever been in the middle of a recipe when you realize you don't have any light or dark brown sugar?
Maybe that's happening right now and that's why you've landed on this page. Trust me, this is quicker than running to the store.
Why you need to learn how to make brown sugar:
It's quick and easy to make at home
You won't have to worry about running out of brown sugar when you're in the middle of a recipe
Making brown sugar is much cheaper than buying it from the store
You can customize the color and texture of your brown sugar based on your preference
Being able to make brown sugar will give you more freedom when choosing different recipes
You can control exactly what ingredients go into your brown sugar, ensuring that everything is organic and fresh
Ingredients
Granulated sugar
Molasses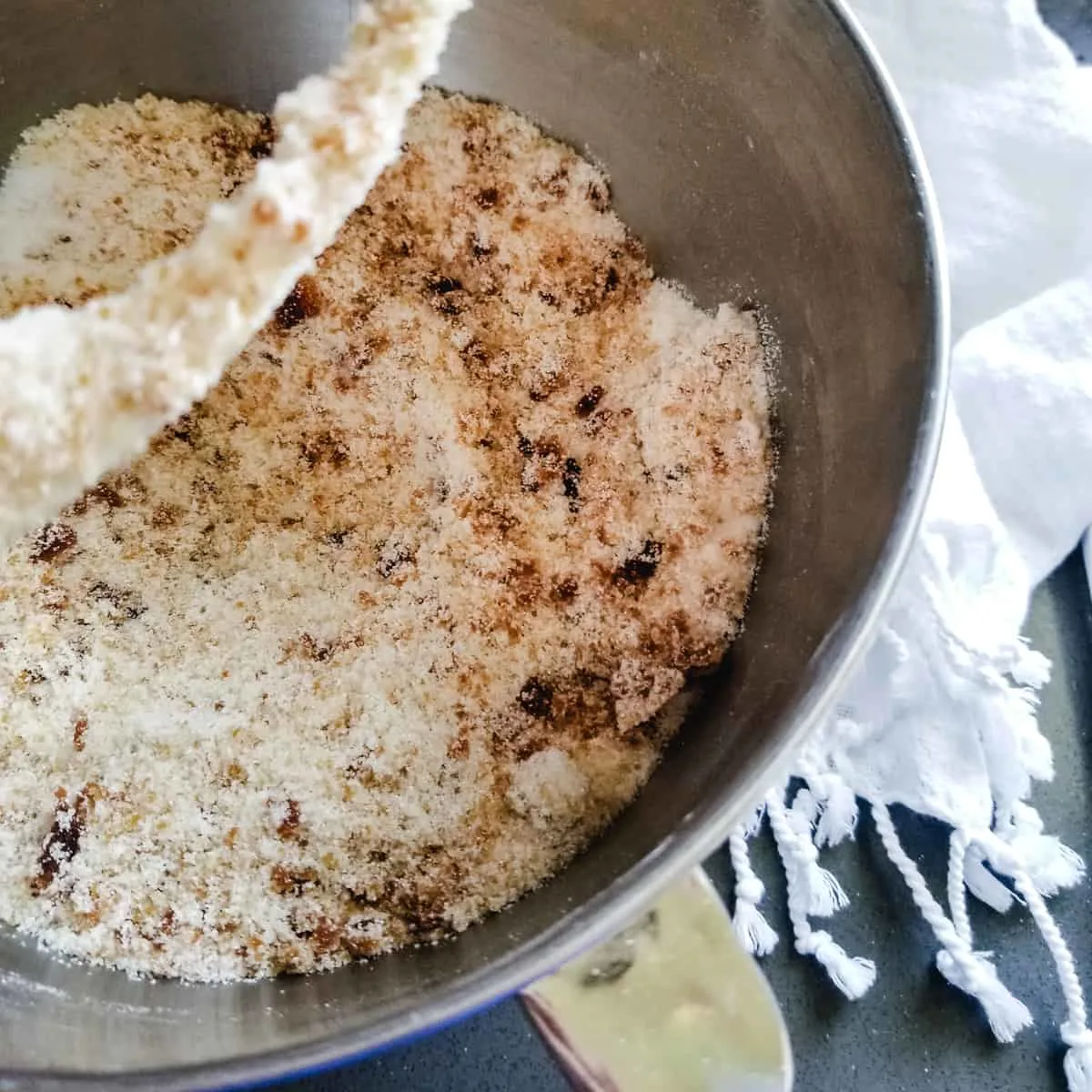 How to Make Brown Sugar
Use a stand mixer or a bowl and spoon and mix the sugar and molasses until it's evenly coated. I find that a paddle shaped spoon or a large fork work well.
It should look just like store bought brown sugar from the grocery store when it's done.
The ratio of molasses to sugar depends on if you desire light or dark brown sugar.
Homemade light brown sugar:
Combine 1 tablespoon of molasses per 1 cup of white granulated sugar.
Homemade dark brown sugar:
Combine 2 tablespoons of molasses per 1 cup of white granulated sugar.
Turning light brown sugar into dark brown:
You can turn your light brown sugar into dark brown sugar by adding more molasses to the existing brown sugar and mixing until it creates dark brown sugar.
Combine 1 tablespoon of molasses per 1 cup of packed brown sugar.
Storage
For best results, homemade brown sugar needs to be stored in an airtight container in a cool, dry place at room temperature. It can last up to 6 months if stored properly.
You can also store it with an apple slice or piece of white bread to keep it moist and clump free. Be sure to check the container occasionally for any signs of mold growth and discard the sugar if you find any.
Can you freeze brown sugar?

Yes, you can freeze brown sugar. It is best to keep it in an airtight freezer-safe container or bag. For long-term storage, you may want to break the sugar down into smaller portions such as teaspoons or tablespoons so that it is easier to take out what you need without having to thaw the entire container. When thawing, make sure the container is tightly sealed so that moisture does not get inside and cause clumping.
​What's the difference between light brown sugar and dark brown sugar?
Extra molasses is actually the only difference between light and dark brown sugar.
In other words, to make dark brown sugar, you just double the amount of molasses in the recipe.
​
Can you use maple syrup instead of molasses to make brown sugar?
No, you cannot use maple syrup instead of molasses to make brown sugar. This is because maple syrup has a much different consistency than molasses, which affects the texture and flavor of the final product.
The moisture content of maple syrup is also much higher than that of molasses, causing it to clump together when used in place of molasses. In addition, the natural sweetness in maple syrup can mask the caramel-like flavor imparted by the molasses.
​
Can I use muscovado sugar to make brown sugar?
Yes, you can use muscovado sugar to make brown sugar. Because muscovado sugar is partially processed, it contains more of the molasses that's necessary for making dark brown sugar than white sugar does. To make a light brown sugar with muscovado, simply mix one cup of muscovado and three tablespoons of granulated white sugar together. For a darker version, double the amount of muscovado in the recipe. It's easy to make brown sugar with any different type of regular white sugar.
Should I use light molasses or dark molasses when making a homemade brown sugar recipe?
Did you realize there was a light and dark type of molasses? A lot of people don't know there is more than one kind of molasses and they can change the way your recipe tastes.
Light molasses is best for making a homemade brown sugar recipe because it has a milder flavor and is less likely to overpower the caramel-like taste of the finished product.
Dark molasses can also be used, but it's important to factor in its strong flavor when deciding how much molasses to use in your recipe. For example, if you're using light molasses, you can use up to one cup per cup of white sugar, while with dark molasses you'll want to reduce this amount by half or even more.
Tips, Tricks, and Recipe Variations
If you don't have a stand mixer with a paddle attachment to make this simple two-ingredient recipe, you can use a regular hand mixer or electric mixer and mixing bowl to combine the simple ingredients. Or, you can add everything to a food processor and give it a good blending together before storing appropriately.
You can also add some spices to your brown sugar if you'd like a more intense flavor. Try adding in cinnamon, nutmeg or cocoa powder for a unique take on the classic treat. With these additions, you can create all sorts of flavored brown sugars that make great gifts or party favors. This would even be a great way to change up your classic chocolate chip cookies recipe.
Can you make brown sugar from cane sugar? Yes, you can! Just add 1 tablespoon of molasses to every cup of cane sugar and mix until it's well combined. This will give your brown sugar the perfect texture for baking.
You can also make brown sugar from coconut sugar or date sugar, by simply adding 1 teaspoon of molasses for each cup of either sweetener and mixing.
Always keep a slice of bread or a marshmallow in with your brown sugar to absorb any moisture.
Since you only need pantry staples to make your own light brown sugar, it really is a recipe to keep handy. Just always make sure you have plain white sugar and a jar of molasses in the cabinets.
But, as you can see, there are a few different ways to make brown sugar with a cup of sugar (just about any type of sugar) and whichever liquid molasses you have on hand.
So, the next time you run out of your favorite type of brown sugar, give this simple recipe a try!
Related recipes...
📖 Recipe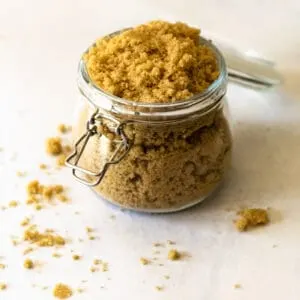 How to Make Brown Sugar
Easy instructions for how to make brown sugar.
Print
Pin
Rate
Ingredients
4

cups

granulated white sugar

4

tablespoons

molasses

double for dark brown sugar
Instructions
Pour granulated sugar into a mixing bowl.

Measure 4 tablespoons of molasses for light brown sugar, or 8 tablespoons for dark brown sugar and add to the sugar in the bowl.

Mix with a large spoon or fork, or in a stand mixer with paddle attachment until it resembles brown sugar exactly.
Notes
Use a ratio of 1 tablespoon molasses per cup of sugar for light brown sugar
Use a ratio of 2 tablespoons (double) of molasses per cup of sugar for dark brown sugar
To make light brown sugar into dark brown sugar, just add 1 tablespoon of molasses
Nutrition
Serving:
2
tablespoons
|
Calories:
52
kcal
|
Carbohydrates:
13
g
|
Fat:
1
g
|
Saturated Fat:
1
g
|
Sodium:
1
mg
|
Potassium:
18
mg
|
Sugar:
13
g
|
Calcium:
3
mg
|
Iron:
1
mg