Moist and fruity strawberry cupcakes topped with a light and fluffy strawberry flavored whipped cream frosting.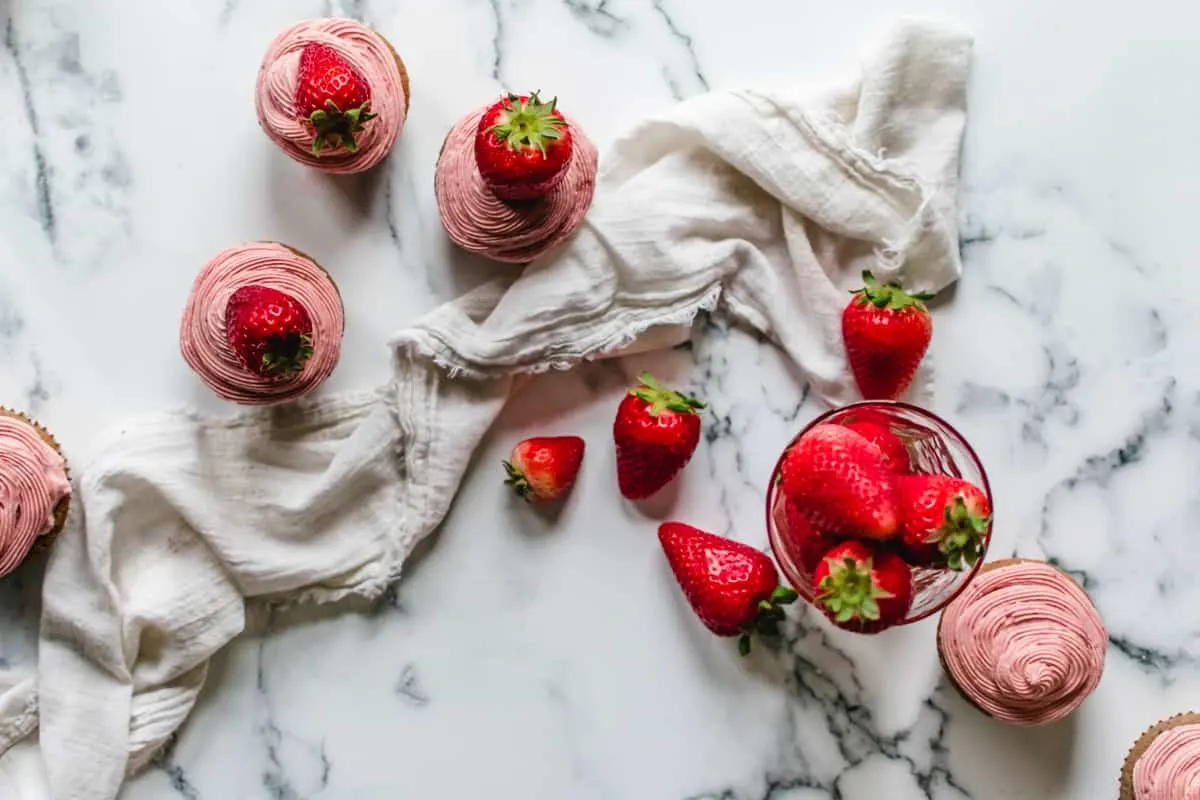 These strawberry cupcakes are flavored and colored with real strawberry. This is done by making a homemade "extract" where the real strawberries (they can be fresh or frozen) are blended until smooth, and then reduced on the stove top. The process of reducing the strawberry juice creates a concentrate that flavors the cupcakes and adds nice color.
how do you make strawberry flavor?
Start by pureeing the strawberries. You can use fresh or frozen, but fresh strawberries often have a stronger flavor. The advantage of using frozen is that you can make these all year long. Either way, the berries need to be thawed and removed of the stems. Add them to a blender or food processor with a bit of water and puree until smooth. If desired, you may press the puree through a mesh strainer to remove any seeds, but if they don't bother you leave them in. In my opinion, the seeds are nice left in because you know there is real fruit in there.
To give your strawberry cupcake batter an extra boost, add in a big scoopful of this Freeze Dried Strawberry Powder. I recommend about a quarter cup for the cake batter, and 2 tablespoons for the frosting. It's not a necessary ingredient, but it can help to make your strawberry flavor and color POP, while still sticking to real strawberries as the main ingredient.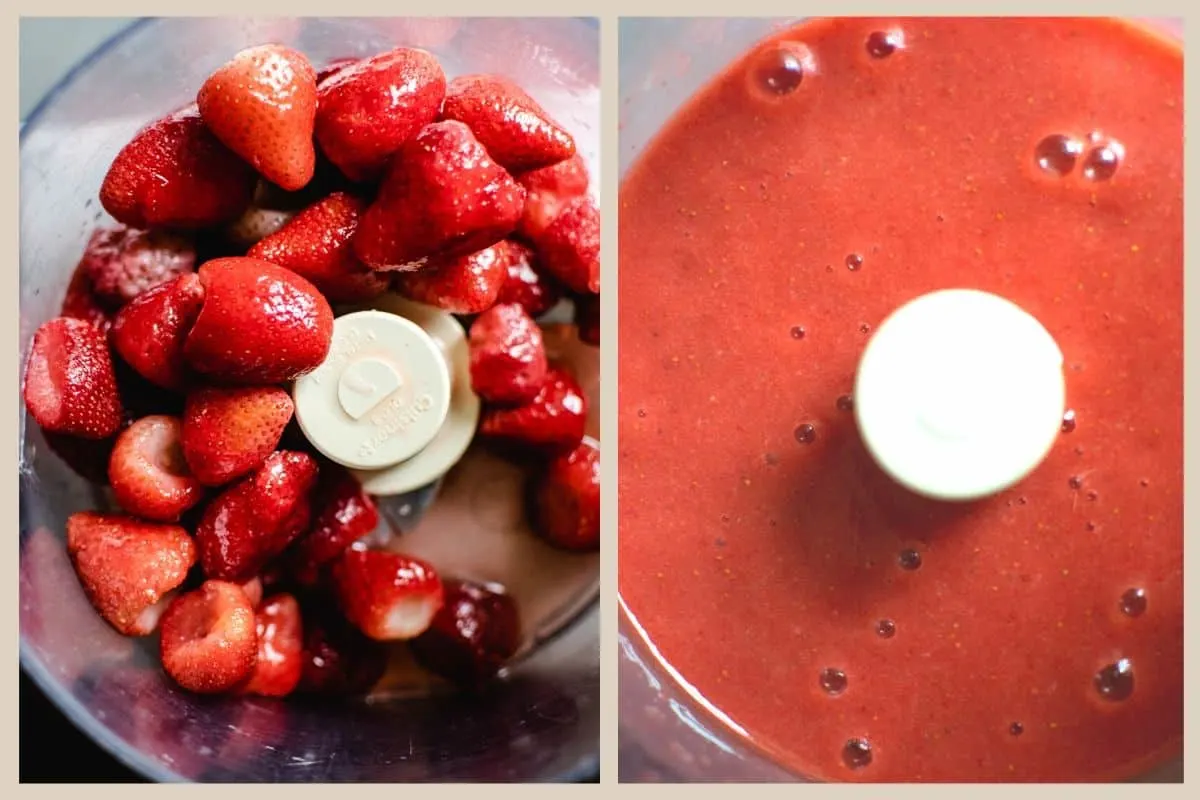 Once pureed (and strained if desired) just simmer the strawberry liquid on medium heat for 10 minutes until reduced and thickened. Allow to cool in the refrigerator before using it in the cupcake batter. This homemade strawberry flavoring is going to flavor not only the cupcakes, but their whipped frosting too, so divide the finished concentrate into a 25/75 ratio. One quarter of it (25%) is going to flavor the frosting, and the other three quarters (75%) will flavor the cupcake batter. Just eyeball it, or pour it in a measuring cup to divide it exactly. For example, 2 cups strawberry flavoring would be divided into ½ cup for the frosting, and 1 ½ cups for the batter.
Combine all the dry ingredients in a mixing bowl (flour, sugar, baking powder, baking soda, and salt). Once the dry ingredients are evenly blended, add the softened butter sticks, oil, egg whites and sour cream to blend. The batter will seem thick, but becomes more cake-batter like once you add the strawberry concentrate. Be very sure that it's completely cooled before doing so.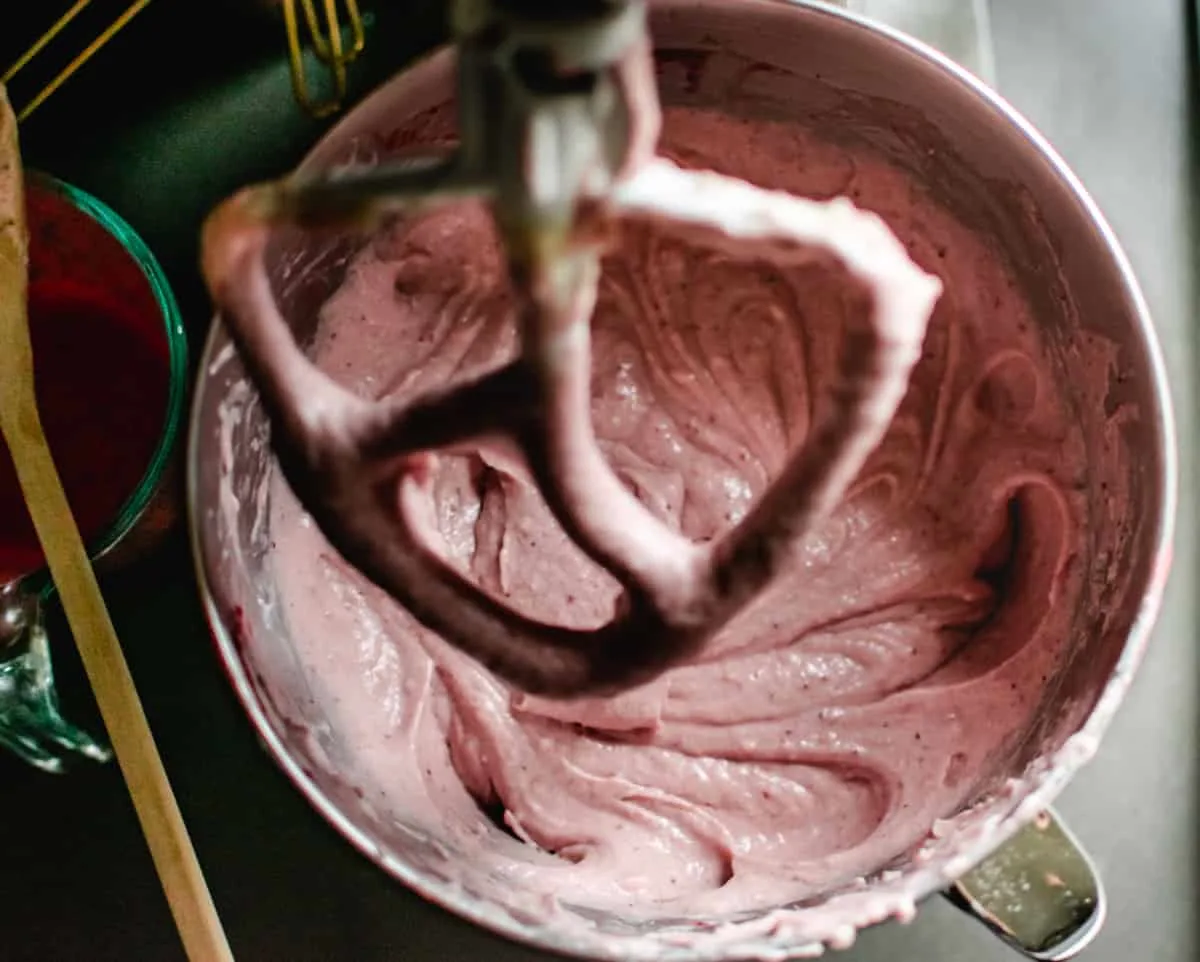 Make sure the oven is preheated to 350 degrees, and begin to fill cupcake tins. Either grease them or use cupcake/muffin pan liners. Fill cupcakes each ¾ of the way full, and bake 24-30 minutes until done. When you lightly touch the center of the top of one, it should spring back. Or, insert a toothpick into one, and if the toothpick comes out clean with only a few crumbs, it's done. If there is batter attache to the toothpick, give them a few minutes longer.
Remember that over cooking them can result in a dry cupcake, and that there is some setting that is done when the cupcakes are removed from the oven. They'll continue to cook for a minute or two longer once removed from the oven.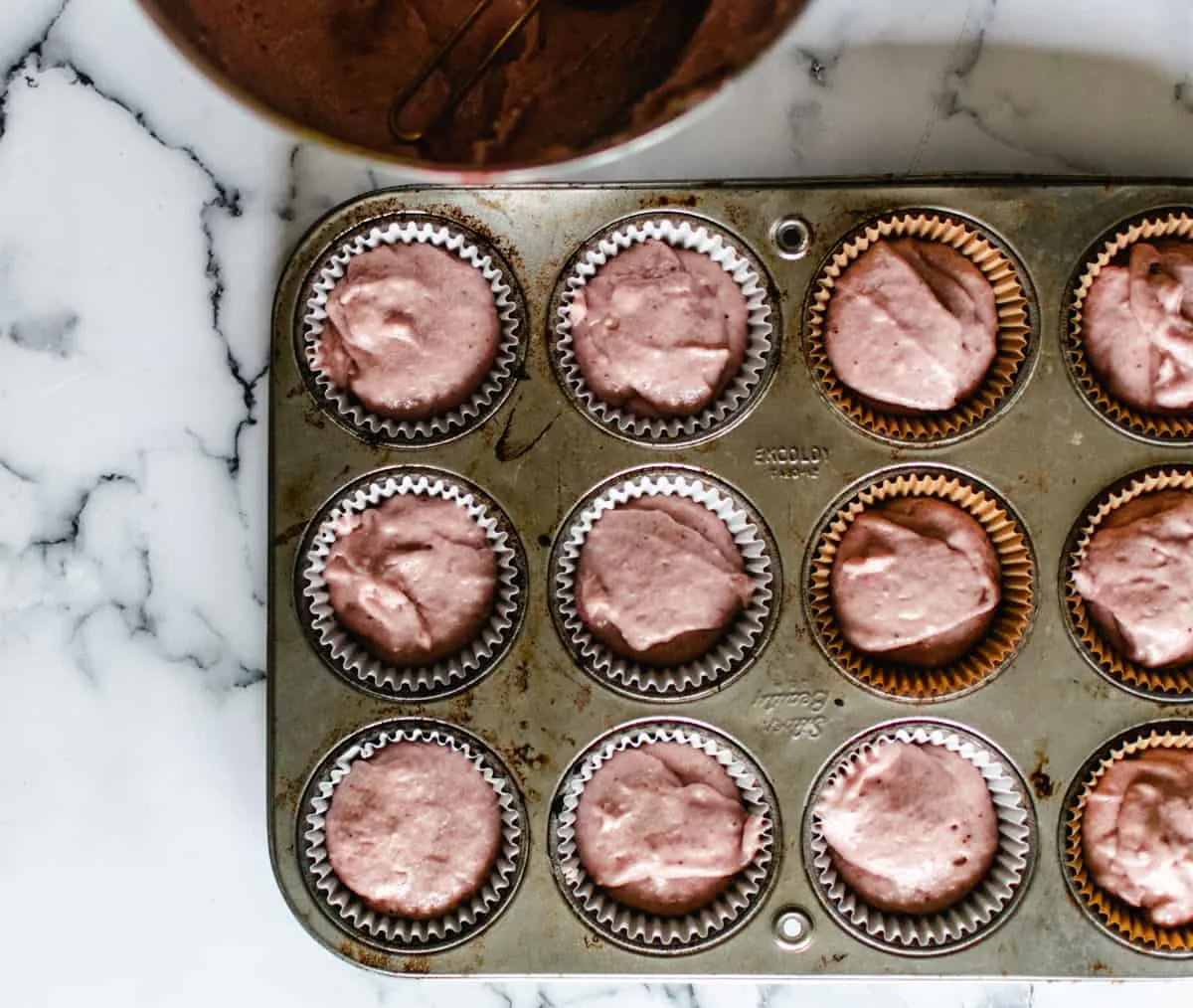 strawberry buttercream recipe
The frosting for these cupcakes is so light and airy. It's flavored and colored in the same way that the cupcake batter is. Create the frosting base first, by whipping the butter, powdered sugar and vanilla together, and then fold the strawberry flavoring into it. MAKE SURE THE STRAWBERRY FLAVORING IS COMPLETELY COOLED BEFORE FOLDING INTO THE FROSTING.
Frost the cupcakes and top with a fresh strawberry for a beautiful, fresh and fruity strawberry cupcake that's perfect for special occasions or just because.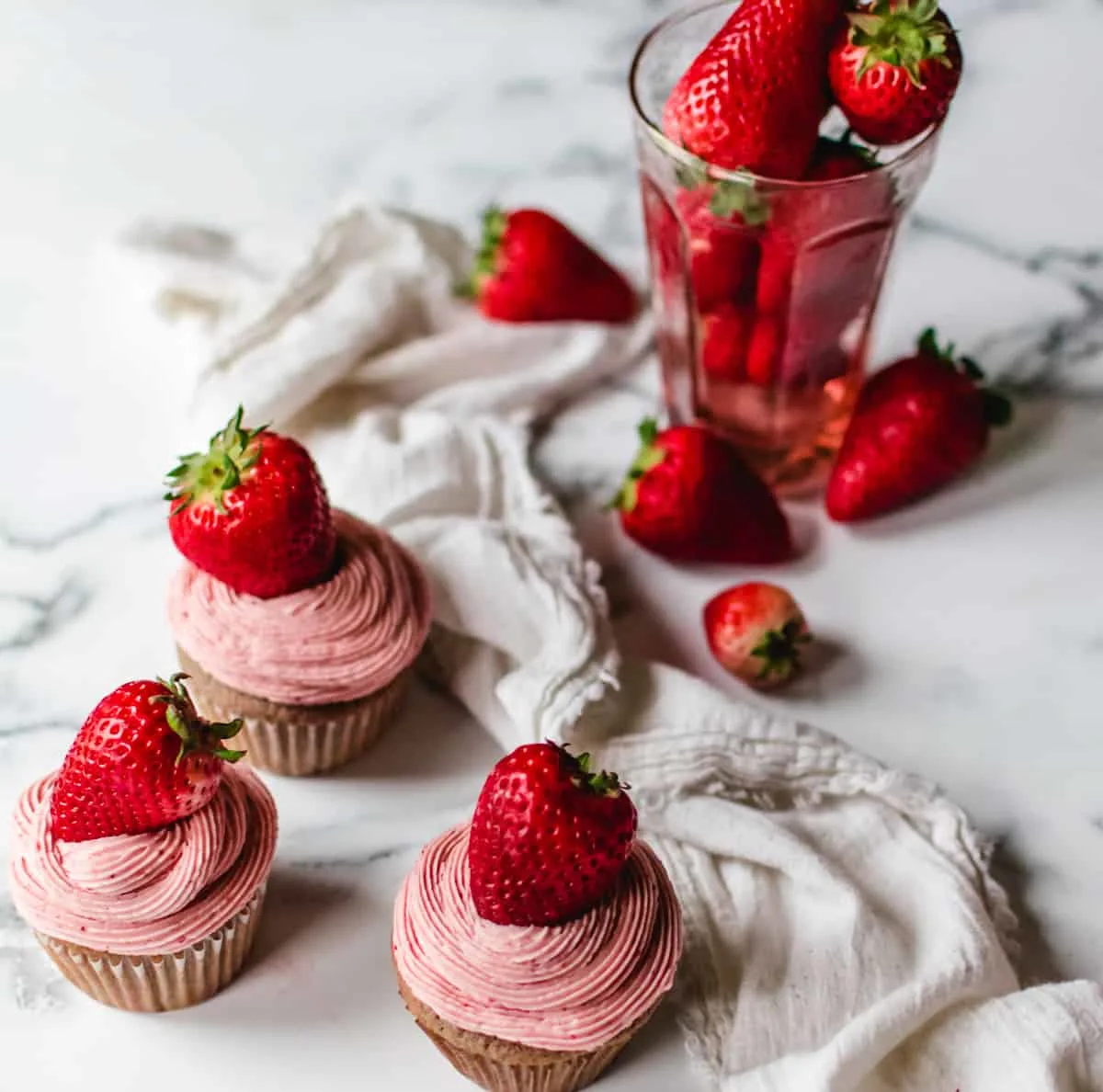 Related Recipes
Try these similar recipes:
If you tried this recipe, leave a rating in the recipe card!
📖 Recipe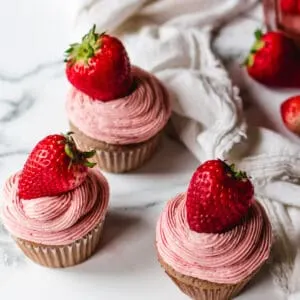 Strawberry Cupcakes
Moist, real strawberry cupcakes flavored with real strawberry, topped with a real strawberry buttercream frosting and finished with a fresh strawberry on top.
Print
Pin
Rate
Ingredients
Strawberry Flavoring
2

pounds

strawberries

fresh or frozen

¼

cup

water
Cupcake Batter
2 ¾

cups

all purpose or cake flour

1 ⅔

cups

granulated sugar

1

tablespoon

baking powder

1

teaspoon

baking soda

1

teaspoon

salt

2

sticks softened butter

¼

cup

vegetable oil

3

egg whitese

⅓

cup

sour cream

1

teaspoon

vanilla

plus ¾ of the strawberry puree reduction "flavoring" from above
Strawberry Frosting
1

stick softened butter

2 ¾

cups

powdered sugar

Plus ¼ of the strawberry puree reduction "flavoring" from above

Additional fresh strawberries for topping

optional.
Instructions
Place thawed strawberries and water in food processor or other blender and blend until smooth.

Heat on stove at a medium high simmer for 10-20 minutes until reduced by half; set aside in the fridge to cool. Once cooled, separate into a 25/75 ratio. It should come out to roughly 2 cups. (So for 2 cups of strawberry reduction separate ½ cup from the other 1 ½ cups.)

Be sure to cool strawberry reduction COMPLETELY.

Preheat oven to 350 degrees Fahrenheit.

Prepare the cake batter base by combining the flour, sugar, baking powder, baking soda, and salt until evenly combined.

Add to that the softened sticks of butter, oil, egg whites, vanillaand sour cream and mix until evenly combined (batter will be thick.)

Fold in 75% (about a 1 ½ cups) of the strawberry puree reduction.

Fill lined muffin tin and bake for 24-32 minutes until toothpick inserted into center comes out clean. Let cool.

Cream together the butter and powdered sugar for the frosting and beat until smooth. Beat in the remaining 25% of the cooled strawberry puree reduction (about ½ cup)

Pipe or spread onto cooled cupcakes.

Top with a fresh strawberry (optional).
Notes
The strawberry puree reduction MUST BE COMPLETELY COOLED before folding into the cake batter or frosting ingredients.
Make sure to reduce the pureed strawberries by half. This means that it should be half the level that it was in the pot prior to simmering.
Divide the final reduced strawberry puree (flavoring) by removing 25% from the final amount. This is roughly a ½ cup portion, and a 1 ½ cup portion for a 2 cup reduced puree. (Or a 25/75 split, whatever's easiest to envision.)
Soften butter completely at room temp (don't attempt to melt it).
Garnish with a fresh strawberry if desired. (Highly recommend, because it's cute, and also shows off the fact that the cupcakes are flavored with real strawberry.)
Nutrition
Serving:
1
g
|
Calories:
199
kcal
|
Carbohydrates:
42
g
|
Protein:
2
g
|
Fat:
3
g
|
Saturated Fat:
2
g
|
Cholesterol:
2
mg
|
Sodium:
200
mg
|
Potassium:
78
mg
|
Fiber:
1
g
|
Sugar:
29
g
|
Vitamin A:
24
IU
|
Vitamin C:
22
mg
|
Calcium:
41
mg
|
Iron:
1
mg