Moist and fruity real cherry cupcakes, flavored with real, pureed fresh cherries. Topped with a naturally cherry flavored cream cheese frosting, and topped with a fresh cherry!
fresh cherry cupcakes
The best thing about these cupcakes, is that the cherries the recipe calls for are real. No artificial colors, no funky additives. Just real cherries. You can use very fresh cherries, or frozen cherries. Just make sure that the frozen ones have been pitted (or pit them yourself). Cherry cupcakes are such a fun and fruity alternative to the typical cupcake.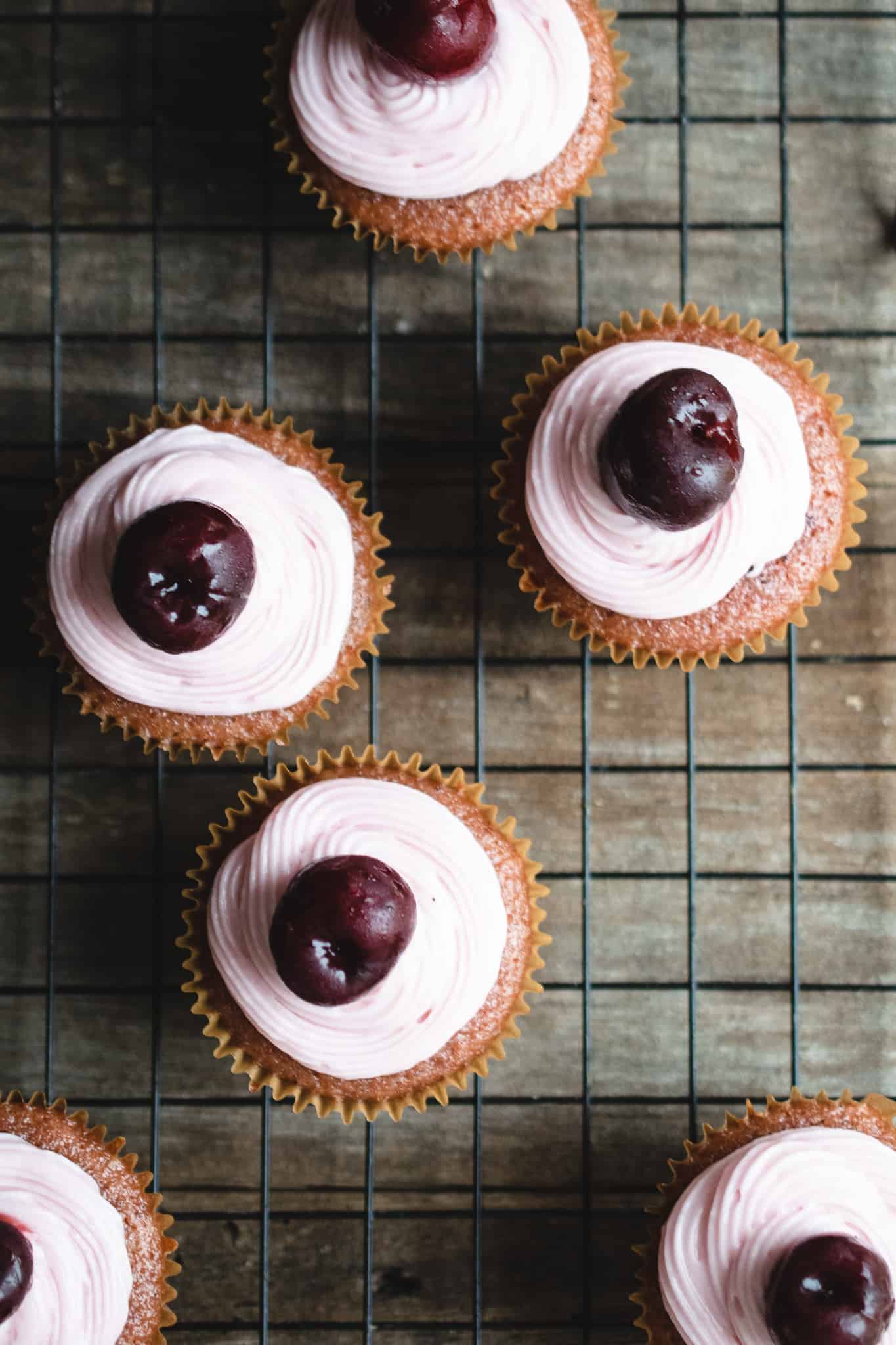 perfect use of cherries that are about to go bad
If you have cherries that are going a little bit south, and you are wondering what to do with cherries going bad, this is the perfect way to use them up! The reason this recipe is perfect for overly ripe cherries, is that as cherries start to ripen, they actually become even sweeter and juicier. All of that sweetness, and all of that juice is what's going to not only flavor the cupcakes, but color them as well.
how to make the cherry cream cheese frosting
The best thing about this frosting (besides the fact that it's a cream cheese frosting, and anything invololving cream cheese frosting is delicious)The cherry cream cheese frosting is made by combining cream cheese frosting ingredients like butter, powdered sugar, and of course cream cheese, with the flavoring/coloring "juice" that was made from the fresh ripe cherries.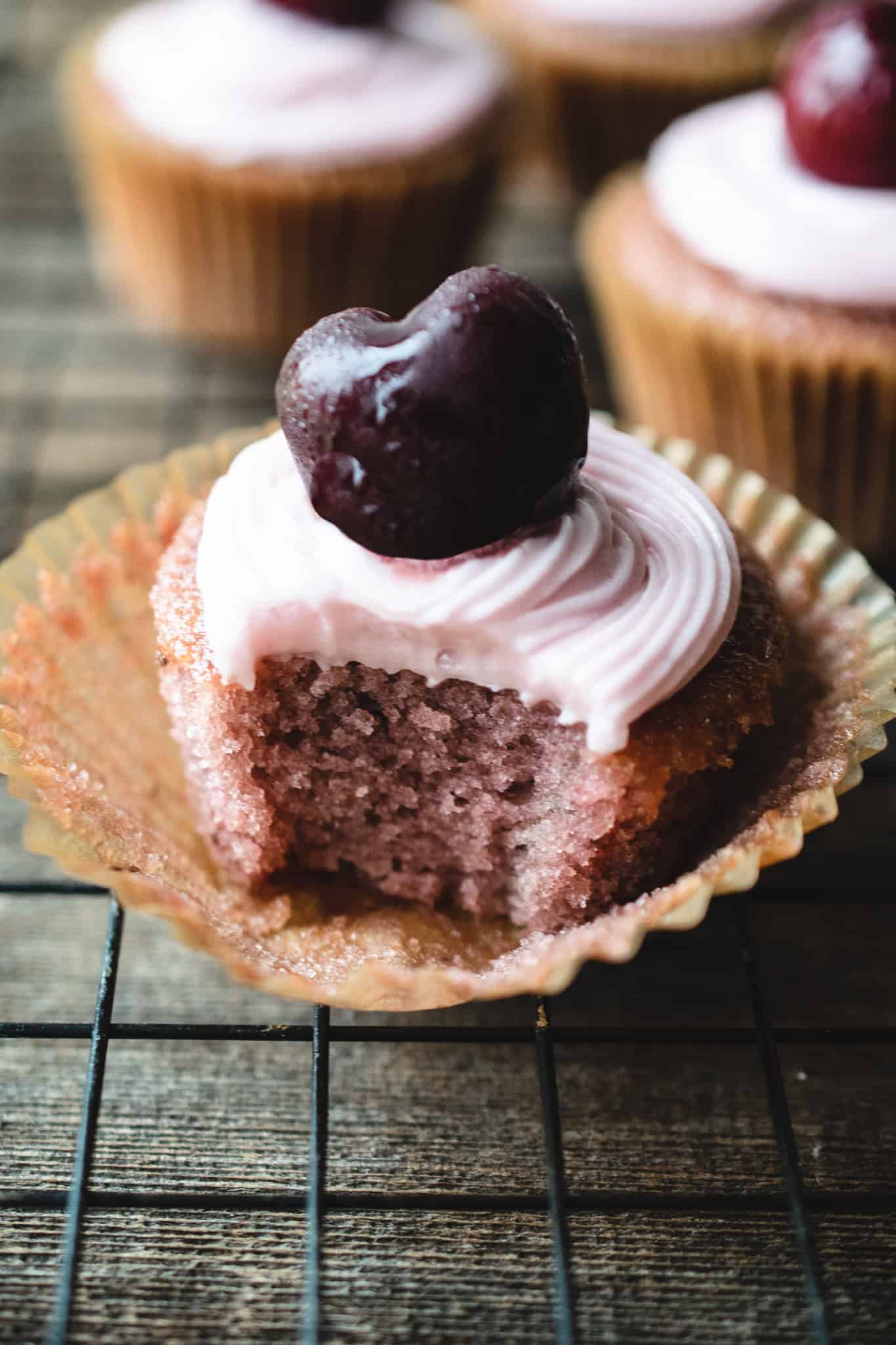 how to make cherry compote
Before, I explained that the cake and the frosting were flavored naturally with real cherries. This actually done in the form of what's called a compote. A compote just means a fruit cooked in syrup (either in a microwave safe jar in the microwave or stove top). In this case, the syrup is sugar, and water. Combined with the fresh juice of the real cherries, this reduces into a compote in a few minutes! Blend together to smooth out the large pieces of cherry. This cherry sauce becomes the base of what flavors and colors the cupcakes and the frosting. 
Make the cherry sauce before anything else, so that it is allowed time to cool. Be sure to let the cherry sauce cool before folding it into the cupcakes. It needs to be completely cooled in the refrigerator before adding to the frosting, otherwise it will be to warm and melt the ingredients. 
make the cherry cupcakes
To make the cherry cupcakes, start by whisking together the dry ingredients (flour, sugar, baking powder, baking soda, salt). Add in the wet ingredients (oil, egg whites, sour cream, vanilla). Then fold in the cherry sauce until it's evenly blended. Bake until tops are springy, or toothpick inserted in center comes out clean. 
cool completely before frosting
Cool cupcakes by removing from pan and placing on a cooling rack. Do not attempt to frost the cupcakes until they are completely cooled. This means no trace of warmth, what soever, or the frosting will deflate and slide right off.
Soften the cream cheese and butter completely. Using a mixer, combine the cream cheese, butter, heavy cream, and vanilla until just combined. Add the powdered sugar and whip for 2-3 minutes until fluffy. Fold in the cherry sauce until evenly combined. 
Keep frosting refrigerated until ready to use. Pipe or spread onto cupcakes. Top with a fresh cherry.
Can be stored at room temperature for 2 days or up to one week in the refrigerator.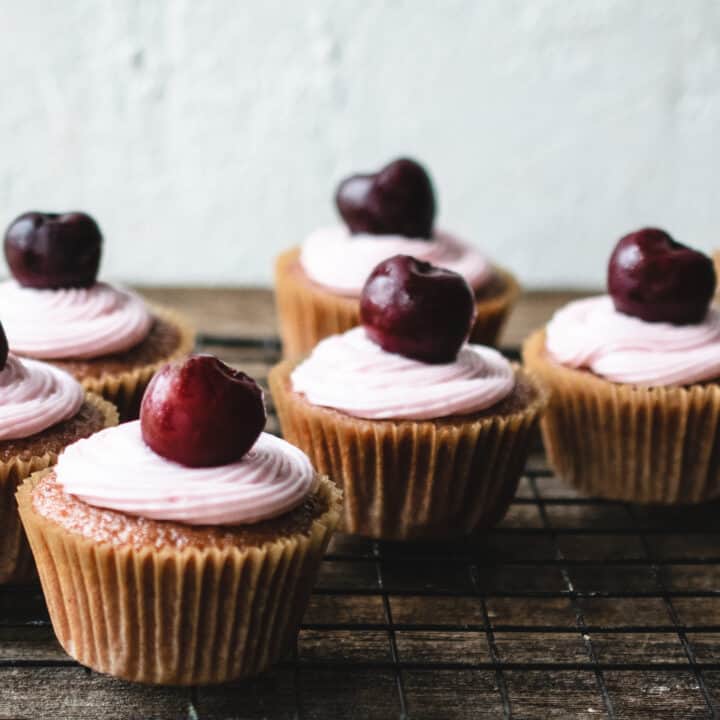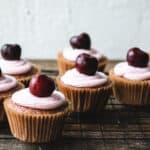 Print Recipe
Cherry Cupcakes
Moist, real cherry flavored cupcakes, with a cherry cream cheese frosting
Ingredients
For the Cherry Flavoring (cherry sauce)-to be divided between cake batter and frosting
2

cups

ripe cherries

pitted, de-stemmed

2

tbsp

sugar

1/2

cup

water

1

tbsp

lemon juice
For the cupcake batter
2 3/4

cup

all purpose or cake flour

1 2/3

cup

granulated sugar

1

tbsp

baking powder

1/2

tsp

baking soda

1

tsp

salt

3/4

cup

vegetable oil

4

large

egg whites

discard the yolks

1

cup

sour cream

1

tsp

vanilla

1 1/3

cup

the cherry flavoring (sauce) from above recipe
For the cherry frosting
12

oz

cream cheese

softened

2

tbsp

butter

softened

1/8

cup

heavy whipping cream

1 1/4

cup

powdered sugar

sifted

1/8

cup

the cherry flavoring (sauce) from above recipe

whole, fresh cherries for cupcake topping
Instructions
For the Cherry Flavoring (Sauce)
Make the cherry flavoring sauce first. It will be divided between both the cupcake batter and the frosting. Rinse 2 cups cherries, remove stems, and pits if necessary. (Frozen are often pitted already.) Add to a microwave safe container or small saucepan along with 1/2 cup water, 2 tbsp sugar and 1 tbsp lemon juice. In the microwave on high or stove top, simmer for 5 minutes. Blend with an immersion blender or in a blender until smooth. Cool completely in refrigerator.
For the Cupcake Batter
Preheat oven to 350 degrees.

In a mixing bowl, combine 2 3/4 cup flour, 1 2/3 cup sugar, 1 tbsp baking powder, 1/2 tsp baking soda, and 1 tsp salt.

Whisk in 3/4 cup vegetable oil, 4 large egg whites, 1 cup sour cream, 1 tsp vanilla.

Fold in 1 1/3 cup of the cherry flavoring sauce from above.

Fill lined, regular size cupcake pan 2/3 of the way full.

Bake for 22 to 28 minutes until tops are springy, or until toothpick inserted comes out clean. Cool completely.
For Cherry Cream Cheese Frosting
With a mixer, combine 12 oz softened cream cheese, 2 tbsp softened butter, 1/8 cup heavy whipping cream and 1 1/4 cup powdered sugar. Whip for 2-3 minutes until fluffy.

Fold in 1/8 cup completely cooled cherry flavoring sauce.

When the cupcakes are completely cooled, frost or pipe each cupcake with frosting, and top with a fresh cherry.
Notes
Any kind of fresh or frozen cherry can be used; the color of the cherries and their juice will impact the coloring of the cupcakes and frosting. 
Frozen cherries more often then not, have already had the pits and stems removed. If using fresh, be sure to remove the stems and pits, by cutting around it, and twisting in half, and popping out the pit. 
Make the cherry flavoring/sauce first and cool COMPLETELY in the refrigerator. This is especially important for the frosting; adding it to the frosting while warm can cause it to become to thin. 
Cherry flavoring/sauce can be simmered in the microwave on high for 5-6 minutes in a microwave safe container, or on the stove top on medium high for 5-6 minutes. Cool completely in the refrigerator. 
Cool cupcakes completely before frosting, otherwise frosting can slide off.
Soften cream cheese and butter on the counter top before using to avoid lumps. 
Top with a fresh cherry, if desired. It can have a cute effect to leave the stem on these cherry garnishments, but it's up to your personal preference.