Moist and fruity real cherry cupcakes, with cherry frosting and a cherry on top!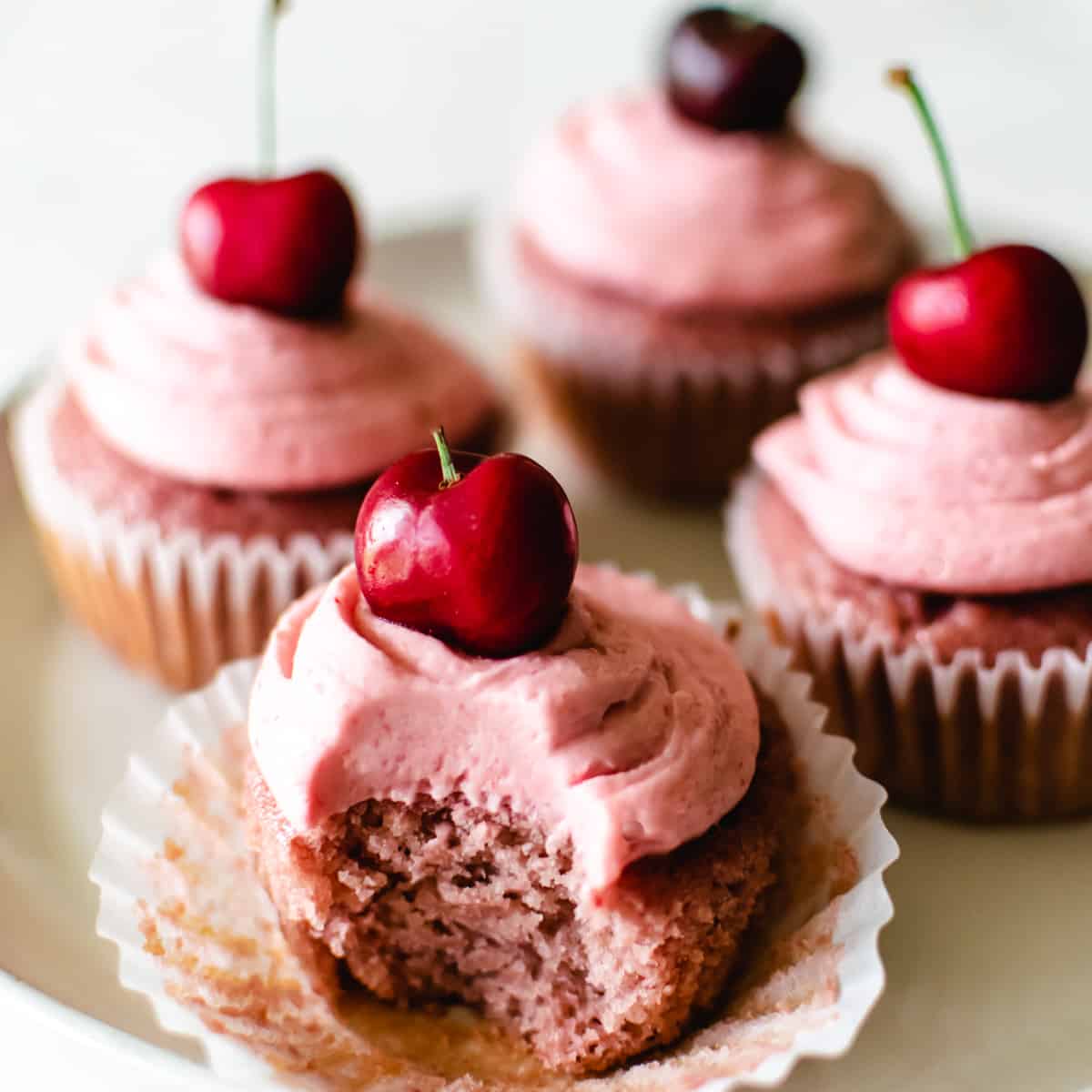 flavored with real cherries
The best thing about these cupcakes, is that the cherries flavoring is real. You can use very fresh cherries, or frozen cherries. Overly ripe (not rotten) cherries are actually even better, because they are sweeter and juicier.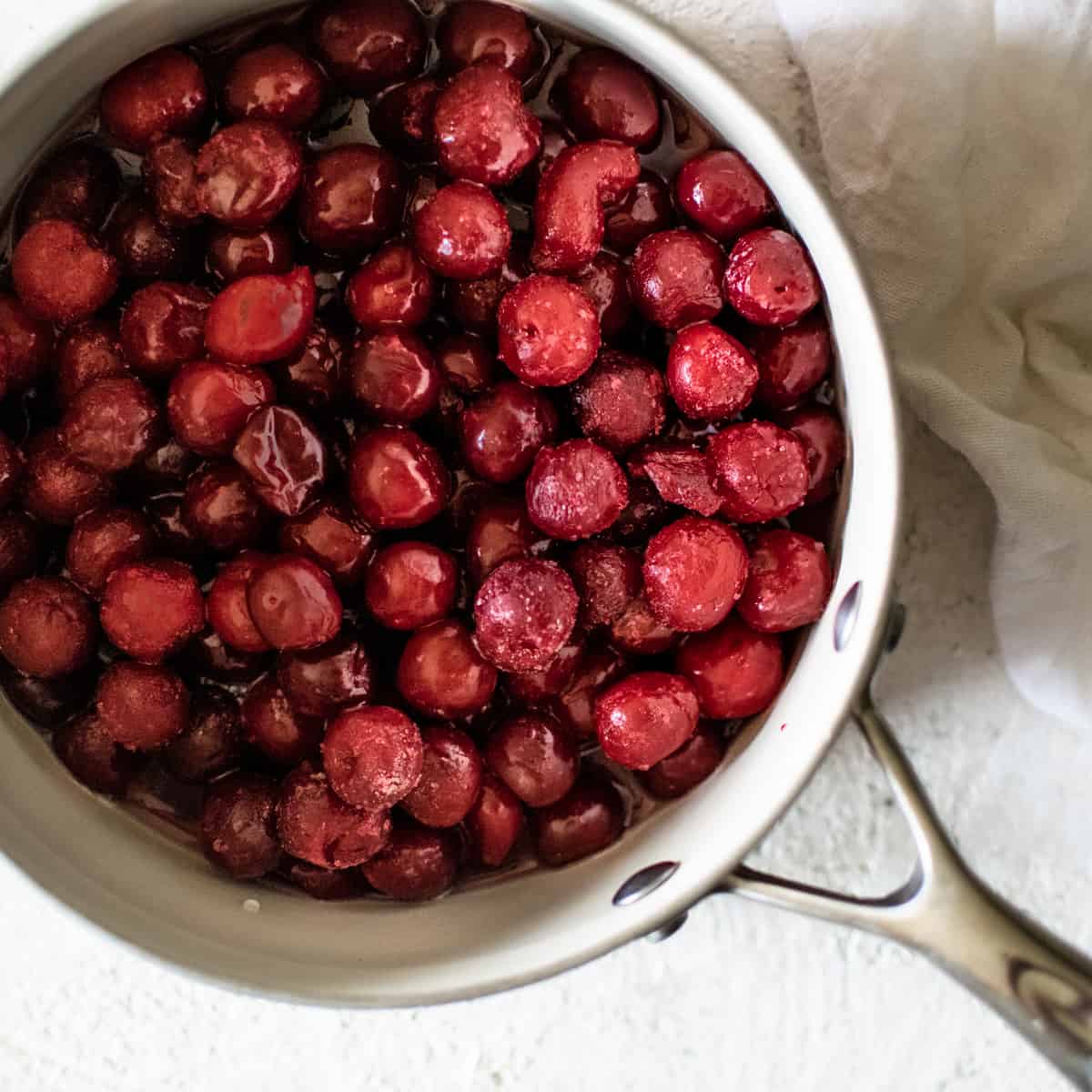 how to make cherry flavoring
Start by measuring out 4 cups of cherries (fresh or frozen). Add them to a pan, along with a couple tablespoons of sugar and a cup of water.
Cook the cherries on a low boil until the contents of the pan is reduced by three fourths (until 25% remains). Puree or blend what's left in the pan to create a cherry "concentrate". If you prefer some pieces of cherry, then just slightly blend them up, without making the cherries smooth.
Put the cherry mixture in the fridge to help cool it down quicker.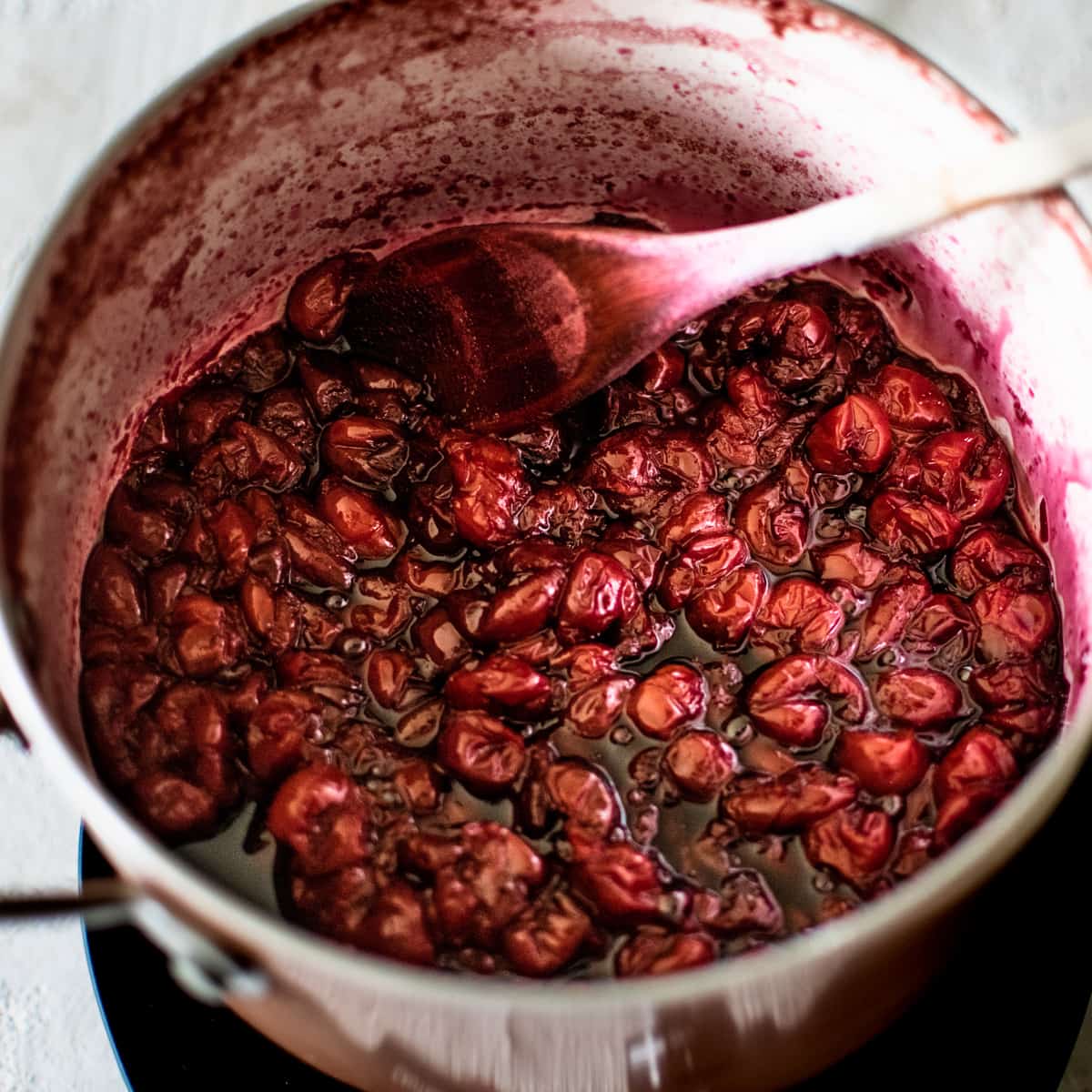 helpful tips:
don't begin the cupcake batter portion of the recipe until the cherry reduction has been pureed, so that it has time to cool
removing the reduced cherry mixture from the pan will speed up the cooling time
you can pour the reduced cherry mixture into a mason jar and blend it using an immersion blender with a narrower head than the jar
since the mason jar is already marked with measurements, you can see exactly how much cherry mixture you have, and how much you need to remove for the frosting
the reduced amount should be around 1 ¼ cups (give or take a little); so just remove ¼ cup from that, and set aside for the frosting later
what if there's more than 1 ¼ cups? simmer it a little longer until it's reduced down closer to 1 ¼ cups 
what if there's less than 1 ¼ cups? then you likely have a stronger concentrate, which is fine because there's less of it; so just set aside roughly ⅕th of that amount for the frosting--hint--this will be a little less than ¼ cup
don't have a mason jar? just use whatever measuring tools you have handy
don't have an immersion blender? use any blender you have handy
don't have any blender? use a bowl (and a little elbow grease) and whisk those cherries smooth!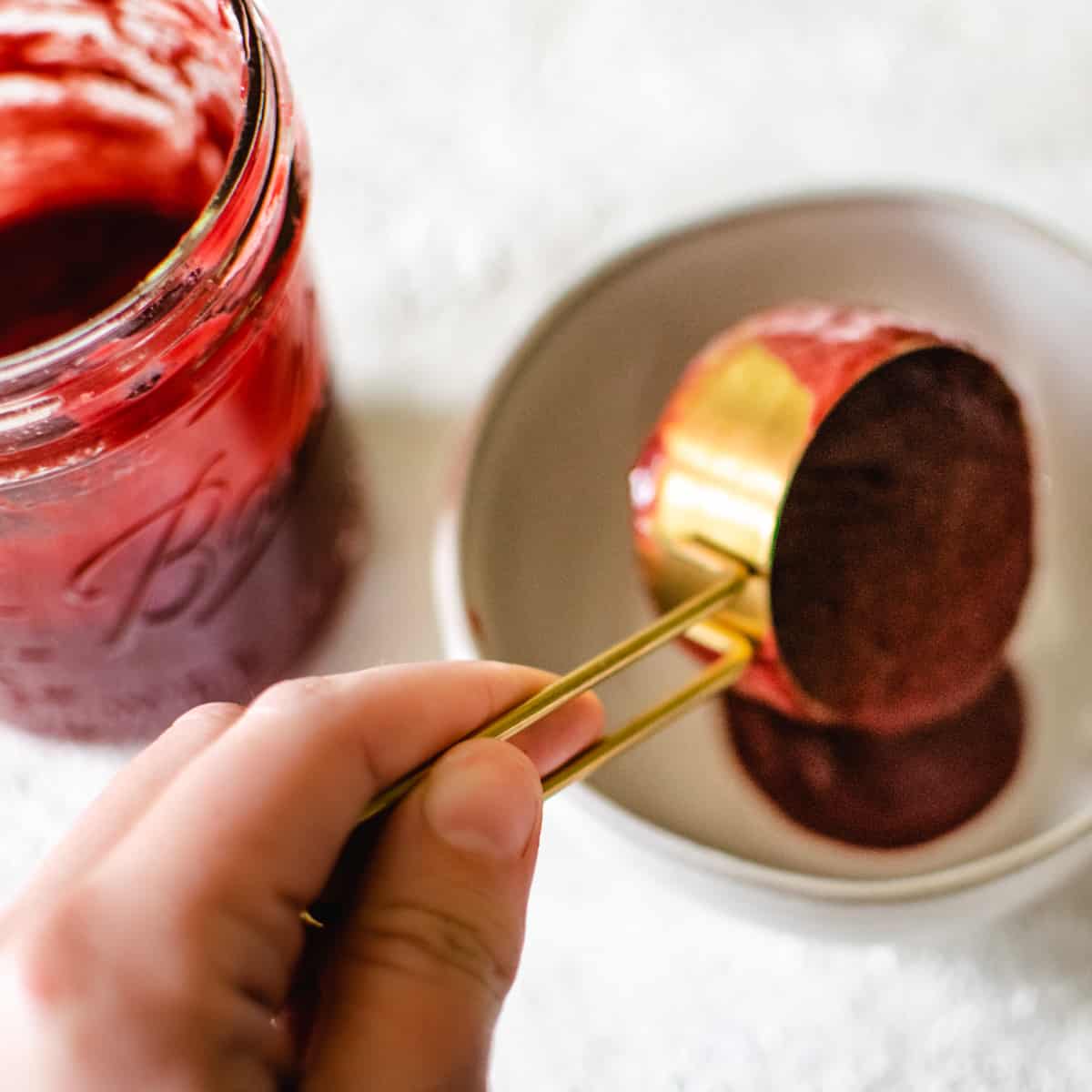 make the cherry cupcakes
Don't attempt the cupcake batter until the cherry mixture has finished reducing, and is at least starting to cool down. (It doesn't need to be cold, just close to room temperature.)
To make the cherry cupcakes, start by whisking together the dry ingredients (flour, sugar, baking powder, baking soda, salt). Add in the wet ingredients (oil, egg whites, sour cream, vanilla) to form a batter. 
Gently fold in the cooled, pureed cherry mixture.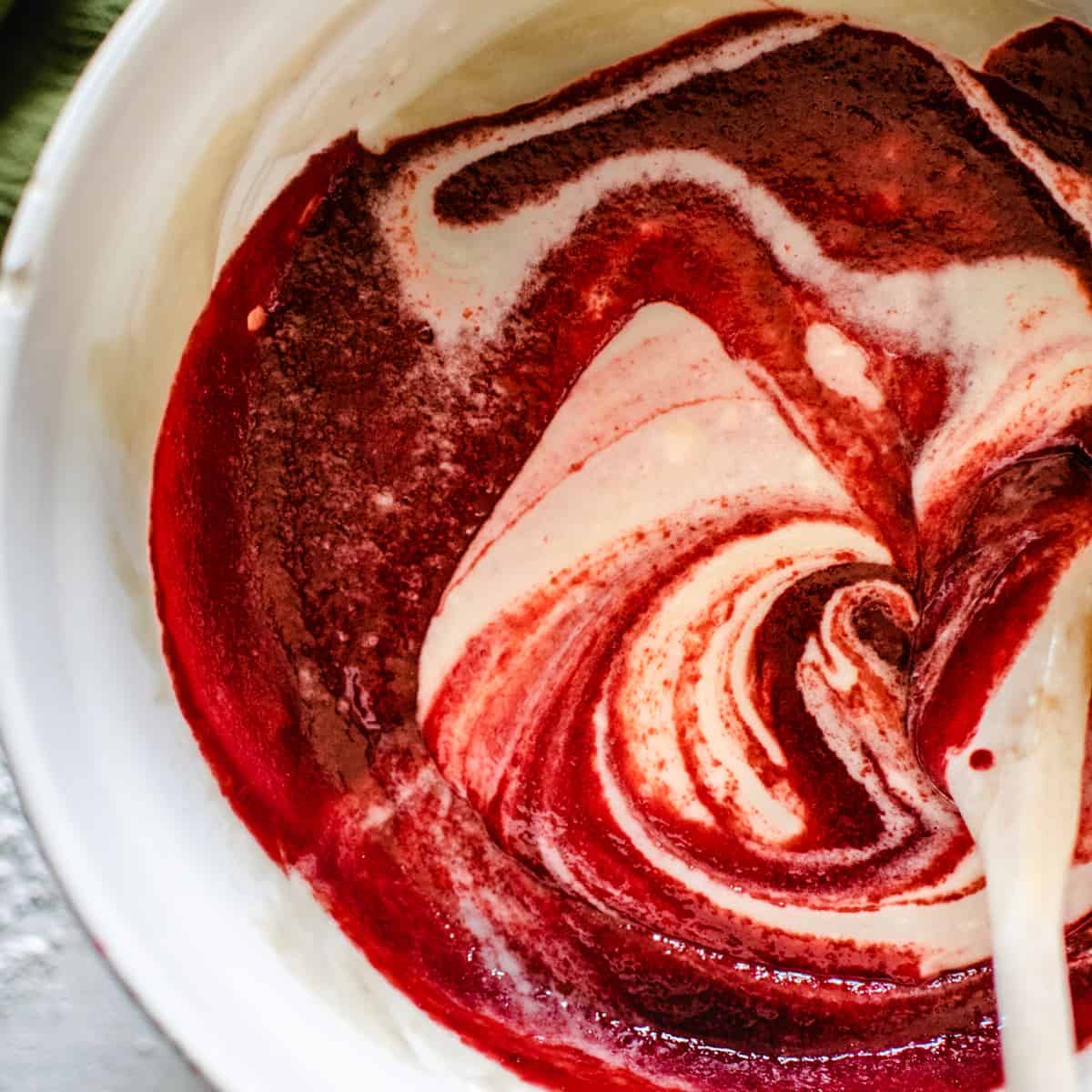 Then fold in the cherry sauce until it's evenly blended.
Fill lined cupcake tins two thirds of the way full. Bake until tops are springy, or toothpick inserted in center comes out clean. 
making the cherry frosting
This is a no-fuss cherry frosting. Whisk all frosting ingredients (butter, vanilla, powdered sugar, heavy cream and ⅕th of the cherry reduction puree) until blended and fluffy. Don't overdo the mixing. Once it starts to look fluffy, stop. If you use a hand held whisk and bowl, it's easier to not over beat it.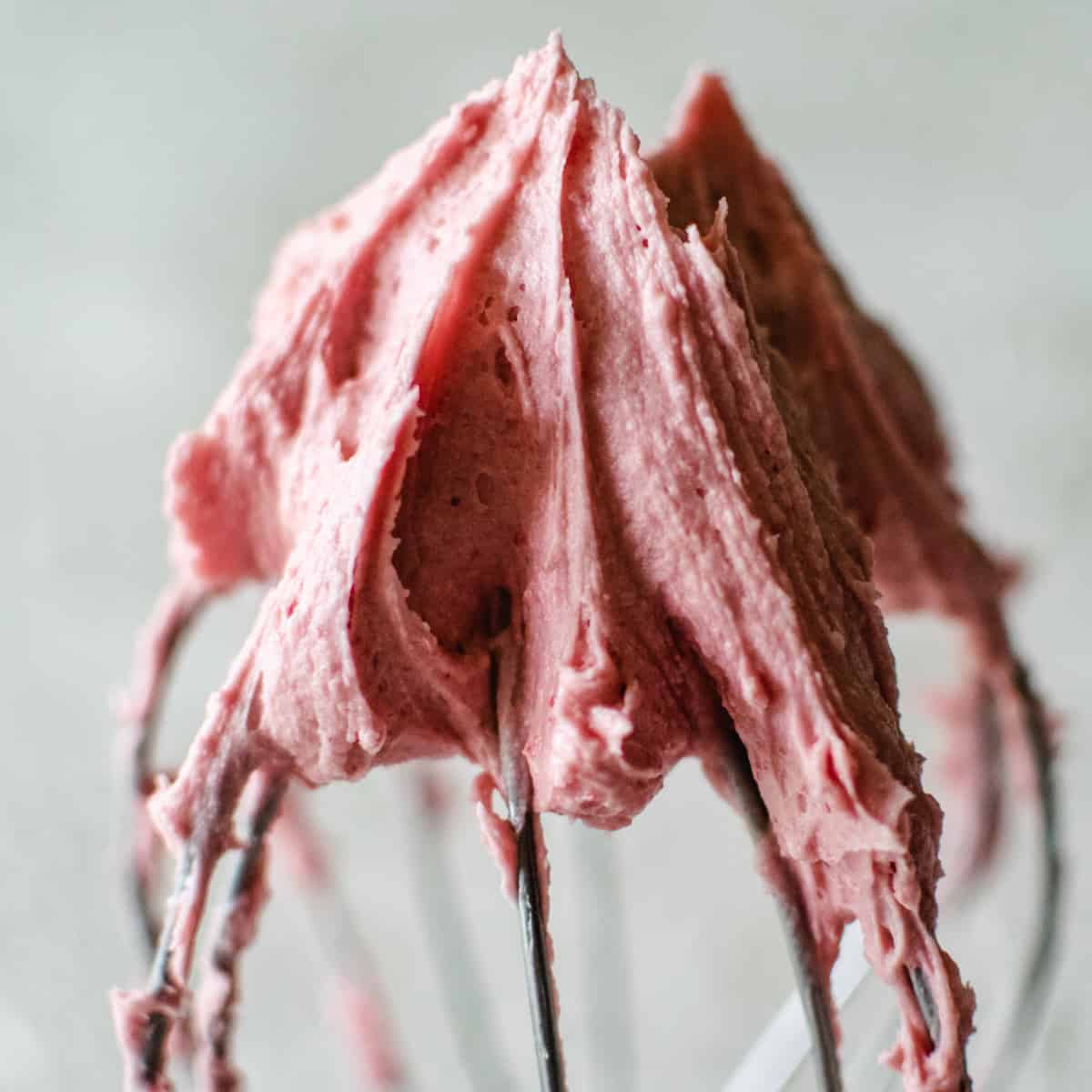 Frost cooled cupcakes with a knife or spatula. One cool trick is to fill a zipper bag with the frosting, and cut the tip off to pipe it in a round shape onto the cupcakes.
If you have fancy piping tips and bags, feel free to use them, as these cupcakes are so pretty and the frosting is so pink and nice when piped onto the cupcake tops. 
Don't attempt to frost warm cupcakes, or the frosting will slide right off.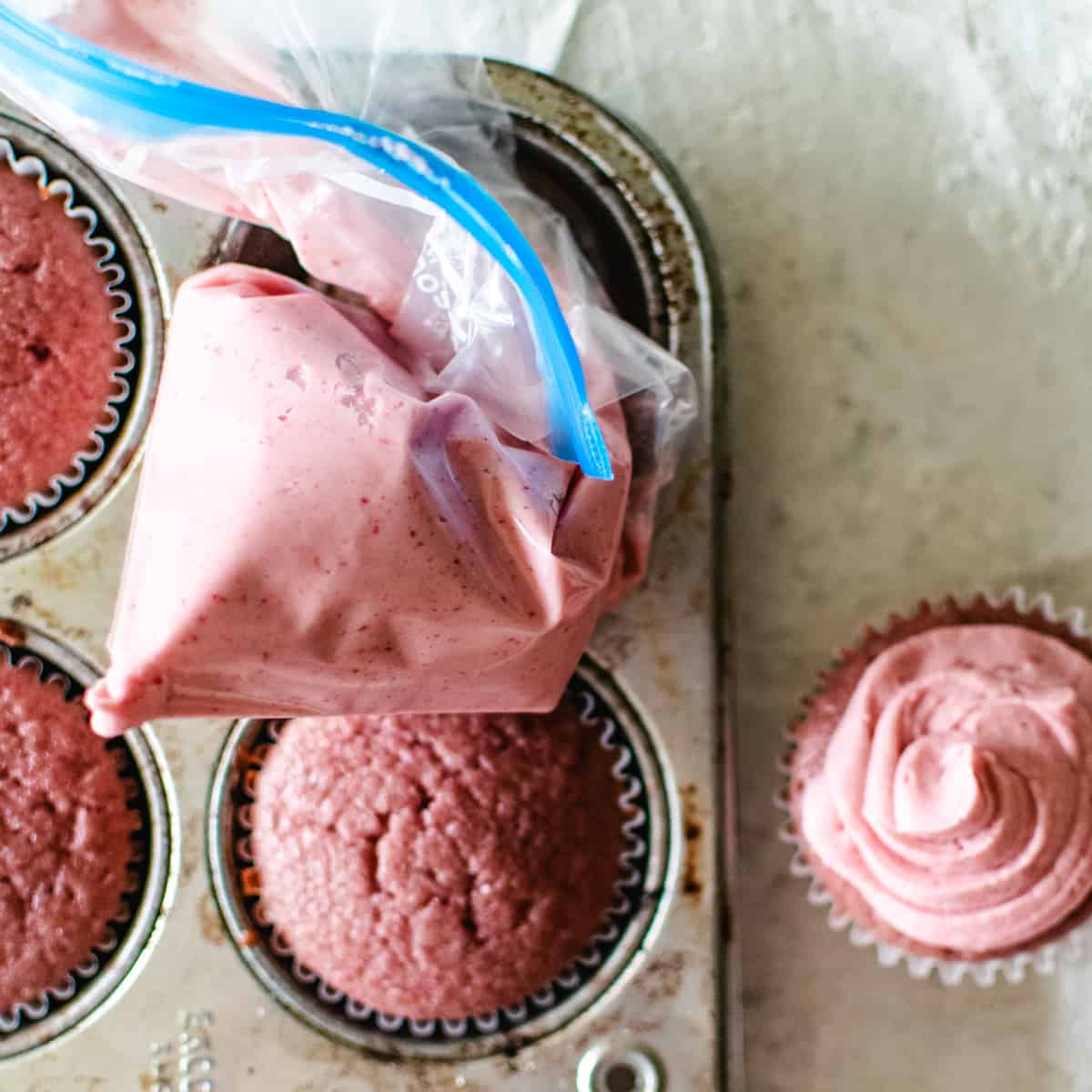 Store un-frosted cupcakes at room temperature for up to three days. 
Store prepared frosting in the fridge for up to 5 days. 
Frosted cupcakes can be left on the counter for several hours but stored in the refrigerator overnight. 
Cupcakes can be frosted and stored in the freezer for several weeks, and thawed on the counter top at room temperature. 
If you enjoy a fruity cupcake, try these Strawberry cupcakes too!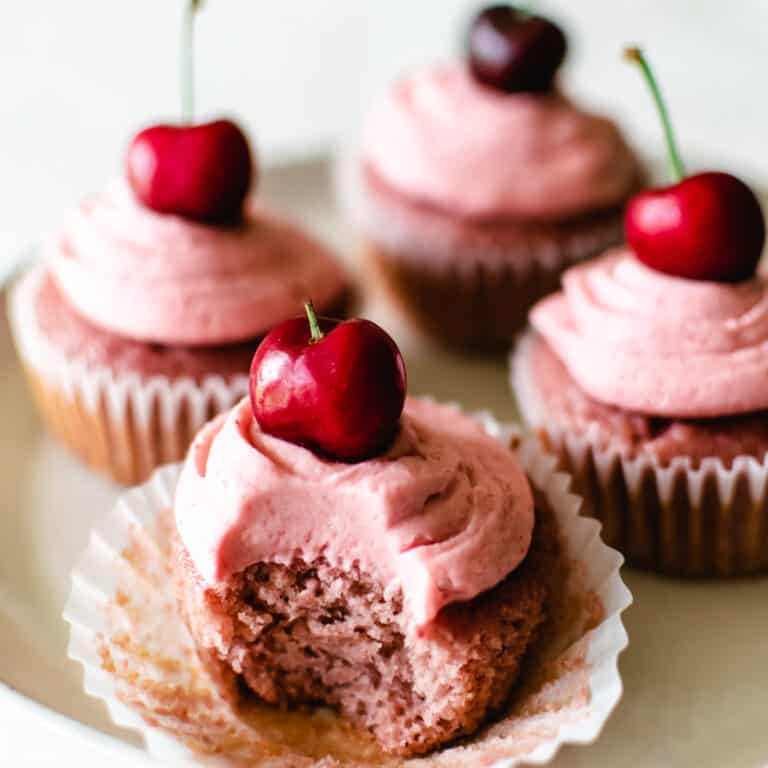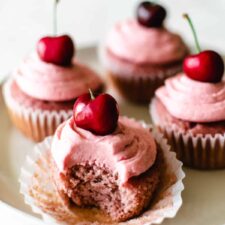 Cherry Cupcakes
Moist, real cherry cupcakes, with a fluffy cherry frosting, and a cherry on top!
Print
Pin
Rate
Ingredients
For the Cherry Flavoring (cherry sauce)-to be divided between cake batter and frosting
4

cups

cherries

fresh or frozen (pitted, de-stemmed)

2

tbsp

sugar

1

cup

water
For the cupcake batter
1

stick butter

4

large egg whites

discard the yolks

1 ⅔

cup

granulated sugar

1

tsp

vanilla

2 ¾

cup

all purpose or cake flour

1

tbsp

baking powder

1

cup

milk

½

tsp

salt

1

cup

the reduced cherry puree from above recipe
For the cherry frosting
1

stick butter

softened

3

tablespoons

heavy whipping cream

3

cups

powdered sugar

sifted

½

tsp

vanilla

½

tsp

salt

¼

cup

the cherry flavoring

sauce from above recipe

whole

fresh cherries for cupcake topping
Instructions
For the Cherry Flavoring (Sauce)
Make the cherry reduction first, so it can cool. It will be divided between both the cupcake batter and the frosting. Rinse 4 cups cherries, remove stems, and pits if necessary. (Frozen are often pitted already.) Add to a small saucepan along with 1 cup water, and 2 tbsp sugar. Bring to a medium high simmer and reduce by three-quarters. (Meaning, only ¼ of the cherries should remain after it simmers for several minutes. This should come out to about 1 ¼ cups reduced cherry mixture.)

Blend with an immersion blender or in a blender until smooth. Cool completely (in refrigerator, it cools more quickly). 
For the Cupcake Batter
Preheat oven to 350 degrees.

In a mixing bowl, combine the stick of completely softened butter, 4 large egg whites, sugar, and vanilla.

Mix into that the 2 ¾ cup flour, 1 tbsp baking powder, cup of milk and ½ tsp salt.

Fold in 1 cup of the cooled cherry puree from above.

Fill lined, regular size cupcake pan ⅔ of the way full.

Bake for 22 to 28 minutes until tops are springy, or until toothpick inserted comes out clean. Cool completely.
For Cherry Frosting
With a mixer, combine softened butter, heavy cream, powdered sugar, vanilla, salt and ¼ cup cherry puree (cooled).

When the cupcakes are completely cooled, frost or pipe each cupcake with frosting, and top with a fresh cherry.
Notes
Any kind of fresh or frozen cherry can be used; the color of the cherries and their juice will impact the coloring of the cupcakes and frosting. 
Frozen cherries more often then not, have already had the pits and stems removed. If using fresh, be sure to remove the stems and pits, by cutting around it, and twisting in half, and popping out the pit. 
Make the cherry flavoring/sauce first and cool COMPLETELY in the refrigerator. This is especially important for the frosting; adding it to the frosting while warm can cause it to become to thin. 
Cool cupcakes completely before frosting, otherwise frosting can slide off.
Soften butter on the counter top before using to avoid lumps. This goes for both the cupcake batter and the frosting.
Top with a fresh cherry, if desired. It can have a cute effect to leave the stem on these cherry garnishments, but it's up to your personal preference. 
Nutrition
Serving:
1
g
|
Calories:
201
kcal
|
Carbohydrates:
45
g
|
Protein:
3
g
|
Fat:
1
g
|
Saturated Fat:
1
g
|
Cholesterol:
4
mg
|
Sodium:
168
mg
|
Potassium:
96
mg
|
Fiber:
1
g
|
Sugar:
33
g
|
Vitamin A:
59
IU
|
Vitamin C:
2
mg
|
Calcium:
47
mg
|
Iron:
1
mg