When I first made this, it was supposed to be a way for me to use up some leftover odds and ends that I had in the refrigerator. (I feel so victorious when I've made a complete meal out of things that easily could have been forgotten in the back of the fridge, only to be tossed out later!) When it came out of the oven and we tried it was when I decided I would definitely have to make this again, so I kept the recipe in my back pocket for later, tweaking it here and there until I was happy with it.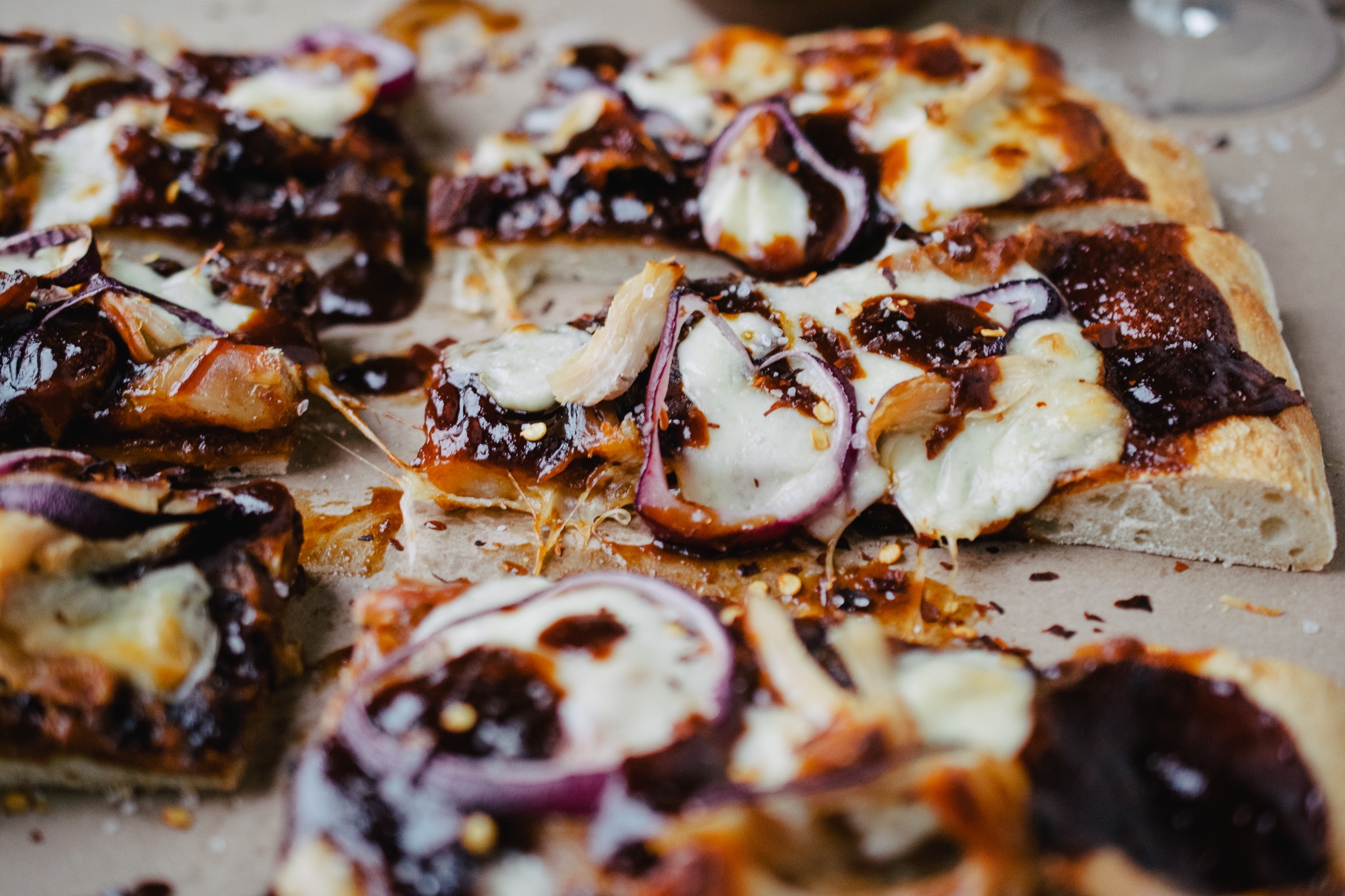 ingredients for bbq chicken flatbread
Tonight, I wasn't gonna wait around for the perfect storm of leftover ingredients; and instead made sure I was stocked up on them all. I listen to my food cravings like that. I respect and trust in them. And you know what? I only feel guilty part of the time! But never, ever empty inside. There's not a whole lot of anything fancy that goes into this. Pretty much like every other recipe I have; no fuss!
The barbecue sauce is an obvious component. Any of your favorite bottle or homemade barbecue sauce will do. I typically always have my homemade bourbon bbq sauce on hand, and you can click if you're interested  in the recipe.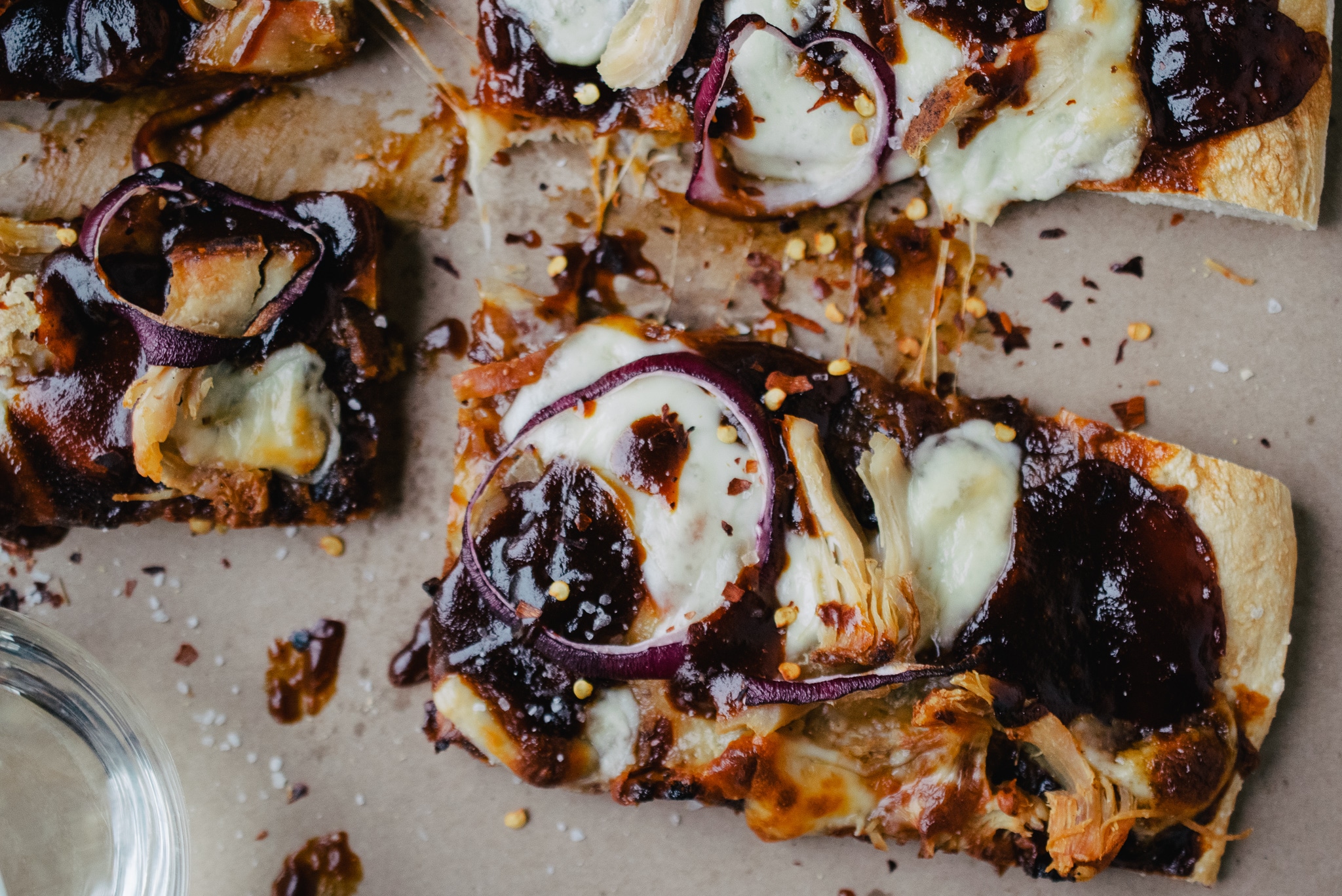 The flatbread part if this is very similar to a pizza crust. I'd tell you more specifically what the difference is… but I'm actually not sure there is one. Other than the fact that pizza dough seems to requires a skilled and artful stretching into shape for a signature chewiness. I leave it irregular, roll it out with my rolling pin (which you would never use on a pizza crust) and call it flatbread. Voila! 
The chicken can be the remains of leftover rotisserie or roasted chicken, or bake two chicken breasts up and pick those apart. 
Mozzarella cheese is the obvious cheese of choice here. You could add in some other cheeses, especially if you have small amounts leftover that you'd like to use up. But make the mozzarella the bulk of the kind you use. Did you know you can make mozzarella cheese at home? Oh yes. If you're up for it, it's really easy once you've done it the first time, and I have a simple post explaining step by step how to do this. 

how to keep the flatbread from sticking
Don't forget to line the pan with parchment paper so you don't get sticking. (If you don't have any, a light dusting of cornmeal works too. I like using cornmeal because it gives it a really nice ability to slide right off. Parchment paper however, can be lifted and the flatbread pizza can be transferred anywhere with ease.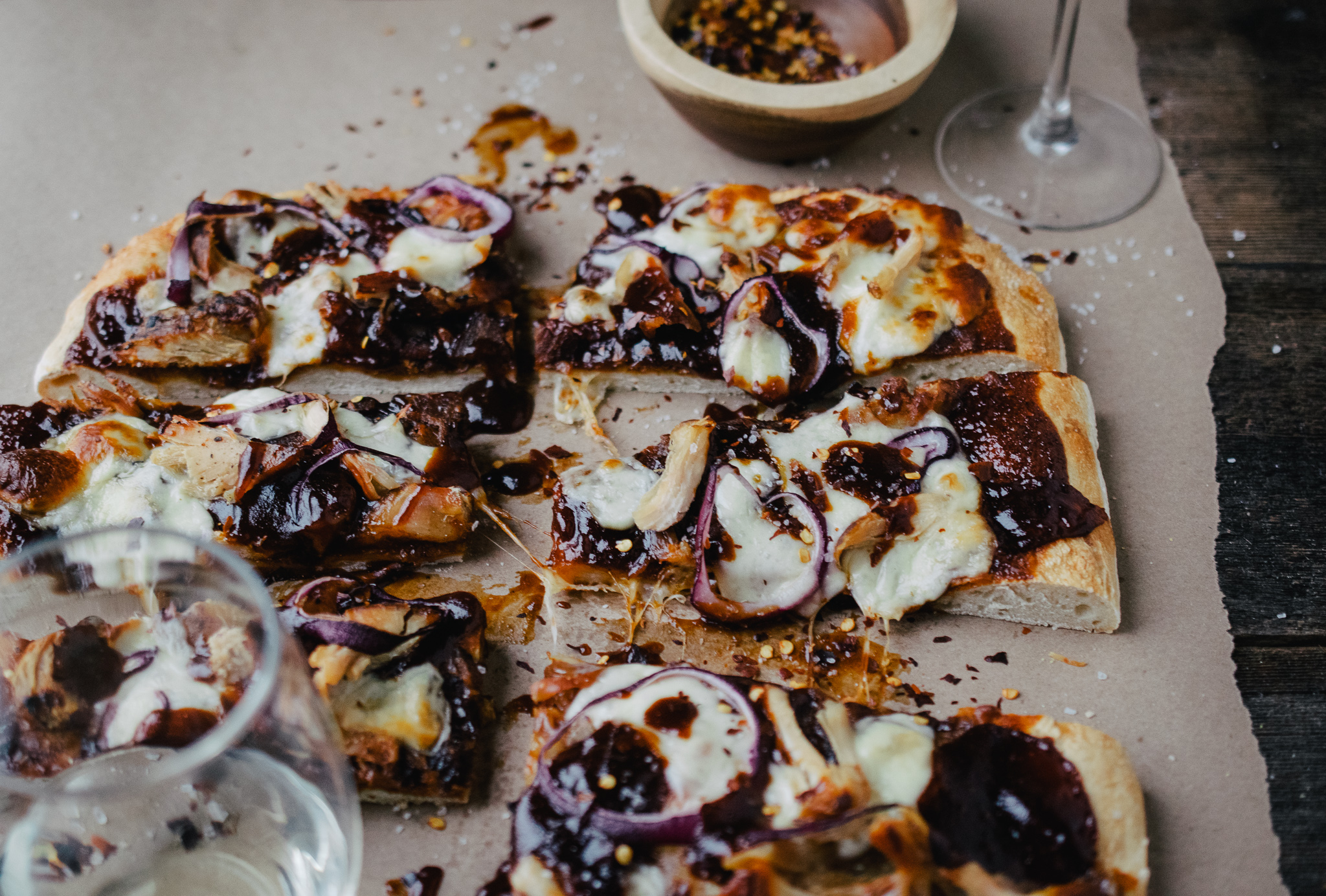 using the bread machine to knead dough
I cannot preach enough about my bread machine, and this is just one more time where I'd like to give it a shout-out. Without it, I'd have to knead this dough by hand. I got my first bread machine almost 5 years ago, and I'm still using the same one, I kid you not. Not only that, but it's one of the lesser expensive ones and it's simple. Meaning it doesn't have a lot of buttons, bells or whistles. I often feel that simpler is better. I highly recommend investing in a bread machine for many reasons, if not just for the fact that it can knead and raise your dough perfectly for you.
Another option would be to use the dough hook on your standing mixer, and then let the dough do it's rise in the mixer's bowl. 
If both of these are not options for you, just roll up the 'ol sleeves and get to kneading the old fashioned way! It's actually very therapeutic and relaxing to knead dough by hand. A good 10 minute knead should be plenty to work the gluten in the dough before covering it and letting it rise. See the recipe notes for details. Either way, this is one great recipe that works for dinner, appetizer, lunch and even game day sustenance!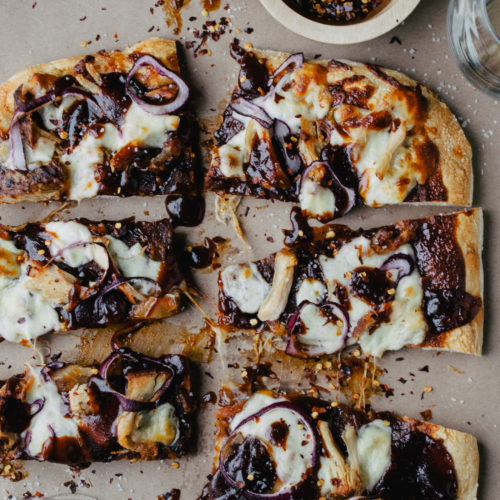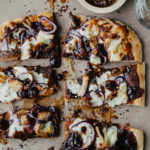 Print Recipe
Barbecue Chicken Flatbread Pizza
A chewy, thin crust flatbread with sweet and tangy barbecue sauce, mozzarella cheese, shredded chicken breast, and thin sliced red onion
Bread Machine Dough Cycle
1
hr
30
mins
Ingredients
 For the flatbread dough
4 

cups

all purpose flour

1 1/2

cups

water

1

tbsp

salt

1

tbsp

sugar

1

tsp

active dry yeast

1

tbsp

olive oil
 Other Ingredients
2

cups

barbecue sauce

1

lb

mozzarella cheese

freshly shredded

1/2

 red onion

slivered

2

cups

cooked chicken breasts, shredded

or sub 2 cups shredded rotisserie chicken
Instructions
Add flour, water, sugar, salt and yeast to bread machine and set to dough cycle. (If you do not have a bread machine, combine all ingredients and knead on floured surface for 15 minutes. Grease a large bowl, add dough into it, and cover with a light cloth, and set in a warm, fat-free place until doubled in size.)

Preheat oven to 400 degrees.

Lightly sprinkle cornmeal over baking sheet, or line with parchment paper, or use a baking stone.

Turn the raised dough out onto a floured surface and give 3 to 4 more kneads to ensure the flour has covered it so it won't stick to you. First flatten the dough out by pressing with your fingers to flatten it into a 1 inch thick disc. Use a rolling pin or your forearms to stretch the dough into an oblong shape that fills and fits on a baking sheet.

Carefully transfer the stretched dough onto baking sheet or stone.

Spread a thin layer of sauce over the dough almost to the edge, using more or less to taste.

Add half of the shredded mozzarella, evenly over the top.

Spread cooked, shredded chicken evenly over cheese.

Spread slivered onions evenly over shredded chicken.

Sprinkle the remaining cheese over the top.

Bake for 20 to 28 minutes until cheese is melted and edges of crust are golden brown.