Chewy, thin flatbread with a sweet and savory bbq sauce, shredded chicken, slivered red onion and lots of mozzarella cheese. Finish with flaky red pepper and ranch and enjoy this for dinner tonight!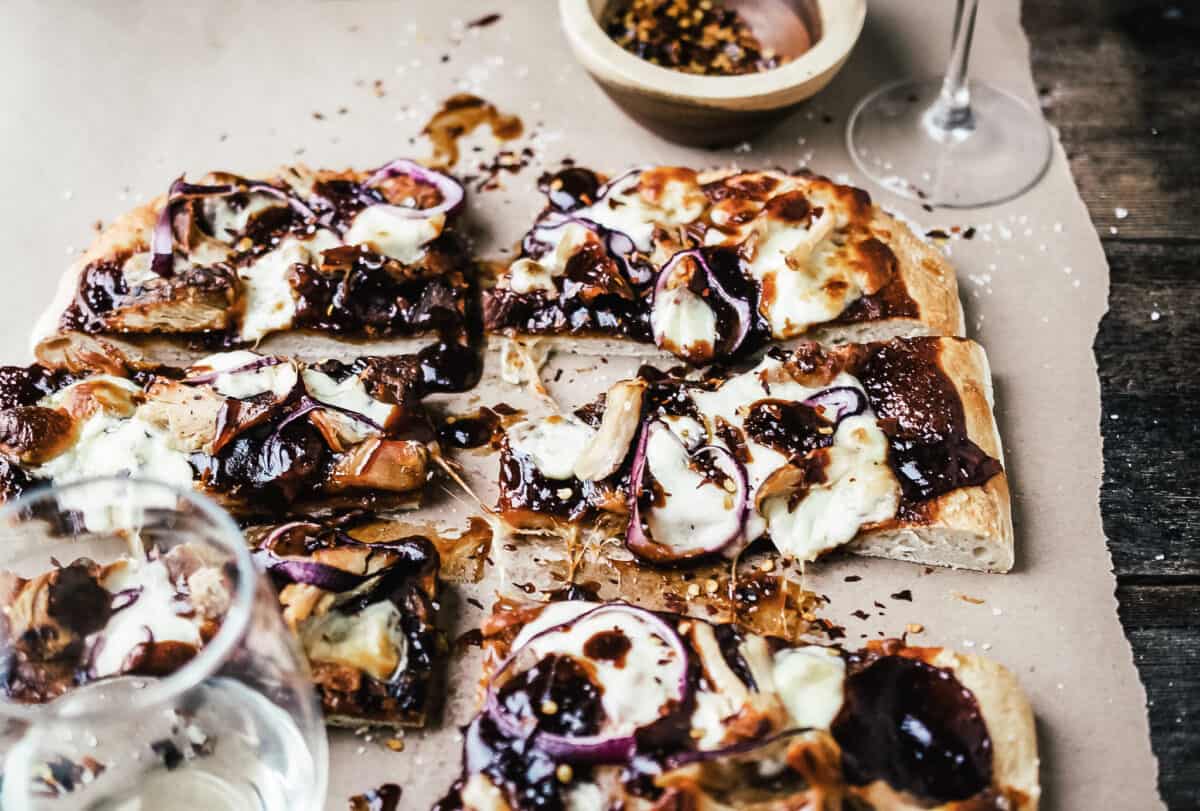 making the flatbread
The definition of a flatbread varies depending on who you talk to, and semantics can play a role too. Typically, the difference between a flatbread and a pizza crust is that a pizza crust has yeast and rises, while a flatbread does not. Some people simply refer to a thin crust, irregular shaped pizza as a flatbread. In this flatbread recipe, a very minimal amount of yeast is used for textural reasons, because that's what my family prefers. The yeast does help to give the flatbread some bite, but be aware that it is an optional ingredient and that omitting it will result in a softer texture. 
Whether or not you use yeast in this dough, do let the dough rest for at least an hour. You can do so by placing the ball of dough into a greased bowl, and covering it with saran wrap. Or, you can make the dough the day before and let it rest overnight in the fridge.
par bake the bread before topping it
Once the dough has rested, it can be stretched out to fit onto a baking sheet. The beautiful thing about flatbread is that any shape or size will do. (The photo below shows a rectangular shape that is stretched to fit the baking stone, but you could do an oval, or circle or whatever you desire so long as it fits on the tray.)
Sprinkle down cornmeal before laying the stretched out dough down to prevent sticking. It only needs to par bake. The reason being, is that it will get completely cooked directly on the rack once it's been topped with ingredients. But if we don't bake it enough for the bottom to become solidified, then we will have no way to place it directly on the rack to cook, which is how we get a crispier crust. 
Bake the chicken breast while the dough is resting. Once it's cooled just use your fingers to pick it apart into large pieces. Another thing that can be done in advance, or even a couple days before if desired. This is also a great way to use up some leftover rotisserie chicken.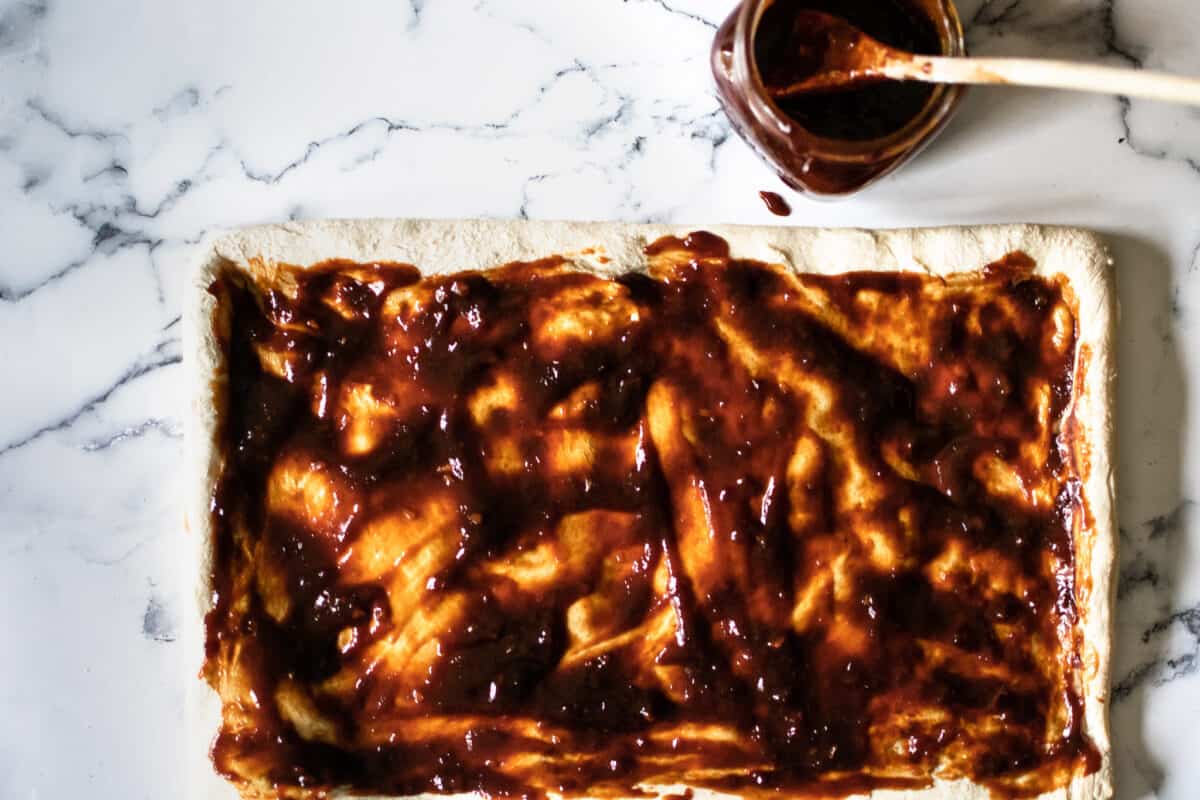 topping the flatbread
Choose your favorite brand of BBQ sauce, or make your own. If you want to get really "from-scratch" on this bbq chicken flatbread, use my recipes for Bourbon BBQ Sauce, and Homemade Mozzarella Cheese. The combination of these recipes, layered onto a homemade flatbread is downright delicious. You can really knock it out of the park by finishing it with a drizzle of home-style buttermilk Homemade Ranch Dressing.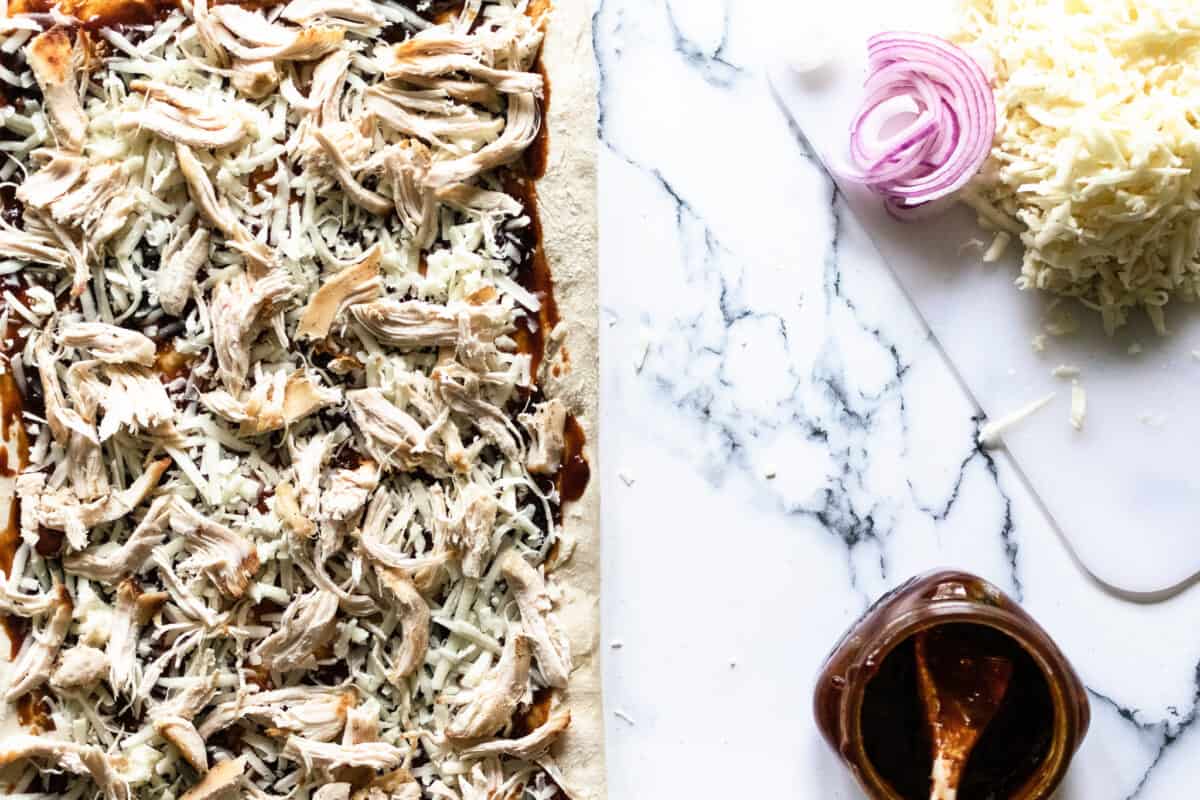 Use a large spoon to spread an even layer of barbecue sauce over the par baked crust. Then, top with about two thirds of the shredded cheeses (evenly blended). On top of that layer the pieces of chicken and most of the slivered onions. Sprinkle with the rest of the cheese and the last bit of onion. It's nice to have some of the onion get a little crispy on top.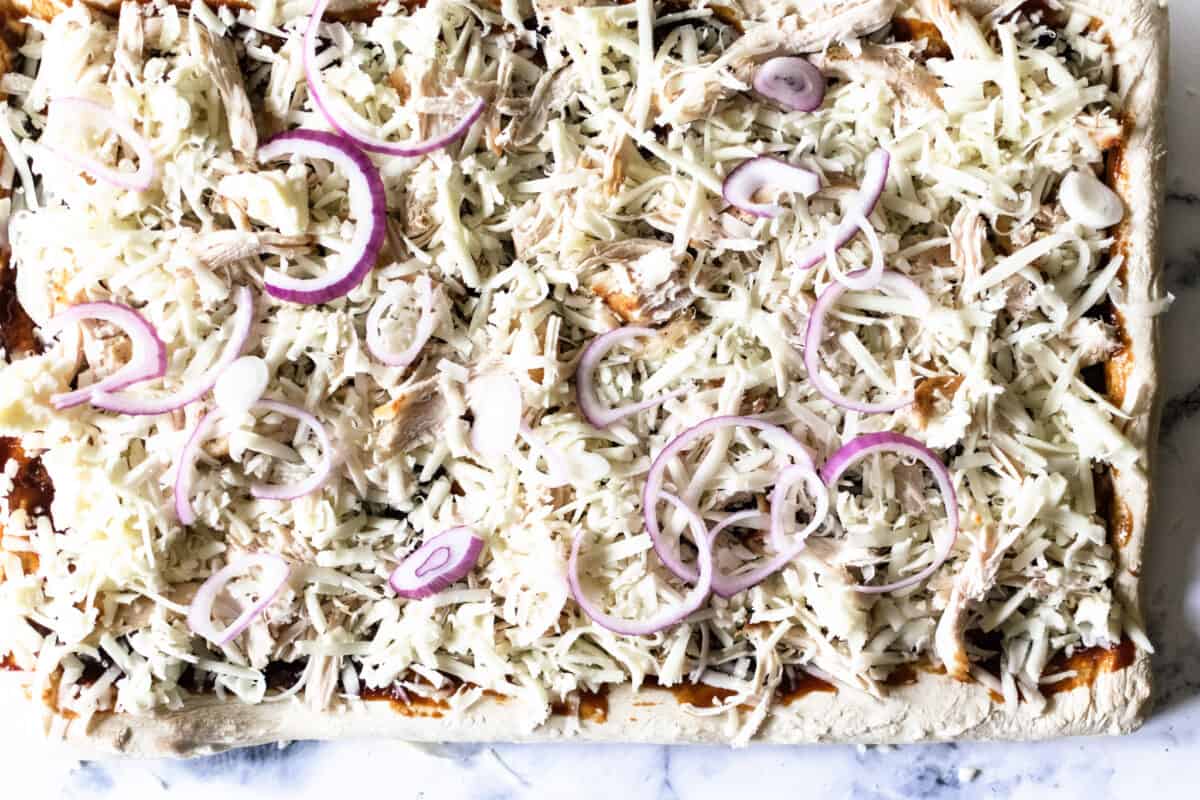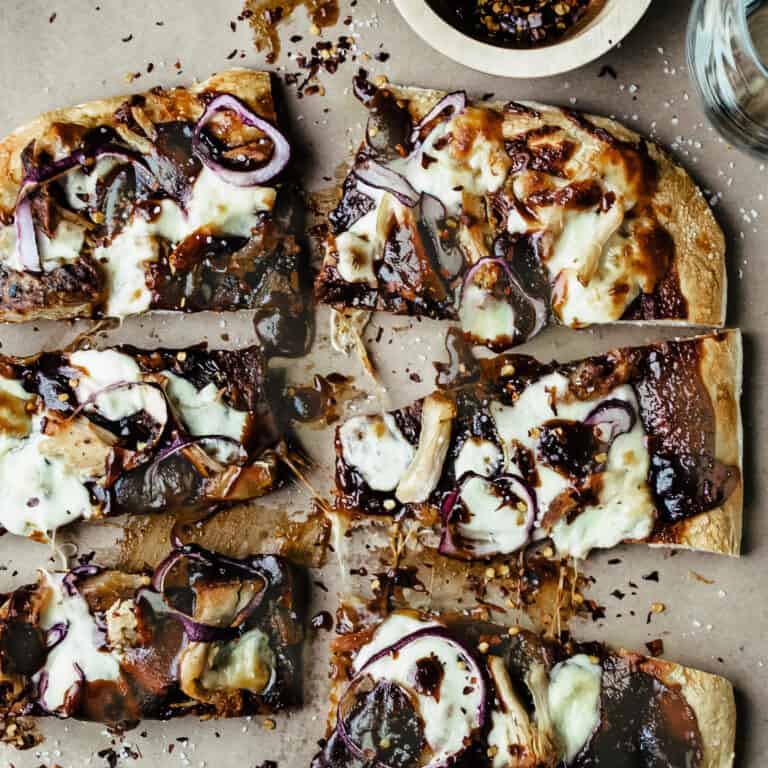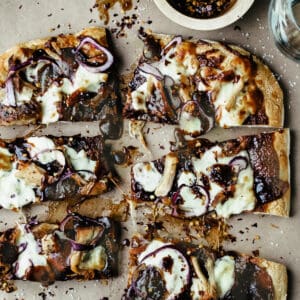 bbq chicken flatbread
A chewy, thin crust flatbread with sweet and tangy barbecue sauce, mozzarella and Monterey jack cheeses, chicken, and slivered red onion.
Print
Pin
Rate
Ingredients
2

cups

all purpose flour

3/4

cups

water

1

tsp

salt

1 1/2

tsp

sugar

1/2

tsp

instant yeast
other ingredients
1

cup

barbecue sauce

1/2

lb

mozzarella cheese

freshly shredded

1/2

lb

Monterey jack cheese

freshly shredded

1/2

red onion

slivered

2

cooked chicken breasts

pulled apart into pieces (or use leftover rotisserie chicken)
Instructions
Add flour, water, sugar, salt and yeast to large bowl or stand mixer and combine to form a smooth ball. Place the dough into a large, greased bowl and cover with a light cloth. Set in a draft-free place and let rest for 1-2 hours. (You can also use a bread machine, and add the ingredients to it and set it on the dough cycle.)  

Preheat oven to 400 degrees.

Lightly sprinkle cornmeal over baking sheet, or line with parchment paper, or use a baking stone.

Turn the raised dough out onto a floured surface and give 3 to 4 more kneads to ensure the flour has covered it so it won't stick to you. First flatten the dough out by pressing with your fingers to flatten it into a 1 inch thick disc. Use a rolling pin or your forearms to stretch the dough into an oblong shape that fills and fits on a baking sheet.

Carefully transfer the stretched dough onto baking sheet or stone.

Par bake the crust for 4-5 minutes until the underside is solid. This prevents it from dripping through when it gets baked directly on the rack later. Remove from the oven and let cool before building the toppings.

Spread a thin layer of sauce over the dough almost to the edge, using more or less to taste.

Add two thirds of the shredded cheese evenly over the top.

Spread cooked, shredded chicken evenly over cheese.

Spread slivered onions evenly over shredded chicken.

Sprinkle the remaining cheese over the top.

Bake for 16 to 24 minutes until cheese is melted and edges of crust are golden brown.
Notes
Flatbread dough can be made in a bread machine on the dough cycle, or kneaded by stand mixer or by hand. If not using bread machine, be sure to cover the dough and let it rest for 1-2 hours.
Dough can be combined, covered and left to rest in fridge overnight.
If using a baking sheet, sprinkle cornmeal lightly down first to prevent the raw crust from sticking.
Par bake the crust first for a few minutes until the bottom is solid. This is just enough so that the dough won't sag through and drip into the bottom of the oven when the pizza is placed directly on the rack to cook.
Cheese shredded off the block melts better than bagged, shredded cheese.
Bake chicken breast through before picking apart into pieces and topping pizza.