This savory and decadent BBQ Bacon Chicken Pizza is the perfect dish to excite your taste buds. It takes a classic flavor combination and gives it a delicious twist by layering smoky barbecue sauce and crispy bacon over melted cheese and chicken atop of an easy to make pizza crust. Even better, you can customize the toppings however you want! Make it your own with whatever ingredients you like! Get ready for a truly scrumptious dinner that will have everyone at the table begging for seconds.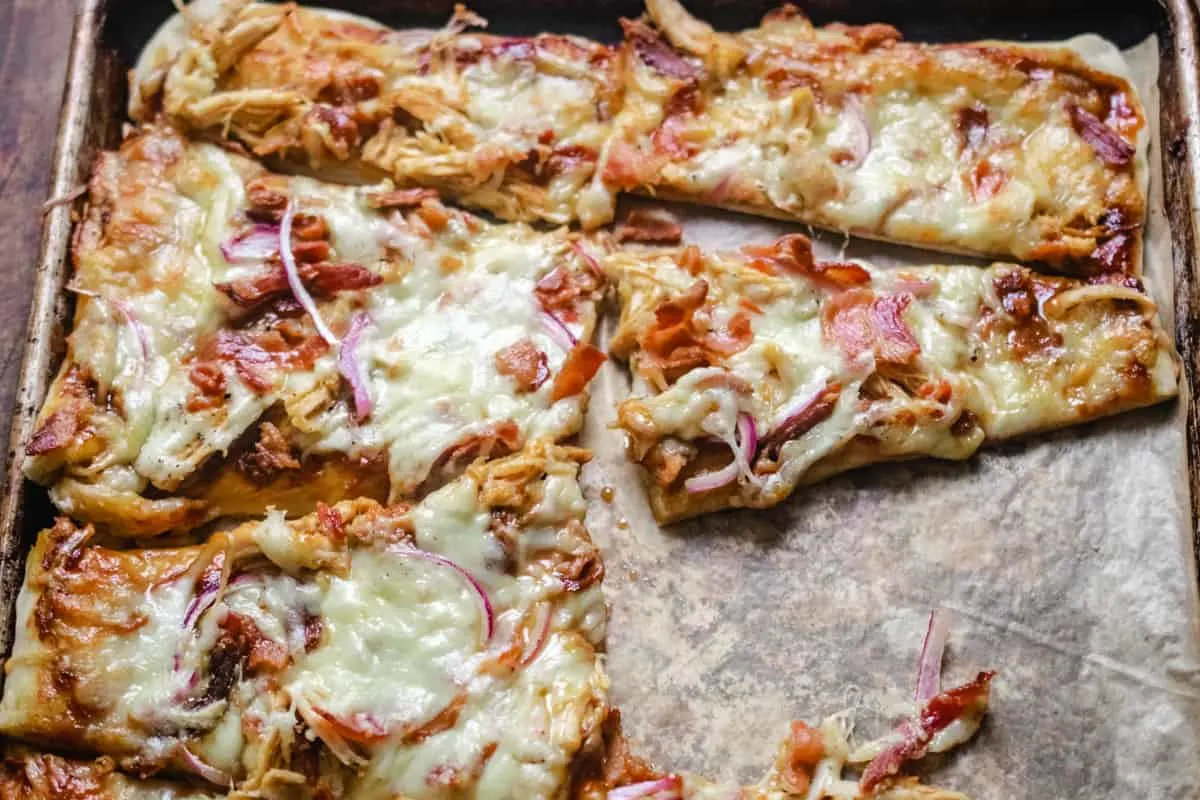 You will love how flexible, low effort and convenient this bbq bacon chicken pizza recipe is.
The 4 ingredient pizza dough requires minimal hands-on time, and flatbreads don't need to be shaped perfectly at all, making it even easier.
Why make homemade flatbread pizza
​It's easy to customize to use all your favorite brands and ingredients
It is a lovely twist on your classic pizza night menu
Making flatbreads is an easy meal and a fun way to get the kids to help in the kitchen
It's a relatively cheap meal
This recipe tastes just as good, if not better than what you'd order at California Pizza Kitchen
Ingredients
Get more info on all of these ingredients in the printable recipe card at the bottom.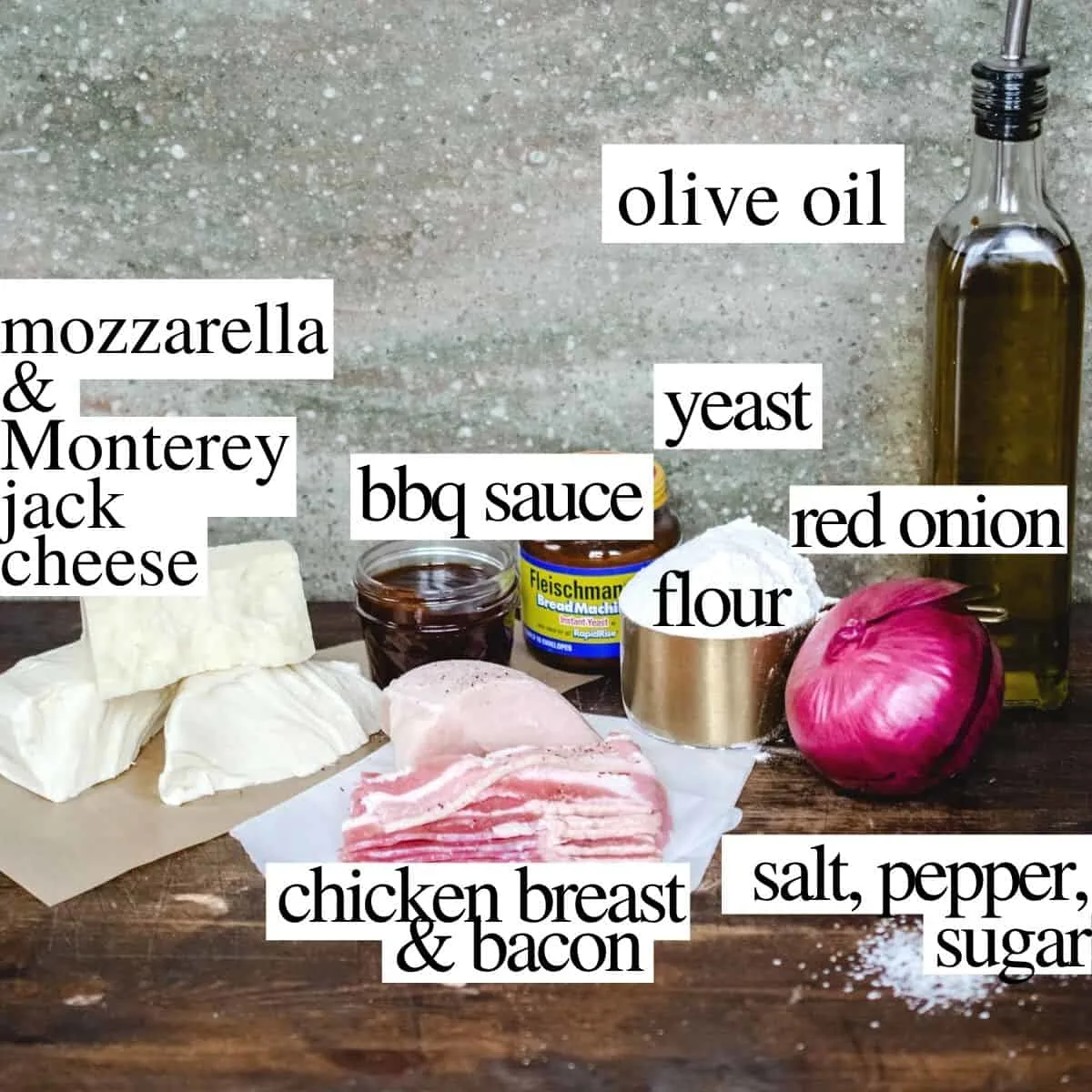 Barbecue Sauce- use your favorite bottled store bought sauce or make homemade Bourbon Honey BBQ Sauce
Chicken- Use a fully cooked chicken breast, pulled apart into pieces or a rotisserie chicken, white meat pulled apart into pieces
Instant Yeast- Instant yeast is the most convenient because it doesn't have to be proofed
Bacon- thinner cut option of bacon is best for topping pizza with because it remains crispier
Flour- all purpose or bread flour
Cheese- a combination of mozzarella and Monterey jack cheese shredded directly off the block. Avoid pre-shredded packaged cheese.
How to Make BBQ Chicken Flatbread
Prepare the pizza dough first.
Not all pizza doughs contain yeast, but I believe using the smallest amount necessary to this adds a nice bite and chew plus great flavor.
Combine the flour, yeast, salt and sugar.
Add the olive oil and water and combine in a stand mixer with dough hook on low speed for 5-7 minutes.
The dough should become one solid ball that pulls away from the sides of the bowl, and is stretchy and smooth.
If you don't have a stand mixer with dough hook, turn the dough out onto a floured surface and knead by hand for 10 minutes.
Once kneaded, transfer the dough to a greased bowl, cover with plastic wrap or towel, and allow to rest for 60 minutes at room temperature, or overnight in the fridge.
To shape the pizza crust:
On a lightly floured surface, stretch the dough out until it is about ¼ inch thick.
It doesn't have to be a pretty shape, it just has to fit on your baking sheet.
Use gravity and stretch it when possible, rather than smashing it with a rolling pin, for a chewier, crispier bottomed crust.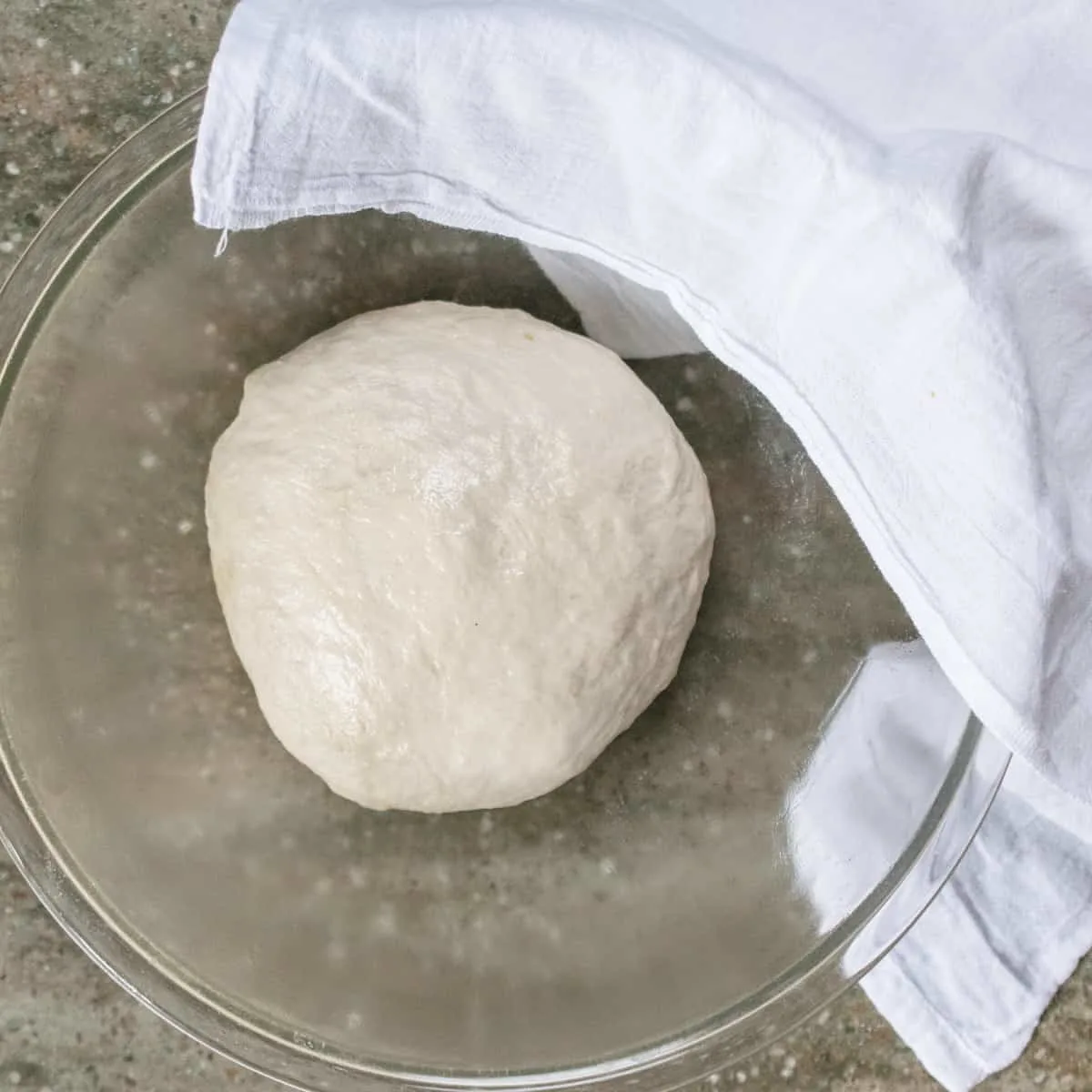 This resting period is a very important step. It develops flavor, and also impacts the glutens and therefore the texture of the finished bread.
While the dough is resting, prepare the toppings.
Bake the chicken breast if it isn't already cooked.
Preheat an oven to 400°F, drizzle chicken with a bit of olive oil, salt and pepper.
Bake thawed chicken breast for 20-25 minutes, and frozen chicken breast for 30-40 minutes. Internal temperature should reach 165°F.
Once cooled enough to handle, pick it apart with your fingers into bite size pieces.
For this pizza, I find it easiest to cook the bacon in a microwave. The reason for this is that it crisps back up in the oven, but also because the paper towels absorb more of the excess grease, instead of it pooling up on the flatbread.
Lay 3-4 paper towels on a large plate and line strips of bacon side by side, but not overlapping. If you need to, cut the slices to fit on the plate.
Microwave on high for 4-6 minutes, depending on microwave wattage until crispy.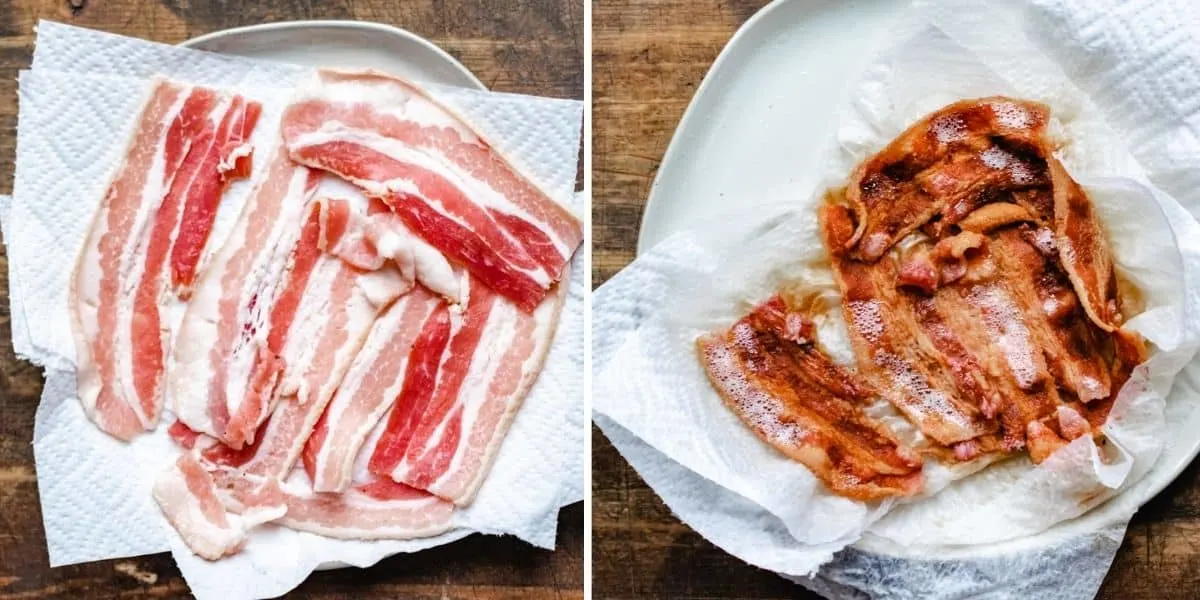 If you prefer not to microwave the bacon, you can fry or bake it.
Allow to cool for a few minutes, and then break it apart into ½ to 1 inch pieces and set aside.
Shred the mozzarella and Monterey jack cheese directly off the block rather than buying pre shredded cheese.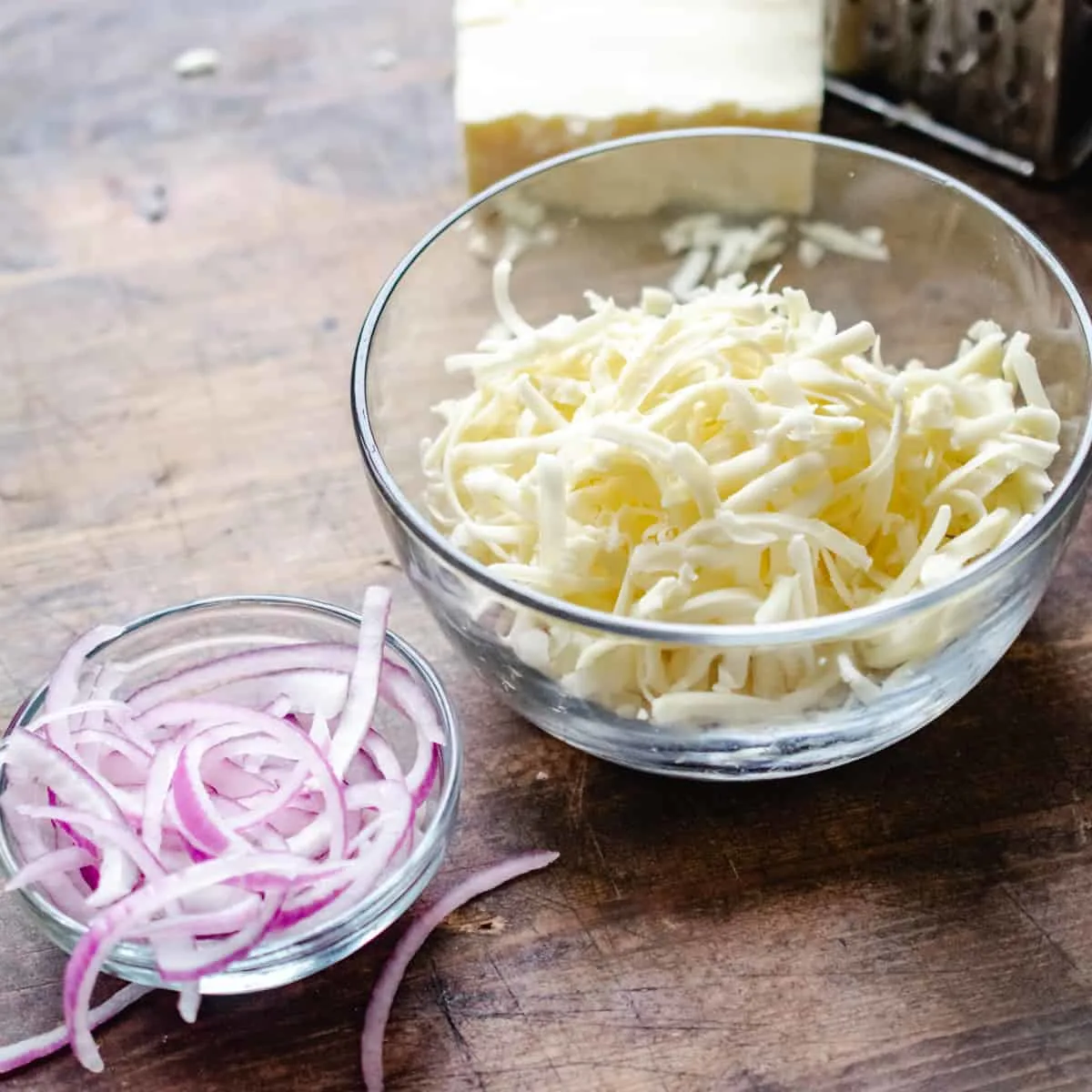 Pell and cut the red onion into slivers.
Assemble the pizza
If you don't have a baking stone or baking steel, use a baking sheet.
Preheat oven to 400°F if it isn't already.
Spread a thin layer of the barbecue sauce over the dough, starting at the center and working towards the edges.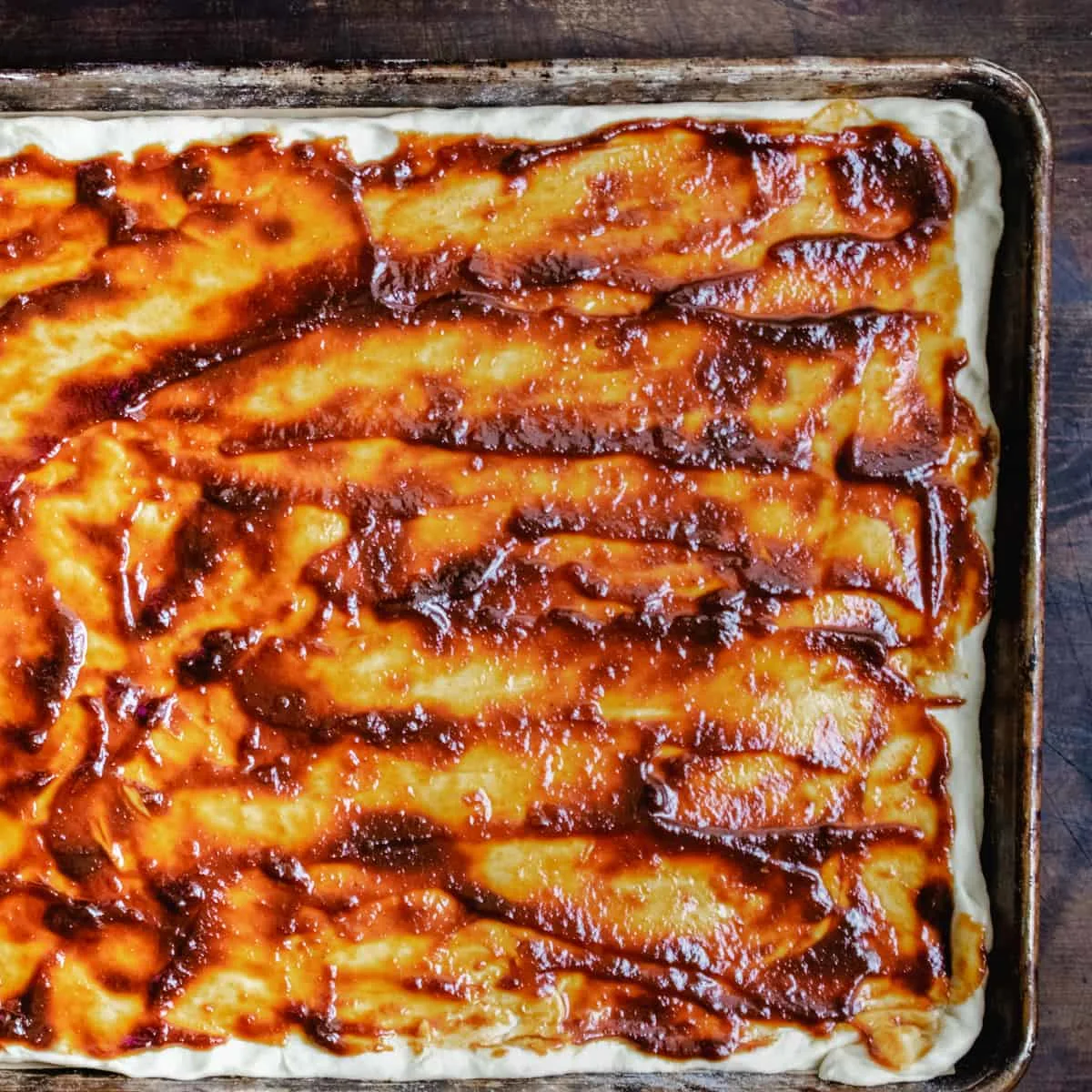 Sprinkle about two thirds worth of the cheeses over the sauce, followed by the chicken and bacon.
Top with remaining cheese-top cheese- and red onion and sprinkle lightly with black pepper or crushed red pepper.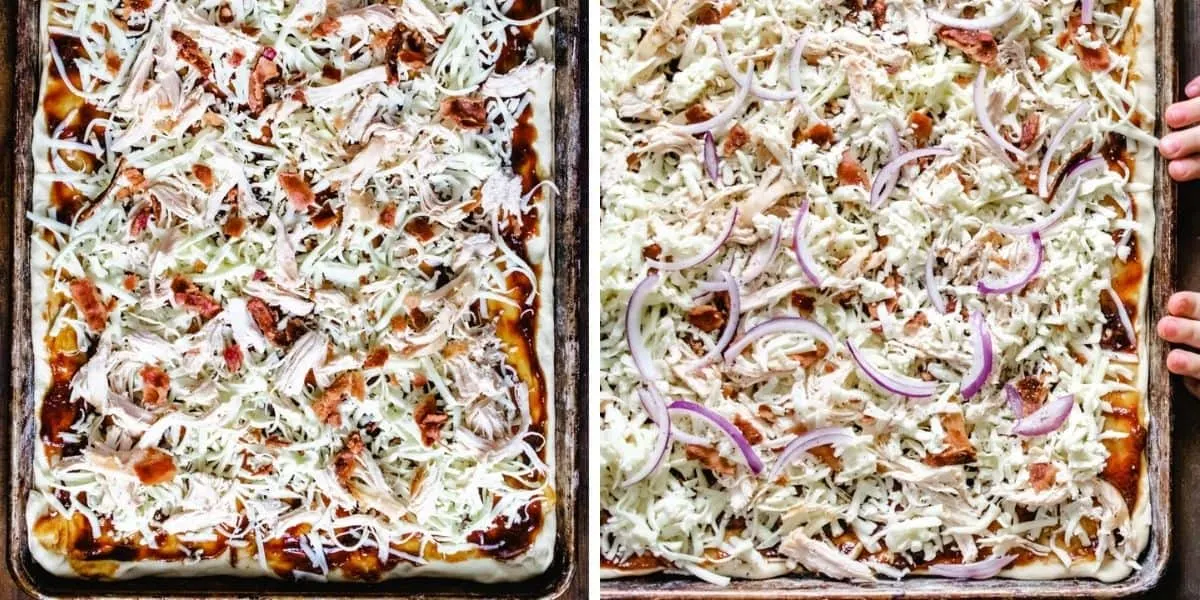 Bake
Transfer the assembled pizza to the oven directly on the center rack.
Bake it for an additional 12-18 minutes until cheese is melted and edges and bottom are golden brown.
Remove from oven and let cool for at least 5 minutes before slicing.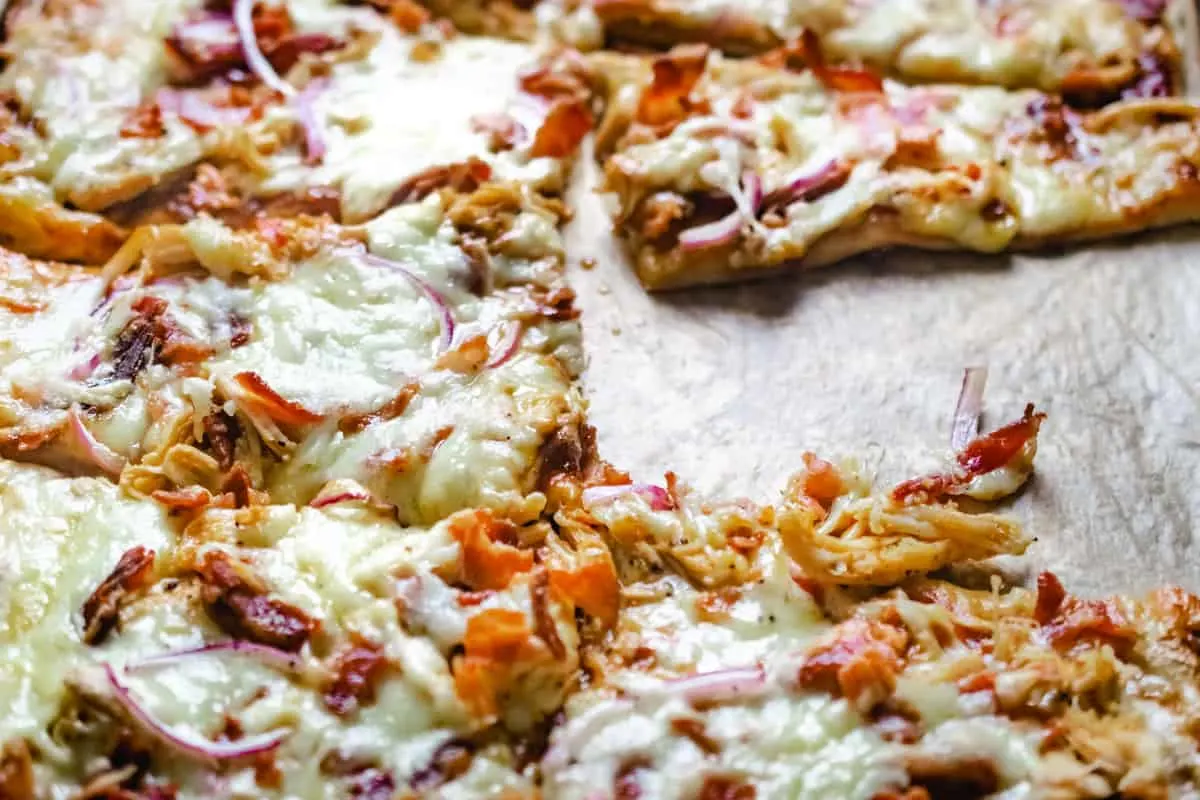 Storage
This really is an easy weeknight dinner and if you have leftovers they're great for lunch the next day!
Leftover flatbread pizza can be stored in an airtight container or wrapped in aluminum foil. To make the pizza last longer, it is best to refrigerate the pizza within two hours of baking.
When reheating, it is recommended to reheat leftover pizza in a pan on the stovetop over medium heat instead of using a microwave to avoid drying out the crust and making the rest of the pizza soggy.
Can I use premade flatbreads?
Sure, if that is all you want to do, you can skip making your own. Just know that I think that making your own flatbread really elevates this simple recipe to the next level. It adds so much flavor and dimension.
Can I use leftover chicken?
Absolutely. You can use rotisserie chicken that you have leftover or extra shredded boneless chicken breasts that you have from another meal.
Whatever juicy chicken you have on hand will work. I will say that white meat works best yet.
Can I make this ahead of time?
You can make the dough up to a day ahead of time, or wait until you're ready to prepare the pizza.
The chicken breast can be cooked ahead of time if you like too, or you can even use leftover rotisserie chicken or roasted chicken from a previous night.
Even the bacon can be cooked in advance on paper towels in the microwave because the pieces crisp right up in the oven while the flatbread bakes.
Tips and Variations
For a lighter flatbread, use whole wheat pita or naan bread instead of regular pizza dough.
If you want to add some color and flavor, mix in some chopped kale, bell peppers, diced green onions, or other diced up vegetables with the cheese before baking.
Switch up your protein by using cooked Italian sausage, diced pork tenderloin, or shredded chicken thighs instead of chicken breast.
Top with homemade bbq sauce for an extra kick of flavor. Or use your favorite bbq sauce to create the ultimate bbq chicken pizza.
To increase the smoky flavor, add some smoked paprika to the dry ingredients when making the dough.
Feel free to change up the cheese. In addition to the mozzarella cheese, you can add other shredded or crumbled cheese options like gouda cheese. The more cheese the better, we like lots of cheese on our barbecue chicken pizza.
Serve your easy flatbread pizza with some ranch dressing for dipping if desired.
Check out these other similar recipes.
If you've made this BBQ Bacon Chicken Pizza, or plan to make it, leave a rating or comment below.
📖 Recipe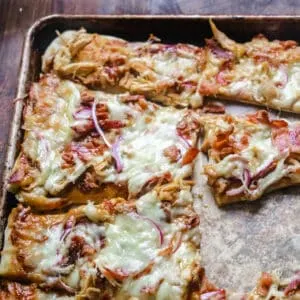 Barbecue Chicken Flatbread
Thin crust BBQ Chicken Flatbread with bacon, shredded chicken, razor thin sliced red onion, sweet and tangy barbecue sauce, mozzarella and Monterey jack cheeses baked until golden brown and bubbly.
Print
Pin
Rate
Ingredients
For the Flatbread
2

cups

all purpose flour

¾

cups

water plus 1-2 tablespoons more

1

teaspoon

salt

1

teaspoon

sugar

½

teaspoon

instant yeast

1

tablespoon

olive oil

plus more for greasing bowl
For the Toppings
1

cup

barbecue sauce

1

cup

mozzarella cheese

freshly shredded

½

cup

Monterey jack cheese

freshly shredded

½

red onion

thinly sliced

1

cup

cooked chicken breast or rotisserie chicken

baked, and pulled apart into bite sized pieces

4

oz

bacon

cooked, chopped into bite sized pieces

freshly ground black pepper
Instructions
Add flour (2 cups), water (¾ cups), salt (1 tsp), sugar (1 tsp), yeast (½ tsp), and olive oil (1 tbsp) to large bowl or stand mixer fitted with a dough hook and combine to form a smooth ball. (You can also use a bread machine, and add the ingredients to it and set it on the dough cycle.)

Transfer the dough into a large, greased bowl (with olive oil) and cover with a light cloth or plastic wrap. Allow to rest at room temperature for one hour or in the fridge overnight.

Preheat oven to 400 degrees.

Lightly sprinkle cornmeal over baking sheet, or line with parchment paper, or use a baking stone.

Turn the raised dough out onto a floured surface and stretch the dough to about ¼ inch thick.

Carefully transfer the stretched dough onto baking sheet or stone.

Spread bbq sauce (1 cup) over the dough to the edges, using more or less to taste.

Add two thirds of the shredded cheese evenly over the top (both kinds-estimate the amount).

Spread cooked, shredded chicken evenly over cheese, followed by bacon.

Spread remain shredded cheese over the top, followed by onions.

Sprinkle with fresh black pepper or crushed red pepper, if desired.

Bake for 18-22 minutes until cheese is melted and bottom of flatbread is golden brown.
Notes
Flatbread dough can be made in a bread machine on the dough cycle, or kneaded by stand mixer or by hand. If not using bread machine, be sure to cover the dough and let it rest for 1 hours (bread machines go through the rest/rise cycle).
Dough can be combined, covered and left to rest in fridge overnight.
If using a baking sheet, sprinkle cornmeal lightly down first to prevent the raw crust from sticking.
Cheese shredded off the block melts better than bagged, shredded cheese.
Bake chicken breast through before picking apart into pieces and topping pizza.
Nutrition
Serving:
1
g
|
Calories:
281
kcal
|
Carbohydrates:
27
g
|
Protein:
9
g
|
Fat:
15
g
|
Saturated Fat:
6
g
|
Cholesterol:
30
mg
|
Sodium:
546
mg
|
Potassium:
130
mg
|
Fiber:
1
g
|
Sugar:
9
g
|
Vitamin A:
153
IU
|
Vitamin C:
1
mg
|
Calcium:
96
mg
|
Iron:
1
mg