I could very well be the last home cook on earth who did not know why EVERY TIME I went to make homemade onion rings, they came out soft and squishy, instead of crispy and crunchy. Sad face. Being a determined girl in the kitchen, I kept trying. I tried different liquids, corn starch vs flour, you name it, but they were coming out the same….old….soggy…..way…. Very sad face. I don't know if there is such a thing as an Angel of Onion Rings, but if there is, it's like she spoke to me. It wasn't my ingredients, she said. It was the consistency of my batter. Amen! My issue was being a deep-fried, batter-passionate, all things breaded-loving-gal, and assuming the thicker the batter, the better (haha say that three times fast!). But I was wrong. Because a thick batter, when deep fried, cooks up like a doughnut would, or like the breading of a corn dog. HELLO!! How did I not catch this before? I added a fair amount of cold water to my batter, until it was about the consistency of a very thin pancake batter. And they fried up perfectly crispy!
Now that I know the way to crispy, golden, crunchy deep-fried onion rings; I can say it's about ratios. Specifically, your ratio of liquid to starch. So like, flour to water, or beer. I may get some disagreement on this, but it's just my opinion, that the type of liquid you use doesn't really matter. You do want to aim for about 150% more (or one and a half times more) liquid than your flour amount. For example if you use one cup of flour, use one and a half cups beer, water, milk…..shoot, soda water would work too. And then season as you like. This could anywhere from a pinch of salt, to garlic powder and paprika; really it's up to your personal taste. I'm including a very basic recipe for a delicious tasting, fried onion ring batter. Feel free to jazz it up, as your jazziness allows.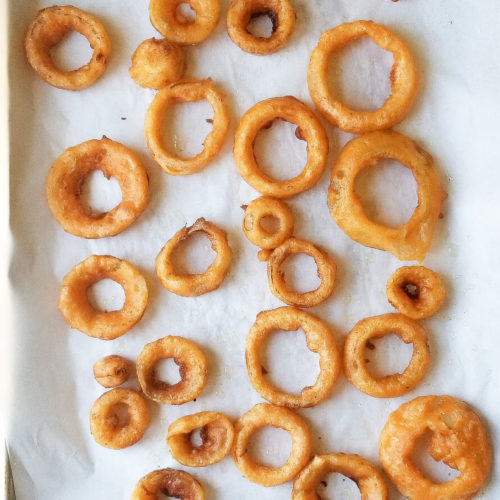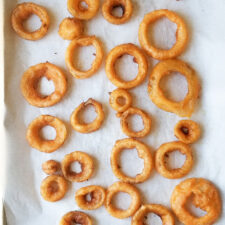 Ingredients
2

large Walla Walla Sweet Onions

sliced into rings

4

cups

light frying oil

1/4

cup

cornstarch

for dusting the rings

1

cup

flour

1 1/2

cups

COLD water or beer

1

tsp

salt
Instructions
Cut onions into rings and chill in the fridge for at least one hour.

Heat frying oil to 375 degrees

Mix flour, water or beer, and salt in a bowl.

Dust rings with a light layer of cornstarch, and shake off all of the excess.

Dip rings, a few at a time into batter, making sure they're entirely coated, and shaking off excess.

Carefully place in hot oil, and fry for 3-5 minutes, turning midway through, until golden brown.

Lay on wire racks to cool, not directly on a plate, cookie sheet, and definitely not paper towels (you can place paper towels under the wire rack to catch drips). Serve immediately, do not keep warm in the oven or they'll get soggy this way too.