Don't think you're sacrificing anything with these gluten free onion rings, because the best onion rings just happen to be naturally gluten free (and you likely already have everything you need in your pantry already!)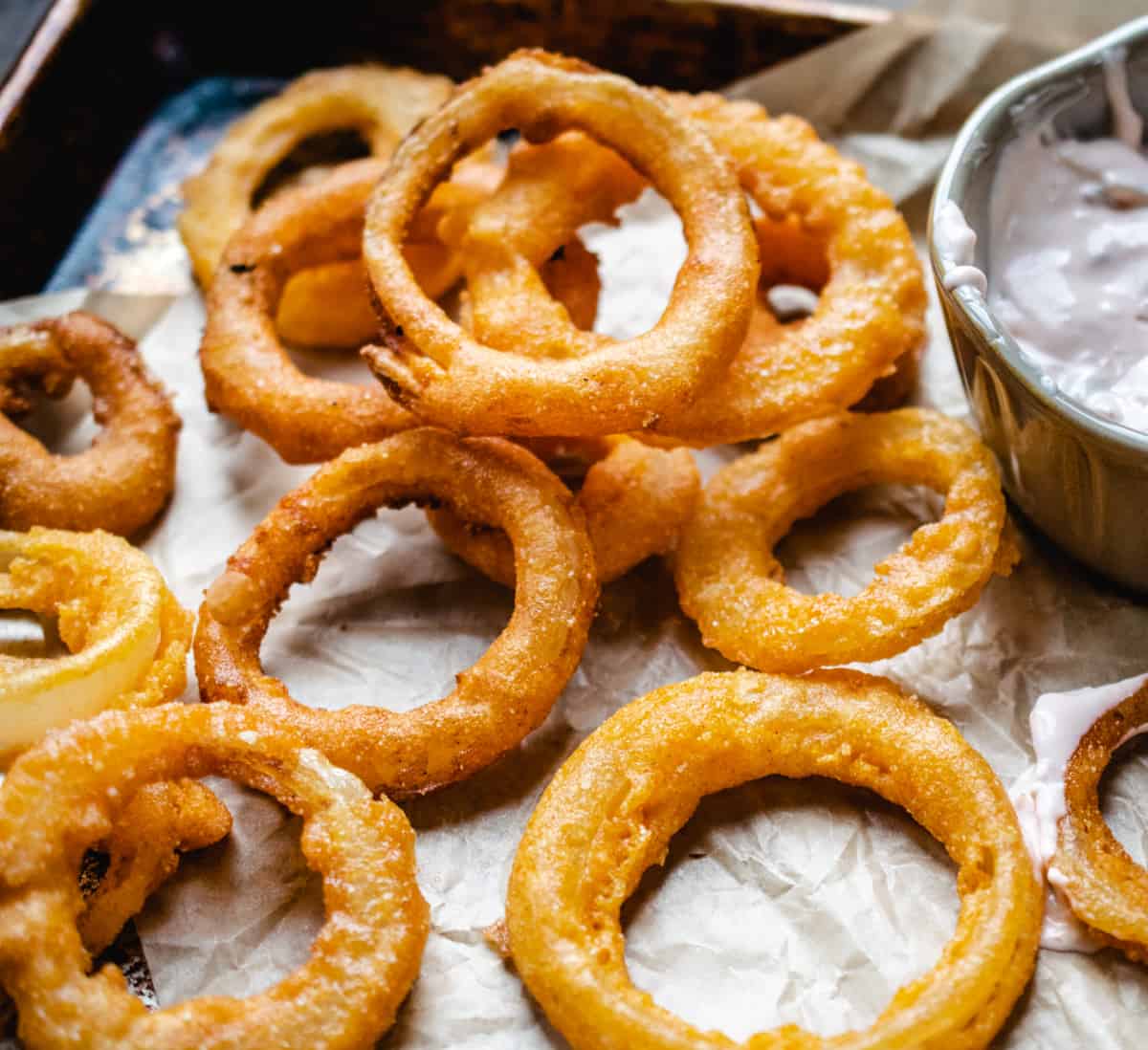 Gluten free just happens to be the best way to make the crispiest onion rings ever, and you probably already have everything you need in your pantry right now.
Don't forget the dipping sauces! We like to mix our Ketchup and Mayonnaise with a bit of relish to make a fry sauce. You could kick that fry sauce up by using Spicy Mayo instead of regular.
They're also delicious dipped in this pub-style Bourbon BBQ Sauce and homemade Ranch Dressing Recipe.
What is needed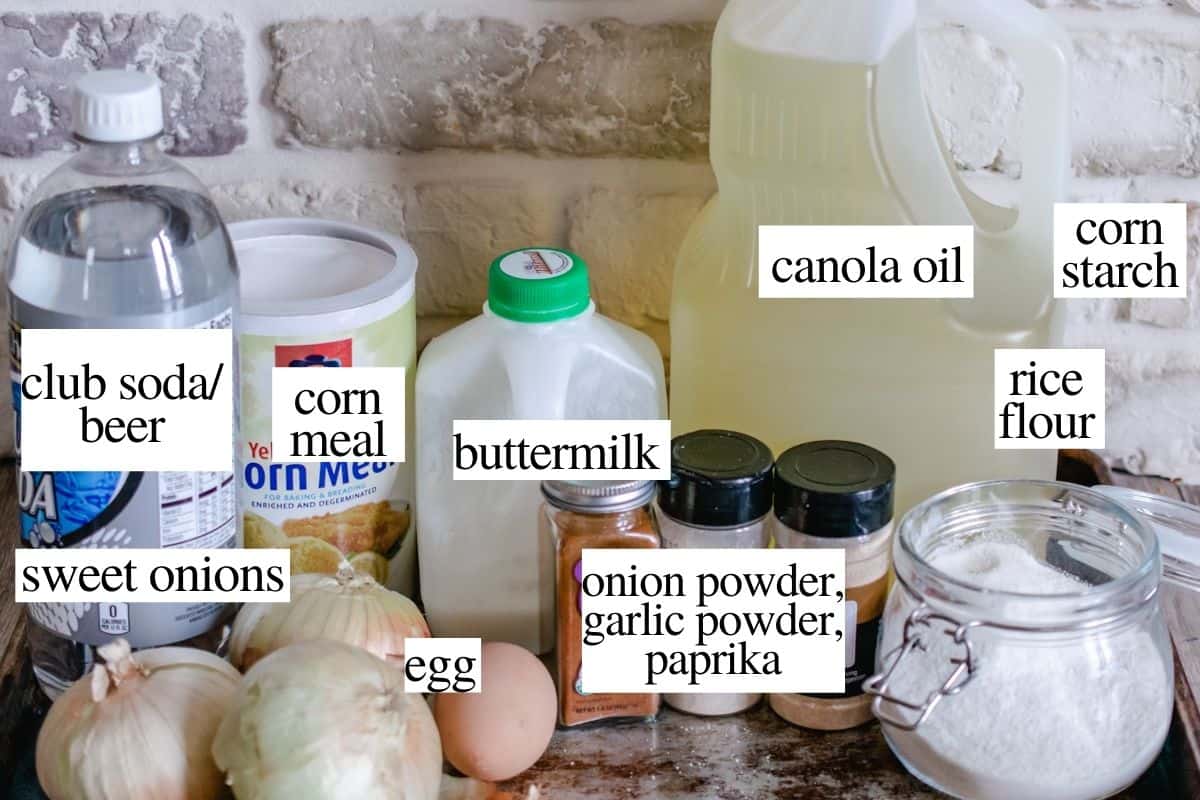 Oil- Use an oil with an appropriate smoke point, like canola oil, which is great for general frying and inexpensive.
Rice flour- is actually really easy to make at home using the rice you already have! Otherwise, you can find it in the gluten free section (but it's way cheap and takes seconds to make!)
Sweet onions- the sweeter, the better. But you can use a basic yellow onion. (White onions are a little...not sweet enough.)
Bubbly- Club soda, beer (like a lager), even ginger ale are great bubbly options. If you use a beer, just keep it light and avoid stouts, IPA'S, or anything too hoppy or intense.
Buttermilk- is best. In a pinch, you can substitute regular milk, or make an easy buttermilk substitute by mixing 1 cup regular milk to 1 tablespoon white vinegar/lemon juice (stir, and let sit 5 minutes).
Prepare the draining rack
First things first, prepare the draining tray as shown below. It's very important that you use a rack of some sort to elevate the fried onion rings. DO NOT lay them directly paper towels, which would steam them and make them soggy. I talk a lot about this in my General Tso's Chicken recipe, because it's common for people to struggle to keep their fried foods crispy.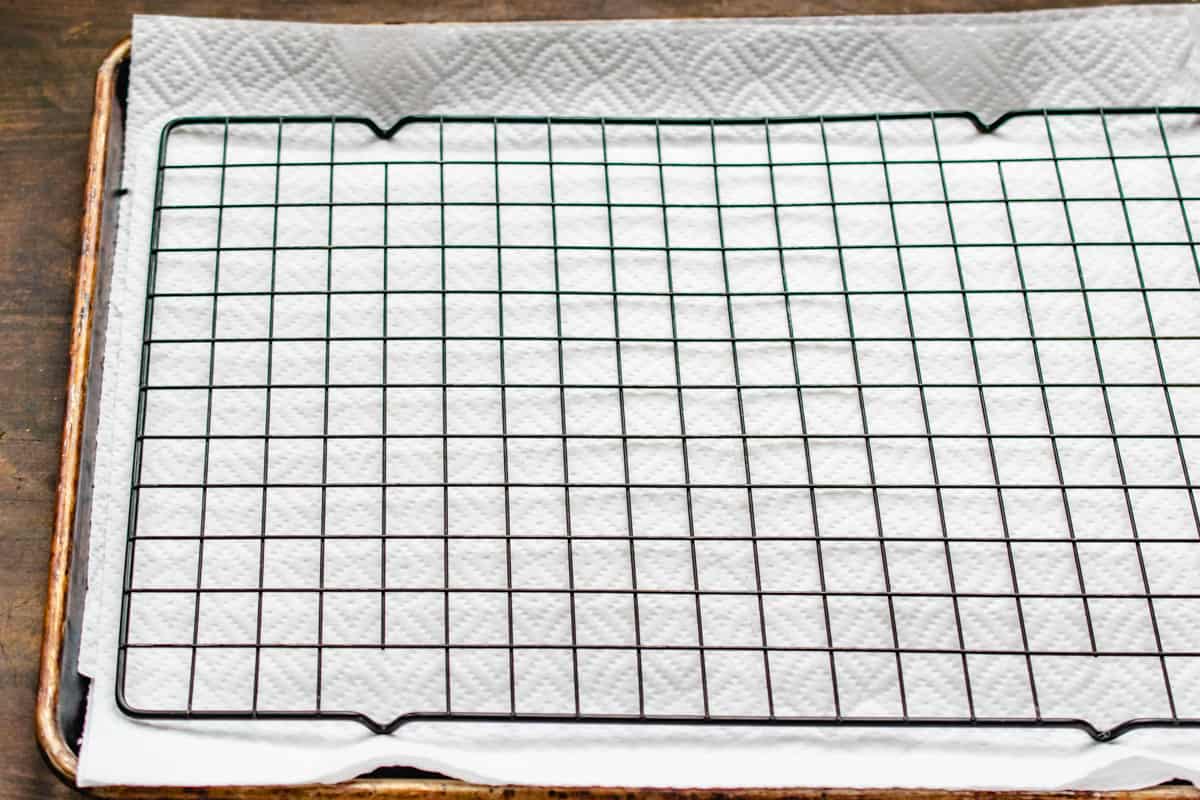 Prepare the onions
Cut the ends off of and peel the outer layer of each onion. Cut thin slices in the onions, about¼ inch thick. Break them up with your fingers by popping the rings out and separating them. You can choose to keep the centers, or save them for something else (Personally, I love those little coin shaped ones!)
Pat the onion slices dry with paper towels.
Half of the cornstarch in this recipe is actually for dusting the onions with because it helps to get the batter to stick. In a bowl or wide plate, sprinkle the cornstarch over the onions and toss with your hands to coat them.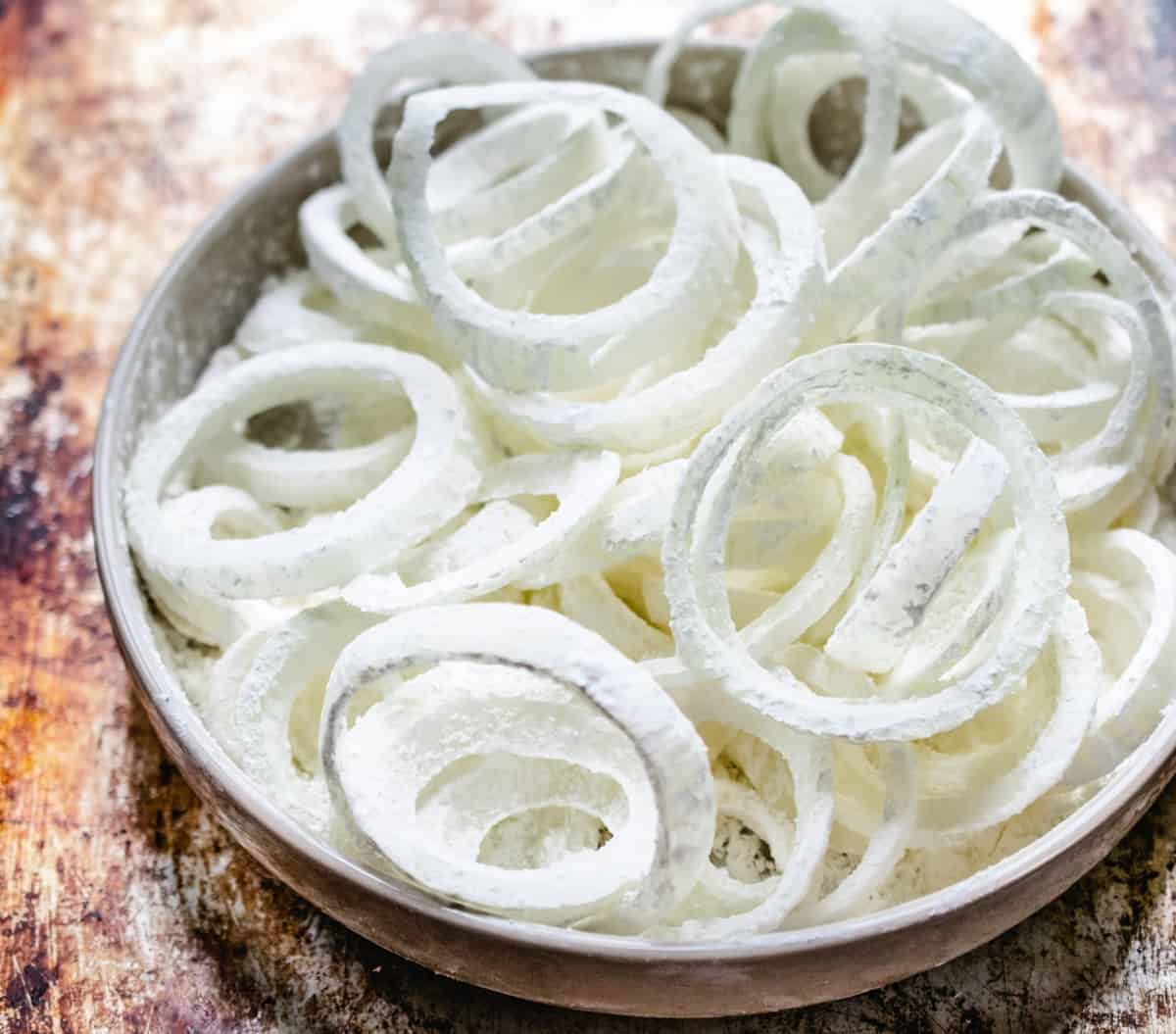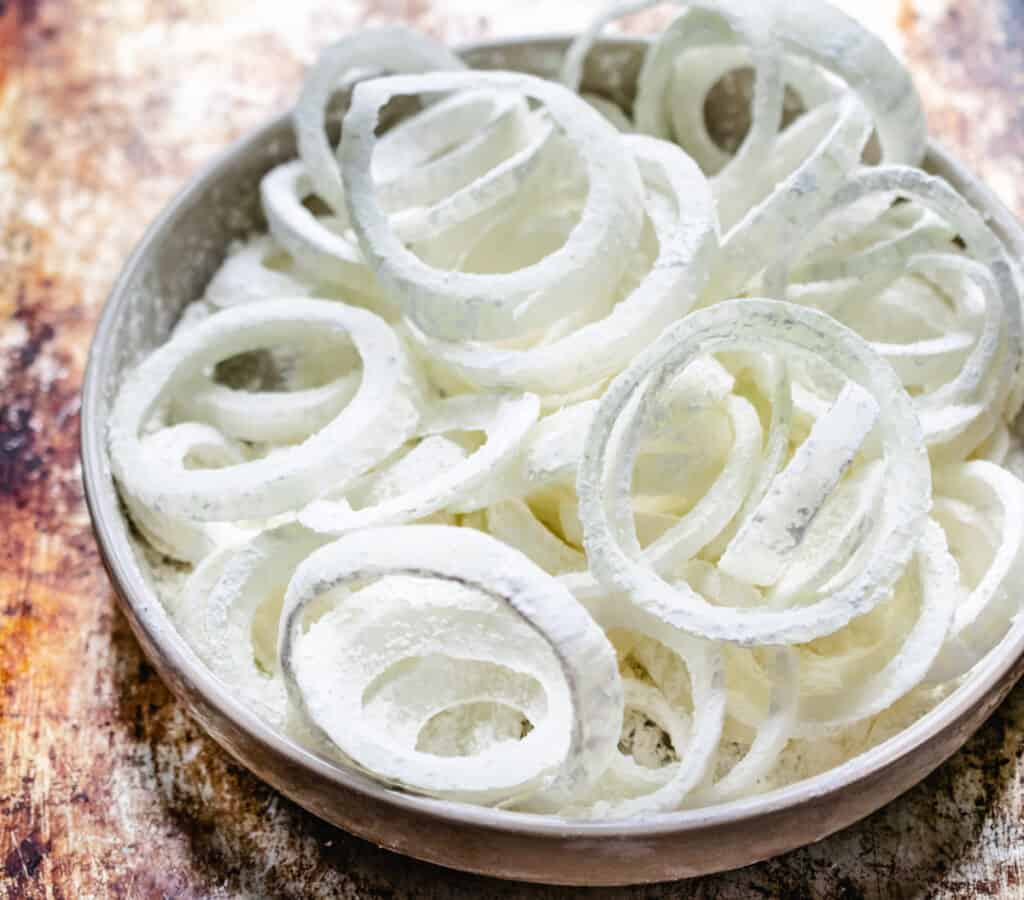 Heat the oil
Pour the oil in a deep pan, like a stock pot roughly 2-3 inches deep. Don't use a pan that is shallow.
Heat the oil to 350 degrees Fahrenheit. If it's possible, use a digital thermometer to be precise. If you can't, start at the medium heat setting or barely above medium (usually medium high is too hot, but it varies).
The oil should sizzle when you drop a piece of flour or onion in it, but it should not be smoking. Keep a close eye on it, and if it begins to give off smoke, turn it down immediately.
Prepare the batter
The onions should be sliced at this point, and tossed in the corn starch. While the oil is coming to temperature, mix up the batter.
Mix the dry ingredients first (below, left)- the rice flour, cornstarch, and seasonings until evenly blended. Then add the buttermilk, egg and club soda or beer, and whisk until combined (below, right).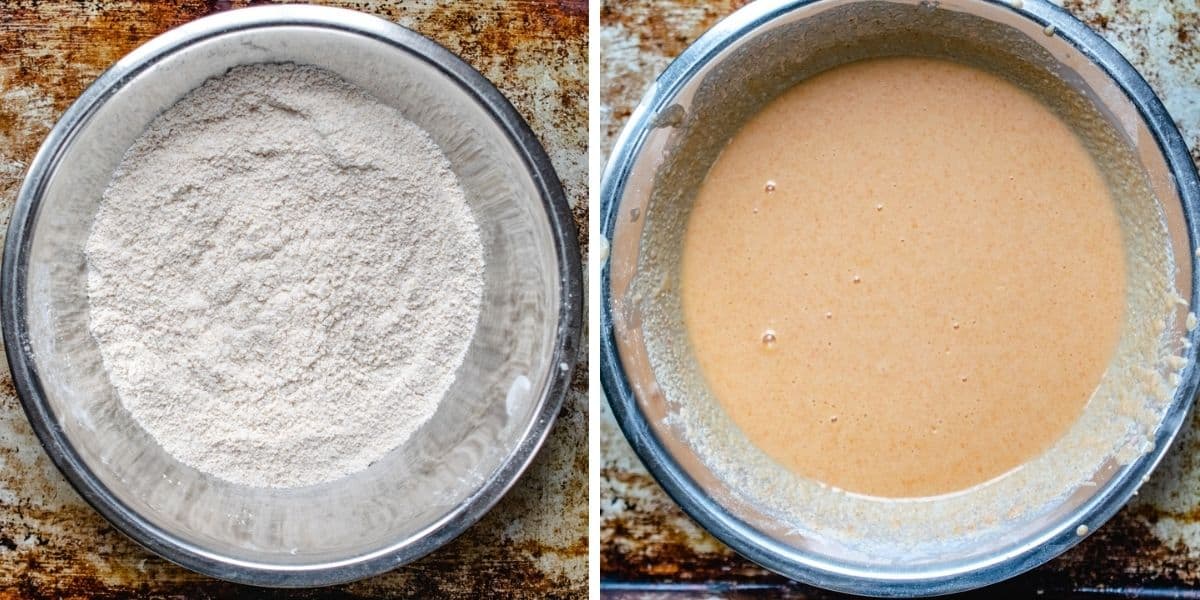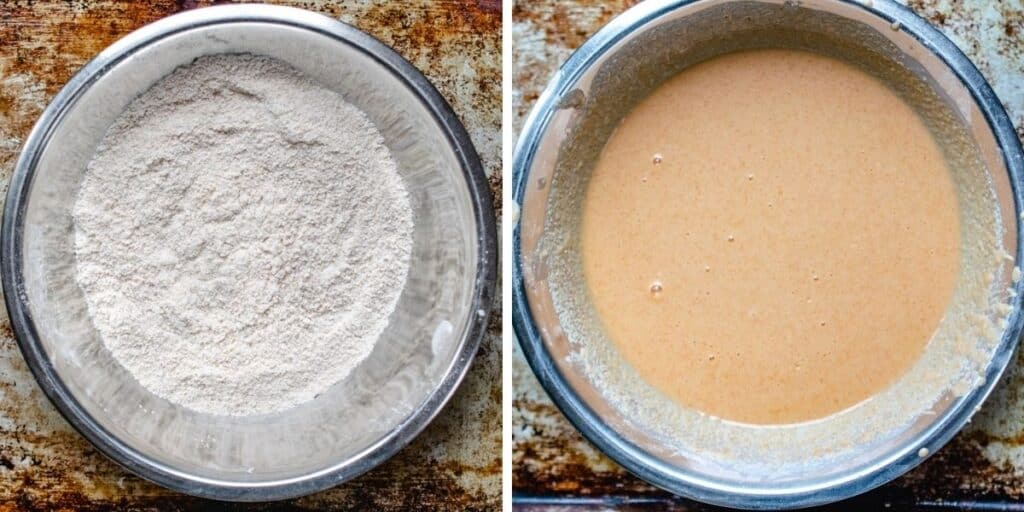 Fry in batches
Test the oil to double check that it sizzled when you drop in a bit of flour or a piece of onion; if you are using a thermometer this should be 350 degrees Fahrenheit.
In batches of about 7-9 onion rings, dip in the batter and shake of excess. Carefully place the battered rings in the hot oil, allowing them space to not touch.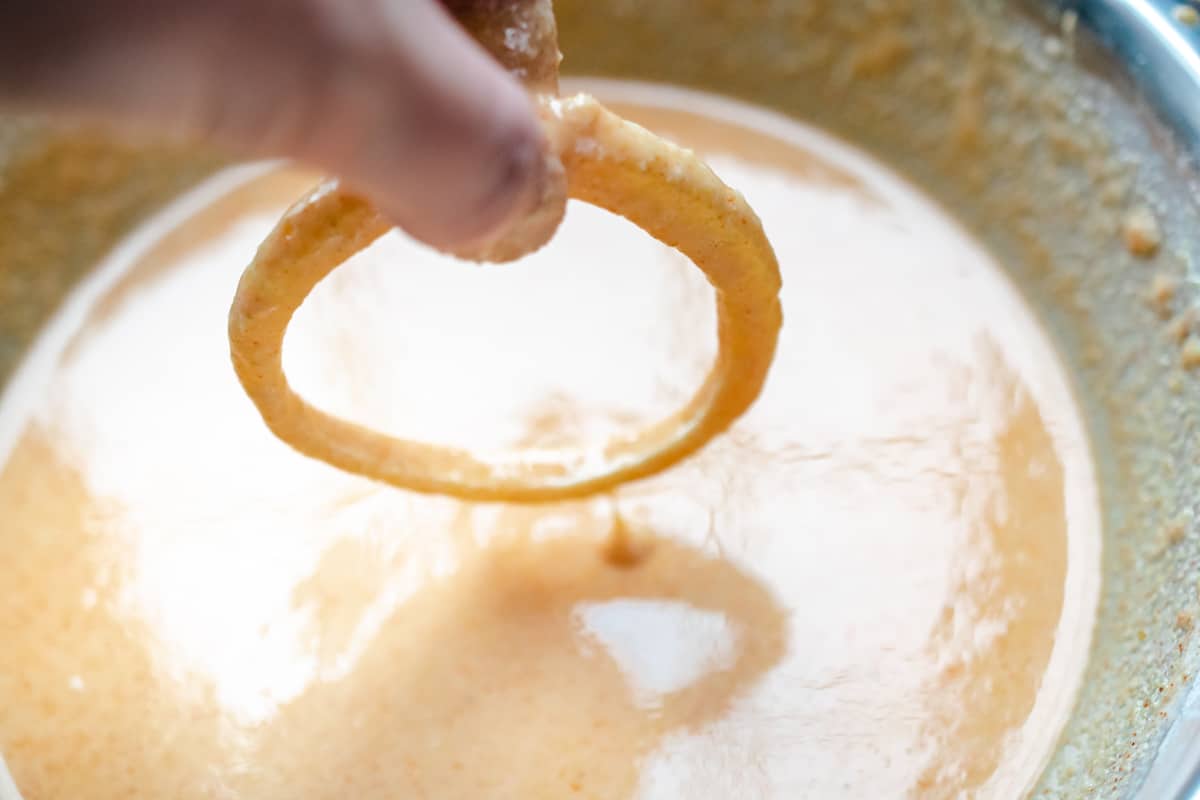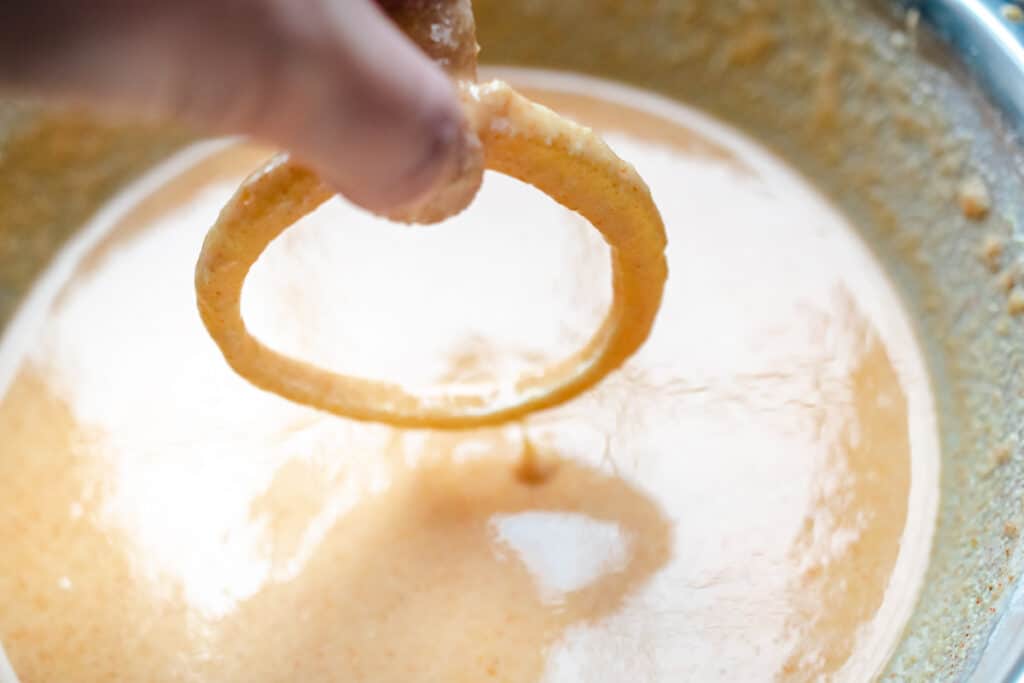 They will initially sink to the bottom of the pot, and "pop up" then become golden quickly after. Use a slotted spoon or skimmer to remove them from the hot oil, (close to the order in which they were dropped) and immediately transfer them to the prepared draining rack.
Repeat until all the onion rings are finished.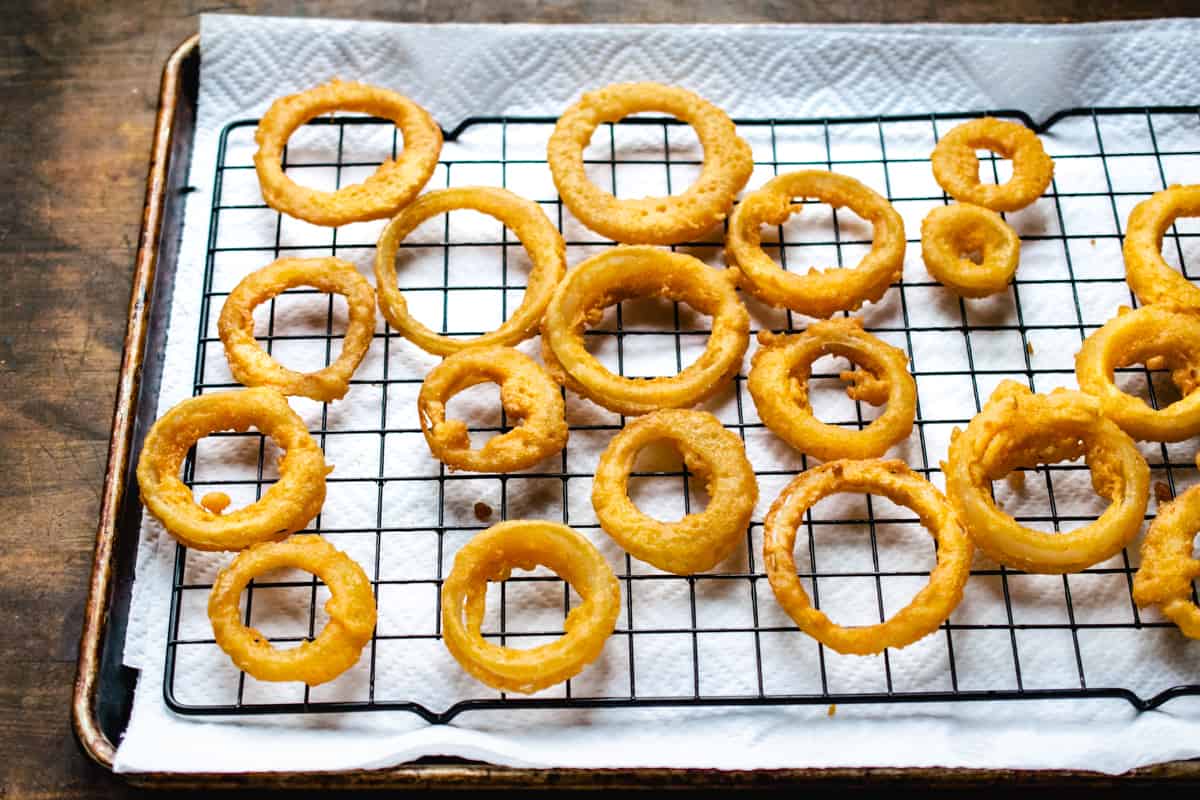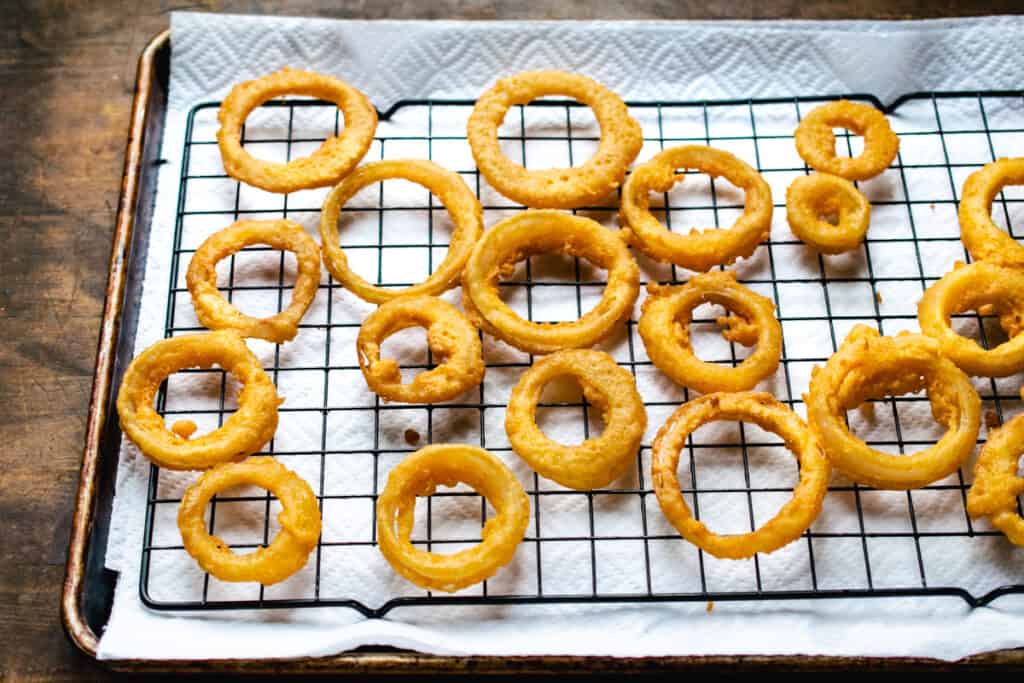 FAQ's
What is the best type of onion for onion rings?
Walla Walla Sweet Onions are the absolute best onion to use when making onion rings; however Vidalia or Mayan Sweet onions are the next best option.
Should you soak onions before frying?
The only reason to soak onions is if the onion is not a sweet variety; white onions can be made more mild by soaking slices in ice water for 15 minutes prior to preparing the remainder of the recipe.
Why are my onion rings soggy?
1. Laying fried onion rings directly on paper towels without elevating them using a rack will immediately "steam" them and make them soggy.
2. Frying onion rings too close together, as well as draining them in piles rather than a single layer can make them soggy.
3. Not using at least a portion of rice flour can create a soggy onion ring.
Why does the batter fall of when frying?
Not properly or adequately dusting sliced rings with corn starch before battering can contribute to loss of batter during frying as the corn starch helps the batter to adhere to the onion itself.
How can I make my onion rings crispy again?
The only way to make onion rings crispy again is by giving them a 30-60 second burst in 350-375°F frying oil, or by heating them in an air fryer at 350°F for 5 minutes.
Recipe Tips and Tricks
If you don't have rice flour, you can make your own quickly with the rice you already have available using this recipe.
There are many gluten free beers should you choose to substitute for the club soda. Ginger ale is also gluten free.
If substituting gluten free beer or ginger ale, cut down the sugar in half.
Canola oil is the best oil for frying, but you can also use regular vegetable oil or peanut oil. Avoid olive oil completely for deep frying.
The sweeter the onion you can get your hands on for this recipe, the better!
Prepare the draining station, slice the onions and toss with corn starch, then heat the oil while you make the batter in that order.
Keep an eye on the oil that it does not get too hot- don't let it smoke.
You might also like...
If you tried this recipe, leave a rating using the stars in the recipe card!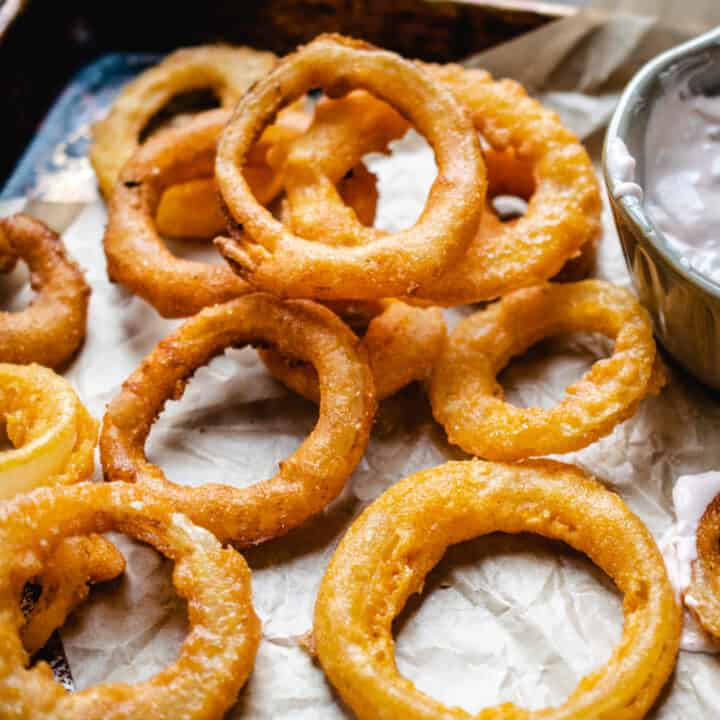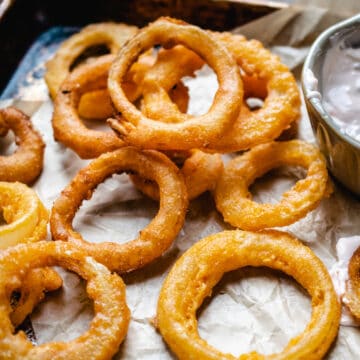 Gluten Free Onion Rings
The crispiest deep fried breaded onion rings are naturally gluten free and made with sweet onions.
Print
Pin
Rate
Ingredients
2-3

sweet onions like Walla Walla sweet, or Vidalia

sliced into ¼ inch thick rings

1 ½

cups

rice flour

½

cup

cornstarch

plus more for dusting the rings

¼

cup

cornmeal

2

tsp

sweet paprika

not smoked paprika

1

tsp

onion powder

1

tsp

garlic powder

pinch

cayenne pepper

optional

1 ¾

tsp

salt

1

tsp

sugar

less if using beer or ginger ale

½

cup

buttermilk

1

large

egg

¾

cup

club soda, ginger ale or gluten free beer

canola or vegetable oil

for frying
Instructions
Prepare draining station by lining a baking sheet with several paper towels and top with a wire cooling rack.

Cut onions into rings and dust with cornstarch.

Heat frying oil to 350 degrees

Mix rice flour (1 ½ cups), cornstarch (½ cup), cornmeal (¼ cup), paprika (2 tsp), onion and garlic powders (1 tsp each), salt (1 ¾ tsp), cayenne pepper (pinch, optional), sugar (1 tsp) until well blended.

Whisk in buttermilk (½ cup), egg, and club soda (¾ cup) until batter is combined.

Dip rings, a few at a time into batter, making sure they're entirely coated, and shaking off excess.

Carefully place rings in hot oil, and fry in batches of 7-8 rings for 1-2 minutes until they are golden brown. Allow room in between frying rings.

Use a slotted spoon or spider skimmer to remove rings from oil and transfer to the wire rack draining station. Don't over crowd the rings.
Notes
Do not lie fried onion rings on paper towels to drain, instead drain them on an elevated wire rack over paper towels so that the rings don't come into contact with the paper towels.
Fry in batches of 7-8 rings depending on size. 
Gluten free beers include many ales. 
If you choose to use a gluten free beer or ginger ale, cut the sugar into half (so, half a teaspoon). 
Reheat by re-frying in hot oil for 30-60 seconds or in the air fryer for 3-5 minutes. 
Nutrition
Serving:
1
serving
|
Calories:
342
kcal
|
Carbohydrates:
58
g
|
Protein:
6
g
|
Fat:
10
g
|
Saturated Fat:
1
g
|
Cholesterol:
33
mg
|
Sodium:
728
mg
|
Potassium:
243
mg
|
Fiber:
3
g
|
Sugar:
7
g
|
Vitamin A:
406
IU
|
Vitamin C:
5
mg
|
Calcium:
54
mg
|
Iron:
1
mg