Learn how to make your own butter in under 5 minutes, using just 2 simple ingredients.
Ingredients needed:
All you need to make the best butter ever is heavy whipping cream and a pinch of salt.
The salt is optional. Some people like to bake with unsalted butter.
Personally, I always use salted butter, even when a recipe calls for unsalted. I just think it tastes better.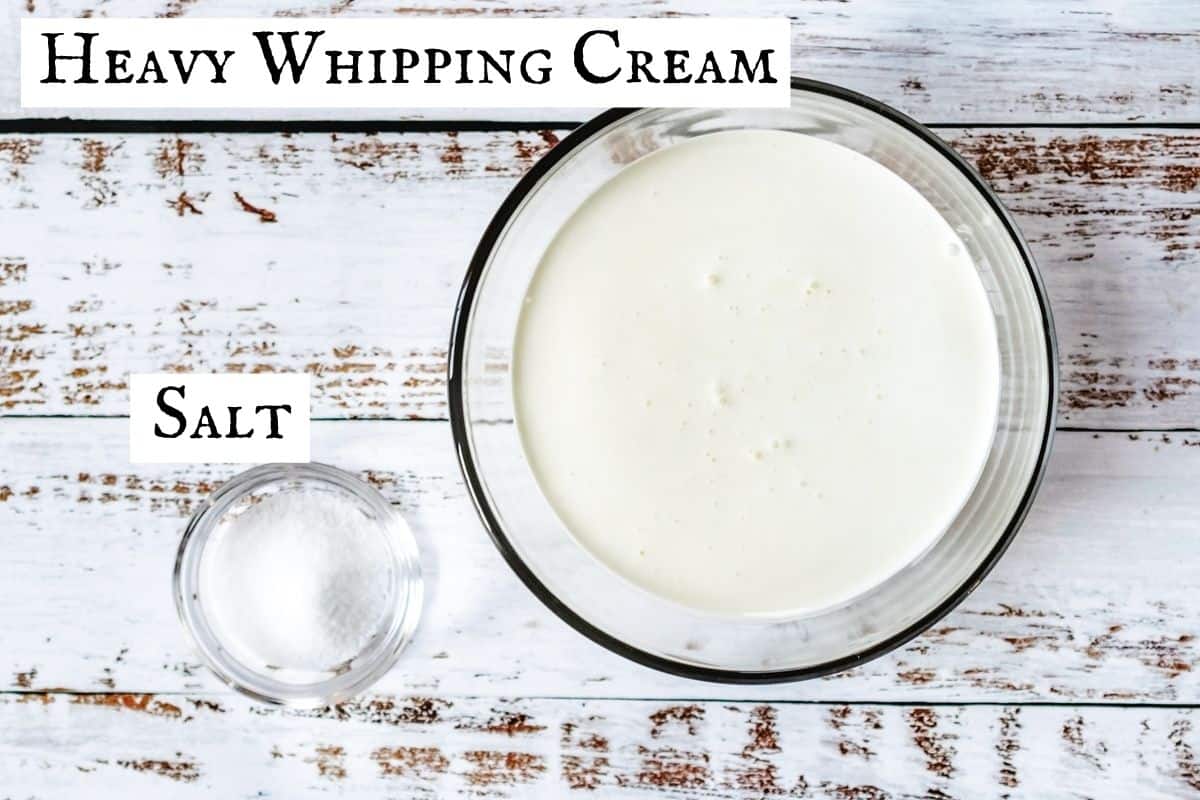 Tools needed:
You'll also need something to beat the cream with. This can be done with numerous different items:
Electric beaters and a bowl
Stand mixer with the whipping attachment
Food processor with chopping blade
Any standard blender
Hand held whisk, bowl and a lot of elbow grease
Even a large mason jar and a lid (to shake the heck out of it)
In addition, you'll need something to drain the liquid away from the solid. There are several options to choose from, not limited to:
Cheesecloth
Thin muslin cloth (like a burp rag)
Panty hose (new, clean)
Coffee filter
Fine mesh strainer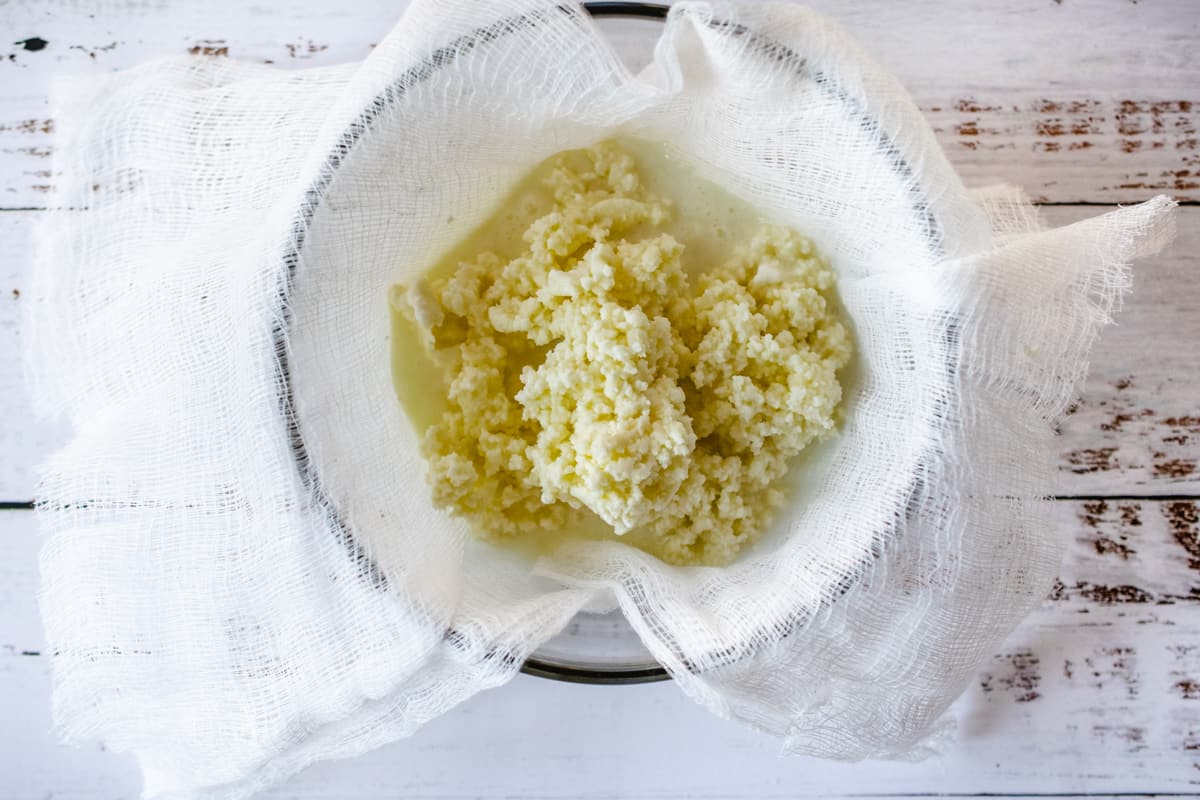 As you can see, there are many different ways to do this, so look around your house if nothing jumps out at you.
If all else fails and you truly cannot find an item to drain the liquid from the butter then you can rinse it away with ice cold water after squeezing the solids together.
Let's get started:
Pour the heavy cream and salt (if using salt) into the mixer of choice. I like to use my stand mixer with whipping attachment.
Turn to medium high speed.
The cream will go through 3 obvious phases:
First, it will mix and start to look frothy.
Then, it will become a whipped cream.
Finally, it will begin to separate into solid butter and a whitish liquid.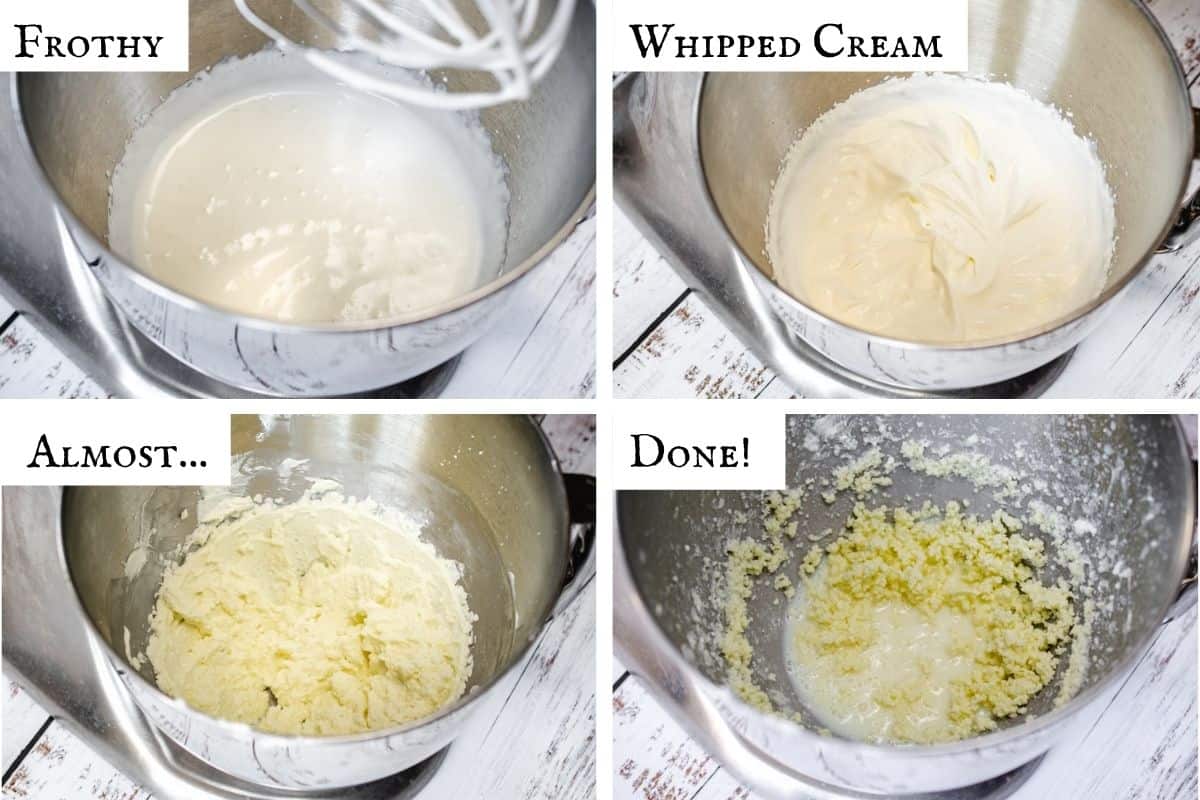 The liquid is actually buttermilk! You should save it and use it for baking, or next time a recipe calls for buttermilk.
Once the butter solids have separated from the liquid buttermilk (it may look like hard cottage cheese curds in milk), it's time to drain that liquid away.
Do this by squeezing the butter pieces together, and allowing the buttermilk to drain into a bowl.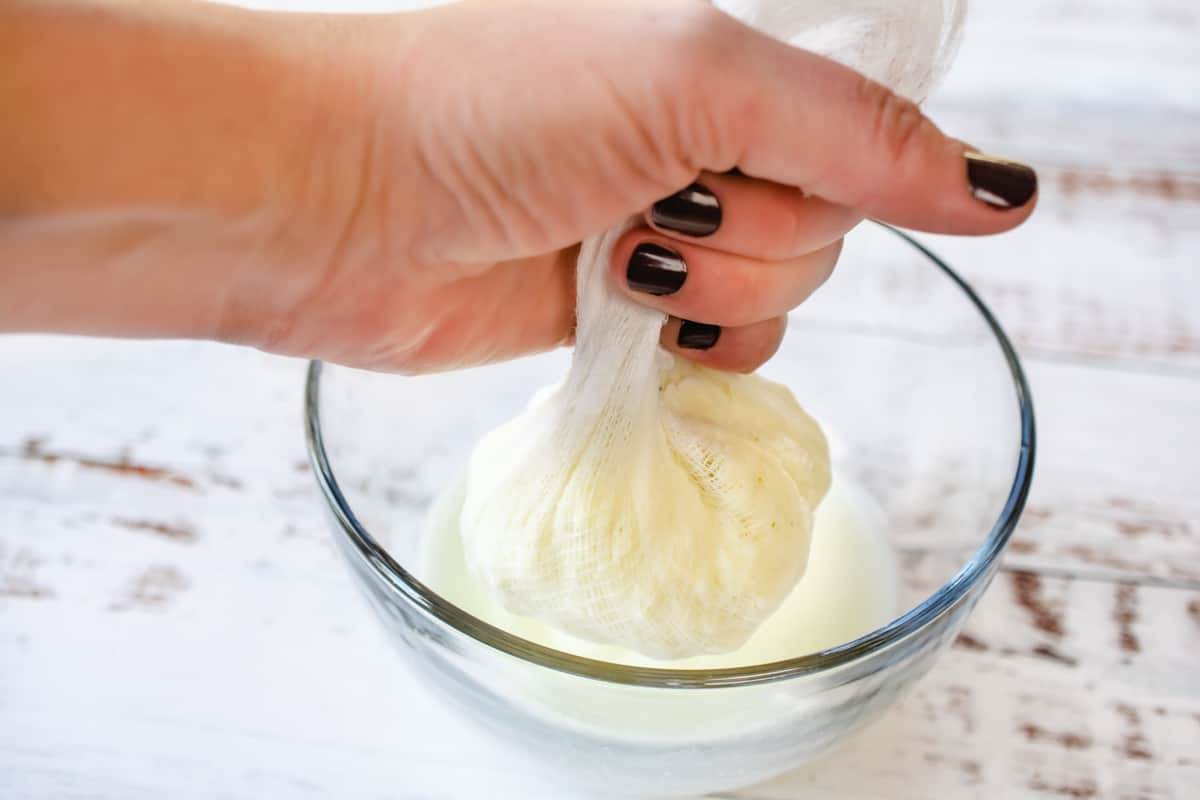 Ways to use homemade butter that will also melt your heart: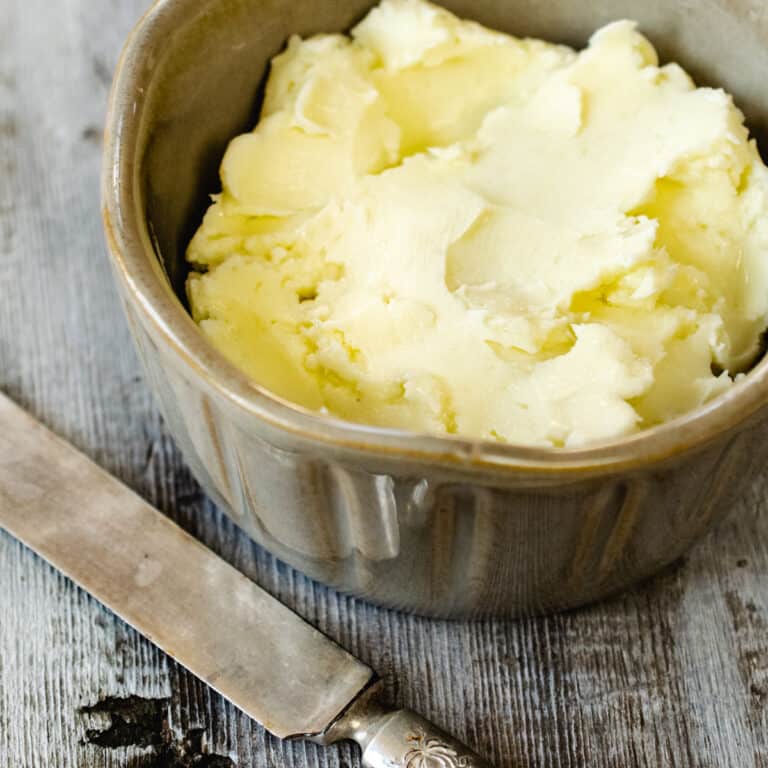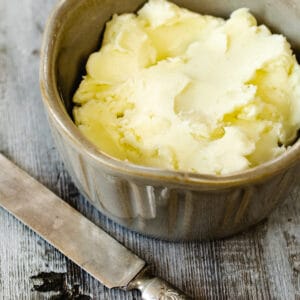 Homemade Butter
Creamy, delicious homemade butter recipe.
Print
Pin
Rate
Ingredients
1

cup

heavy whipping cream

½

tsp

salt
Instructions
Pour heavy whipping cream and salt into a mixer.

Blend on medium high to high speed until butter solids separate from liquid (buttermilk). It will go through a whipped cream looking phase first--keep going until the separation occurs.

Drain the solids away from the liquid using two layers of cheese cloth, a fine mesh strainer, or something similar.

Rinse the butter in cold water to remove excess buttermilk.

Store butter in the fridge for 3-4 weeks.
Notes
Use a high fat heavy cream for best results- at least 30%
Homemade butter does not store at room temperature as well as store bought butter; it can go rancid within days, so store it in the fridge for up to 4 weeks. 
Nutrition
Serving:
1
g
|
Calories:
41
kcal
|
Carbohydrates:
1
g
|
Protein:
1
g
|
Fat:
4
g
|
Saturated Fat:
3
g
|
Cholesterol:
16
mg
|
Sodium:
63
mg
|
Potassium:
9
mg
|
Sugar:
1
g
|
Vitamin A:
175
IU
|
Vitamin C:
1
mg
|
Calcium:
8
mg