Simple, easy instructions for how to dry cranberries in the oven or food dehydrator. Use dried cranberries in countless recipes, or enjoy plain as a snack.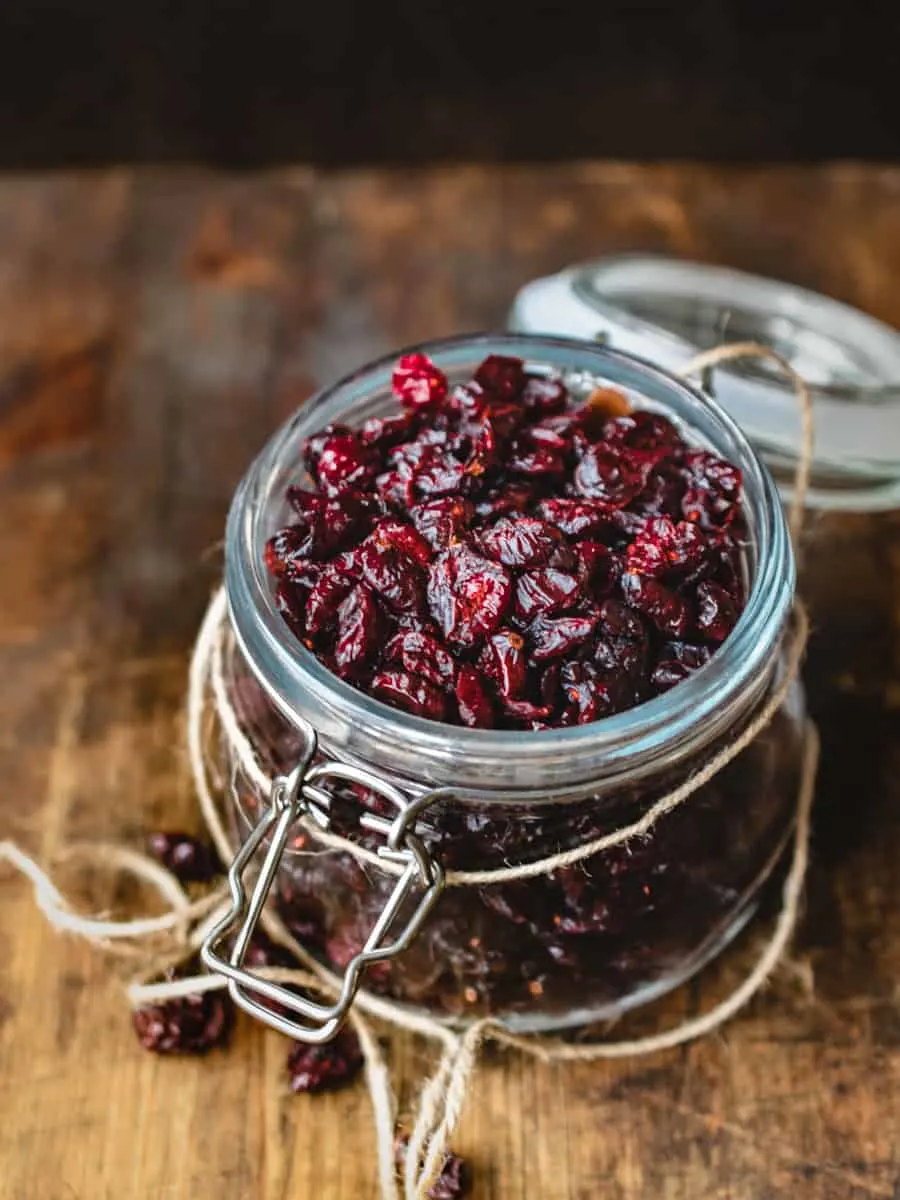 You can easily dry cranberries at home in your oven on a baking sheet at very low temperature, or by using a food dehydrator.
Once you know how to dry cranberries, you will find it is a great way to utilize leftover cranberries.
They will last up to one year in the pantry once dried properly.
Dehydrated, or dried cranberries make great snacks, or for use in salads, and usually have way less sugar than store bought packaged dried cranberries.
They are also a delicious substitution for raisins in muffins and bread recipes.
Dried Cranberry Ingredients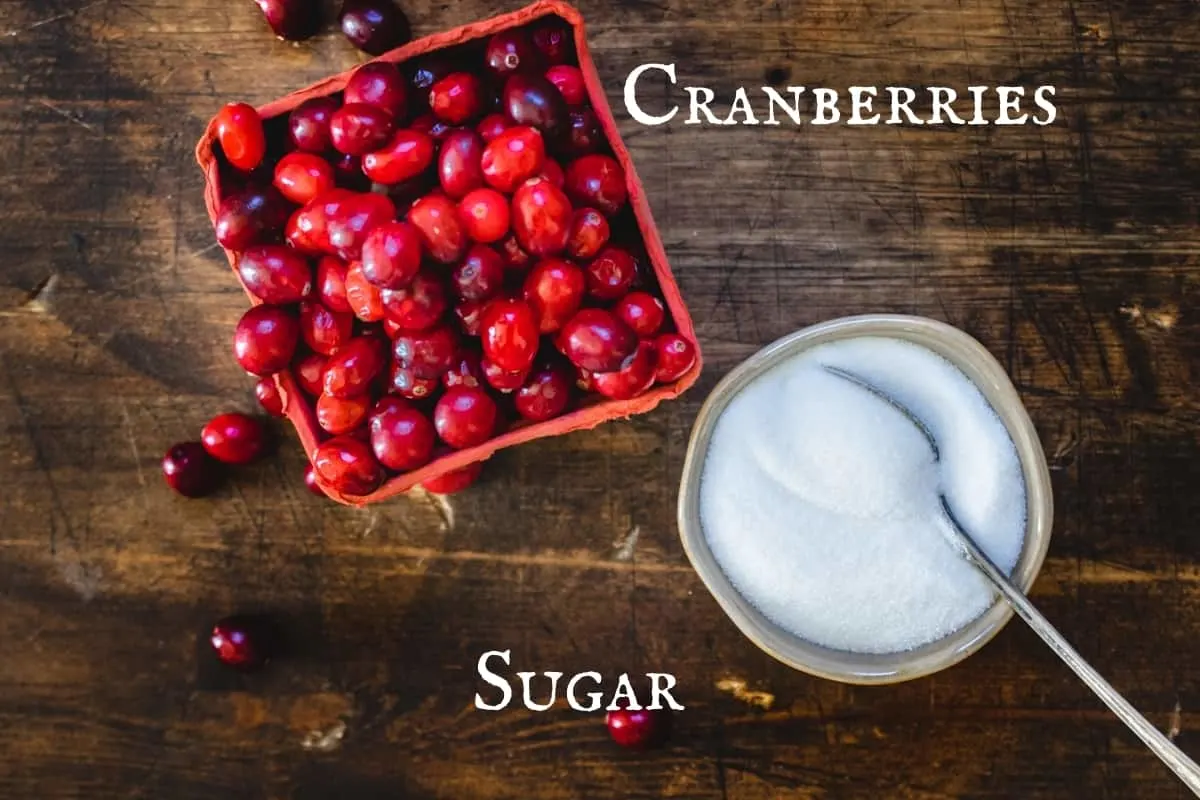 This standard store bought bag of cranberries which is typically one half pound.
The recipe can be increased to accommodate the amount of dried cranberries you need.
You can cut the sugar down for a less sweet dried cranberry, but keep in mind that these are already much less sweet than the store bought dried cranberries.
Whether you are using the oven method or food dehydrator, the recipe is the same.
You will need parchment paper or a non stick silicone mat because they get very stick before they're fully dried.
Instructions
Rinse the cranberries just to remove any unwanted debris.
Drain them in a colander and pat them dry, or allow them to air dry.
Place them in a heat safe bowl that can tolerate boiling water.
Meanwhile, heat up the sugar solution.
This doesn't only serve to sweeten the cranberries. It also is meant to split them open, which helps them to release more moisture as they dehydrate.
In a sauce pan, combine the sugar and water on medium high heat until it comes to a boil, stirring once or twice.
The sugar will dissolve and the liquid will turn crystal clear indicating it's ready.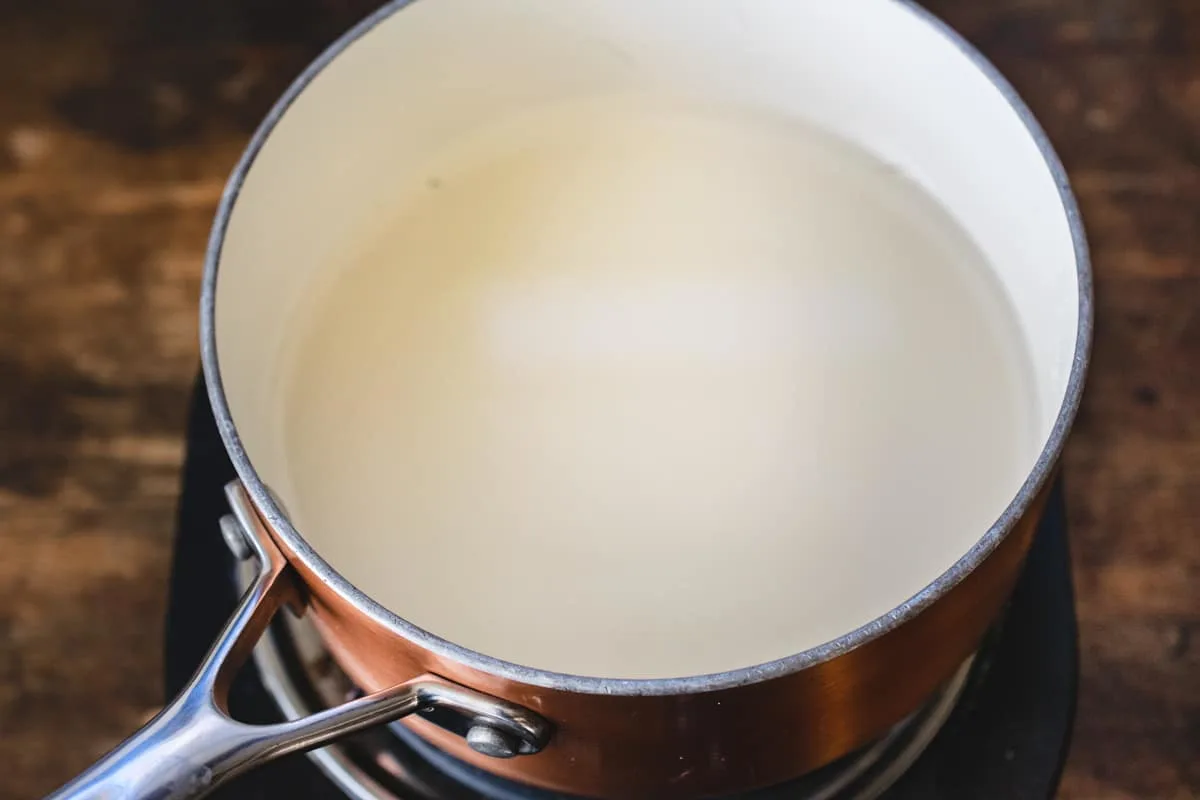 Pour the hot sugar water over the cranberries in a heat safe bowl. Give the cranberries a little stir to coat them with the sugar water.
Allow the cranberries to steep until the cranberries split open around one or all sides.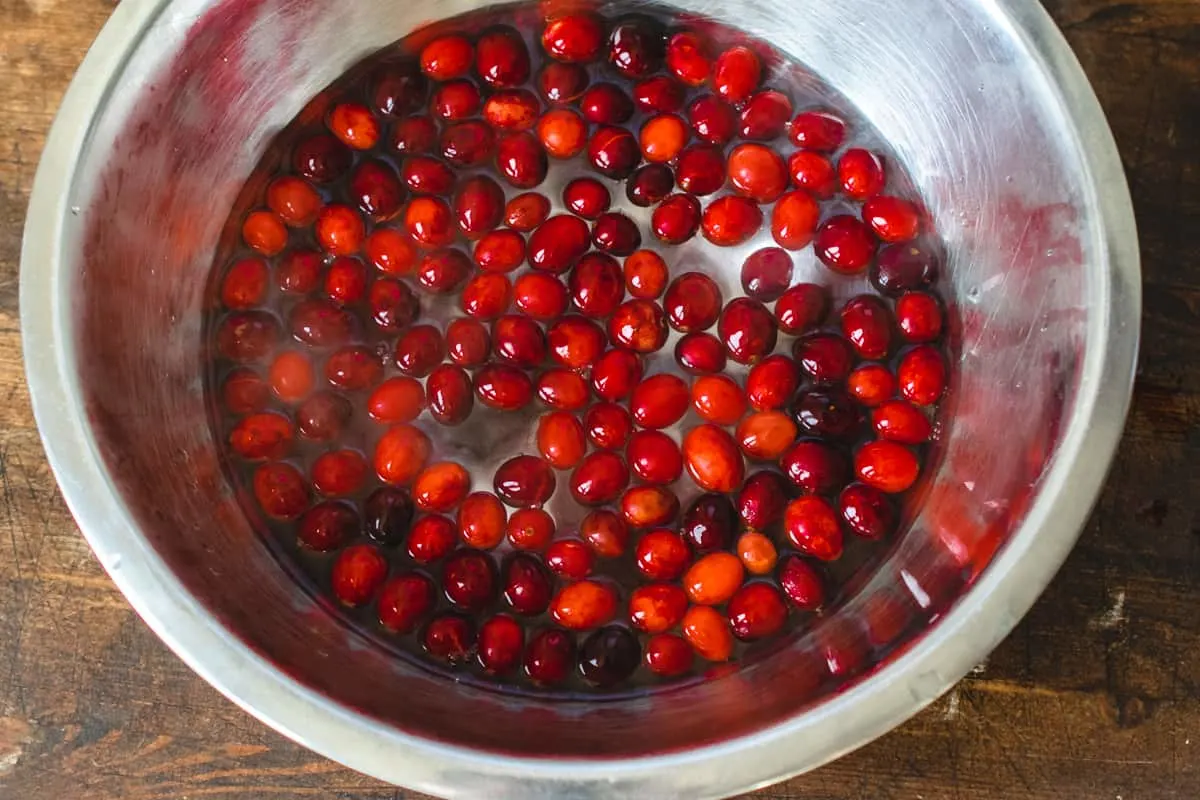 You may have to turn some of them over to see where they split.
If you notice any stubborn cranberries that haven't split, pierce them with a sharp knife.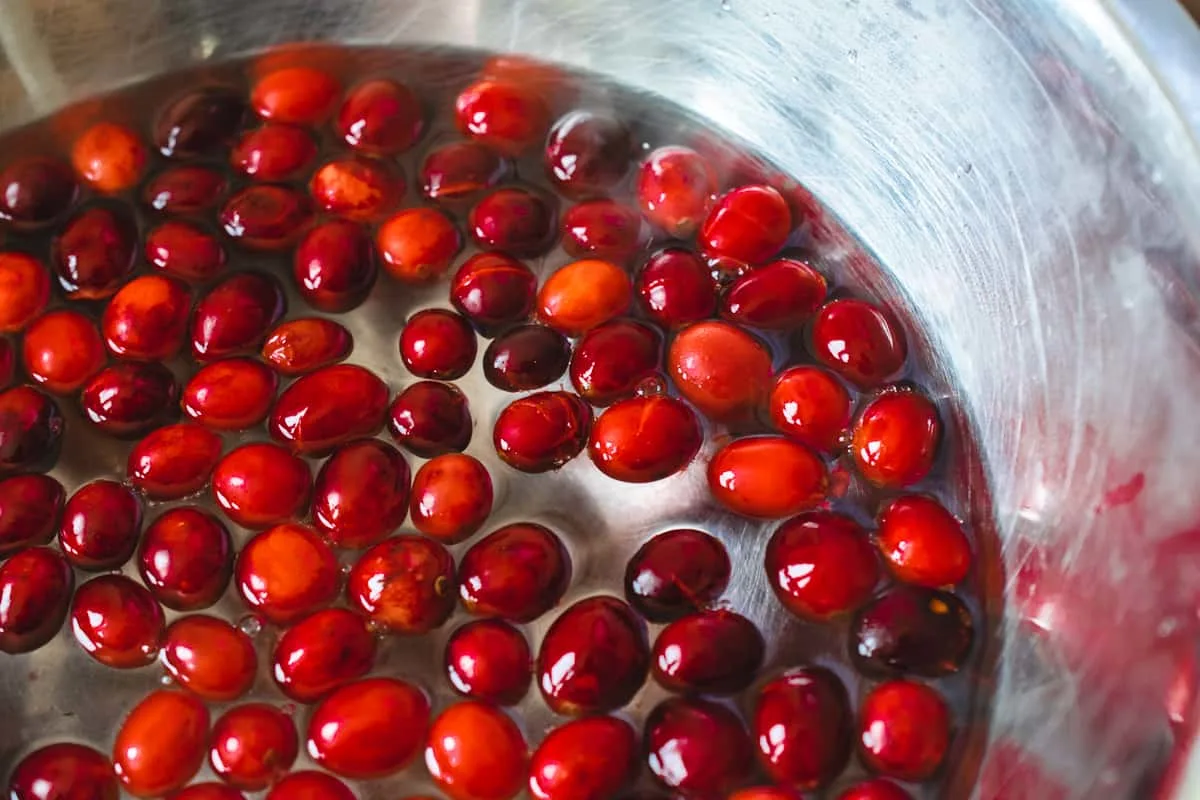 Once all of the cranberries are split, use a slotted spoon to fish them out of the sweetened water, or strain them in a colander again over the sink to allow the excess to drip off.
Transfer them to the food dehydrator or a baking sheet lined with parchment paper or silicone mat to prevent sticking.
Drying Cranberries In the oven
To dehydrate the cranberries in the oven, use a baking sheet, cooling rack and a nonstick layer like parchment paper or a silicon baking mat.
Prepare a baking sheet by fixing a cooling rack on top of it followed by a piece of parchment paper.
The cooling rack elevates the cranberries to help with air flow and circulation while they dry.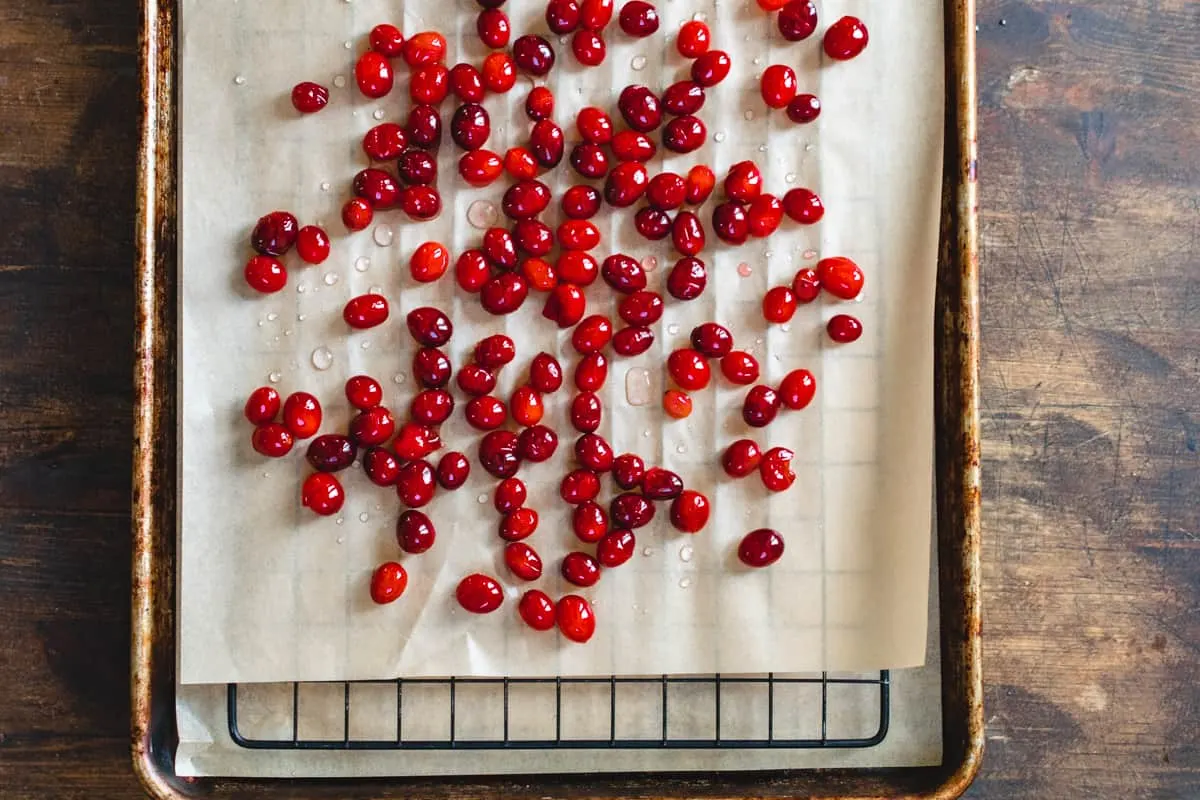 Place the baking sheet and cranberries in the oven and cook on the lowest setting.
Most ovens do not go below 170 degrees Fahrenheit, this is usually about what the "keep warm" setting is set to as well.
If your oven does not go as low as 130-145 degrees Fahrenheit, keep the oven door cracked the entire time.
Check cranberries every few hours until they are completely dehydrated and devoid of moisture.
Drying Cranberries In a food dehydrator
Scatter the sweetened, split cranberries on a nonstick layer in a food dehydrator.
Set the food dehydrator to 135 degrees Fahrenheit (57 degrees Celsius) and allow the cranberries to dehydrate until all moisture is removed.
How long will it take?
This process will take 8-12 hours, until the cranberries have shriveled up and feel leathery like other dried fruit.
Remove, and let cool. You can be sure they're done when they can be pulled or cut apart and there is no wetness whatsoever.
Make sure not to overcrowd the food dehydrator tray.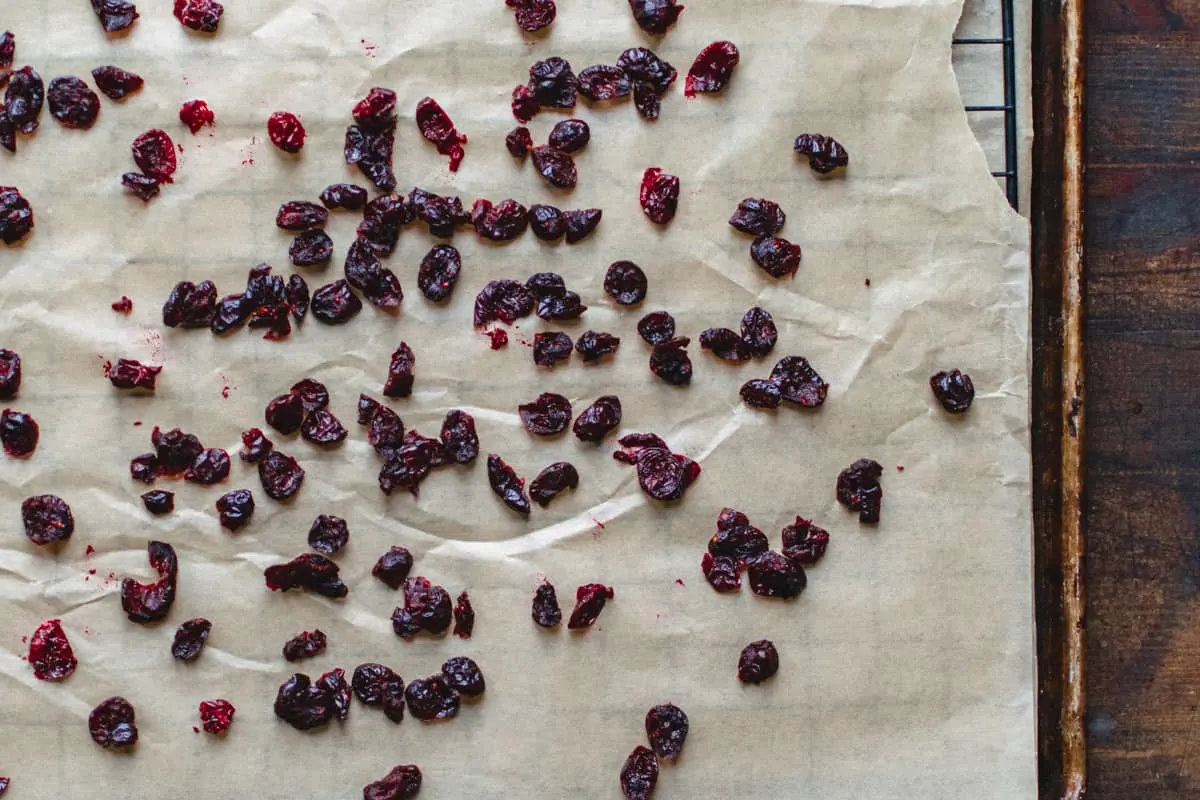 Storage
Once your cranberries are completely dried the best way to store your dehydrated cranberries is to transfer them to an airtight container. Make sure the container is dry and clean for optimal storage.
You can also store cranberries in zip-lock bags and vacuum seal them or store in a mason jar if desired for long-term storage in a dark place away from direct sunlight.
Cranberries will keep well stored at room temperature for several months to a year depending on your method of storing them.
Can you freeze homemade dried cranberries?
Yes, you can freeze homemade dried cranberries. Cranberries are a winter fruit, so they'll last well in the freezer.
To freeze your cranberries, make sure to store them in an airtight container or zip-lock bag.
Make sure to remove excess air when storing in a freezer safe bag. Dried cranberries can stay good in the freezer for up to 8 months.
Recipe Tips
Related recipes...
📖 Recipe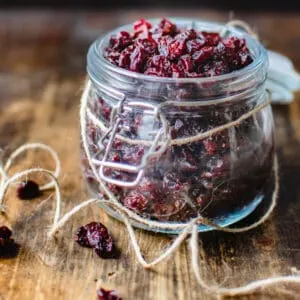 How to Dry Cranberries
How to make sweetened dried cranberries using fresh, whole cranberries.
Print
Pin
Rate
Equipment
Oven or Food Dehydrator

parchment paper

Sauce pan or microwave safe bowl
Ingredients
8

ounces

whole cranberries

1

cup

sugar

(note, you will be draining most of this off)

2

cups

water
Instructions
Combine the water and sugar in a sauce pan and heat on medium high heat until almost simmering, stirring occasionally.

Pour over rinsed, dry cranberries in a heat safe bowl, stir.

Allow cranberries to steep for 10-20 minutes until sides split. Pierce any unsplit cranberries with a sharp knife.

Drain, or remove steeped cranberries with a slotted spoon and arrange on prepared baking tray lined with parchment paper and cooling rack, or food dehydrator tray.

Dehydrate in oven or food dehydrator at 135 degrees for 8-10 hours, or lowest setting of oven with door cracked (if over 150 degrees).

Cranberries are done when no moisture remains when they are pulled apart.

Store covered in the pantry or fridge in a tightly sealed glass jar, shaking twice a day for one week to "condition" the cranberries. If condensation or moisture appears on the sides of the container, they aren't full dry and need to be dried further.

Store in pantry or fridge for up to 1 year.
Notes
Sugar amount can be adjusted up or down to taste.
If using the oven method, and the oven doesn't go below 150 degrees, crack the oven door.
Condition the cranberries when done, by storing in a tightly sealed jar, shaking twice a day for a week. If condensation or moisture appears on the sides of the container, they are not dry, and the must be removed and let to dehydrate for another hour or two until fully dehydrated.
Once dry, store in the pantry for up to one year, or the fridge for 18 months.
Nutrition
Serving:
1
g
|
Calories:
51
kcal
|
Carbohydrates:
12
g
|
Protein:
1
g
|
Fat:
1
g
|
Saturated Fat:
1
g
|
Sodium:
21
mg
|
Potassium:
46
mg
|
Fiber:
1
g
|
Sugar:
11
g
|
Vitamin A:
10
IU
|
Vitamin C:
1
mg
|
Calcium:
2
mg
|
Iron:
1
mg