Creamy, buttery red skin mashed potatoes is a delicious side dish that can be served with almost anything, plus there is no need to peel the potatoes, or use a mixer. Talk about the perfect, easy side dish!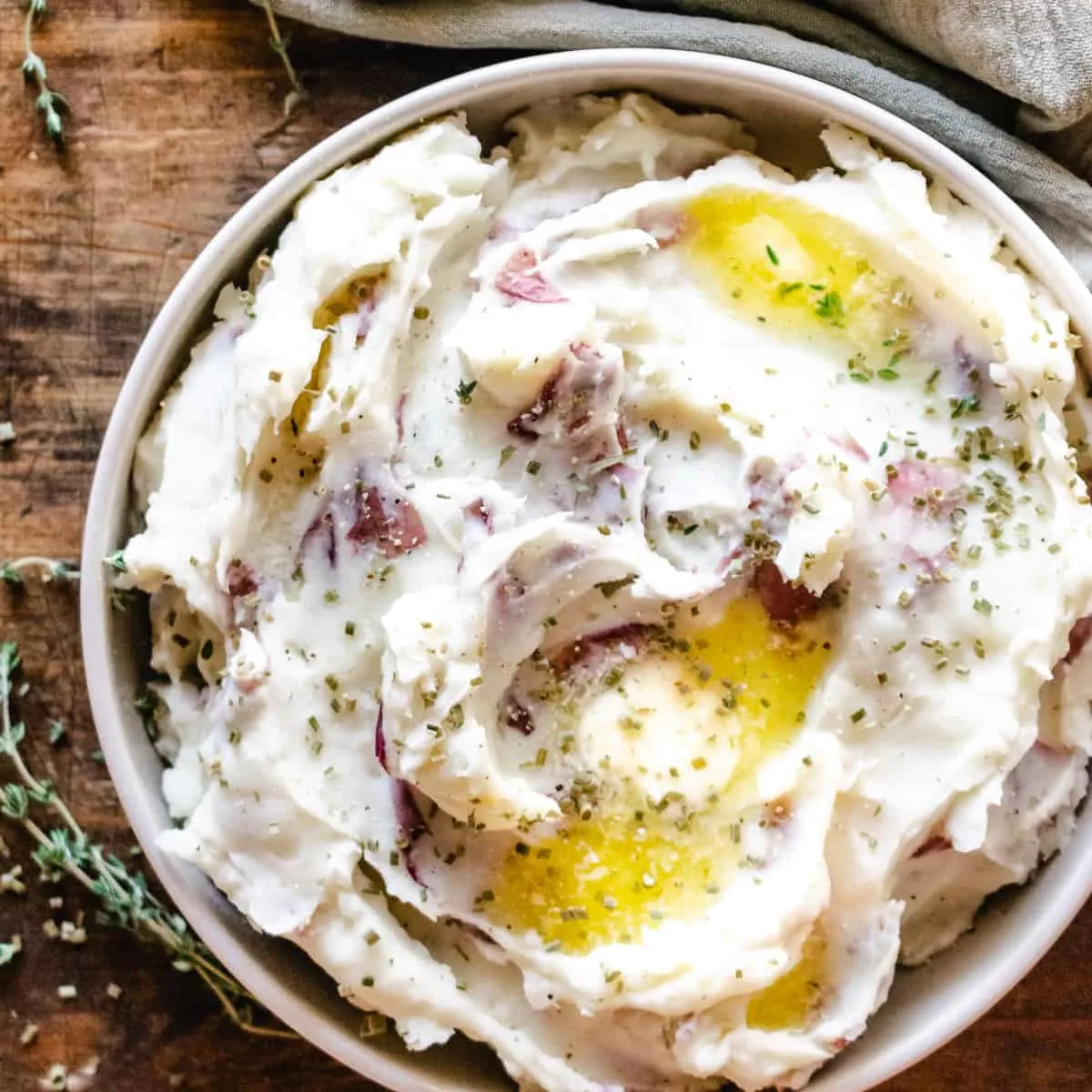 Why make these mashed potatoes
Mashed red potatoes are a wonderful side dish because they are buttery and have more texture than traditional whipped mashed potatoes.
Because the skins are left on, and a chunkier texture is desired, they can be easily mashed by hand with a whisk or potato masher.
This perfect side dish only requires 5 simple ingredients and is ready in under a half hour!
Ingredients
The only 5 ingredients you need to make this delicious side dish are red potatoes, butter, half and half (or cream or milk), and salt and pepper.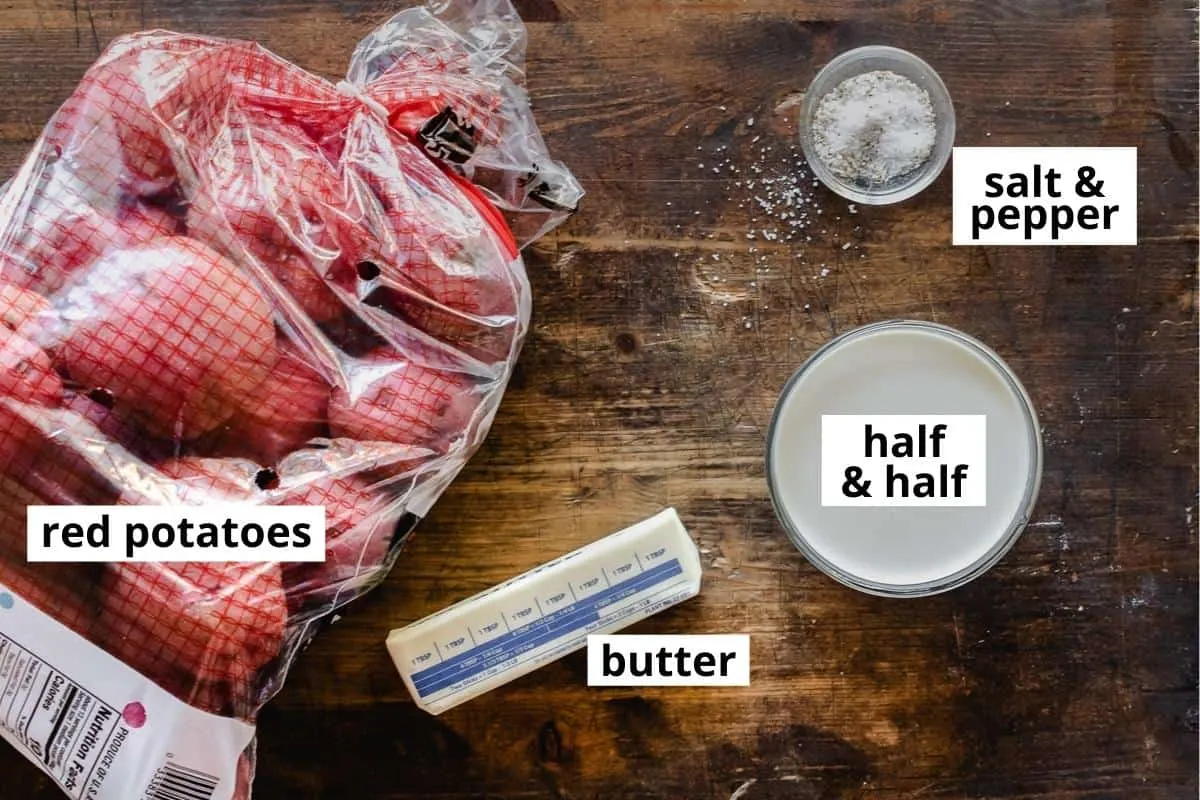 How to Make Red Skin Mashed Potatoes
Wash and scrub the red potatoes well to remove any dirt and debris. If necessary, remove any eyes from the red potatoes.
Fill a large stockpot with water, and bring a boil over high heat..
Give the scrubbed red potatoes a final rinse, and then cut them into quarters.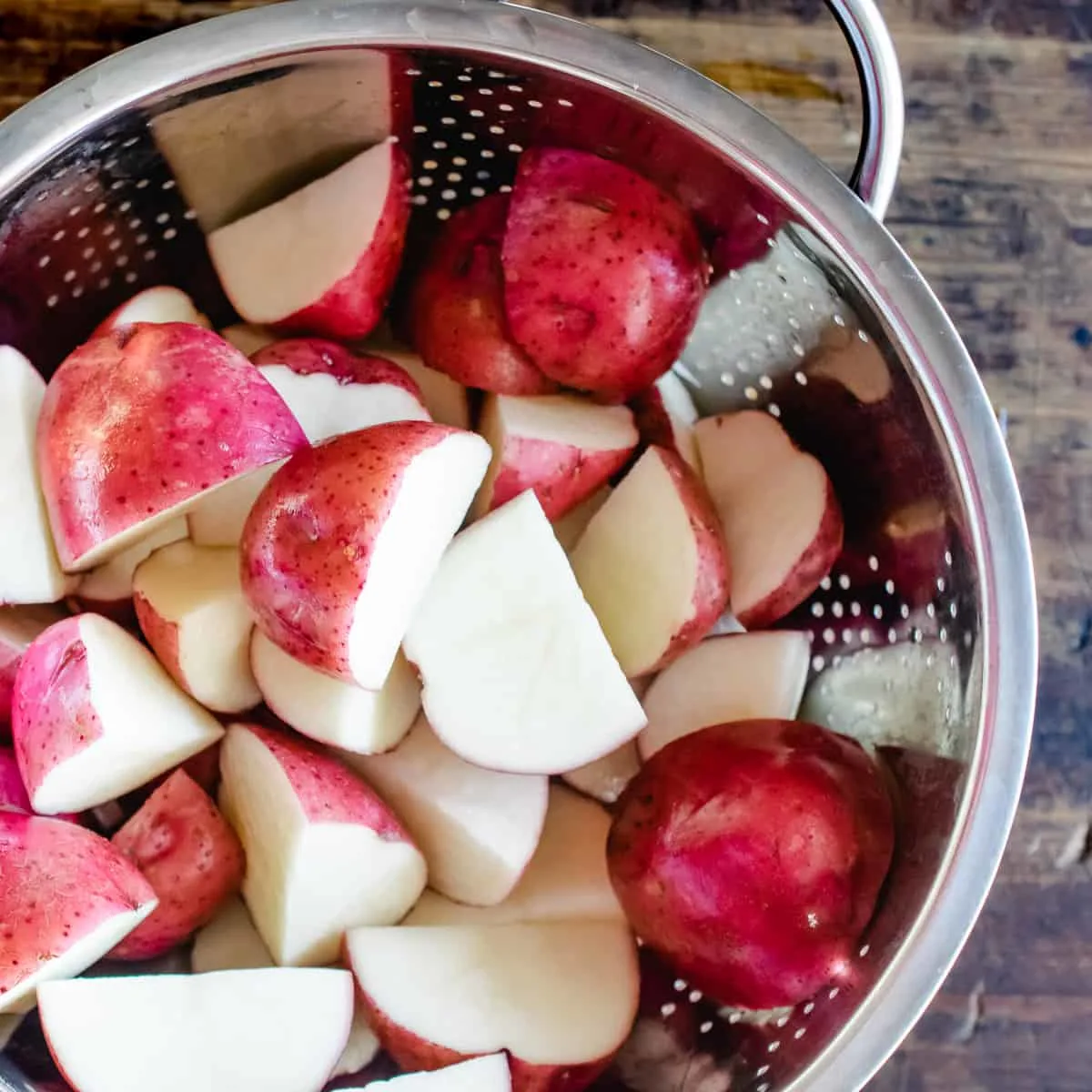 Add the quartered potatoes to the boiling water and cook until fork-tender, about 20-25 minutes.
Once fork tender, drain the potatoes and return to the pan.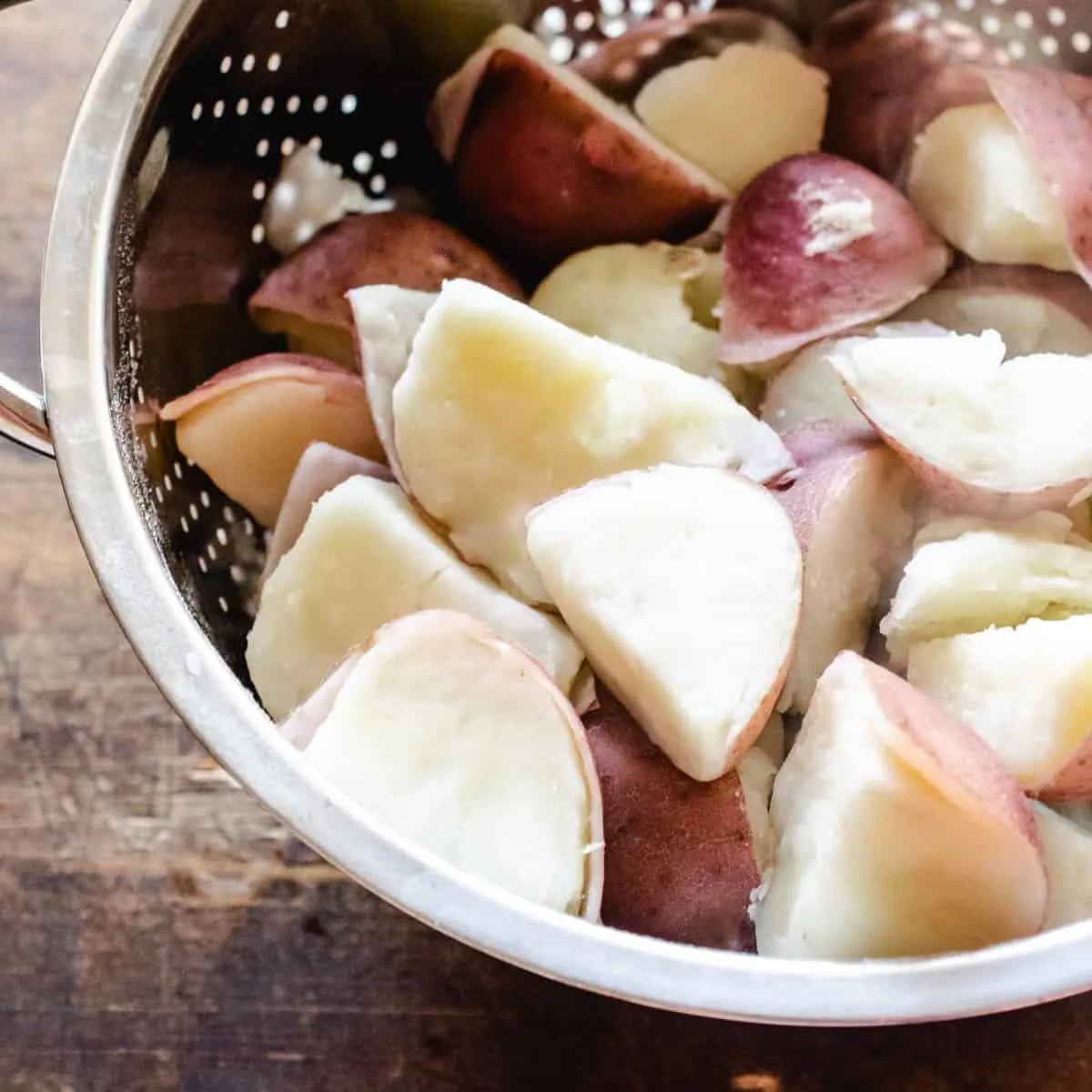 With the potatoes back in the pan, add the butter, half and half (or milk), and salt and black pepper.
Use a heavy-duty whisk or wooden spoon to mash the potatoes and stir them into a desired consistency.
Storage
Leftover mashed potatoes should be stored in an airtight container in the fridge and consumed within 2-3 days. To reheat, simply place them in a greased baking dish covered with foil, and heat in the oven at 350°F for 20 minutes.
If needed, add a splash of cream to give the potatoes more moisture before reheating.
You can reheat mashed potatoes in the microwave if needed, but it doesn't always reheat them evenly, so we like to use the oven when we can.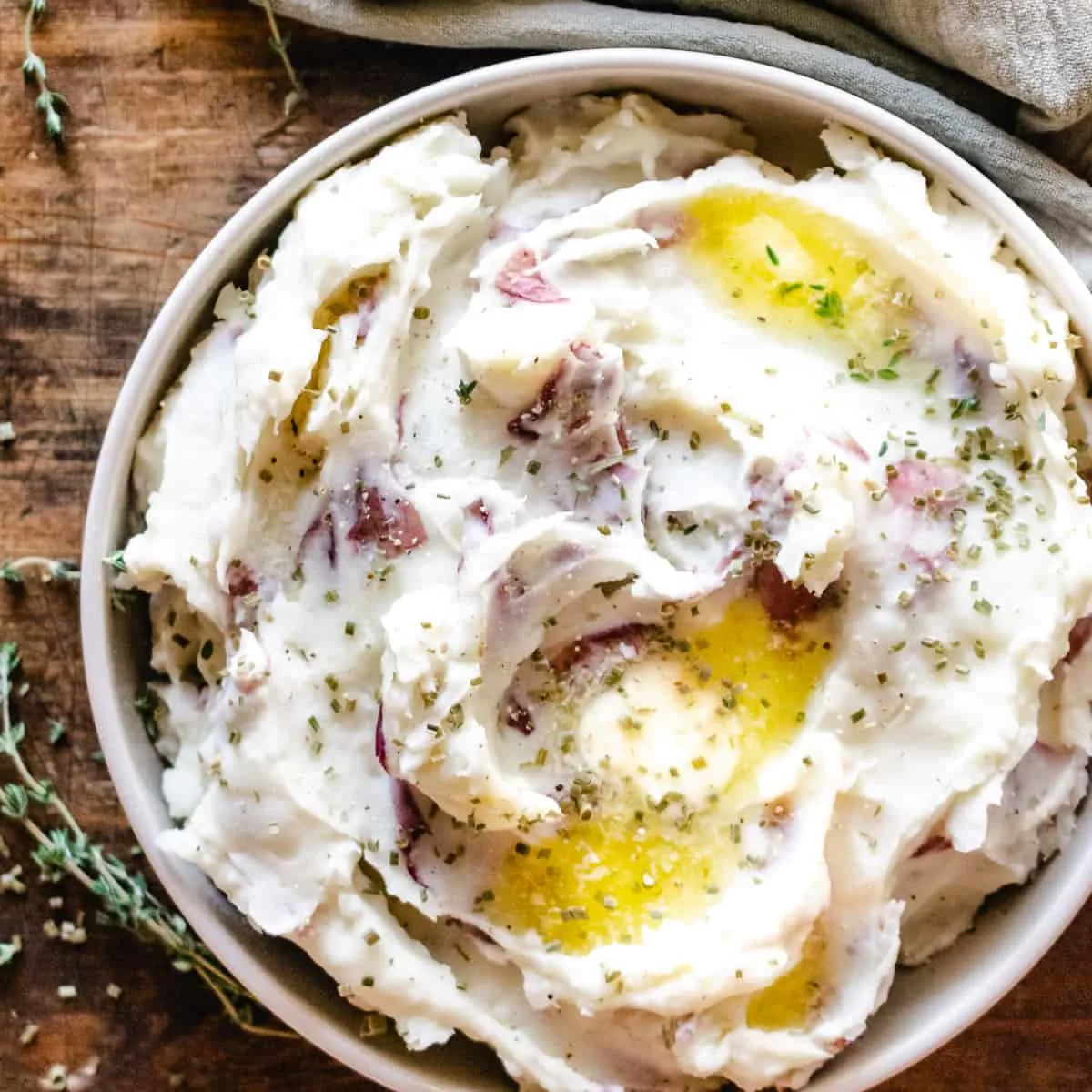 Are red skin mashed potatoes healthier than mashed potatoes made with white potatoes?
Red skin mashed potatoes are healthier than white mashed potatoes because they contain more vitamins and minerals. Red skin potatoes have a higher concentration of iron, magnesium, phosphorus, and zinc.
They also contain important antioxidants like carotenoids and flavonoids, which can help fight against cancer and inflammation.
Also, red skin mashed potatoes contain more dietary fiber, which can help regulate digestion and keep you full for longer.
Why are my mashed potatoes like glue?
Mashed potatoes can become glue-like if they're overworked or if they don't have enough moisture. When the potatoes are boiled, starch molecules in them break apart and absorb water, and the more you work them with a masher or a food processor, the more that starch absorbs into the potatoes.
This causes them to become gummy and glue-like. To avoid this when making mashed potatoes, stop mashing as soon as you feel it has achieved your desired texture, and be sure to add butter and cream to keep it moist.
If you need to thin them out a bit and don't want to add any more milk or cream, try adding a dash of chicken broth before serving on the dinner table.
Why do mashed potatoes get soupy?
Mashed potatoes can turn soupy if they are overworked, but typically this happens because there is too much liquid added to the potatoes when they are cooked.
If too much water, milk, or cream is added while mashing the potatoes, it can take away from their structure and cause them to get soupy.
To avoid this when making mashed potatoes, the easiest way to make sure you end up with perfect mashed potatoes is to use a small amount of liquid and don't work them too hard when mashing and add liquid slowly as needed.
Be careful if using an electric mixer as you can easily break down the texture too much when using a hand mixer versus when you just mash the potatoes and mix by hand.
I like to use a whisk or wooden spoon to mix so I know they'll have a great texture.
What kind of milk is best for mashed potatoes?
We like using half and half because it always gives us creamy mashed potatoes but we have also tried other types of milk with other mashed potatoe recipes and here is what we've found.
Whole milk is generally the best kind of milk to use when making traditional mashed potatoes, as it adds the most body and richness. Buttermilk or sour cream can also be added for additional flavor, while cream cheese or reduced-fat milk will make the mashed potatoes lighter and fluffier.
Using a combination of these ingredients helps to get the perfect texture for your mashed potatoes. Ultimately, you should use whatever kind of milk you prefer – just be sure to adjust other ingredients such as butter or cream accordingly.
What else can I add to my red mashed potatoes?
Garlic and herbs are great additions to red skin mashed potatoes for lots of flavor. Fresh garlic cloves and aromatic herbs like rosemary, thyme, oregano, or parsley can all be added to the potatoes before mashing.
If you like things spicy, add some diced jalapenos or a pinch of red pepper flakes. Other ideas include adding a bit of grated cheese for extra creaminess or roasted nuts for crunch. If you don't have fresh garlic, try some garlic powder or even add some onion powder.
Add some diced green onions as garnish. Whatever you choose to add to this mashed potato recipe, make sure not to overpower the flavor of the potatoes!
Can I use a different type of potato?
Sure! If you don't have red skinned potatoes, you can use any kind of potatoes with this simple recipe.
Yukon gold potatoes are some of the most popular potatoes for making mashed potatoes. They have a creamy texture and buttery flavor that pairs great with add-ins like garlic, herbs, and cheese.
Sweet potatoes are another option that can bring an interesting sweetness and color to your dish. Russet potatoes have a fluffy texture when mashed and can be enhanced with buttery flavors.
For a heartier mashed potato side dish, you can try using purple or fingerling potatoes. Whatever type of potato you choose to use for your mashed potatoes, make sure it is cooked through before mashing and enjoying with your weeknight dinners!
Can I make these red-skinned potatoes ahead of time?
Yes, and these mashed potatoes are the perfect make ahead side dish to take to a potluck or to make for the holidays.
If you make these potatoes ahead of time and want to keep them warm, you can easily do so.
Just transfer your freshly made creamy potatoes to a slow cooker and put the slow cooker on the warm setting.
If you are worried about your potatoes drying out while in the Crockpot, just add some extra butter on top and then be sure to give them a good stir before serving. You can serve right out of the slow cooker, no need for a serving bowl.
They're the best mashed potatoes for any holiday meal and have quickly become a family favorite recipe. Anytime I need a simple side dish I make sure I volunteer to bring this easy side dish recipe!
Related recipes...
📖 Recipe
Red Skin Mashed Potatoes
Quick, easy and rustic buttery red skin mashed potatoes made with just 5 ingredients.
Print
Pin
Rate
Ingredients
2 ½

pounds

red skin potatoes

4

tablespoon

salted butter

plus more for serving

½

cup

half and half

or milk

salt and pepper

to taste
Instructions
Bring a large stock pot of water to a rolling boil.

Thoroughly wash and scrub 2 ½ to 3 pounds of red skin potatoes. Remove any eyes, if necessary.

Cut the red skin potatoes into quarters.

Boil the quartered red skinned potatoes for 20-25 minutes until fork tender (you can stick a fork in them).

Drain the potatoes with a strainer, then return to pot.

Add the ½ stick of butter, ½ cup half and half (or milk) and salt and pepper to taste.

Use a wooden spoon or potato masher to smash the potatoes and stir them into a creamy, yet still textured consistency.

Serve with more butter, herbs, or however you like to serve mashed potatoes.
Notes
Recipe Notes
Don't over cook potatoes because they will get water logged, and result in gummy mashed potatoes.
Half and half can be substituted with whole or 2% milk.
You can use more butter, up to 1 stick if desired.
Adding a dollop of cream cheese or minced fresh herbs can make for a very delicious flavor punch.
Nutrition
Serving:
1
g
|
Calories:
169
kcal
|
Carbohydrates:
23
g
|
Protein:
3
g
|
Fat:
8
g
|
Saturated Fat:
5
g
|
Polyunsaturated Fat:
1
g
|
Monounsaturated Fat:
2
g
|
Trans Fat:
1
g
|
Cholesterol:
21
mg
|
Sodium:
82
mg
|
Potassium:
666
mg
|
Fiber:
2
g
|
Sugar:
2
g
|
Vitamin A:
238
IU
|
Vitamin C:
12
mg
|
Calcium:
32
mg
|
Iron:
1
mg