This chicken orzo recipe is the perfect blend of flavors, all combined into one delicious dish! Made with yellow tomatoes, garlic, chicken stock, cream, and a generous helping of cooked chicken breast, it's an easy-to-make meal that is sure to please. Serve this comforting dish alongside a crisp green salad for a complete dinner that the whole family will enjoy.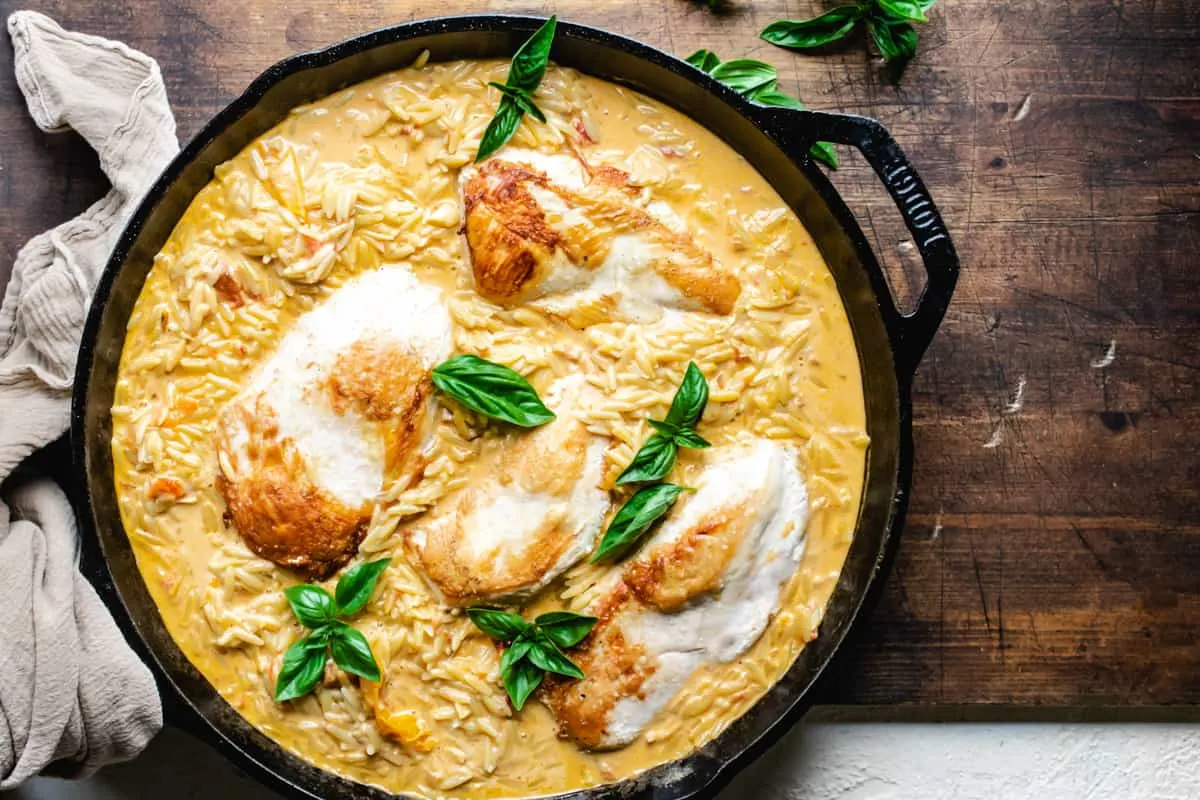 This meal is so simple and easy, you can make it all year long, not just when tomatoes are in season.
I often freeze my extra tomatoes from the garden and make this dish whenever we need a quick meal.
Why Make This Chicken Dish
Nothing is better than a one pot meal, making clean up a true breeze
The entire dish can be made in about 45 minutes and is a complete meal.
It's a meal the whole family will enjoy- no complaining
It's easy to add more vegetables than just tomatoes
This is one of those chicken dinners that is great to enjoy any time of year
​What is orzo pasta?
Orzo is a type of pasta that looks like large grains of rice. It's often used in Italian dishes, and its mild flavor makes it a great addition to soups and salads. Orzo can also be added to this chicken dish for a more filling meal.
This versatile pasta is incredibly easy to cook, as it only takes about seven minutes! With the combination of juicy tomatoes, savory chicken, and a delicious helping of orzo, this meal is sure to be a hit.
Ingredients
The recipe only calls for a few ingredients. Get more info on these ingredients below in the printable recipe card All you need is:
Chicken breasts
Yellow tomatoes, or heirloom yellow, orange or red of any variety
Chicken stock
Shallot
Garlic clove
Cream (optional)
Orzo
Basil leaves
That's it! Easy, right?
Watch how fast you'll fall in love with this creamy chicken orzo!
How to Make Chicken Orzo
Step 1. Heat a heavy large skillet to medium-high heat.
Step 2. Pat chicken breast dry with paper towels to absorb excess moisture (helps with a nice browning). Salt and pepper the chicken on both sides using coarse salt and pepper.
Step 3. Once the skillet has heated, add a bit of olive oil or butter (I prefer butter here), and sear the chicken on both sides.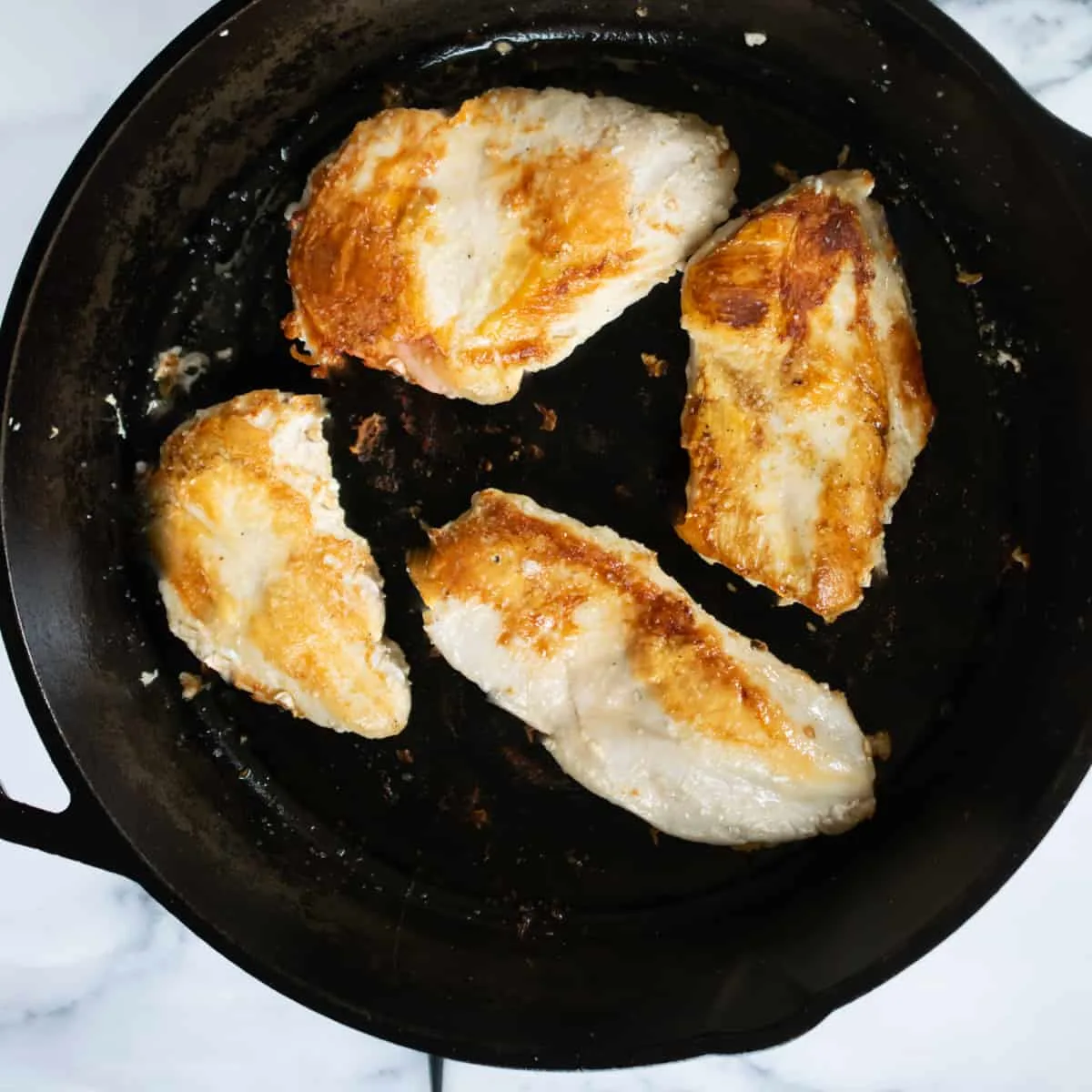 Don't move the chicken while it's browning, because that can affect the crust, just let it sit and don't disturb it until it's time to flip them all over.
Once you've acquired a nice sear on both sides, remove the chicken from the pan and set aside on a plate. They'll go back in to finish cooking later.
Step 4. In the same pan, still hot, add the tomatoes, shallot, and garlic and sauté. If necessary, add a bit more butter or oil if the pan is too dry to sauté the vegetables.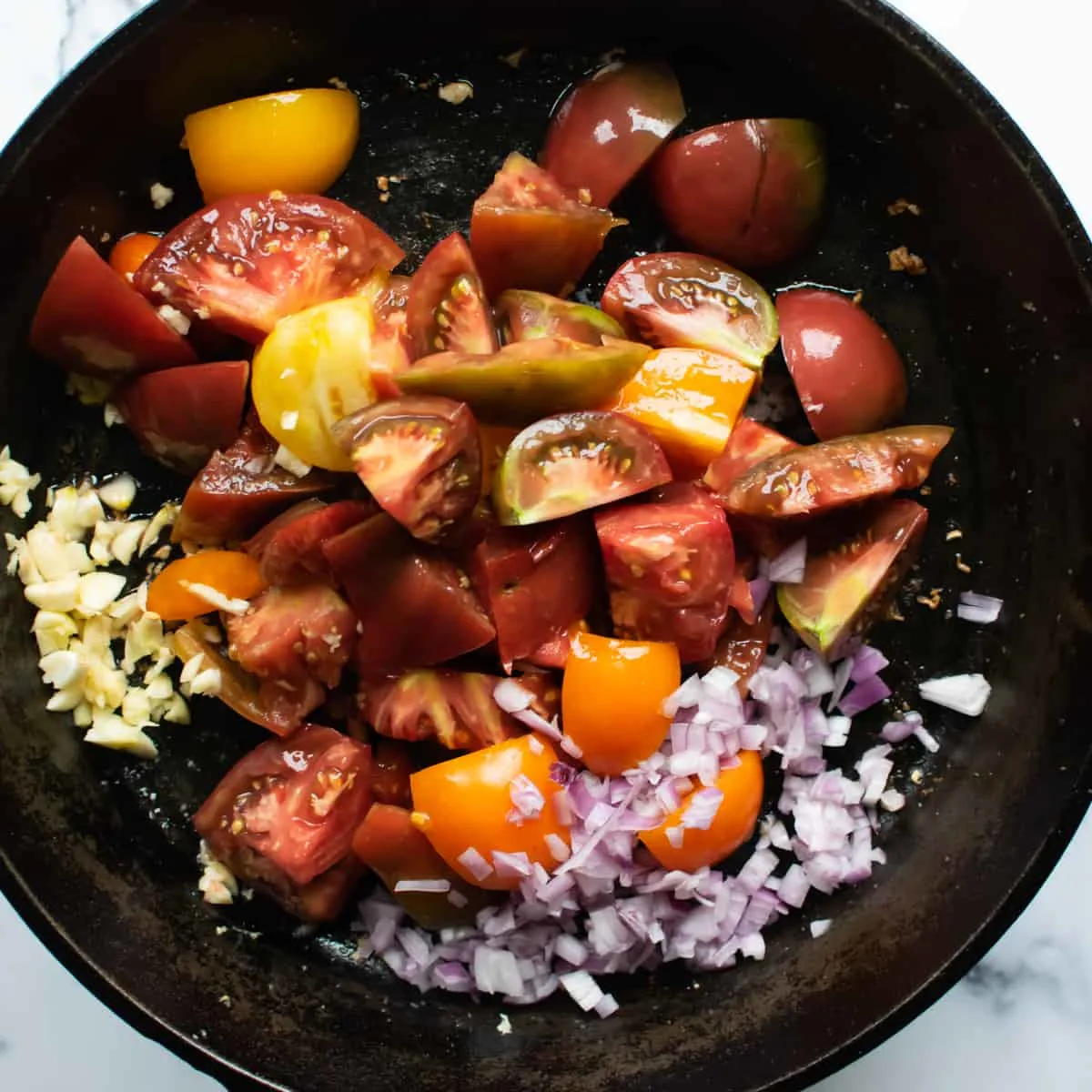 Continue to sauté them until the tomatoes have broken down and the shallot is translucent and soft.
Step 5. Add the stock to the pan, along with some freshly torn basil leaves, and stir with a spatula to loosen any stuck bits.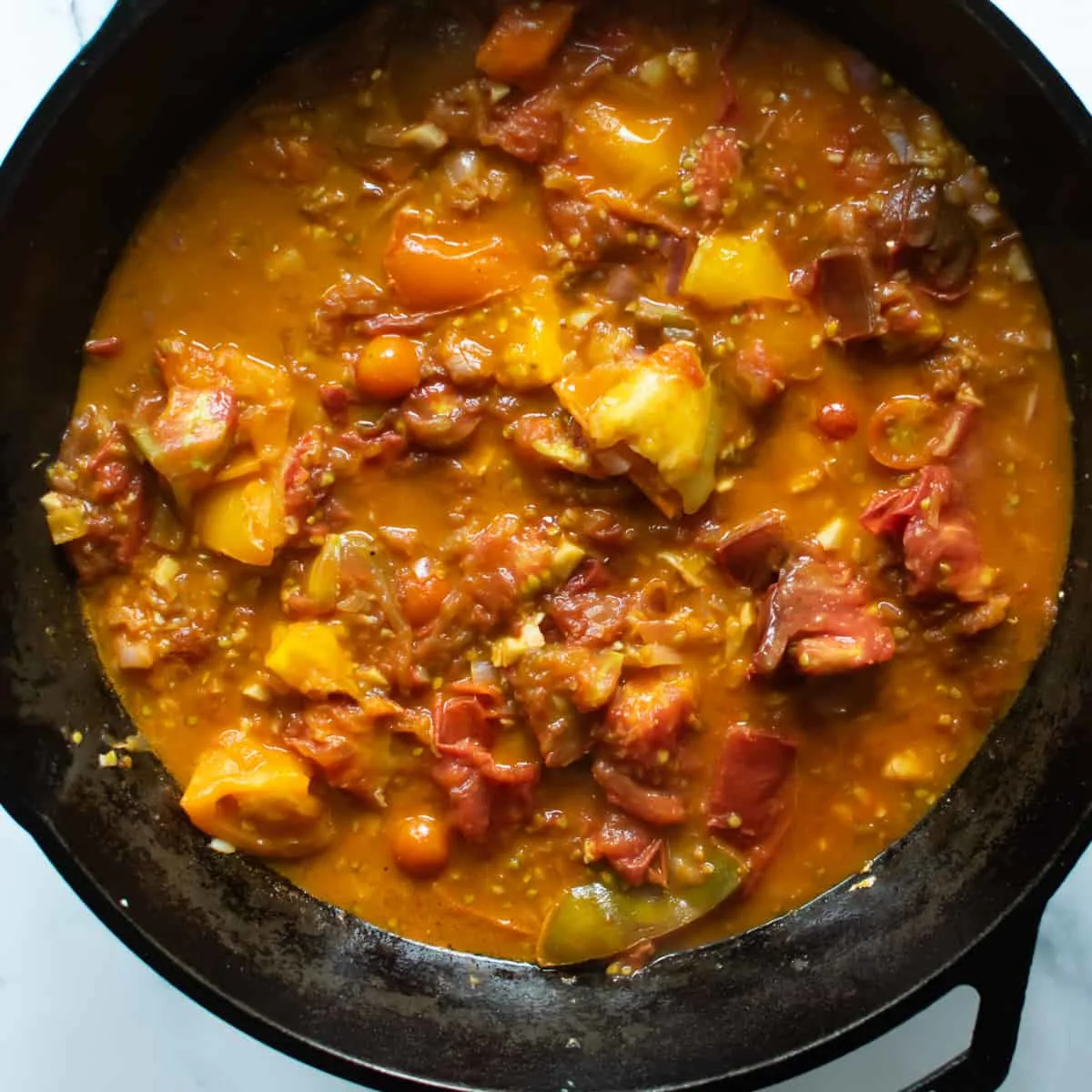 Reduce the heat to medium-low.
Step 6. Remove from heat and stir in the cream.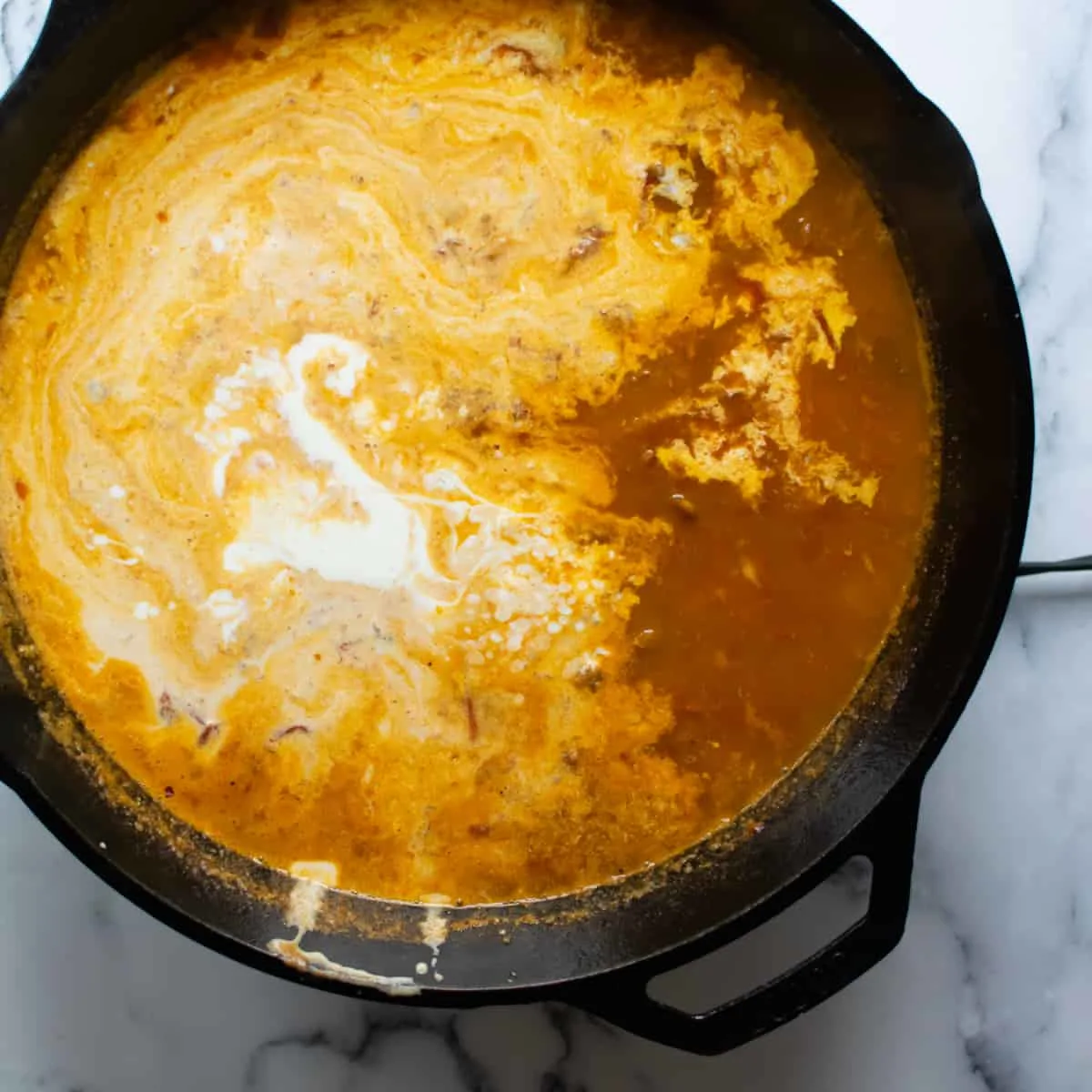 Add the orzo, nestle the chicken breasts in to finish cooking through, and return to heat, simmering until the orzo is tender, about 5-7 minutes.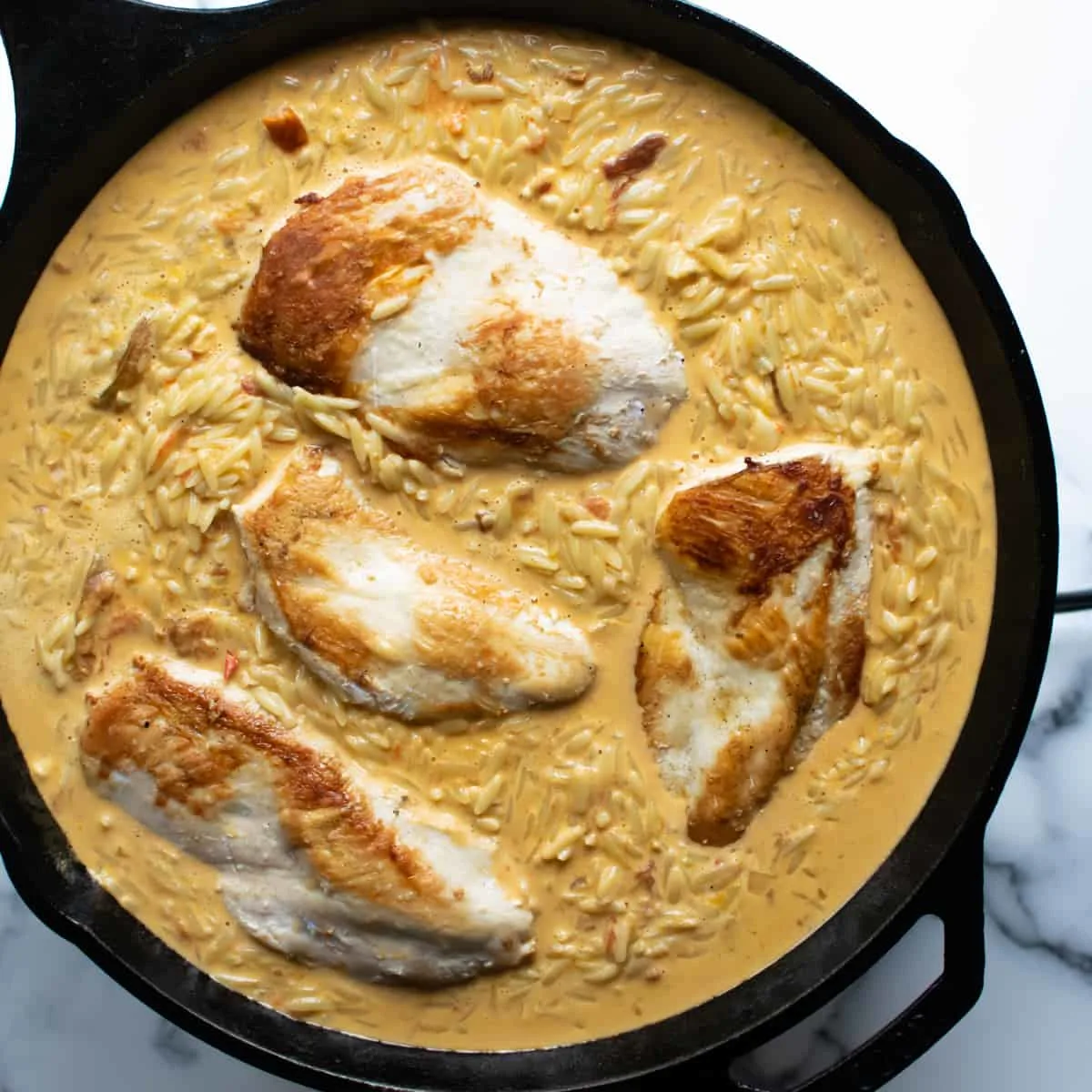 Step 7. Remove the skillet from the heat, and garnish with fresh basil leaves.
Serve golden brown chicken on a bed of the creamy, heirloom tomato orzo.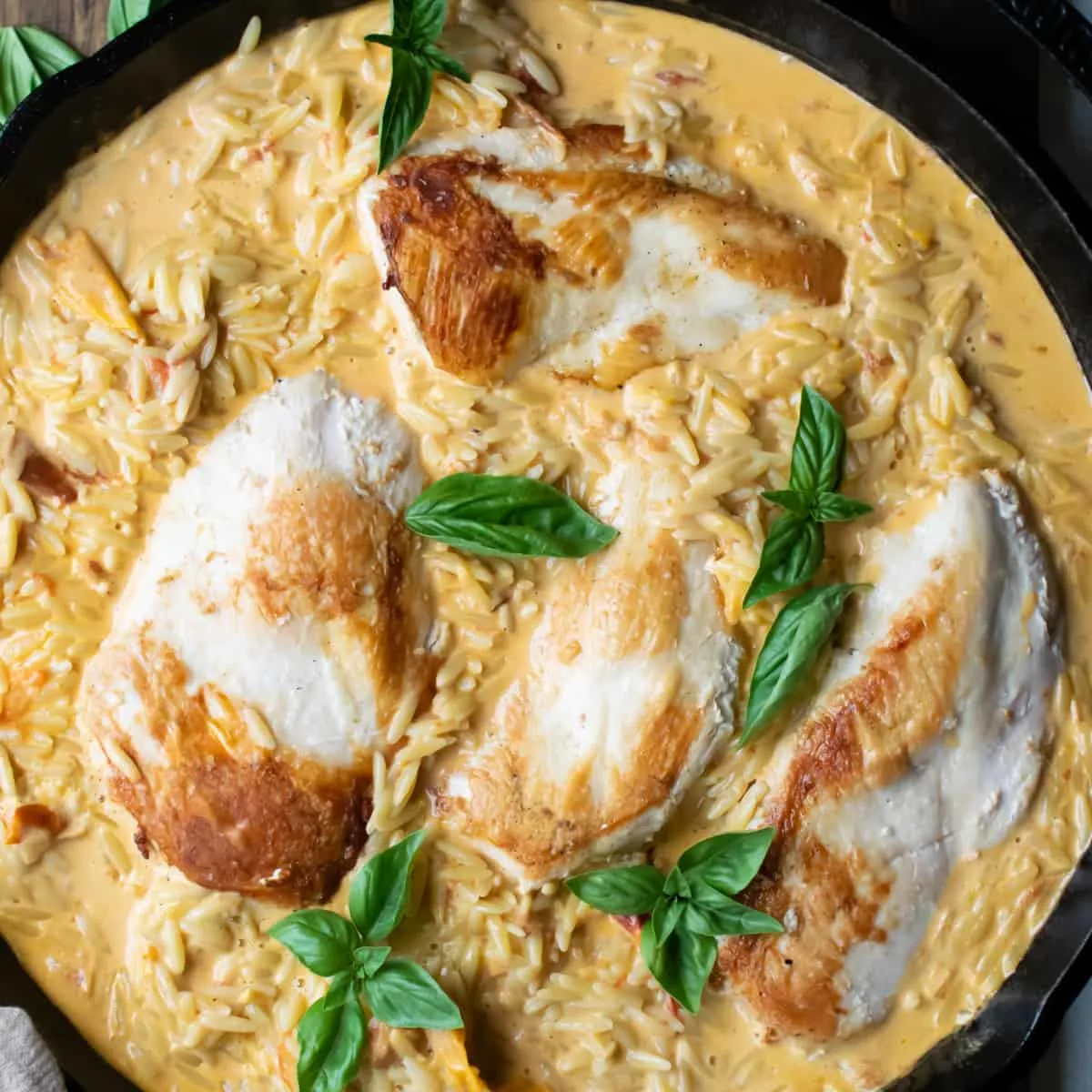 Storage
Leftovers can be stored in the refrigerator for 3-4 days. To store them, transfer the leftovers into an airtight container or wrap tightly with plastic wrap. The container should be placed in the coldest part of the refrigerator. To reheat, transfer into a pot and simmer on low heat until hot.
If you plan to freeze leftovers, make sure to cool to room temperature before transferring into a freezer-safe bag and freezing for up to 4 months.
When ready to enjoy, thaw in the refrigerator overnight before reheating on a stovetop or microwave.
What kind of tomatoes should I use?
You don't have to stick to just yellow tomatoes. Any combination of yellow, orange, red or even the black cherry tomatoes are great.
The heirloom tomatoes tend to be sweeter and they work well with a combination of others.
Can I use any type of chicken for this recipe?
Yes, any type of chicken can work well with this recipe. You can use organic or free range chicken for best results. If you don't have access to the best quality, supermarket chicken will also do the trick.
If you choose to go for skinless and boneless chicken thighs instead of breasts, cooking time may differ slightly so make sure to adjust accordingly. As long as you cook your chicken so it's tender chicken, you'll have a wonderful meal.
Can I use vegetable broth instead of chicken broth?
Yes, you can use vegetable broth instead of chicken broth. The flavor won't be as intense, but it will still work well in this recipe. If you choose to go with vegetable broth, try to look for one that is low sodium since the dish may become too salty if you don't.
You may also want to add a few more spices and herbs to make up for the lack of flavor in the vegetable broth.
What are some optional additions or variations I can try?
One variation is to try different types of vegetables, such as broccoli, red bell peppers, or cauliflower. You can also add ingredients like diced bell peppers or mushrooms.
For a richer flavor, consider adding some heavy cream and Parmesan cheese.
Instead of chicken broth, you could try some cooking white wine to really amp up this main dish.
To make it vegan, you can replace the chicken with plant-based alternatives such as tofu or tempeh. If you don't want to use broth, you could also use tomato sauce for added flavor.
To make it spicier, add chili flakes, red pepper flakes, or hot sauce to the mix before finishing your pasta dish.
Add some fresh herbs and other simple ingredients. Fresh spinach, fresh parsley or oregano would all be great additions. Add in some dried Italian seasoning for even more flavor.
Squirt some fresh lemon juice and lemon zest over top of your juicy chicken for a touch of tang and make this a lemon orzo chicken recipe.
Pro Tip Make sure to scrape the browned bits off the bottom of the pan for all the extra flavor.
​ How do you know when orzo is done cooking?
Orzo is done cooking when it's al dente, which means that when you bite into it there should be a slight resistance. The texture should still be slightly firm but not too hard.
You can also test the doneness of orzo by stirring it in the pot and checking if it has reached the desired consistency. To get the best results, taste-test a piece of orzo before removing from the heat.
Watch how fast this easy weeknight dinner becomes a top family favorite around your dinner table!
If you tried this recipe, give it a rating using the stars in the recipe card, or let others know what you thought in the comments below!
Related Recipes
Try these other super simple, one skillet meals.
📖 Recipe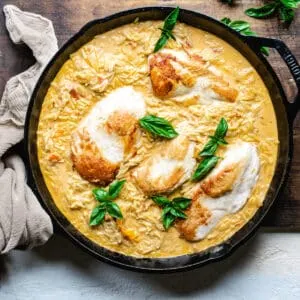 Creamy Chicken Orzo Skillet
Seared, juicy chicken breasts and orzo pasta in a creamy, garlic and yellow tomato cream sauce.
Print
Pin
Rate
Ingredients
4

chicken breasts

3

tablespoon

butter

or olive oil

1

large

shallot

minced

2

cloves

garlic

minced

2 ½

cups

yellow, orange or heirloom tomatoes

cut into chunks

2 ¼

cups

chicken or vegetable stock

1 ½

cups

orzo

dry, uncooked

1

cup

heavy cream

can substitute half and half

salt and pepper to taste
Instructions
In a heavy skillet on medium high heat, sear thawed, salt and peppered chicken breasts on both sides in a butter or olive oil until browned on both sides, don't disturb them while they sear to obtain maximum crispiness and browning. Once the chicken is seared on both sides, remove it from the pan and set aside on a plate. They won't be cooked through all the way, that's o.k., they'll finish in the pan later with the orzo.

In the same hot pan that the chicken was just removed from, add the minced shallot, garlic and tomatoes.

Saute the shallot, garlic, and tomatoes until the garlic and shallot have softened and the tomatoes become soft, break down, and have released their juices.

Add stock, cream, and uncooked orzo.

Stir in the orzo, and add the seared chicken breast back to the pan; let simmer for 7-10 minutes until orzo is tender and chicken is cooked through.

Give the orzo a light stir, and garnish with fresh basil leaves. Serve chicken on bed of orzo.
Notes
Use a combination of yellow and orange tomatoes, or heirloom tomatoes for a very mild and subtle tomato taste that doesn't overpower the sauce.
Don't move the chicken while it's searing for optimal crust and browning.
Don't cook the orzo prior to adding it to the stock and skillet, it will cook in the pan.
Chicken won't be full cooked when it's removed after searing; it will finish cooking with the orzo in the cream sauce.
Nutrition
Serving:
1
g
|
Calories:
598
kcal
|
Carbohydrates:
42
g
|
Protein:
49
g
|
Fat:
25
g
|
Saturated Fat:
13
g
|
Cholesterol:
185
mg
|
Sodium:
411
mg
|
Potassium:
1127
mg
|
Fiber:
2
g
|
Sugar:
4
g
|
Vitamin A:
769
IU
|
Vitamin C:
10
mg
|
Calcium:
73
mg
|
Iron:
2
mg