These cast iron chicken thighs have a crispy skin and a luscious white wine pan sauce, and the entire dish can be cooked in one skillet.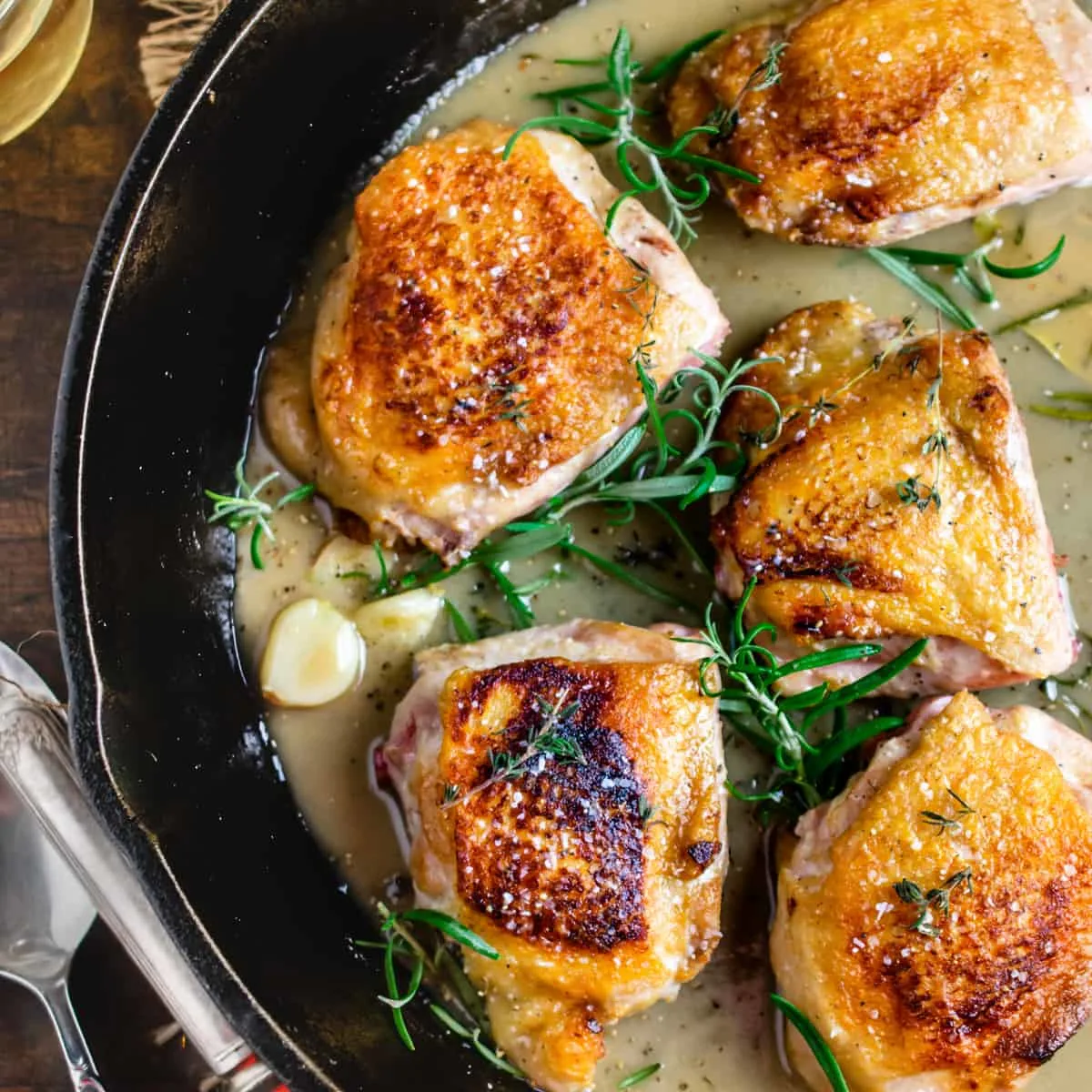 If you are a fan of a weeknight dinner that requires as few dishes as possible, but is also quick and versatile these cast iron chicken thighs with white wine pan sauce is for you.
One skillet gets you the crunchiest skin to bite into, the chicken is baked in that same pan in the oven until the meat is juicy and falling off the bone.
Why You'll Love This Cast Iron Recipe
One pot recipe- The rich, delectable pan sauce is made in that very same cast-iron skillet, where the chicken thighs can be nestled back into, and the entire dish can be served out of.
Affordable and easy- Chicken thighs are a really inexpensive cut of meat, and are much more forgiving than chicken breast.
Juicy - They are difficult to overcook, and you can practically guarantee they'll be juicy no matter what.
Versatile​- The chicken thighs are versatile and can be used in so many recipes. They can be a standout solo as a main dish, go with many sides or can be used in other recipes or added to other recipes easily.
Ingredients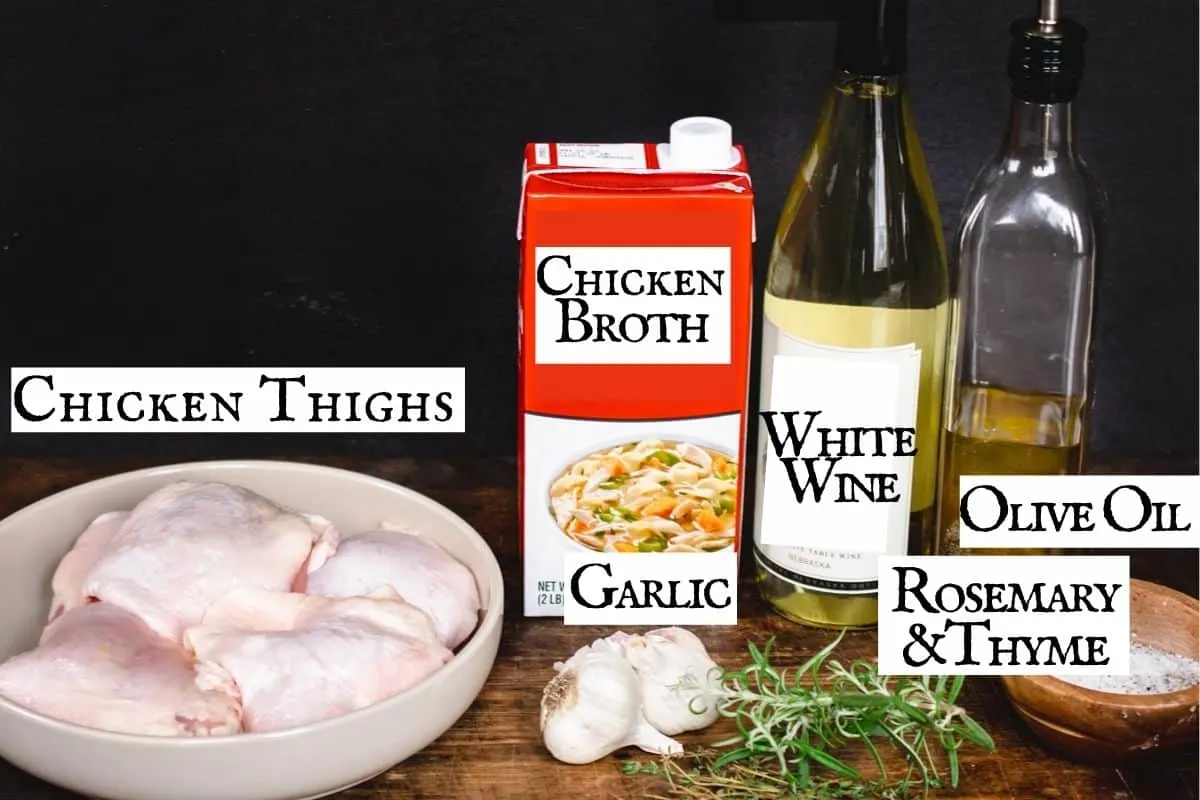 Get more info on these ingredients at the bottom of the post.
chicken thighs- bone in, skin on. While you may want to use boneless, skinless chicken thighs, the skin is what crisps up nicely so I suggest using skin on thighs
olive oil
flour
white wine- you want a dry white wine, not a sweet white wine.
chicken broth or chicken stock - Chicken broth or chicken stock are both fine (and easy to make too), but using chicken stock might require additional salt.
cloves garlic
thyme and rosemary sprigs
salt and pepper
How to Make Cast Iron Chicken Thighs
(Full recipe instructions are in the recipe card at the bottom of the page.)
Preheat your oven, and also heat the large cast iron skillet up on medium high heat, and drizzle with a few tablespoons of olive oil.
Take the bone-in chicken thighs out of the package and pat dry with a paper towel to remove any excess moisture; this helps crisp the skin.
Season both sides of the chicken thighs liberally with salt and pepper and place them skin side down on the hot skillet.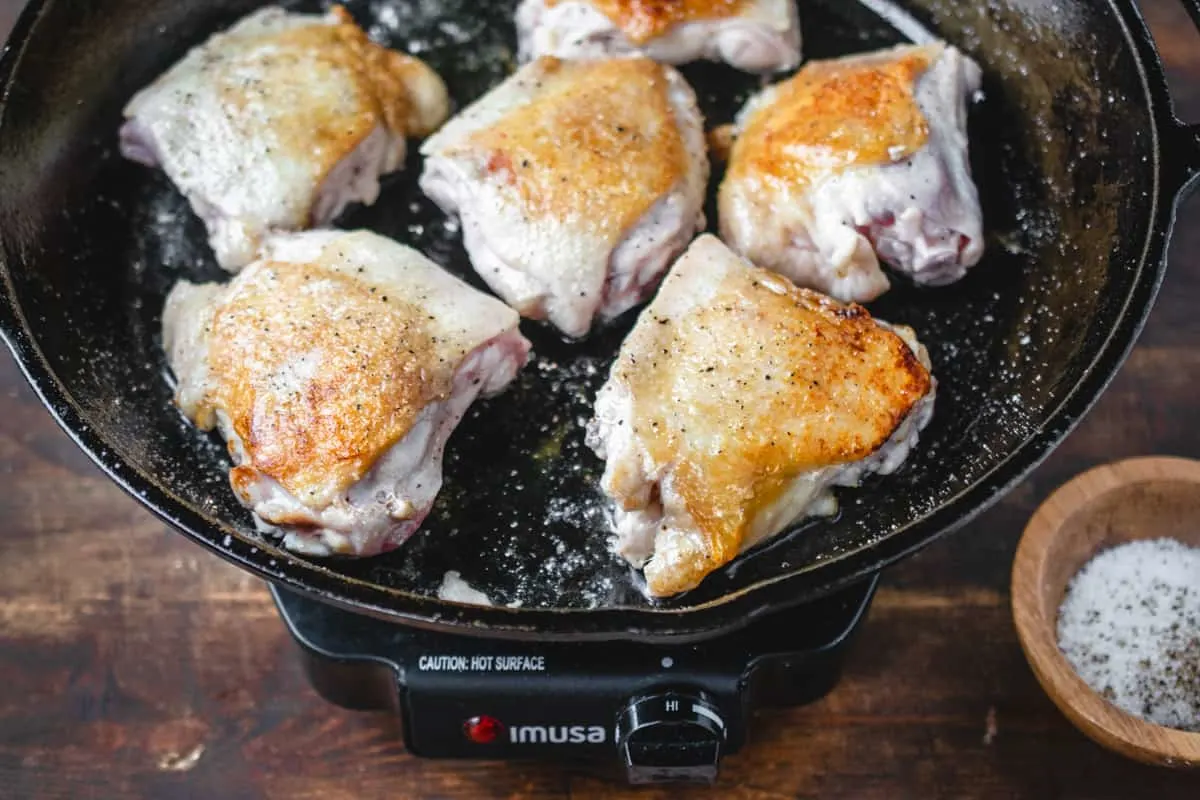 Don't move them at all; allow the skin to crisp until it releases without pulling, and a nice golden brown crust has formed.
It will take about 10 minutes. Once it's ready, flip each piece over to the other side.
Transfer the skillet directly to the preheated oven and bake uncovered, 20-25 minutes or until internal temperature reaches 165 with an instant read thermometer or a meat thermometer.
Remove the dish from the hot oven.
Use a pair of tongs or a spatula to remove each piece of chicken from the pan and arrange it on a plate.
Avoid stacking them or piling the crispy chicken thighs up, to keep the skin as crispy as possible. Let the chicken thighs rest for 5-10 minutes like this while you make the sauce.
While the chicken rests outside of the hot skillet, return the skillet to the stovetop on medium high heat.
Leave all drippings in the pan, along with any brown bits. Add a tablespoon of flour and whisk into the grease until smooth.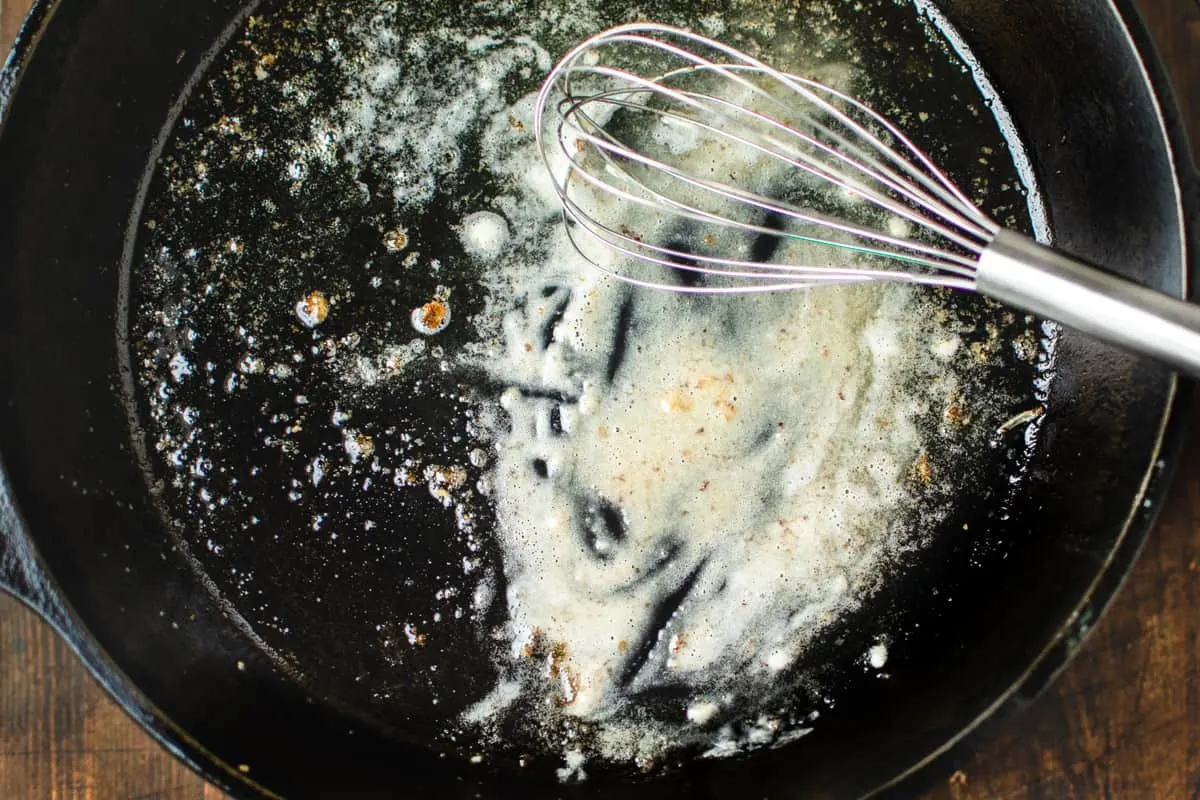 Pour in the wine, the chicken broth and add the herbs and garlic cloves.
Increase the heat to high, and simmer until the liquid has reduced by half, whisking occasionally for 5-7 minutes.
The flavors of the herbs and garlic will infuse into the pan sauce along with the flavors in the hot cast iron skillet.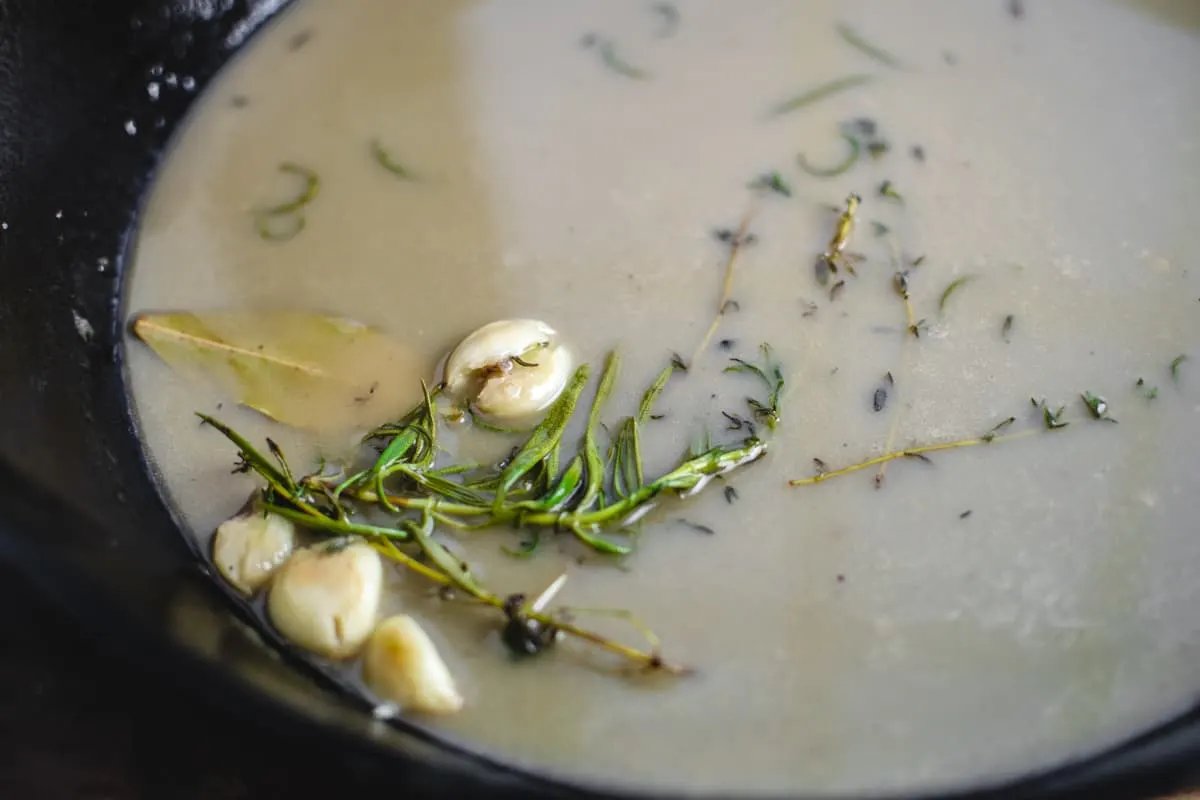 You can fish out the herbs and garlic cloves with a slotted spoon for a smoother sauce, once it has finished reducing.
Nestle the chicken thighs into the sauce, skin side up. Remove from the skillet from the heat.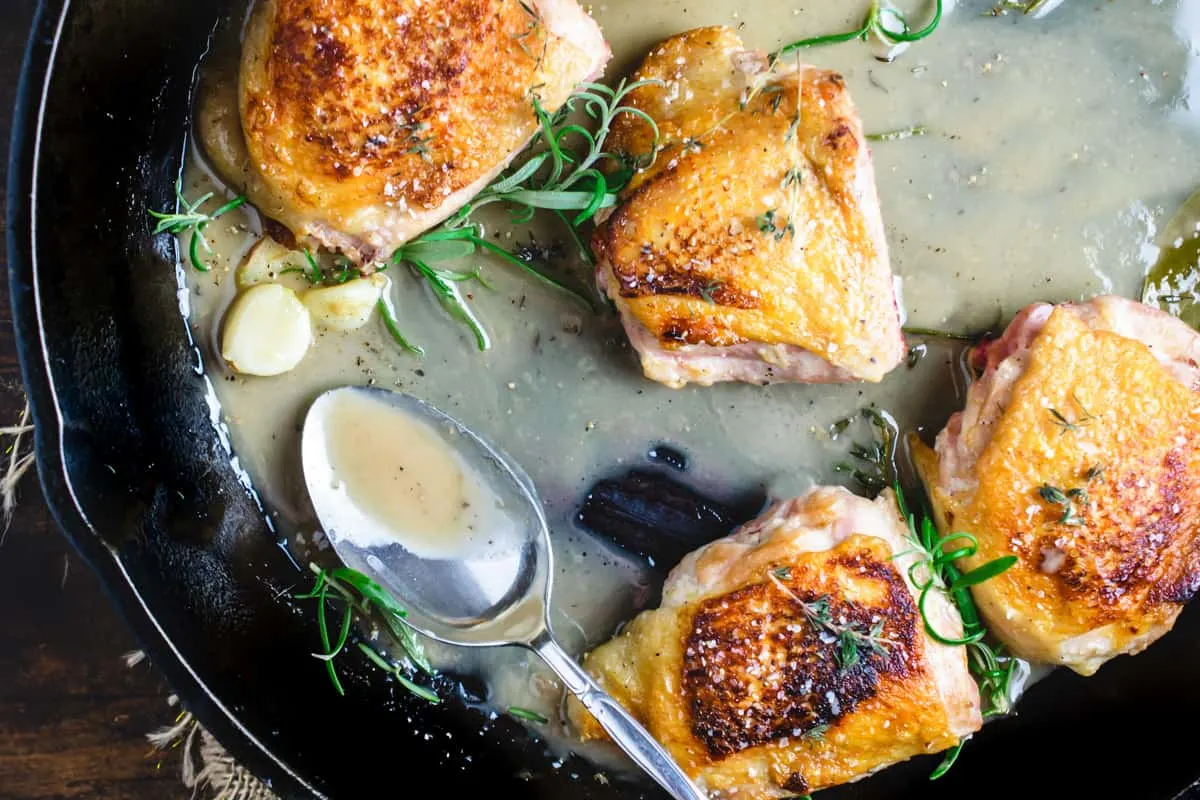 Serve chicken thighs with a bit of sauce spooned over, or drizzled on a plate to lay the chicken in.
As I mentioned before, this sauce is so rich and delicious, you might want to consider serving it with a homemade Crusty Bread to sop up every last bit.
Storage
Any remaining chicken thighs can be stored in a sealed airtight container or wrapped tightly in plastic wrap and placed in the refrigerator.
It is best to store them within two hours of cooking to maintain freshness. Make sure to consume within 3 days for optimal taste and texture.
Can you freeze cooked chicken thighs?
Yes, you can freeze cooked chicken thighs. To do so, make sure to cool the chicken completely before transferring it to a container or freezer-safe bag.
Place it in your freezer and use it within 3 months for best results. Thaw before reheating as desired and enjoy!
Tips
Don't move the chicken thighs once you season chicken thighs and place them skin-side down; you'll know it's time to flip when they release from the pan without pulling or sticking, about 10 minutes or so.
If you aren't using fresh herbs, you can substitute 1-2 teaspoons total of dried herbs if needed.
While the fat renders under the skin it can do quite a bit of splattering. Be careful of this splattering; use a splatter screen if you have one.
Don't cover the skin-on chicken thighs with foil or a lid to prevent splattering, because it will steam the chicken and create soggy skin. You want to leave it open to the heat because that is how the skin crisps up so nicely.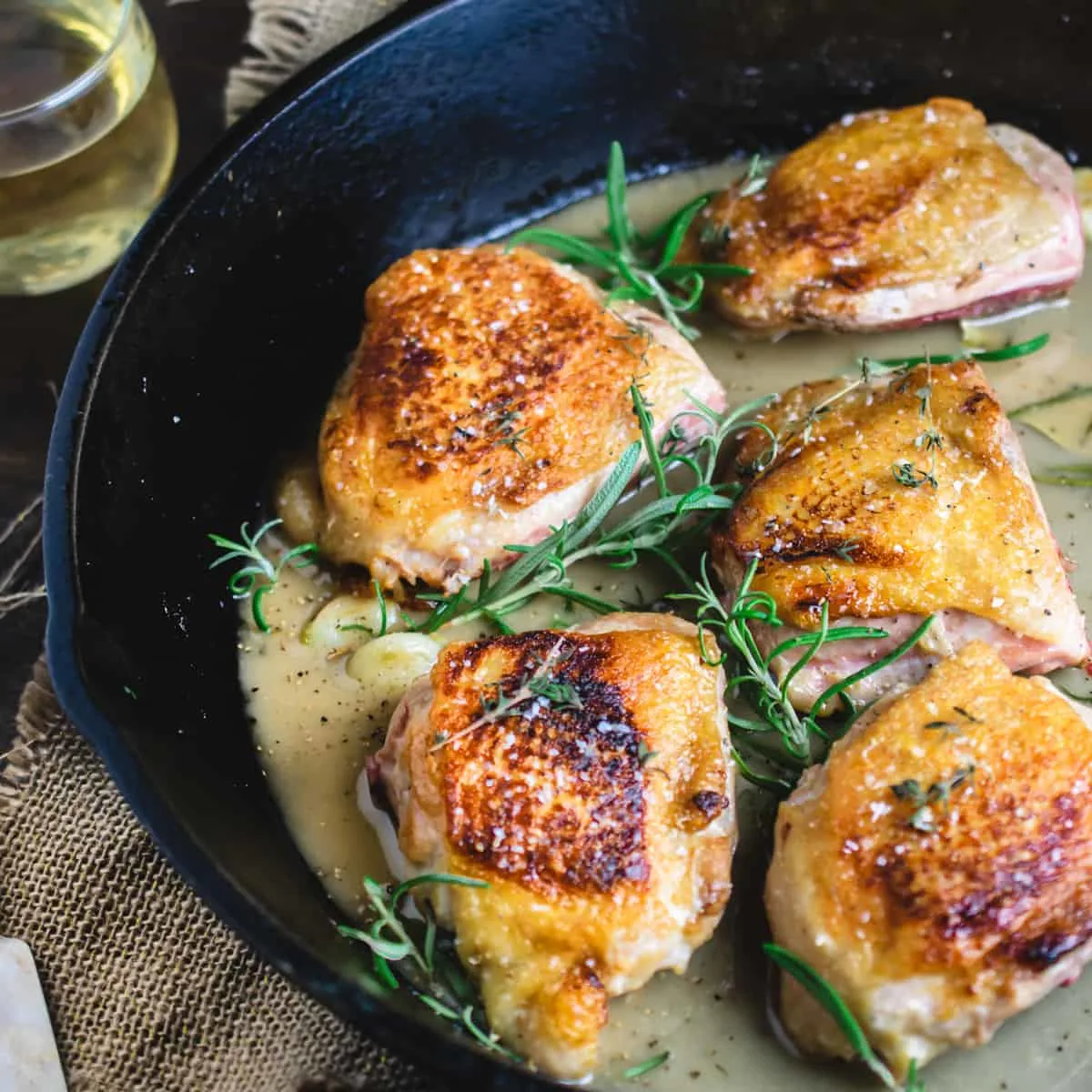 What kind of white wine should I use?
You want a dry cooking wine for this easy cast iron chicken thighs recipe.
When you head to the liquor store, keep an eye out for either a Pinot Grigio, Sauvignon Blanc or Chardonnay. They're good dry, white wines that would work well and even, pair nicely, with this recipe.
​
Do I have to use white wine?
If you're worried about serving this easy skillet chicken thighs to kids or prefer not to cook with wine, fear not, we have a few other options for you to try!
Additional substitutions if you prefer not to use wine:
Substitute wine with additional chicken stock/broth plus 1 teaspoon white or white wine vinegar.
Use store bought "cooking" wine (not drinkable).
Substitute wine with half chicken broth/stock plus apple juice.
​
Recipe Variations
While thyme and rosemary are classic herbs to use with chicken thighs, there are a few others you can try. Some other options to experiment with are garlic powder, onion powder, Italian seasoning, and oregano.
In addition to the thyme and rosemary, squeeze on some fresh squeezed lemon juice on your cast iron skillet chicken for a nice additional flavor.
Serve these crispy chicken thighs with a nice salad, crusty bread, and a side of fresh made green beans or your other favorite simple side dish.
If you try this recipe, leave a rating using the stars in the recipe card, or a comment for other readers below.
Related recipes:
📖 Recipe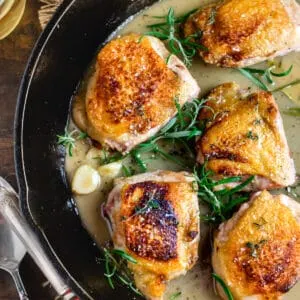 Cast Iron Chicken Thighs with Pan Sauce
Skin on chicken thighs seared on a cast iron skillet until super crispy, baked and served with a luscious, rich white wine pan sauce.
Print
Pin
Rate
Ingredients
2-3

pounds

chicken thighs

bone in, skin on

2

tablespoon

olive oil

1

tablespoon

flour

1

cup

white wine

dry

2

cups

chicken broth

or stock

2-3

cloves

garlic

peeled, smashed

3-4

sprigs

thyme and rosemary

can substitute 1-2 teaspoons total of dried herbs

salt and pepper
Instructions
Heat oven to 425 degrees.

Heat a large cast iron skillet to medium high heat.

Pat 2-3 pounds of chicken thighs dry with a paper towel, and liberally season with salt and pepper on both sides of the chicken thighs.

Drizzle 2 tablespoons of olive oil on hot skillet.

Placing chicken thighs skin side down in the skillet and don't disturb. Allow them to cook for about 10 minutes until a fat renders and golden brown crust has formed; they should pull easily away from skillet without pulling of the skin.

Flip over the chicken thighs and transfer the skillet to the oven and bake for 25 minutes, or until an instant read thermometer reads 165°F.

Use tongs or a spatula to remove chicken thighs from the skillet, and set aside on plate. Allow them to rest for 5-10 minutes while you prepare the sauce.

In the same skillet, whisk in a tablespoon of flour until smooth.

On the stove top on high heat, add the cup of wine, chicken broth/stock (2 cups), garlic cloves and herb sprigs and whisk.

Cook the liquid, herbs and garlic cloves on high heat until it has reduced by half. If desired, remove the herbs and garlics with a slotted spoon. Salt and pepper to taste if necessary.

Return chicken thighs to pan, nestling into the pan sauce, and remove from heat.
Notes
Pat the chicken thighs dry with a paper towel to remove moisture.
Allowing the chicken thighs to "air out" in the fridge, uncovered for at least an hour will also dry out the skin, and make it crispier.
Don't stack the cooked chicken thighs while they rest to avoid steaming them which will make the skin soggy.
Don't drown the chicken thighs in sauce to serve, and wait until right before serving to spoon a little over the chicken, or under the chicken on the serving plates.
Nutrition
Serving:
1
g
|
Calories:
415
kcal
|
Carbohydrates:
3
g
|
Protein:
25
g
|
Fat:
30
g
|
Saturated Fat:
7
g
|
Cholesterol:
148
mg
|
Sodium:
405
mg
|
Potassium:
401
mg
|
Sugar:
1
g
|
Vitamin A:
118
IU
|
Vitamin C:
6
mg
|
Calcium:
22
mg
|
Iron:
1
mg