Mega moist, one bowl chocolate cake with sprinkles, atop 1-step smooth, chocolate ganache icing. Bake in one layer or two layered rounds.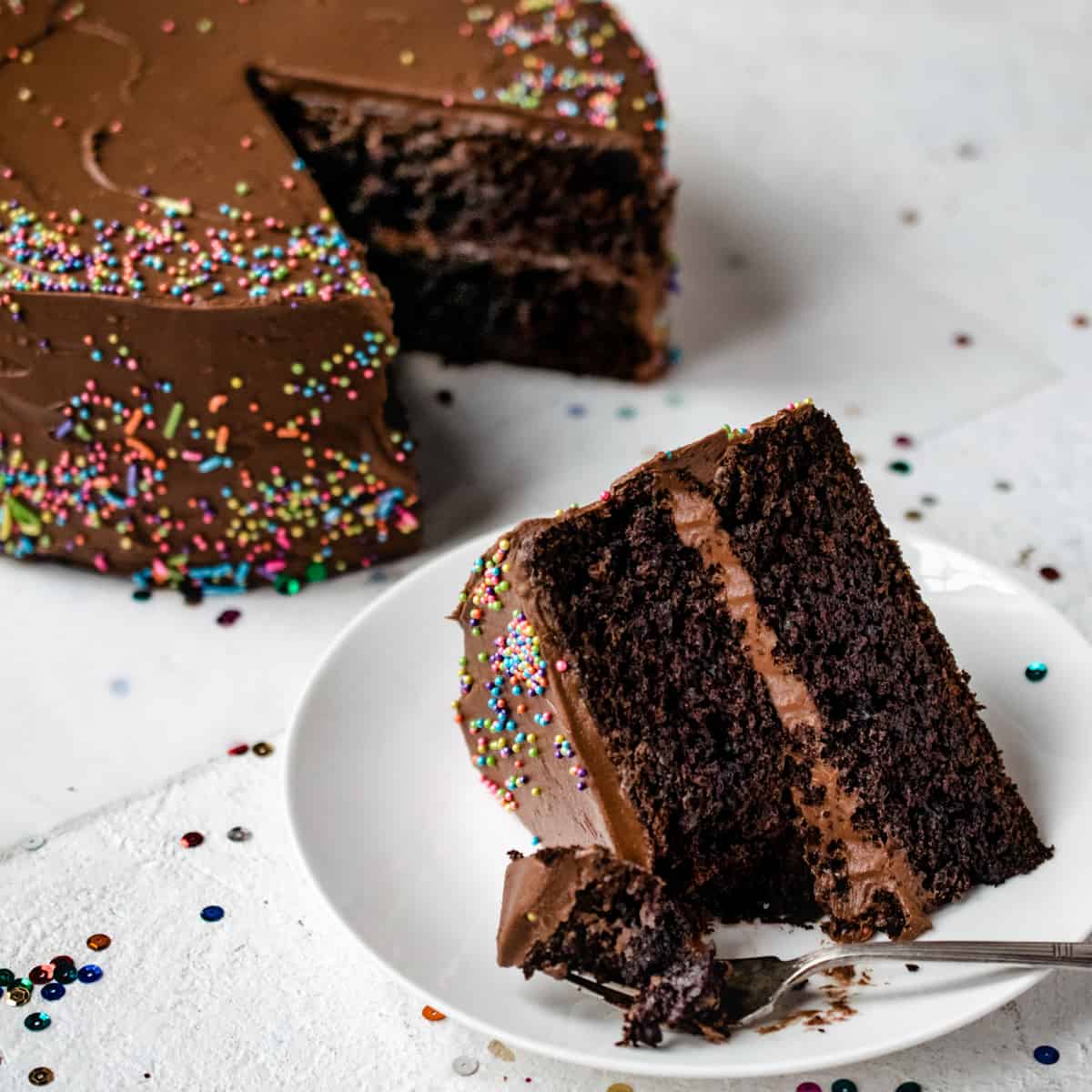 Why this recipe works:
This cake provides you with options!
This chocolate cake with sprinkles can be made in a singer layer sheet cake, or two rounds for a layered cake.
The chocolate ganache frosting is just 2 ingredients, and can be made as a smooth and glossy icing, or whipped for a fluffy frosting that can be easily spread or piped.
Sprinkles are the quickest and easiest way to decorate a cake, and requires no baking or design expertise in order to look fantastic.
All of the ingredients are easy to find, accessible pantry staple items.
Ingredients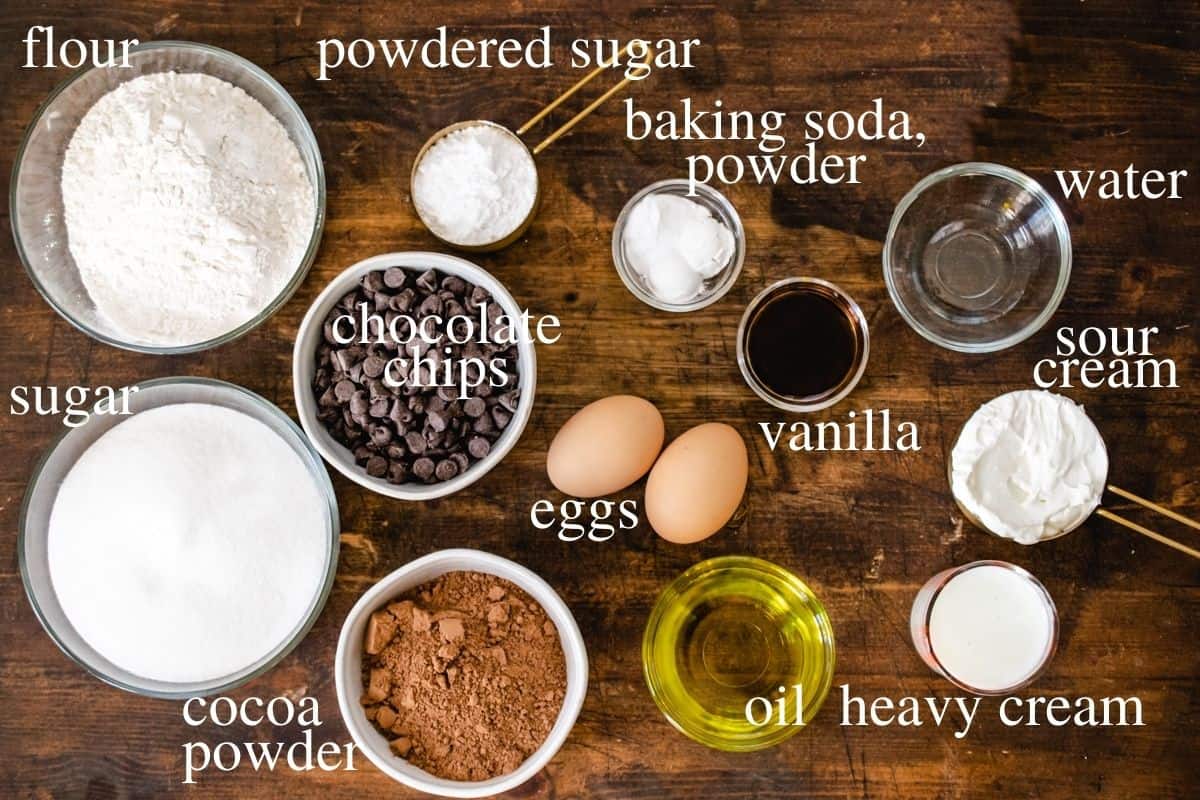 Cocoa powder- Dutch processed or regular both work for this recipe, but since Dutch cocoa can result in a drier cake, only substitute half of the regular cocoa with Dutch processed cocoa.
Chocolate chips- use semi sweet or dark chocolate.
Oil- Vegetable oil is best here.
Heavy cream- also known as whipping cream is a MUST for the frosting, and cannot be substituted with half and half, milk, or anything else.
Prepare pans
Preheat oven to 350 degrees F. Lightly grease and flour:
13x9 inch baking pan for a one layer rectangular cake, or
Two 8-inch or 9-inch round pans for a two layer round cake.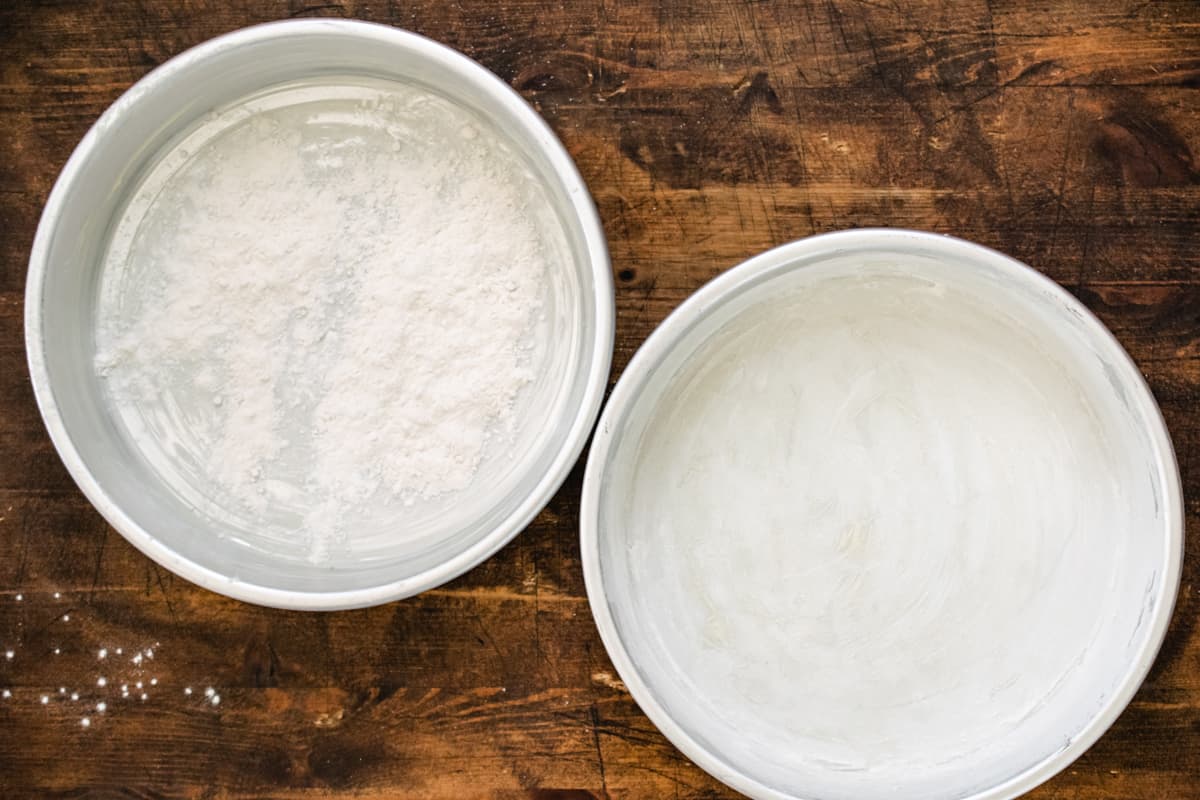 Start by combining the wet ingredients along with the cocoa powder and salt until fully mixed (photo 1). Then, add flour and baking powder to the bowl (photo 2).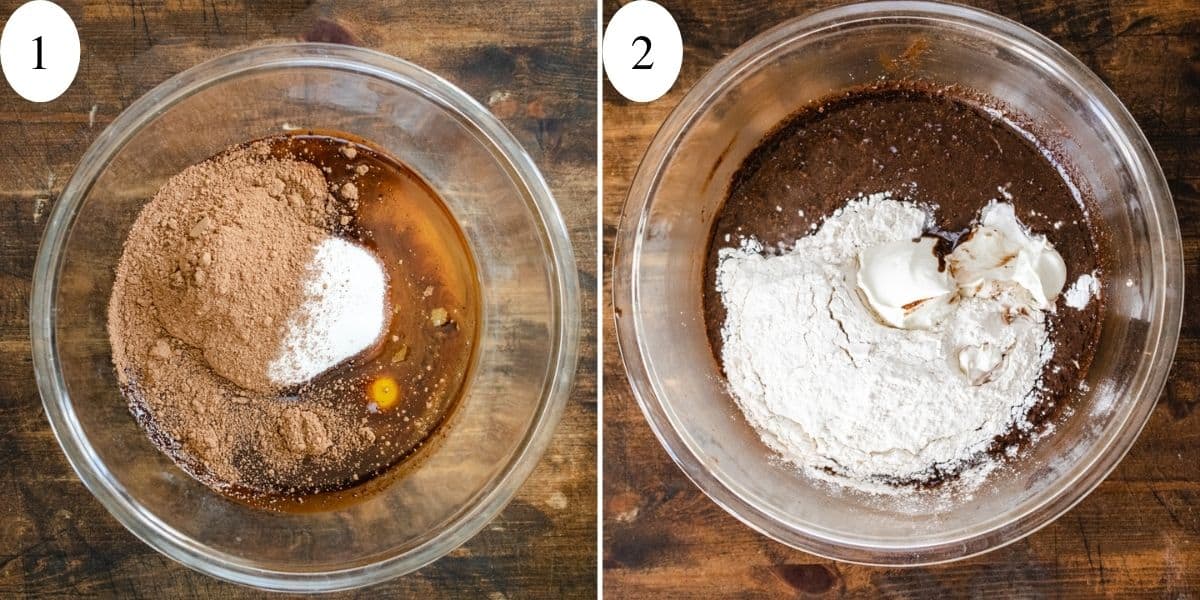 Stir with a long handled spoon or rubber spatula until just combined (photo 3). Don't over mix.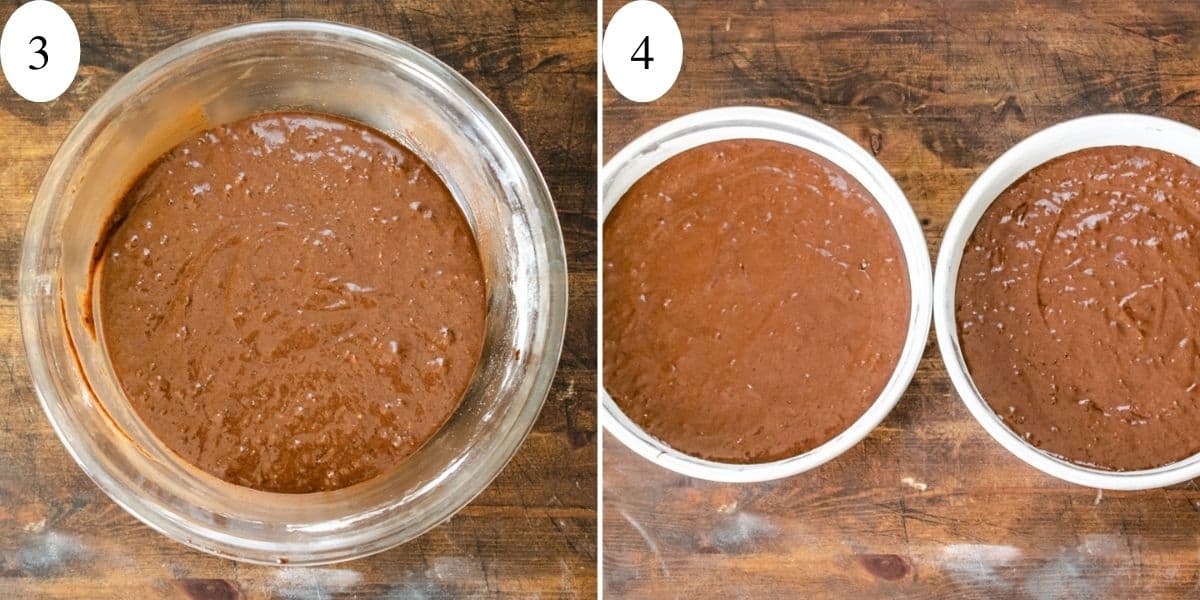 Pour the batter into prepared cake pan(s) (photo 4). If using two rounds, it helps to pour a bit at a time to make sure they both end up equally level.
Baking times
Bake two 8-inch or 9-inch round pans for 25-35 minutes, and a 13x9 inch sheet cake for 35-40 minutes.
Refer to this article for additional cake baking times by pan size.
Cake is done when a toothpick inserted in the center comes out mostly clean with a few moist (not wet) crumbs.
Allow the cake to cool completely, in the pan on the countertop before attempting to remove it.
Removing cake from pan
To remove the cakes from the pan, for example if you are making a two layer cake, the cake must first be completely cooled.
Run a butter knife around the entire edge of the pan carefully, without cutting any pieces of the cake.
Then, place a plate or cooling rack over the top of the cake and pan, and invert it, so that the plate is on the counter and the cake pan is upside down on top of it.
You may have to tap the pan and plate together on the counter top to give it some force to fall off. Remove the pan slowly in case there is still an area that is stuck, and repeat tapping until the cake releases.
Frosting the cake
Using chocolate ganache is one of the easiest ways to frost a cake.
Chocolate ganache icing is smooth, and travels well without being messy inside a plastic bag, making it great for single layer snack cakes and sheet cakes.
Whipped chocolate ganache makes a fluffy frosting that is so delicious, with a texture similar to mousse, and is ideal for layered cakes, piping on cupcakes, in addition to simple one layer cakes.
Instructions are included for both types of frosting.
Heat the heavy cream until it is hot but not quite simmering (either on stove top or microwave), then pour it over the chocolate chips (photo 5). Allow the chocolate chips to melt and stir to combine (photo 6).
Cool before using.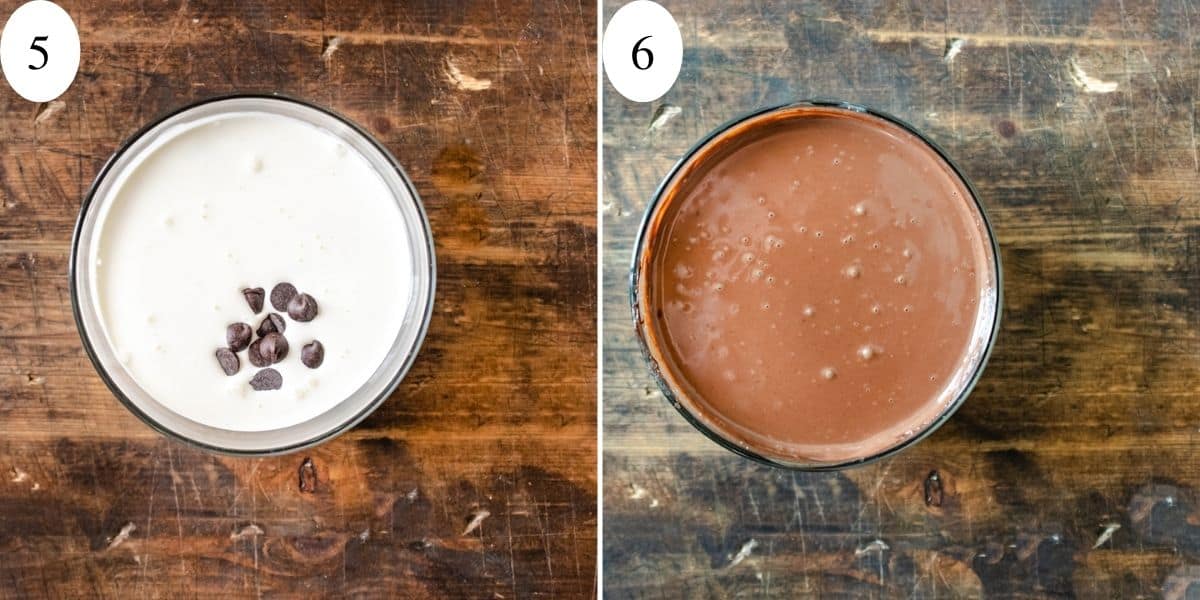 You can stop at this stage and use this smooth, glossy ganache icing (below, left), or chill the ganache and whip it for a fluffy ganache frosting (below, right).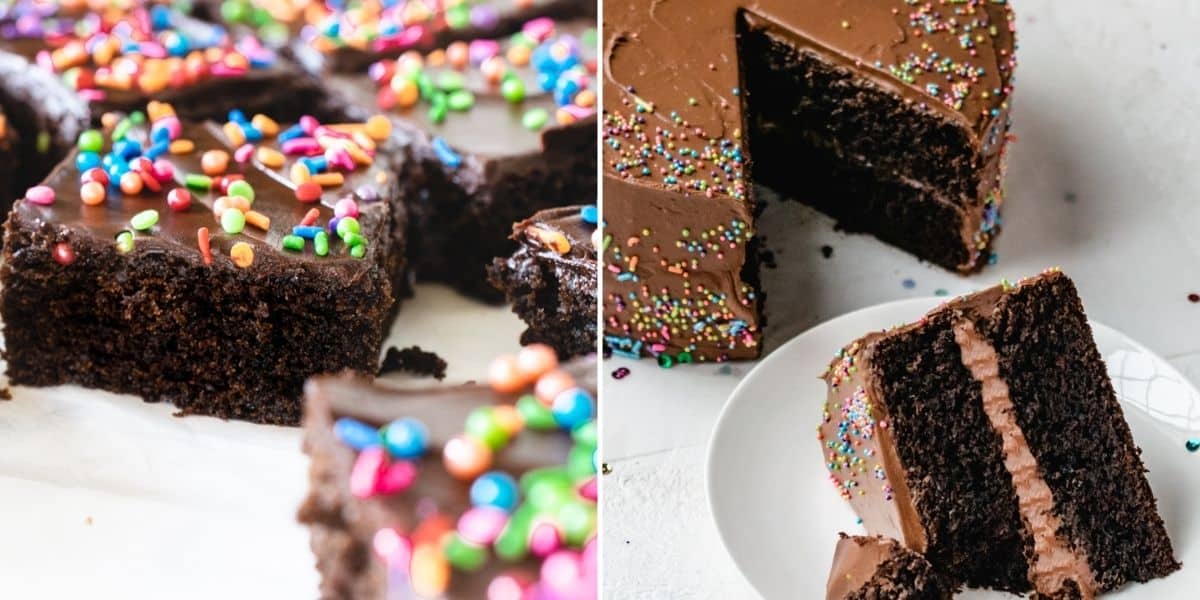 To use the ganache icing, just be sure to let it cool to room temperature before icing the cake.
For the ganache frosting, chill the ganache in the fridge, covered for at least one hour.
Then whip in a stand mixer, or with electric beaters until stiff peaks form, or frosting has reached the desired texture.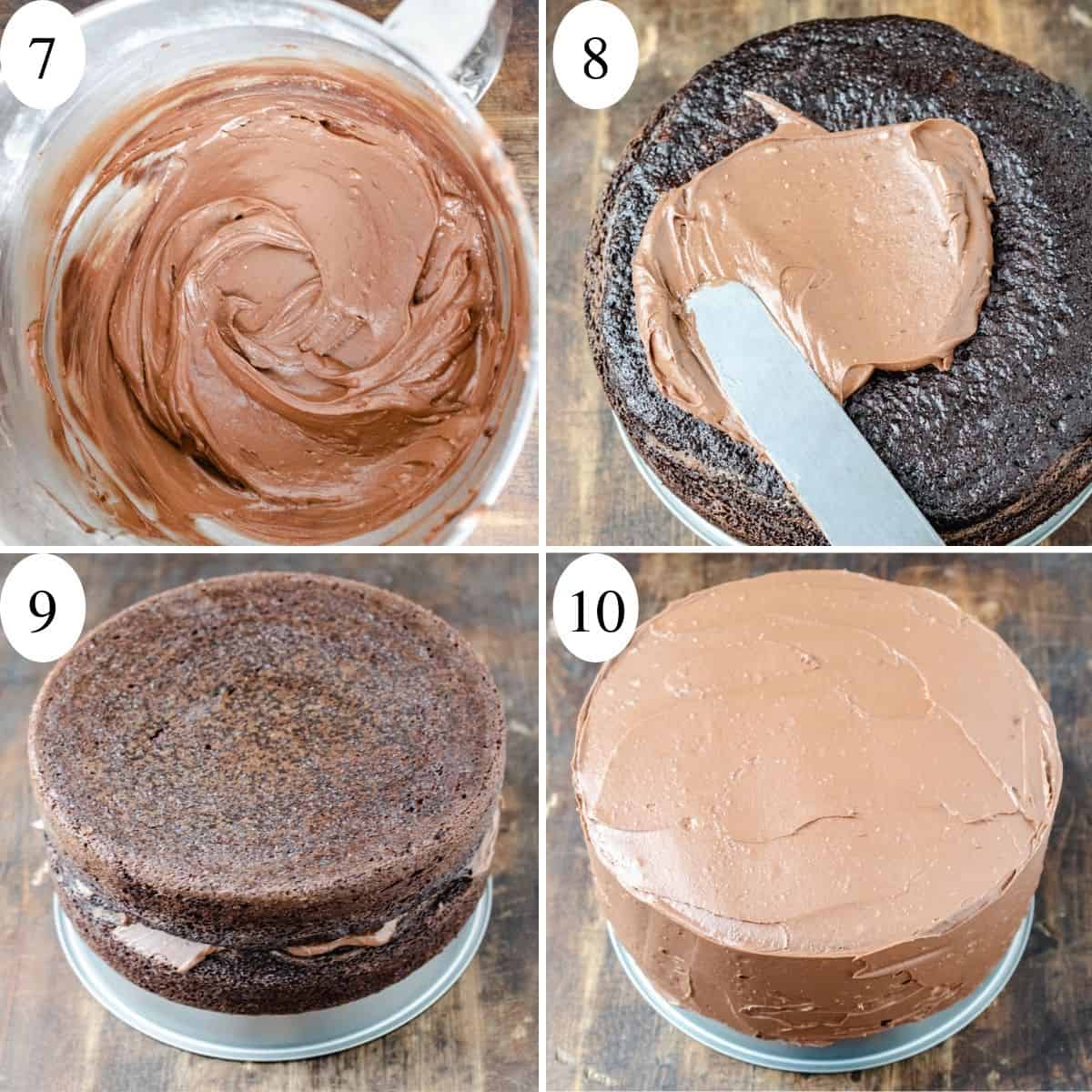 Sprinkles
It's best to apply the sprinkles directly after the frosting, this way they stick.
Use your favorite color combinations to decorate the cake with sprinkles. Have you made homemade sprinkles? This gets fun, because you can do some pretty neat color combinations, and shapes.
Recipe tips:
Do not overmix the cake batter
Allow the chocolate ganache to cool to room temperature before icing the cake, but chill it in the fridge before whipping it into whipped chocolate ganache frosting.
Cool cakes completely before removing from pan(s).
FAQ's
Can you put sprinkles directly into the cake batter?
Yes! You can put sprinkles directly into cake batter for a funfetti cake of any flavor, including chocolate funfetti cake.
How do you get sprinkles to stick?
The key to getting sprinkles to stick to a cake is to apply them when the cake is freshly frosted, before the frosting sets.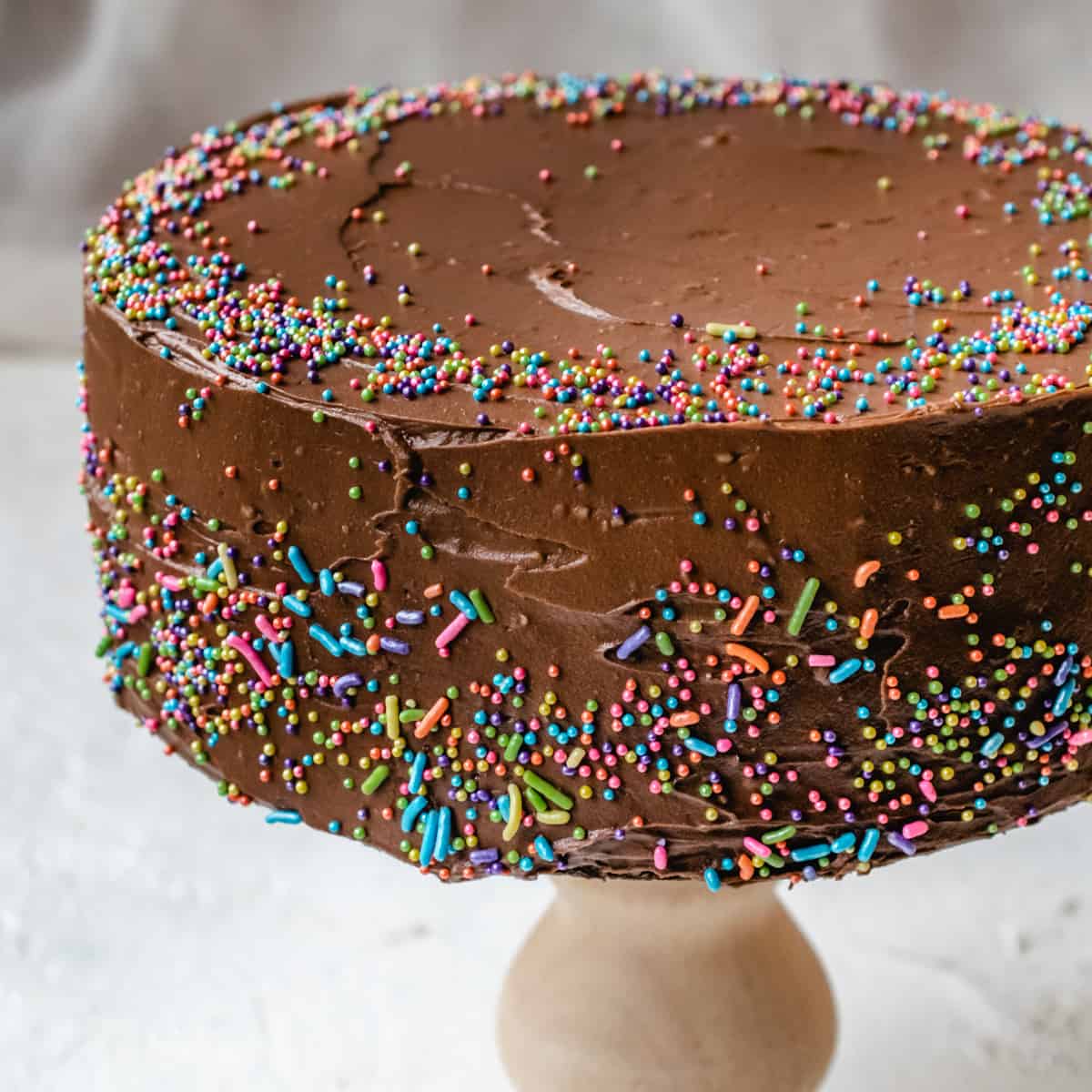 You might also like...
If you tried this recipe, leave a star rating in the recipe card below!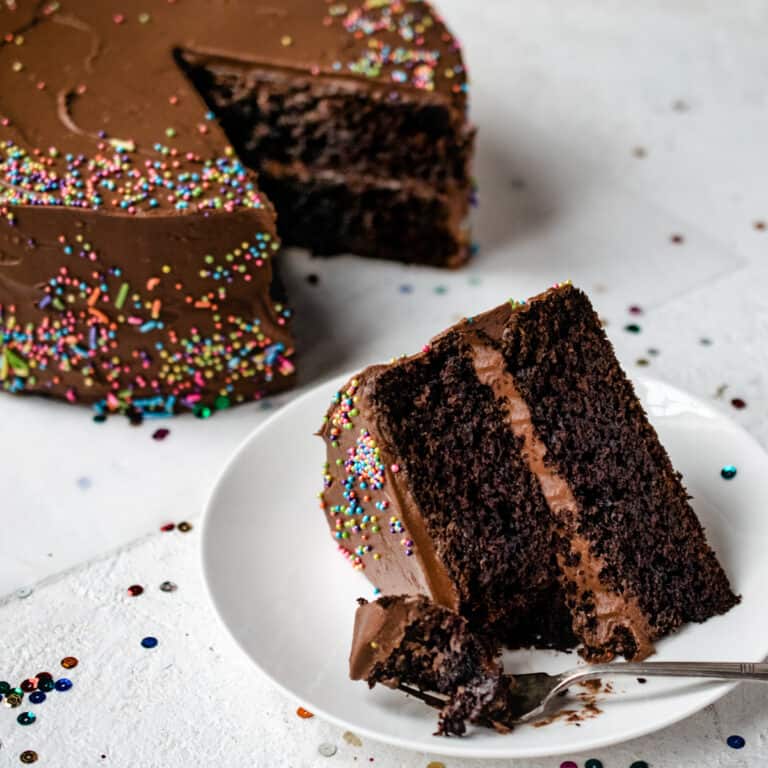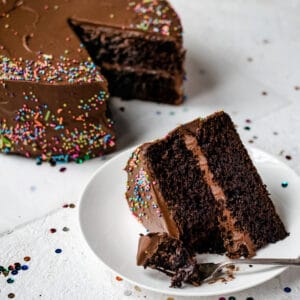 Chocolate Cake with Sprinkles
Easy, super moist, one-bowl chocolate cake frosted with chocolate ganache frosting and topped with sprinkles.
Print
Pin
Rate
Ingredients
Cake Batter
2

cups

granulated sugar

1

cup

unsweetened cocoa powder

1 ⅛

cup

vegetable oil

2

eggs

large

1

cup

milk

any variety

2

teaspoon

vanilla

½

cup

sour cream

2

cups

all purpose flour

spoon and level

1

teaspoon

baking soda

1

teaspoon

baking powder

1

teaspoon

salt
Ganache Frosting
1

cup

chocolate chips

semi sweet or dark chocolate, use 2 cups for ganache icing

2

cups

heavy whipping cream

pinch

salt

optional, for flavor to balance the sweetness
Instructions
For the cake batter
Preheat oven to 350 degrees.

Grease and flour 2, 8-inch or 9-inch round pans, or a 13x9 inch baking pan.

In a large bowl, combine sugar (2 cups), cocoa powder (1 cup), oil (1 ¼ cup), eggs (2 large), milk (1 cup), vanilla (2 tsp), and sour cream (½ cup) and stir until blended.

Add to that the flour (2 cups), baking soda (1 tsp), baking powder (1 tsp) and salt; fold gently until just combined.

Scrape batter into prepared pan(s) and bake for about 30-35 minutes, until top is springy or toothpick inserted in center comes out with a few moist (not wet) crumbs.
For the icing/frosting
Pour chocolate chips (1 cup, (2 cups for icing)) into a heat safe bowl.

Heat heavy cream (2 cups), either in a small sauce pan or microwave safe container until just before simmering.

Pour hot cream over the chocolate chips and allow them to melt completely. Add pinch of salt (optional, but recommended) and stir to mix completely.

Cover the mixture, chill in the refrigerator for about 30-60 minutes.

Once the ganache is completely cooled, whip with a stand mixer and whisk attachment or with electric beaters on high speed until stiff peaks form.

Frost 13x9 inch cake in a single layer, 2, round cakes layered with frosting; decorate with sprinkles directly after frosting, so they stick.
Notes
Recipe is written for whipping ganache into frosting; for a smooth, non-whipped ganache icing, increase chocolate chips to 2 cups and allow to cool on counter top (not fridge) before spreading over cake.
Use at minimum semi sweet chocolate chips, although 60%-70% is preferred.
A chocolate bar can be used in place of chocolate chips at about 6 oz. in weight of bar per cup of chips. 
Not overheating the cream, and chilling it before whipping helps to prevent it from splitting, separating or becoming grainy.
Don't over whip the ganache frosting past stiff peaks, because it will form a grainy texture.
If you overwhip the ganache and it splits (becomes grainy), heat it back up in a saucepan or microwave until warm, stir until smooth and start the process over by covering, chilling in the fridge 1 hour, and re-whipping. 
Decorate with the sprinkles right after frosting so they stick. 
For chocolate ganache icing (not whipped frosting), increase chocolate chips to 2 cups.
Nutrition
Serving:
1
piece
|
Calories:
650
kcal
|
Carbohydrates:
67
g
|
Protein:
7
g
|
Fat:
42
g
|
Saturated Fat:
31
g
|
Cholesterol:
58
mg
|
Sodium:
332
mg
|
Potassium:
309
mg
|
Fiber:
5
g
|
Sugar:
43
g
|
Vitamin A:
249
IU
|
Calcium:
121
mg
|
Iron:
4
mg