This guide shows you everything you need to know for how to dry orange slices, grapefruit, lemons and limes, or any other citrus fruit at home, and some of my favorite ways to use it.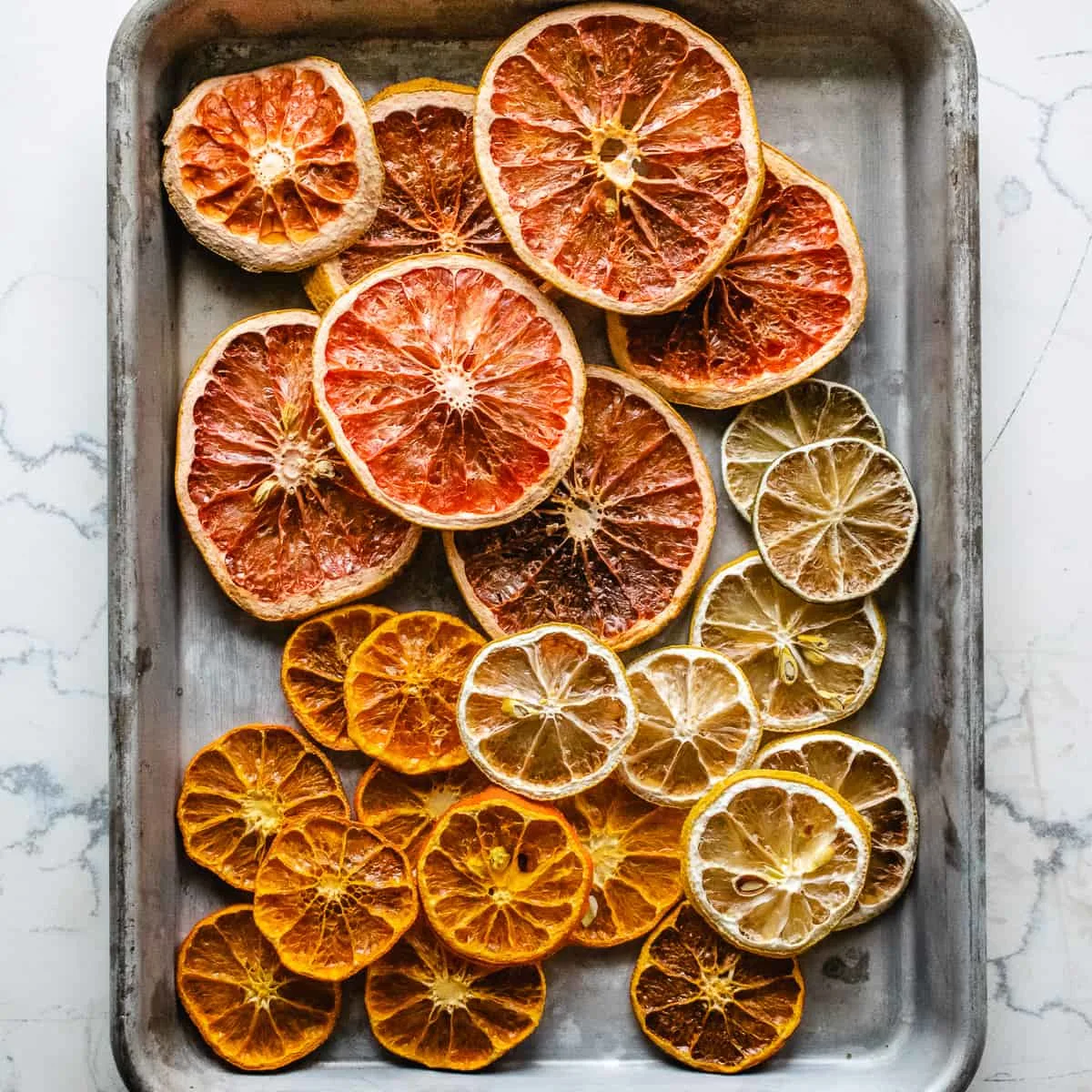 Drying citrus like oranges is easy and it comes out gorgeous every time.
You can choose any citrus you like, but some of the most popular varieties are grapefruit, oranges, blood oranges, lemons and limes.
The process is the same no matter what kind of citrus you choose.
This easy to follow guide will show you how to dry citrus in the oven or dehydrate it in a food dehydrator if you have one. Both methods are covered thoroughly below.
Slice
Choose firm, fresh citrus fruit and cut them into ⅛th-inch to 1/16th-inch slices.
The thicker the slices, the longer you will need to dry them.
Oven Method
Heat the oven to 170 degrees and leave the door cracked open slightly the entire time during the drying process.
Turn on the convection setting if you have a convection oven, as this will help to circulate the air even more for more even drying.
Place sliced citrus on a non-stick baking sheet in a single layer.
If your baking sheet is not non-stick, you will need to lay down parchment paper or the citrus will stick, which can ruin their gorgeous shape and interfere with how they dry.
The citrus rinds can be touching, but no part of the fruit slices should overlap another slice. This ensures that the slices dry evenly and quickly.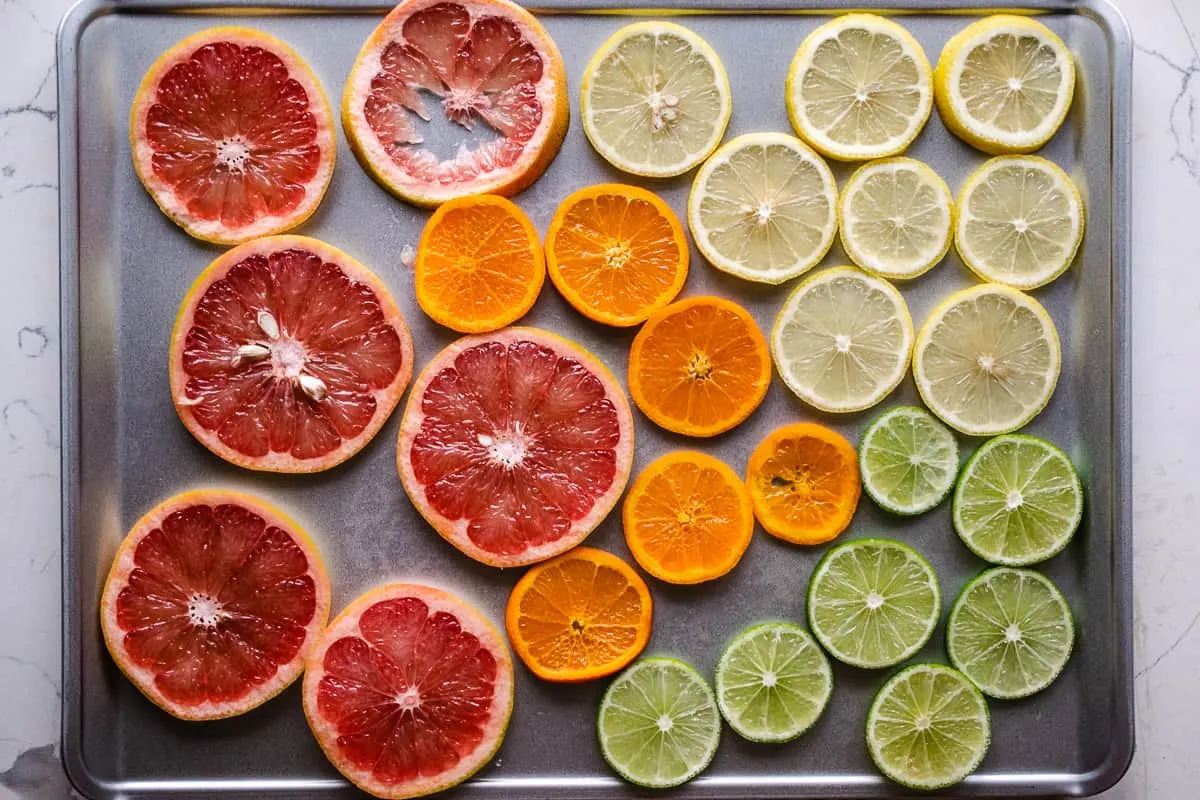 Allow the orange slices, or whatever citrus you choose to dry in the heated oven for 3-6 hours.
Heavier fruit like grapefruit, can sometimes take slightly longer than smaller slices of fruit like limes, but this is not a hard and fast rule.
Just be sure to remove smaller slices if they finish drying before the larger ones do.
After two hours, you can flip the fruit slices over to speed up drying, and make them dry even more evenly.
The citrus is dried, and can be removed from the oven when they are hard, and no moisture remains.
Food Dehydrator Method
If you have a food dehydrator, drying citrus is simple.
Like with any method, the oranges or whatever other citrus you choose need to be cut into even ⅛th-inch to 1/16th-inch slices.
Arrange the slices on the trays of the food dehydrator in even layers.
Layer the heavier slices of citrus, like grapefruit, on the bottom layer, and lighter ones like limes toward the top.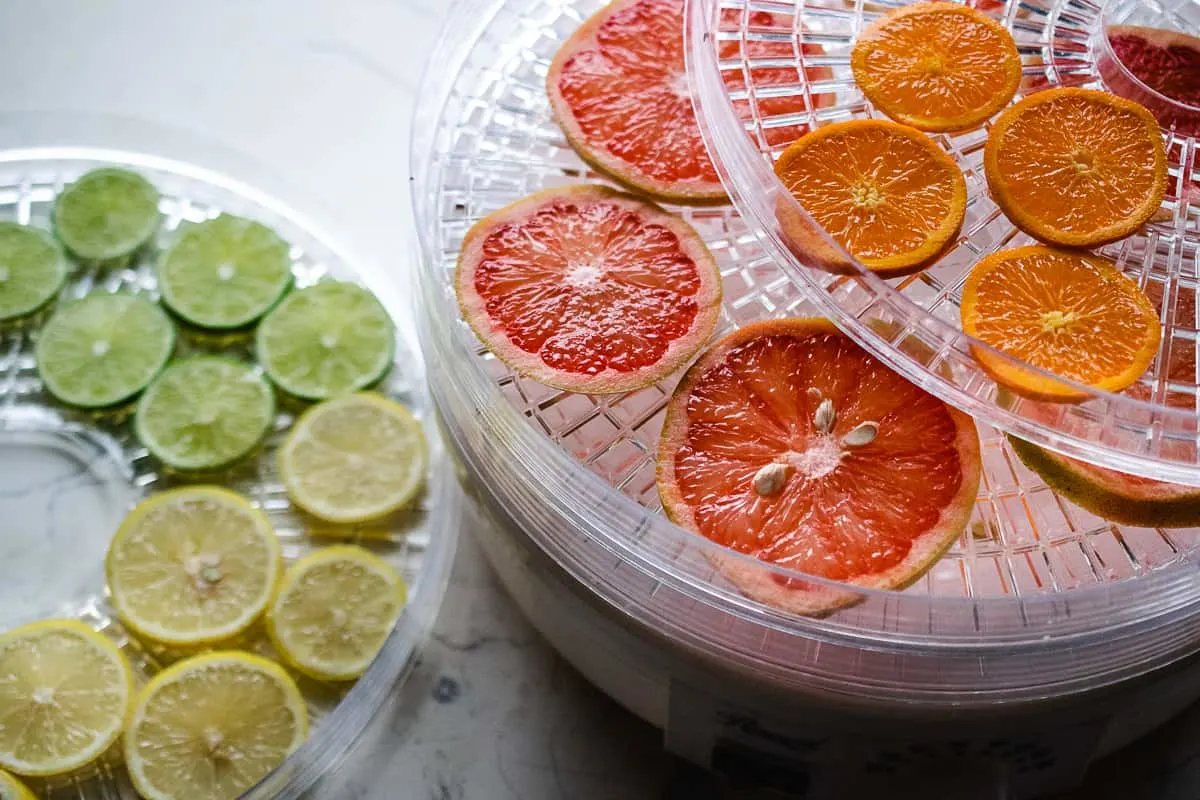 Turn the dehydrator temperature setting to 150 degrees.
Dehydrate the citrus for approximately 12 hours, or until fruit slices are hard and all moisture has been removed.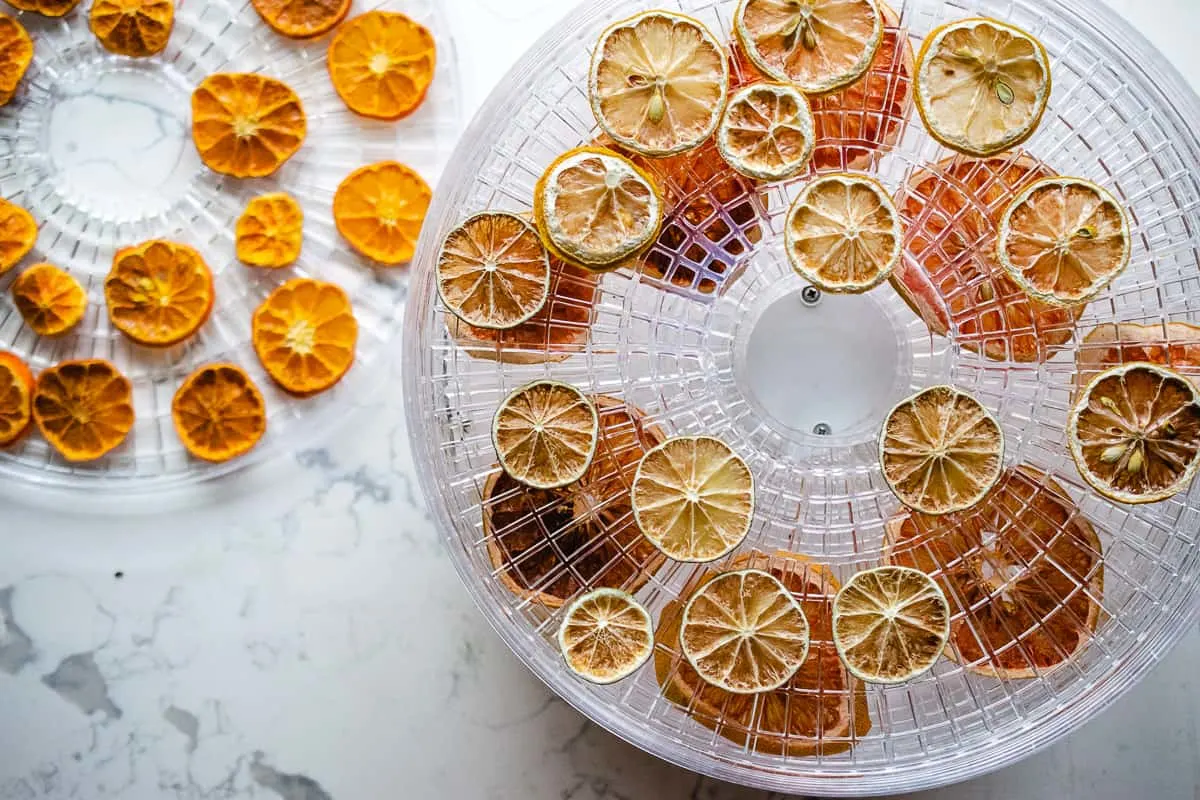 Once your citrus is fully dried and gorgeous, there are many ways to use and enjoy the preserved fruit.
Dried citrus makes beautiful Christmas tree garland, ornaments or decorations for your mantle.
Not just for the holiday season, dried citrus can be used all year around in homemade potpourris, or as a brightly scented addition to store bought potpourri.
They also make a beautiful garnish for cocktails and cakes.
You can eat them even dried, enjoy them straight, or even dipped in chocolate and sprinkled with chopped nuts or sea salt. This makes such a beautiful gift as well.
Similar recipes...
📖 Recipe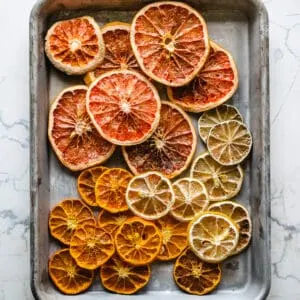 How To Dry Citrus
Easy method for how to dry citrus either in the oven or food dehydrator.
Print
Pin
Rate
Equipment
1 Oven or Food Dehydrator

2-3 baking sheets

if using oven method

parchment paper

if using oven method and baking sheets are not non-stick

serrated knife
Ingredients
1-2

oranges

sliced into ⅛th inch slices

1-2

grapefruits

sliced into ⅛th inch slices

1-2

blood oranges

sliced into ⅛th inch slices

1-2

lemons

sliced into ⅛th inch slices

1-2

limes

sliced into ⅛th inch slices
Instructions
Slice citrus fruits into thin ⅛th-inch to 1/16th-inch slices.

Arrange in a single layer on baking sheets lined with parchment paper, or on trays in a food dehydrator.

Dry the citrus fruit in the oven at 170 degrees for 3-6 hours, or in food dehydrator for 12 hours until hard and all moisture is removed.
Notes
If you are using the oven method to dehydrate the citrus fruit, make sure your baking sheets are either non-stick, or lay down parchment paper.
Thicker, heavier fruit like grapefruit could take slightly longer than lighter or more thinly sliced fruit like limes.
Nutrition
Serving:
1
g
|
Calories:
23
kcal
|
Carbohydrates:
6
g
|
Protein:
0.5
g
|
Fat:
0.1
g
|
Saturated Fat:
0.01
g
|
Polyunsaturated Fat:
0.03
g
|
Monounsaturated Fat:
0.01
g
|
Sodium:
0.3
mg
|
Potassium:
82
mg
|
Fiber:
1
g
|
Sugar:
3
g
|
Vitamin A:
333
IU
|
Vitamin C:
23
mg
|
Calcium:
16
mg
|
Iron:
0.1
mg