The easiest, most customizable homemade sprinkles recipe you'll find! Whatever the color, whatever the shape, you'll love how cute these are and fun to make.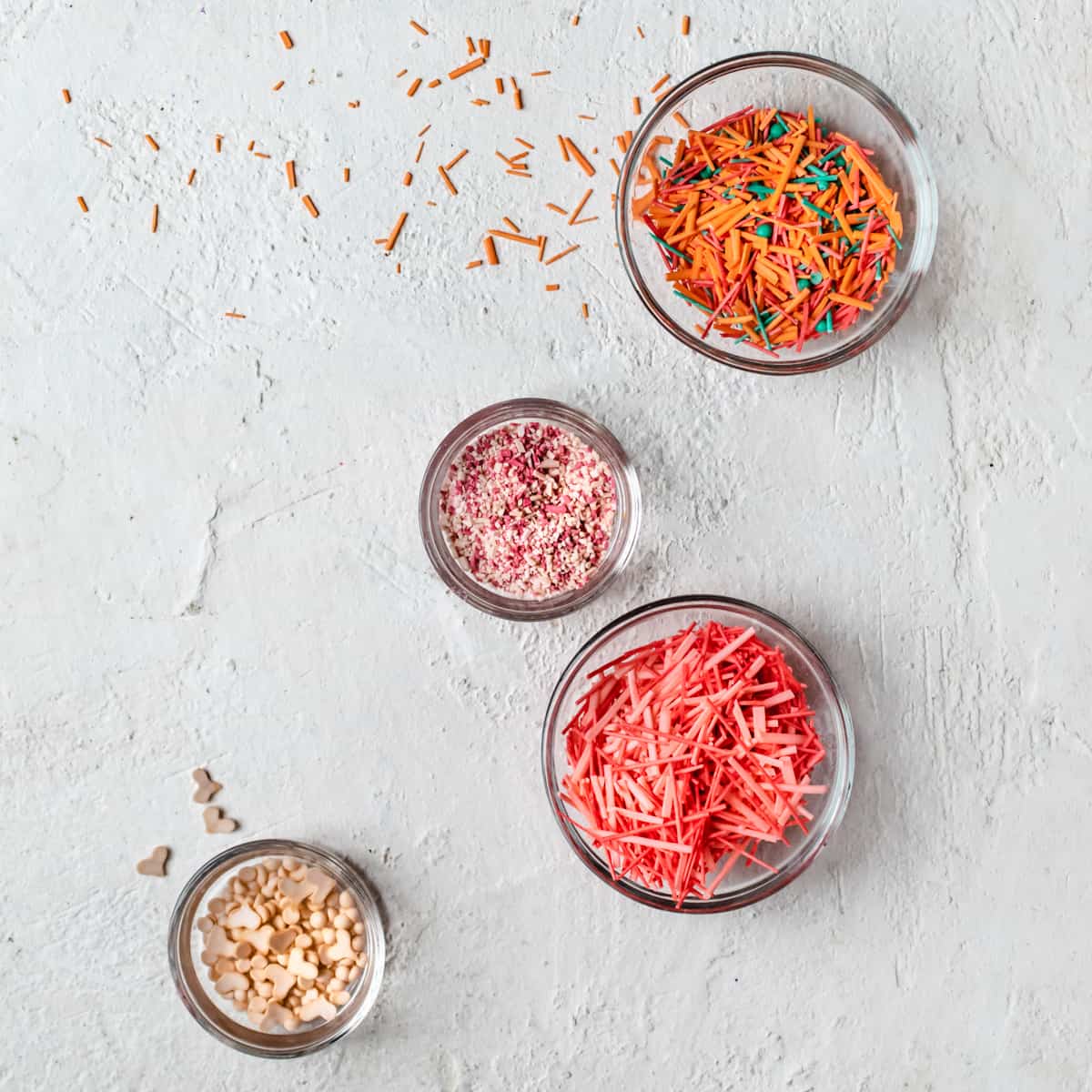 Whether you want to use bright, vivid gel food coloring, or natural food colorings this recipe works.
It also means you make any size, shape or color combination of sprinkles you can imagine!
Here's what you need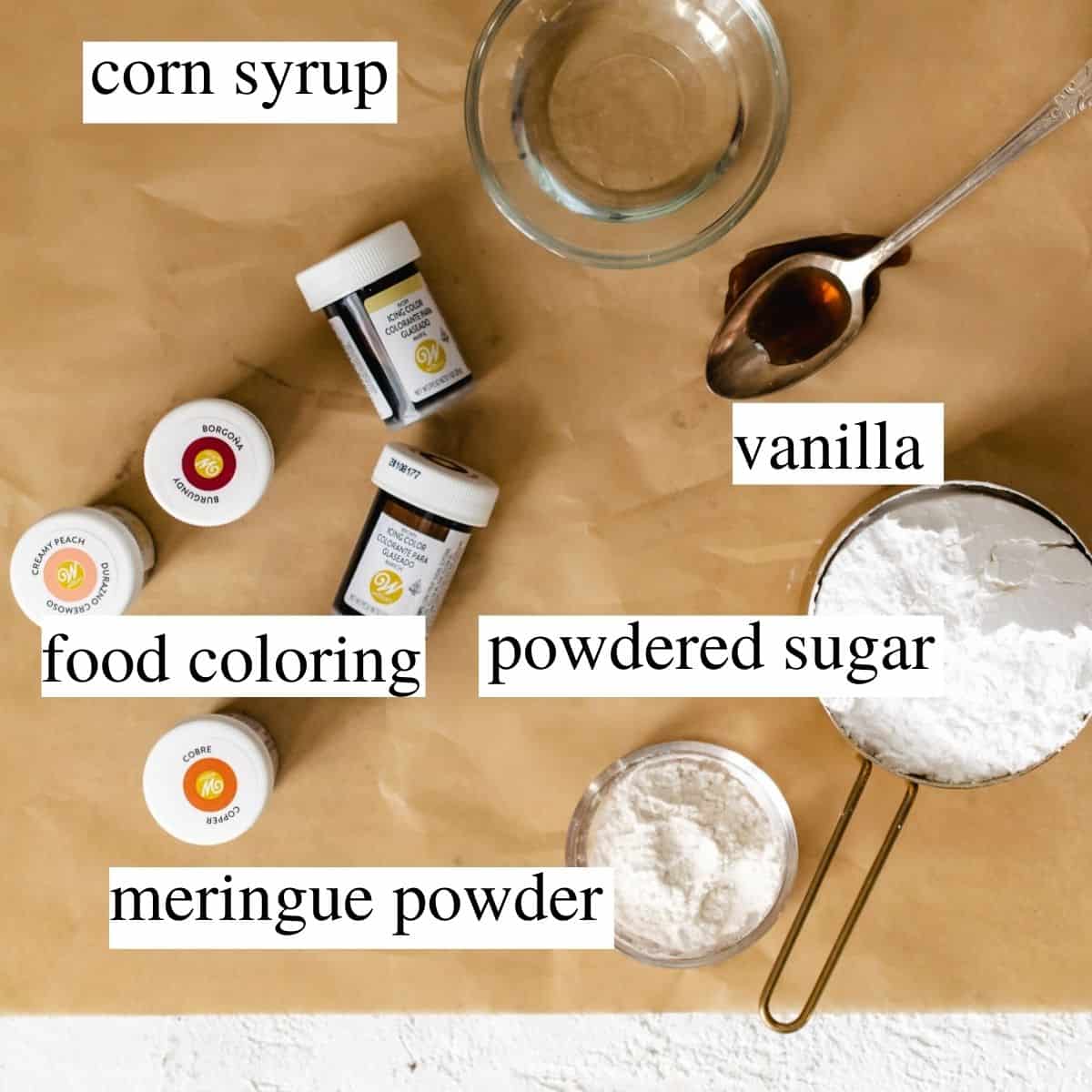 Vanilla- optional and just for a boost of flavor so that your sprinkles don't taste boring like many store bought sprinkles.
Corn syrup- use light corn syrup.
Meringue powder- meringue powder is very easy to find in most any store's baking aisle and also online BUT, it's really easy to make too out of egg whites! Here's how.
Food coloring- any kind of gel, powdered or natural food coloring you wish to use is fine. If you are interested in making homemade food coloring, here is a quick video of how to do that.
Parchment paper- you will need parchment paper or wax paper to pipe the sprinkle mixture onto. Don't try to substitute foil or any other material, or the cut sprinkles will be too stuck to release.
Make the sprinkle base
To make homemade sprinkles, simply mix the powdered sugar, vanilla (optional), meringue powder, and corn syrup along with a bit of water until smooth.
For super vivid, white sprinkles, use very little to no vanilla extract or clear vanilla extract.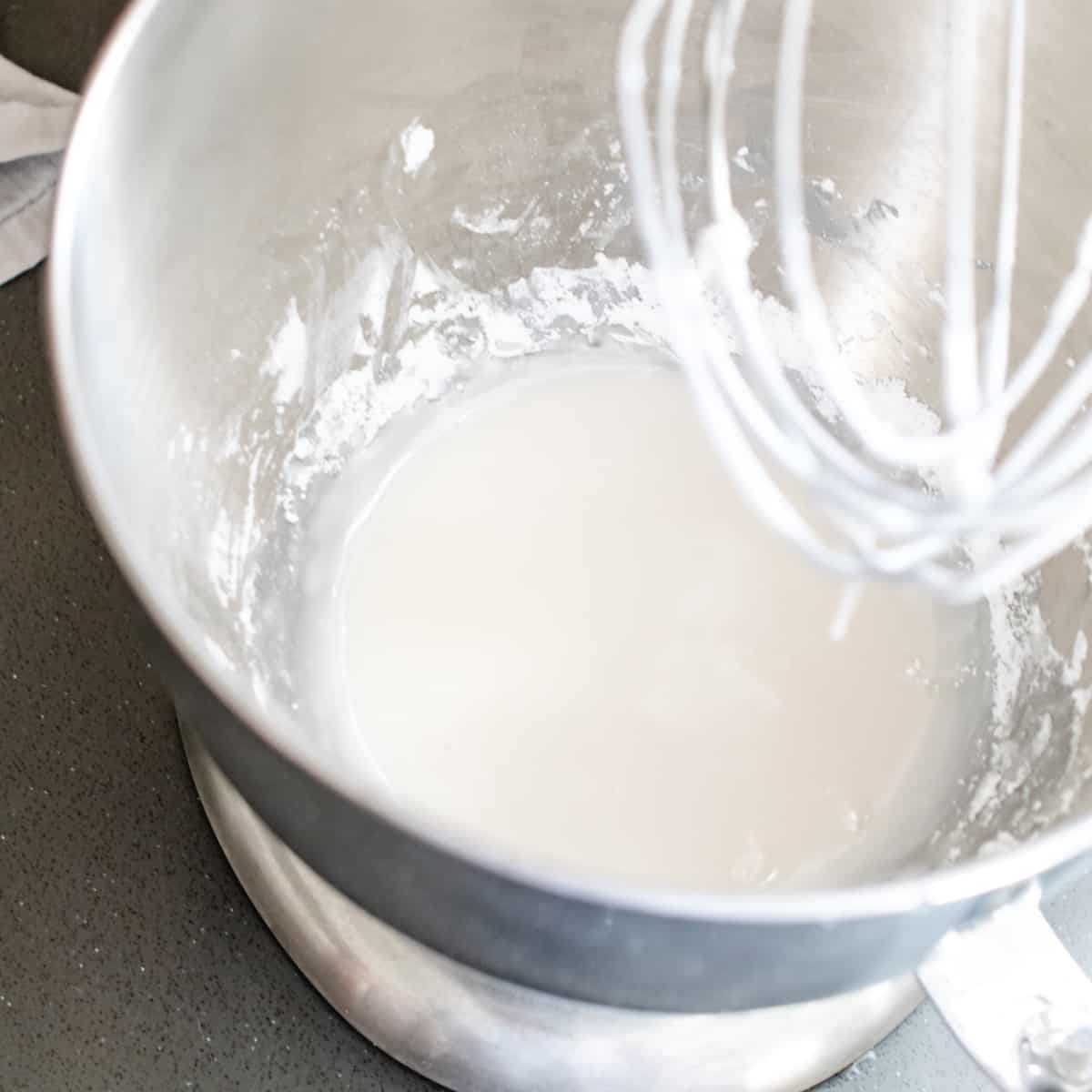 Add the food coloring.
For a variety of different colors, portion the white, non-colored sprinkle base mixture from above into small bowls that you will then add food coloring to.
A trick I like to do, (because I also like the way it looks), is to make monochromatic colored sprinkles. This just means that all the sprinkles are variations of one color, and it's also the easiest method.
So, it's easy to start with the lightest color, mix in a few drops, and portion a bit out, and add more as you go, portioning a little more out as you until you end on the last color. Refer to the pictures below for a visual of what this looks like from left to right, (or lightest to darkest).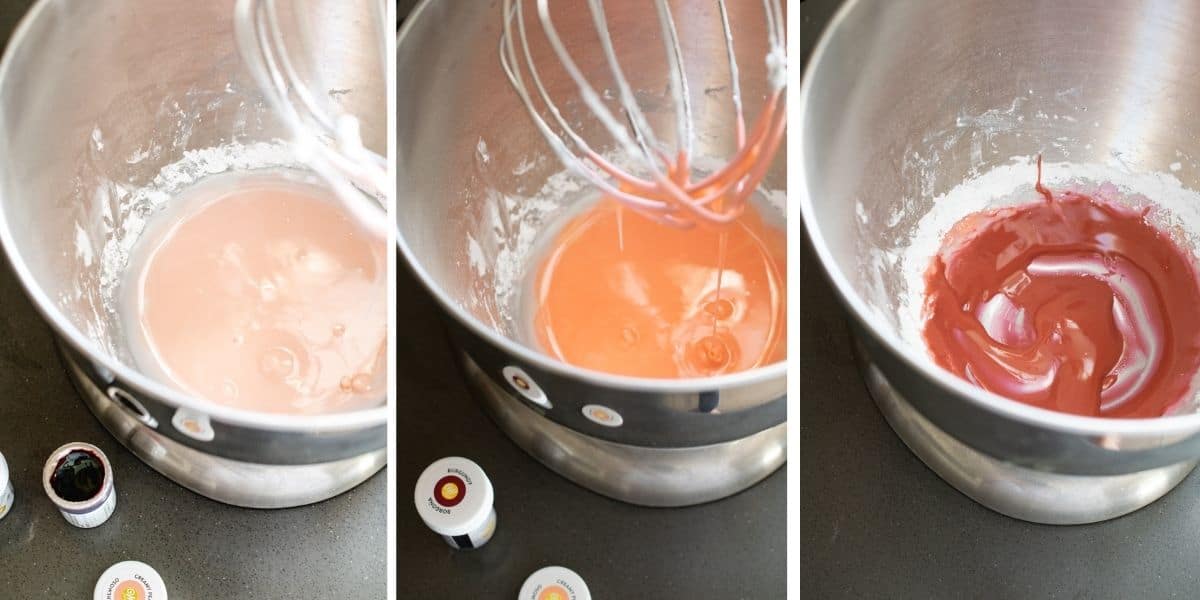 Prepare piping bags
Add the colored sprinkle mixes to piping bags, and fit with a small round piping tip (like a Wilton size 2 tip).
No piping tips? No problem! I use plastic bags with a hole cut in the corner all the time. I recommend using decent quality bags, otherwise they can burst if they have weak seams.
When using the bags, a good trick is to fit them over small jars or glasses, as shown below, and fold the tops downwards. This allows you to scoop the mixture into the bags without making a mess.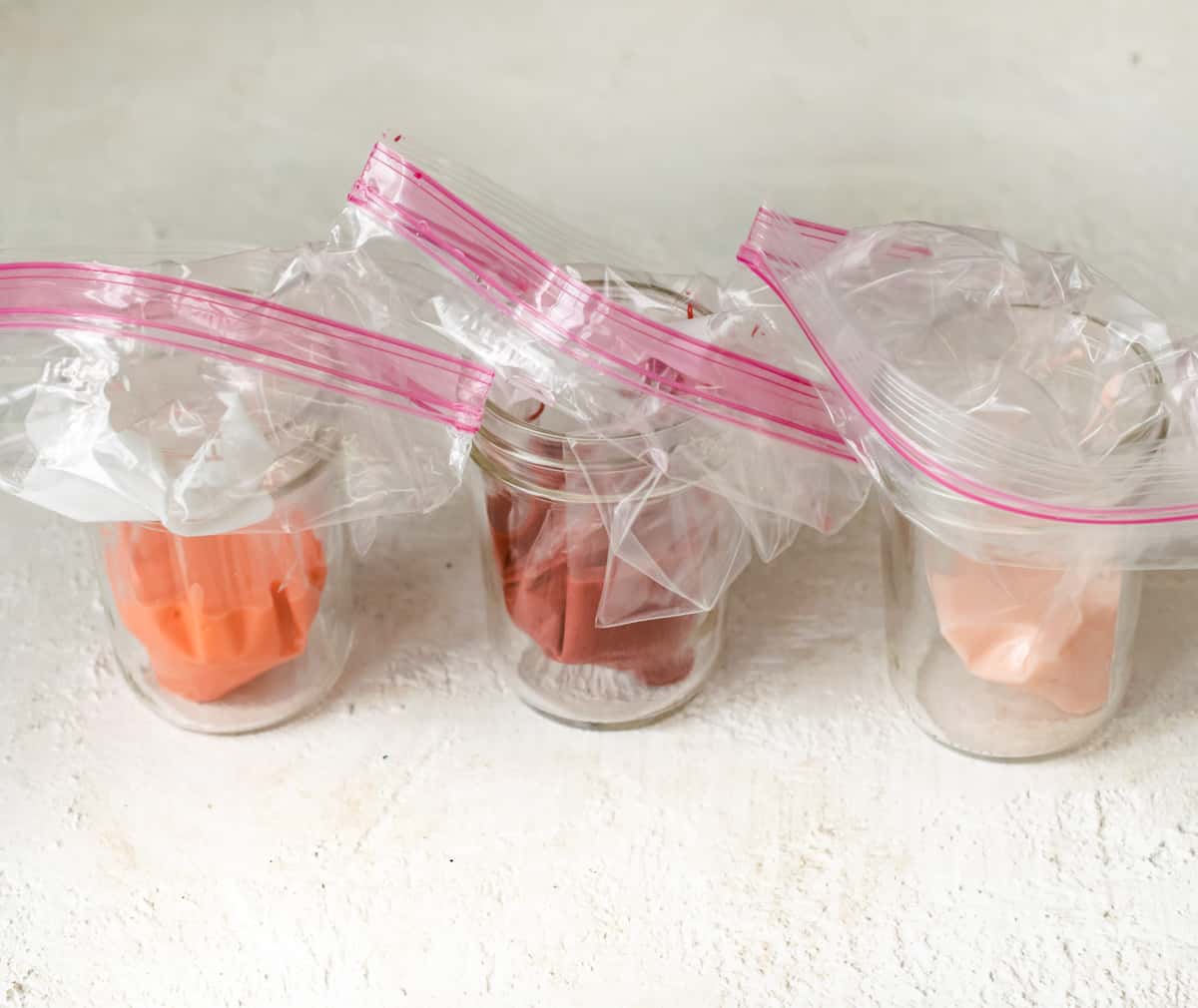 Twist the filled bags at the open end and secure with bread ties or rubber bands.
Afterwards, snip a very small 1-2mm wide tip off the very corner. It's better to aim for smaller, as you can always widen the opening if it's too narrow.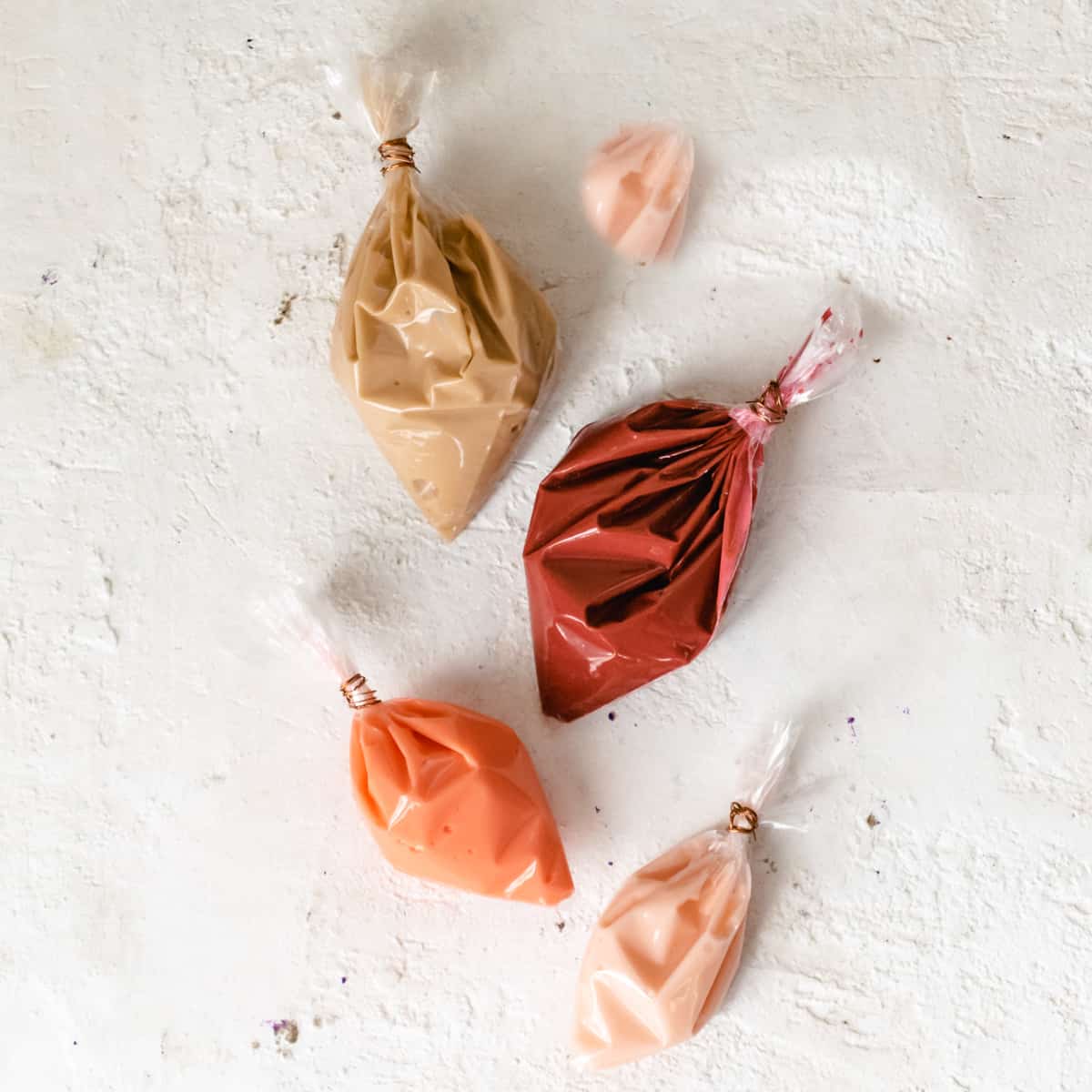 Piping the sprinkles
On the parchment paper (or wax paper) squeeze the sprinkle mixture into lines. It might feel wobbly the first few times, but you'll get a feel for it.
Note that slight waviness in the lines won't be noticeable after cutting.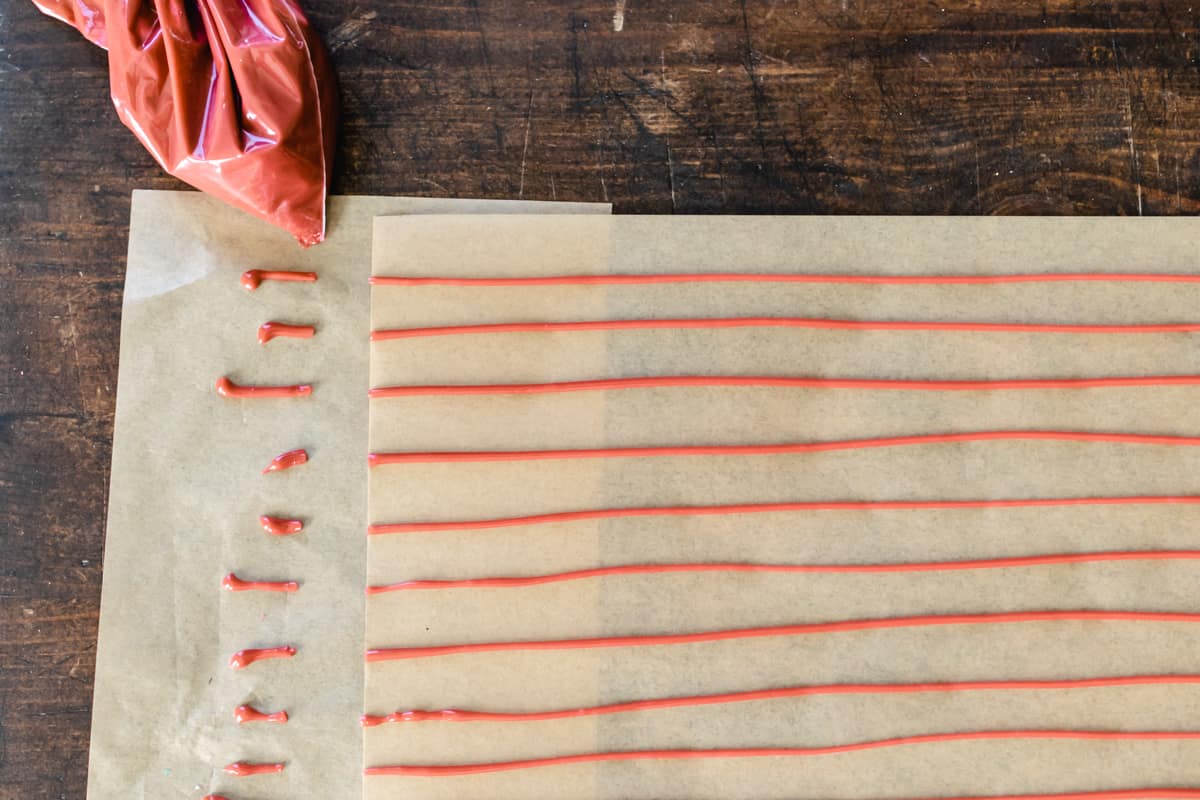 I like to place two "garbage" pieces, or "wings" at the end of each full piece to catch the ends. This is only optional, and it's just a tip I'm sharing that works for me, personally. See the photo below of how this works, and how these "wings" can just be pulled away and reused for the next piece.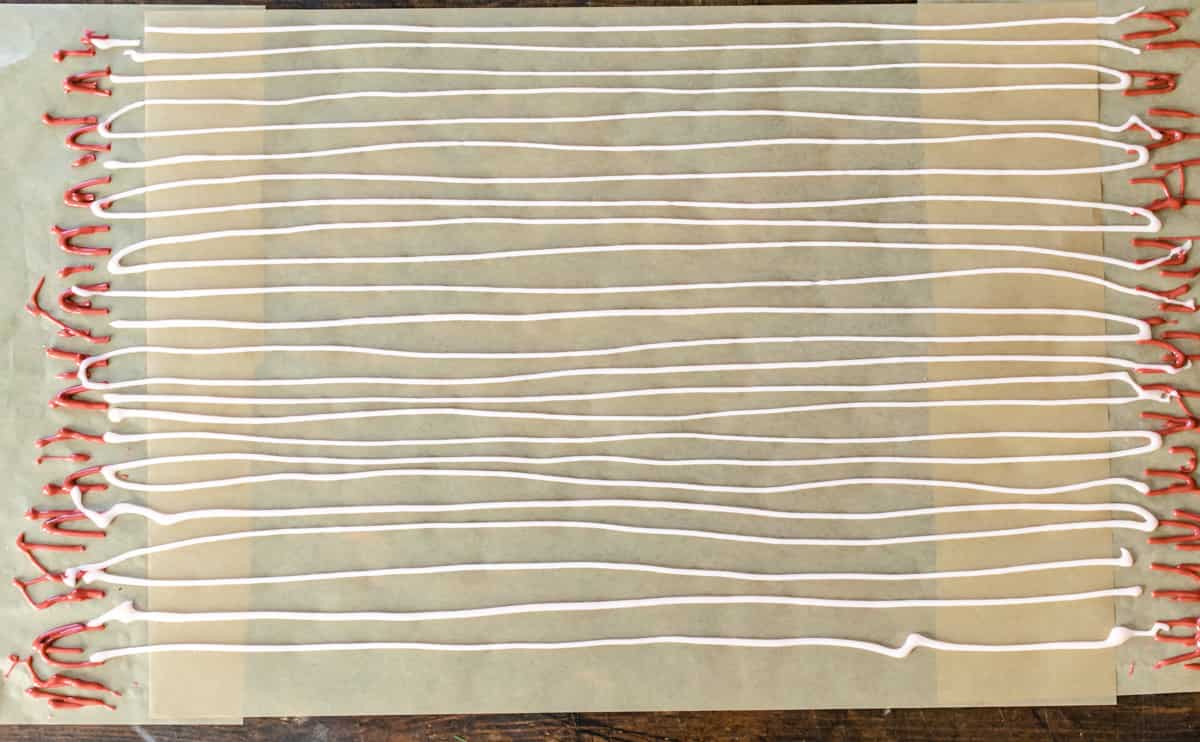 If you don't do this, just plan on cutting off the ends of the lines on each side, and discarding them due to their irregular shape. There's no right or wrong way to do this, just choose whatever is easiest for you.
You can make thin to thicker lines, dots or hearts! Pretty much whatever small-sized and thin in structure shape that can dry easily.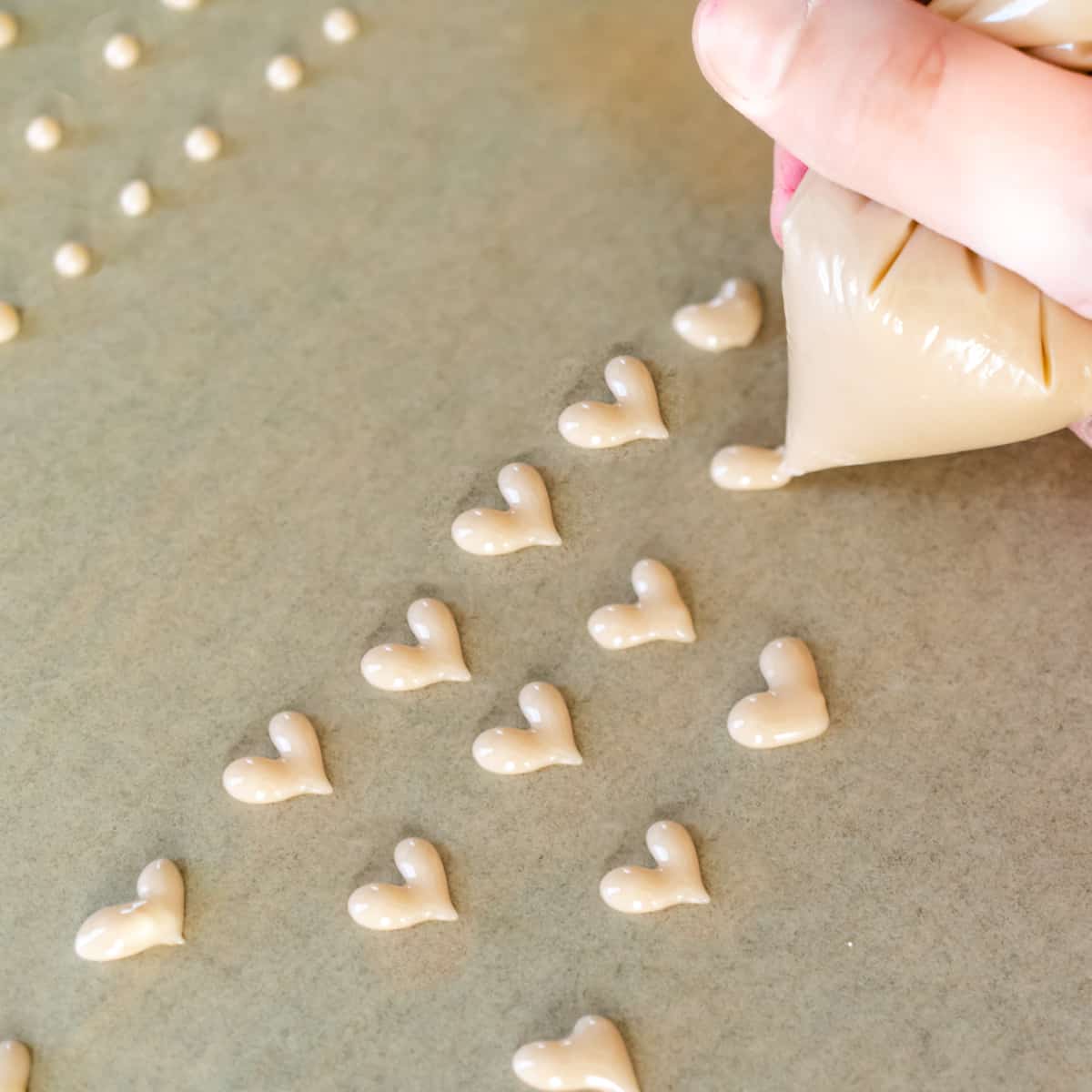 Speaking of drying, these will take anywhere from 1-3 hours to fully dry, but you can let them go overnight. No need to cover them.
Use a pizza wheel, ravioli cutter or just a good sharp knife to cut the lines once they are completely dried out.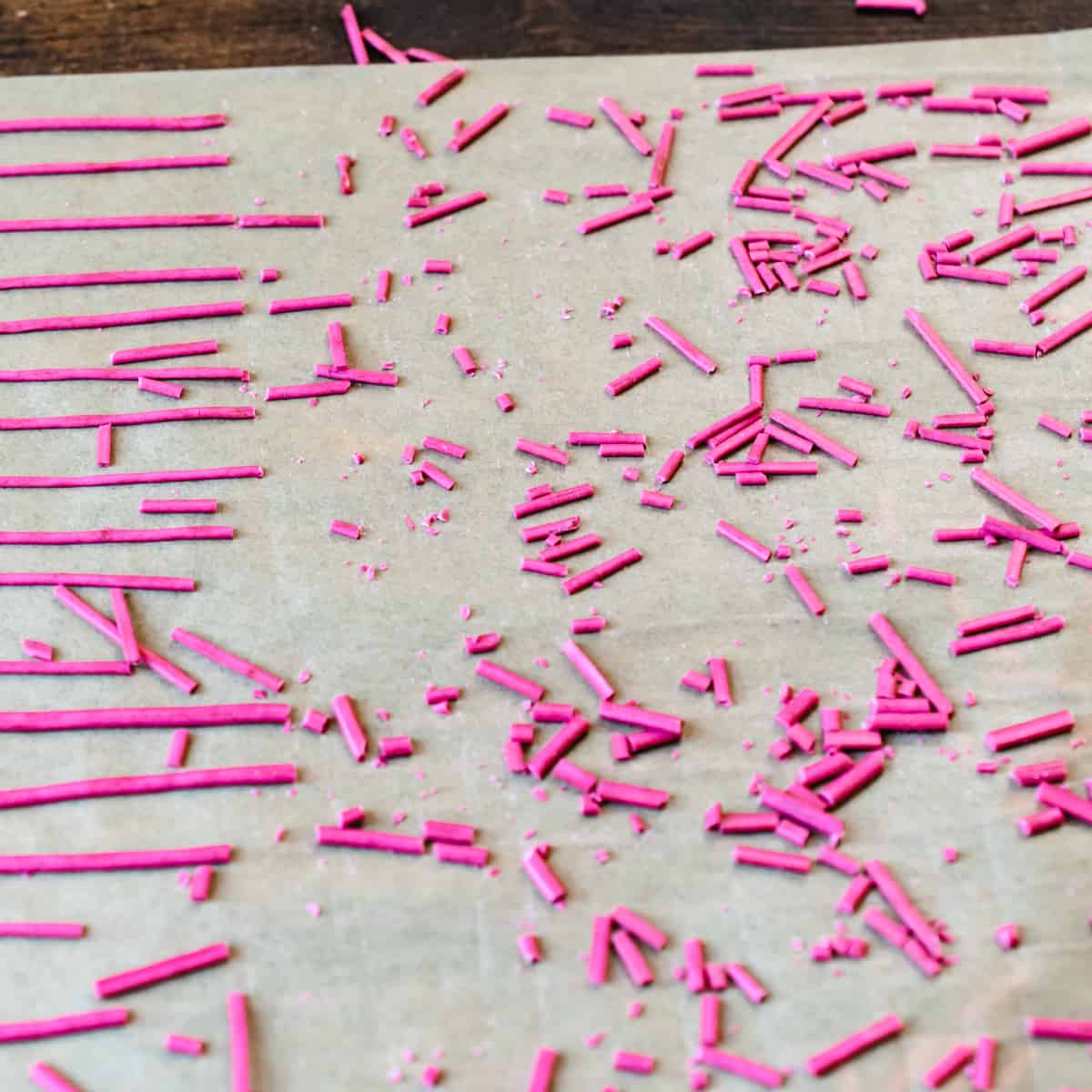 Storing sprinkles
Dried and cut sprinkles can be stored almost indefinitely in a cool pantry, in a covered container. I would recommend using them within 6 months at the most, because depending on the type of food coloring used, colors may fade beyond that time.
Use them however you would any other sprinkles! Cakes, cupcakes, cookies, funfetti pancakes, cake pops, oatmeal (ok, kid's special birthday morning funfetti oatmeal...)
You could even make sprinkle rim glasses for milkshakes, chocolate milk or even dessert style cocktails! You get the idea...
Personally, my favorite way to use them? A really simple Chocolate Cake decorated with homemade sprinkles of the perfect color.
FAQ's
What ingredients are in sprinkles?
Homemade sprinkles can be made with as little as powdered sugar, corn syrup, and food coloring, with the optional vanilla extract.
How do you make fancy sprinkles?
You can make any color combination of any color of sprinkle with this simple recipe. The shapes and sizes are only limited to your imagination.
Can you make sprinkles without food coloring?
You can make chocolate, vanilla and a variety of rainbow colored sprinkles using natural ingredients without food coloring. There are also many natural food coloring products available for purchase.
Tips and tricks
While a piping bag and small round tip (like a Wilton small round 1,2 or 4) are ideal, you can easily improvise with plastic bags.
Zip lock bags generally have tougher seams than fold-over top sandwich bags; a weaker bag like that can easily split open when squeezed so if you use one of those, just squeeze the lines slowly and don't force it too hard.
Multi-colored sprinkles are fun, and as easy as dividing up the sprinkle base mixture into small bowls and coloring those portions individually, however you desire.
However, a monochromatic color palette requires only one bowl. Plus, it's trendy! Color as you go, and no dividing into little bowls before piping out.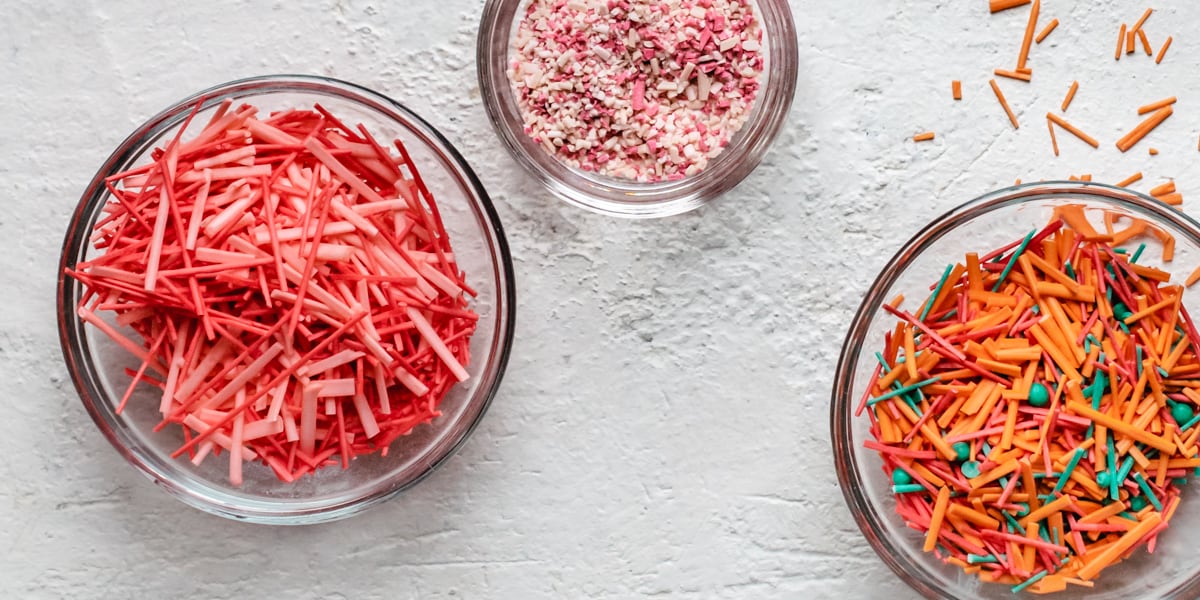 More you might like...
If you tried this recipe, leave a comment below or rate it with the stars 1-5!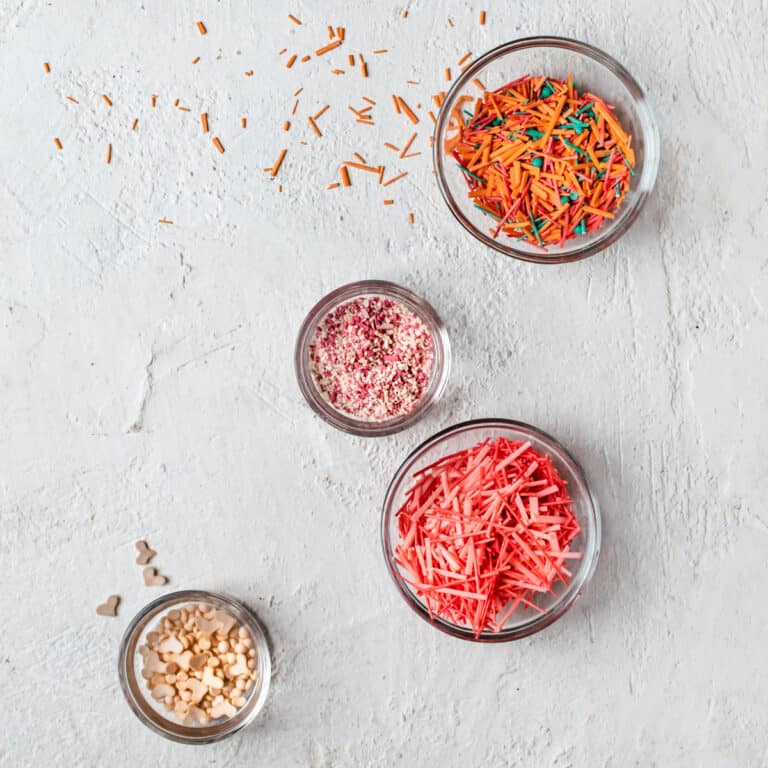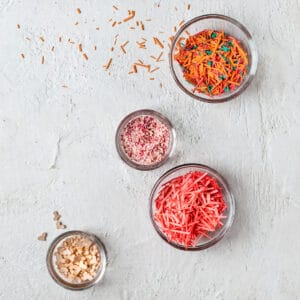 Homemade Sprinkles
With just a few ingredients, you can make homemade sprinkles of any size, shape or color combination.
Print
Pin
Rate
Equipment
Piping bags and tips

Parchment or wax paper
Ingredients
2 ½

cups

powdered sugar

sifted

2

tbsp

corn syrup

light

½

tsp

vanilla extract

2

tbsp

water

food coloring
Instructions
Mix together the powdered sugar (2 ½ cups, sifted if necessary) with the corn syrup, vanilla extract and water until smooth.

It should be a paste-like consistency so add a tablespoon more of water if it's too thick to come together or powdered sugar if it's too thin.

Divide into 3-4 small bowls and stir in a few drops of desired food coloring.

Scoop into piping bags fitted with a small round tip (like a Wilton #2), or plastic bags and snip a small hole in the corners (twist and tie off the ends).

On parchment paper pipe thin lines all the way across with each color.

Allow to dry 2-3 hours (possibly overnight if they are thick).

Cut off any wonky, irregular ends and cut or break into segments of desired length. You can also crush them in a plastic bag with a rolling pin for fine sprinkles, or leave extra long 1-2 inches for a cool variety.

Store in a container, covered for up to 6 months in the pantry.
Notes
Don't overdo it on the vanilla as it can slightly tint the mixture; or use clear vanilla extract. 
Monochromatic sprinkle color (like Ombre) pallete is the easiest, and the food coloring can be mixed in the same bowl by adding a few drops at a time, removing a portion, adding a bit more, stirring and repeat. 
Experiment with dots, hearts, jimmies (the lines) and more to create a fun and festive mix. 
Nutrition
Serving:
1
g
|
Calories:
65
kcal
|
Carbohydrates:
17
g
|
Protein:
1
g
|
Fat:
1
g
|
Saturated Fat:
1
g
|
Sodium:
2
mg
|
Sugar:
16
g