A simple, but delicious chicken curry jam packed full of flavorful spices, coconut milk, and shredded chicken. Customize with your favorite veggies, and serve over rice for a super easy meal. Can also be made vegetarian style, and gluten-free.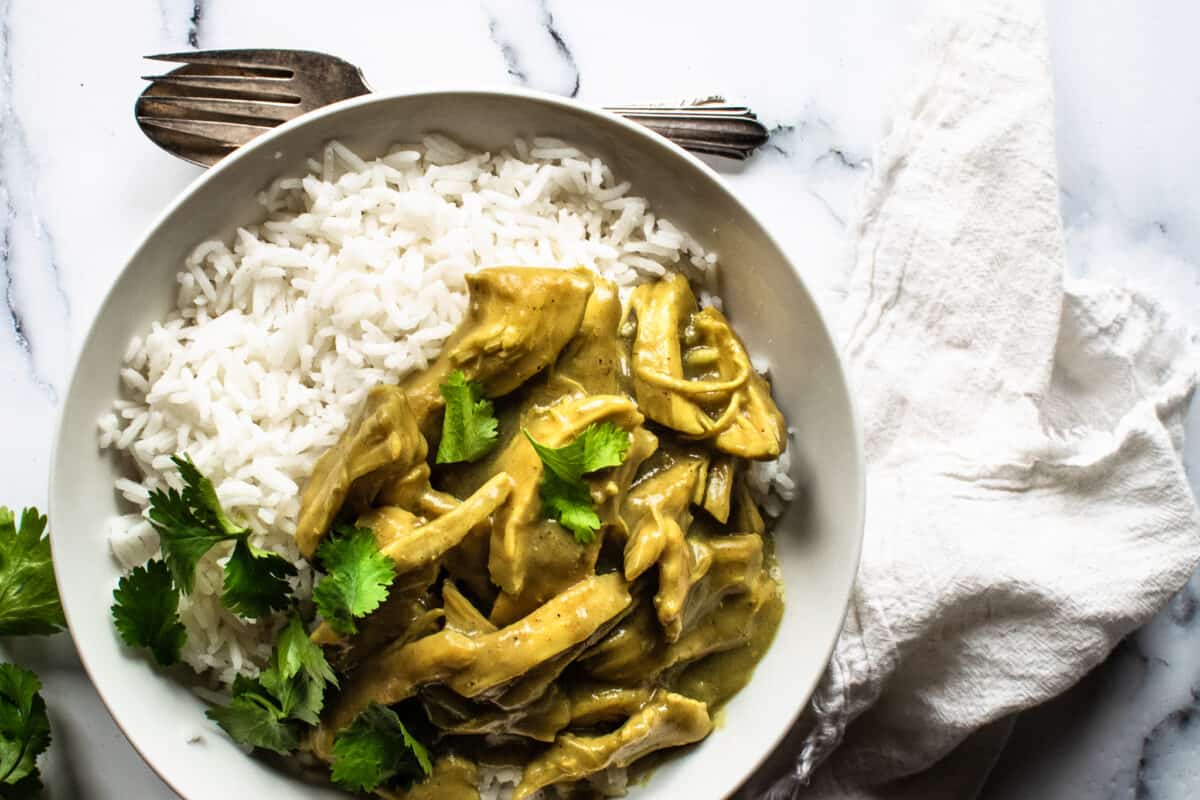 Let me start by saying, while this recipe makes enough to feed the average family, you'll probably want to make a little extra because, it's one of those dishes that has you waking up and heading to the fridge at 2 a.m. for a little extra bite of the leftovers.
how do you make chicken curry from scratch?
Some pantry spices and curry powder is all you need to make some amazing chicken curry in a hurry. This recipe calls for coconut milk, but you can substitute regular milk or cream. Most store bought curry powders come with all the usual curry seasonings blended in, but this recipe does call for additional amounts of coriander, cardamom and turmeric.
If you don't have these on hand, just add additional curry powder. Fresh lime will substitute for the cardamom in a pinch, and coriander is just the seed of the cilantro plant. So curry powder, plus some additional seasonings, OR, curry powder, plus extra lime and cilantro. Or both! Chicken curry is one of those things you can't easily ruin. As long as you have the curry powder (the fenugreek spice in the powder is what gives the distinctive "curry flavor", you're good to go.)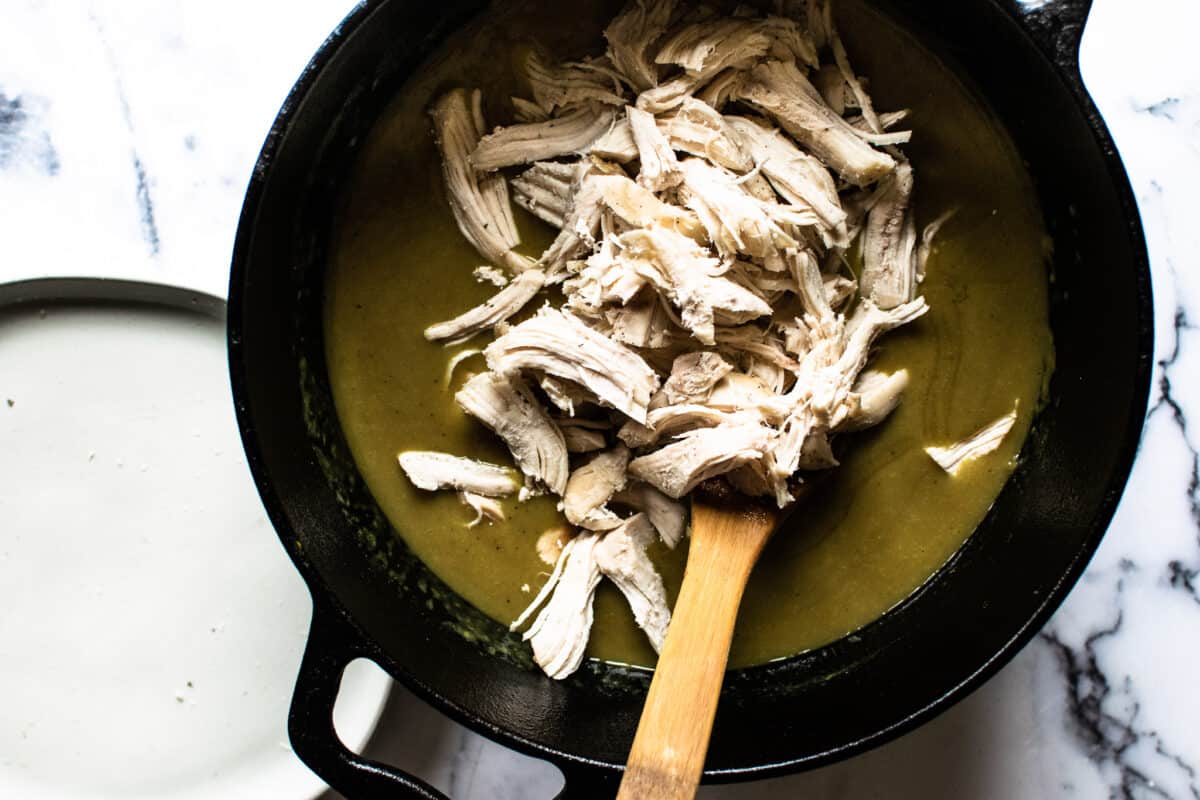 new to curry?
This recipe is perfect for you, then. It's extremely basic in terms of ingredients and very easy to change up. Follow the simple recipe, and make substitutions if necessary, as noted.
how to make the easiest chicken curry ever
Get your rice and chicken going (unless you have a rotisserie chicken, then just get your rice going.) Basmati rice is my personal favorite, because the grains are so long, and it never gets gummy. Whatever kind of rice you choose, follow the package directions. Cook chicken breast until cooked through, and then pull apart into bite size pieces with two forks.
Bring some butter or oil to medium high heat and add minced onion and garlic. If you are using hard root vegetables, like carrots, add them here too. Soft vegetables like green beans, peas, or tomatoes can go in at the end when the chicken does to avoid over cooking and becoming mushy.
Once onion and garlic become translucent and soft, add the spices and sauté for a few minutes. This will open up their flavors and develop them, and it is the key step to making this easy dish as delicious as possible. Also add the flour at this time to cook out the taste. (To make this gluten free, use half the amount of corn starch.)
Once the spices have darkened in color, after being cooked for a few minutes, add the liquids (stock, milk, lime). See notes for substitutions.
Simmer the ingredients together; everything should thicken up by 10 minute's time.
Add the chicken, and additional veggies. Simmer until heated through.
Serve with steamed rice, and additional lime and cilantro as garnish.
what do you eat with chicken curry?
Serving chicken curry with rice is perhaps the most popular way it's eaten, but it's often served with cauliflower rice, or even shredded lettuce instead of rice. If you like Indian Butter Chicken with naan, you know how delicious Indian spiced foods can be when scooped up with triangles of soft, buttery naan. Yum.
If you are choosing to make this vegetarian style, make sure to swap the chicken stock for vegetable stock and use tofu or jackfruit in place of the chicken.
One of my favorite ways to eat chicken curry (especially when I need to get my greens in) is to simply serve it on a bed of spinach, like shown below. No chopping, or extra sautéing required beyond the base recipe.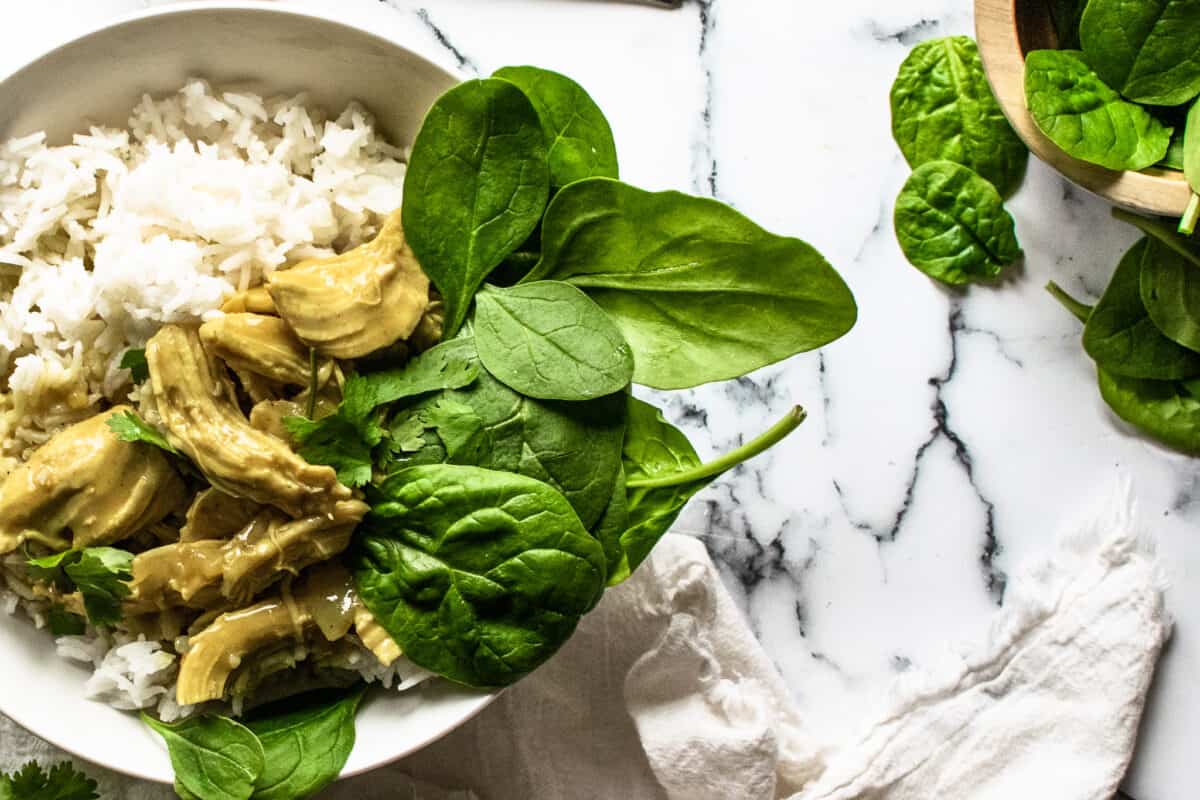 a quick alternative to take out
From start to finish, this will take you about 30-45 minutes, which makes it a perfect week-night, one-bowl meal. If you have some rotisserie chicken, even better. Pull that apart and use it as the dish's protein.
Feel free to substitute the chicken for tofu, or extra veggies altogether. If you are not quite feeling the tofu and need something a little heartier than veggies, then garbanzo beans are perfect! And yes, beef or lamb work great also. Pretty much anything you can imagine, when prepared in a curry and served over rice (or another vessel) is going to satisfy bored taste buds.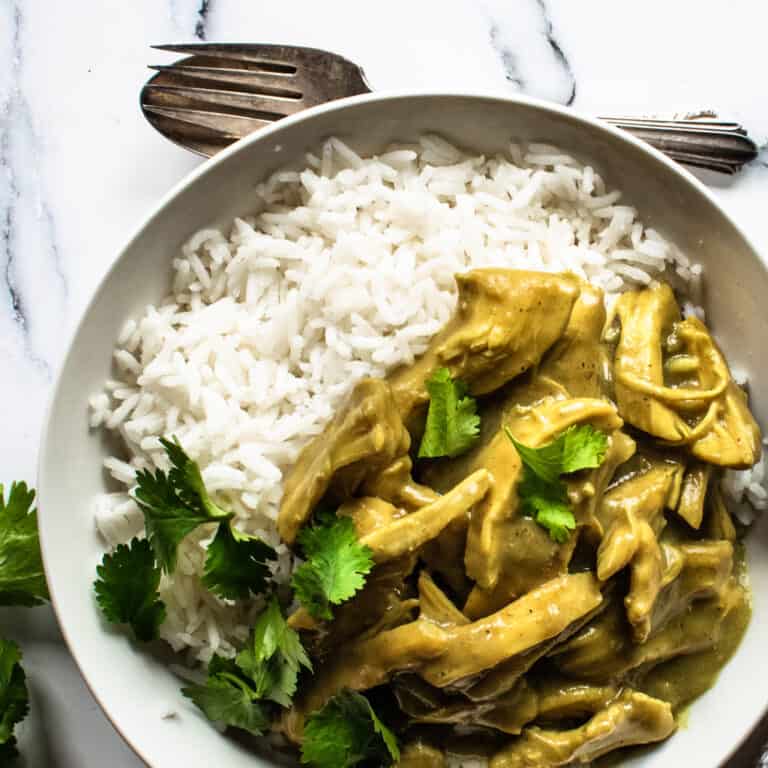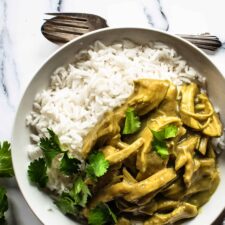 Simple Curry Chicken
Shredded chicken in a rich curry coconut sauce, served over rice. Can be made vegetarian style, and also gluten free. See recipe notes.
Print
Pin
Rate
Ingredients
3

tablespoon

butter or olive oil

4

cloves

garlic

minced

½

medium onion

diced

4

baked chicken breasts

or rotisserie chicken (pulled into bite size pieces with fork; can substitute tofu or jackfruit)

4

cups

chicken stock

can substitute vegetable stock for vegetarian

15

oz

coconut milk

(about 2 cups, can sub whole milk)

1

tablespoon

good curry powder

½

teaspoon

cardamom

½

teaspoon

ground coriander

1

teaspoon

ground mustard powder

1

teaspoon

turmeric

¼

cup

flour

to make gluten free, use ⅛ cup corn starch instead of ¼ cup flour

1

teaspoon

salt

⅛

teaspoon

crushed red pepper flake

optional, for spice

1

large lime

juice of (plus more for serving)

¼

cup

chopped cilantro

plus more for garnish

steamed white rice

for serving, basmati or jasmine preferred
Instructions
In a large, deep skillet heat olive oil, garlic and onion, and saute until translucent.

Add flour and spices, and saute for 2-3 minutes until spices darken and become fragrant.

Add stock, coconut milk(or whole milk), and juice of one lime. Bring to a simmer on medium high heat for 5-10 minutes.

Add chicken pieces, (and veggies if desired) and cook until heated through.

Remove from heat.

Serve with steamed rice, and cilantro for garnish. See notes for additional serving options.
Notes
Feel free to add veggies like carrots, peas, green beans, and peppers to the curry. If the vegetable is firm (like a carrot) add it with the onion and garlic to soften it. If it is soft (like a bean) add it at the end, with the chicken to avoid over cooking it. 
Coriander can be substituted with extra cilantro; cardamom with extra lime. Curry powder usually contains all these seasonings, including turmeric, so these are just extra. But can be made with curry powder alone. 
Curry can be served with rice, naan bread, or vegetables of choice. 
Chicken can be swapped with beef or tofu.
Consider serving with fresh leafy greens like spinach.
Garnish with fresh cilantro (optional).
If you are choosing to make this vegetarian style, make sure to swap the chicken stock for vegetable stock.
To make gluten free, substitute corn starch for the flour, and use half the amount. (Corn starch requires only half the amount of flour to be used as a thickener.)
Nutrition
Serving:
1
g
|
Calories:
485
kcal
|
Carbohydrates:
15
g
|
Protein:
42
g
|
Fat:
29
g
|
Saturated Fat:
16
g
|
Cholesterol:
102
mg
|
Sodium:
713
mg
|
Potassium:
674
mg
|
Fiber:
1
g
|
Sugar:
3
g
|
Vitamin A:
91
IU
|
Vitamin C:
6
mg
|
Calcium:
49
mg
|
Iron:
5
mg