Sweet, smokey and tangy, with the added kick of bourbon cooked right in, this BBQ sauce is great on just about anything you can think to put it on!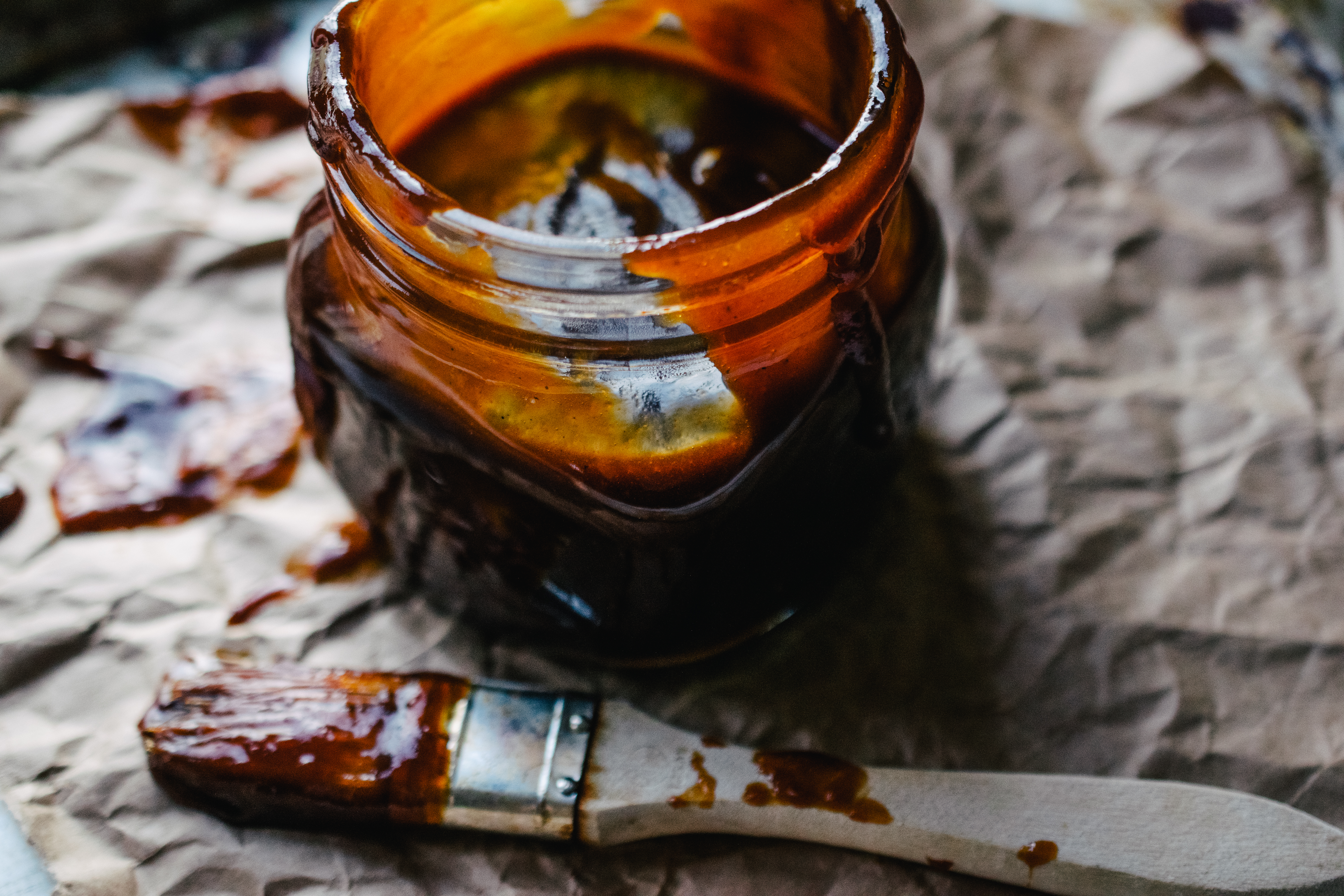 No high fructose corn syrup
It is really difficult to find a barbecue sauce without high fructose corn syrup in it. It's amazing the amount of grocery items that contain it, and barbecue sauce is at the top of the list. I've wasted a lot of time scouring the shelves for it, and it's why I just make my own now. Thankfully, it is extremely easy to make at home. Follow this easy recipe for Honey Bourbon BBQ Sauce, and you are minutes away from a delicious barbecue sauce, without high fructose corn syrup.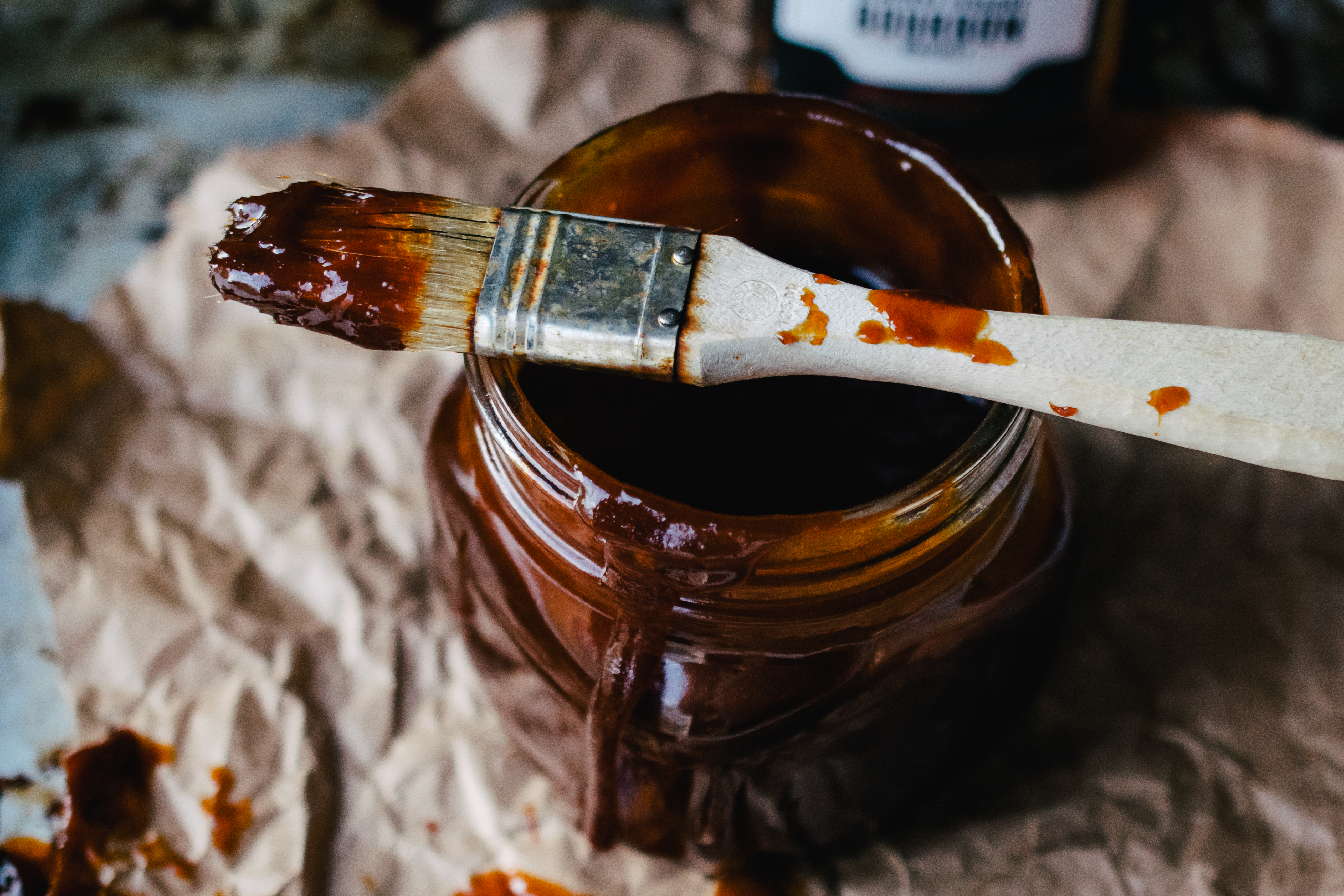 It's easy, with simple pantry ingredients
It is highly likely that the ingredients needed to make barbecue sauce are already in your pantry. Obviously, this one's got bourbon in it, and if you don't already have some in your house I have to recommend that you scoot off and snag some before trying this recipe. It is amazing with the bourbon simmered into it. Like, finger-lickin-amazing. We put it on everything, but if you need some inspiration check out this BBQ Chicken Bacon Pizza recipe, and make it with this here Honey Bourbon BBQ Sauce!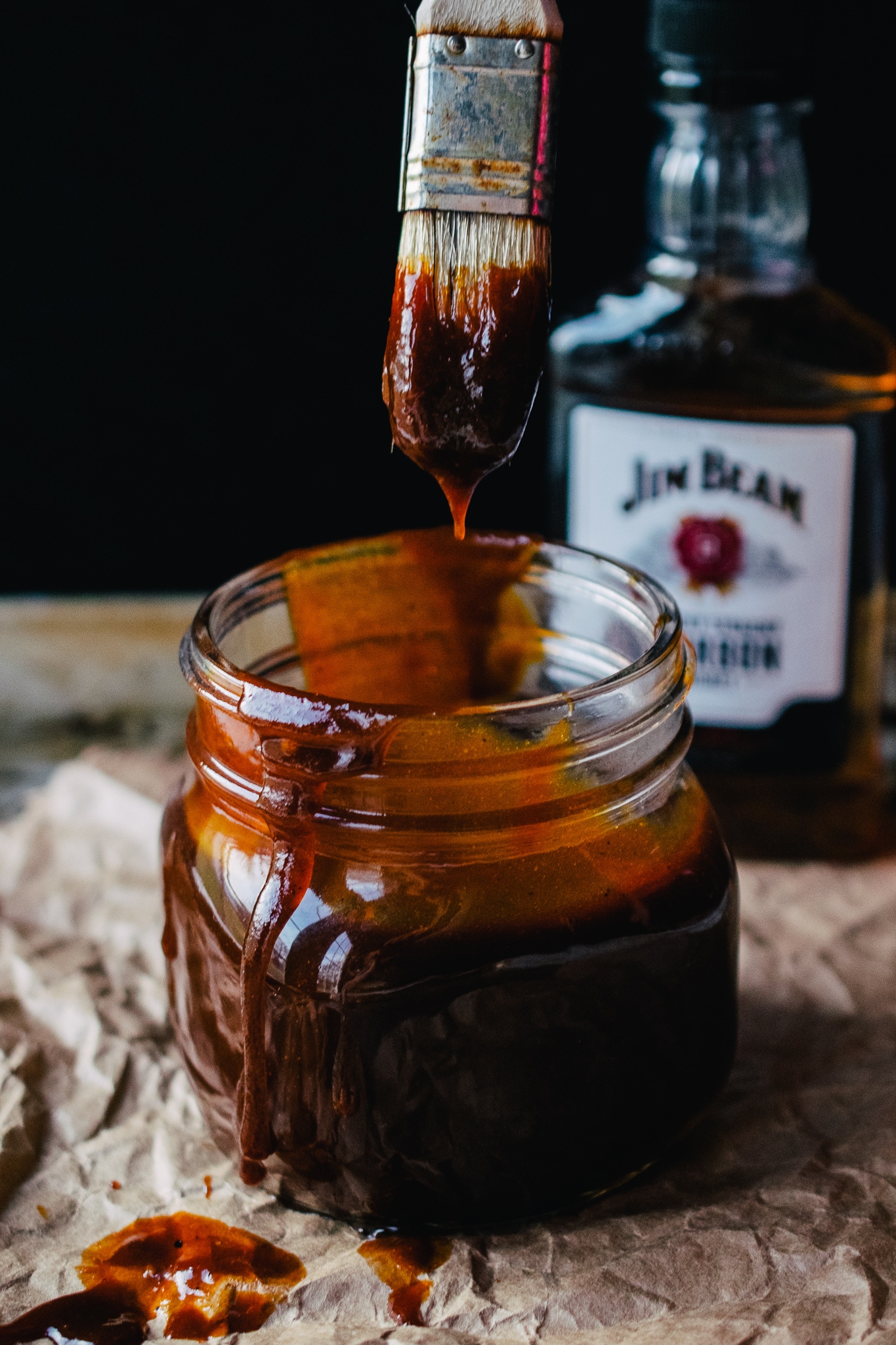 Making it from scratch
The way to make this boozy, saucy goodness is super simple. The only fresh ingredients you'll need are a few cloves of garlic and shallot. I opt for shallot because it's milder, but you can use a quarter of a mild or sweet onion too.
Saute the minced garlic and shallot or onion in the oil until it becomes translucent. Then add the tomato paste and dry spices and continue to cook them in the pan for a few minutes. This gets the spices a bit toasted and develops their flavor more. Pour the bourbon directly in the pan to deglaze it. This basically "washes" everything off of the bottom of the pan that's stuck on there, bringing it back up and incorporating the delicious flavor bits. It also gives the alcohol a head start to evaporate out.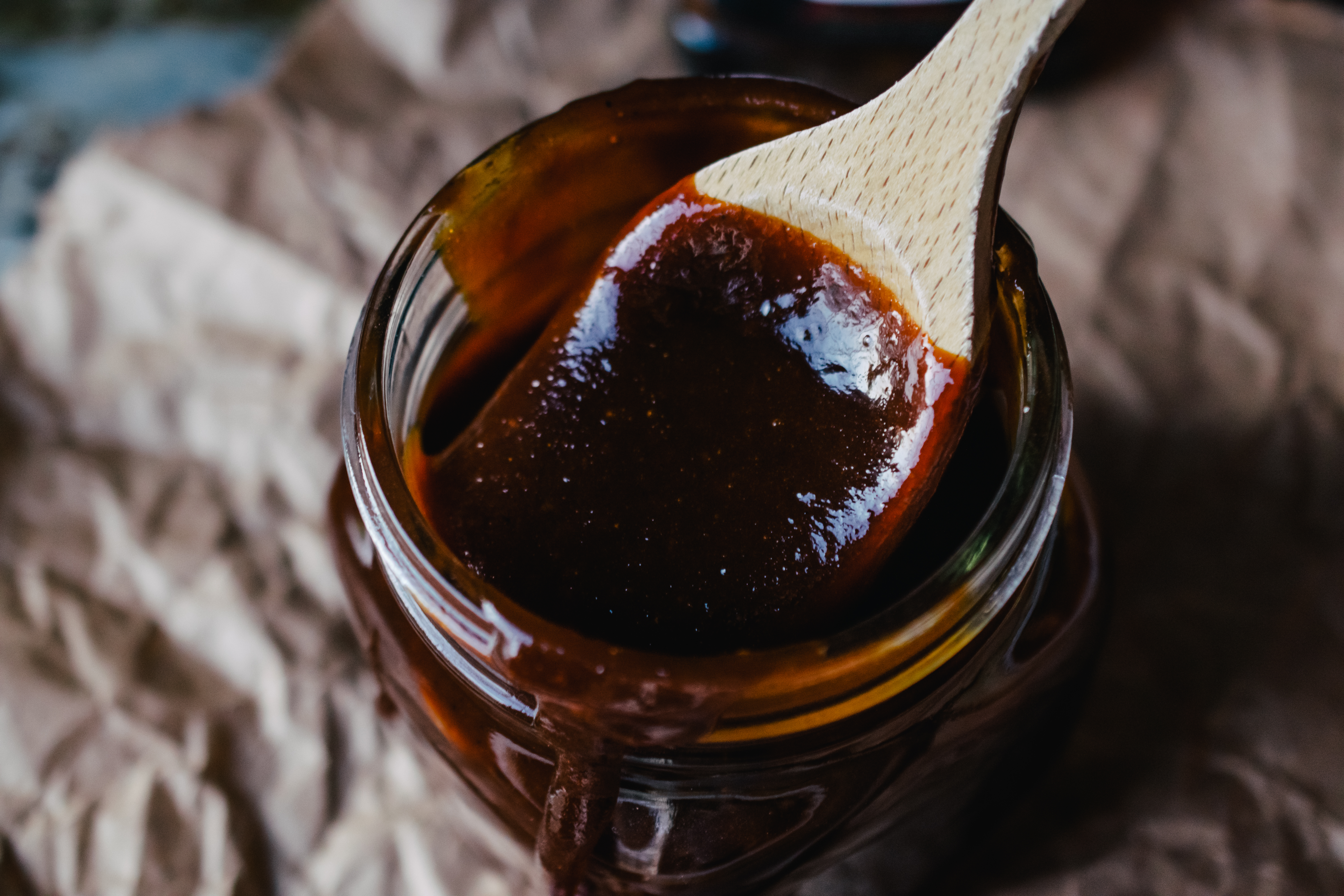 Whisk in the remaining ingredients, and continue to simmer for 10 minutes until thickened and rich in color.  At this point you can choose to use an immersion blender (or any other blender) to smooth out the garlic and onion bits if they bother you, but they are also fine left minced in the sauce. It is up to your personal preference whether to keep the texture of them, or blend the sauce smooth. You now have Honey Bourbon Barbecue Sauce to slather on anything you can think of!
Important not on cornstarch
This is really important. Depending on what your intention is for the barbecue sauce, you will either add, or omit the cornstarch. The addition of cornstarch is really beneficial if you are planning on using the sauce right away for basting. This will make the sauce really sticky (in a good way), and thick. It'll build up as you baste, and the cornstarch flavor will cook out as it's exposed to heat. It makes for a very, very good grilling sauce.
However, if you are using the sauce for cocktail or party appetizers such as meatballs, you likely won't need to add the cornstarch. As the sauce sits, it will thicken on it's own. Use your judgement on this, and know that if you are making it in advance and storing it for later use, that it will thicken up a great deal in the fridge. Adding the cornstarch and then refrigerating it will yield a very thick sauce that you will need to thin out.
That being said, if you do use the cornstarch, but also save some in the refrigerator and find that it is very thick the next day, just thin it out with a little water or bourbon on the stove top or the microwave on medium low heat. You can do this by adding a few tablespoons at a time and slowly heating it back up to a warm temperature. The amount of liquid that you need to add will vary depending on how much sauce you have left, so it's a good idea to do it a few tablespoons at a time so that the sauce doesn't become overly diluted. If you choose to use more bourbon as the thinning liquid, be sure to give it a good 10 minute simmer on the stove.
Storing the sauce
I like to use mason jars a lot to store things in, and I know a lot of people do. But have you noticed that over time the lids are not so reusable? They get gunky, and rusty, and gross. I found these handy lids that fit over mason jars (both wide and regular mouth, they make both kinds). They're dishwasher safe, and they can be used again and again, as often as the jars themselves. I swear if Amazon doesn't have it, nobody does.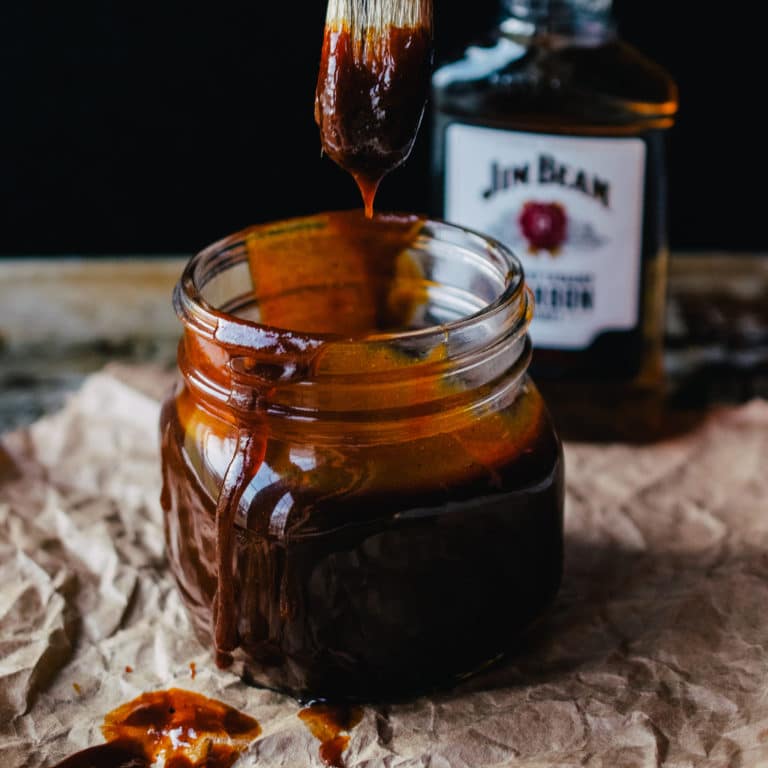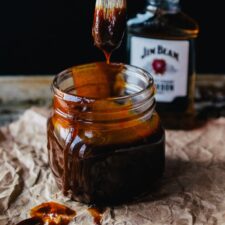 Honey Bourbon BBQ Sauce
Homemade Bourbon BBQ sauce, grills up sticky, sweet and slightly savory, with a light tang, a warm heat and a kick of bourbon.
Print
Pin
Rate
Ingredients
2

tbsp

olive oil or other oil

3

cloves

garlic

crushed, minced

3

tbsp

minced shallot or mild onion

1

tsp

onion powder

1/2

tsp

smoked paprika

1

tsp

sweet paprika

1/8

tsp

allspice

optional

3

oz

tomato paste

1/2

cup

molasses

1/4

cup

honey

1/4

cup

brown sugar

4

tbsp

apple cider vinegar

1

tsp

soy sauce

1 1/2

tsp

salt

1/2

tsp

black pepper

2

tbsp

*corn starch* see recipe notes

whisked into 2 tbsp of cold water til liquid smooth, only use this if you are making the sauce to baste right away. If storing for later use, this isn't necessary as it will thicken up in the refrigerator overnight.

1/2

cup

bourbon
Instructions
In a small sauce pan, heat oil.

Add minced garlic, onion powder, paprikas, tomato paste; toast on medium heat until darkened in color and toasty.

Pour in bourbon and stir to deglaze the bottom of the pan.

Add remaining ingredients (be sure to dissolve the corn starch in a bit of water before adding it) and simmer on medium-high heat for 10 minutes.

If desired, use an immersion blender in the pot, or run through another blender for a few pulses until onion and garlic bits are no longer visible and sauce is smooth; but this is just optional so do according to your personal preference. The garlic and onion bits are great left as is, for a basting sauce on your favorite grill item!

Store in an airtight container and serve over, on, or basted on anything your heart desires. Try as a pizza sauce!
Notes
Use the cornstarch only for a barbecue sauce that will be used the same day for basting. If you plan on the storing the sauce, omit the cornstarch as it will thicken up a good deal overnight in the fridge. 
If you have used the cornstarch, and are saving the remaining sauce in the fridge, thin it out by adding a few tablespoons of water or bourbon and reheating on medium low heat until desired consistency is achieved. (You can also do this in the microwave, but if you are using bourbon as the thinning liquid, I recommend the stove top, so that some alcohol can simmer out for 10 minutes.)