This quick and simple refrigerator pickled radish recipe will be your new favorite refrigerator staple. No canning is required for these pickled radishes, just a handful of pantry ingredients, and 10 minutes of hands on time.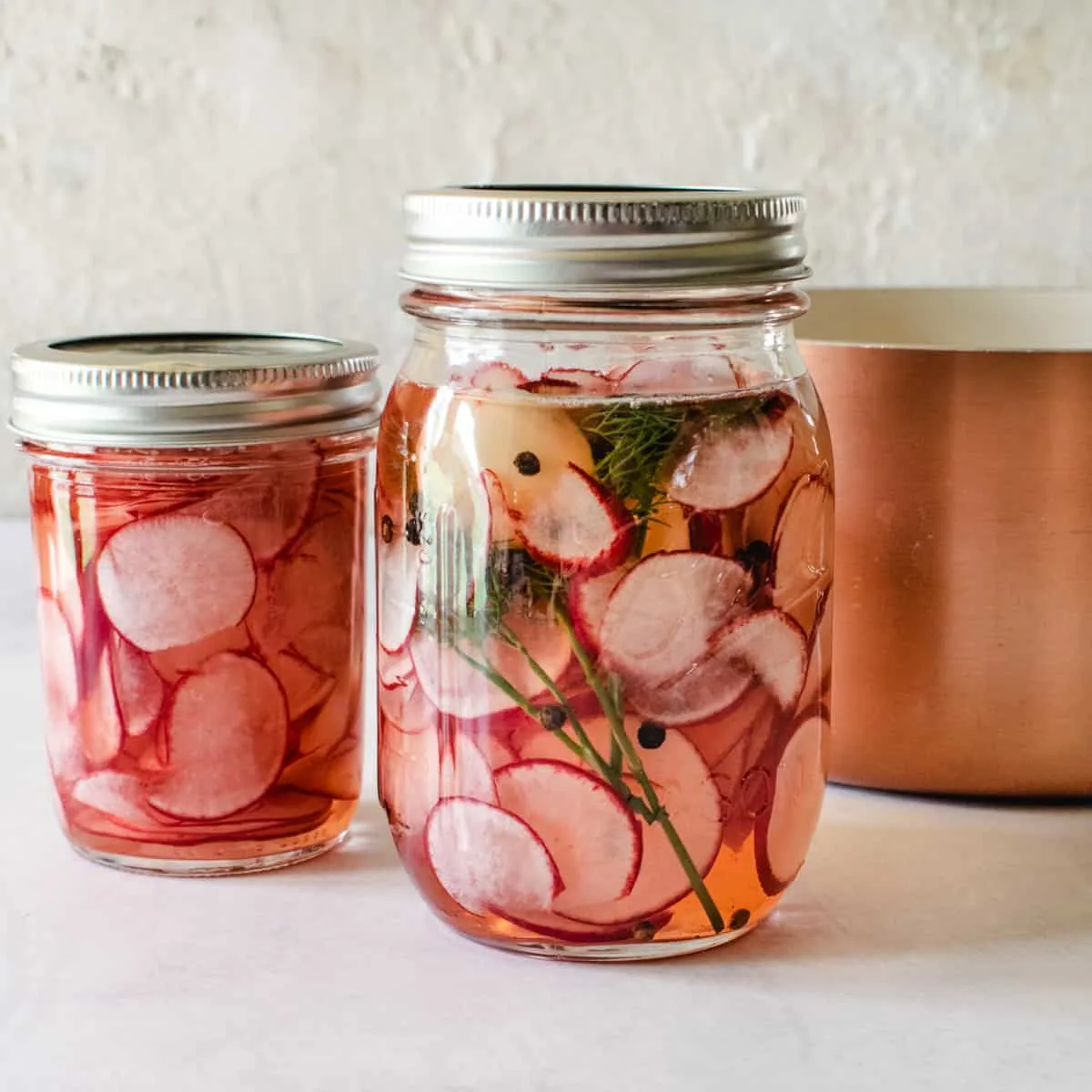 Pickled radishes are good on so many things from salad to tacos.
Try them on these Beef Barbacoa Tacos, or enjoy some on this tasty Aloha Burger! With such a variety of things to use them for, you'll find that your homemade pickled radishes become a common staple in your meal planning and recipes.
What are radishes?
Radishes are a root vegetable that come in several varieties, from mild and sweet to spicy and sharp. They have a crunchy texture when raw, and become softer with cooking. Radishes are generally bright red or purple on the outside, with white flesh inside.
The most commonly found type in grocery stores is the round red radish. Radishes can be eaten raw, roasted, pickled, or even blended into a soup. Their flavor profile varies depending on the variety but ranges from mildly sweet to peppery-hot.
Pickling radishes gives them a unique tanginess that pairs well with tacos, savory salads, burgers, sandwiches, and more!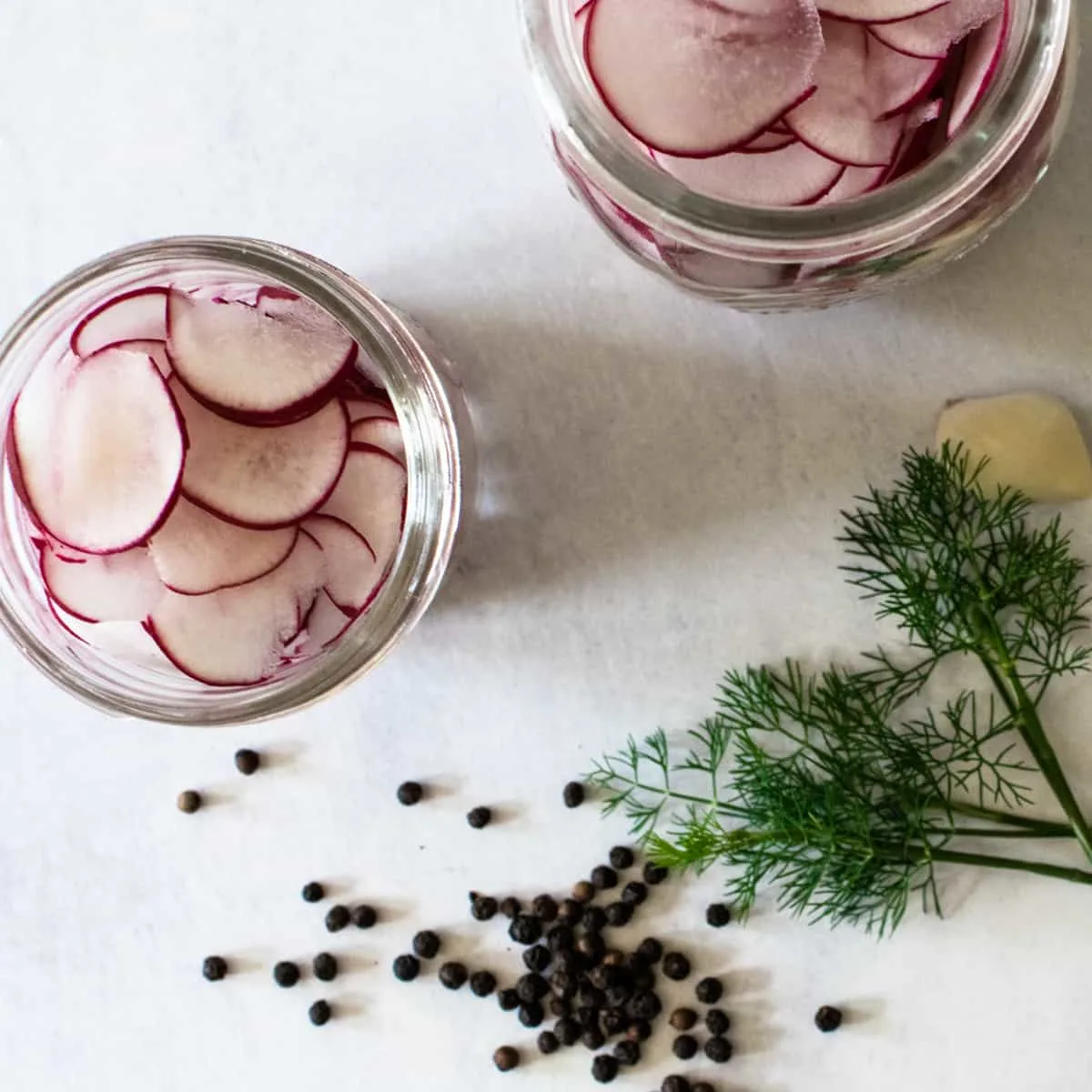 Why You Must Make These
No canning skills are required, these are made in the fridge!
They're quick, you only need 5 minutes of cook time, then just pop them in the refrigerator for an hour.
This is a great recipe that is very versatile and can be used with a variety of different recipes to add a lovely bite of tangy flavor
Making this quick-pickled radishes recipe is a great way to use up any extra red radishes you have
All you need is a handful of simple ingredients for this recipe, that only requires minimal effort!
Ingredients Needed
Get more info on all of these ingredients in the recipe card at the bottom.
radishes shaved thin
white wine vinegar, apple cider vinegar, or regular distilled vinegar or combination of each
water
granulated sugar
salt
black peppercorns, fresh dill, onion - optional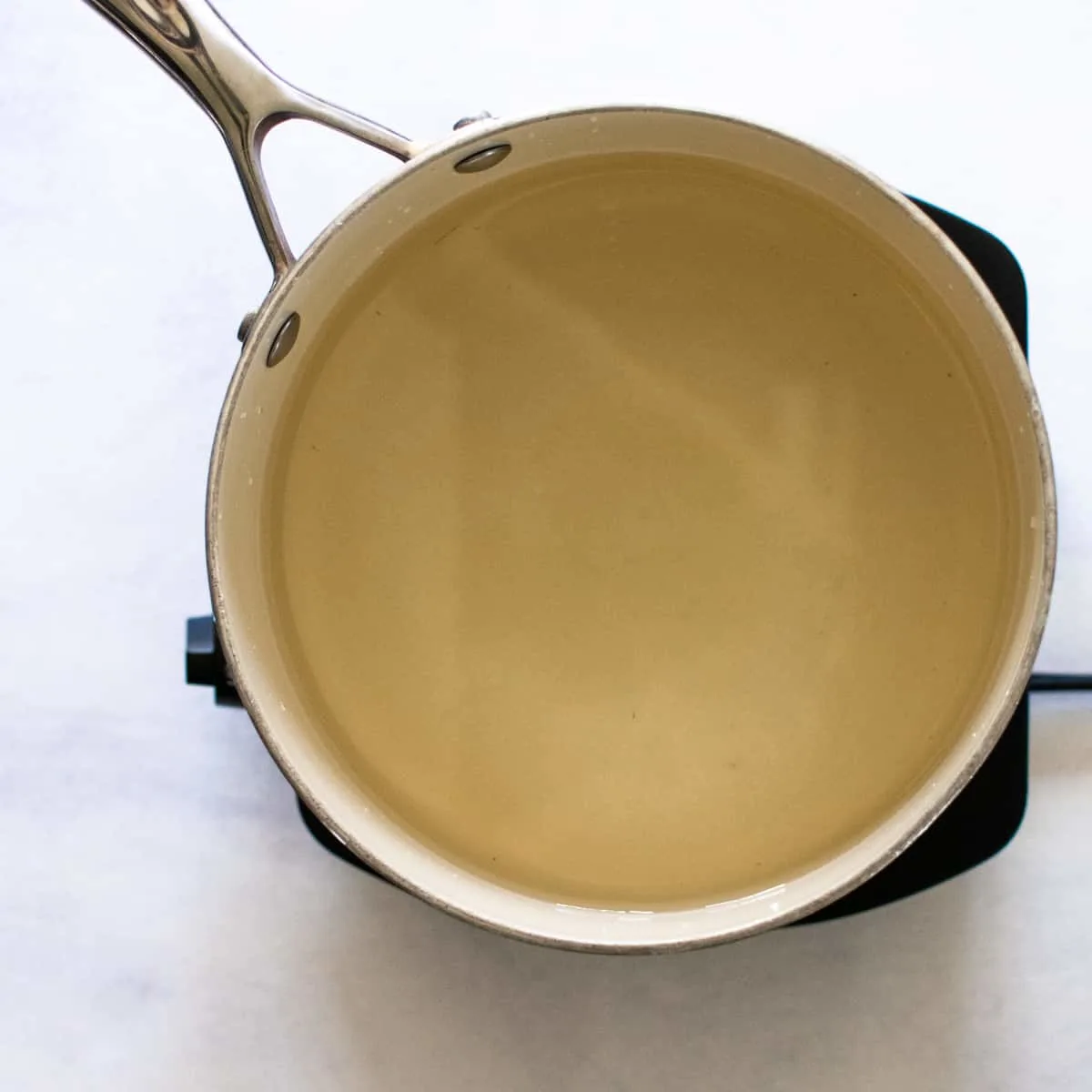 How to Make Pickled Radishes
To make this quick pickled radish recipe, start by making the brine.
The brine (or hot liquid) is what will pickle the radishes in the fridge, and it is a simple combination of vinegar, water, sugar and salt.
Combine the vinegar, water sugar and salt in a sauce pan on medium high heat.
Heat the liquid up to dissolve the sugar, and then just pour over your radishes in a glass jar.
If desired, add additional ingredients like peppercorns or dill to season the pickling brine.
Seal the lid and let it sit in the fridge for at least one hour. It's better overnight, but an hour minimum.
The longer you soak these, the extra flavor you get!

Storage
To store your pickled radishes, leave them in the sealed glass jar in the refrigerator. The vinegar acts as a natural preservative, so they should stay fresh for up to 1-3 months when stored this way.
You can also transfer the radishes and brine into smaller jars or Tupperware containers if needed. Make sure to keep them sealed and stored in the fridge to prevent any spoilage of the ingredients.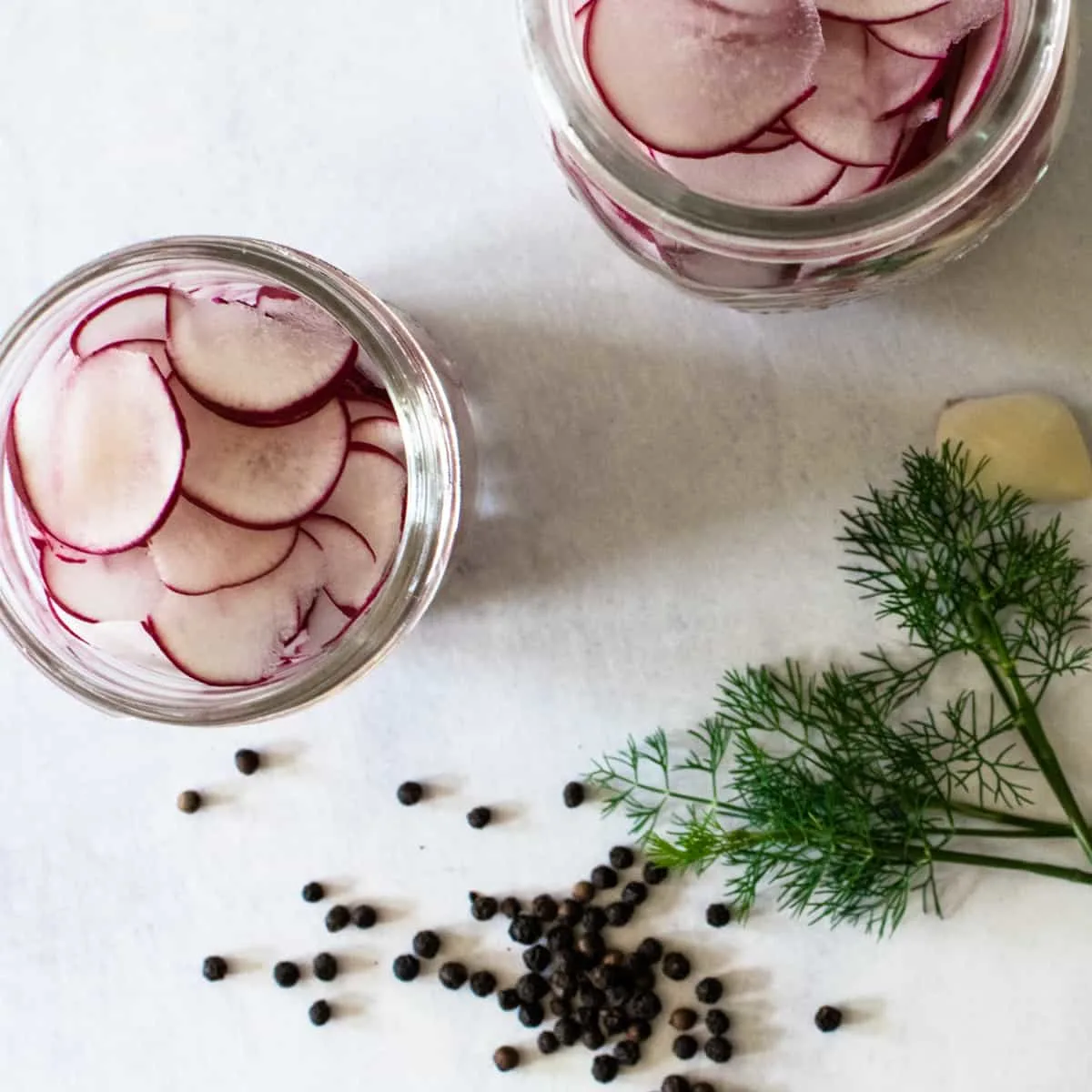 Recipe Tips and Variations
When radishes are pickled, they become a lot less spicy. Adding spices like peppercorn, dill, onion or garlic can add additional flavor.
You can add honey for a touch of sweetness.
Make sure to clean and sanitize any jars you use in order to prevent bacteria growth.
Substitute other vegetables like carrots or green beans in place of the radishes if desired.
Keep in mind that the thicker your radish slices are, the longer time they will require for pickling. That's why we like those razor thin pieces from the mandolin.
How do I shave the radishes so thin?
Shaving radishes into thin slices is best done with a knife or vegetable peeler. However, to get really thin slices like we want for this easy recipe, use a mandoline slicer.
Make sure to practice safety when using this tool, as the blades are incredibly sharp and can easily cut your skin if you're not careful. Slice the radishes from top to bottom into uniform slices for maximum pickling potential.
What kind of vinegar do you use to make this quick pickled radishes recipe?
The best type of vinegar to use for this recipe is white vinegar. It's the most common, and it has a bright, sharp flavor that pairs well with the radishes. You can also opt for using apple cider vinegar for a milder flavor or rice vinegar for a milder, slightly sweeter taste.
White wine vinegar is another common choice for refrigerator pickles or other pickling recipes like we use for this radish one.
However, I suggest that you avoid aged vinegars like balsamic vinegar or red wine vinegar.
You don't want to use an aged vinegar like red rine sine it has a tangy, tart flavor and should not be used in this type of recipe as it can overpower the taste of the radishes. Aged vinegars like balsamic are great for salad dressings or other dishes that don't involve adding acidic ingredients like vinegar.
Also, you can mix a combination of any of these to create a new pickling liquid.
Why aren't my radishes crisp anymore?
Typically, your radishes may get soft if you tried to add the pickling mixture before it finished cooling down. Always wait for it to cool down before adding it to the radishes, otherwise, the hot brine will just make your radishes mushy and not as appetizing.
Also, dissolving the sugar in the brine helps keep the radishes crisp too.
What else can I add to these easy pickled radishes?
Want to change up the flavor profile of your sliced radishes? Try any of these ideas:
Our optional suggestions from the ingredient list: black peppercorns, fresh dill, or onion
Mustard seeds
Garlic
Bay leaves
Spicy chili peppers or red pepper flakes for some heat
Sweet dried cranberries for a more unique flavor.
If you want something tart and zesty, lemon or orange slices can be added as well!
How do you pick ripe radishes?
Radishes are best picked when they are firm and their color is a bright red or white. Check that the radish has a smooth surface since any cracks, splits or wrinkles could indicate it's been sitting around too long.
If you're in doubt, inspect the underside of the radish to look for any signs of dryness, wilting or discoloration. To ensure freshness, try to buy radishes at farmers markets or other local sources so you know they were recently harvested.
📖 Recipe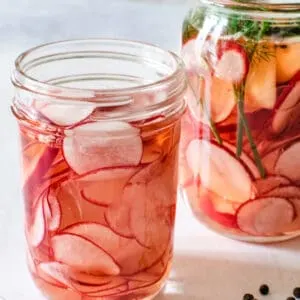 Easy Pickled Radishes
Quick and easy pickled radishes in the refrigerator in one hour.
Print
Pin
Rate
Ingredients
1

bunch

radishes

shaved thin

1

cup

white wine vinegar, apple cider vinegar, or regular distilled vinegar

or combination of each

1

cup

water

2

tablespoon

granulated sugar

½

teaspoon

salt

pepper corns, fresh dill, onion

optional
Instructions
In a sauce pan heat vinegar(s), sugar, water and salt on medium heat until sugar dissolves.

Allow the vinegar mixture to cool while removing stems and cleaning/scrubbing radishes clean.

Slice cleaned radishes thinly; using a mandolin is helpful. Place in jar.

Pour cooled vinegar mixture over radishes. (If desired add extra herbs or seasonings like dill, garlic, or peppercorns.)

Cover with lid, and let chill at least one hour in the fridge, or overnight.
Notes
Slicing radishes very thin is often preferred, and shortens the "pickling" time. Using a mandolin is helpful to achieve a razor thin slice.
Use a white distilled vinegar, apple cider vinegar, white wine vinegar or a combination of any of those.
Be sure to cool the vinegar mixture after dissolving the sugar, so as not to soften the radishes too much if it were hot when poured on.
Avoid aged vinegar like balsamic.
If desired, add additional herbs or seasonings to the pickling solution, although not necessary. Simply pickling the radishes alone lets them be more versatile for serving.
Let chill at least one hour in the fridge. Thicker slices will require longer chilling time.
Store in the fridge for up to 3 months.
Nutrition
Serving:
1
g
|
Calories:
15
kcal
|
Carbohydrates:
3
g
|
Protein:
1
g
|
Fat:
1
g
|
Saturated Fat:
1
g
|
Sodium:
120
mg
|
Potassium:
12
mg
|
Fiber:
1
g
|
Sugar:
2
g
|
Vitamin C:
1
mg
|
Calcium:
3
mg