Sweet, buttery roasted acorn squash, savory crispy sausage, caramelized onion and garlic get tossed in a luscious and creamy, sherry sauce with ribbons of pasta and Parmesan cheese! The best part? It's done in 30 minutes(ish), and it's a no-side-dish-required kind of dinner. That means less dishes too.
it's a fast, one dish dinner
This pasta dish is a busy weeknight family dinner hero. The reason being, it's super fast and easy to make and you don't need a side dish to go with it. It's a complete, one dish meal because it's got the meat, the vegetable, and the carbs built right in. Toss it together, make it rain Parmesan, and do a *chef's kiss* with your finger tips. *Mwah!*
it's a great date night dinner too
You don't have to spend all day in the kitchen to present a beautiful dish that will impress the object of your affection. Let this pasta seal the deal on date night. It can be very easily dressed up with a final garnish of Parmesan and thyme sprigs. Try using a vegetable peeler to shave pretty little ribbons of Parm right off the wedge before serving. So fancy. Cue the googly eyes.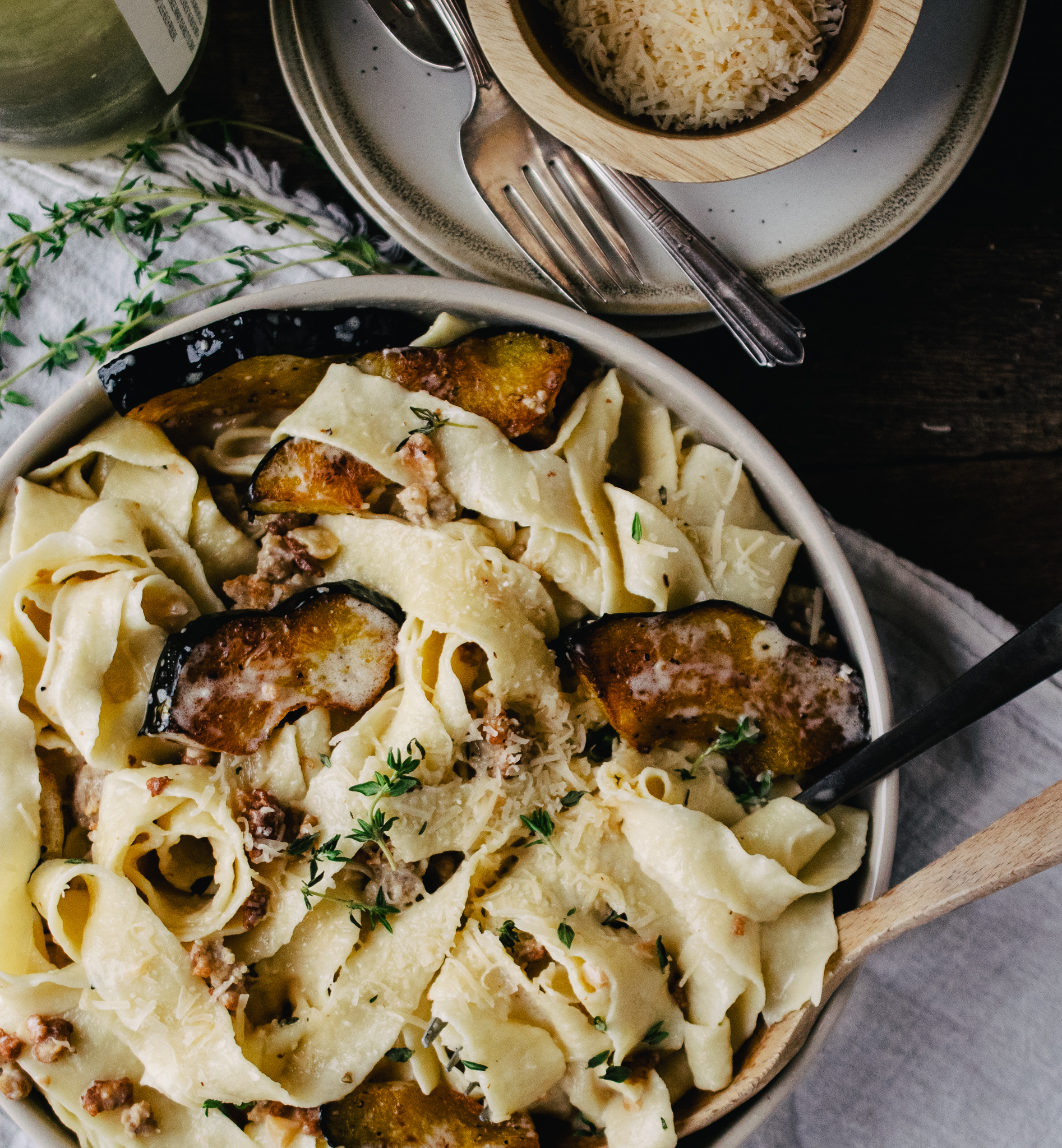 If you really want to do something extra special, and you've got the time to roll out your own homemade pasta dough, cut wide ribbons of pappardelle; ¾ inch-1 inch in width. Otherwise, stick with store bought wide ribbon pasta like pappardelle or tagliatelle. 
choosing a good acorn squash
Acorn squash is a winter squash, with very tender skin, and a very sweet, buttery taste. It's incredibly delicious. In some places acorn squash can be found year round, but most acorn squash can be purchased beginning in fall through the winter months. Check your local grocery store or farmer's market.
Choose an acorn squash that is deep green in color and doesn't have too much orange on it yet. A little is all right, but too many orange patches indicate an overly ripe squash that will likely be dry and stringy compared to a younger, tender dark green squash. The skin will also be the the best when it's dark green and dull. This article from The Spruce Eats explains a bit more on how to choose the best acorn squash, and what to avoid; in addition to storing this winter beauty.
roasting acorn squash
Once you've picked out a nice acorn squash, Cut the top part off where the stem is connected. Cut it in half horizontally, and remove the seeds and stringy parts with the edge of a spoon. Just like when you carve a pumpkin.
Cut each half into halves, and then wedges. Lie parchment paper (for easy cleanup, although not necessary) on a baking sheet and toss the wedges in olive oil, salt and pepper. Bake in a single layer for about 20 minutes, flipping halfway in between. Remove from oven and set aside.
[easy-image-collage id=3301]
prepare the rest of the dish
While the squash cooks, cook the pasta in salted boiling water. Make sure to reserve some of the starchy pasta water right before draining it. The starches in the water will help to thicken the other liquids and create an added creaminess. Simultaneously fry the sausage until about halfway cooked, drain if necessary. Add the the onion and garlic to it, and fry until the sausage is brown and crispy, and the onions caramelized. (If the sausage is still greasy, drain that and pat the pan with paper towels to absorb.)
Once the sausage, onions and garlic are done, and with the pan still on medium high heat, pour the sherry in the pan. This will give a "whoosh" sound (I love this sound!), and it deglazes the pan; which means it cleans the bottom of all the stuck on brown layer. This layer adds a ton of amazing flavor, and we actually want to bring that up and incorporate it. Wines add such a richness to sauces; it's one of the easiest ways to bump up the flavor of anything. You can substitute a dry white wine for sherry if you cannot find any. Avoid sweet wine. It's recommended that you use alcohol that you would actually drink to cook with. My grandmother says, "Don't cook with any wine that you wouldn't drink!" I have to go with my grandmother on this one, since she's probably the smartest person I know.  
[easy-image-collage id=3302]
toss everything together for a one pan meal
This is the home stretch, and it happens quickly. In the skillet is the sausage and onion mixture with the sherry, which needs to reduce by half. (This literally means the level of the liquid in the pan reduces, and it concentrates the flavor, while thickening it and also evaporating the alcohol, in this case.) Once reduced, turn off the heat.
Add the cooked pasta, heavy cream and half of the starchy pasta water, with a pinch of black pepper. Toss until coated. Add the acorn squash and Parmesan cheese, along with the rest of the pasta water, if you need to loosen up the sauce a bit. Toss gently. It's alright if some of the squash wedges break apart. They will also coat the pasta and add a nice sweet, buttery consistency to it. Let them do what they are going to do.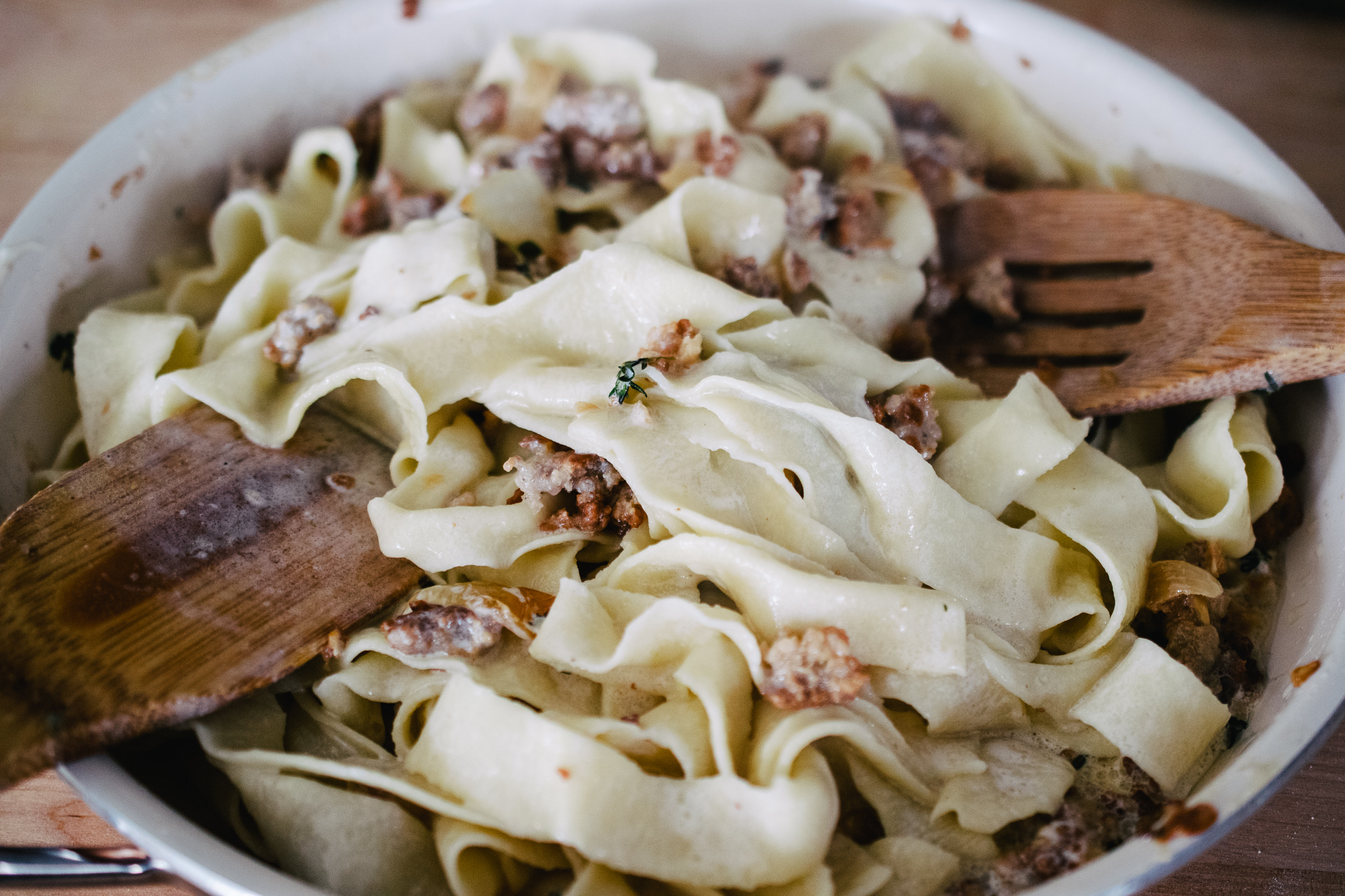 Salt and pepper to taste. Garnish with more Parm. Devour immediately.
If you like the sound of this cozy pasta, you may want to check out this Butternut Squash and Ricotta Jumbo Ravioli with Fried Sage, Walnut and Bacon! It's a mouth full, yes. But in a good way.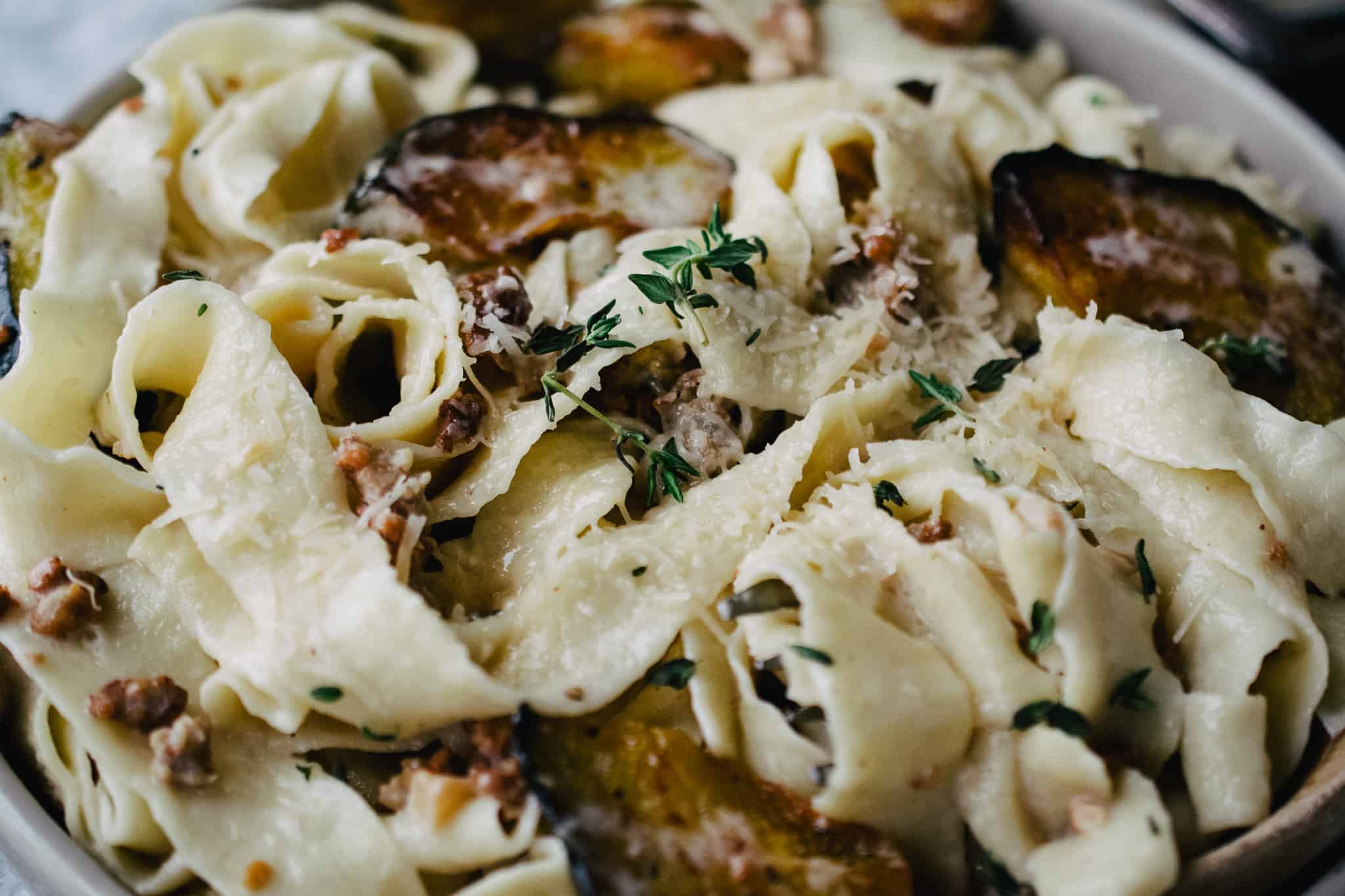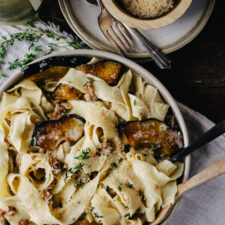 Roasted Acorn Squash and Sausage Pasta
Roasted Acorn Squash, crispy sausage and a Creamy Herb and Sherry sauce, tossed with Pappardelle pasta and Parmesan Cheese
Print
Pin
Rate
Ingredients
1

lb

pappardelle pasta

or other wide ribbon pasta (cooked according to directions, reserve ½ cup pasta cooking water)

1

medium acorn squash

cut into wedges

2-3

tablespoon

olive oil

1

lb

ground sausage

Italian or country or mixture of the two

1

onion

cut into wide strips

4

cloves

garlic

minced

1

cups

sherry

can substitute dry, white wine

¼

cup

heavy cream

can sub half and half

1

tablespoon

thyme

fresh or dried

1

cup

freshly shredded Parmesan cheese

salt and pepper to taste
Instructions
Preheat oven to 400 degrees.

Cut acorn squash into half and scoop out inside seeds and pulp.

Cut into wedges, and cut those wedges in half. Lay in a single layer on a parchment paper lined baking sheet. Drizzle with olive oil and salt and pepper. Roast for 20 minutes, flipping halfway through until tender and beginning to slightly brown on bottoms.

Cook pasta according to directions and reserve one half cup of pasta cooking water.

Fry ground sausage until halfway browned, add onion and garlic and saute until sausage is crispy and onions are caramelized.

Add sherry and thyme, stir up browned bits stuck to the bottom of the pan and simmer about 5 minutes, or until reduced by half (alcohol will cook out during this time). Turn off the heat.

Turn the heat off of the reduced sherry/sausage skillet, but leave on the burner. Add the cooked ribbon pasta, heavy cream, and half of the starchy pasta water. Toss to combine. Salt and pepper to taste.

Sprinkle in Parmesan cheese and roasted acorn squash; toss again, adding the rest of the starchy pasta water if necessary to loosen up the sauce (thin it out, in other words.)

Serve with extra Parmesan cheese and cracked black pepper.
Notes
Use a wide ribbon pasta like pappardelle or tagliatelle 
It's recommended to use sherry wine that you'd drink over cooking sherry. Can substitute medium-dry white wine. 
Shred Parm off the block, don't use pre-shredded. 
Reserve a cup of starchy cooking water right before draining it so that it has the most starch. This doesn't mean you need to use it all (although you can.) Start with half the amount first, toss and then add the other half if you desire a thinner sauce. 
Choose acorn squash that is dark green yet dull, not shiny. Small yellow dots are fine. A few small areas of orange are alright, but avoid acorn squashes that have a lot of orange on them as they will be overly mature, dry and stringy, and have tough skins. 
Half and half can be substituted for heavy cream.
Be sure the heat is off when you add the heavy cream, and do so after you've laid the pasta down; it'll act as a buffer. Heavier cream is a bit more stable than plain milk, but it still has the potential to break if added straight to high heat, especially since there is an additional acid (the wine) in here. It can all be very warm, but avoid direct, hot heat.