Classic elbow macaroni noodles, crispy bacon, and fried sage drowned in a creamy and luscious butternut squash and sharp cheddar cheese sauce, baked with a pretzel breadcrumb topping.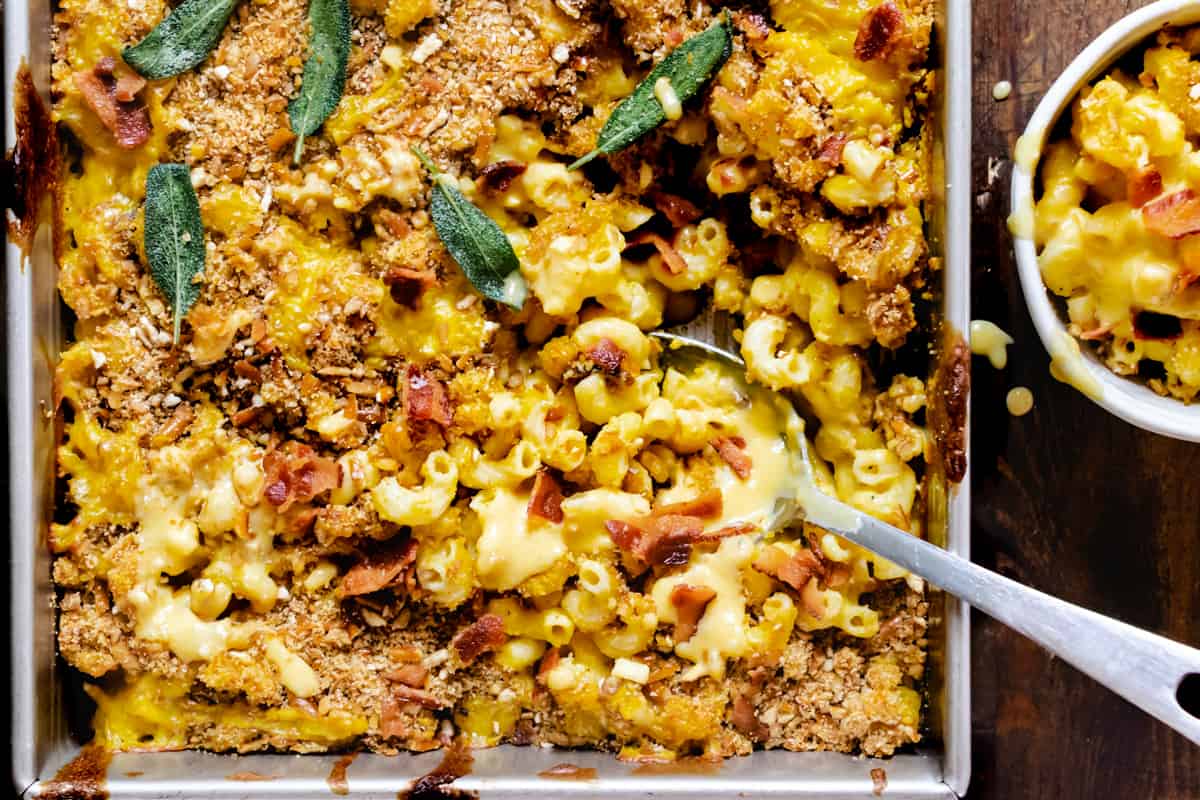 It's Fall, ya'll! And what better way to officially ring it in than with a piping hot dish of cheesy, baked macaroni and cheese.
Those of you that already know you like butternut squash mac and cheese, you've got to try this twist on it.
For those of you that aren't sure about squash to begin with, let alone in your mac and cheese, trust me.
This is such a delicious way to enjoy macaroni and cheese this time of year, and I'll go as far as to say that you might find yourself a little surprised at how in love you are. Plus: bacon.
And if you're worried about picky eaters, just don't tell them there's squash in it. They'll take one bite and love you forever! Not that they didn't already 🙂
Now, let's get cookin'!
What you need
Dry elbow macaroni, cavatappi, cellentani pasta (cavatappi and cellentani pastas are the same shape, cellentani translating to "corkscrew" in Italian)
Bacon
Sharp cheddar cheese
Cream cheese
Chicken stock
Milk
Cream
Butter
Yellow or sweet onion
Garlic clove
Sage leaves
Pretzel twists
How to make it
There are different stages of cooking the ingredients to prep them for a "casserole-style" assembly, so do them in order, but note the cooking instructions, so that when you do toss it together, everything comes out of the oven with the perfect texture in every bite.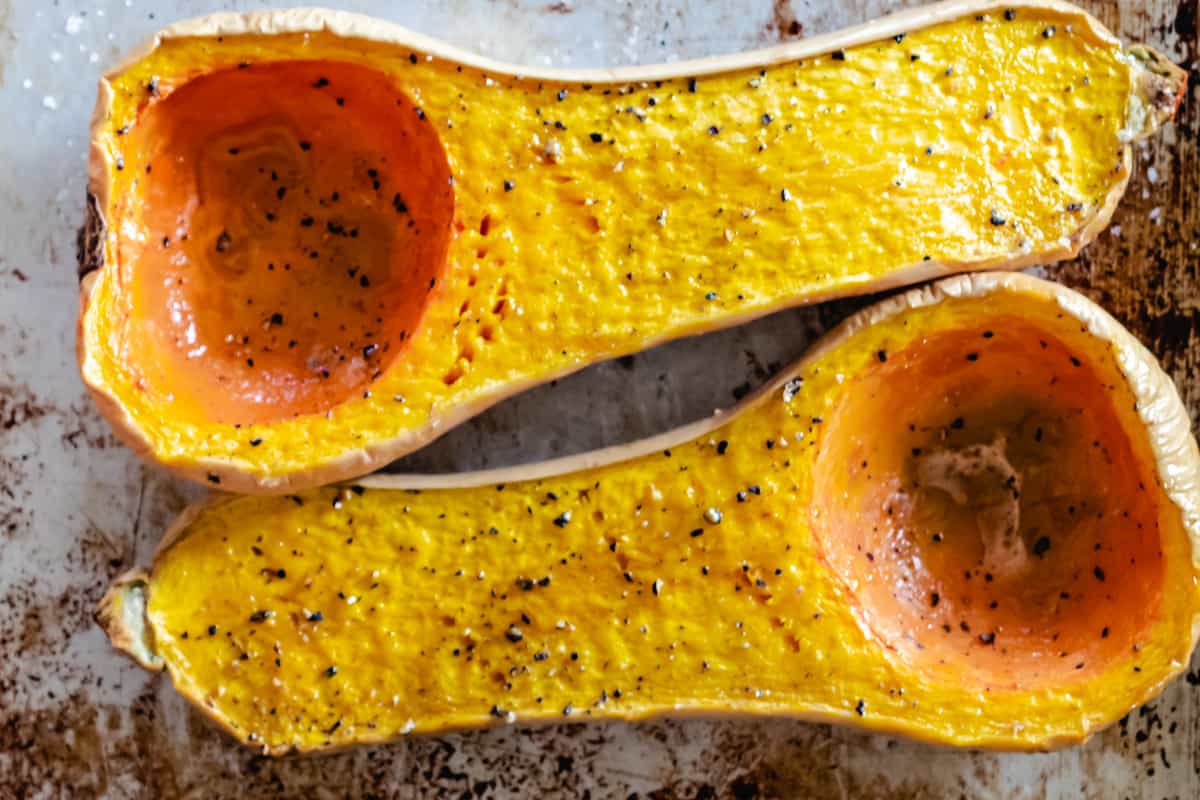 Roasting the squash
Carefully cut the squash in half longways, and scoop out the insides where the seeds and pulp are, the way you would a pumpkin.
Drizzle both halves with melted butter (or olive oil) and generously salt and pepper it. Roast it in the oven until it's fork tender.
Once it's cool, you can scoop out the soft flesh.
Cooking the bacon
Start by frying the bacon. Cut it into pieces, fry until super crispy.
Aim for the point that comes just before burning it, without actually burning it. If you cook it only to the point that you would to say, eat it as a breakfast side, it's going to get soggy while it bakes and resemble ham. So think crispy, but not burnt.
Then drain on paper towels, and set aside for later.
Cooking the pasta
I recommend store-bought pasta here, unless you've dried your own. Check out this amazing post, on homemade macaroni pasta- definitely on my next to-do list!
Boil the pasta in salted water, but aim for under-done. Even al dente is a little too long, because it still is going to bake in the oven, further absorbing the sauce and cooking.
About half done, or two minutes under al-dente (refer to your pasta box's cooking instructions) is perfect.
Drain the pasta and rinse it with cold water in the strainer/colander. This stops the carry over cooking in it's tracks. Without doing this, the pasta can literally continue to cook for another minute as it drains, just from the hot steam.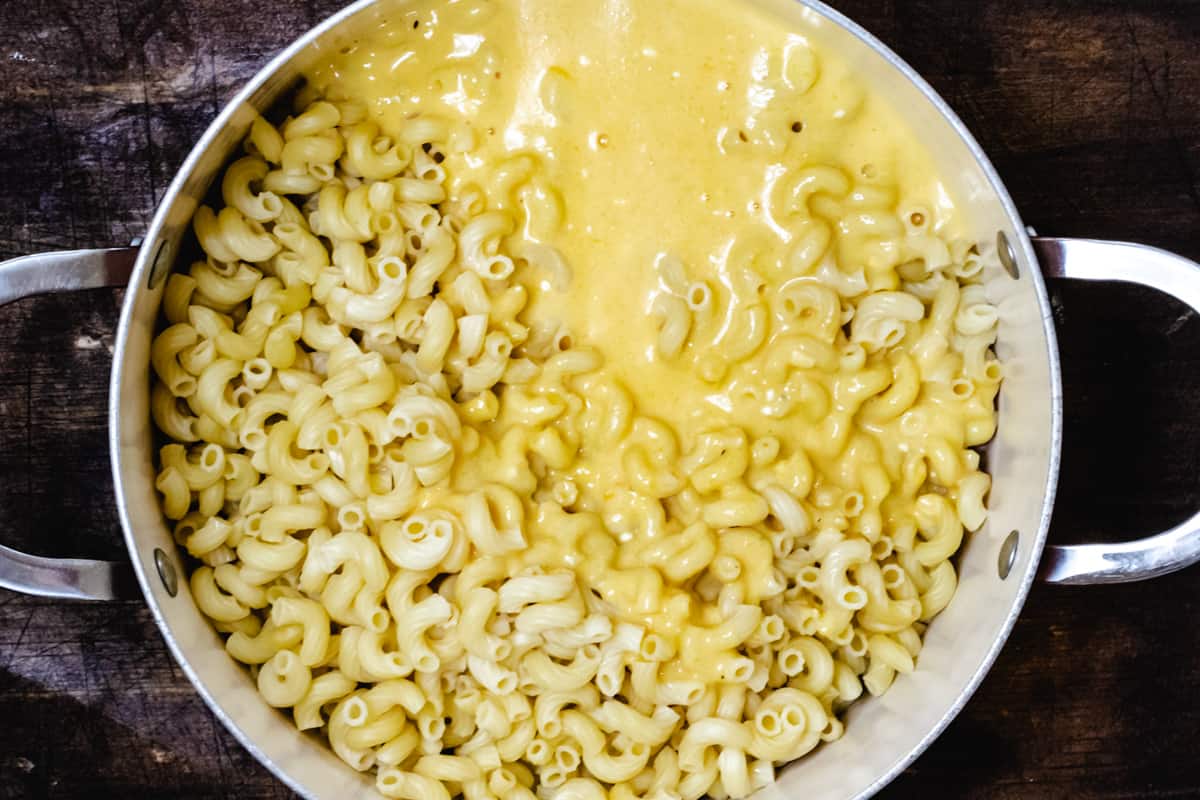 Making the cheese sauce
I like to keep it simple and use sharp cheddar, which is why the recipe also calls for cream cheese. Medium cheddar, mild, even white will do.
You can use a richer melting cheese like Gruyere also, or a blend.
Shred the cheese off the block! I will never get tired of saying this, because it's the difference in smooth, and silky smooth when it comes to cheese melting. It takes a little more effort and elbow grease, but it's so worth it.
Begin with the onion and garlic. Mince it up, nice and fine and add it to the pan with the butter, along with the sage leaves.
Sauté until the onion is softened and the sage leaves begin to look crispy.
Add the flour and whisk to create a roux, add the stock, milk and cream and simmer until it becomes thickened from the roux. This should take only a few minutes.
Then it's time for the magic.
Add the roasted butternut squash and cream everything together with an immersion blender. Don't have one? Just toss it in any blender or food processor you have, and pulse until it's smooth.
Then add the shredded cheese, reduce the heat to low and just whisk until it's smooth and wonderful.
The pretzel breadcrumb topping
This is one of the easier, fun parts. Put the pretzels in a plastic bag (you can use sticks, twists, or whatever you have on hand).
**If you don't want to use store bought pretzels:
Another option would be to make my soft pretzels . They're a hit on Pinterest, and people are loving the Beer Cheese that they get dunked in. Tear up a leftover or ugly one, toast it in the oven like you would to make croutons, then crush the pieces up.
(I'll leave the pretzel situation up to you, because making homemade pretzels just for using as breadcrumbs can be a little extra.)
Using a rolling pin, crush the pretzels and roll to pulverize them until they resemble crumbs.
Put the pretzel crumbs into a bowl with a few tablespoons of butter, and microwave for 30-60 seconds until the butter is completely melted.
Toss with a fork until the pretzel crumbs are evenly coated and set aside for topping later.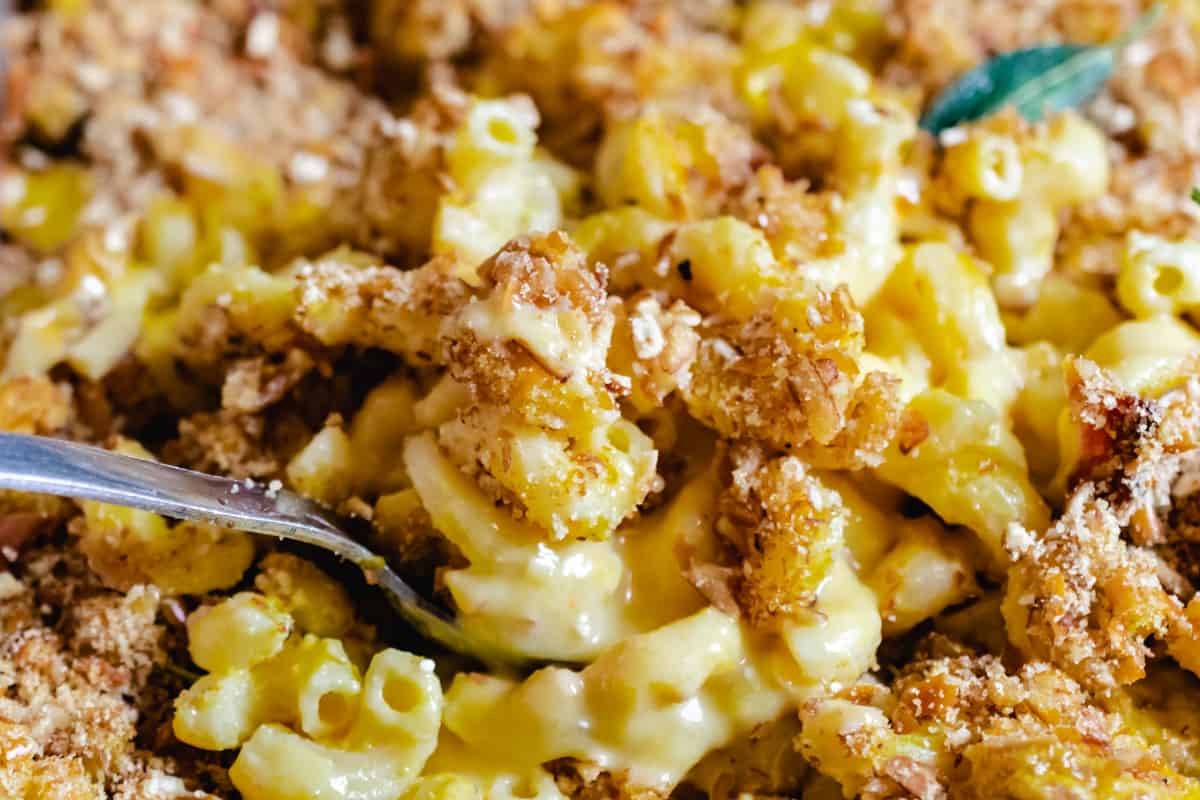 How to assemble the mac and cheese
Now, all the components should be ready for assembly.
You have you're butternut squash cheese sauce, your crispy bacon pieces, the par-cooked macaroni noodles, and the delicious pretzel bread crumb topping.
It's looking good, right?
Toss the macaroni pasta and butternut squash cheese sauce together with the bacon. Mmmmmm......
Pour it into a casserole dish, roughly the size of a 13x9 inch pan.
Top with the prepared pretzel breadcrumb topping, and few sage leaves for garnish if you like.
Bake, peek, and when it looks hot, bubbly, and browned on the edges, you can take it out.
Dig in!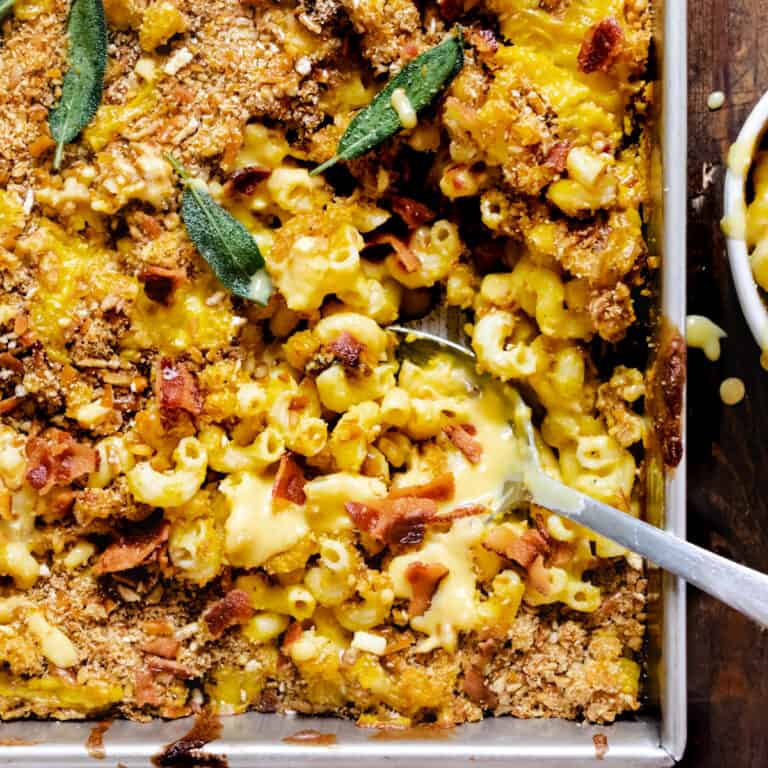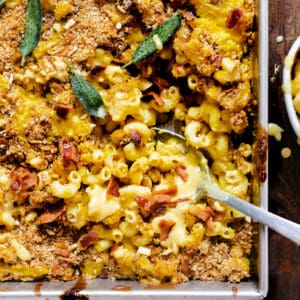 Butternut Squash Macaroni and Cheese with Bacon and Pretzel Breadcrumbs
Elbow macaroni pasta, crispy bacon, and fried sage in a creamy butternut squash an cheddar cheese sauce, topped with crunchy pretzel breadcrumbs and baked until golden brown.
Print
Pin
Rate
Ingredients
1

lb

elbow macaroni

about 4 cups dry

½

lb

bacon

sliced

3

tbsp

butter

plus more for squash

½

onion

minced

1

clove

garlic

minced

3-5

sage leaves

1

2-lb

squash

1 ½

cups

chicken stock

1 ¼

cup

milk

½

cup

cream

2

tbsp

flour

2 ¼

cups

sharp cheddar cheese

can use Havarti, mild/medium/white cheddar or gruyere, or combination of each

4

oz

cream cheese

about ½ cup

1

cup

pretzels

crushed

salt and pepper

to taste
Instructions
Preheat oven to 375 degrees.

Boil pasta in salted water until half done, or two minutes short of al dente, according to pasta package instructions, drain and rinse with cold water. Set aside.

Fry bacon until crispy, drain, set aside.

Cut squash in half, longways and scoop out seeds.

Brush squash with 2 tablespoons of melted butter or olive oil and sprinkle with salt and pepper. Bake at 375 degrees for 45 minutes until fork tender. Set aside.

Crush pretzels and put in a bowl with 3 tablespoons of butter, microwave for 30-60 seconds until melted, then toss with a fork. Set aside.

In a pot, add butter, minced onion, minced garlic and sage leaves and sauté until onion is soft.

Add flour and whisk; allow to thicken on medium heat until a roux has formed.

Pour in chicken stock, whisk. Add milk and cream.

Scoop the soft, cooked flesh out of the roasted squash and add to the pot mixture.

Use an immersion blender, or transfer to a blender or food processor and blend/pulse until smooth.

Add the shredded cheese and cream cheese and stir on low heat until smooth. Salt and pepper to taste.

Toss with par-cooked macaroni pasta.

Add bacon, stir, and pour into a casserole dish.

Top with crushed pretzels, and extra fried sage if desired.

Bake for 20-30 minutes until golden brown.
Notes
It's advised to use dry pasta, and only cook it halfway, or a couple of minutes below al dente. 
Using a combination of mild, medium, white cheddars, Havarti or gruyere is fine. Keep the cream cheese. 
Cook the bacon as crispy as possible without burning it. 
Nutrition
Calories:
627
kcal
|
Carbohydrates:
46
g
|
Protein:
16
g
|
Fat:
42
g
|
Saturated Fat:
20
g
|
Cholesterol:
82
mg
|
Sodium:
406
mg
|
Potassium:
254
mg
|
Fiber:
2
g
|
Sugar:
5
g
|
Vitamin A:
649
IU
|
Vitamin C:
1
mg
|
Calcium:
255
mg
|
Iron:
1
mg