A peanut butter skillet cookie that's warm and gooey on the inside, crispy and toasty on the edges, with chunks of semi sweet chocolate and toasty pecans. It's comfort food, dessert style. 
Also called a "pizzookie", a skillet cookie is one of the best ways to enjoy dessert when it starts getting chilly outside. And when topped with vanilla ice cream? There's nothing better, especially when paired with sweatpants and a good movie.
Ingredients
butter
sugar
brown sugar (All out? Don't run out, here's how to make brown sugar fast!)
eggs
vanilla
peanut butter
baking soda
flour
pecans
semi sweet chocolate chips or chunks
You'll also want to use a 10 inch cast iron skillet. If you use a larger skillet, that will thin out the cookie, and you'll want to subtract a few minutes from cooking time. Vice versa, if you use a smaller skillet, you'll have a thicker cookie, so increase the time.
Do I have to use a cast iron skillet?
You don't have to use a cast iron skillet. The reason that it's preferred, is because cast iron skillets are always oven safe. Not only that, but they create a crust and infuse flavor in a way that no other material can.
But, this skillet cookie is so jam packed with flavor, that any oven safe skillet will do. Just make sure to grease it with butter- that will also help to add crunch and caramelization that skillet cookies are loved for.
How to make this recipe
The beauty of this recipe is how easy it is. Get your oven preheated so that it's ready to go. Nothing is worse than making your way through such an indulgent recipe, just to carry the pan over to the oven and realize it's completely cool.
You should also toast the pecans before starting the dough- that way they are cooled off when you add them in. You might think, "why do I need to toast the pecans?" The reason is that toasting them gives them a whole new flavor. Just like how caramelization makes sugars heavenly, toasting nuts gives an aroma and flavor that you wouldn't have without doing that.
How to toast pecans
Use a dry pan, don't add any oil or anything. Any pan will work. Heat the pan up to about medium to medium high heat.
Pour the pecans into the pan in a single layer and give them a little shake now and again. When you can begin to smell them "toasting" you'll know it. Check that they don't begin to burn.
You'll want to give the pan another shake or stir to get them toasted on the other sides. They should take less than 5 minutes.
Pour them onto a plate or bowl when they are done, so they don't continue to cook and accidentally burn.
Now, onto the batter
Start by combining (softened) butter, both sugars, the eggs and vanilla. Don't worry if there are a few lumps of butter at this stage.
Add the peanut butter, baking soda and flour and stir until you have a smooth, thick batter. I highly recommend taste testing at this stage-delicious.
From there, add in the chocolate chips or chunks and pecans. I like to reserve a handful to press into the top of the dough before I put it in the oven. This way there are more chunks peeking out of the top of the cookie and it just makes it look totally irresistible.
Stir the chunks into the dough, and spread it into the greased skillet.
Greasing the skillet
Even though many skillets (especially the cast iron ones) become non stick over time, the greasing that's done with butter creates a heavenly, crispy bottom and brown crunchy edges that make this so good. Especially with a plop of ice cream.
Baking times
With everything in the skillet now, it's ready to bake. The skillet shown is an 8 inch skillet. You can use a slightly larger or slightly smaller one, just keep an eye on the cooking time.
For an 8 inch skillet, cooking time is roughly 25-30 minutes.
If you go larger than 8 inches, your dough will be more spread out, therefore thinner. That means you'll likely have to decrease the cooking time by a few minutes.
Conversely, if you go smaller than 8 inches, the cookie dough will be thicker and you'll likely need to increase the cooking time so that it's not too raw in the center.
It's done when...
A little gooey in the center is ok, in fact it's a good thing. The center of the top should not look wet or raw in any way, but the middle center can be a little gooey. Look for the majority of the cookie to be set, and the edges to be golden brown.
The edges will have pulled away ever so slightly from the side of the pan and will be a nice, crisp, browned.
Let it cool for a few minutes before digging in. It really is the most delicious thing even when served warm, with a scoop of ice cream.
You can store it right in the skillet, at room temperature, covered with foil for next time.
How to reheat
If you don't finish it all right then and there, it can be heated back up in the oven in it's skillet, uncovered at 250 degrees for 10-20 minutes until warmed through.
If you'd rather use the microwave, scoop out the portion you want to warm up and microwave on high, uncovered for 30-45 seconds until warmed through. Smaller portions will probably only need about 20 seconds.
Enjoy!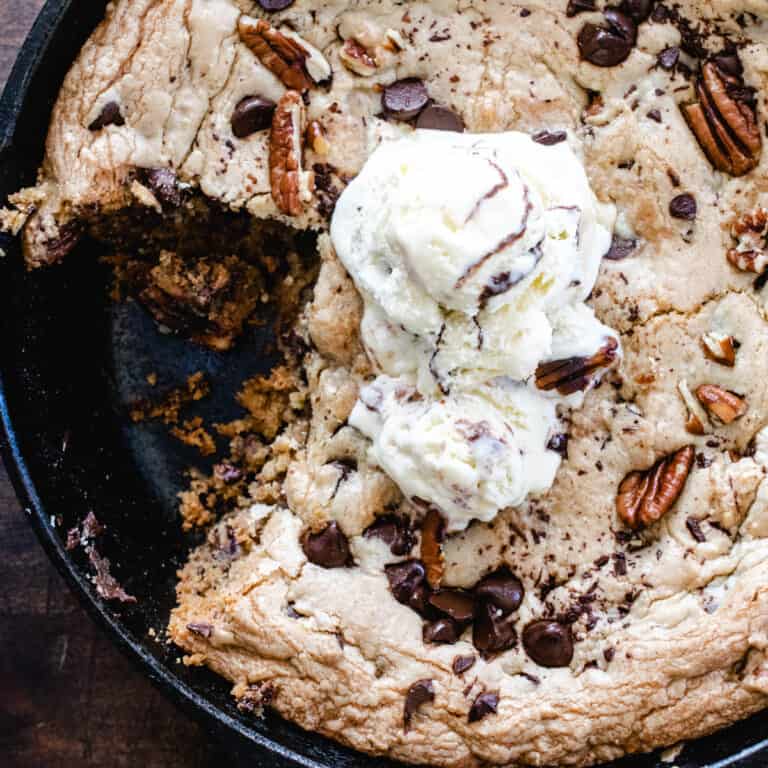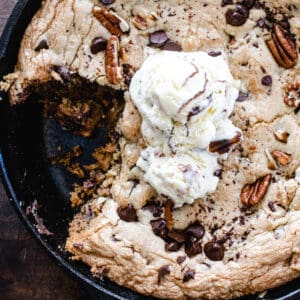 Toasted Pecan Peanut Butter Chocolate Chip Skillet Cookie
Warm and gooey, with just the right amount of crispy on the edges, packed full of toasted pecans and bits of semi sweet chocolate baked into a peanut butter skillet cookie.
Print
Pin
Rate
Ingredients
½

cup

pecans

halves, unsalted

½

cup

butter

1 stick, softened at room temp

½

cup

sugar

½

cup

brown sugar

2

large

eggs

1

tsp

vanilla

½

cup

peanut butter

smooth style

1

tsp

baking soda

2

cups

all purpose flour

1

cup

semi sweet chocolate pieces

chips or chunks
Instructions
Preheat oven to 350 degrees

Toast pecans in a single layer on a dry skillet on medium high heat for 3-5 minutes until fragrant. Remove from pan and onto a plate or bowl to set aside.

In a medium bowl, mix softened butter, sugars, eggs and vanilla.

Add peanut butter, baking soda and flour and stir until smooth.

Add toasted pecans and chocolate pieces; reserve some for the top of the cookie if desired.

Grease skillet with butter on sides and bottom.

Spread the batter into the skillet in an even layer.

Add any reserved pecan or chocolate chunks over the top of the cookie dough (optional).

Bake at 350 degrees for about 30 minutes for an 8 inch pan until edges are brown and crispy.

Let cool about 20 minutes, serve warm with a scoop of ice cream.
Notes
Pecans should be unsalted, and in halves.
Once pecans are toasted, move them to a plate or bowl so they don't accidentally burn on the pan.
Don't substitute margarine for butter, and don't melt butter. Soften at room temp.
If desired, reserve a little of the chocolate pieces and pecans to scatter on top of the cookie dough before baking, so that they pop out and make the cookie more appetizing. 
An oven safe skillet can be used if you don't have a cast iron skillet. Whichever skillet is used, grease it with butter for this recipe.
Take not of the skillet size (diameter) you're using and adjust cooking time accordingly: larger than 8 inches, subtract a few minutes, smaller than 8 inches, add a few minutes. 
Serving suggestion: warm with a scoop of ice cream.
Store leftover cookie and reheat directly in the skillet at 200 degrees for 15-20 minutes until warm, or reheat in microwave for about 30 seconds on high. 
Cookie can be stored at room temperature for up to 5 days, covered. 
Nutrition
Serving:
1
g
|
Calories:
409
kcal
|
Carbohydrates:
53
g
|
Protein:
9
g
|
Fat:
19
g
|
Saturated Fat:
6
g
|
Cholesterol:
40
mg
|
Sodium:
201
mg
|
Potassium:
277
mg
|
Fiber:
3
g
|
Sugar:
29
g
|
Vitamin A:
83
IU
|
Calcium:
52
mg
|
Iron:
3
mg