What's not to love about an Arby's Beef n Cheddar? That pile of razor thin, shaved roast beef. That ooey, gooey cheese sauce and that sweet and tangy splat of the signature sauce? Sure, they have the meats. Well guess what? We can have the meats too. And we can do it at home.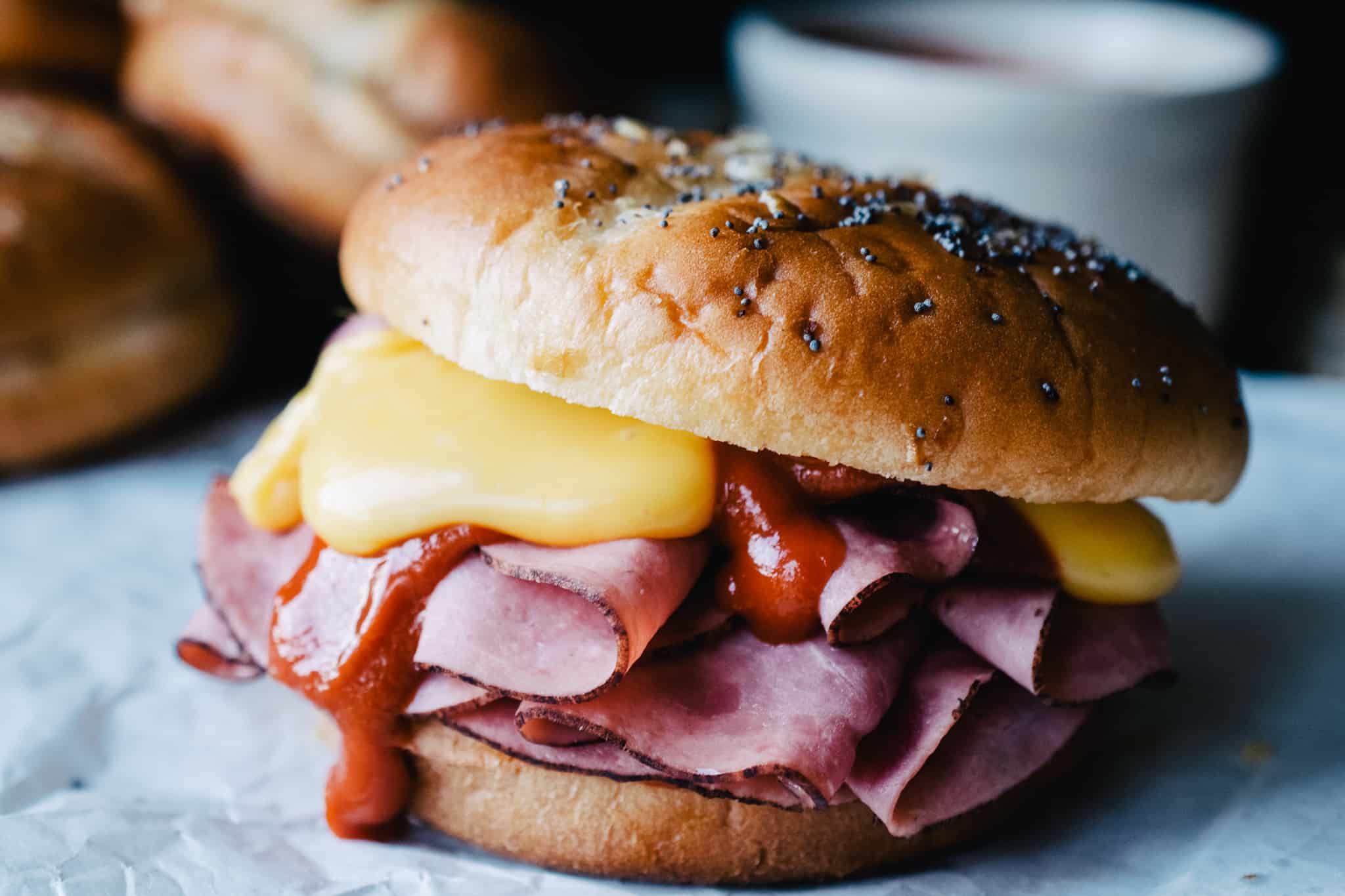 arby's sauce recipe
I am no stranger to the allure of the fast food sandwich. You will never hear me say that I don't like fast food. When I need to get my drive through window fix, this copycat Arby's Beef and Cheddar with homemade Arby's sauce recipe is one of my favorite ways to have may fast food and eat it too.
Let's cut right to the chase. With the Arby's Beef and Cheddar, it's all about that sauce, right? When is it ever not about the sauce.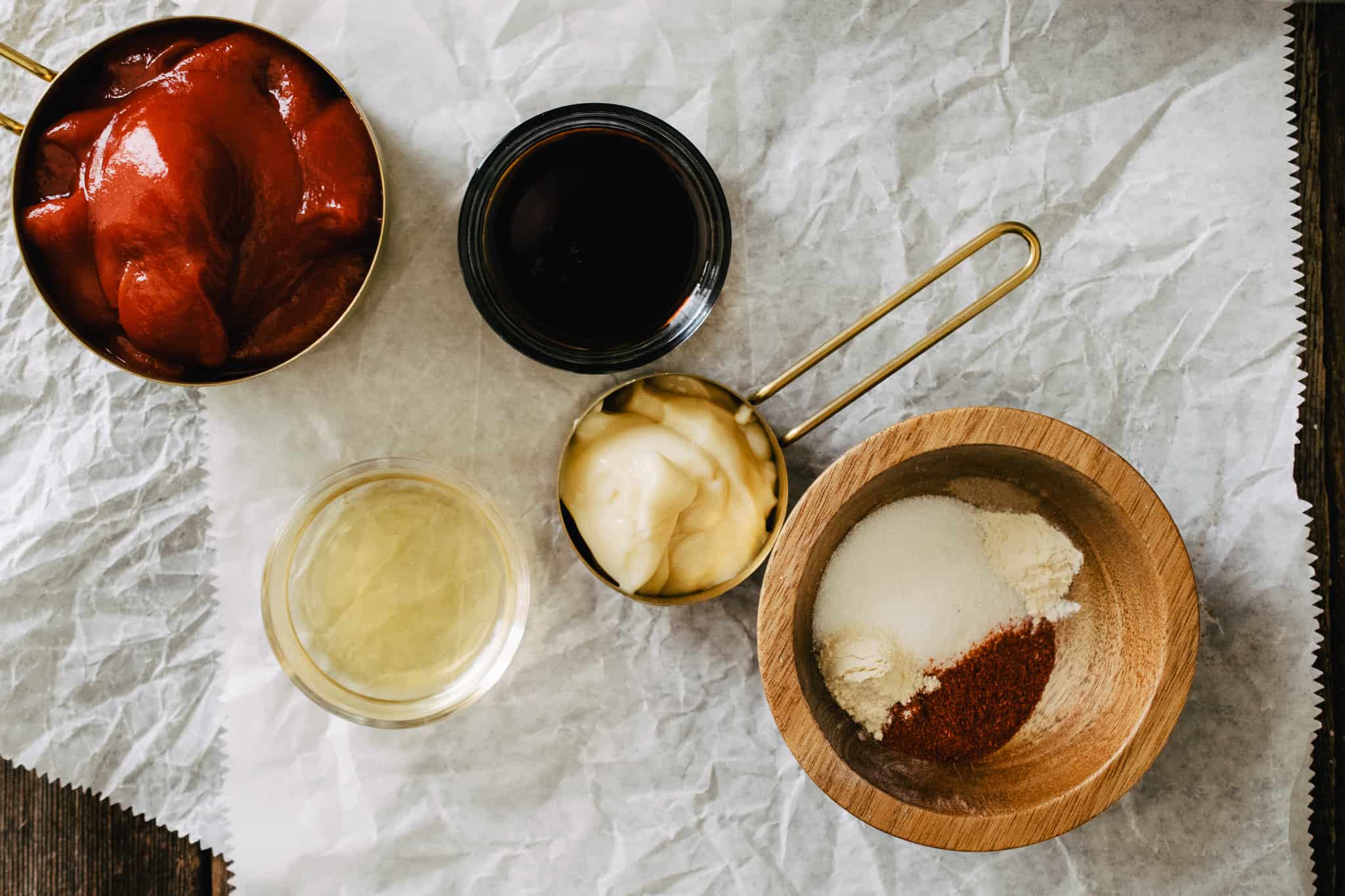 If I am going to recreate a homemade version of an Arby's Beef and Cheddar, it has to leave me with the same satisfaction that I would get from the brown bag handed through the window would. (Actually, I think they switched to white bags.) Anyways, that's a lot of pressure on that sauce! This does not disappoint though.
There are a few key ingredients that one might be surprised to see in there, and they make all the difference. A little sugar, a little mayonnaise (did you know that's super easy to make too?), and just the right combination of a few other spices make this such a spot-on replica that an Arby's connoisseur wouldn't be able to distinguish.
arby's cheese sauce
This is not diet food (shocker!). But it is whole, natural ingredient versions of food. We are eliminating a lot of gunk. So with the Arby's cheese sauce that goes on the Beef 'n Cheddar, we have to take an extra step to make it saucy. No fake, fluorescent, canned Whiz cheese. A simple emulsion of 100% real cheddar cheese with a splash of heavy cream will give you a silky, smooth, rich cheddar cheese sauce that drips off of the bun and requires extra napkins. I'm pretty sure that's what they refer to as food porn.
The key is patience and using block cheese. I don't recommend using pre-shredded cheese, especially when you need to melt it. Due to added anti-caking ingredients, it just doesn't melt right. So take the extra couple minutes and shred it off the block. Add the cream and paprika (not smoked paprika) and keep the heat low and slow to melt it. Too high of heat and it won't be smooth. Just set the heat to low and let it do it's thing, while you occasionally stir. After a solid 10-15 minutes, you will have a perfectly silky-smooth Arby's cheddar cheese sauce.
the arby's beef n cheddar bun
That bun though!!! Let us step back for a minute, and give these buns the moment they deserve. We know the sauce is of vital importance, but the buns are equally iconic when it comes to the Arby's Beef and Cheddar. (Is it just me, or is this sandwich starting to sound kind of like an adult film star, with it's "food porn" and "iconic buns?") Moving right along… There's a couple simple steps to this, but they are super easy, and take just a few minutes. It's well worth it.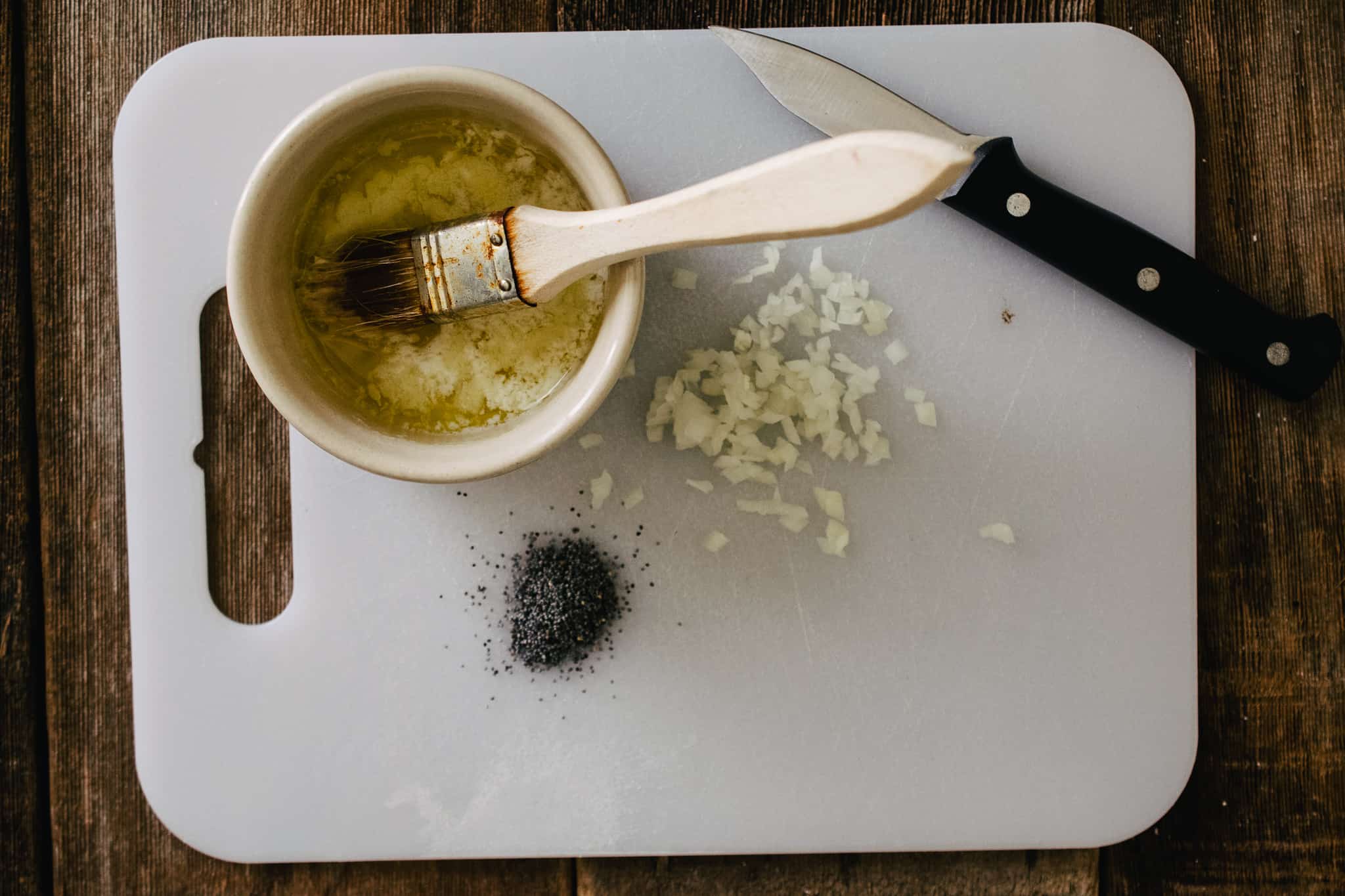 All you need to do, is mince up some onion, very, very finely (take a look at the size comparison next to the poppy seeds), and sprinkle them on a buttered hamburger bun along with some poppy seeds. If you are looking to get super homemade, try this here recipe for Softest Homemade Hamburger Buns Ever.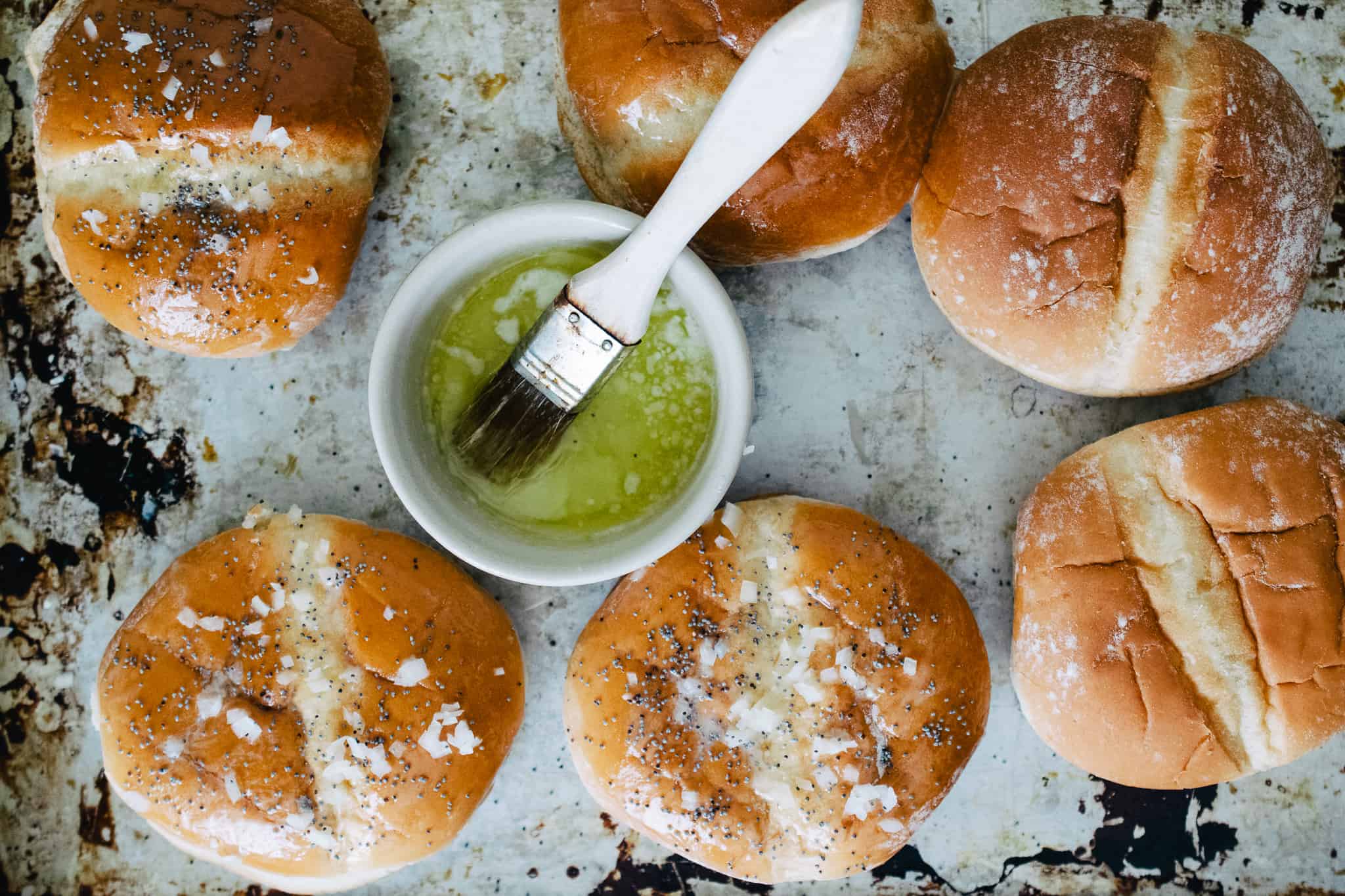 Now that you have everything you need to make your own drive-through window sloppy sandwich, all that's left to do is assemble it. This is the fun part. Bottom bun, Arby's sauce, leaning tower of meat, more Arby's sauce, cheese sauce, top bun. In that order. Devour. Feel sexy, like an Arby's Beef n Cheddar. Don't forget the napkins, because you may get some food porn on your face.
I am a true sucker for fast food chain food. If you'd like to try to put a focus on minimally processed and from-scratch food, but you find at the boxed dinner aisles and take out restaurants call to you, try my Homemade Hamburger Helper Copycat and my personal favorite, General Tso's Chicken.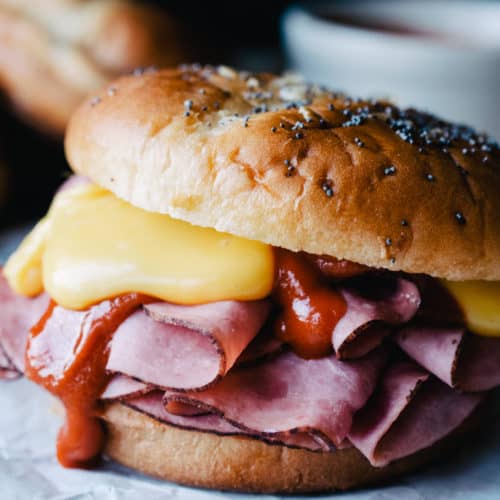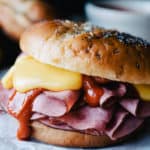 Print Recipe
Arby's Beef and Cheddar with Arby's Sauce Copycat
An identical, homemade Arby's sandwich. A large poppy seed onion brioche bun stacked high with shaved roast beef, topped with the signature cheddar cheese sauce, and sweet and tangy Arby's sauce copycat sauce.
Ingredients
3

lbs

thinly sliced roast beef

6

large

brioche or large hamburger buns

1/2

stick

melted butter

1

tbsp

poppy seeds

1/2

medium

minced onion
Cheese Sauce
4

oz

mild or medium cheddar cheese

shredded off the block

2

tbsp

heavy cream

1/4

tsp

paprika

avoid smoked paprika
Arby's Sauce Recipe
1

cup

ketchup

1

tbsp

molasses

1

tbsp

apple cider vinegar

1 1/2

tbsp

granulated sugar

1/2

tsp

smoked paprika

1/4

tsp

garlic powder

1/4

tsp

onion powder

1/2

tsp

salt

3

tbsp

mayonnaise

2

tbsp

water
Instructions
Preheat oven to 350 degrees

Wrap the shaved roast beef in foil like a "packet" and keep in the oven to heat through.
For the Cheese Sauce
Combine the 4 ounces of freshly shredded cheese, with 2 tablespoons of heavy cream, and 1/4 tsp paprika in a small saucepan on low heat. Stir occasionally until melted, smooth and combined. This will take several minutes and patience, and it's best to do this at the lowest setting possible.
For the Buns
Arrange buns on a baking sheet. Melt the 3 tablespoons of butter in microwave for 30-60 seconds until melted.

Mince onion very, very finely.

Brush melted butter over each one and sprinkle with poppy seeds and minced onion. Brush again with melted butter.

Bake for 5-7 minutes in the 350 degree oven until onions begin to toast. Remove from oven and wrap in foil immediately so they stay warm and don't dry out. The steam will re-soften the buns.
Arby's Sauce
In a small saucepan, bring the Arby's sauce ingredients to a simmer, stirring for five minutes; remove from heat and set aside
Assemble the Sandwiches
Top the bottom bun first with roast beef, then spoon over cheddar cheese sauce, followed by Arby's sauce. Top with top seeded bun.

Can be kept warm in the oven at 180 degrees until ready to eat, for up to one hour.
Notes
Recipe Notes:
The thinner the roast beef is sliced the better. Often, you can go to the deli and ask the butcher to shave the roast beef off on the thinnest setting possible. This is going to give you the most accurate replica of what an Arby's sandwich signature is; a pile of razor thin meat on a bun. 
You can buy store bought or use your favorite homemade bun recipe, but make sure to really mince the onion very small, just like what's atop the Beef n Cheddar bun. 
When creating the onion poppy seed buns, they have already been baked, so we only need to seal in the topping with the butter. It's important to immediately wrap the finished buns tightly in foil so that they don't dry out. The steam will also help to keep them soft. 
Extra Arby's sauce can be kept in the refrigerator in a container for a month. 
Use the lowest setting possible when making the cheese sauce. Heating it will take a bit longer but will result in an ultra smooth cheese sauce. Getting impatient and cranking up the heat can cause more lumps. Keep the cheese sauce warm until ready to serve on the sandwiches. 
Don't use sharper cheddar cheeses, as they don't melt as easily. Use mild to medium at the most.