Ok, I know Hamburger Helper isn't like, high-end cuisine. But there's something about the processed, dinner in a box tastiness that I won't ever get tired of. I love the stuff. Sorry. I also love and have a passion for from-scratch cooking. I really, I mean really believe we've got to get off of the boxed foods. But I'm not here to preach, I'm here to provide recipes! 
hamburger helper copycat 
And this Hamburger Helper Lasagna copycat recipe is spot on. You won't be missing anything by making this from-scratch replica. In fact, you won't be putting in much more effort either. It's extremely easy. So much so, that I actually wonder where along the line someone decided that it needed to be packaged up and preservative-laden in the first place?  Mr. Boyardee, was this your idea? Betty Crocker, did you do this? (Just kidding, Betty's my girl, and if you are wondering why you can't get your homemade brownies to taste like hers, click on this Best Brownie Recipe in the World). I am so happy to be able to now eat one of my favorite nostalgic dinners, without compromising ingredients. 
how to make hamburger helper lasagna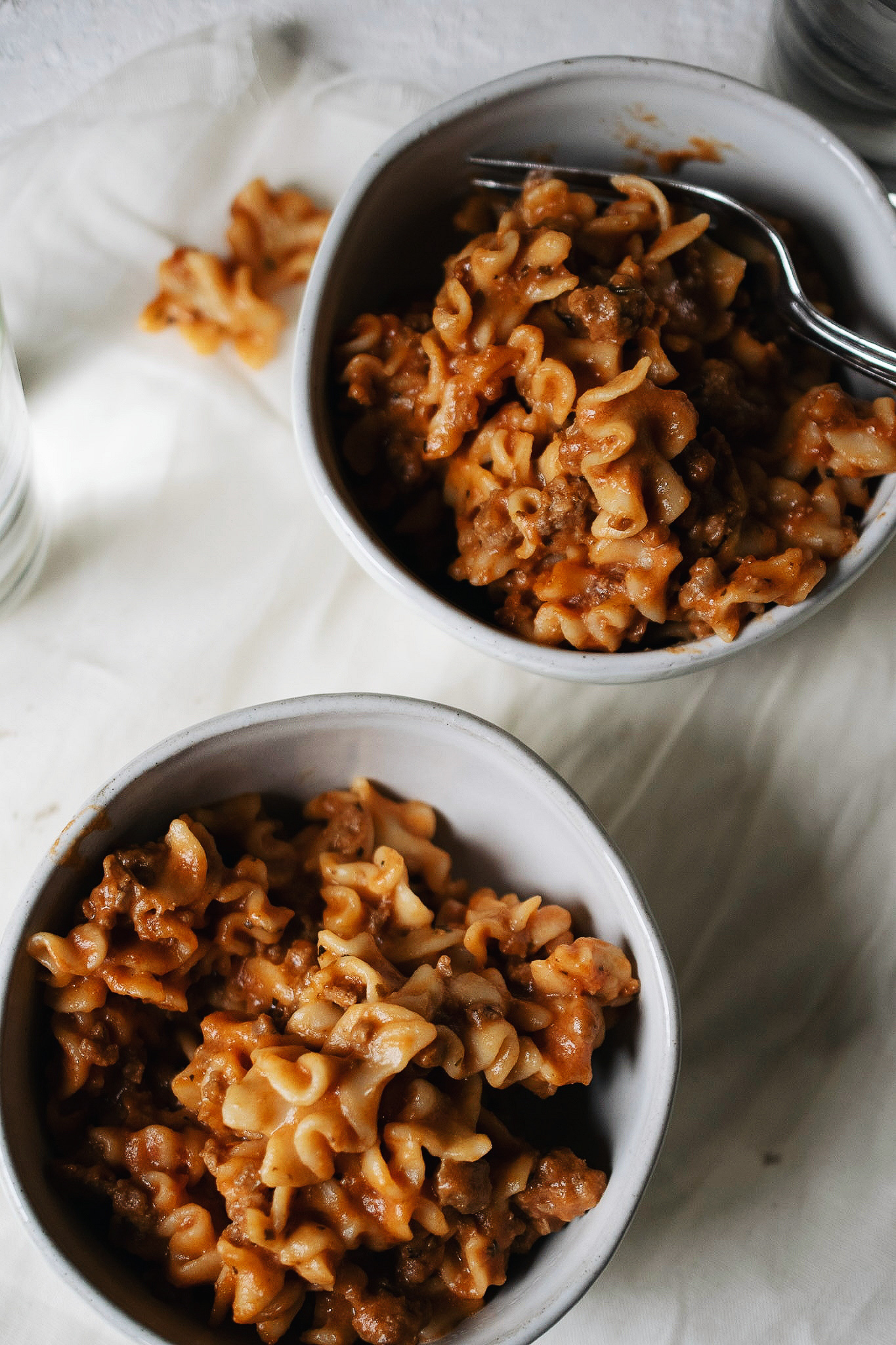 Making Hamburger Helper from scratch is really easy. I go with the Cheesy Lasagna version, only because that one is our house's favorite. It's what I grew up on, and it's delicious. The process is very similar to what you'd do with the boxed version. 
Start by browning the ground beef in a large skillet. This recipe here uses a pound and a half, but if that's too much ground beef for your family, the amount can be reduced to a single pound without affecting anything. So, depending on your family's intake of ground beef, or how much they'll eat, anywhere between 1 to 1 1/2 pounds is fine. 
Once the hamburger is browned and cooked, add the chicken stock, (here's instructions on how to make and can your own chicken stock!), spices, milk, tomato paste and pasta. Mafalda pasta is the kind that resembles the original, but you can use regular lasagna noodles, broken into 2 inch pieces. Bring the mixture to a simmer on medium.
Simmer for about 7-8 minutes, until noodles are al dente. Don't overcook them, as they can get mushy fast in the sauce. (If you've used broken lasagna noodles, they'll take a bit longer.) Once they've reached al dente, remove the pan from the heat. Sprinkle in the shredded cheese and gently stir throughout, letting it melt completely. 
Enjoy a classic comfort food, knowing you're using real, whole ingredients. It's the best of both worlds!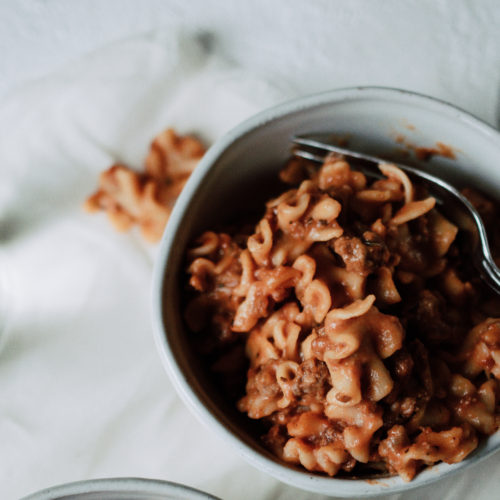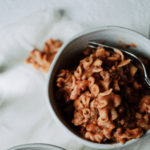 Print Recipe
Hamburger Helper Lasagna
Copycat Hamburger Helper Lasagna recipe. Mafalda pasta with ground beef, in a tomato cheese sauce, cooked in a skillet.
Ingredients
1 1/2

lb

ground beef

32

oz

chicken stock

6

oz

can tomato paste

2

tsp

onion powder

1

tsp

garlic powder

1

tbsp

dried oregano

1

tsp

dried basil

1

tsp

sugar

1

tsp

salt

2

cups

milk

small

pinch

pepper to taste

12

ounces

dry uncooked mafalda pasta

or broken up lasagna pasta pieces

1

cup

sharp cheddar cheese

shredded off block

1/4

cup

parmesan cheese

shredded off wedge
Instructions
In a deep skillet, brown hamburger.

Add stock, tomato paste, garlic powder, onion powder, oregano, basil, sugar, salt and pepper. Stir to dissolve tomato paste and mix seasonings.

Add milk and mafalda pasta, and bring to a medium simmer. Simmer, covered, about 6-7 minutes for al dente, or according to pasta package time. Do not overcook it.

When the pasta is done, remove from heat, and stir in shredded cheese until melted. Serve immediately.