Homemade hamburger helper lasagna is packed full of real tomato and herbs, nutrient rich stock, 100% real shredded cheese and ground beef. A one-pan dinner-time staple, but with better nutritional value.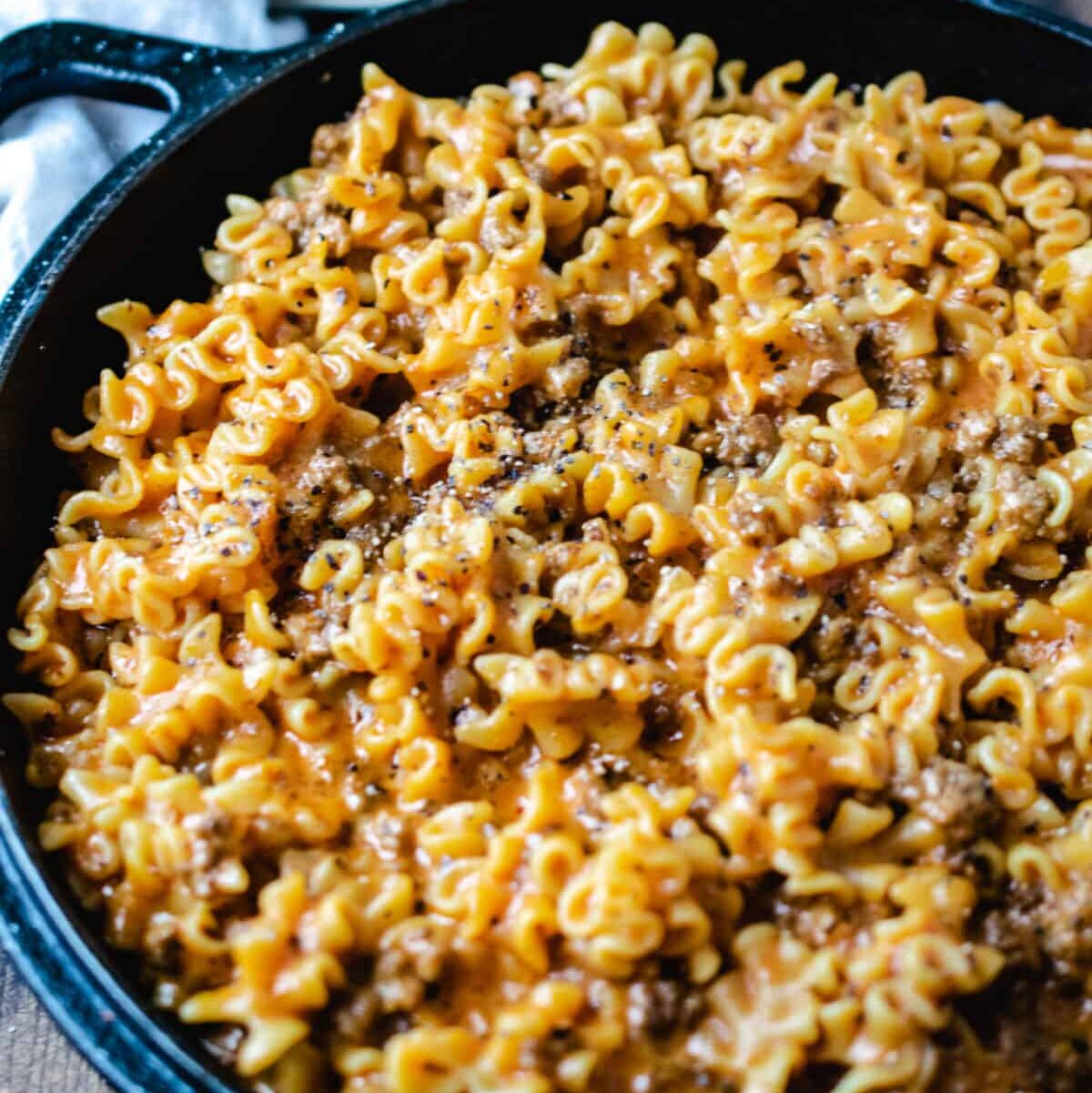 The funny thing about Homemade Hamburger Helper, is that it's just as easy as the boxed dinner. Which leads me to question, why it needed to be packaged up in the first place? (Ingredient list here.) 
Making it homemade means that you get to avoid a lot of unwanted ingredients. 
how to make hamburger helper lasagna
Start by browning the ground beef in a large skillet. This recipe calls for one pound of ground beef. (Sometimes I use half a pound, or increase it to a pound and a half, depending on my family's needs. Doing so doesn't affect the sauce consistency.) 
Once the hamburger is browned and cooked, add the chicken stock, (here's instructions on how to make and can your own chicken stock), spices and tomato paste.
Mafalda pasta is the kind that resembles the original boxed brand.  If you can't find mafalda, you can use regular lasagna noodles, broken into 2 inch pieces, or make your own pasta shapes with homemade pasta dough.
Bring the mixture to a boil on medium high heat and simmer for 5 minutes.
Reduce heat to low, and add the milk and pasta.
Simmer for about 7-8 minutes, until noodles are al dente. Don't overcook them, as they can get mushy in the sauce. (If you've used broken lasagna noodles, they'll take a bit longer; refer to the box instructions for al dente time.)
Once they've reached al dente, remove the pan from the heat. Sprinkle in the shredded cheese and gently stir throughout, letting it melt completely. 
Enjoy a classic comfort food, knowing you're using real, whole ingredients.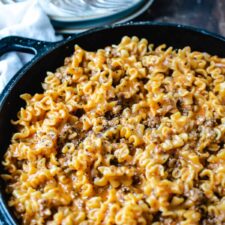 Hamburger Helper Lasagna
A quick and easy, one pan dinner. Mafalda pasta with ground beef, in a tomato cheese sauce, cooked in a skillet.
Print
Pin
Rate
Ingredients
1

lb

ground beef

2

cups

chicken stock

3

oz

can tomato paste

1

tsp

onion powder

½

tsp

garlic powder

1

tsp

dried oregano

1

tsp

dried basil

¼

tsp

sugar

2

cups

milk

pinch

salt and pepper to taste

2 ½

cups

dry uncooked mafalda pasta

or broken up lasagna pasta pieces

¼

cup

cheddar cheese

shredded off block

¼

cup

mozzarella or Monterrey jack cheese

shredded off block
Instructions
In a deep skillet, brown hamburger.

Add  2 cups chicken stock, 3 oz tomato paste, tsp onion powder, ½ garlic powder, 1 tsp dried oregano, ½ tsp dried basil ¼ tsp sugar, and salt and pepper to taste. (Might not need salt.) Stir to dissolve tomato paste and mix seasonings.

Bring to a simmer on high heat for 5 minutes; it needs to reduce by about half.

Reduce heat to low. Add 2 cups milk and mafalda pasta. Simmer, covered, on low about 6-7 minutes for al dente, or according to pasta package time. Do not overcook it, and do not use higher than medium low heat, as this can curdle the milk.

When the pasta is done, remove from heat. Stir in one cup total shredded cheese (blend of cheddar and mozzarella or Monterey jack) until melted. Serve immediately.
Notes
Any pasta shape can be used, but Mafalda is the pasta that the boxed Hamburger Helper Lasagna uses. Breaking regular lasagna sheets into 1 inch pieces resembles the pasta also. 
Ground beef can be adjusted from anywhere between one half pound to 1 ½ pounds. 
While boiling the stock, tomato paste and spices on medium-high/high heat, the liquid level will reduce and condense; this is normal and necessary to concentrate the flavors. 
Use any blend of cheddar, Monterrey Jack, mozzarella, or like cheese to a combined total of 1 cup shredded cheese. 
Before adding milk and uncooked pasta, remove the pan from the burners surface to avoid boiling the milk. Stir the milk and pasta, and return to burner to simmer on medium low until pasta is al dente. 
Lastly, remove from heat and stir in shredded cheese until smooth and combined. 
Salt and pepper to taste (optional).