Double crunch, juicy on the inside fried chicken fillets. With the trademark 'crunchy shredded ice burg lettuce' and a 'splat' of mayo on a sesame seed bun. Forget the drive through, make this.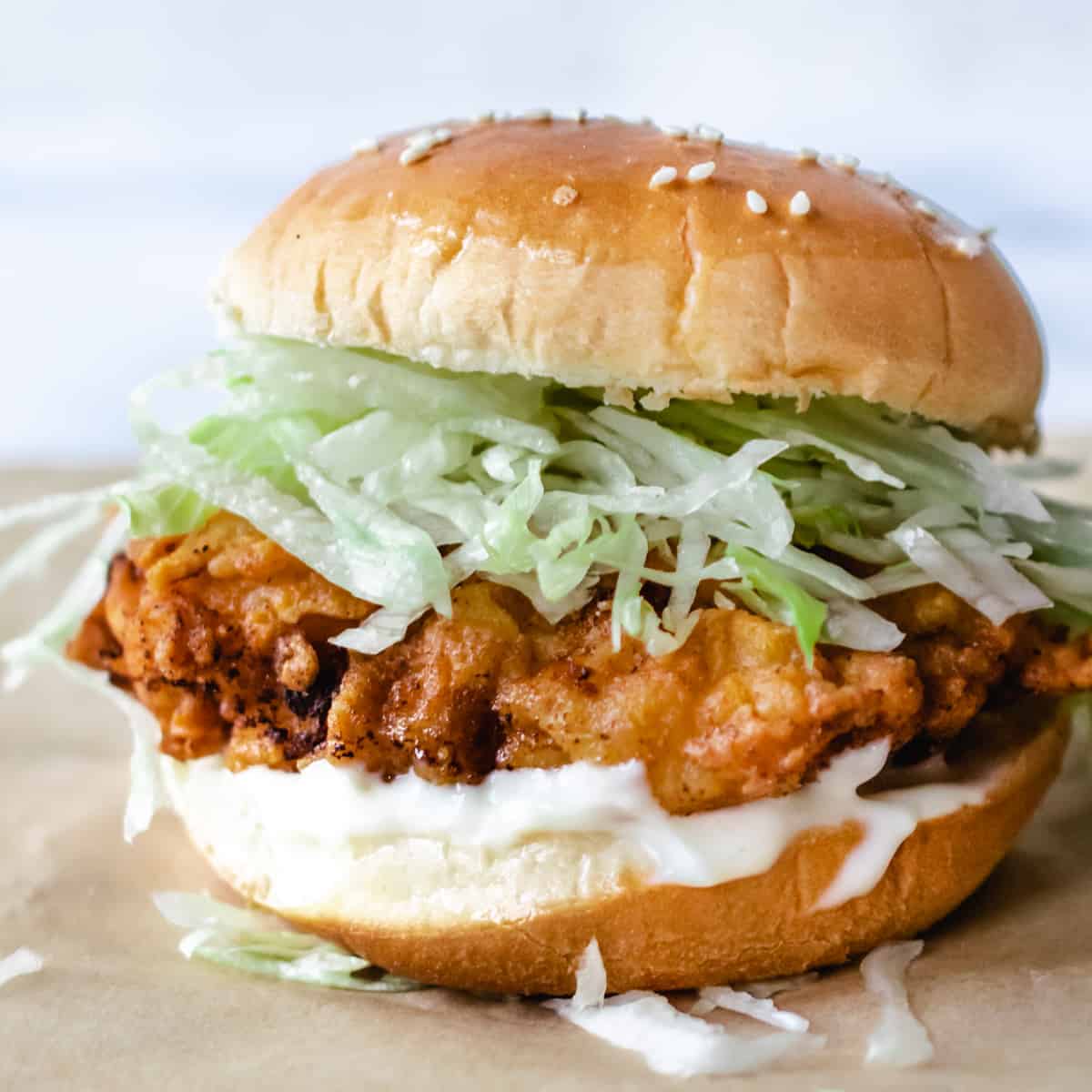 Who Makes the Best One?
You do! Here's why. The chicken is soaked in buttermilk in a zip lock bag, which means it's super juicy, and the double crunch dredging ensures you get the crispiest chicken ever. It's also seasoned perfectly, right down to the sugar (yes, sugar) in the dredge. (Doesn't make it sweet-- just balances the flavors of everything else--trust me.)
How to Make it
Start by shaping the chicken. This just means, to cut each breast as evenly as possibly on the bias. Then place them all in a zip lock bag and pound them with a rolling pin to uniform thickness.
Once an even thickness is achieved, pour the buttermilk into the bag and allow them to marinate for an hour. This is what makes the chicken juicy and flavorful. It really is the best.
1. Marinate the Chicken in Buttermilk Brine
2. Prepare the Dredging and Batter Stations
The Crispy outside of the chicken is creating by first dredging the chicken in a seasoned flour mixture, dipping it into an egg mixture, and then re-coating the chicken in the flour mixture. The double dipping action not only gets the crispy part to stick, but it makes it thick and crunchy.
Using a portion of rice flour makes it extra crispy, and it's actually very easy to make your own if you don't have any. Simply put your own rice into a food processor or highly powered bullet blender and pulse away until you have a fine powder. You will thank yourself for doing this when you bite into the chicken and see how incredibly crispy it is.
Frying the Patties
Once you've coated the chicken, just keep setting it up on a plate until it is all finished. Don't rush too much because the sitting time actually reinforces the crispy coating into the chicken breast, so you're good to let it stack up until ready to fry.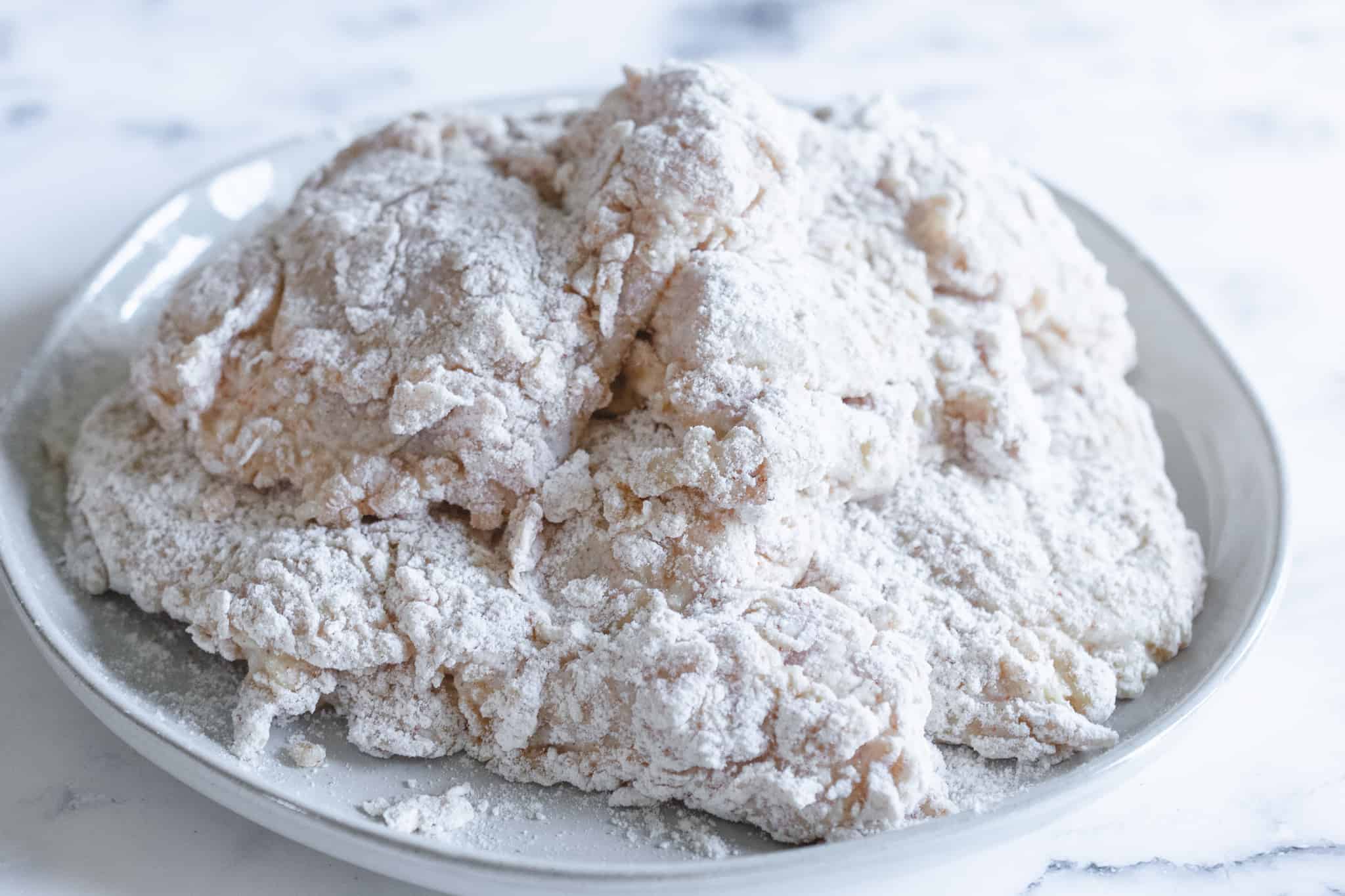 With the patties all dredged, dunked, and coated, it's time to fry. Oil temperature is important-the rule of thumb says it should be about 350 degrees. Me personally, I didn't always have that fancy of a thermometer, so I winged it.
Here's how:
Heat the pot of oil on your stove top burner to it's medium high heat. Take a pinch of the flour mixture and flick it into the oil when you think it's hot. If it sizzles, it's hot. It should look "ripply" but not be smoking.
Fry the patties in batches so they don't crowd each other. Crowding causes steaming, which causes sogginess.
Fry on one side 4-6 minutes until golden brown, then flip and repeat.
Completed patties should be transferred to baking rack to drain. AVOID PAPER TOWELS TO DRAIN! THIS WILL SUCK THE CRISPY RIGHT OUT OF YOUR FRIED CHICKEN!
Use a baking rack that is placed over a baking sheet that is either lined with parchment paper or paper towels. This allows air flow, which maintains the crisp factor. Placing the fried chicken on the paper towels themselves, will result in a steaming effect, and will make it soggy right away.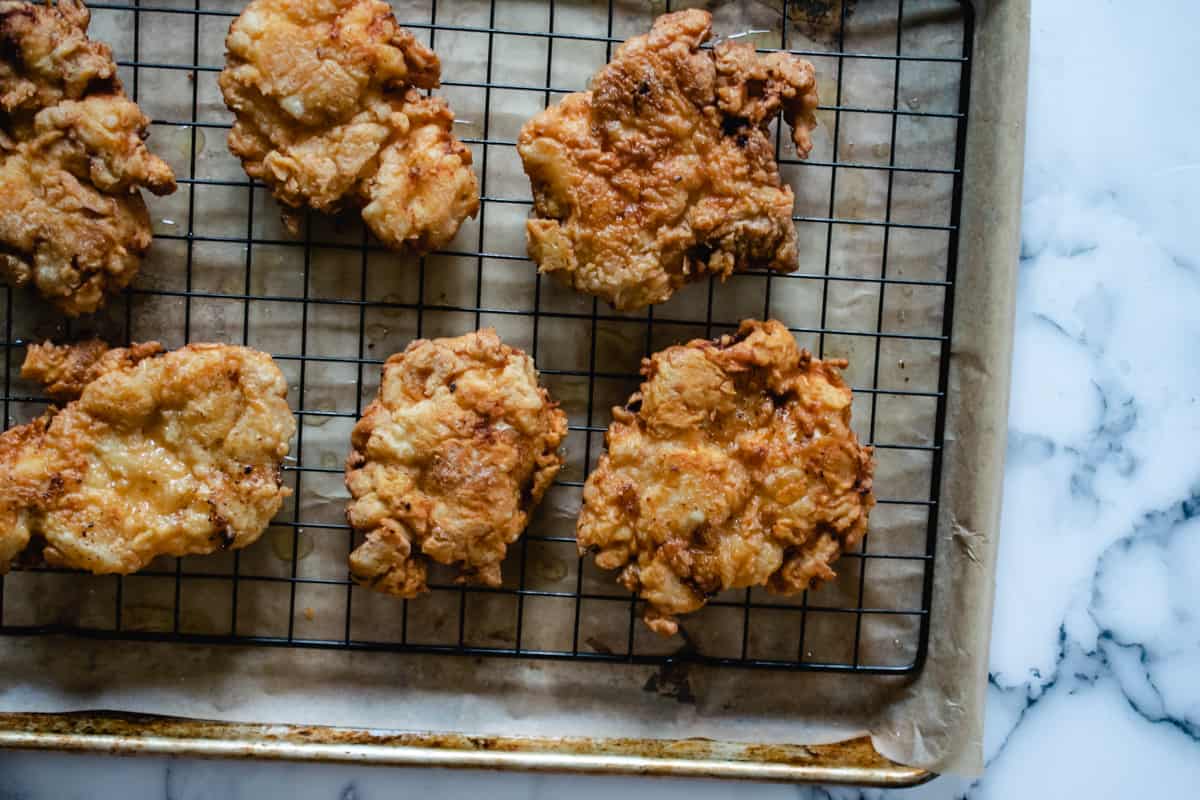 So if you don't have a thermometer, pay close attention to these things. The oil should look thinner and loosened up. Rippled.
Once it starts smoking, back off on the heat. Don't panic and toss anything out, just lower the heat and keep at it. Without a thermometer, you'll have to eyeball it. Which is what I do every time, if I'm being honest here.
Deep Frying Safety
***Please be Careful of Little Ones*** Whenever there is a delicious, deep frying situation, there is unfortunately a potential for injury. Deep frying or oil frying requires special care. Pay attention to handles that point over the stove within little one's reach. Try to use the far back burner, if possible. Once the frying is done, remember that the oil remains dangerous for hours beyond, so don't allow handles to be grabbed or pots to be touched.***
The Shredded Lettuce
Is everything. Take a sharp butcher knife and "shave" thin ribbons off of a head of ice burg lettuce. This is much tastier than purchasing bagged shredded lettuce. It really makes the sandwich; it's not worth eating without it.
To assemble, spread mayonnaise on the bottom of a sesame seed bun. Top with Chicken, shredded lettuce, and top sesame seed bun with more mayonnaise.
Like this? Then also try my Pulled Pork Sandwich recipe with Slaw, Wine Braised Beef Dips,and this lightened up and garden fresh version of a Chicken Salad Sandwich.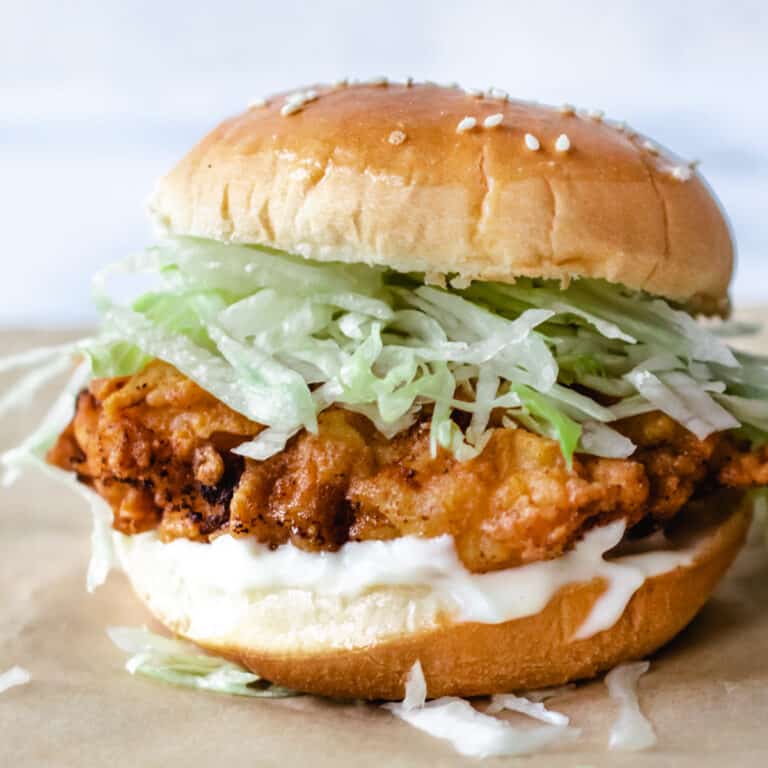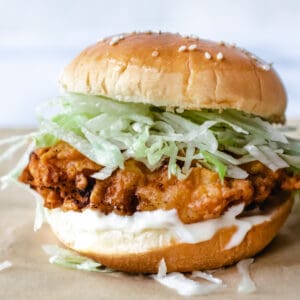 Crispy Chicken Sandwich
Tender, juicy, buttermilk fried chicken on a sesame seed bun with crisp, shredded ice burg lettuce and mayo.
Print
Pin
Rate
Ingredients
3

chicken breasts

sliced on the bias

1 ½

cups

buttermilk
Flour Dredge
1

cup

all purpose flour

2

tablespoon

corn starch

¼

cup

rice flour

1

teaspoon

salt

1

teaspoon

sugar

½

teaspoon

onion powder

¼

teaspoon

garlic powder

1

teaspoon

paprika

avoid smoked paprika

½

teaspoon

ground mustard powder

⅛

teaspoon

white or black pepper
Egg Wash
3

large

eggs

½

cup

buttermilk

or regular milk

½

teaspoon

salt

pinch

pepper
Instructions
Cut chicken breasts on the bias so that they are somewhat even in height.

Place cut chicken breasts in a zip lock bag; seal and pound with a rolling pin or mallet to create uniform thickness of about ½ inch.

Open the zipper bag, and pour buttermilk into the bag so it coats the chicken; zip it up and place it in the fridge for an hour. (Using a bowl underneath protects against leaks in the fridge.)

Combine dredging ingredients in one bowl, and egg wash ingredients in another. Place a plate nearby, as this will serve as the "dredging station".

Pour oil into skillet or pot to 2 inches deep. Set to 350 degrees (which is roughly the medium to medium high setting on most stoves.) Be careful of little ones and handles as oil heats up to prevent injury.

Remove chicken from buttermilk bag. Roll in the flour mixture.

Dip in the egg wash mixture, and then roll back into the flour mixture to make sure

Work in batches so that chicken isn't crowded and it gets very crispy. it sticks. Stack onto a plate as you go.

Drain on a metal baking rack that is set over another baking sheet to catch the drips. Don't ever set fried chicken (or fried anything) directly on paper towels or other absorbent materials.

Spread mayonnaise onto the top and bottom sesame seed buns. Place chicken on the bottom bun, followed by shredded lettuce and top bun.
Notes
Don't marinate chicken in buttermilk for over an hour. The acidity can "cook" the chicken, and it can become tough. 
Don't drain chicken pieces on paper towels, or anything that will come into contact with them. 
Nutrition
Serving:
1
g
|
Calories:
330
kcal
|
Carbohydrates:
29
g
|
Protein:
32
g
|
Fat:
8
g
|
Saturated Fat:
3
g
|
Cholesterol:
174
mg
|
Sodium:
833
mg
|
Potassium:
583
mg
|
Fiber:
1
g
|
Sugar:
5
g
|
Vitamin A:
327
IU
|
Vitamin C:
2
mg
|
Calcium:
115
mg
|
Iron:
2
mg