Forget the boxed freezer version. These homemade ham and cheese hot pockets have a buttery, flaky crust, gooey cheese sauce and pieces of quality ham. The taste is spot on, and the ingredients are much healthier. 
Homemade Ham and Cheese Hot Pockets are the ultimate remake of the freezer snacks we secretly love, but without all the harsh ingredients. Tavern sliced pieces of ham in an ooey gooey cheese sauce, fills a soft and flaky whole wheat crust, in these warm pockets of portable joy. The crust is made with a blend of white and whole wheat flour (but you can use all of one or the other, I believe the touch of wheat gives it a little extra somethin' somethin'), the cheese is 100% real, and you have control over the quality of the ham that you use. The ingredients are very simple, and you can't go wrong with these because they are incredibly delicious.
Because of the simplicity of the recipe and ingredients, it's really easy one to multiply if you want to freeze them in large quantity. As long as they're sealed up good and safe from freezer burn, they can be stored for months in the freezer and reheated as needed.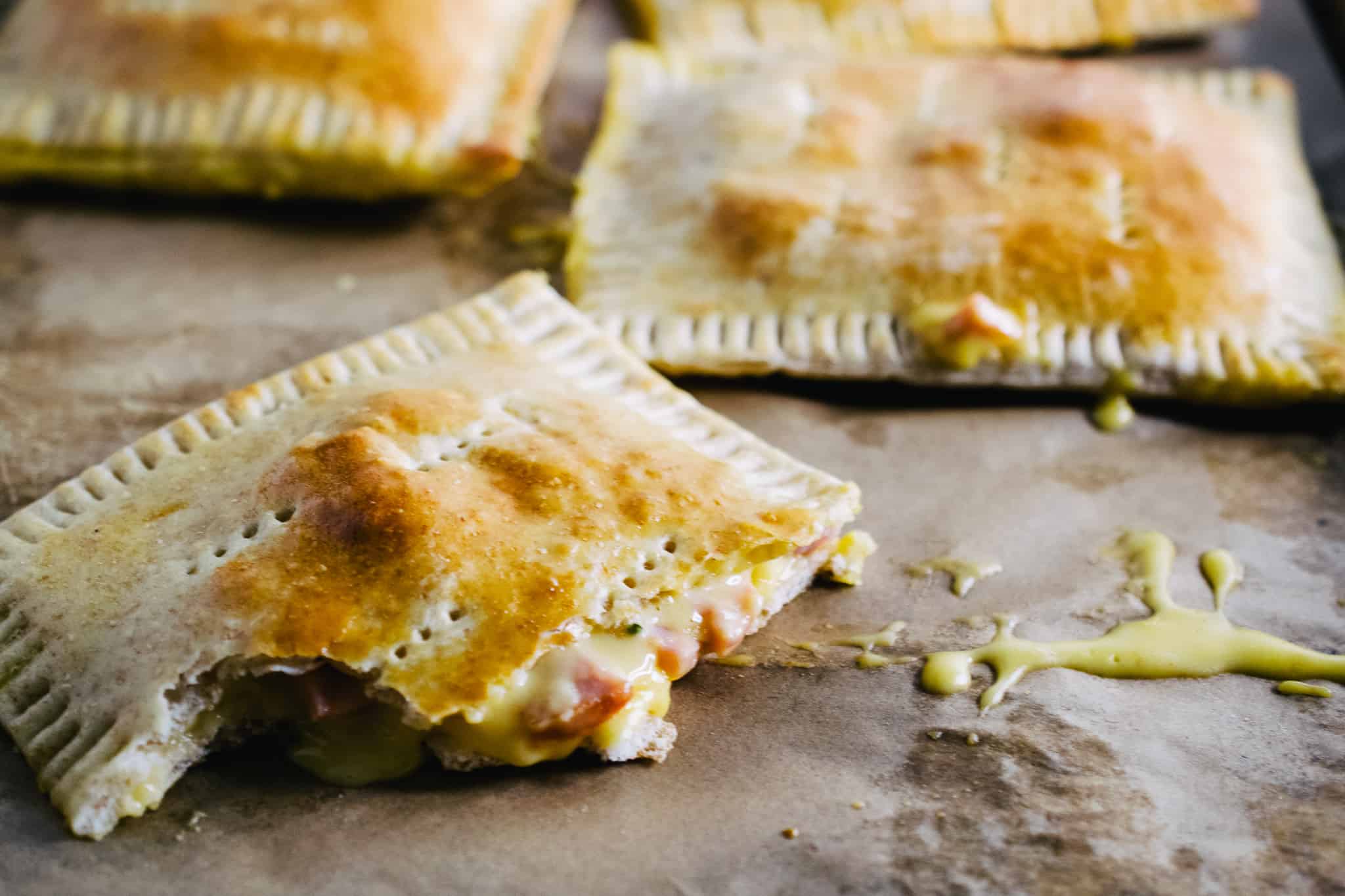 homemade hot pocket dough
As I mentioned above, this recipe calls for a portion of whole wheat flour, but you can use all white in the same quantity. Using whole wheat makes it a healthy hot pocket alternative, but I do think the flavor of the crust is enhanced. It gives it a nice sweet, nutty taste that pairs really well with the rich cheese sauce and salty ham.
The dough recipe has a small amount of yeast- one teaspoon to be exact- which is less than you typically see in a pastry recipe. It's just enough to give the dough some softness and a slight chew, without making it super thick. It gives a perfect crust for a hot pocket. It needs to go through a first rise, however, 35-45 minutes should be long enough. It won't double in size, as there isn't much yeast in it, though it will rise a bit during this resting period. During this time the cheese sauce can be prepared and the oven preheated, so the timing works out nicely.
When it's time to roll out the dough and form the pockets (after it rises), divide into two slightly unequal portions. The reason for this is that the smaller portion will become the bottom crust and the larger portion will become the top. It's larger because it will take more dough to stretch over the top of the filling piles before meeting the bottom layer and becoming pressed together. It gives a little wiggle room so that you're not stretching the dough so thin to fit over the filling that it breaks.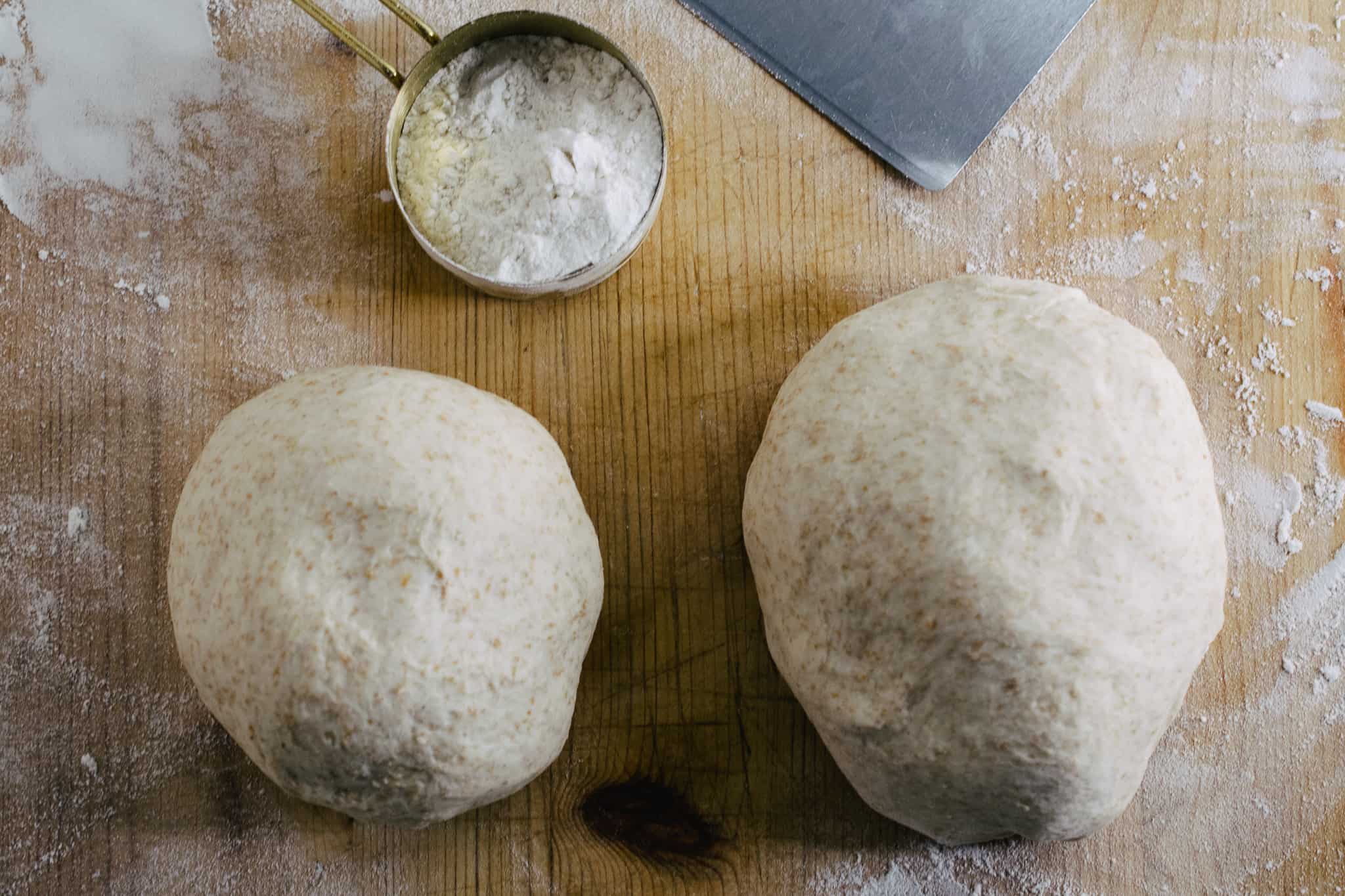 stretching the dough
On a floured surface, use your finger tips to press the dough flat and then use gravity to let the dough stretch, moving it over your hands and forearm and fists to keep an even tension and thickness. This is another reason why the rise is important. It is what is allowing for that stretch in the dough that helps to stretch larger and thinner.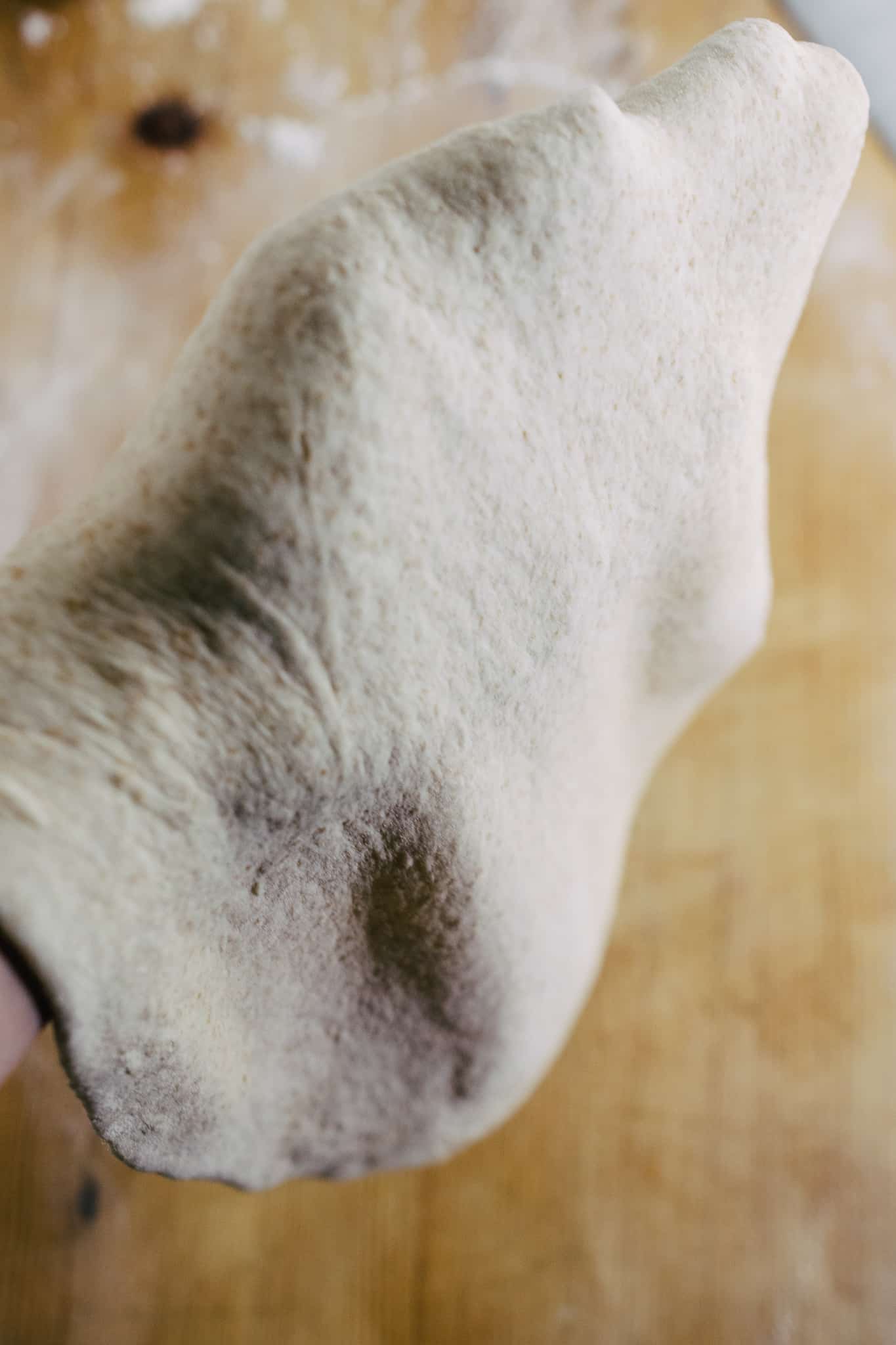 cutting the rectangles
Once the dough is about ¼ inch thick, it can be lied back down onto the floured surfaced and pulled at the corners and edges to form a rectangle that is ⅛" thick. Cut into 10-12 rectangles, depending on the size you want the pockets to be. Repeat with the larger dough portion, and set the "tops" aside for now. Fill the bottom crusts with filling, focusing it towards the center and way from the edges. Do not overfill, or it will keep the pockets from sealing properly. The filling will distribute during baking, so don't worry about spreading it out too much.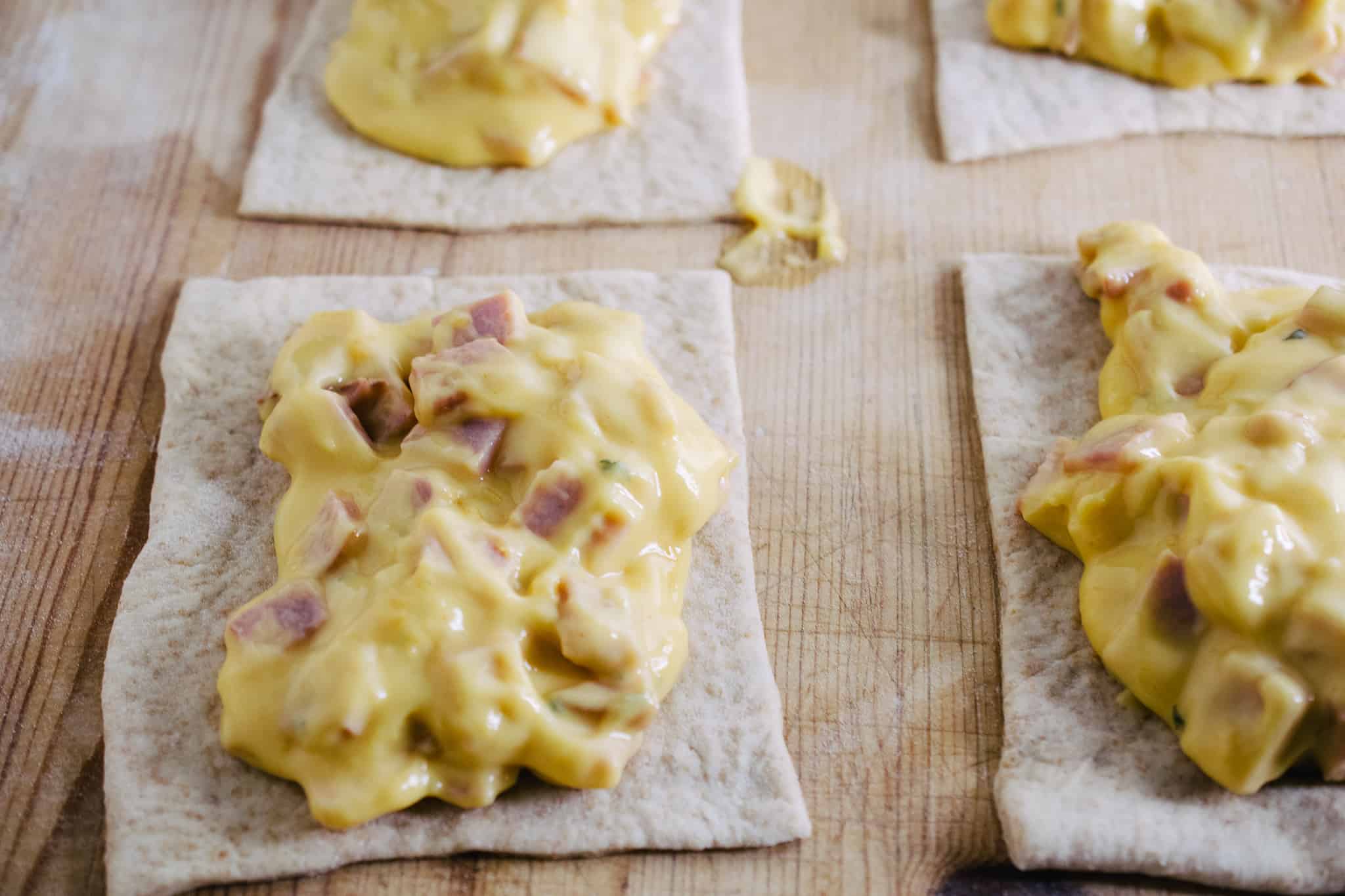 With the filling on all of the bottoms, place a top over each one, as best as it will fit. Use the tines of a fork to seal the dough together all the way around. Once they are sealed all the way around, trim the edges with a pastry cutter or sharp knife, leaving ¼" sealed edge.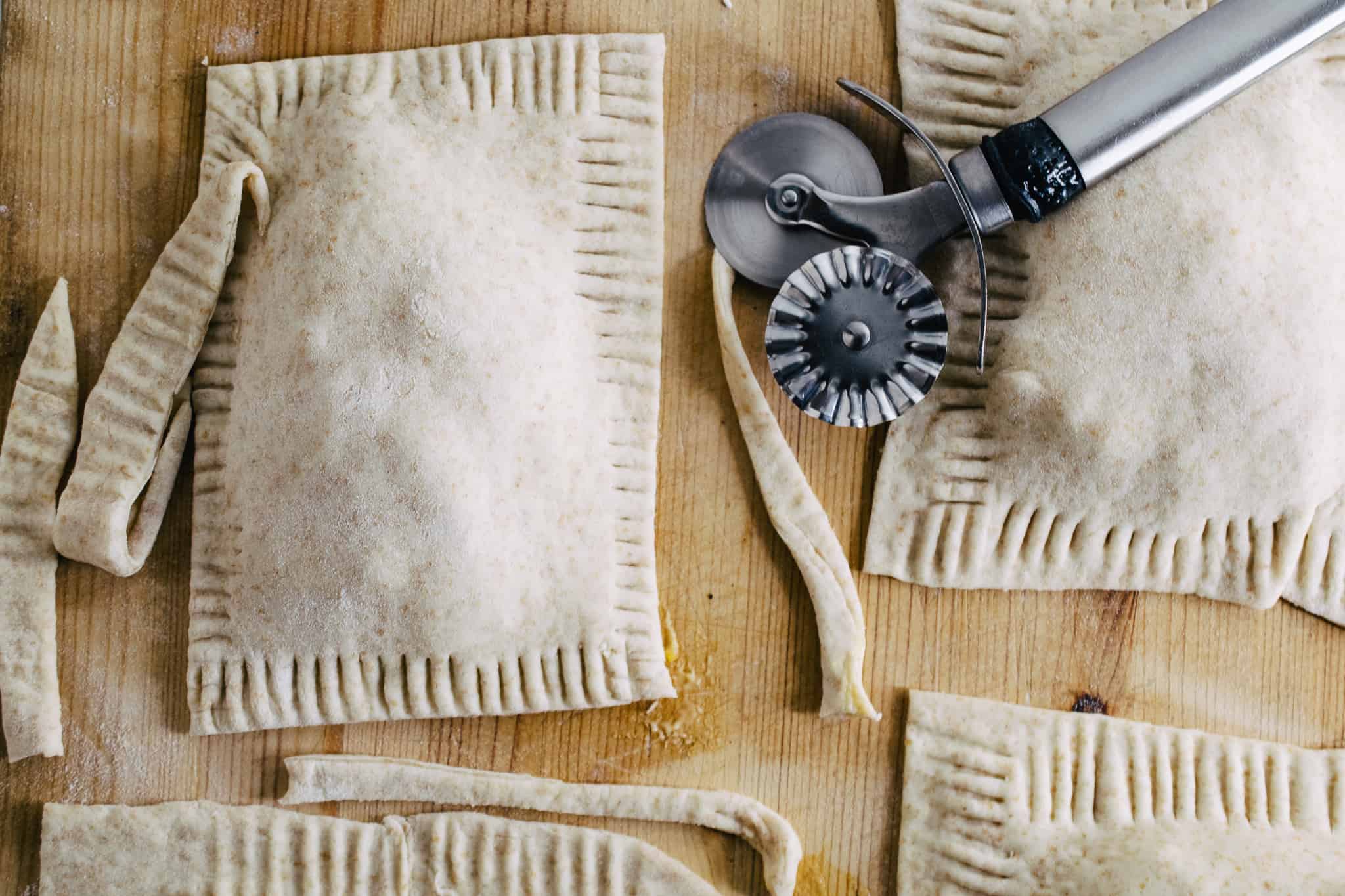 Once trimmed, use a spatula to transfer to a parchment paper lined baking sheet, and use a fork to poke holes into the tops in several places to allow steam to escape and prevent the pockets from blowing an edge out, which can cause all that delicious cheese sauce to leak out while cooking. If during the baking process you notice some edges start to give out, re-poke holes, or make the existing ones larger to let the steam back out. A little leaked filling is ok, and normal.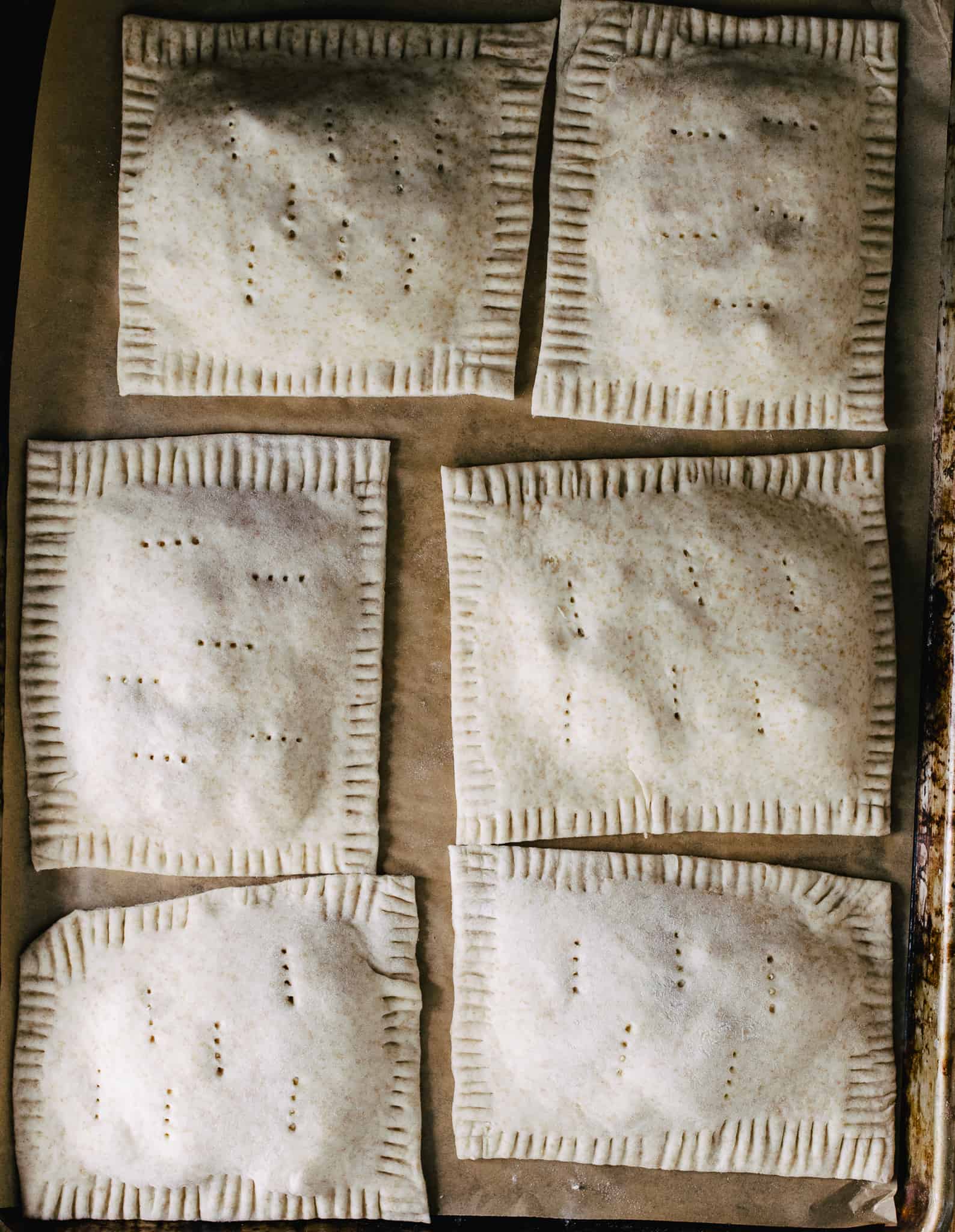 poke holes so they don't burst
Before baking you may choose to brush a beaten egg over the tops, to help make the crust golden and shiny. If doing so, wait until poking the holes until after you've brushed the egg on, this way the egg wash won't just seal it back up. And keep an eye on them as they cook to see if any holes need to be repoked. They are done after about 15-20 minutes when the tops are firm and golden brown, and the bottoms are browned and cooked. Check by lifting just the corn up with a spatula before removing from the oven.
careful! hot!
Once they are done, leave them on the sheet to cool until they can be handled. Filling will be very hot! It helps to break them in half to allow more of that hot steam to escape and let them cool faster. Careful, especially if you're feeding them to the little ones. They don't call them hot pockets for nothing!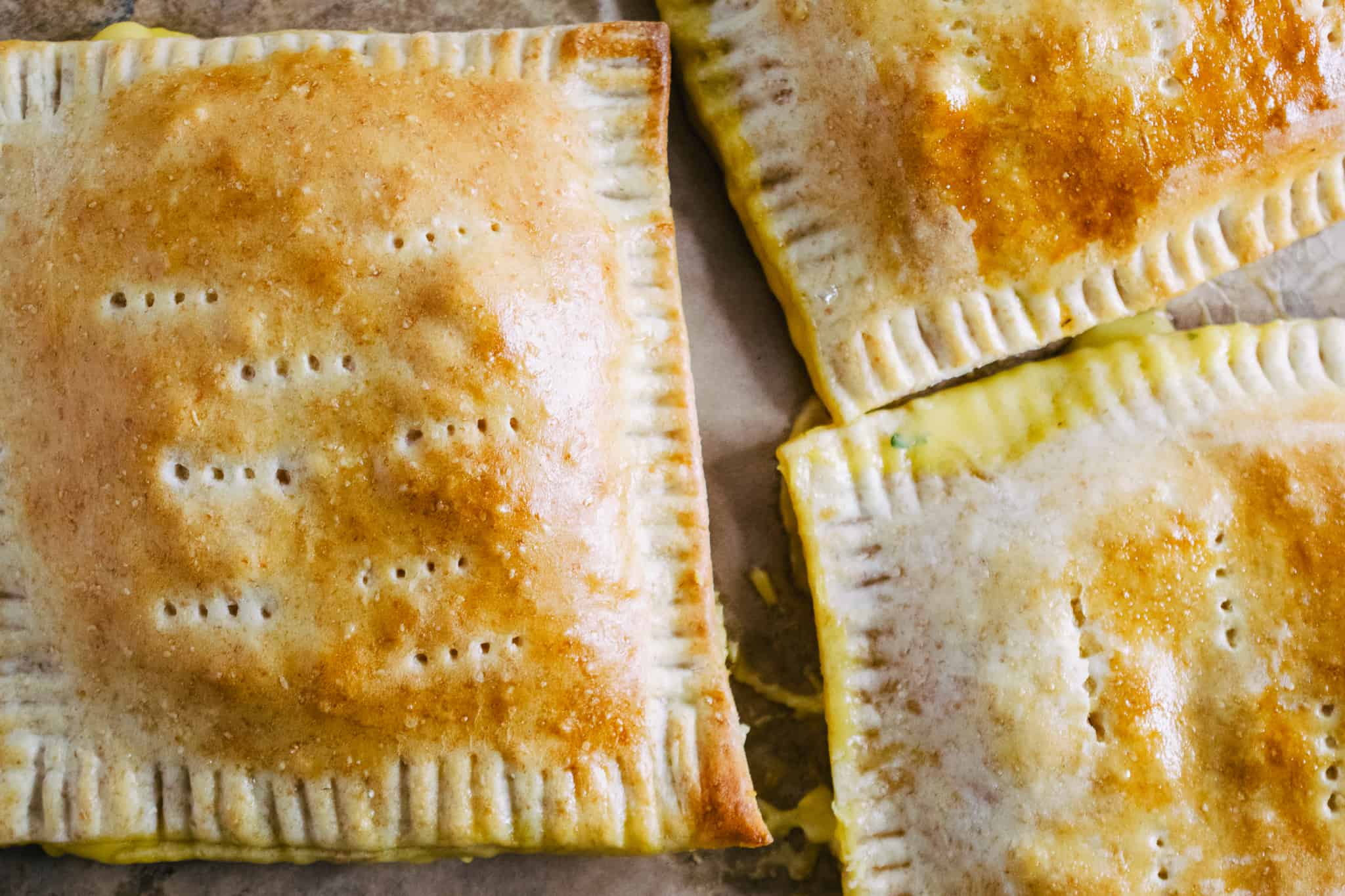 for other from-scratch boxed food recipes
Since these Ham and Cheese Hot Pockets fall into the category of from-scratch versions of boxed food favorites, you might like my spot-on replica of Hamburger Helper Four Cheese Lasagna! It's completely from scratch and uses wholesome homemade bone broth and tomatoes, and nobody knows the difference! For dessert, try the Un-Boxed brownies, where I share the secret ingredient to making brownies taste as good as the boxed brand. Because let's face it. Boxed brownies are delicious.
trying to get your family to eat less highly processed foods?
It can be a shock for the taste buds. Browse my category page dedicated to copy cat recipes and take out food, from scratch! It's especially helpful if your family is transitioning from eating mostly processed, boxed foods to more whole ingredient meals. It can help those who's taste buds are struggling to adjust, to give them a familiar option. I'd love to know what your family's favorite boxed dinner is, and build a from-scratch copy cat version of it! You can also follow along as I Pin to my Copy Cat Recipes Board, and Better than Takeout Board on Pinterest, where I am regularly pinning recipes from all over Pinterest that are healthier, whole ingredient versions of these foods!
For now, enjoy your Homemade Ham and Cheese Hot Pockets! I'd love to know what you think in the comments 🙂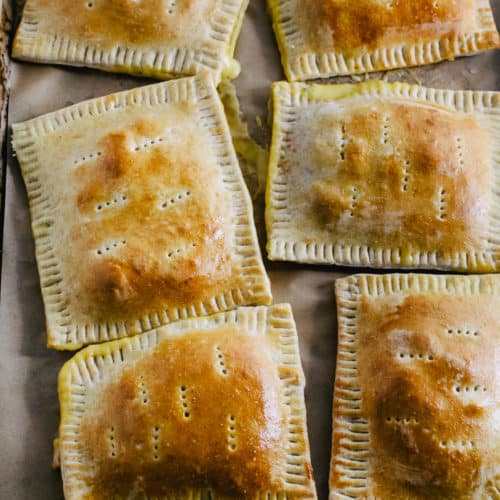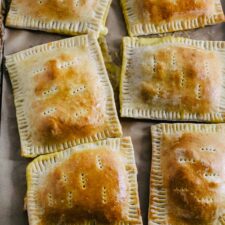 Homemade Ham and Cheese Hot Pockets
A soft and chewy wheat crust, filled with a hot, gooey seasoned cheddar cheese sauce and pieces of ham.
Print
Pin
Rate
Ingredients
For the Crust
1 ½

cups

all purpose flour

1

cup

whole wheat flour

1

tsp

salt

1

tbsp

sugar

1

tsp

instant yeast

2

tbsp

shortening

1

cup

lukewarm water

½

tsp

white vinegar
For the Ham and Cheese Filling
1

cup

milk

3

tbsp

all purpose flour

⅛

tsp

onion powder

⅛

tsp

garlic powder

⅛

tsp

paprika

NOT SMOKED PAPRIKA

1

tsp

dried parsley

2

cups

shredded mild cheddar cheese

off the block

½

lb

tavern smoked ham

sliced thick from deli (then sliced into 1 inch long strips)

pinch

salt and pepper

to taste
Optional
1

beaten egg

for brushing (optional)
Instructions
Prepare the Dough
In a stand mixer using dough hook or paddle, or by hand with bowl and long spoon, or in food processor mix together all purpose flour, whole wheat flour, salt, sugar, and instant yeast. Add shortening and mix until lightly crumbly.

Add water and vinegar and knead to form a ball. Cover, and let rest in a warm area for 35-45 minutes, or up to an hour while you make the cheese sauce.
Start the Cheese Sauce
While the dough is rising, make the ham and cheese filling. Start by whisking cold milk, all purpose flour, onion and garlic powders, paprika (not smoked paprika!) and dried parsley in a small sauce pan until there are no more lumps of flour.

Once whisked, place the pot on a burner and set to medium heat. Let the milk/spice/flour mixture just barely come to a low simmer. Don't let it boil or bubble. I just needs to be enough to thicken slightly for 5 minutes. Like a thin gravy.

Reduce heat to medium low and add shredded cheddar cheese. Whisk until evenly combined.

Continue to stir frequently until completely smooth and melted. Salt and pepper to taste, if necessary.

Remove from heat, stir in the sliced ham pieces. Set aside.
Assemble the Pockets
Preheat oven to 400 degrees.

Divide dough into two slightly uneven portions.

Using your hands, and forearms, and gravity, stretch the smaller portion into a rectangular sheet about ¼" thick.

Lie back down on a floured surface and stretch into an even ⅛" thin rectangle. Cut into 12 even rectangles.

Take the larger portion of dough, repeat the stretching and rectangle forming process, and cut an equal amount of rectangles, though they will be slightly larger. This is so that they can drape over the pile of filling without having to be stretched to fit over it and break.

Begin filling each pocket with the ham and cheese filling, being careful not to get it on edges. It will spread out during baking.

Lay the larger, corresponding rectangles evenly over the tops of the cheese and ham filling.

Use the tines of a fork to seal the edges by pressing all the way around. They don't have to fit perfectly together on the edges, because they'll get trimmed up.

Once pressed with fork, trim excess dough, leaving ¼ inch edge.

For a golden, shiny crust, brush with a beaten egg.

Using a spatula, transfer to a parchment paper lined baking sheet and pierce several times with fork, toothpick or tip of knife to allow steam to escape. Make sure to go all the way through the tops, and check periodically during baking that they haven't closed up or cheese sauce will leak out.

Bake at 400 degrees for 22 to 30 minutes, or until golden brown. Again, check periodically that the steam holes are properly allowing steam to escape so that pockets don't burst and leak all of the cheese sauce out.

Let cool before eating, and be careful because the filling will be very hot. Breaking in half helps the inside too cool faster.
Notes
Batch Size Tips and Tricks:
Recipe makes 12 medium sized pockets. Rectangles can be cut larger for larger pockets, or smaller for more pockets of a smaller size.
Recipe can be doubled or tripled as needed, but depending on the size of your work space, you may need to work in batches.
Dough Tips and Tricks:
Dough can be made using all white flour, or different combination of wheat/white flours as long as it adds up to the 2 ½ cups total flour. (Or proportionate amount if doubling the recipe.)
When the dough goes through it's rise, or resting period, it needs to do so in a warm, non drafty area. During this time, you'll make the cheese sauce. If it takes longer than the specified rise time, that's ok. Even up to an hour rise/rest time is fine, but if it's going to be much longer than an hour, set it in the fridge.
If you prefer to make the dough in advance, store it in the fridge right after kneading. It can actually do it's rise overnight at a slower temperature. Just bring it to room temp for 20-30 minutes before forming the crusts. 
Cheese Sauce Tips and Tricks:
Don't use pre-shredded cheese, it won't melt smoothly. I has added ingredients to prevent it from caking. 
Don't heat the cheese sauce on too high of heat, because the high heat will cause cheese to separate and become a clumpy, greasy mess. It won't melt back together after that. Instead, have patience and melt low and slow until smooth. That's the key to smooth cheese sauce!
Cheese sauce can be doubled or tripled, and stored in an airtight container for up to 4 days until ready to assemble and bake. See Dough Tips and Tricks for making the dough ahead of time. 
Baking Tips and Tricks:
Dough and Filling recipes can be made in advance and assembled later. See Dough Tips and Tricks, and Cheese Sauce Tips and Tricks notes for instructions on making these ahead. 
Brushing the tops of the pockets with egg wash before baking is optional. It only results in a shinier, more golden look to the crust but it is not necessary. If you do brush with egg wash, do so before you poke the holes, so that it doesn't just plug them back up.
The steam needs to be able to escape. Poke holes (many, see photo) or slit with a sharp knife a few times. Check periodically that the pockets are not starting to burst at a seam; if they are it just means the holes are not open because they either didn't go all the way through, or they plugged back up, so just re-poke the holes to allow steam out. The photo below shows an example of holes that were not properly poked, or got plugged up:
Wait to eat, and be careful if feeding to the little ones right away, check the inside because they are some HOT pockets!!
Keep extra, leftover Ham and Cheese Hot Pockets in the refrigerator for up to 4 days. 
Storage Tips and Tricks:
Pockets can be individually wrapped in freezer, wax, or parchment paper and kept sealed in a freezer zipper bag or plastic container for up to 6 months. Cook first before freezing. To heat, bake in oven at 325 degrees for 20 minutes, or until heated through. Or, microwave on 50% power for 4 minutes. 
Pockets can be par-baked and then frozen. To do this, bake for 10-15 minutes, until dough is just set, but not yet browned. Freeze on a baking sheet until frozen solid before storing them together in a freezer bag or container so that they maintain their shape.
Don't try to freeze them completely raw.