Homemade, thin crust pizza, with a creamy garlic ranch sauce, topped with fresh mozzarella, zucchini and squash, red onion and chicken.
Check out this easy to make Homemade Mozzarella Cheese, and knock this pizza out of the park. It's easier and quicker than you might think!
Before we know it, gardens will be busting at the seams; and we can't have enough ideas centered around these summer beauties. Looking for a new way to use up all of that zucchini and squash?
Try this tasty flatbread style pizza that incorporates summer's amazing flavors like fresh dill, yellow squash and the star of the show; zucchini.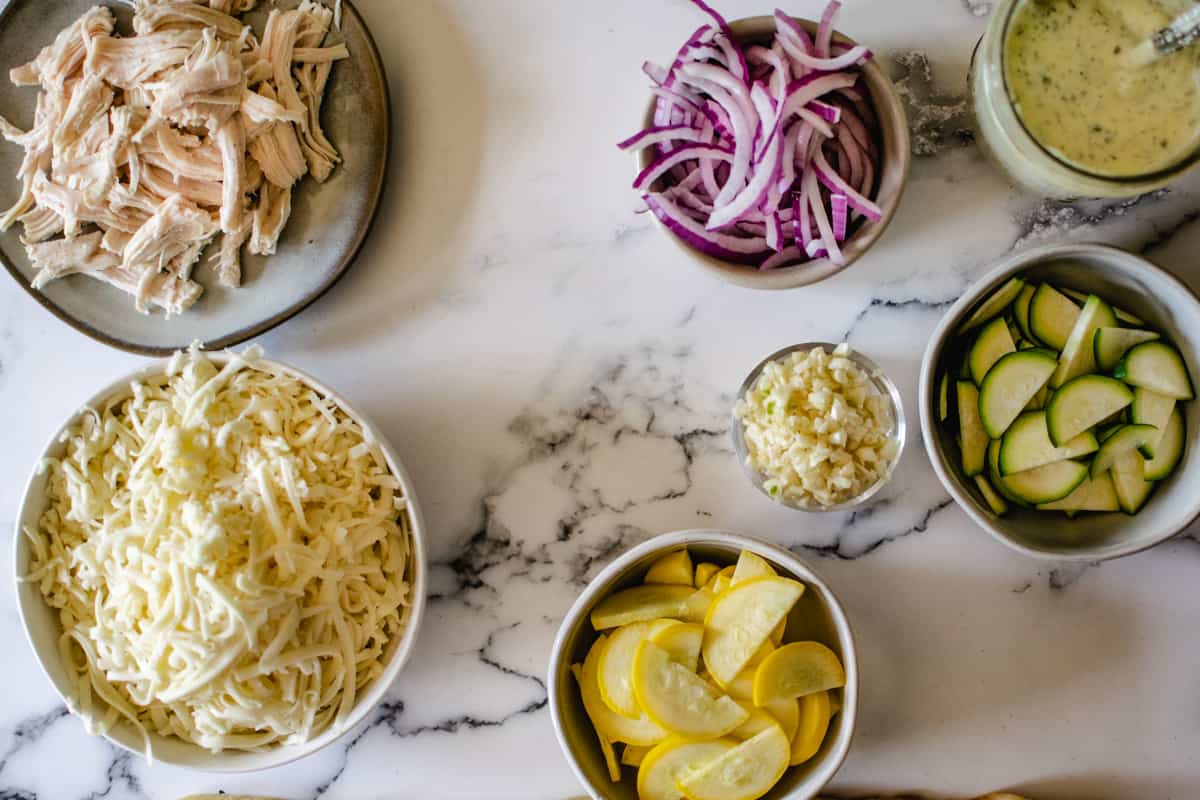 cut the zucchini into half moons
So, you don't have to shred up all of your zucchini and use it in your grandma's best zucchini bread recipe. As delicious as that is, (and it is!), there is one sure-fire way to serve your picky eaters zucchini. Pizza. Of course! And ranch. He-llo!!! It's so simple. And it's a complete, rounded meal since it's got all the fixings of dinner right in the toppings. Perfect for summer evenings and no silverware required.
making the ranch sauce
Making your own ranch sauce is not a difficult feat. You'll start with mayonnaise (click here for a recipe for homemade mayonnaise) and then just blend in herbs and seasonings along with a little vinegar or lemon juice. Easy. Feel free to use store bought mayonnaise, though.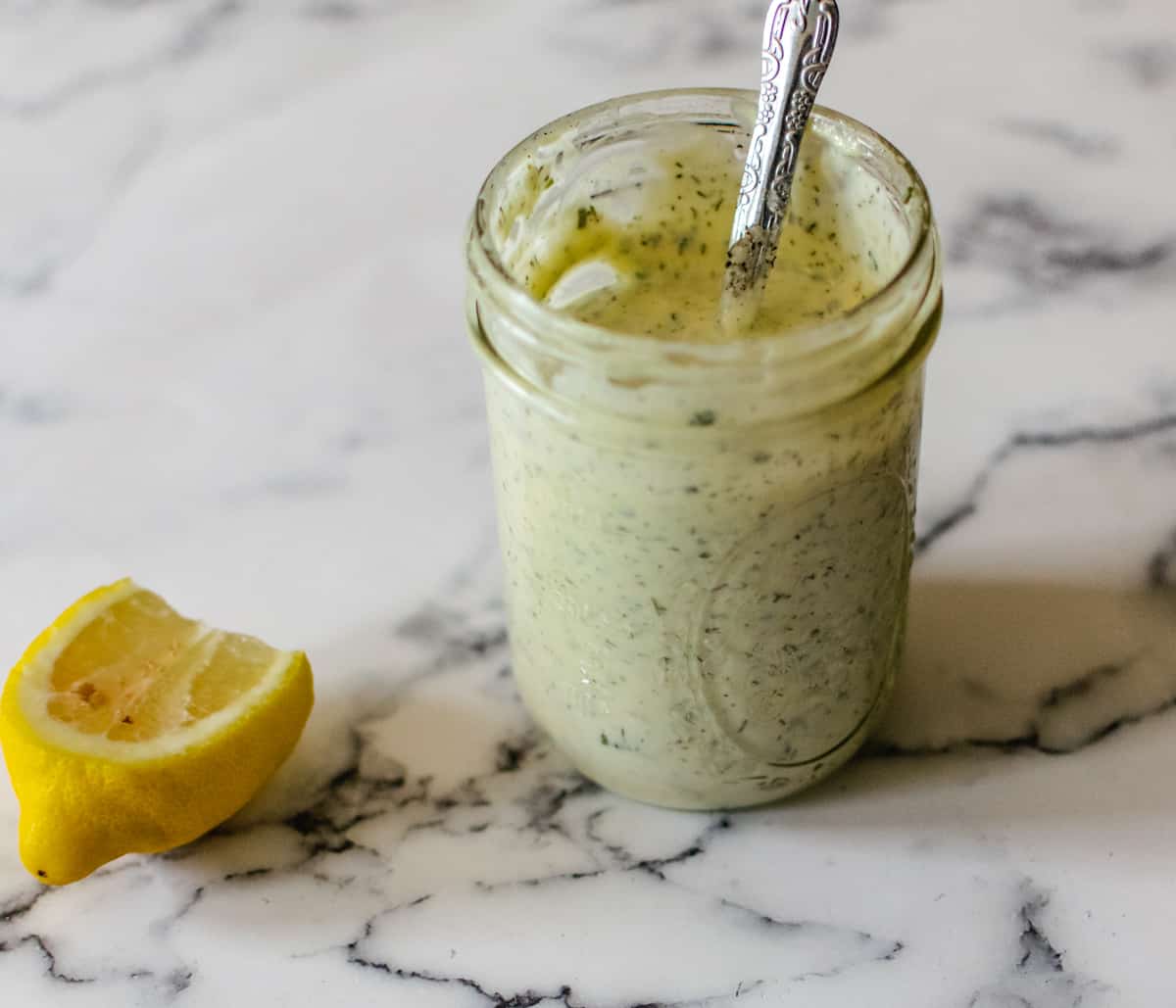 making the pizza crust
Making your own pizza crust is also easier than you might think, with only about 10 minutes of hands-on time. Use any method you wish to combine the dough ingredients and knead it, but make sure to let the dough rest for 1 ½ hours, or overnight in the refrigerator. This gives time for the gluten to relax and the yeast to develop flavor. Don't expect much of a rise with this dough, as the recipe only calls for a teaspoon. This is just enough to get the job done, while still maintaining a perfect chew that is so necessary in a pizza crust.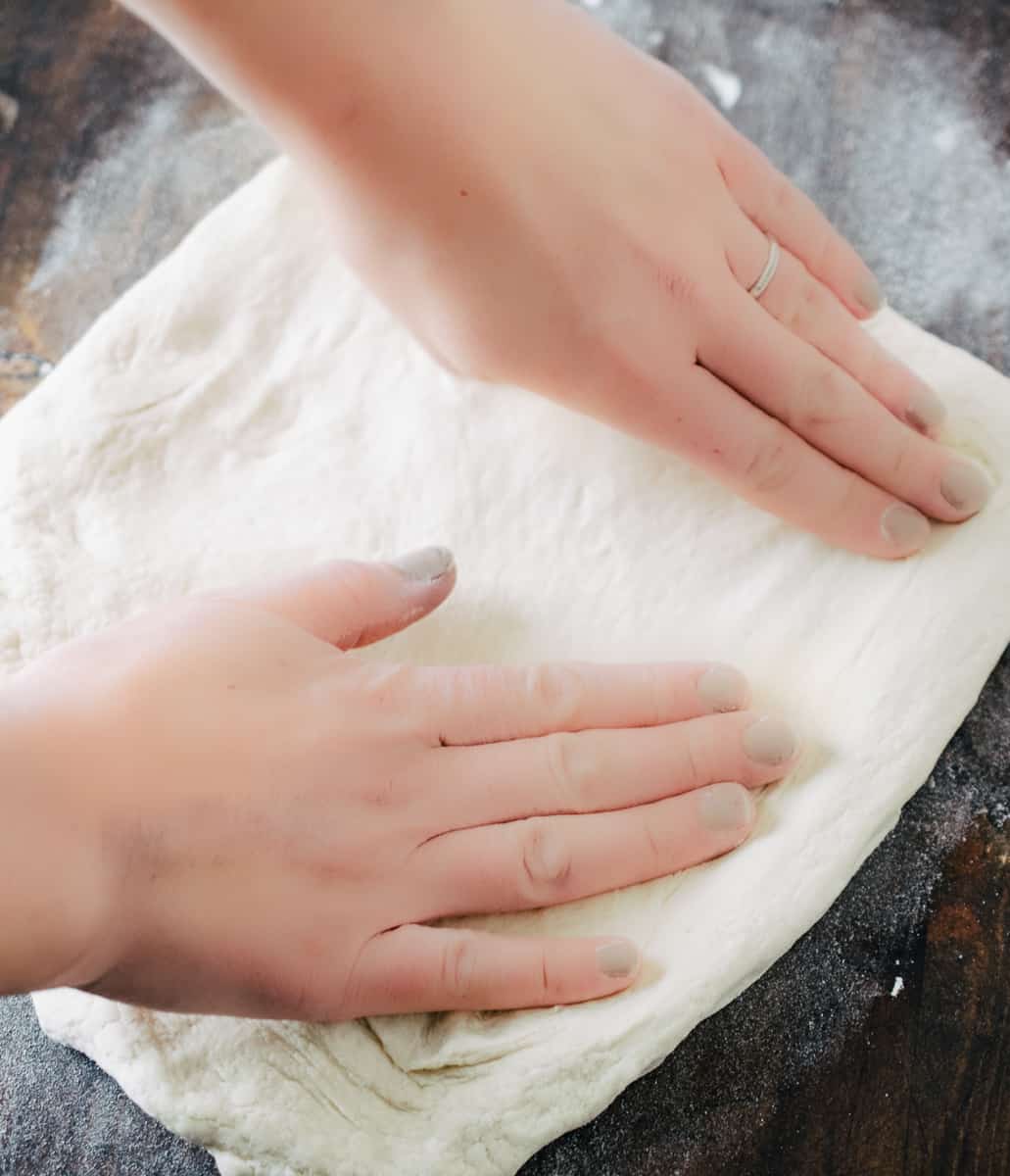 Once the dough has rested, turn it out onto a floured surface (so it doesn't stick) and use your finger tips to stretch it into whatever shape you will be baking it on. Use your finger tips to push the dough apart and your fists to lift the dough up and let gravity stretch it. Just keep in mind "stretching" the dough, rather than "pressing" the dough. The final texture is going to come from the stretching, so avoid using a rolling pin too.
Sprinkle some cornmeal onto the baking sheet that you will be using for the pizza. Use a half sheet pan (18x13 inch) or large aluminum cookie sheet of a similar size. It doesn't need to be the perfect size, nor does the pizza need to be shaped perfectly.
Once you've stretched your dough, carefully and quickly transfer it onto the cornmeal dusted baking sheet. Stretch out any portions that became folded up int the process of moving the dough.
Bake the pizza partially at 400 degrees for about 4-6 minutes until the underside is solid. It just needs to be able to be set back onto the rack without the baking sheet, where it will finish cooking along with it's toppings.
where to purchase pizza dough
If you are short on time, hit up your local pizza joint and they'll often sell pizza dough. You can also check the refrigerator section of most grocery stores to find a pre-made pizza dough.
par bake the pizza crust
It's not 100% required that you partially bake the pizza crust before topping it, but it does result in a crispier crust because you can bake the pizza right on the rack. So, you can form the crust, get it onto a baking sheet or pizza stone and top it, then bake it on that. Or, form the crust, get it onto a baking sheet and bake just the crust until it's solid underneath, then remove it from the oven and top it before baking it again directly on the rack.
To recap: if you par bake the crust, you can then top the pizza and bake it directly on the rack, resulting in a crispier crust.
topping the pizza
Spoon ranch sauce evenly over the crust. Spread it towards the edges, leaving a half inch uncovered. Use about half of the prepared ranch sauce. The rest can be served with the pizza to drizzle over the top or for dipping.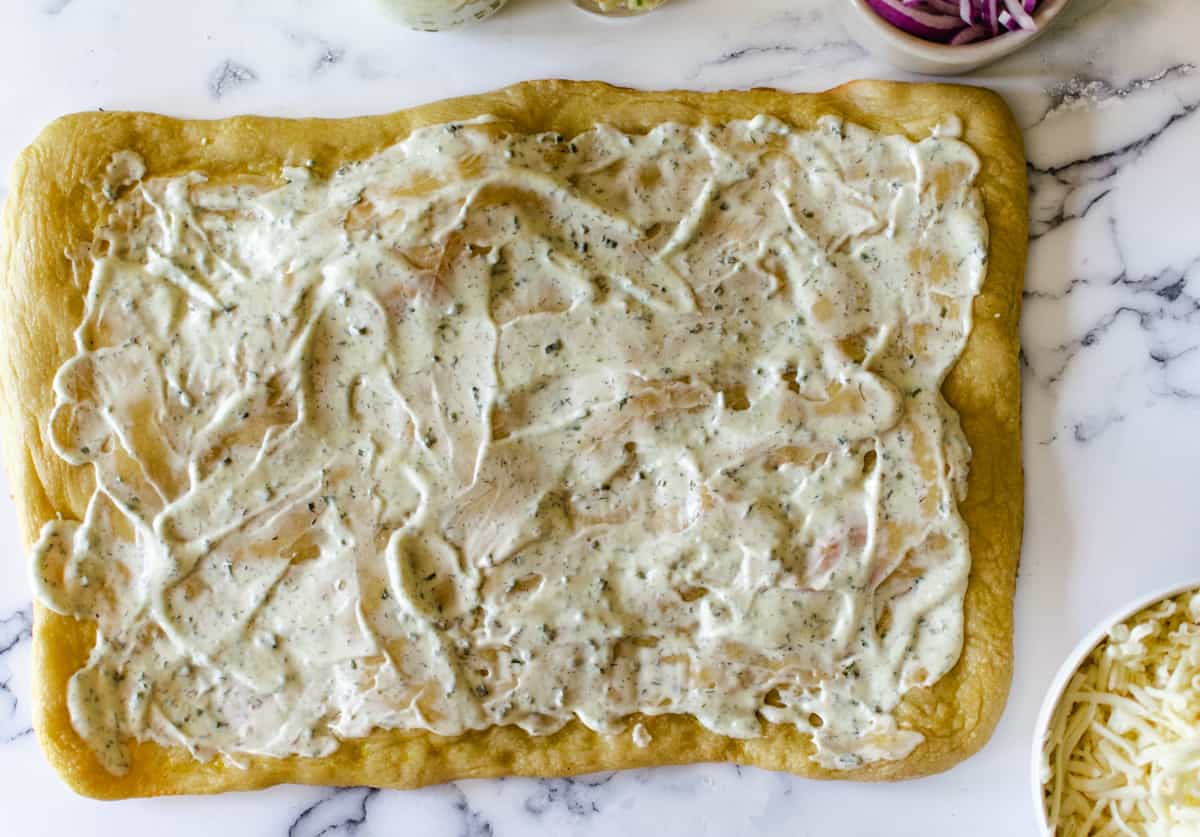 Top with two-thirds of the freshly shredded mozzarella. Then add the chicken, zucchini, squash and red onion. Top with remaining cheese and minced garlic.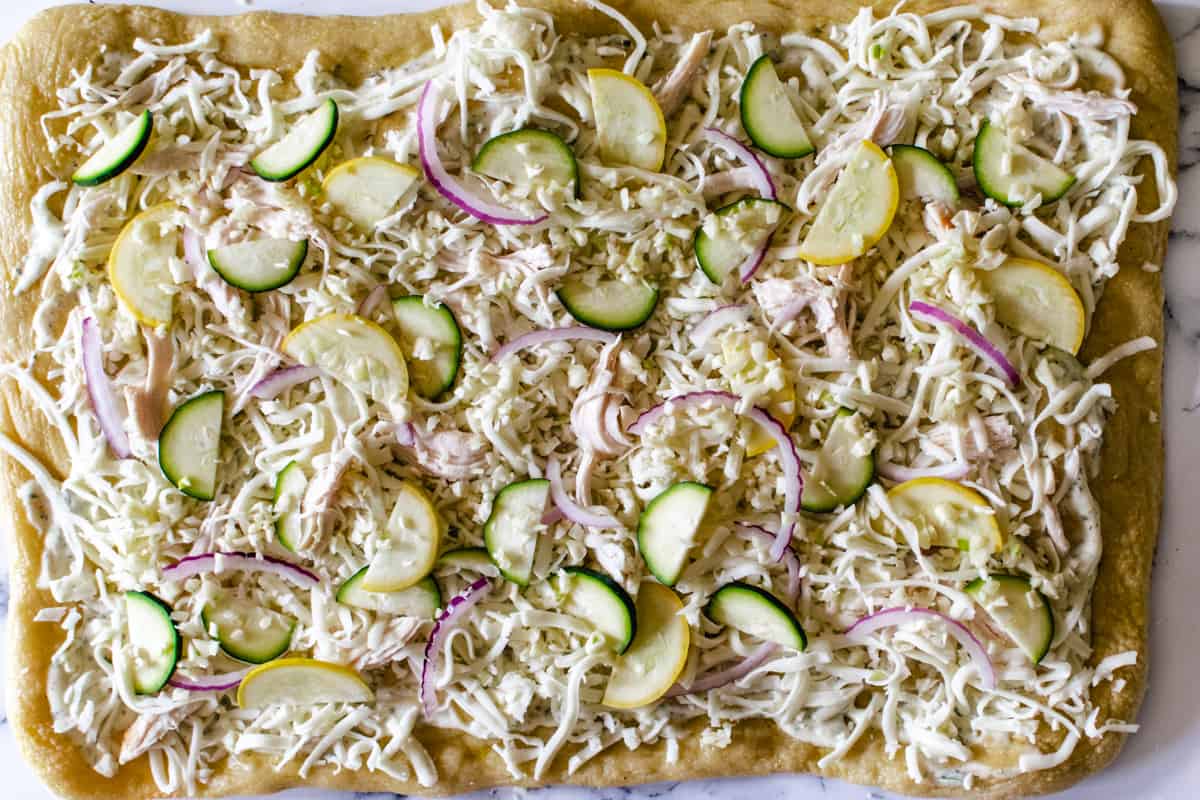 Bake at 400 degrees, directly on rack for 10-18 minutes until golden brown and cheese is melted.
If desired, garnish with fresh dill and drizzle with remaining ranch sauce.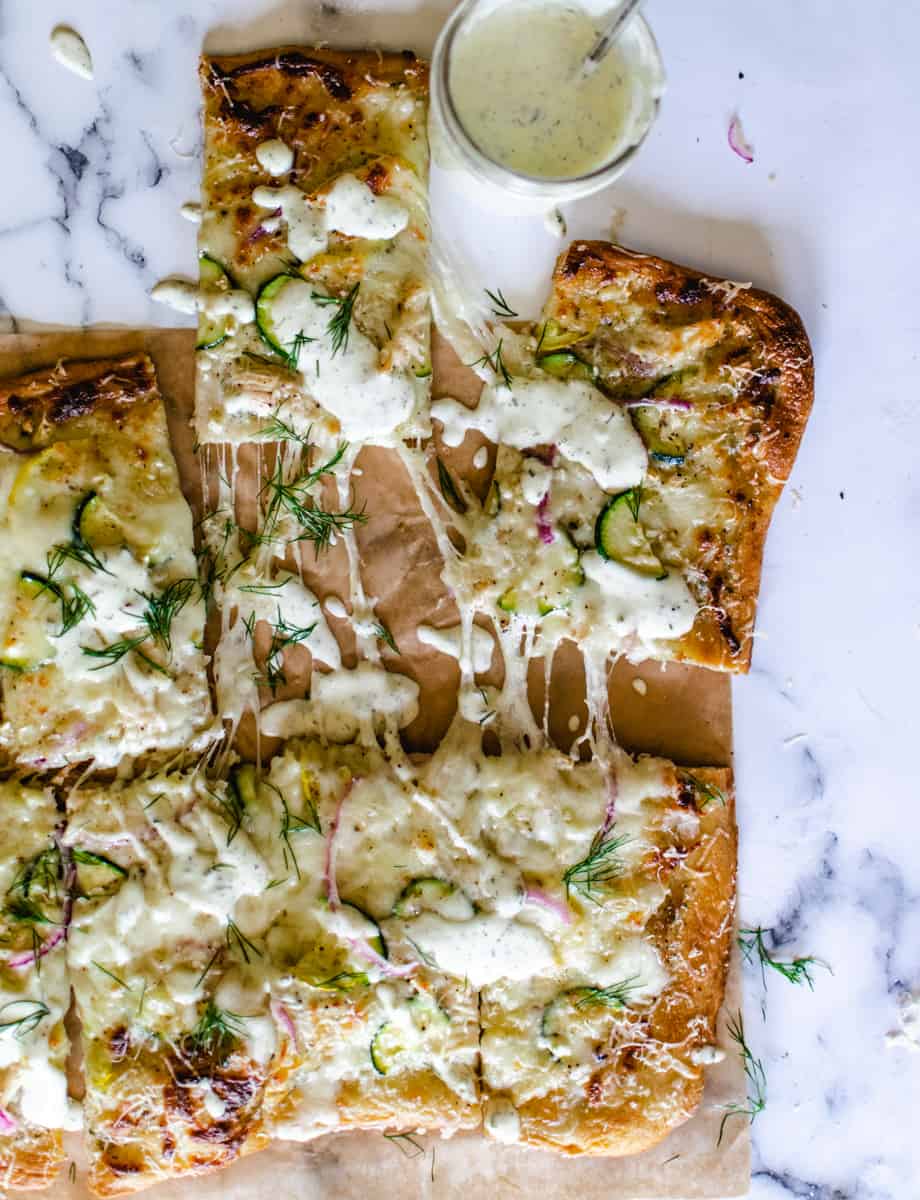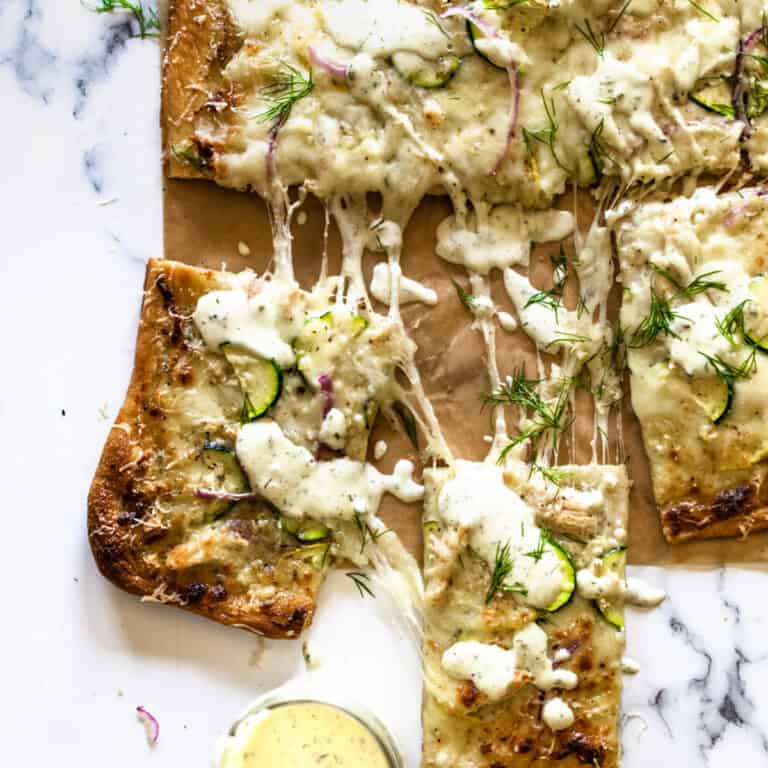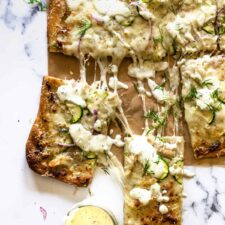 Garlic Ranch Zucchini Pizza
Homemade thin crust with ranch sauce, chicken, zucchini, red onion, mozzarella cheese and fresh dill. The perfect zucchini recipe. 
Print
Pin
Rate
Ingredients
For the Dough
4 ½

cups

all purpose flour

1 ¾

cup

lukewarm water

plus or minus a tablespoon

2

teaspoon

sugar

1 ½

teaspoon

salt

2

tablespoon

olive oil

1

teaspoon

yeast

corn meal

for dusting
For the Ranch Sauce
1

cup

mayonnaise

1

teaspoon

white vinegar

½

teaspoon

garlic powder

½

teaspoon

onion powder

2

teaspoon

fresh or dried chives

minced if fresh

1

teaspoon

fresh or dried parsley

minced if fresh

1

teaspoon

fresh or dried dill

minced if fresh

½

teaspoon

sugar

½

teaspoon

salt

pinch

black pepper

to taste
Toppings
6

cloves

minced garlic

1-2

baked chicken breasts

8

ounces

mozzarella cheese

shredded off block

4

ounces

Monterey jack cheese

shredded off block

1

medium zucchini

cut into half-moons

½

red onion

slivered

fresh dill

optional
Instructions
For the Crust
Combine all ingredients by hand, in a standing mixer, or in a bread machine on the dough cycle. Knead for 10 minutes, cover and let rest for 1 hour. (Bread machine dough cycle will do the knead and rest time).

Preheat oven to 400 degrees.

Once the dough has rested, turn out onto a floured surface. Use finger tips to begin pressing it out into the shape of pan you will be using.

Using fingertips, pull and stretch the dough into a larger, thinner slab.

Sprinkle a baking sheet with cornmeal.

Transfer pizza dough onto baking sheet and press into corners and edges to fit. Par bake for 4-6 minutes at 400 degrees until solid underneath. 
For the Garlic Ranch Sauce
Combine all ingredients in a medium bowl, whisking until completely blended. Use half the ranch for the pizza (more or less to taste, but the rest can be used for serving the pizza). Spread an even layer on par-baked pizza crust.
Top the Pizza
Add two thirds of the freshly shredded cheese on top of the sauce, followed by zucchini, onion, squash and chicken.

Top with remaining shredded cheese and minced garlic and fresh ground black pepper (optional). 

Bake directly on rack at 400 degrees until edges are golden brown and cheese is melted, about 10-18 minutes.

Remove from oven, garnish with fresh dill sprinkled over the top and drizzle with ranch sauce (or serve on the side). 
Notes
Pizza dough can be made up ahead of time and left to rest in the refrigerator. Let come to room temp for 20 minutes before stretching it into crust. 
Ranch sauce can be made ahead of time and stored covered, in the refrigerator until ready to use. 
Use roughly half the ranch sauce for the pizza, reserving more or less (to your liking) for serving. 
Summer squash also goes great with the zucchini and can be used with it; keep in mind yellow summer squash has more seeds. 
When making the ranch dressing, fresh or dried herbs can be used. If using fresh, make sure to mince well. 
Store leftover pizza in the refrigerator and heat on a cast iron pan or baking sheet in the oven at 200 degrees for 10 minutes.