Dark chocolate rectangular cookies with ice cream in between, that won't squeeze out the sides when you bite down into it; Just like from the ice cream truck!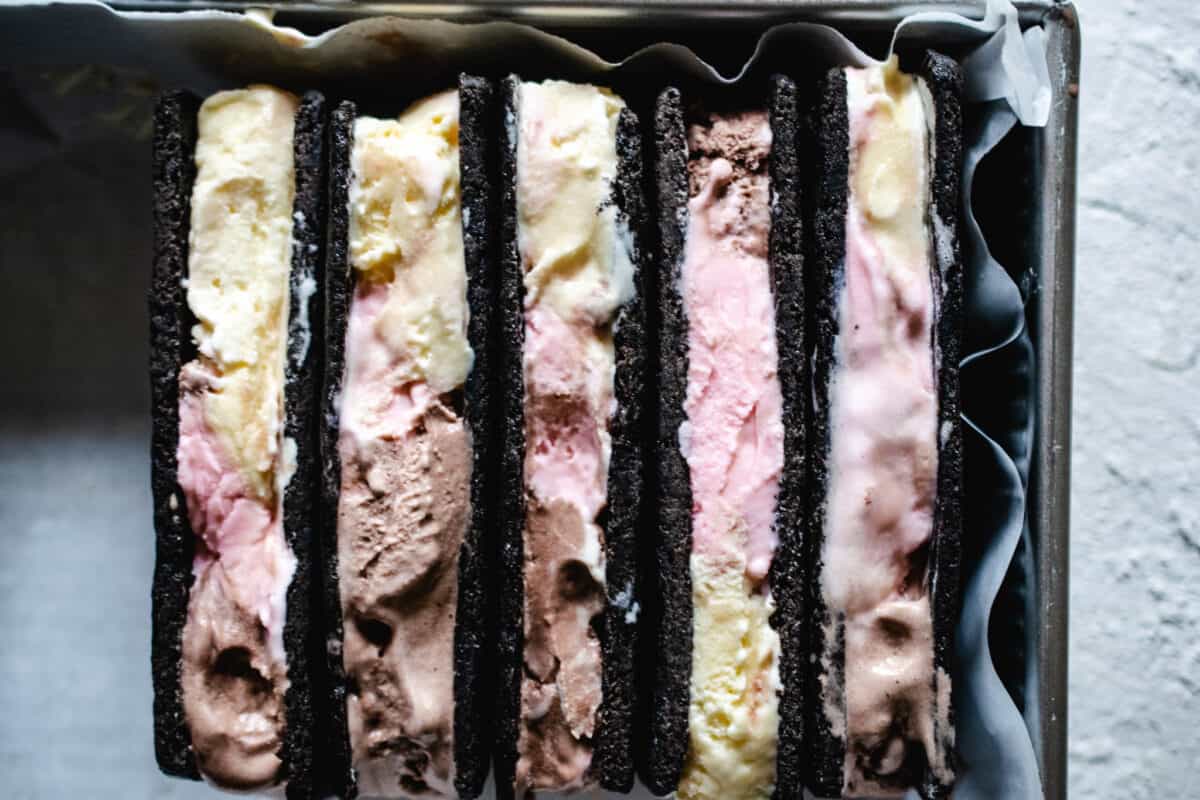 What is the cookie part of an ice cream sandwich?
Besides being arguably  the best part of an ice cream sandwich, the cookie portion is made from part brown cocoa and the addition of black cocoa. (Black cocoa is the type of cocoa that is used to make Oreo's and it has a very mild and smooth taste that is so nostalgic and recognizable.) It's a semi-soft, yet sturdy wafer-type of cookie that is strong enough to sandwich a layer of ice cream in between two.
How do you make ice cream sandwiches from scratch?
Making ice cream sandwiches from scratch just entails making the outer cookie dough, baking it and sandwiching your favorite ice cream in between the two. Depending on how "from scratch" you'd like to go, you can either purchase your favorite ice cream flavors (vanilla or Neapolitan flavor are about as traditional as it gets-- very-ice-cream-truck-esque!)
Here's a quick, short video on how to make no churn ice cream at home without a machine. 
How to make the chocolate cookie
Combine the dry ingredients together (cocoa powders, salt, baking powder, flour) until evenly mixed.
In a separate bowl, cream the butter and sugars together. This can be done either by hand with a simple bowl and spoon, by stand mixer, or with electric beaters. The goal is to get a smooth mixture of the butter and sugars before mixing other ingredients into them. The mixture will be slightly lumpy and not as "creamed" as most are used to seeing, but that is okay.
Add the egg and vanilla and combine just until mixed. This is done a little less aggressively than the prior step; just mix it until its just combined. It'll thin out the consistency a bit, as shown below.
Now the wet ingredients (butter, sugars, egg, vanilla) are fully combined in one bowl and the dry ingredients (cocoa powders, salt, baking powder, flour) are fully ready to mix together. Fold the two bowls together until a dark, chocolate dough is formed. It should be stiff but still pliable.
Once fully combined, you should have a stiff but pliable, dark chocolate dough. Sprinkle the dough ball slightly with flour and place between two pieces of parchment paper. Use a rolling pin (or any long, tubular object) to roll the dough between the two pieces of parchment paper until you achieve ⅛ inch thickness, aiming for a slab that is at least 20 inches long.
After rolling the dough out to ⅛th inch thickness, begin to measure rectangles that are 5 inches long. How wide you rolled the dough will determine how many will fit in your slab. It's not important, because you'll roll up the scraps and repeat the process until all the dough has been used.
Poke rectangles with a fork several times.
Transfer the cut rectangles to the freezer (still on the parchment paper) to harden for about 30 minutes, where they will harden and can be easily broken apart and placed on a baking sheet to bake at 350 degrees for 6-9 minutes until edges are set. Store them back in the freezer for 30 minutes to cool and set for filling with ice cream.
Filling the sandwiches
Once the cookie rectangles have baked and cooled in the freezer, remove them for making sandwiches. Use your vanilla, Neapolitan, or homemade ice cream to spread over one cookie, top with another, and even out the sides. Immediately stack in the freezer as you work to set the sandwiches firm.
Sandwiches can be stored in the freezer for up to 3 months in a zip lock freezer bag.
Like homemade ice cream truck reminiscent dessert favorites like this? Make your own and eliminate unwanted ingredients like these Berry Shortcake Popsicles.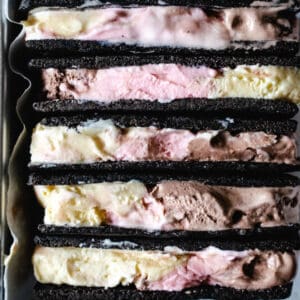 Ice Cream Sandwich Cookie
Dark chocolate cookie rectangles sandwiching ice cream!
Print
Pin
Rate
Ingredients
¼

cup

cocoa powder

2

tablespoon

black cocoa powder

½

teaspoon

baking powder

1 ½

cups

flour

½

teaspoon

salt

½

cup

butter

1 stick

½

cup

brown sugar

½

cup

granulated sugar

1

egg

1

teaspoon

vanilla

1

quart

ice cream

homemade or store bought, of choice
Instructions
Dry ingredients (cocoa powders, baking powder, flour, salt).

In a separate bowl butter and sugars together until combined.

Add eggs and vanilla to butter and sugar mixture.

Dry ingredients (cocoa, baking powder, flour, salt) with the wet ingredients (butter, sugar, eggs vanilla).

Roll dough out between two pieces of parchment paper until it is ⅛th inch thick.

Cut into rectangles, approximately 5 inches long.

Freeze rectangles in the freezer to set and harden.

Remove rectangles from freezer, arrange on a baking sheet about 1 inch apart and pierce with a fork.

Bake at 350 degrees for 6-9 minutes until edges are set.

Freeze again for 30 minutes to harden and set (can be done in a stack if parchment paper is between them).

Spread ice cream on one cookie, and sandwich another on top of it.

Freeze for one hour to set.

Store in zip lock bag for up to 3 months.
Notes
Use homemade or store bought ice cream
Freezing the dough and chilling it are important steps. 
Roll the dough between parchment paper to avoid sticking. 
Either measure the rectangles or eyeball it, depending on how perfect you want them to be. Either way, they'll be delicious. 
Nutrition
Serving:
1
g
|
Calories:
659
kcal
|
Carbohydrates:
121
g
|
Protein:
13
g
|
Fat:
17
g
|
Saturated Fat:
5
g
|
Cholesterol:
63
mg
|
Sodium:
476
mg
|
Potassium:
356
mg
|
Fiber:
3
g
|
Sugar:
66
g
|
Vitamin A:
467
IU
|
Calcium:
202
mg
|
Iron:
3
mg