Why have one, when you can have three flavors of homemade pop-tarts in one recipe! The very best, classic flavors: Strawberry, Brown Sugar and Cinnamon, and (of course), Fudge.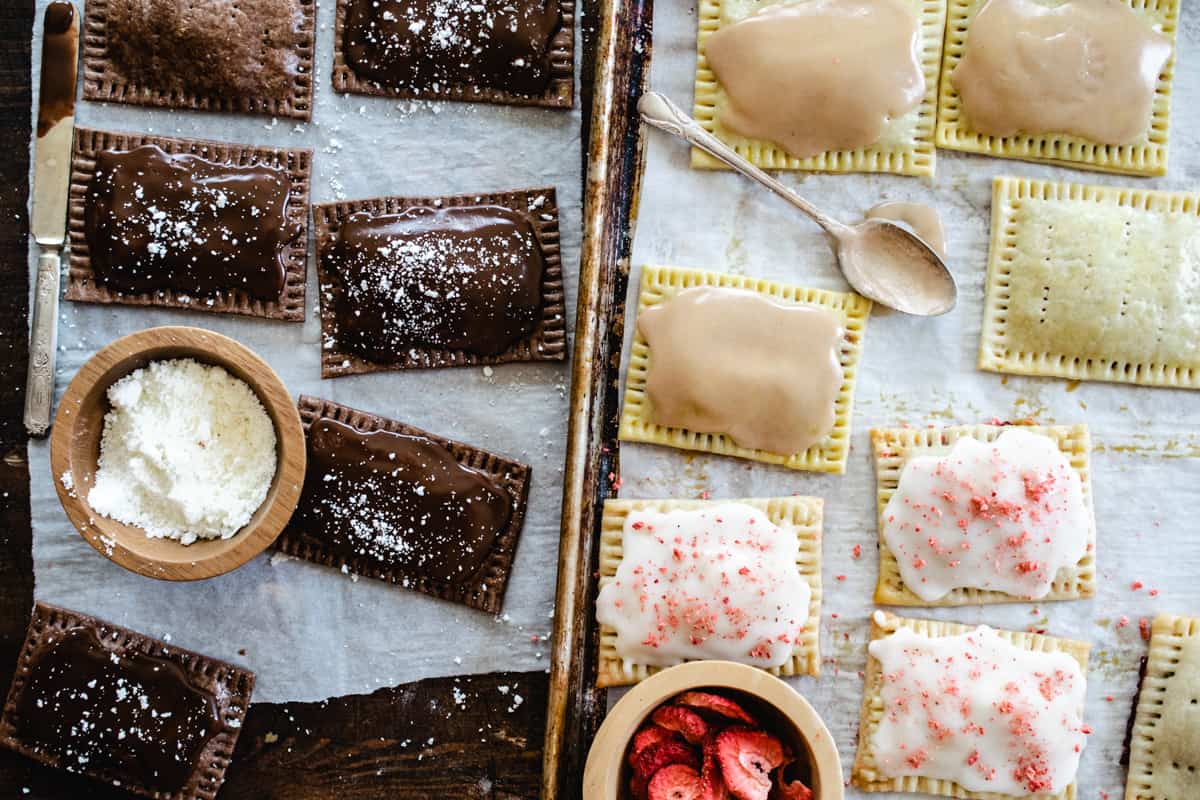 With this recipe, you can make three of the most popular pop tart flavors, all at once. Brown sugar and cinnamon, chocolate fudge, and strawberry.
The strawberry flavor can be substituted for blueberry, raspberry, cherry or any fruit using the same recipe.
How to make the filling
The filling is very easy, and can all be made in the microwave using 3 jars and a spoon.
Add the respective ingredients to each jar, heat and stir. Set aside for filling the pop tarts.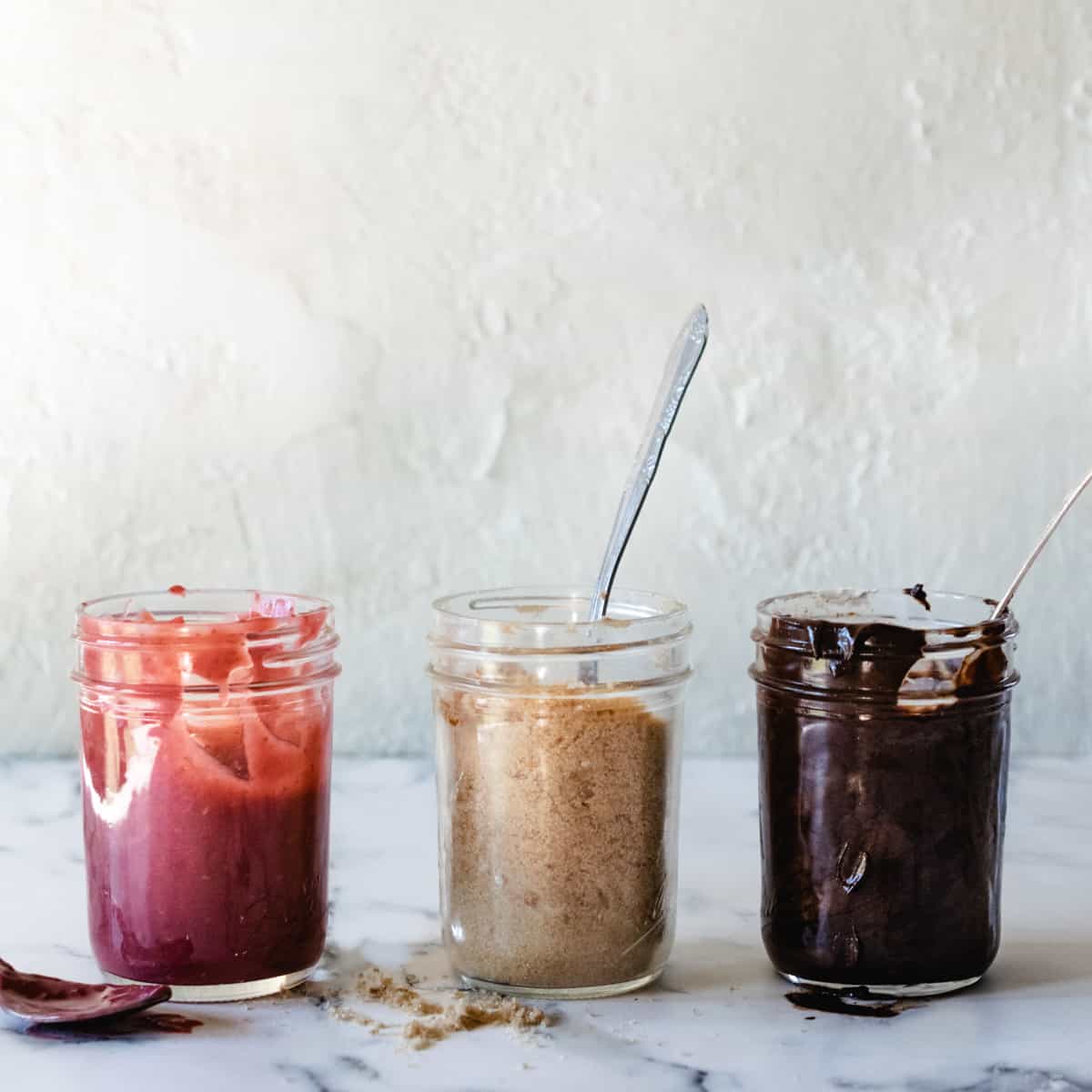 Can the filling be made in advance?
The filling can be covered and stored in the fridge, but the chocolate filling will need to be warmed back up slightly in order to spread in the pop tarts.
Make the dough
The dough is made in one bowl, and then a third of it is portioned out, and tweaked into the chocolate.
Start by mixing up the ingredients in a stand mixer or heavy, large bowl.
Portion the dough into three equal portions.
Take one of the thirds and add the cocoa powder, milk and sugar and mix until the chocolate dough has taken it's form.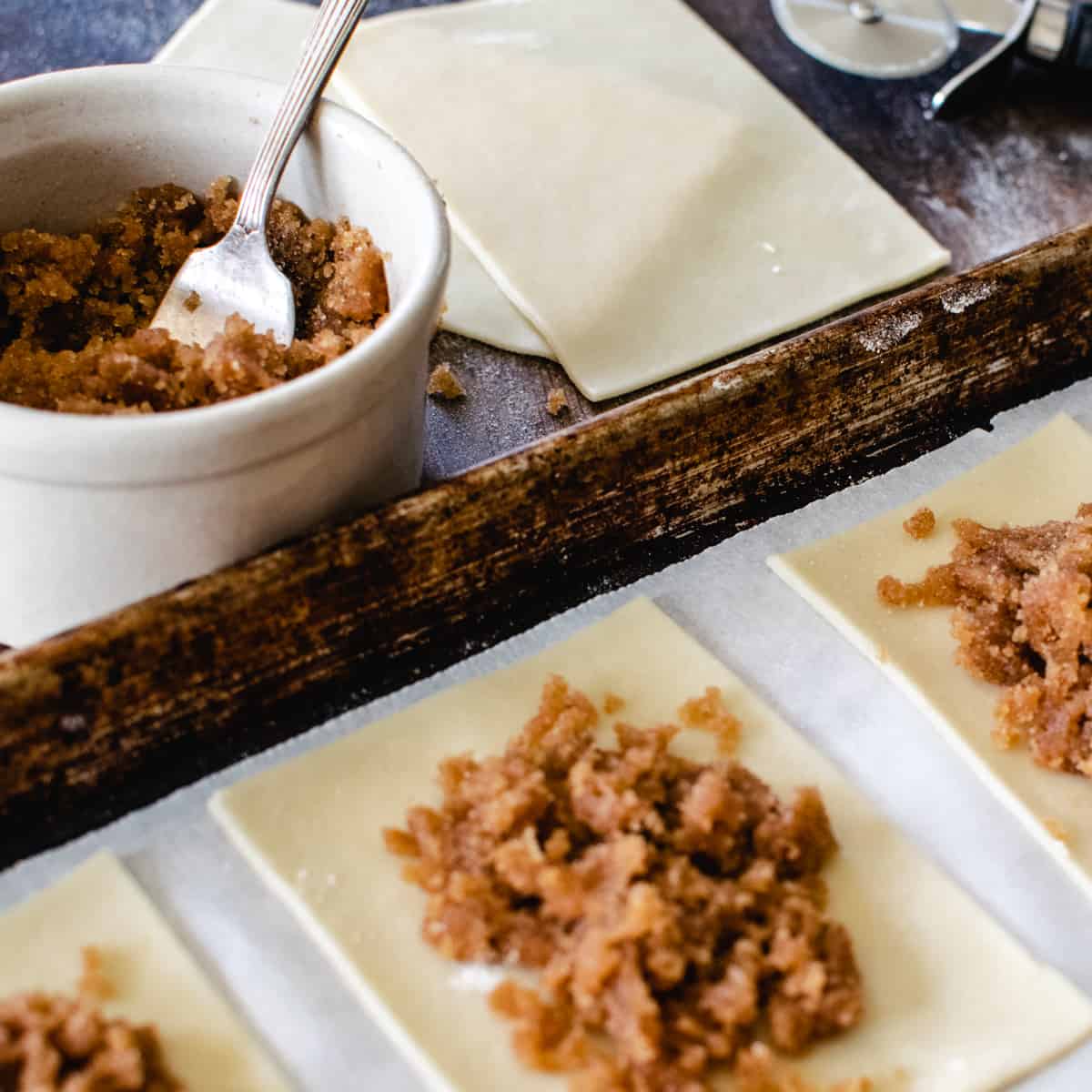 Roll the dough out to a little less than ⅛ inch thick, but not too thin.
Cut rectangles into each portion. You'll have roughly twice as many white rectangles as chocolate rectangles.
The rectangles don't have to be perfect, but if you'd prefer that they were, use a measuring tape to measure 4 inches long by 2 ½ inches wide.
Use a flat metal spatula to transfer half of each kind of the rectangles onto baking sheets.
Fill the rectangles with the fillings: one third with brown sugar and cinnamon, one third with strawberry, and one third with chocolate. Don't go all the way to the edges.
Top each pop tart with a second rectangle, and press the dough together with the tines of a fork.
**Poke holes in each one, to allow steam to escape while baking.
**Brush with egg wash just before baking, to give an extra golden, and shiny crust. 
Frosting the pop tarts
Wait until the pop tarts are completely cooled before frosting. Start by mixing up the base frosting, which will then be divided into thirds for each pop tart flavor.
The frosting for the strawberry pop tarts stays as is. Cinnamon gets added to one, and cocoa to the other. Mix well.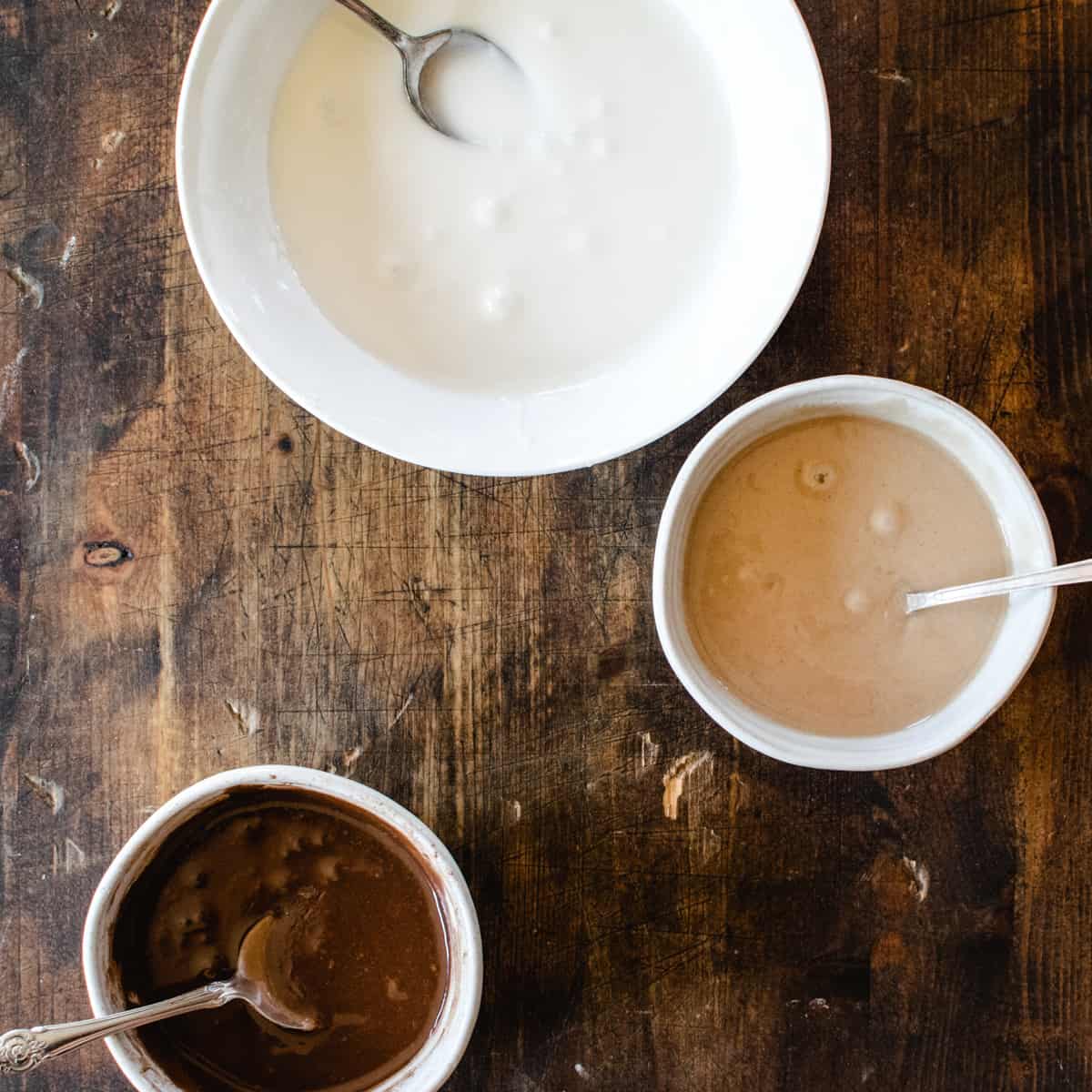 The toppings are optional. To be closest to the originals:
The cinnamon and brown sugar variety JUST get frosting.
The Strawberry (or raspberry, blueberry) get sprinkled with crushed bits of freeze dried strawberries.
The Chocolate get sprinkled with a crumbly sugary mixture (recipe included in the recipe card).
While these are just optional, they'll look just like the originals; and hey--it's fun.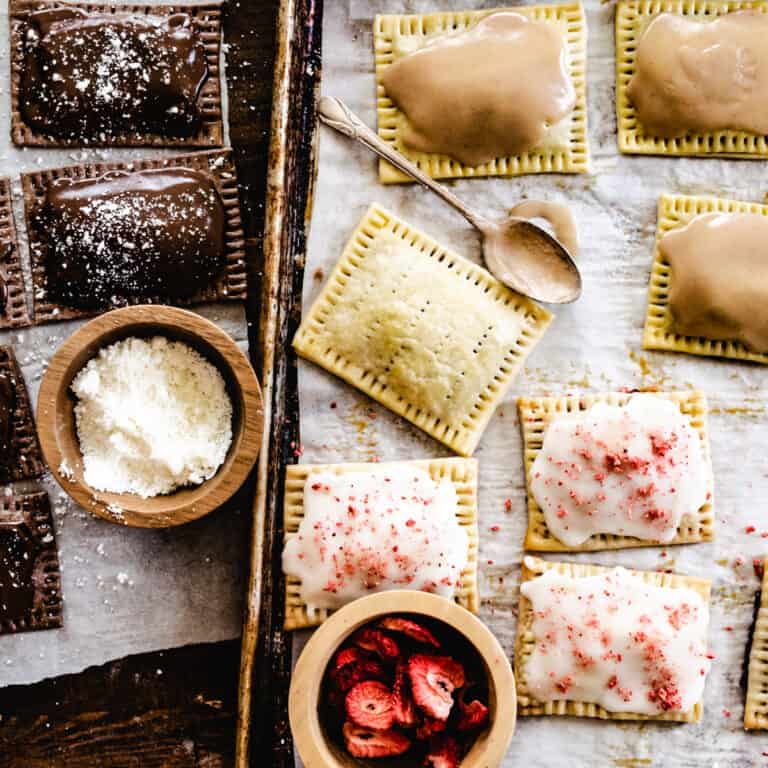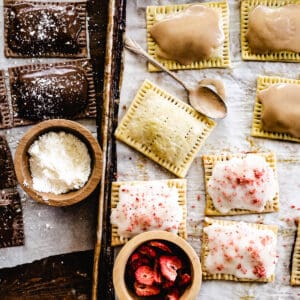 Homemade Pop Tarts
Homemade pop tarts, three ways with one recipe! Brown Sugar and Cinnamon, Strawberry, and Chocolate Fudge
Print
Pin
Rate
Ingredients
Dough Base
6

cups

all purpose flour

¼

cup

granulated sugar

2

tsp

salt

1 ½

cups

shortening

½

cup

butter

1 stick

2

tsp

white vinegar

½

cup

water

plus or minus 1 or 2 tablespoons
Chocolate Dough
⅓

of the dough base from above

3

tbsp

dark unsweetened cocoa powder

2

tbsp

sugar

2

tbsp

milk
Brown Sugar and Cinnamon Filling
1

cup

brown sugar

1

tsp

cinnamon

1

tbsp

all purpose flour

2

tbsp

butter
Strawberry Filling
1

cup

strawberries

sliced, fresh or frozen

1

tbsp

sugar

1

tbsp

all purpose flour

1

tbsp

water
Chocolate Filling
½

cup

semi sweet chocolate chips

¼

cup

heavy cream

1

tsp

corn starch
Icing Base
2

cups

powdered sugar

2

tbsp

milk
Cinnamon Icing
⅓

of pop tart icing base

½

tsp

vanilla extract

¼

tsp

cinnamon
Chocolate Icing
⅓

of pop tart icing base

½

tsp

vanilla extract

3

tbsp

cocoa powder
Chocolate pop tart white crunchies (topping on icing)
4

tbsp

powdered sugar

1

tbsp

corn starch

½

tsp

milk
Strawberry pop tart strawberry crunchies (topping on icing)
⅛

cup

freeze dried strawberries

crumbled into bits
Instructions
Dough Base
Combine flour, sugar and salt.

Add shortening and butter and cut ingredients until mixture resembles large crumbs.

Add vinegar and water and mix until dough ball forms.

Divide dough mixture into three equal portions; take one portion and add the extra chocolate dough ingredients to it until chocolate dough is evenly formed. Cover each and chill in fridge for one hour.
For the Fillings
Combine the filling ingredients to three separate jars.

Microwave brown sugar filling ingredients for 30 seconds and stir, set aside.

Microwave strawberry filling ingredients for 3 minutes, and stir, puree with an immersion blender or in a blender until smooth.

Microwave chocolate filling for 2 minutes and stir until smooth.
Form the tarts
Preheat oven to 350 degrees.

Roll the portions of dough to ⅛ inch thick slabs and cut roughly 2 ½ by 4 inch rectangles in each.

Begin to fill half of the rectangles with filling: ⅓ with brown sugar filling, ⅓ with chocolate filling, and ⅓ with strawberry filling.

Top with the other half of rectangles, wipe corners with a bit of water, and press with the tines of a fork to seal.

Poke each top with fork several times.

Brush each pop tart with a beaten egg (optional) for extra shine.

Bake at 350 degrees for about 10-11 minutes.
Frosting.
Combine white crunchie ingredients for the chocolate pop tarts with a fork in a small bowl until chunky.

Break freeze dried strawberries with your hand until crumbly.

Combine the frosting base ingredients; divide into 3 equal portions. Add the cinnamon ingredients to one, and the chocolate to the other.

Frost the pop tarts with their corresponding frostings.

Sprinkle the chocolate pop tarts with the white crunchies, and the strawberry pop tarts with the freeze dried strawberry crunchies while the frosting is set.

Let the frosting set, and it will harden.

Store in the freezer for up to 3 months, or on the counter for 2-3 days, or fridge for up to one week.

To cook, toast in the toaster on light setting, or bake in oven for 5 minutes at 325 degrees, or simply microwave for 15-30 seconds.
Notes
Strawberry variety can be made into any fruit variety by substituting the fruit for any other berry equally as the recipe calls for.
Crunchy toppings are optional.
Nutrition
Calories:
246
kcal
|
Carbohydrates:
35
g
|
Protein:
3
g
|
Fat:
11
g
|
Saturated Fat:
3
g
|
Cholesterol:
3
mg
|
Sodium:
138
mg
|
Potassium:
78
mg
|
Fiber:
1
g
|
Sugar:
18
g
|
Vitamin A:
30
IU
|
Vitamin C:
12
mg
|
Calcium:
19
mg
|
Iron:
1
mg