Powdered buttermilk is a pantry staple that every from-scratch cook needs, and when you make it from scratch, you'll never have to throw out old buttermilk again! Not only is does it give homemade ranch seasoning it's signature buttermilk taste, but it's great for soups, fried chicken dredges, batters and more. 
Buttermilk Powder Uses
If you're not sure how to use buttermilk powder, you're in for a treat. Powdered buttermilk can be used in anything from baked goods to seasoning mixes. It can also be reconstituted into liquid buttermilk by adding water. 
Buttermilk Powder Recipes
Once you've discovered the magic of drying buttermilk (which means never throwing out a half used carton again) you can use it to take so many recipes to the next level.
To reconstitute buttermilk powder back into buttermilk, combine one part buttermilk powder to four parts water. For example ¼ cup buttermilk powder to 1 cup water.
My absolute favorite way to use it is in a DIY Ranch Dressing Mix.
You can also add a scoopful to just about any baked good to make it that much tastier like light and fluffy Shortening Biscuits.
Bump up the flavor of  fried chicken dredge, by adding 1 tablespoon buttermilk powder to 1 cup flour.
How to Dry it
Drying, buttermilk is extremely easy and will really save you from having to discard it again. You can use a food dehydrator if you have one, or your oven if you don't.
To use the oven method, lay parchment paper on a baking sheet and pour 1-2 cups of buttermilk over it and spread evenly. Don't go too thick, you want it about 2 millimeters thick so that it can easily dry. Thicker, and you risk browning the edges in an attempt to fully dehydrate it.
Once it's dry, it will become brittle and breakable. That's how you know it's done.
After that, simply put the pieces in a bullet style blender like this, high powered blender like this, or food processor (the motor on this one lasts forever) and blend it into powder. Done! Just don't attempt this until it's completely dry.
Storing Dried Buttermilk
Once dried, you can store buttermilk in the pantry in a closed container for months on end. Give it a smell test every now and then, along with a shake the first week. If you notice any moisture at all, you didn't dry it long enough. So make sure you've got sheets that break, not just fold up.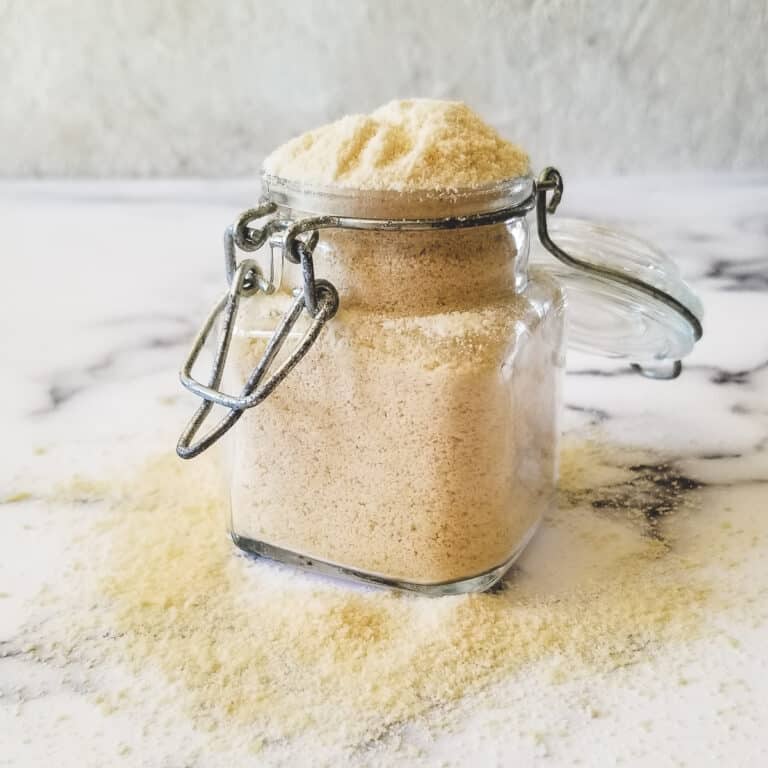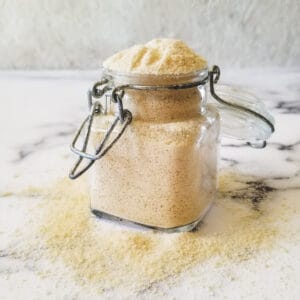 Powdered Buttermilk
Easy, homemade dried buttermilk powder.
Print
Pin
Rate
Instructions
Pour buttermilk onto a parchment paper lined baking sheet or food dehydrator trays (nonstick oror Lined with parchment paper)

Use a spatula to spread to 2 millimetre thickness.

Bake at 170 degrees in oven (or use food dehydrator) for 4-6 hours until brittle and completely dry. If edges become brown, cover the edges loosely with foil.

Cool and break into pieces 2 to 3 inches in size.

Store in an airtight container in pantry for up to 3 months.
Notes
Use store bought or homemade buttermilk to dry before it spoils.
Make sure to dry buttermilk completely, if it only bends and doesn't break it's not done. 
If edges become toasted, cover those loosely with foil while leaving the rest uncovered to continue drying. 
Store in closed container for the first week, and check jar for moisture droplets. If they are present, sprinkle the powder back onto baking trays or food dehydrator and dry for an additional 30 minutes. If after one week you confirm there is no moisture present, buttermilk powder can be stored in a pantry for up to 6 months. 
Nutrition
Serving:
1
g
|
Calories:
19
kcal
|
Carbohydrates:
1
g
|
Protein:
1
g
|
Fat:
1
g
|
Saturated Fat:
1
g
|
Cholesterol:
3
mg
|
Sodium:
32
mg
|
Potassium:
41
mg
|
Sugar:
1
g
|
Vitamin A:
50
IU
|
Calcium:
35
mg
|
Iron:
1
mg