This may be my all-time favorite type of salad. Spring greens, a homemade vinaigrette, a fruit, and a yummy cheese. There is something next-level tasty about a simple bowl of greens, when all that is added is an easy homemade vinaigrette, and a good cheese. This recipe is so simple, yet so incredibly mouthwatering, and is perfect as a lunch salad, or the side dish to a beautiful cut of meat. Delicate, greens are the base of the salad (shocker), along with crisp and thinly shaved Asian pear, which then get tossed with crumbled chèvre and a scratch made vinaigrette dressing. The dressing is so fresh, and so easy to make at home, (I say this all the time), that nothing compares to a simple, homemade salad dressing. If you are eating fresh greens, let's pair that with a fresh dressing! Only makes sense. Kissed with a touch of honey, and whisked with minced shallot, this dressing could not be more delicious when paired with the other ingredients of the salad.
You are going to start by selecting your greens; if you grow them in your garden, definitely use those. If not, look for a good mix of baby spinach, arugula, and baby lettuces. Wash and clean your lettuce and make sure its nice and dry. Full disclosure. My DIY "salad spinner" means I pile up all my washed lettuces in a flour sack cloth, tie all the ends together, and then go outside and spin that thing over my head like I am David and about to sling a rock at some huge guy named Goliath. Maybe I'll invest in a spinner someday. But this has been working for me for so long now... 😉
My favorite part of this salad, and honestly, one of my favorite things to make at home, from scratch: the dressing. If you make your own vinaigrettes you know how shockingly delicious they can be compared to what you would buy at the store bottled up. Literally, the freshness of the acids, herbs, and oils combined fresh make a humongous difference. I was shocked, when I went from buying store bought to making my own; at just how much better the homemade stuff is. True story. Now I'm hooked! (Not to mention you can pay upwards of 5 bucks for a bottle of dressing!)
There is a universally accepted "vinegar to oil ratio" with salad dressings, and it resides around 1 part vinegar to 3 parts oil. Personally, I prefer a more 1 to 2 ratio, for example, 1/2 cup vinegar and 1 cup oil. But it's all about your personal taste preferences, and there is no incorrect ratio, so long as you enjoy the flavor. My recipe uses my 1 to 2 ratio, but just keep that in mind when making it, and if it's too acidic for you, add a bit more oil. We like to use neutral oils for salad dressings, because heavily flavored oils like extra-virgin olive oil can really drown out any of your other flavors. Neutral oils would be those such as, grapeseed oil, canola, and avocado oil. Vegetable oil is also considered neutral.
There is not a whole lot else to say in regards to the techniques of this recipe, as it's a salad. It's pretty self explanatory. If you can manage to very thinly slice an Asian pear, mince a shallot, and toss some ingredients...you are going to be golden! Enjoy as a side salad to your next dinner, or as a delicious lunch.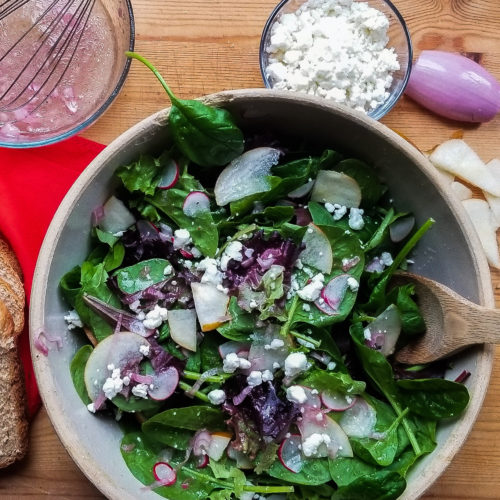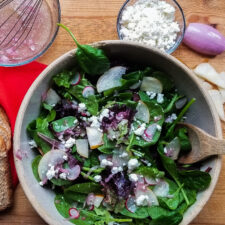 Asian Pear and Goat Cheese Salad w/ Honey Vinaigrette
Crispy, sweet Asian pear, tender spring greens, tossed in a sweetened vinaigrette, with goat cheese
Print
Pin
Rate
Ingredients
1

Asian pear

sliced thinly

6

cups

spring greens

like baby lettuces, baby spinach, arugula (rinsed and dried)

1/2

cup

crumbled chevre cheese

5

medium radishes

sliced thinly

1/4

cup

white wine vinegar

1/2

cup

neutral oil

3

tbsp

honey

1/2

tsp

salt

1

medium shallot

minced
Instructions
Wash and dry or spin lettuces. Add to salad bowl.

Thinly slice, or shave using a mandolin or vegetable peeler, the radish. Add to salad bowl.

Cut Asian pear into quarters, and remove core. Thinly slice. Add to salad bowl. Toss.

Whisk together, vinegar, oil, minced shallot, honey, and salt. Pour enough dressing around the outside of the bowl (not on the salad) enough to coat the outside of the bowl. Toss salad and taste to see if you need to add more. Repeat until salad is dressed enough. Save excess salad dressing for up to two weeks.

Crumble chevre over salad, toss to combine.