The other night we had company over from across the country, that we hadn't seen for years! It's always great to hear what old friends have been up, to and how life can change so much over time. I was also excited to share our new additions to the family, and catch up! And of course, what I was going to make for dinner was the question the rolled around in my head for days before; I wanted it to be perfect. So I decided it was fitting to serve beef from the cattle farm my husband works at for dinner. I pondered away on how I wanted to do it and settled on red wine braised beef dips with homemade au jus. In other words, a really good French dip.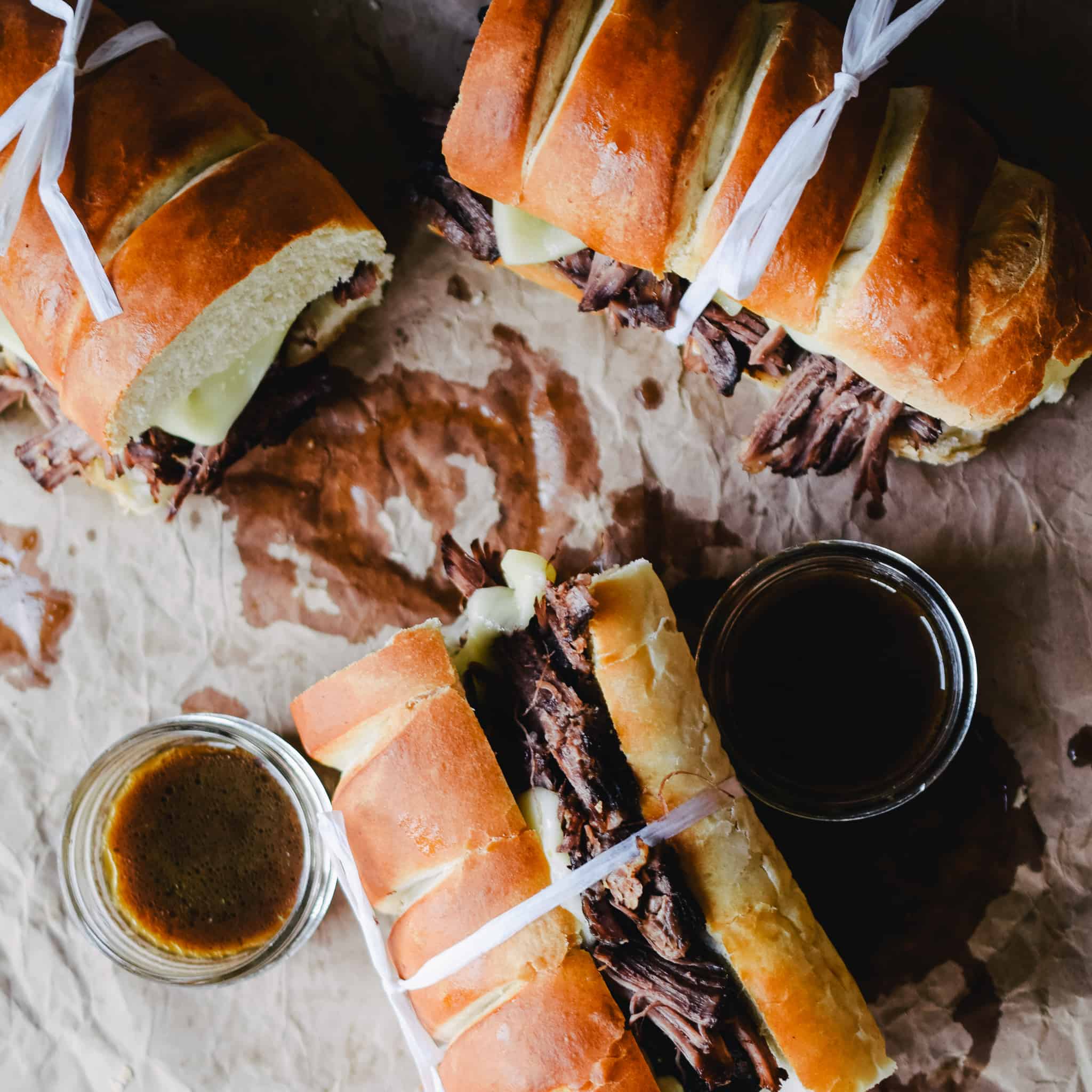 what is the best meat for wine braised beef dips?
With french dip sandwiches of any kind, you don't need to fuss over seasoning the meat. I like to use a roast because it shreds up nicely and has tons of flavor, being that it has to be cooked for a long time to become tender. That lengthy cooking time equals great flavor. You could go for the thin cut version, but braising a roast not only gives you more flavor, it results in an incredible pan sauce that you can then convert into the best au jus ever. Another bonus is that a roast is one of the least expensive cuts.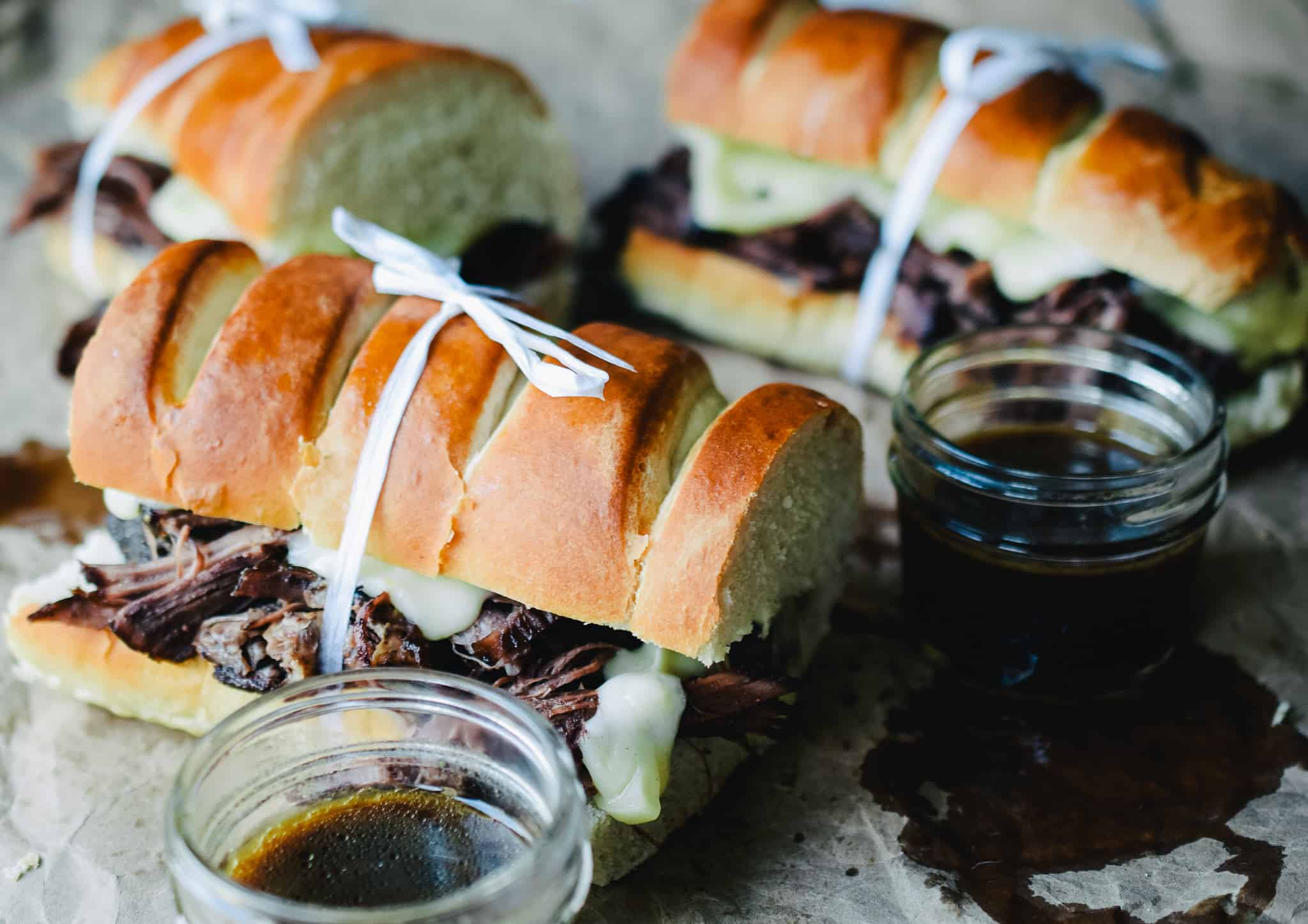 braising the beef for french dips starts the au jus
In terms of seasoning the roast for cooking, less is more. Adding a bunch of spice blends would ultimately end up taking away from the wonderful flavors that develop during the cooking process. It masks them. Nothing gives me a near death experience quite like seeing someone take a beautiful cut of beef and then shaking Montreal steak seasoning on it. We must stop this madness! We must put the steak blends and the Worcestershire down. You only need to salt and pepper the roast. Trust me on this. I see you eyeing that spice blend. Just say no!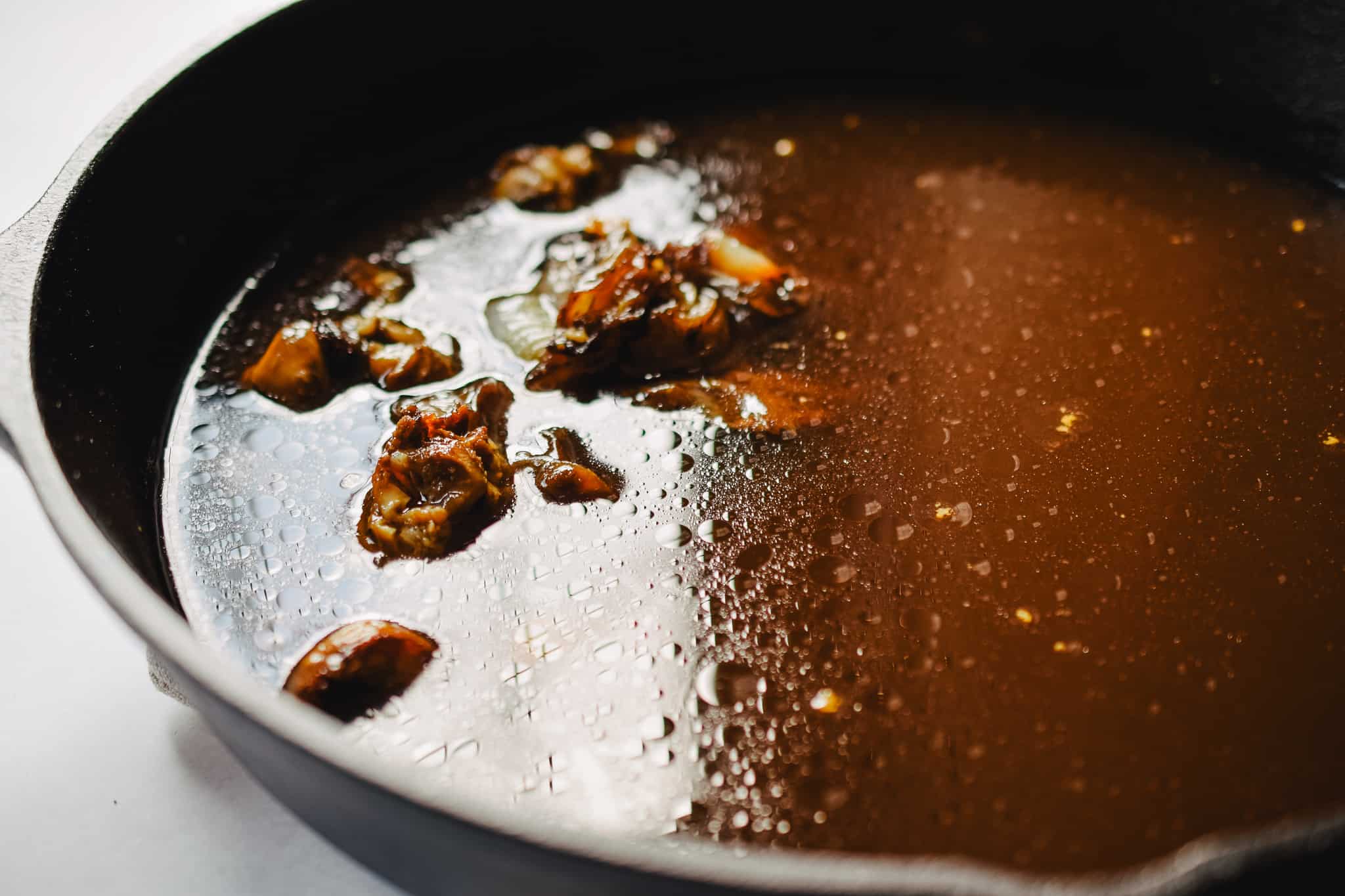 That being said, braising does require a liquid, in this case red wine. You can use beef broth or even water, but I highly recommend the red wine because it becomes rich and luscious. It's half the reason we make French Dips; for the au jus dipping! (If you don't have red wine, add a splash of balsamic or red wine vinegar to beef broth. It will help to mimic the effect of braising in red wine.) The sauce, is where the money is at. And since that's the case, it's best to use red wine for these wine braised beef dips with au jus.
how do you make au jus?
We talked about braising liquid just now. When the roast is done, the pan will be filled with all of the meat drippings combined with the red wine braising liquid. The au jus is created by taking those pan drippings from the beef to the stove top with some extra ingredients. This is where things get exciting. Smashed garlic clove, a few bay leaves, beef stock or broth, a pinch of sugar and that luscious pan liquid gets simmered until reduced. Pour through a mesh strainer to remove anything solid. Season with salt and pepper to taste, if even necessary. This homemade au jus knocks anything else out of the park.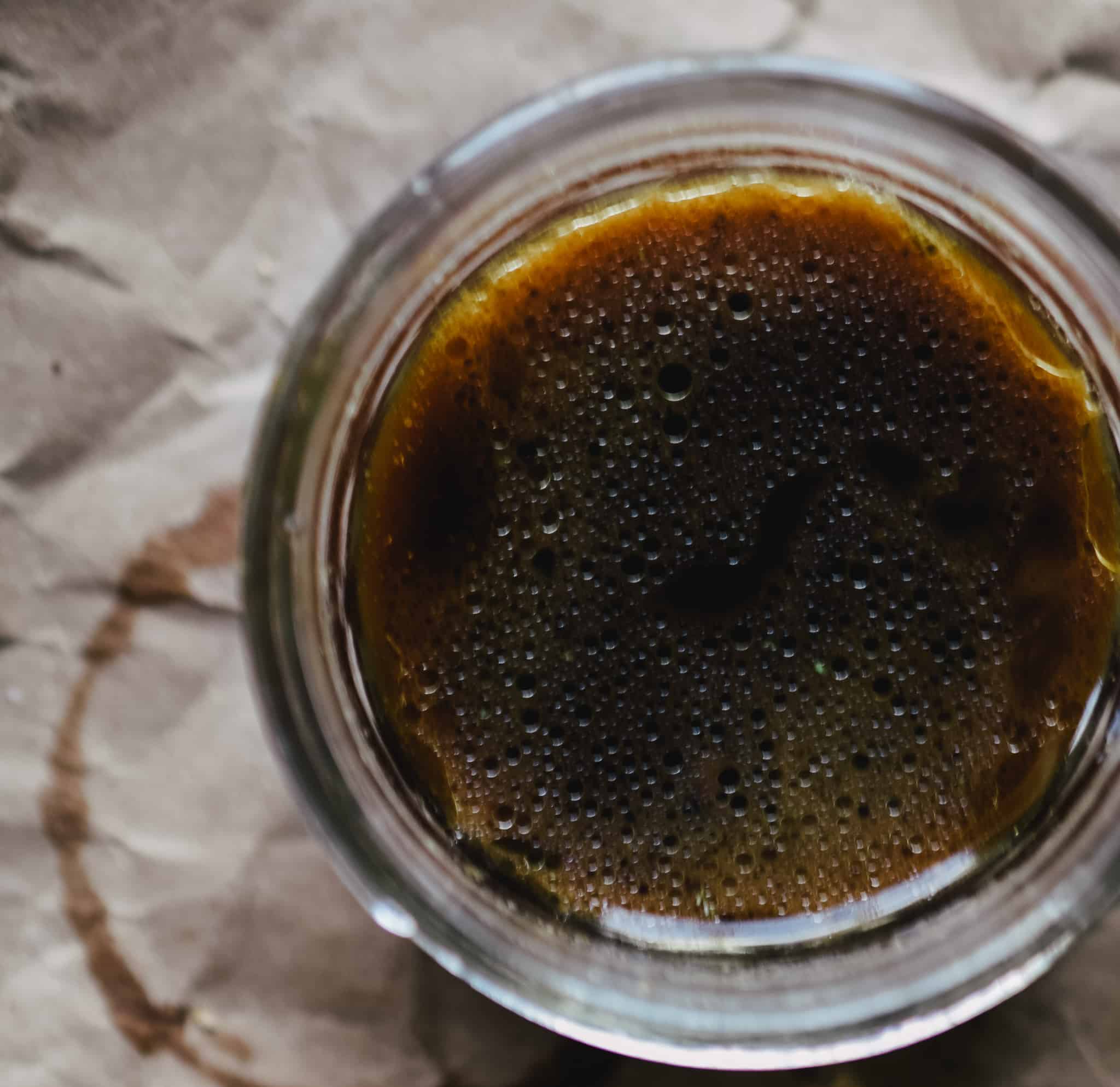 what to serve with wine braised beef dips
Serve the meat, picked apart or shredded as finely as you like. If you like it chunky, just pull it apart. For a very finely shredded texture, use two forks to pull it apart. Pile it high atop a hoagie roll (here's a Bread Machine Hoagie Roll Recipe) or sliced baguette and top with provolone cheese, if desired. My husband also requests bacon on his. Men.
Serve next to a little bowl or ramekin of that glorious au jus for dipping.
We often have our red wine braised French dips with au jus the way one would be served at a diner; with fries and a salad.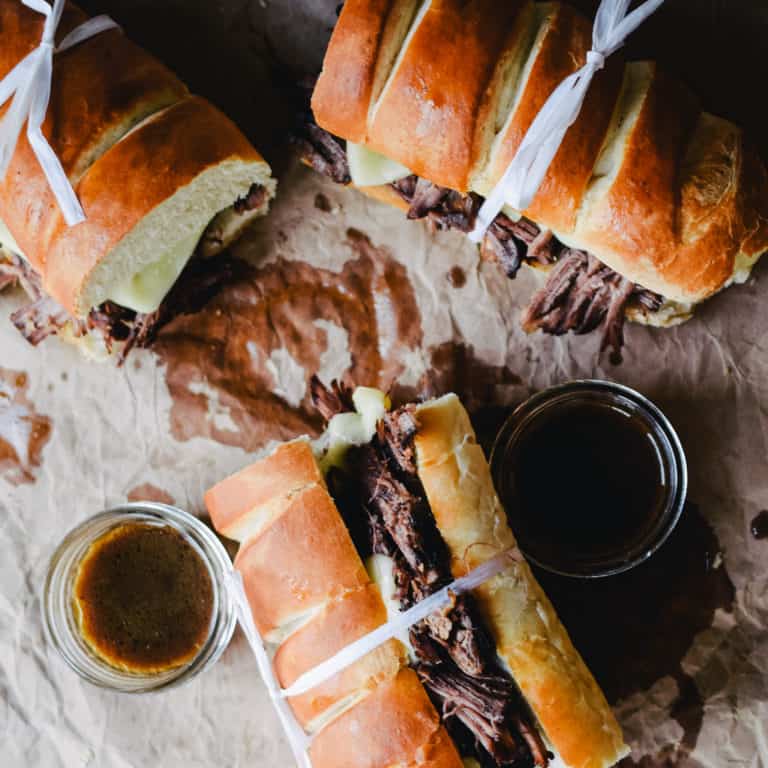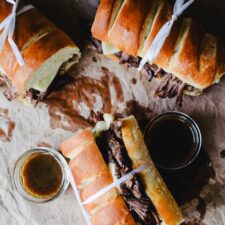 Red Wine Braised Beef French Dip Sandwiches with Au Jus
Beef braised in red wine, piled high on a french roll, with melted provolone, served with rich from-pan au jus to dip
Print
Pin
Rate
Ingredients
4

lb

beef roast

rump, arm

2

cups

dry red wine

merlot, cabernet, etc

1 ½

cups

beef stock

for making au jus

6-8

cloves

garlic

smashed, peeled

¼

tsp

sugar

3-4

bay leaves

salt and pepper

french rolls for serving

provolone cheese for serving

optional
Instructions
In a dutch oven, or deep, heavy skillet add beef. Generously salt and pepper the beef, on all sides. Add red wine to the bottom of the pan.

Cover with lid (or foil if using a deep skillet, like I did) and cook at 325 degrees for up to 3-4 hours (depending on size), until meat is fall apart tender. Use a large spoon every 25 minutes to spoon liquid over the beef, routinely as it cooks. If you notice the liquid is evaporating too much, add a splash off beef stock or water. It should be between ¼" and 1" deep.

When the meat is done, remove from the pan, and shred, removing bones and unwanted fat as you go.

In the remaining pan liquid, add the beef stock, smashed garlic cloves, sugar and bay leaf. Simmer on medium high heat until slightly reduced, about 10 minutes. Pour through a mesh strainer to remove any solid pieces from the au jus. Salt and pepper to taste, if necessary.

Pile shredded beef onto french rolls, top with provolone cheese, and serve with au jus sauce to dip.