Red wine braised beef is fall-apart tender and melts in your mouth. The beef is braised in rich red wine and the resulting pan sauce can be spooned over a bed of buttery mashed potatoes or egg noodles.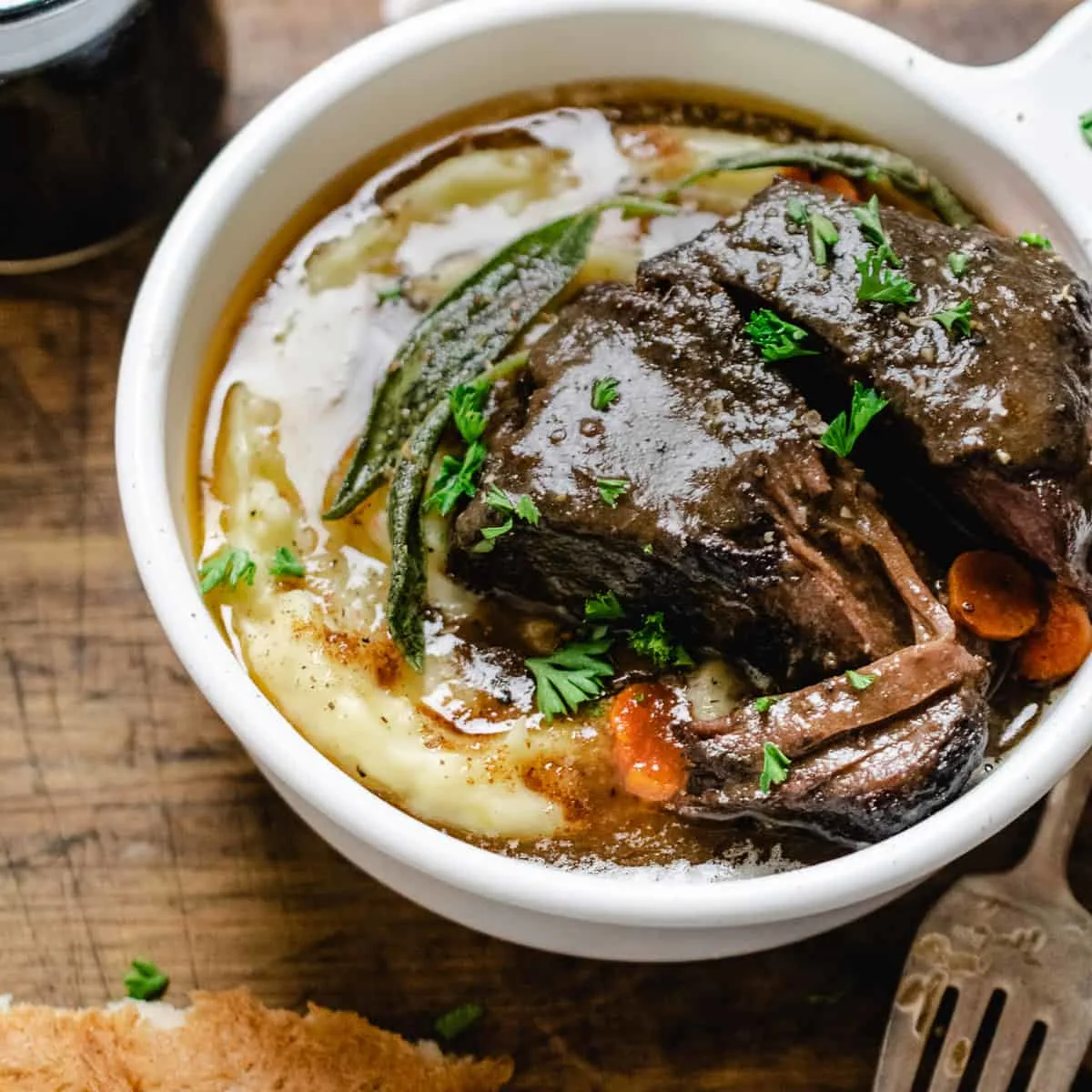 Braised beef is a very hands-off recipe, requiring little more than 10 minutes of actual hands-on cooking time and just a small handful of ingredients.
The beef drippings and red wine braising liquid create the most delicious pan gravy in the world.
You can spoon the luscious pan sauce over the succulent beef on a bed of buttery mashed potatoes, egg noodle pasta, or even rice.
Sear
Cut the beef into large, 3 to 4-inch chunks.
Sprinkle coarse salt and pepper over all sides of the beef chunks.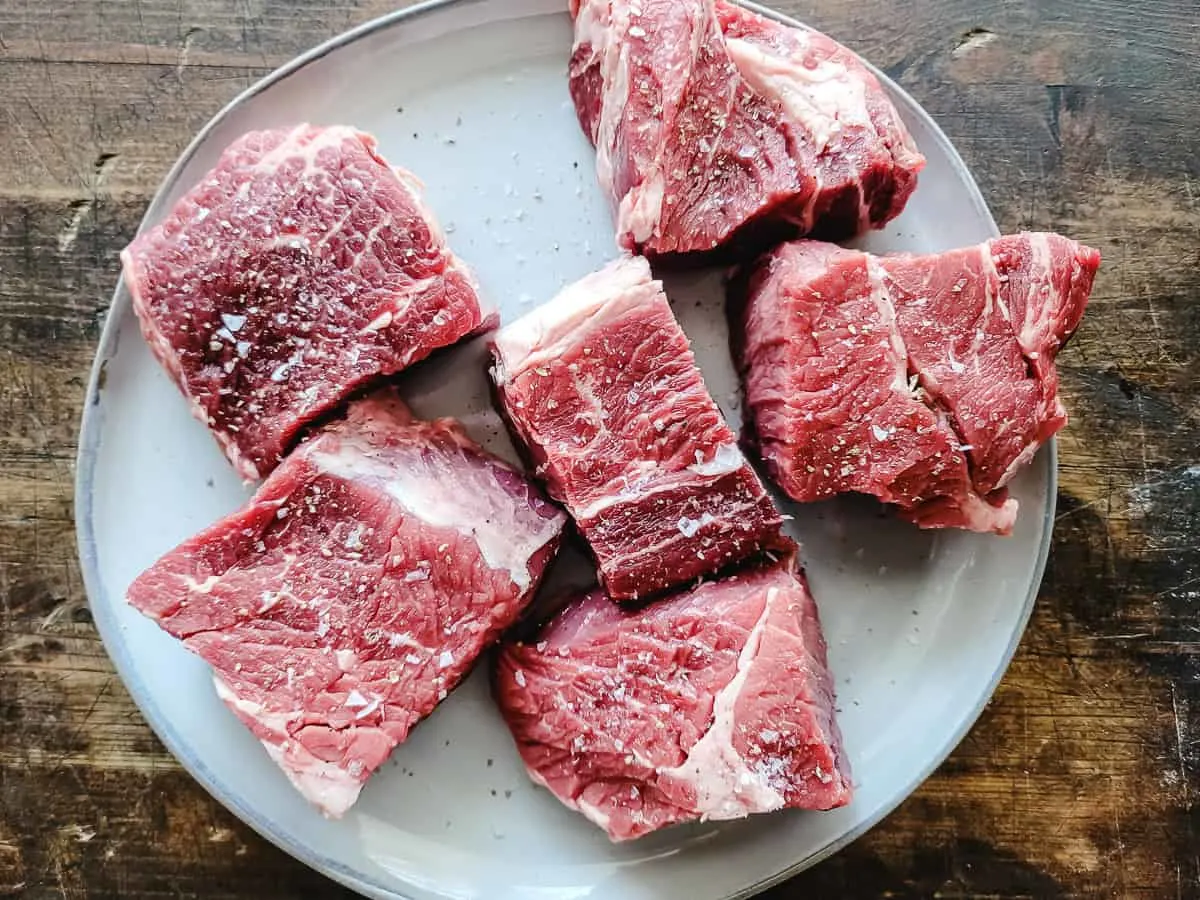 Heat a bit of olive oil in a stockpot on medium-high heat until it's nice and hot. Using a pair of tongs, brown each side of the beef chunks.
Keep the pieces at least an inch apart and don't rotate them until a good sear has developed.
If necessary, work in batches so that you keep adequate space between the pieces of beef in a single layer.
Once all sides are well browned, remove them from the pan and set them aside on a plate.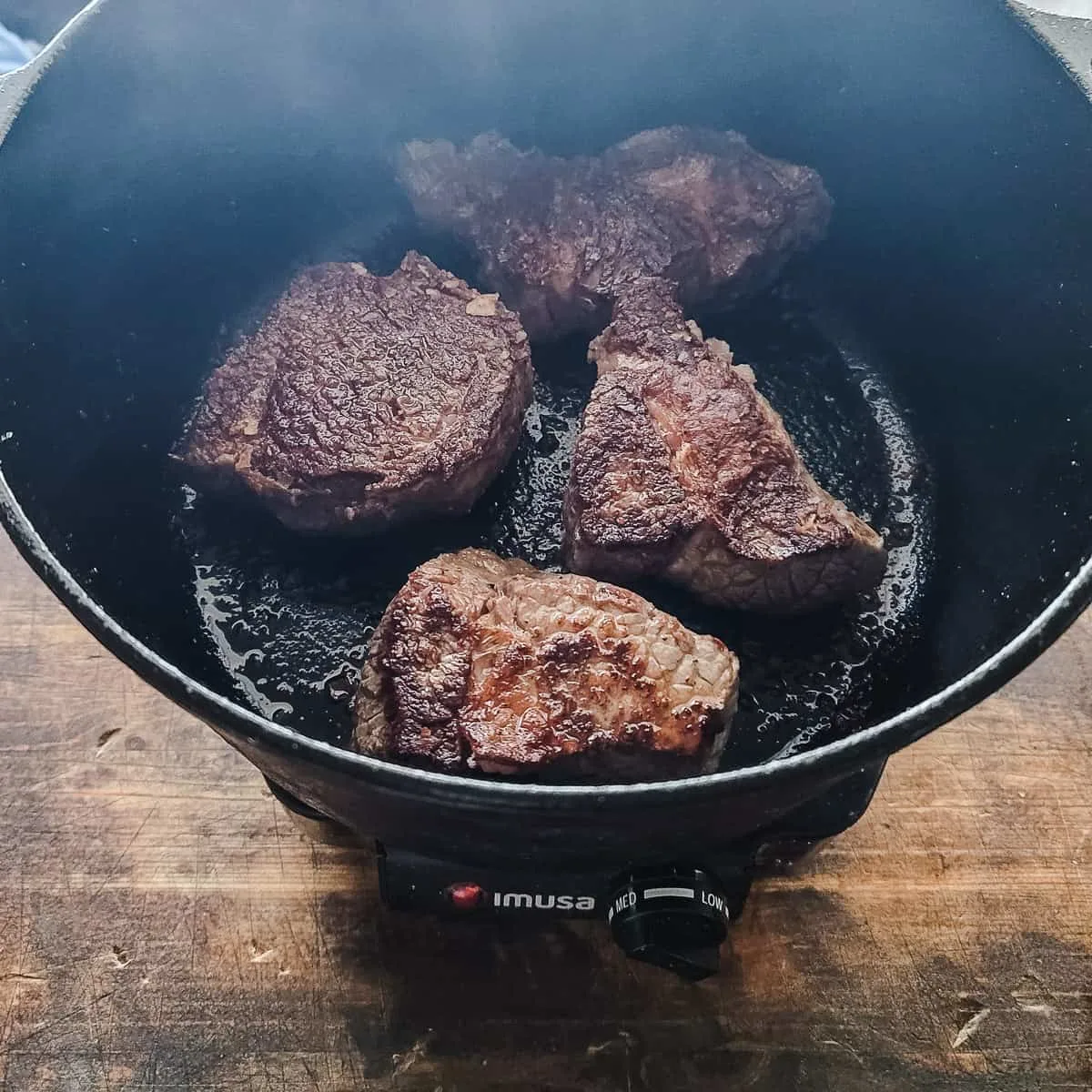 Sauté
To the same pan of oil, still, on medium-high heat, add the chopped carrots and onion.
Sauté the vegetables until the carrots are softened and the onions are caramelized and translucent, followed by the whole, smashed garlic cloves.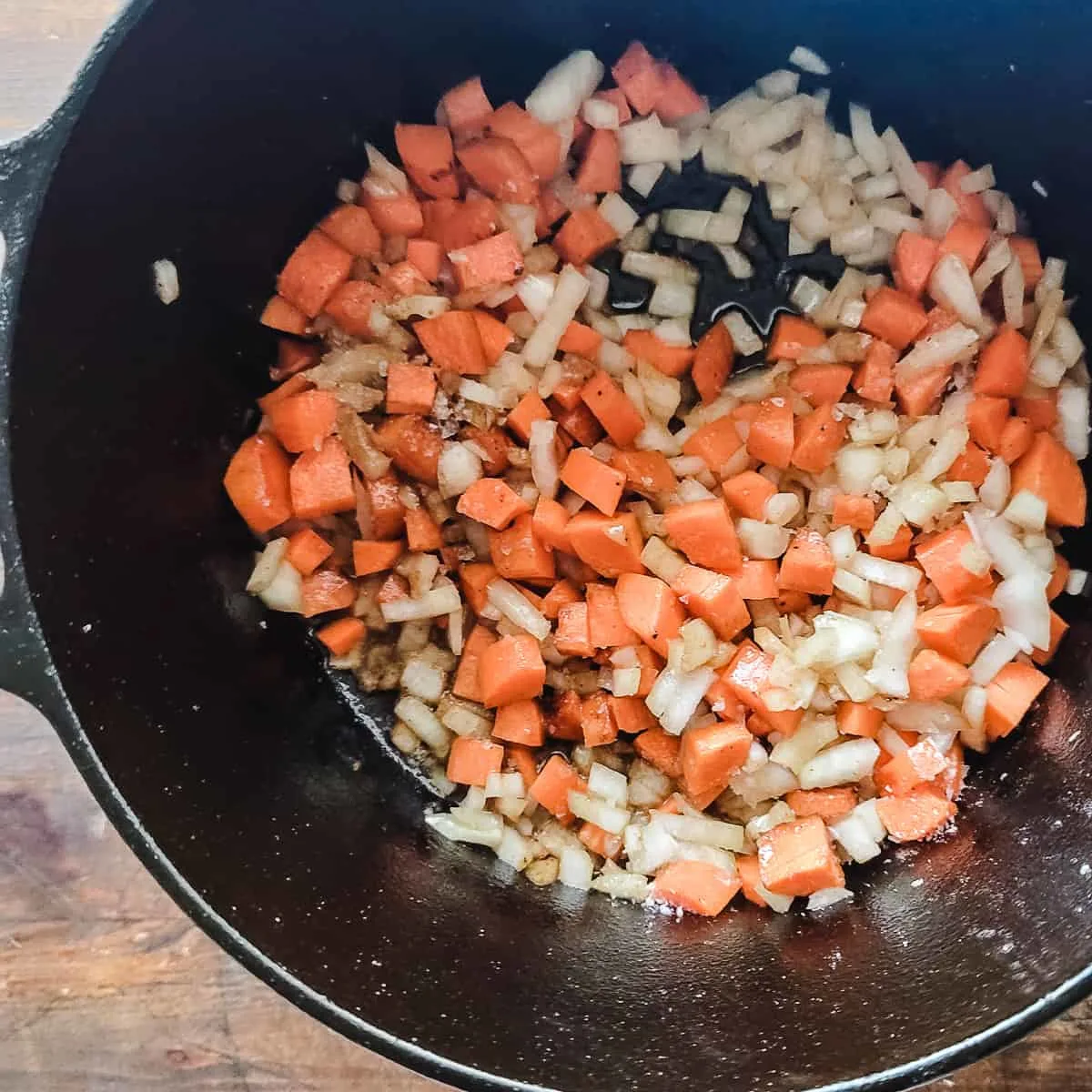 Pour in the red wine, stock, and pinch of sugar.
Stir to combine and remove from heat.
Braise
Place the pieces of beef back into the wine braising liquid. Toss in the herbs.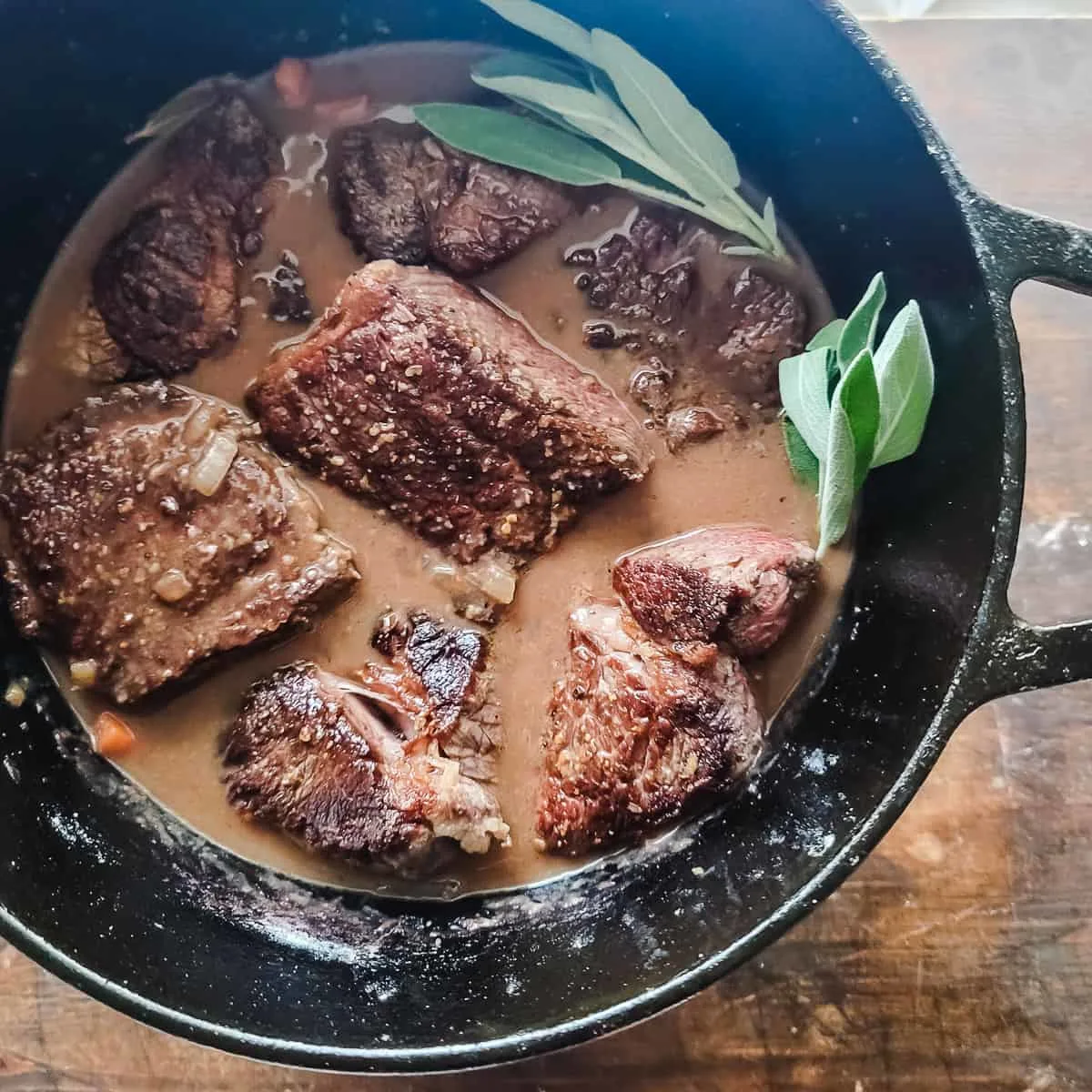 Cover loosely, by placing a lid slightly offset or a loose piece of foil. Place in a 300 degree Fahrenheit oven.
Bake for 2 ½ to 3 ½ hours, until the beef falls apart with the touch of a fork.
For extra flavor, spoon braising liquid over the meat every hour as it cooks.
Once the meat is fall-apart tender and delicious, it's ready to serve with buttery mashed potatoes or buttered egg noodles.
The braising liquid and vegetables can be spooned over the top or to the side.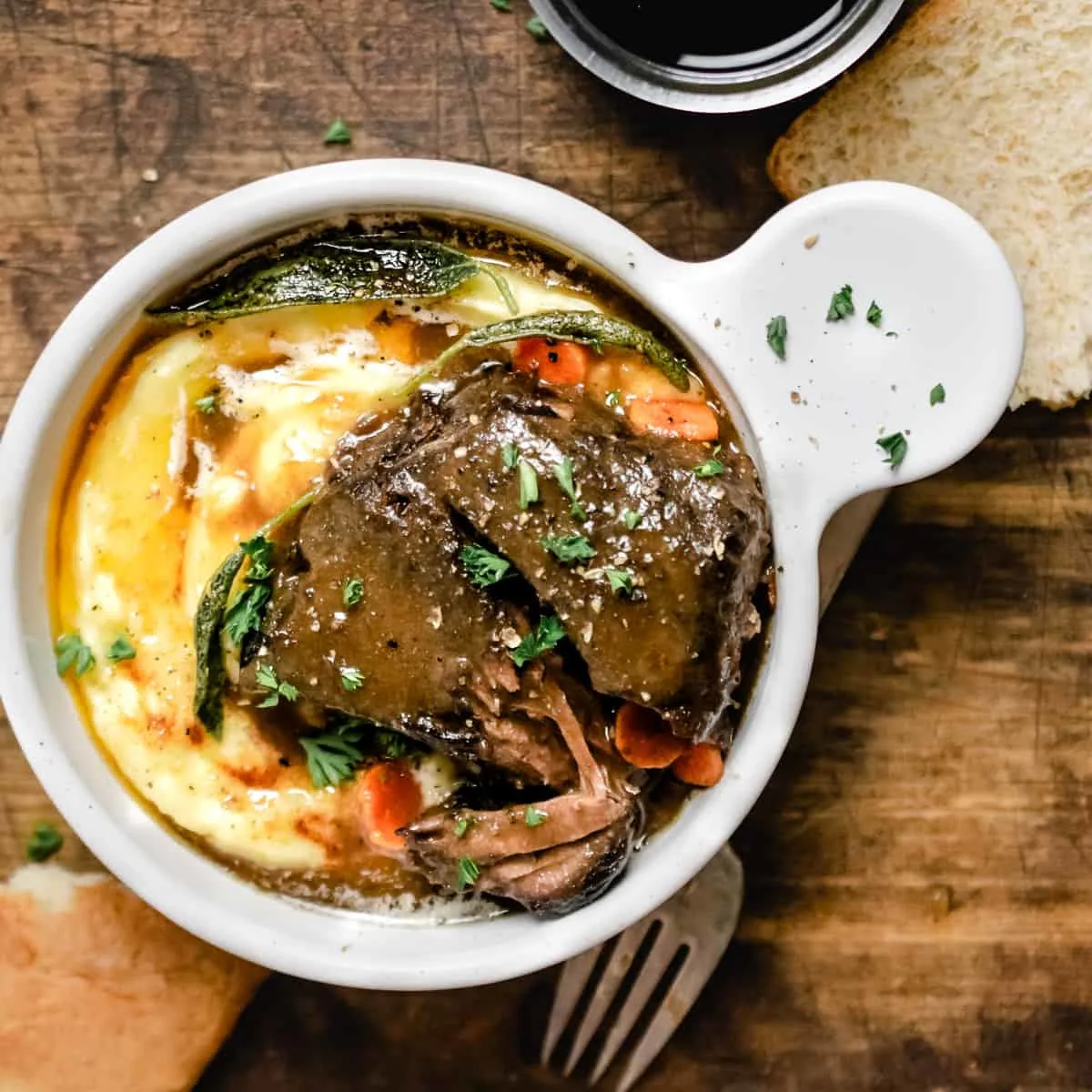 FAQ's
What does it mean to braise beef?
Braising beef means first searing the meat then cooking it in a shallow liquid such as red wine, at a low temperature for several hours until the beef becomes extremely tender.
What kind of beef is used for braised beef?
In general, tough cuts of beef like chuck, brisket, and round cuts are most appropriate for braising.
How long does it take to braise beef?
Depending on the cut of beef and the size, it usually takes between 1 ½ and 3 hours to braise beef to fork-tender.
Tips
Leftover braised beef can be enjoyed on your favorite type of sandwich roll.
Strain the braising liquid and serve as an au jus for dipping the braised beef sandwiches in.
If you like warm comfort food on chilly nights, you might like these other recipes below (or keep scrolling for the recipe card for this amazing braised beef).
📖 Recipe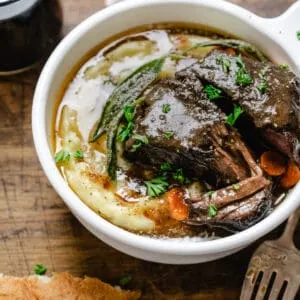 Braised Beef
Red wine braised beef, braised on low heat in wine with vegetablse until fall apart tender.
Print
Pin
Rate
Ingredients
4

lb

beef roast

use chuck roast, rump, shank or other tough cut

2

tablespoon

olive oil

1

cup

carrots

sliced or whole baby

½

onion

sliced

4

cloves

garlic

smashed, peeled

2

cups

dry red wine

like merlot or cabernet

¼

cup

beef stock

plus more for making au jus

¼

teaspoon

sugar

bay leaves, sage leaves, thyme

optional

salt and pepper
Instructions
Preheat oven to 300 degrees Fahrenheit.

If the beef is over 3 pounds, cut into 3 or 4 portions (smaller cuts can remain whole).

Generously salt and pepper the beef, on all sides.

Heat a Dutch oven on the stove top on medium high heat, and add 2 tablespoons of oil.

Sear beef in hot oil on all sides until crisp and browned. Remove from pot, set meat aside on plate.

Add diced or whole baby carrots and sliced onions to the Dutch oven still on medium high heat. Season with salt and pepper and sauté until tender.

Add 2 cups of red wine, ¼ cup of beef stock, and ¼ teaspoon sugar. Stir the liquid, scraping the bottom of the pot to bring up any browned bits.

Add the seared beef followed by the bay leaf, sage and thyme (herbs optional).

Cover loosely with a lid partially offset or foil. Cook in oven for 2 ½ to 3 ½ hours until the beef is fork tender.

Serve the braised beef with buttery mashed potatoes or buttered egg noodles. Spoon braising liquid and the vegetables over everything.
Notes
Spoon braising liquid over the beef a time or two to keep the beef moist and flavored.
Save leftover wine braised beef for serving on sandwich rolls.
An au jus can be made with the braising liquid by straining the remaining vegetables. If necessary, simmer with an additional splash of beef stock or broth.
Nutrition
Serving:
1
g
|
Calories:
502
kcal
|
Carbohydrates:
4
g
|
Protein:
44
g
|
Fat:
30
g
|
Saturated Fat:
12
g
|
Polyunsaturated Fat:
3
g
|
Monounsaturated Fat:
16
g
|
Trans Fat:
2
g
|
Cholesterol:
156
mg
|
Sodium:
210
mg
|
Potassium:
834
mg
|
Fiber:
1
g
|
Sugar:
1
g
|
Vitamin A:
2703
IU
|
Vitamin C:
2
mg
|
Calcium:
49
mg
|
Iron:
5
mg