Use up your old bananas with these adorable, bite sized mini banana muffins with a touch of sour cream for extra richness, and a little crunch from walnuts.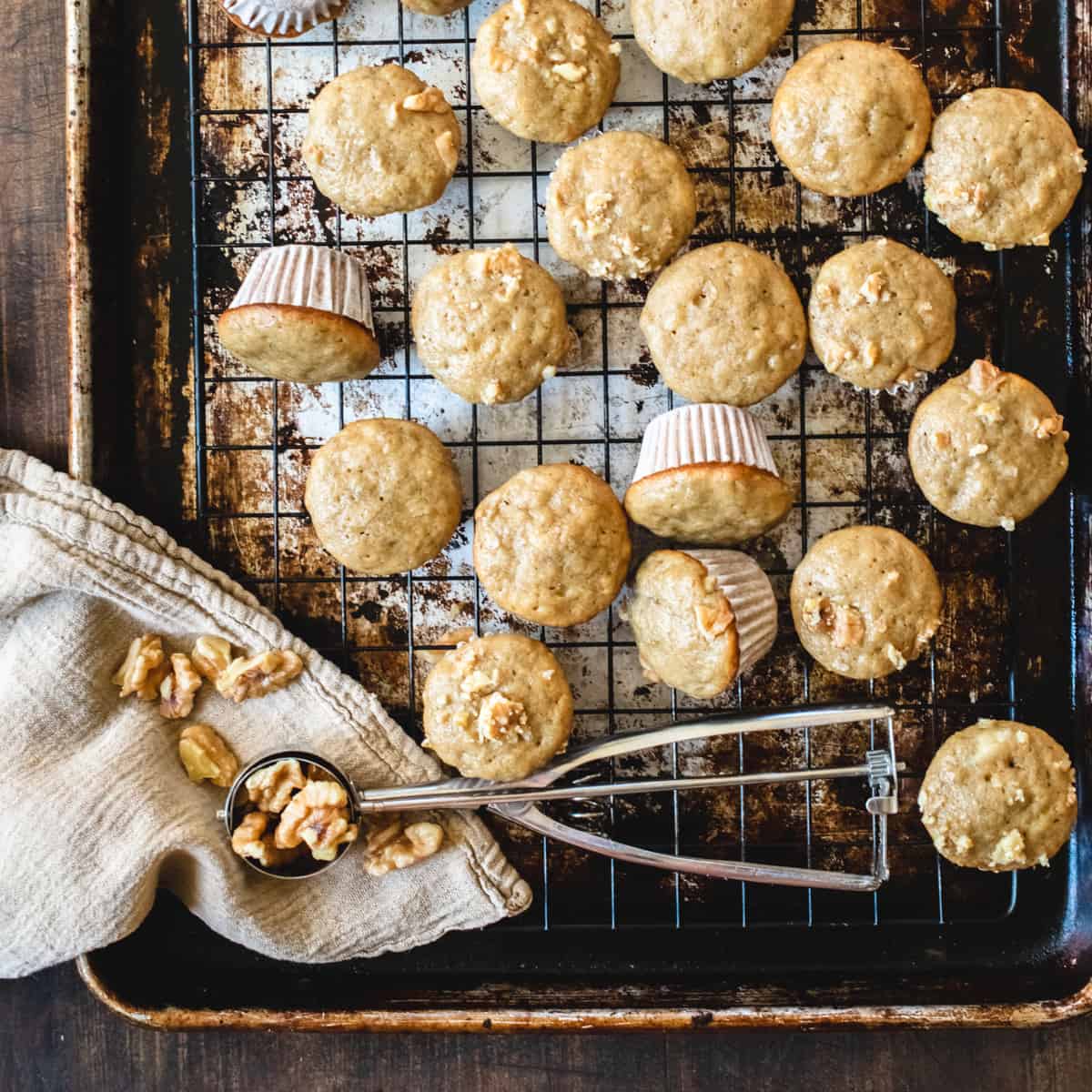 I never toss out old bananas. If they do start to go bad, straight into the freezer they go until I have enough piled up to bake with.
The more brown they are, the sweeter they are, and the easier they are to mash up. Keeping them in the freezer seems to just lock their perfect state into place.
This time it's these mini banana muffins. As I mentioned, this recipe incorporates sour cream. Just like in my Strawberry Cupcakes or my Chocolate Sheet Cake, the sour cream adds a richness the way buttermilk does. (In some cases, it a also provides the acid needed to react with a particular leavener too.)
I like to add chopped walnuts sprinkled over the top right before baking, but that's optional. You could fold them in or completely leave them out. The reason I like to sprinkle them, is they settle in a little bit as they bake, but they don't completely sink in. It makes for a perfect crunch topping.
The Bananas
Use overly ripe, very sweet, very soft bananas that are too browned to eat.
If you've frozen your bananas, like I do, thaw them with their peels on in cold water until they're soft. This only takes an hour or so.
You can also defrost them in the microwave, peel-on for about 3 minutes, but check on them so they don't overheat.
Once they're defrosted, squeeze them into a blender or bowl and mash or puree them up. You can use a potato masher, or even a food processor. There are numerous ways to do this, and you can't really mess it up! Try to get most, if not all, of the chunks out.
The Batter
To prepare the batter, start with the "wet" ingredients. These consist of the sugars, eggs, vanilla, vegetable oil, cinnamon, nutmeg and sour cream plus the pureed bananas. Yes, the sugars are lumped in with the wet ingredients.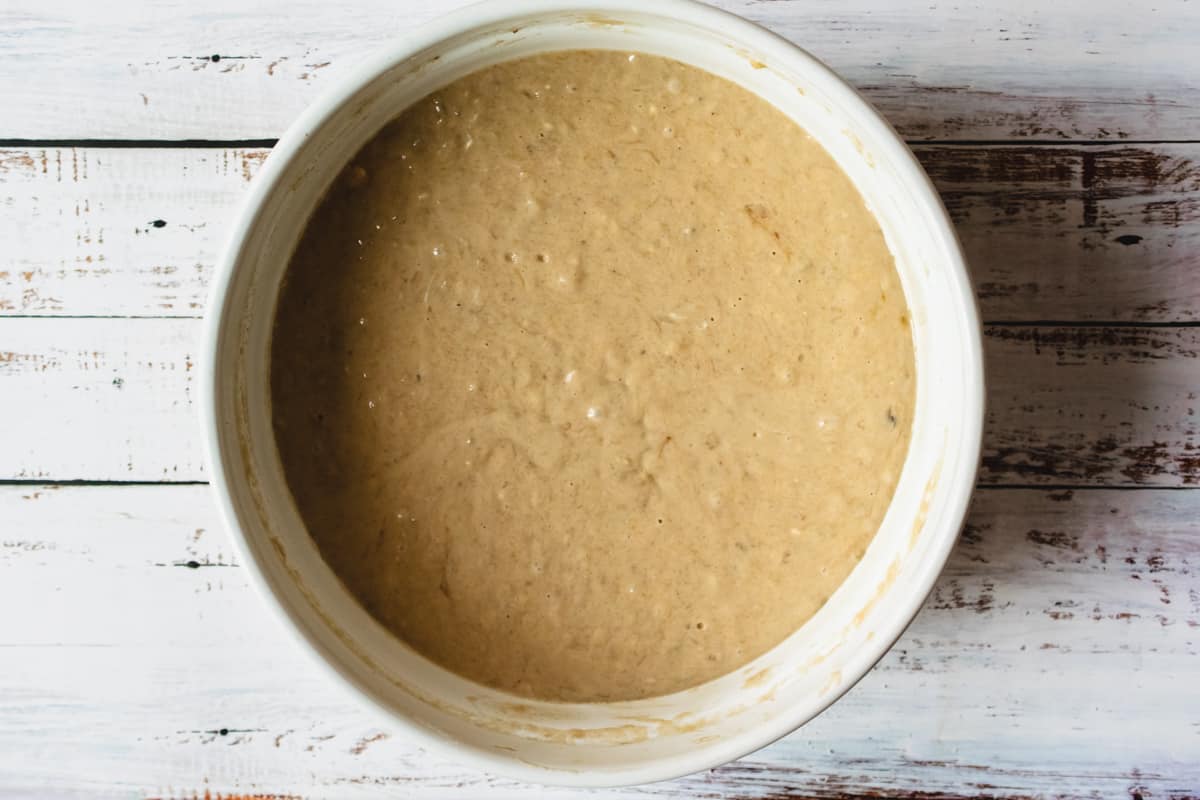 Then, add in the remaining dry ingredients. This would be the flour, salt, baking soda and baking powders. Using a wooden spoon, mix them in gently until they're just combined.
Filling the Pan
I like to use a handheld scooper, but a measuring spoon or whatever you have on hand works too. Fill the muffin cups (nonstick, greased or paper lined) until they're about two-thirds of the way full. Don't over fill them.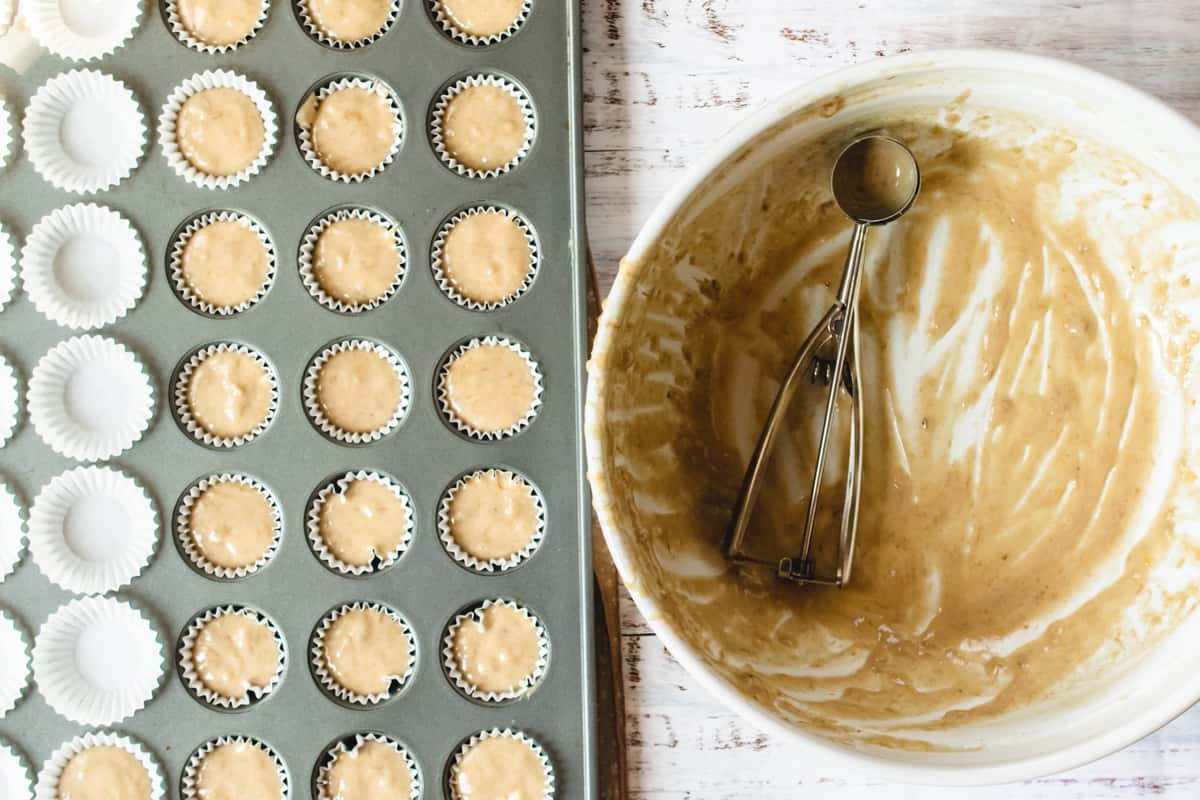 Sprinkle with chopped walnuts, before baking, if desired.
Baking Time
Mini muffins do not have to bake as long as standard sized muffins. They'll bake for 12-14 minutes, but check them quickly at 10 minutes in case your oven runs a little hot.
To tell if they're done, a toothpick inserted right into the center should pull out with a few, moist crumbs. There should be no trace of raw batter though. They'll have a bit of carryover cooking so once there's no raw-ness in the middle, take them out.
Cool the muffins on a wire rack or on the counter, as soon as they can be removed from the muffin tin.
Recipe Tips
There are a few things to keep in mind when making this recipe, but for the most part it's an e-a-s-y recipe to follow.
Frozen bananas will thaw quickly when submerged in a bowl of cold water.
While chopped walnuts are optional, as is stirring them directly into the batter, it's preferred to sprinkle them over the batter filled muffin tin because they'll sink in slightly without falling to the bottom and they'll produce a nice top.
Stir the dry ingredients in last, so as to not over mix the flour and make the muffins flat.
Don't use an electric mixer, or overmix the batter--this is how flat muffins happen!
It's best to use muffin tin liners, because they make it easier to remove the muffins and it can be done sooner than when using a greased tin.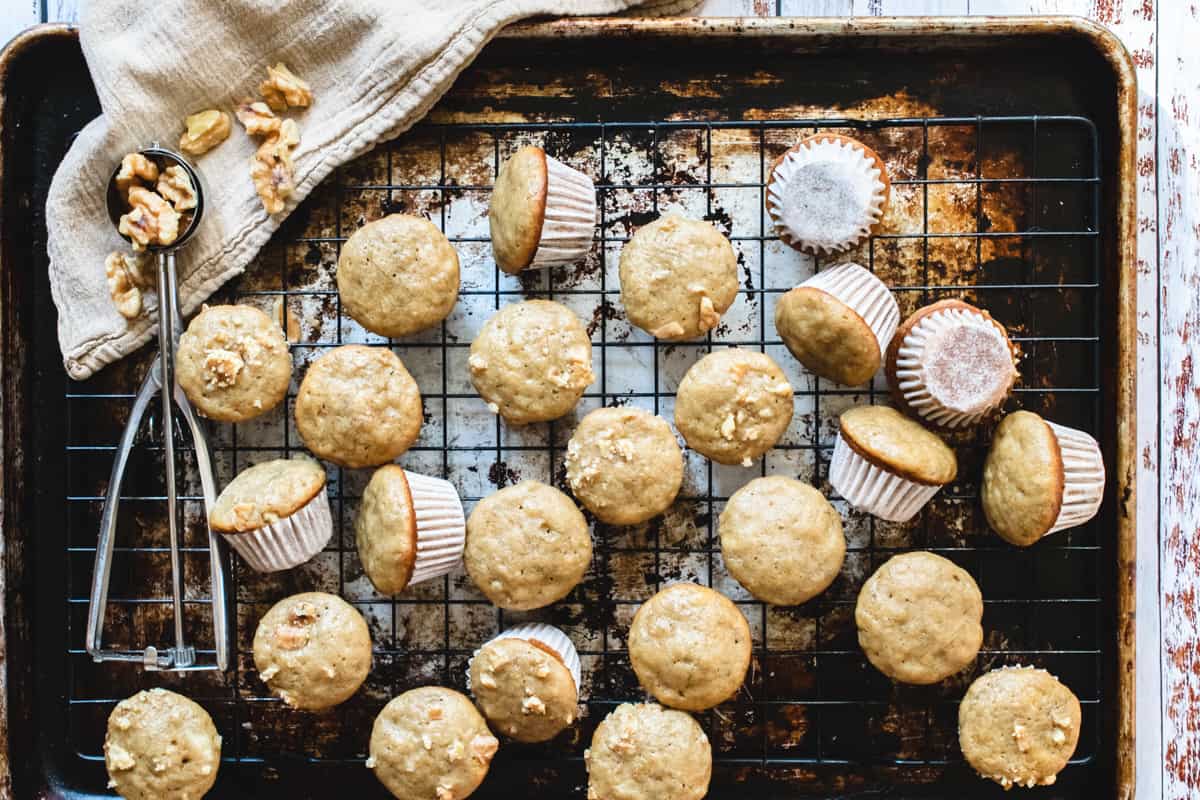 Related Recipes
Here are some other recipes for your brunch or breakfast baking...
If you made this recipe, leave a star rating using the recipe card below!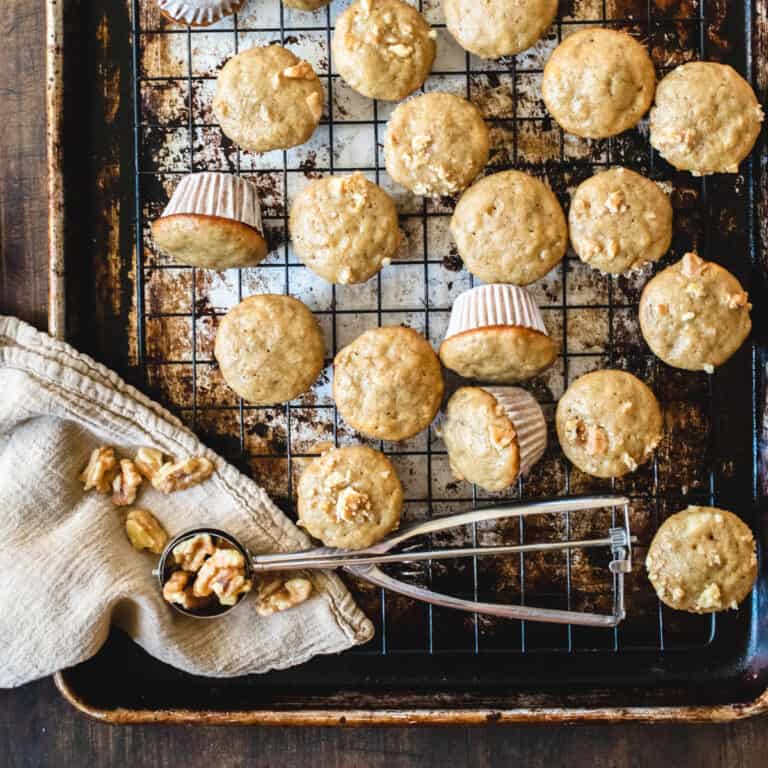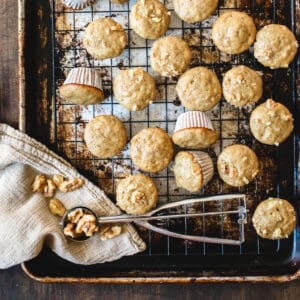 Mini Banana Muffins
Quick, easy and adorable mini banana muffins with a touch of sour cream and walnuts sprinkled on top.
Print
Pin
Rate
Servings:
48
mini muffins
Ingredients
For the cake
4-5

bananas

very ripe, brown bananas (mashed or pureed )

½

cup

brown sugar

½

cup

granulated sugar

2

large eggs

1

teaspoon

vanilla

⅓

cup

vegetable oil

½

cup

sour cream

1

teaspoon

cinnamon

½

teaspoon

nutmeg

1

teaspoon

salt

1

teaspoon

baking soda

1

teaspoon

baking powder

2

cups

flour

½

cup

walnuts

chopped, optional
Instructions
Preheat oven to 350 degrees, and line a mini muffin tin with paper liners, or grease or use a nonstick mini muffin pan.

Mash or puree bananas until there are no lumps left.

In a large mixing bowl, combine bananas, sugars, eggs, vanilla, oil, cinnamon, nutmeg and sour cream until well blended.

Add baking powder, soda, salt and flour and stir until just combined.

Fill muffin tins two thirds of the way full.

Sprinkle batter filled tins with chopped walnuts.

Bake at 350 degrees for 12-14 minutes, until toothpick inserted in center comes out clean.

Cool on wire rack or counter top.
Notes
Thaw frozen bananas in a bowl of cold water for best results. 
Don't over mix the batter, that's what makes flat muffins.
Nutrition
Serving:
2
mini muffins
|
Calories:
73
kcal
|
Carbohydrates:
11
g
|
Protein:
1
g
|
Fat:
3
g
|
Saturated Fat:
2
g
|
Cholesterol:
8
mg
|
Sodium:
90
mg
|
Potassium:
55
mg
|
Fiber:
1
g
|
Sugar:
6
g
|
Vitamin A:
31
IU
|
Vitamin C:
1
mg
|
Calcium:
14
mg
|
Iron:
1
mg