4 ingredient white bread recipe can be made into 3 different loaf styles. Classic sandwich bread, french, or crusty boule shaped loaves are easy to make, no extra appliances required! Anyone can use this recipe!
Way back when I became pregnant with my second child, I left the best job I ever had and became a stay at home mom. It was partly circumstantial, and partly emotional. Either way, what started as a temporary resolution, has evolved into being the best decision I ever made. My job is now at home with the ones I love the most, effectively making it the best job I've ever had, to date.
I promise, this is about the bread.
Today we have four kids and counting, and the meaning of being a stay at home mom has morphed significantly. It's still a lot of work, but it's the most fulfilling work I could do. It's also a constant learning experience, and a mindful way of living, that I love.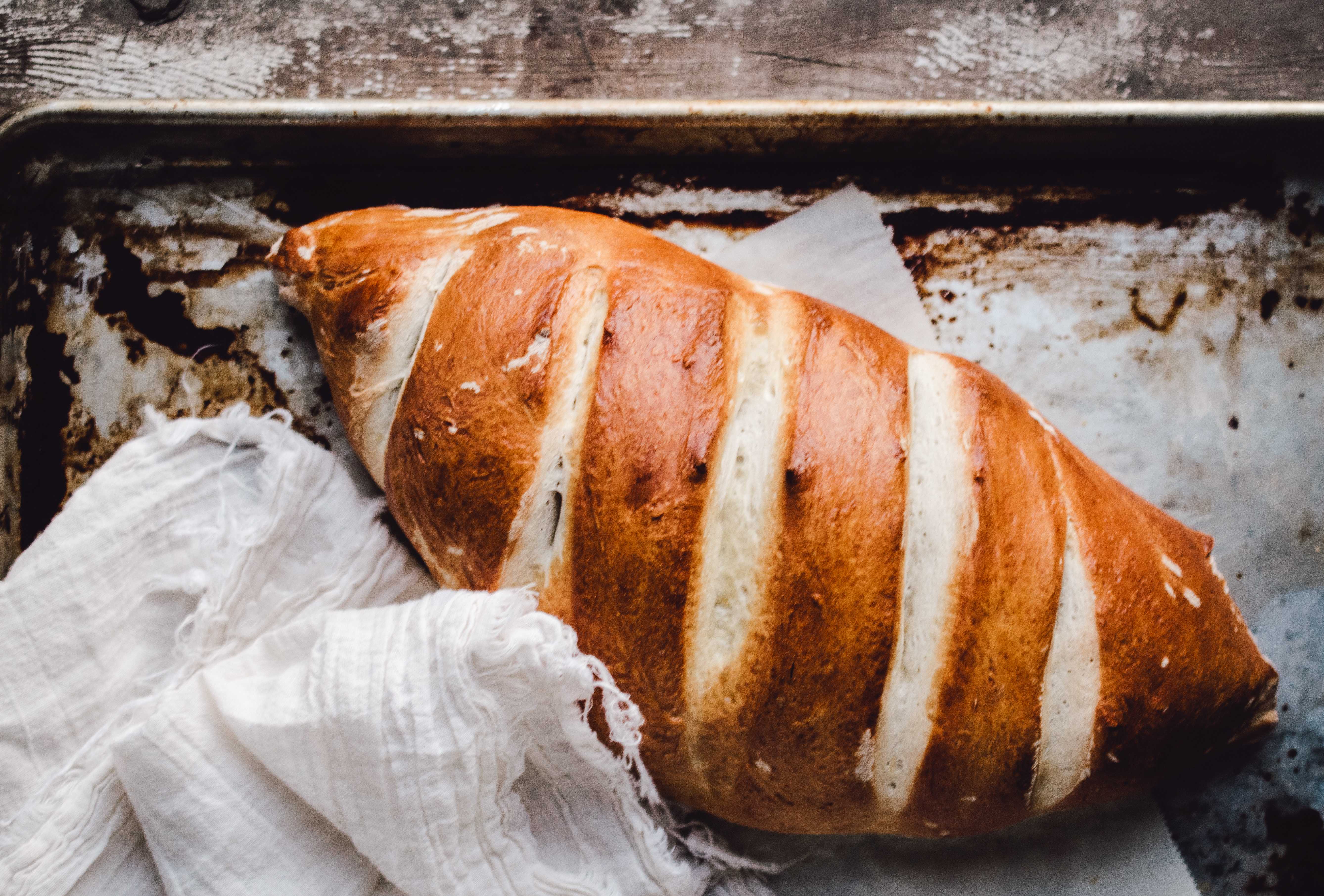 Obviously, going from a double to single income is a big jump. It's a lot of why I took my love for cooking to a whole new level, and devoted myself to solely cooking from scratch. The grocery bill is arguably the biggest bill of the household. People don't tend to even count it as a bill! I know I didn't. Until I did...
By reducing that bill in a meaningful way, (and eliminating the childcare bill), we are financially healthier as a household. But more importantly, we are healthier in a more inclusive sense as well.
how do you make bread light and fluffy?
One of the first from-scratch items I went after was bread. Simple, every day, pantry-staple, bread. It took me some time to figure out my perfect recipe. It was difficult to get the ratios right, and the rise time correct. The differences in yeast were not something I was comfortable distinguishing between. I often ended up with a baked brick that wasn't even suitable for breadcrumbs, or an over inflated, yeasty loaf that had high edges with a collapsed center. When sliced, it looked like Batman's head, so we just referred to it as Batman Bread.
what ingredient makes bread soft?
Basic, homemade bread was turning out to be an elusive thing, but I am happy to report that I have cracked the code and am excited to share it with you! No more Batman bread...
There's not a single ingredient that is needed to make bread soft. What that means, is that it's in the technique, ratios, and consistency. You need to get the ingredient measurements right, and you need to time things correctly.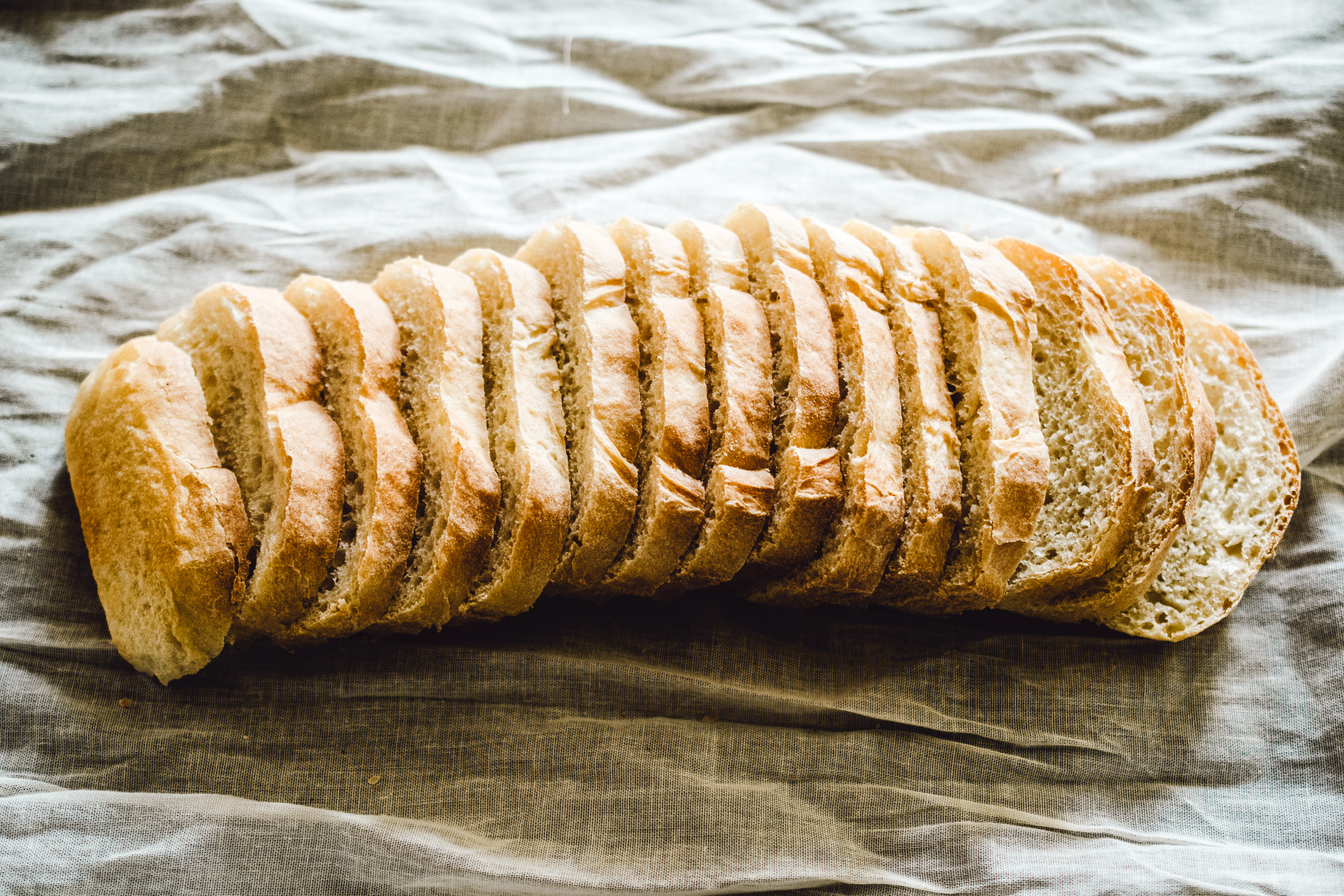 I have since narrowed down a really easy, really versatile white bread recipe. I have remeasured, and remeasured, and rebaked and rebaked, and tested and tested. This is a sure thing. It's foolproof. I say it's versatile, because it's one single dough recipe that can be used for Basic White Sandwich Bread, a homemade French Bread Loaf, or a Rustic Crusty Bread. Honestly, the Crusty Bread is my favorite because I make a lot of soup and pasta, and it's the best served with a Crusty Bread to sop up all the saucy goodness!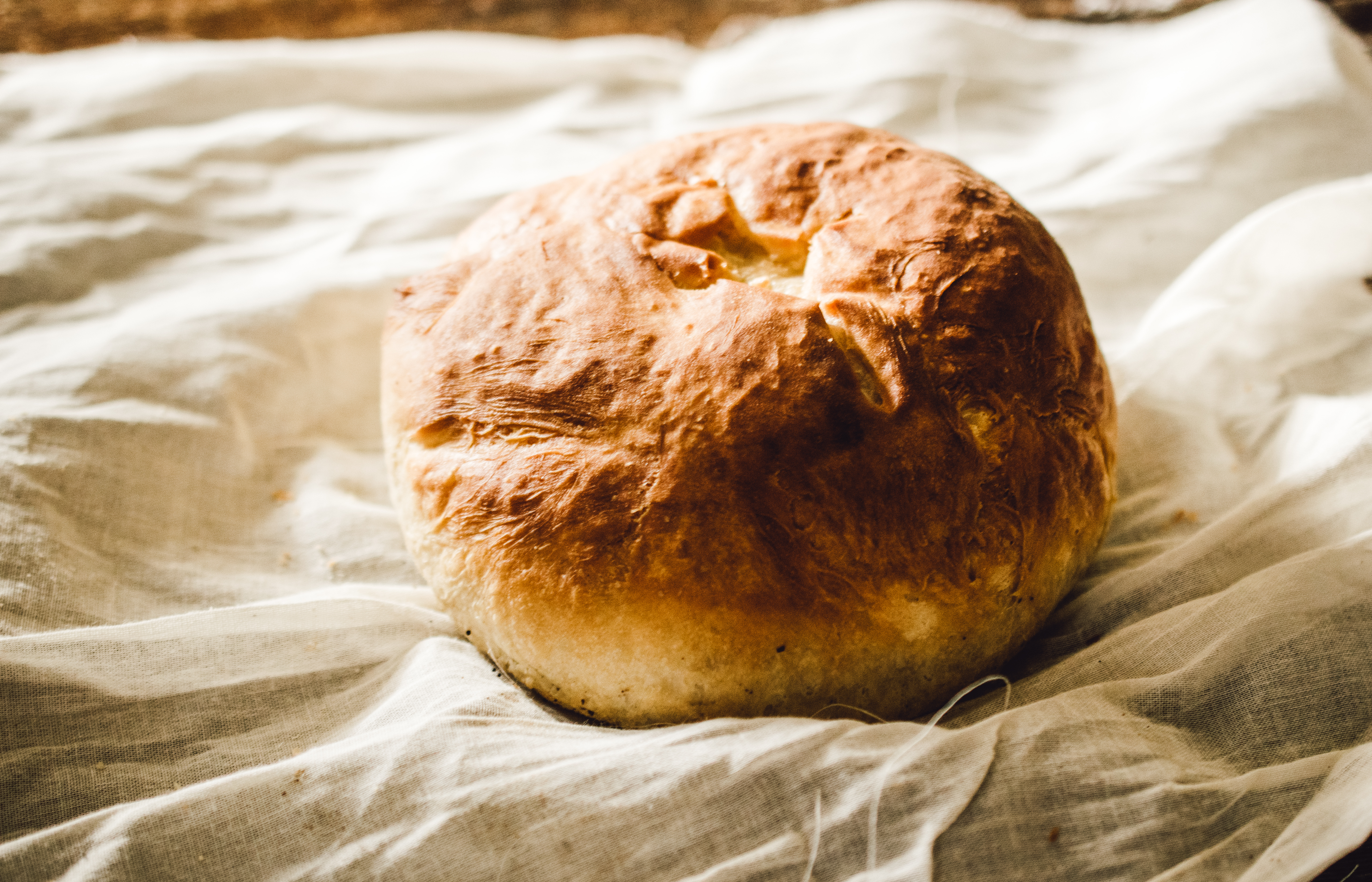 Whichever shape you choose to make, just follow the same recipe and rising instructions, and then shape your bread accordingly. Recipe can be used in the bread machine or oven. Scroll down to see specific step-by-step instructions on shaping the different loaves, and why you might choose one style over another. The actual recipe is at the bottom of the page.
While I have my personal preferences, there's no wrong loaf to use. If your family likes a particular variety then I'd say that is the correct choice.
types of homemade bread
bread boule
Let's start with my favorite. The crusty bread boule! Ahh... it's the best in my opinion. This is likely because it's mostly being used to scrape up any last bit of delicious sauce of a dish without having to flat-out lick the bowl. This is especially necessary with one of my absolute favorite dishes, Meatballs in Mushroom Sauce. It's what the Boule was made for. It can also be made into bread bowls, and filled up with this Beer Cheese Potato and Bacon Soup. Homemade bread bowls and Beer Cheese Soup? Yes, please.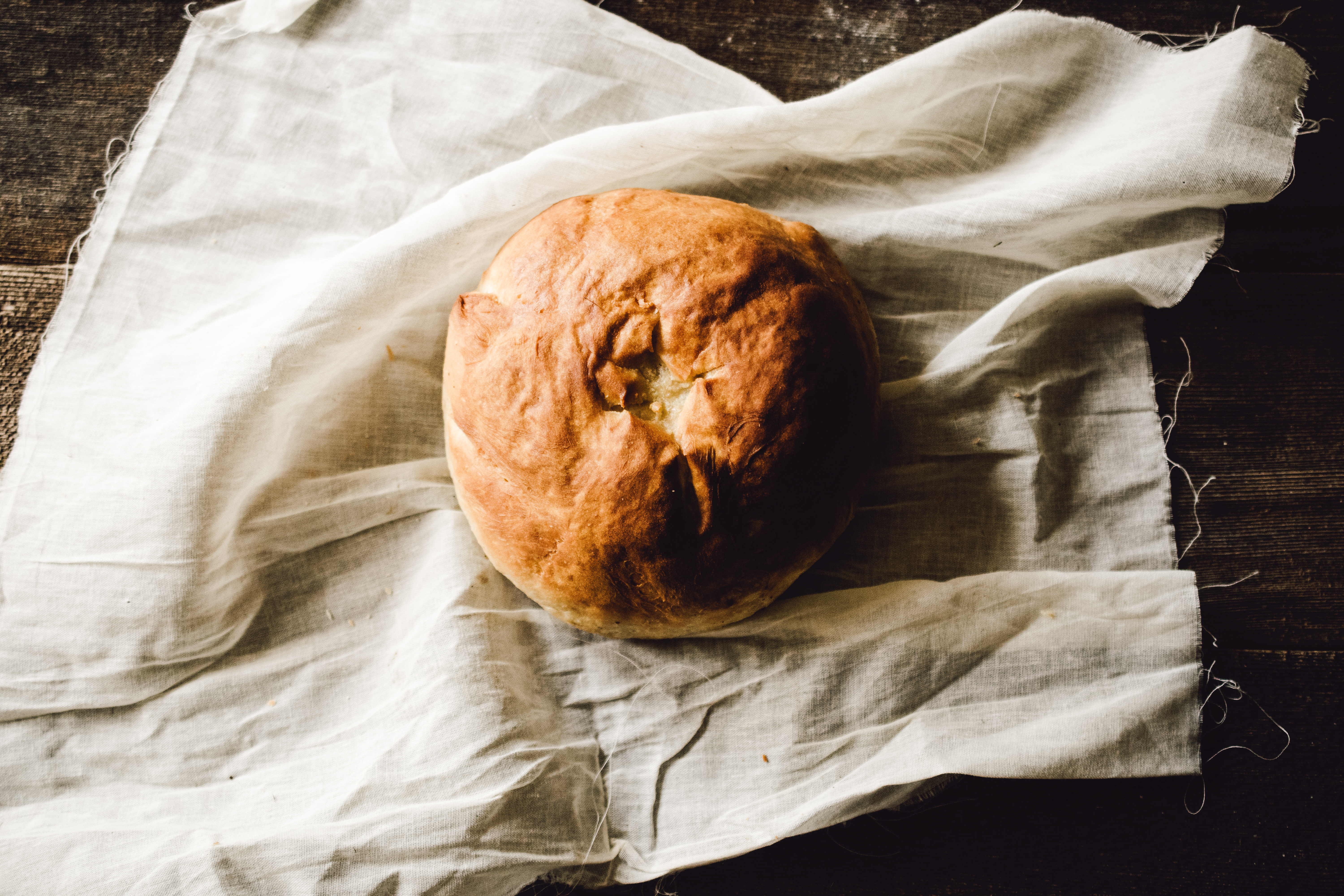 The Bread Boule is super simple to make. Once the first rise is complete, turn your dough out onto a floured surface (always on a floured surface) and form a thick disk. Transfer it to your iron skillet or round, greased baking pan for its second rise. Slitting the top will allow for a higher rise.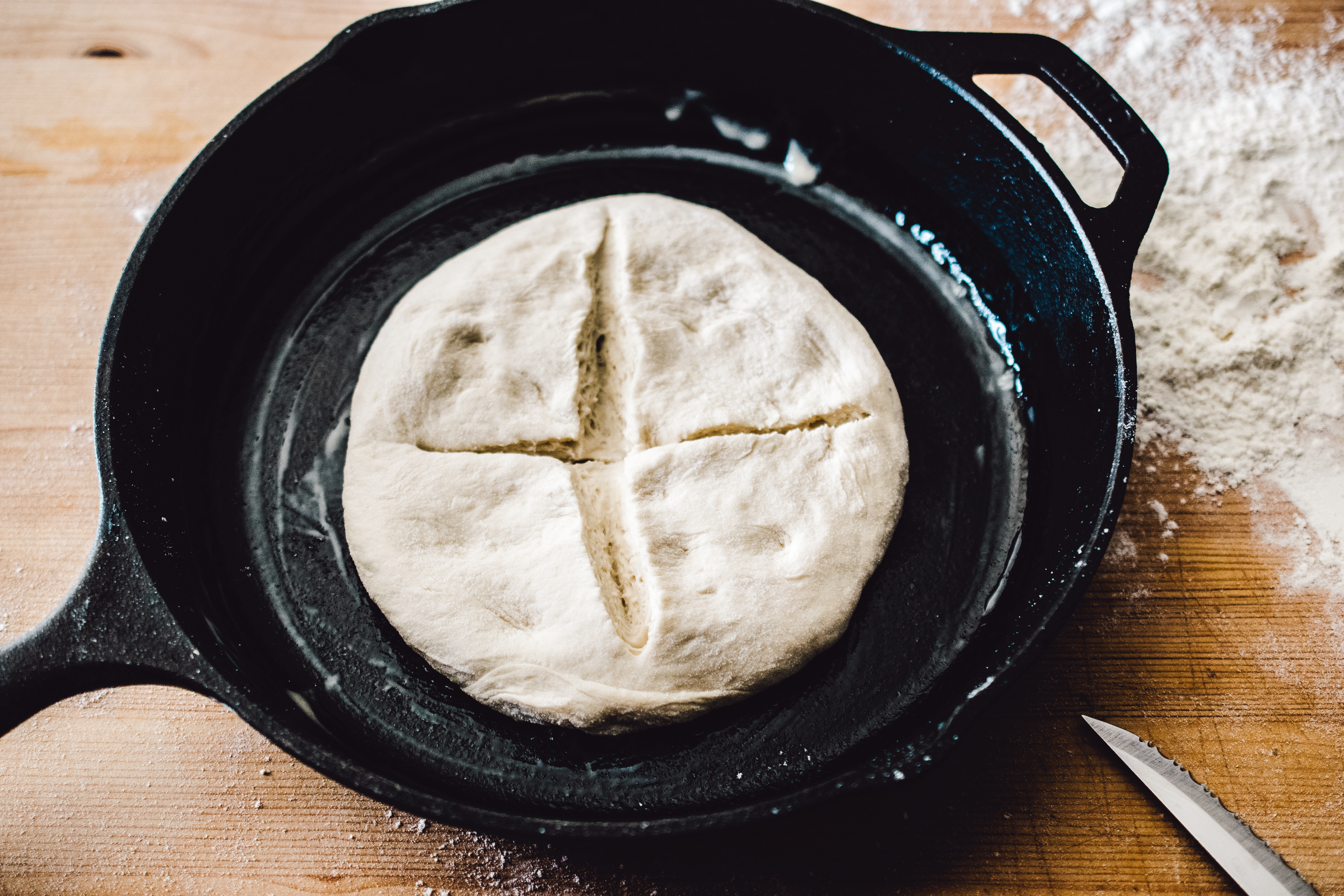 french baguette
The French baguette, or just 'French Bread' as most of us refer to it, is your typical long, split top loaf with a delightfully "noisy" crust. Like what they sell at the grocery store bakery to go with your spaghetti dinner. The inside is soft and chewy, and they are a delicious way to have some bread and butter. I also like to opt for a French loaf instead of a sandwich loaf when I want a more rustic sandwich, like a Braised Beef Dip, which is basically a next-level French Dip.
Although I don't need a recipe, or time on my hands. If I eye any left over bread from last night's dinner, there is a sandwich about to happen in my kitchen. A panini, to be precise. Like a no-recipe-required Chicken, Apple & Gouda Panini. (This happens to be my favorite kind of sandwich, although it's a close call to the Turkey, Pear & Swiss panini. Tough decisions! I think I'm going to do a post just on different, delicious Panini recipes.)
Back to the bread...
The inside of a French loaf should be lighty and chewy; it should make you want to pull it apart piece by piece in pillowy portions.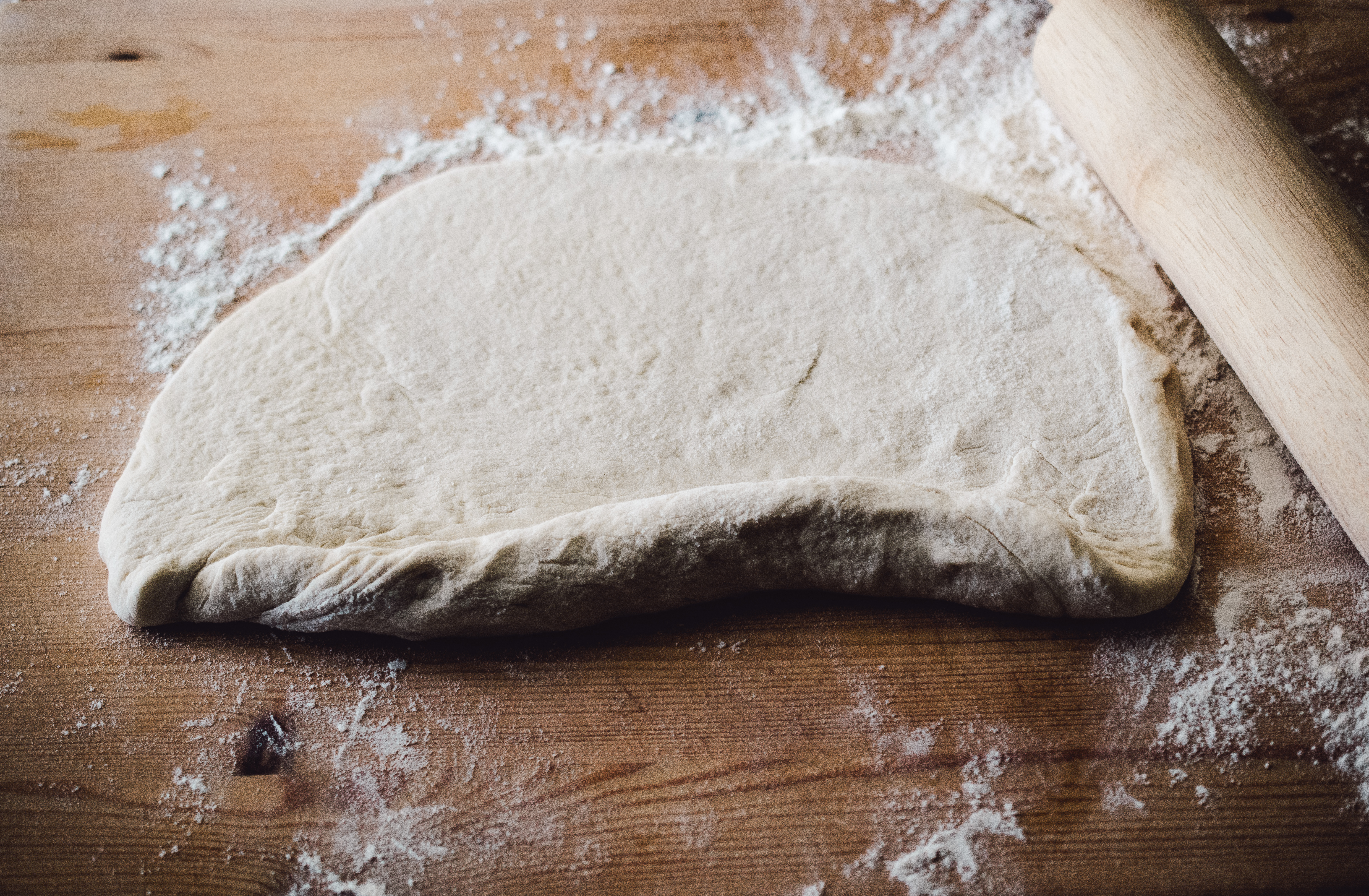 To get that classic chew, it's important to take the dough and roll it out into a big slab first. Making sure the surface is well floured will ensure that the dough doesn't stick. Then, carefully begin to roll it up like you would with cinnamon rolls. Just work your way in sections, from the middle to the edges, one complete roll-over at a time. Once you've successfully rolled it up into a tube, pinch any excess end dough together and twist, to make a nice, pointed edge that closes off the interior.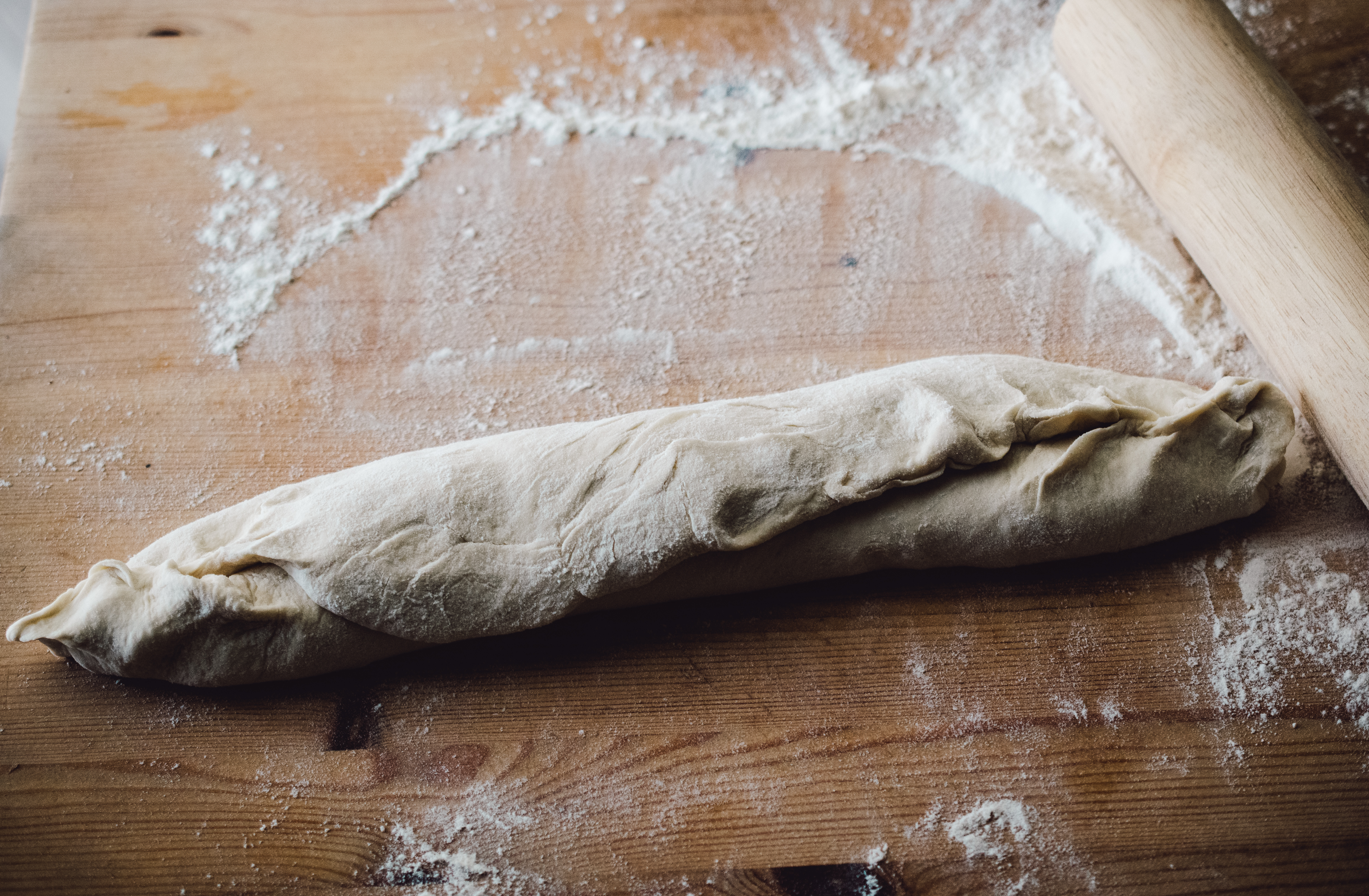 Flip it onto a baking sheet with the seam facing down. The loaf can be split, but not too deep as to go into the layers. The split is optional, it'll cause the loaf to rise higher, so you'll have a lighter loaf, as a opposed to an unsplit, dense loaf. That's up to your personal preference.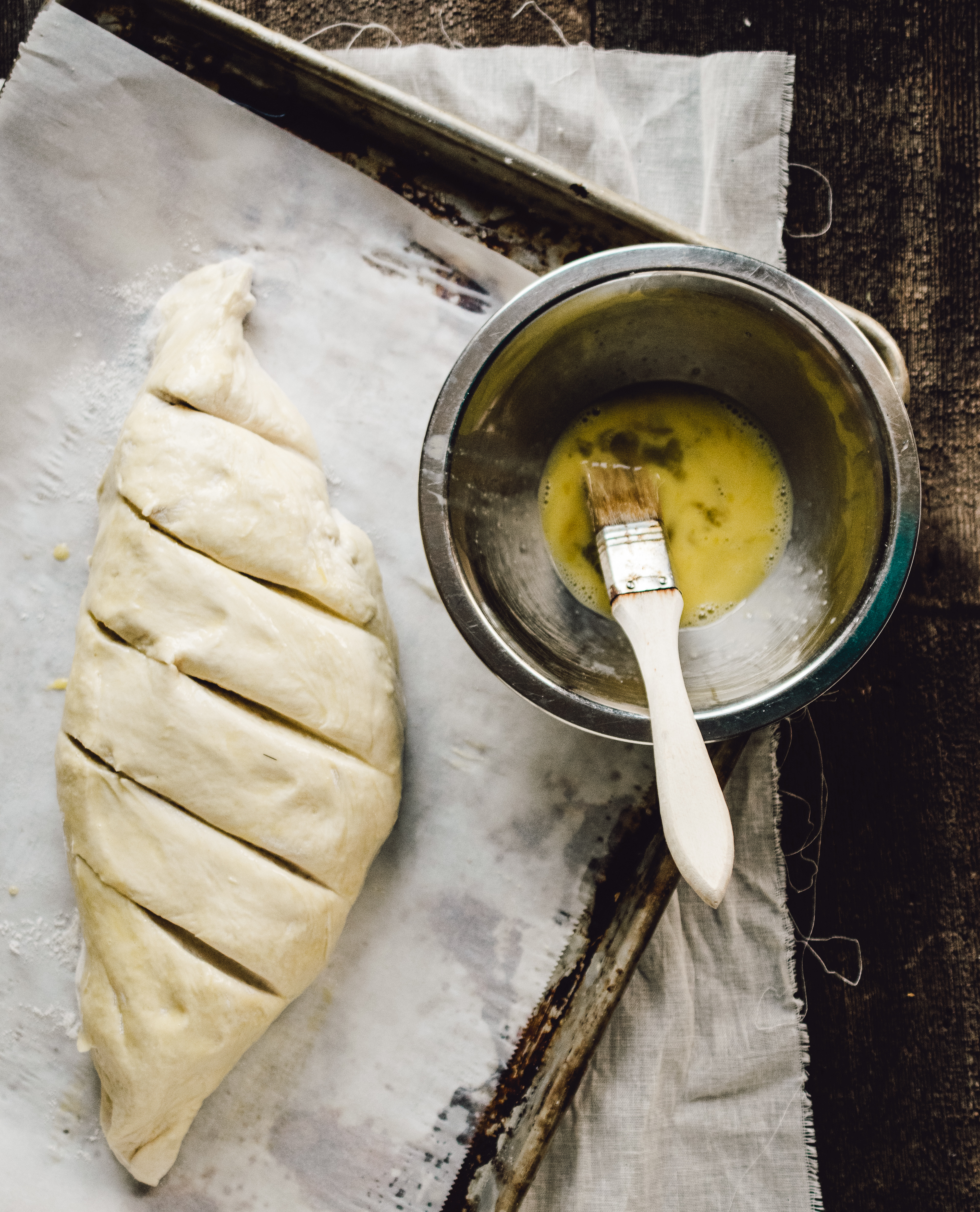 The outer crust of French bread should make a light crackling sound that you can hear when you squeeze it up to your ear. To help achieve this, I brush a light layer of egg or egg white over the top of the crust before baking. This also gives you a beautiful, golden sheen, but it's optional too. The air that circulates in the loaf due to its rolled structure allows for a tissuey thin, squeezable crackly crust.
Bypass your store bought garlic bread and bake up your own by making this classic French Bread. Slice it in half, butter the heck out of the top and bottom and sprinkle with garlic powder and italian seasoning. Sandwich it back together and wrap it in foil and bake at 350 for 7 minutes.
white sandwich bread
Last but not least, is the Basic White Sandwich Bread. A loaf of sliced sandwich bread is a key grocery staple in most households, but if you find that your family goes through a lot of bread per week, you might consider making your own to offset the cost. Every little bit adds up.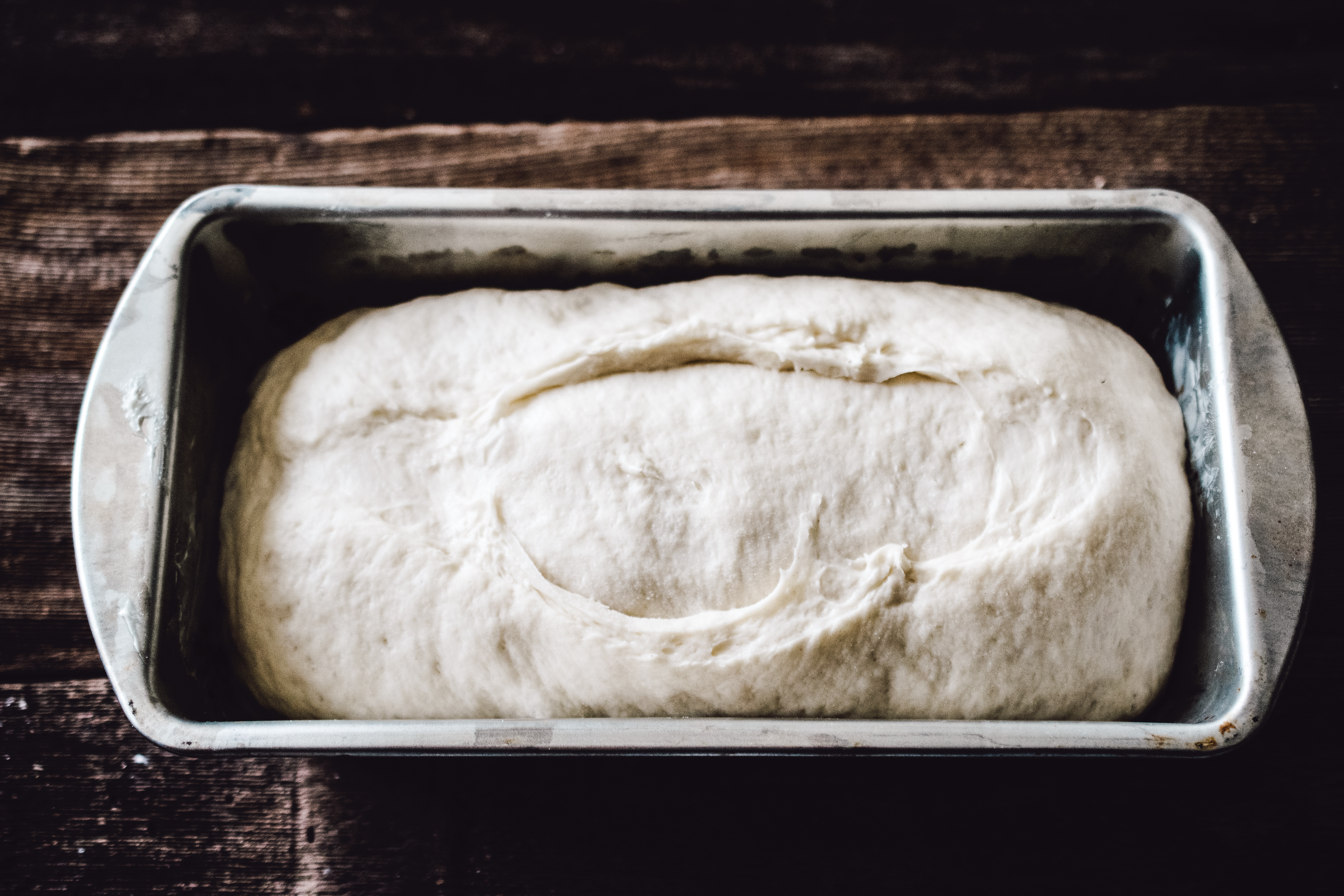 I mostly let my bread machine handle the sandwich loaf, but sometimes, I'll use the dough cycle only and bake it in my own pans. This particular recipe makes one large loaf or two smaller loaves. If your loaf pans are 4x8 or smaller, opt for the two smaller loaves. Divide the dough in half after the first rise, and transfer into two greased loaf pans to complete the second rise, before finally baking. If your pan is larger than 4x8 you can stick with one greased pan for one loaf.
A little tool I've found worth the few bucks, is a bread slice guide. They can be found online for under 20 bucks. For me, it's been money well spent. I can't get even, sandwich thin slices without it. Who can?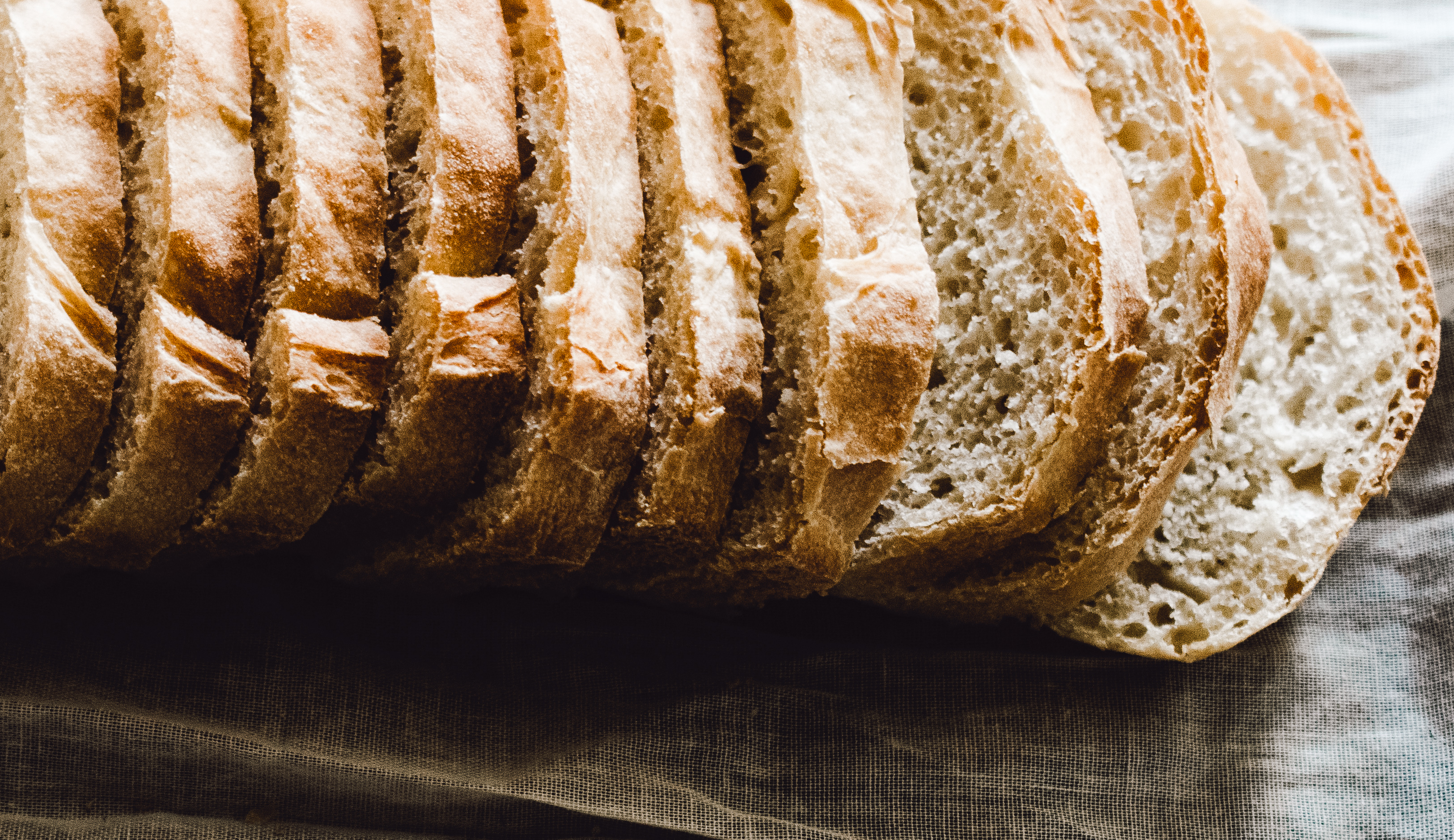 In addition to my slicing guide, (this one's kinda different) I use the electric meat carver my grandma gave me to slice it, and it's pretty slick! It was meant for carving Thanksgiving turkey, or Christmas ham I use it along with my bread slicing guide. I set my bread in the guide and plug in my electric knife and just start pressing down between the slats. This whips out perfectly thin sliced sandwich bread in 30 seconds. If you are interested in one of these electric knives, check Amazon and search for 'bread slicing guides.'
Whether you cook it in the machine, or in pans in the oven, make sure it's reasonably cooled before slicing.
using bread maker to make dough vs by hand
While bread dough is traditionally made by hand, you can also use the dough cycle on a bread machine to do the kneading and the first rise. I do this most of the time. This allows me to throw my ingredients in, and not have to make sure they're mixed, and walk away. I know the bread maker will combine the ingredients, knead them for the proper amount of time, and perform the first rise.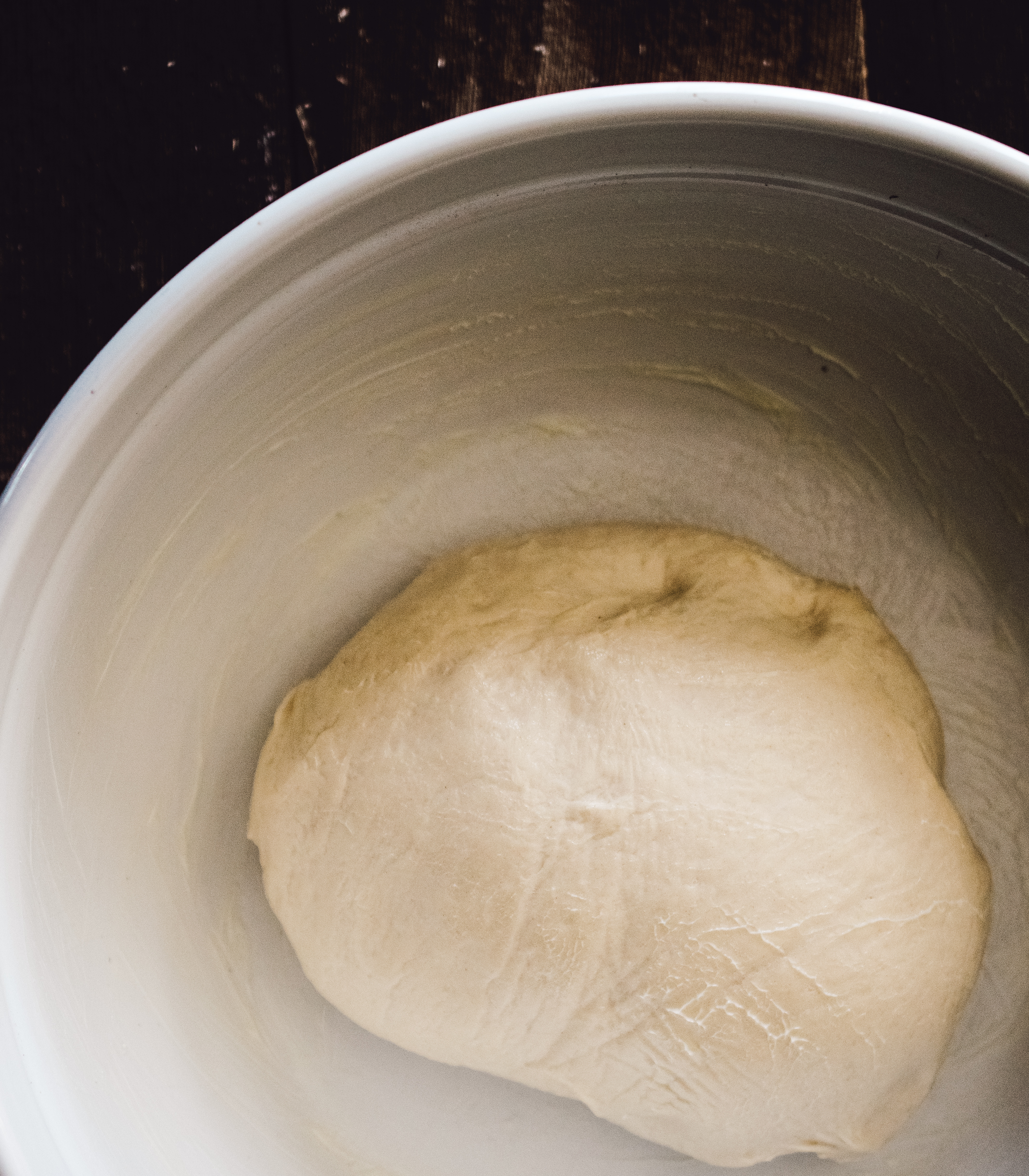 kneading dough
If you don't have a bread machine, or just prefer the by-hand method, you'll need to knead the ingredients together for a good 10 minutes. This works the glutens, and it's important, beyond just combining the ingredients. This is the process that's going to give the dough a stretch and chew, rather than a crumbly, dense loaf. If you are kneading by hand, you don't want to skimp out on this. You also don't want to over-work it either. Set a timer for 10 minutes and you're golden.
Whether or not you use your bread machine "dough setting" to knead and complete the first rise, you'll need to turn out the dough onto a generously floured surface for the shaping of the dough, prior to the second rise.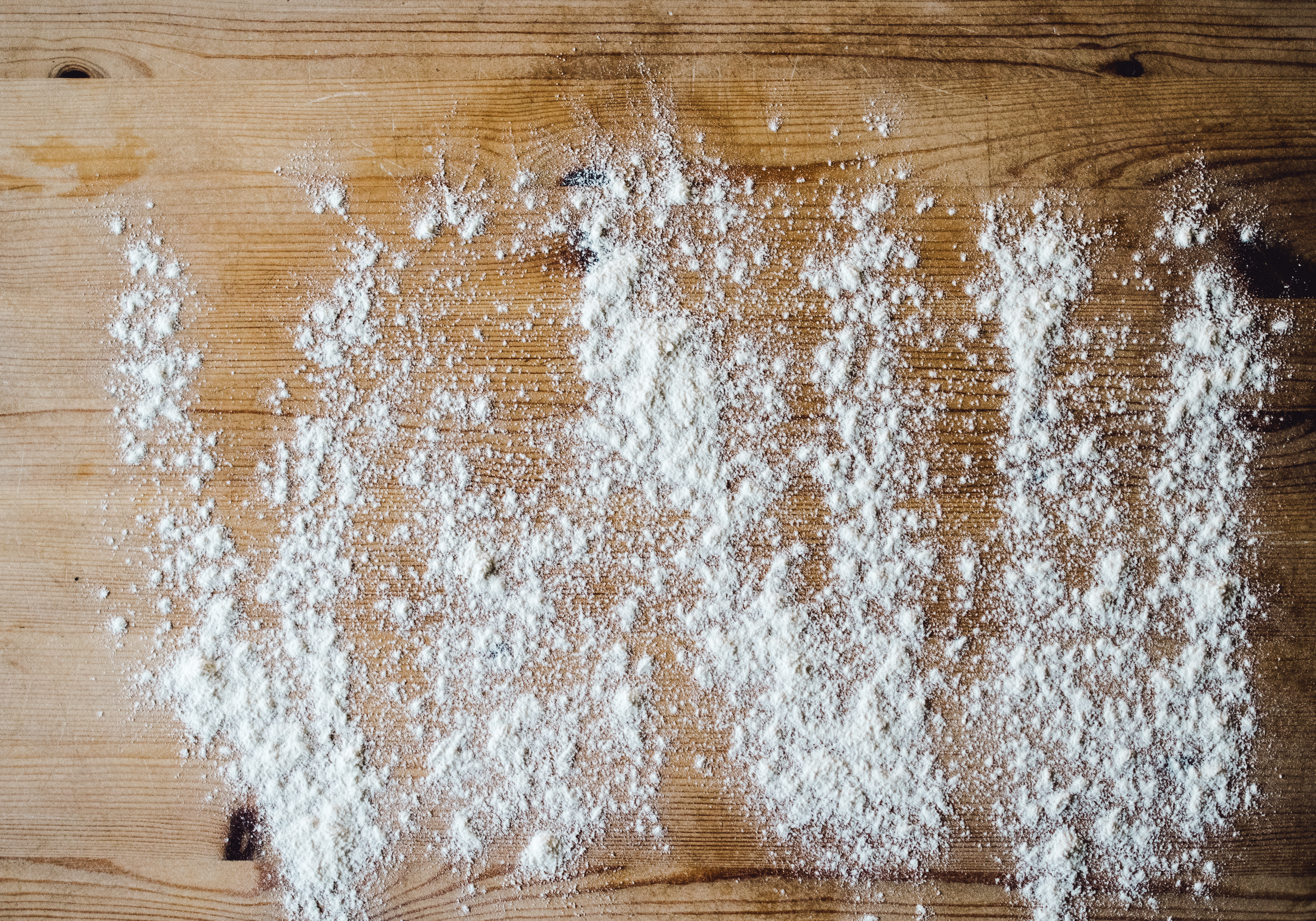 active dry yeast vs instant yeast vs rapid rise
I only deal with Active Dry Yeast and Instant Yeast, but I am going to explain them in addition to a third yeast that I don't use called Rapid Rise Yeast, because it's important to make the distinction between them when you go to bake your bread.
The difference between Active Dry Yeast and Instant Yeast basically comes down to the fact that Active Dry Yeast needs to be dissolved in the warm water first. Ironically, given the name, this is to "activate" it. Use the liquid that the recipe calls for if you're using this type of yeast.
Many sources that will tell you that you need an exact temperature and thermometer to do this. There's a little more wiggle room than that. A temp between 105 and 115 degrees Fahrenheit is ideal. You can use a thermometer, or you can "feel it". The way I do this, is to hold my finger under running water, and if I can comfortably do so for at least 10 seconds without having to take it out, then it's probably not too warm. I always use the "feel it" method. Basically, if it's too cold it won't activate and if it's too hot it will kill it. If you aim for lukewarm it will still activate, it might just take a few minutes longer to do so. Whenever I have a bread question, I head over to King Arthur Flour, and they have a really helpful article on yeast in case you want more info.
If you use Instant Yeast, or Bread Machine Yeast just dump it in with everything else. None of the dissolving of yeast in the right temperature to activate it. Just measure and mix. I use what's available at the store at the time in the large jar.
Instant yeast can also lessen the rise time. If you are wondering why someone would choose a longer rise time and more work, over just using Instant Yeast, it's because some people can notice the lack of "yeasty" taste that comes from using Instant Yeast. This can be from the fact that rise time equals flavor, so, shorter rise time equals less flavor. Personally, I don't notice a huge difference.
rapid rise yeast
I'll mention a third, weird yeast (at least it's weird in my opinion), and that's Rapid Rise. I used to confuse Rapid Rise Yeast with Instant Yeast. Rapid Rise works in a way that eliminates the need for the first rise, so you just knead the dough, shape it, and bake it. I don't like to use it because I don't think it tastes good, and it's confused me so much in the past that I'm mad at it now.
So to recap:
Rapid Rise, cannot be substituted for any other yeast, I avoid it if at all possible, and none of the instructions or information I'm giving in this post apply to Rapid Rise. Instant Yeast and Active Dry Yeast can be used interchangeably, BUT: Active Dry Yeast needs to be dissolved in warm water for 5 minutes until foamy (active) before being added to the ingredients; and Instant Yeast is already active and can be added in all at once with everything at the same time.
letting the dough rise
first rise
(If you are using the bread machine's dough cycle to knead for you, you don't need to worry about the first rise. It completes that part. When the dough cycle is complete, that's the end of the first rise. You don't want to let dough overly-rise because it can rebound and make the dough just implode; and it'll bake up very hard, so keep an ear out or an eye on that timer so that you know when you're coming up to the end of your first rise. Refer to your specific bread maker's instruction manual on how to use the dough cycle setting.)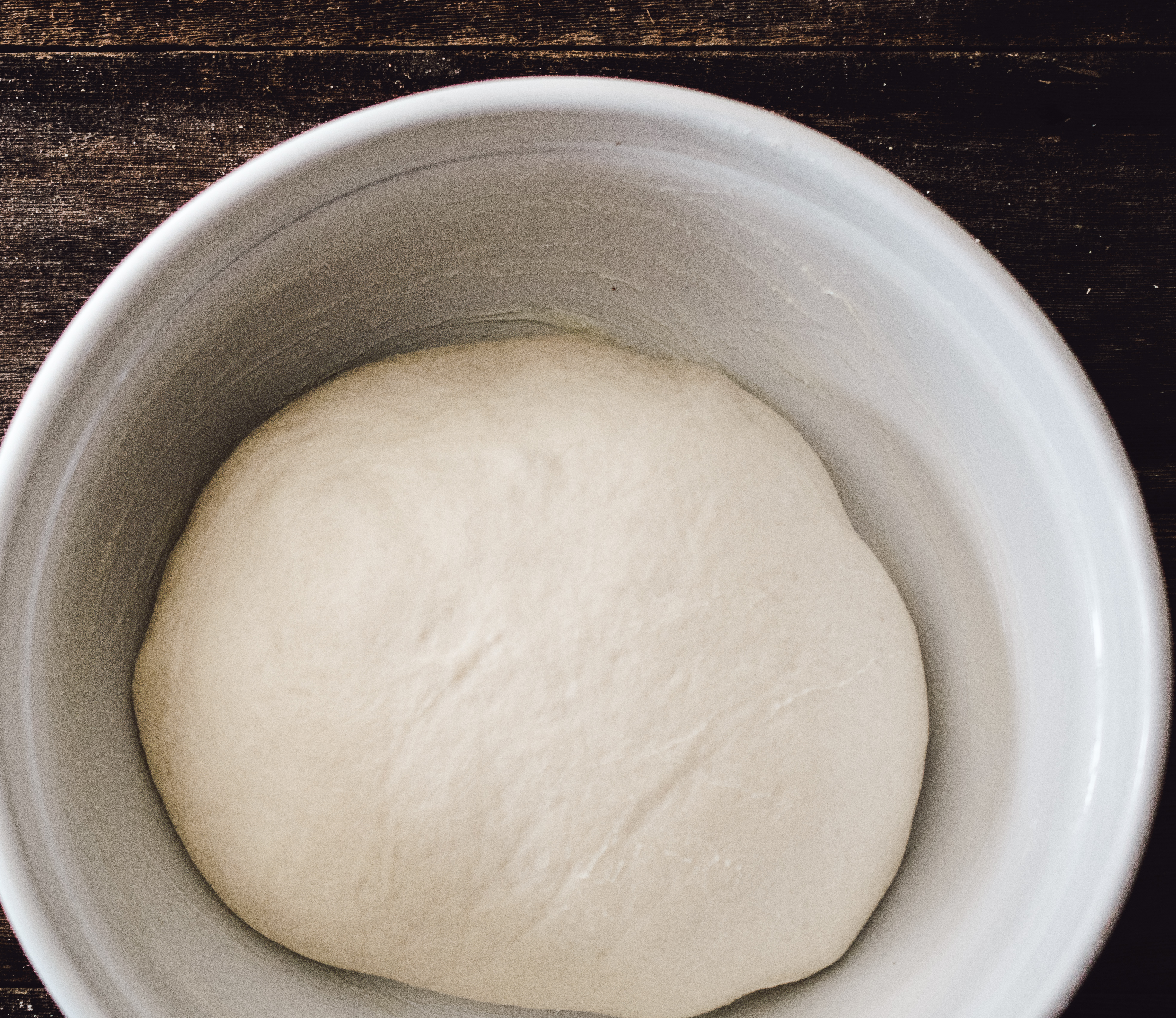 If you are not using the bread machine dough cycle, and instead using the by-hand method, and you have completed the 10 minutes of kneading (either by hand or using a dough hook on your standing mixture), tuck the dough into a little ball and place it in a greased bowl. Cover and let it go through it's first rise, in a warm and non-drafty spot. The dough is done with the first rise after it's doubled in size. Many things will affect the rise time, including the age and quality of the yeast you use, the temperature, the moisture in the dough and even the humidity of the air.
Suffice it to say, that you need to keep an eye the first few times until you get to know how dough acts in your home; although this can also change with the seasons. This is another reason why the bread machine is so helpful, because it keeps the dough at a resting temp and without draft.
However... it is done with it's first rise when it has doubled in size. If you aren't completely sure, give it a gentle poke with your finger. If the indent remains, it's done.
shaping the dough and the second rise
Once the first rise is completed, shape your dough for its second rise. Choose the type of loaf you want from the choices above, and create them on a floured surface. Then transfer them to the bake ware that they will cook on, where they'll also complete their second rise. If you are not using nonstick bake ware, be sure to grease it or use parchment paper.
You have the option to cut a shallow slit, or slits in the dough; this allows the second rise a little extra "oomph". It gives the surface of the dough more ability to stretch as it rises. Don't cover it too tightly here, we don't want to restrict rising. Once the loaf has again doubled in size, consider whether you want to carefully brush on some beaten egg, or leave it alone. The egg will just give the squeezable crackly crust with a boost of shine.
Bake the loaf in a 400 degree oven for 20-25 minutes.
finding a bread machine
You can find a bread machine easily, for under a hundred bucks and upwards a few hundred. Even though I shape my own loaves 95% of the time, using the dough cycle on my machine helps me get the hardest part, and the bulk of the chore completed without worry. It combines the ingredients, kneads them for the proper amount of time, and then performs a first rise at a perfect temperature with the perfect amount of air flow. That takes a heavy load of what I have to do.
No, it doesn't bake a French-loaf-shape, but it does hand me the perfect dough, that i can easily shape and set on a baking tray in 2 minutes, cover with a towel for a bit, and then bake. That's pretty hands-off for me, and pretty cool! This recipe works, every time. And I've spent a lot of trial and error getting it right.
I hope this helps anyone who's been seeking a simple bread recipe along with basic techniques to form gorgeous, homemade bread loaves. Or, if you're thinking about getting into a more from-scratch routine, I'd love to connect. It's the reason that I have this blog; so leave me a comment if you have a question or thought and let's chat!
I believe the way we cook and eat can change the way we live. It takes time, but this is where I started... the simple staple that is bread.
For now... happy from-scratch bread baking!
something extra
If you are looking to walk a little on the wild side, try this recipe for this super popular Garlic Knot Bread Braid. Go ahead and click for yourself!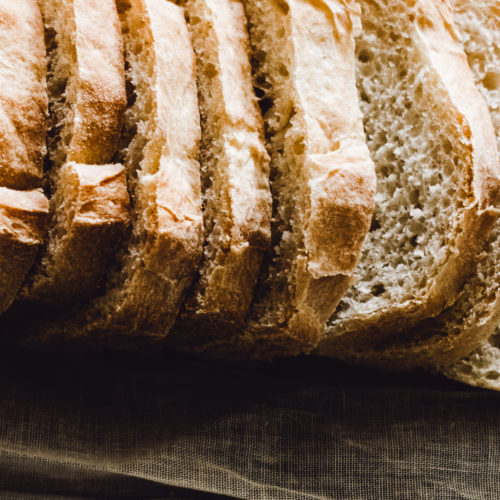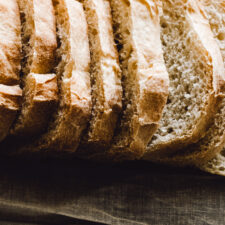 Basic White Bread Dough
Basic white bread recipe for either oven or bread machine, for use as french bread, boule, or sandwich bread
Print
Pin
Rate
Ingredients
3

cups

all purpose flour

1

cup

water

2

tablespoons

sugar

2

teaspoon

salt

2 ½

teaspoons

active dry yeast
Instructions
In a liquid measuring cup, add yeast to the lukewarm water; stir and let sit 5 minutes until a layer of bubbles appear. In a medium bowl, combine the yeast and water mixture with all other ingredients until a dough ball forms. Turn dough ball onto a generously floured surface and knead for a full 10 minutes. Place in a greased bowl and cover in a warm, non-drafty area. Let rise until doubled in size, about 1 hour. (Alternatively, this can be done in a bread machine, by selecting the 'Dough Cycle'. The end of the cycle is the end of the first rise.)

Turn dough back out onto a floured surface and form a French Loaf, Boule, or a simple sandwich bread loaf. Slit the surface of the loaves by either splitting it down the middle, or slashing shallow slits along the length.

Let rise again, until doubled in size, another 30-60 minutes.

If desired, brush with beaten egg or egg white right before baking, for a golden, squeezably crackly crust. Bake at 400 degrees for 20 to 25 minutes.