This is a safe space, right? I'll be honest. Making homemade bread-anything used to be the bane of my existence. My arch-nemisses in the form of an uncooperative, sticky mass of barely edible clay. I wanted so badly to master it, because its part of the whole "from scratch" lifestyle that I do my best to adhere to. But the loaves always came out dense and brick-like; the rolls about the consistency of a can of chew, and the bread sticks… well… let's just say that you wouldn't want your little kids running with them.
The bread journey is an on-going one. Having gone through the struggle (they're right, it actually is real) I've got these hoagie rolls down. I wouldn't post them otherwise. And I certainly wouldn't upload a video of them "workin the camera" in slow-motion to Pinterest, if I didn't feel 100% confident that they were very good. 
I really encourage anyone who is struggling with their bread making to stick with it. Every accidental paperweight that gets made is a lesson learned, and a technique streamlined. It gets you that much closer to being a good bread-maker. The bread machine that I have is the only one I've ever had. Its moved across the country with us and it's still going strong. I have had to replace the little removable, collapsable paddle that kneads it inside the pan but those can be bought individually for that reason. They just wear out. And if you use your machine almost daily, like I do, it's bound to happen. 
Now, I've included a link to the exact bread machine that I own, in case anyone is interested. If any clicks result in a purchase over the next 24 hours (of any item off of Amazon) after clicking the link, I will make a small commission. I have to state that, but I would not include a link to any product that I wouldn't suggest to my own family and. As I said, this is the exact machine I use and it has not failed me. It's also very simple, with minimal buttons and settings, which is nice because bread should be simple.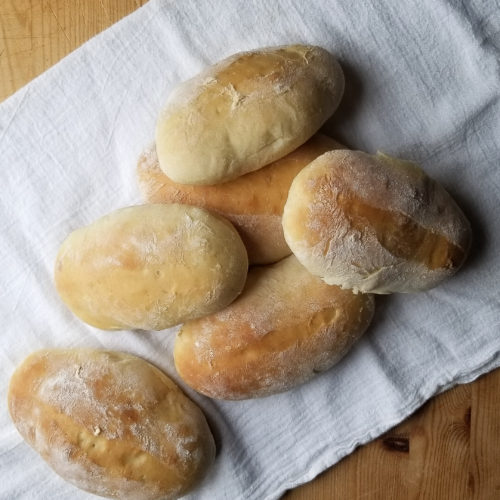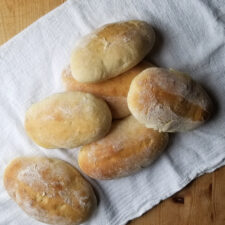 Homemade Bread Machine Hoagie Rolls
Soft, melt-in-your-mouth hoagie rolls recipe using the bread machine dough cycle.
Print
Pin
Rate
Ingredients
3 1/4

cups

bread flour

2

large eggs

3/4

cups

water

2

tbsp

milk

1 1/2

tsp

salt

2

tbsp

sugar

2 3/4

tsp

active dry yeast

3

tbsp

butter
Instructions
Add all ingredients to bread machine and set to dough only cycle.

When cycle is complete, turn dough out onto a floured surface. Using a dough scraper or knife, divide dough into six equal parts.

Roll each section into a long tube about 4 inches long, flatten to about 3/4 inch thick and slice each top long ways with a sharp knife, down the middle. This helps the rise further. Let rise another 30 minutes.

Preheat oven to 375 degrees.

Bake 20-25 minutes until golden brown. Once cooled, slice for sandwich making.