Are we done with winter yet? Close enough. Let's just breeze on through spring while we are at it, and get right to what really matters. The zucchini. Before we know it, gardens will be busting at the seams; and we can't have enough ideas centered around these summer beauties. Looking for a new way to use up all of that zucchini and squash?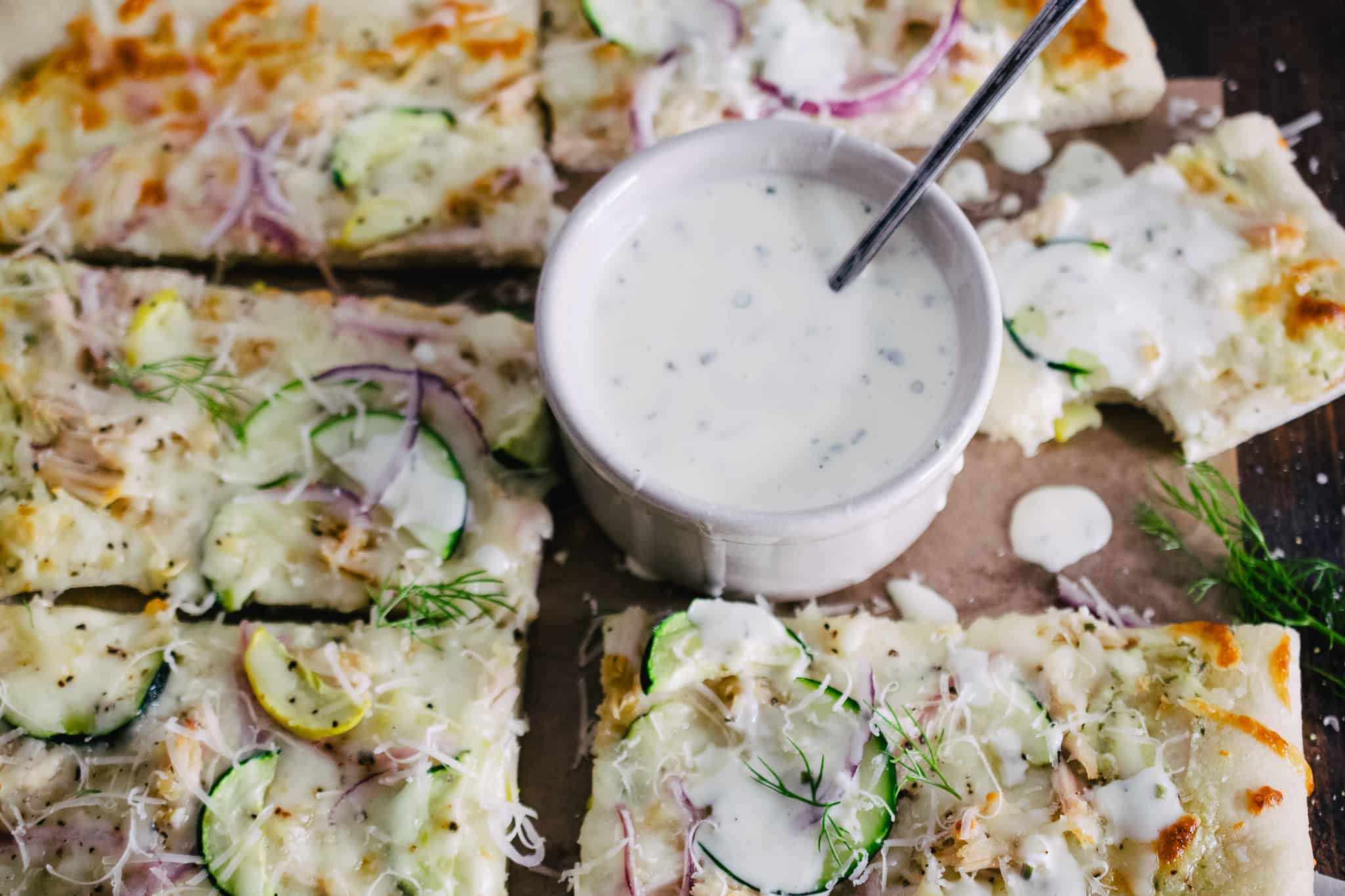 keep the zucchini as a vegetable
So, you don't have to shred up all of your zucchini and use it in your grandma's best zucchini bread recipe. As delicious as that is, (and it is!), there is one sure-fire way to serve your picky eaters zucchini and squash that they will knowingly partake in eating. Pizza. Of course! And ranch. He-llo!!! It's so simple. And it's a complete, rounded meal since it's got all the fixings of dinner right in the toppings.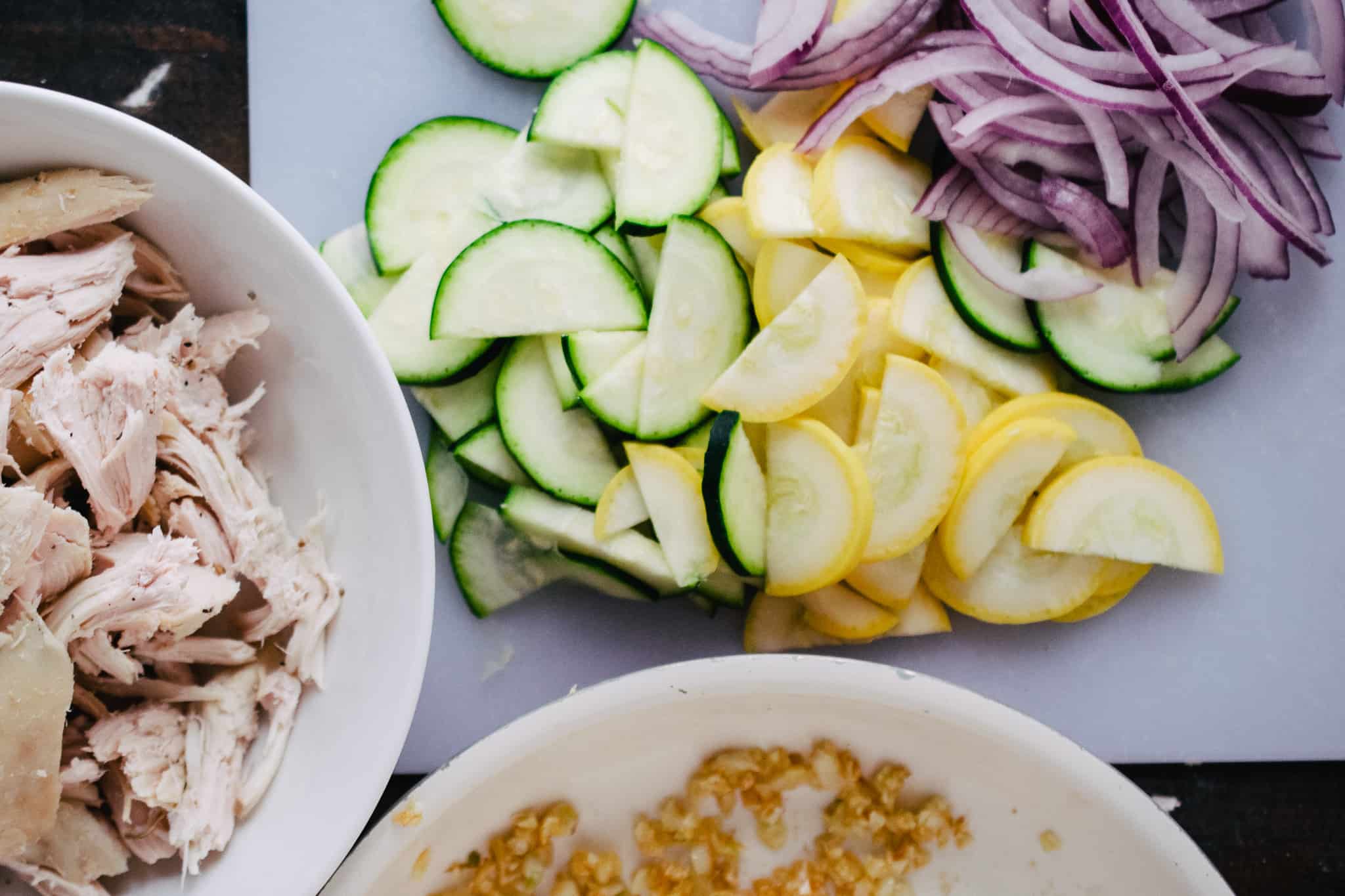 put zucchini on chicken ranch pizza
Right?? Yes. Does your family like pizza? Does your family like ranch. Chicken Ranch Pizza with zucchini is perfect, then. If you're trying to get this summer garden staple onto those plates in an easy, delicious way that everyone will want a piece of, this is it. 
keep it simple, from scratch (or not!)
Making your own ranch sauce is not a difficult feat. Nor is making your own pizza dough. Both take about 5 minutes each of hands-on time. However, if you are short on time, hit up your local pizza joint and they'll often sell pizza dough. You can also check the refrigerator section of most grocery stores to find a pre-made pizza dough.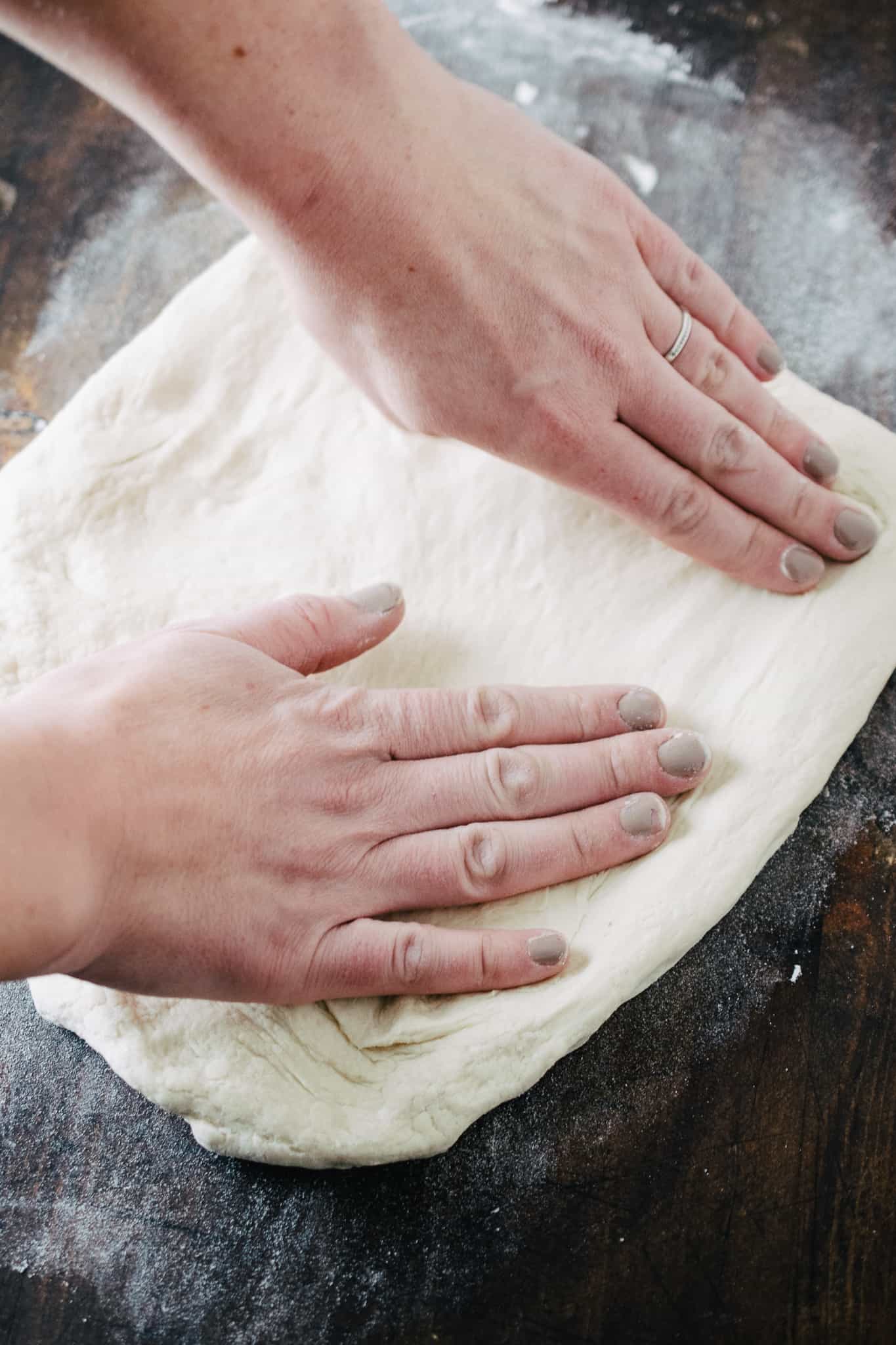 making ranch sauce for pizza
Ranch dressing, ranch sauce, dip… whatever type of ranch condiment you are talking about; is very basic blend of seasonings with a creamy base. That base is almost always a mayonnaise with milk or sour cream, with the addition of certain spice and seasoning blends. In other words, it's extremely easy to make and almost always tastes way better than store bought.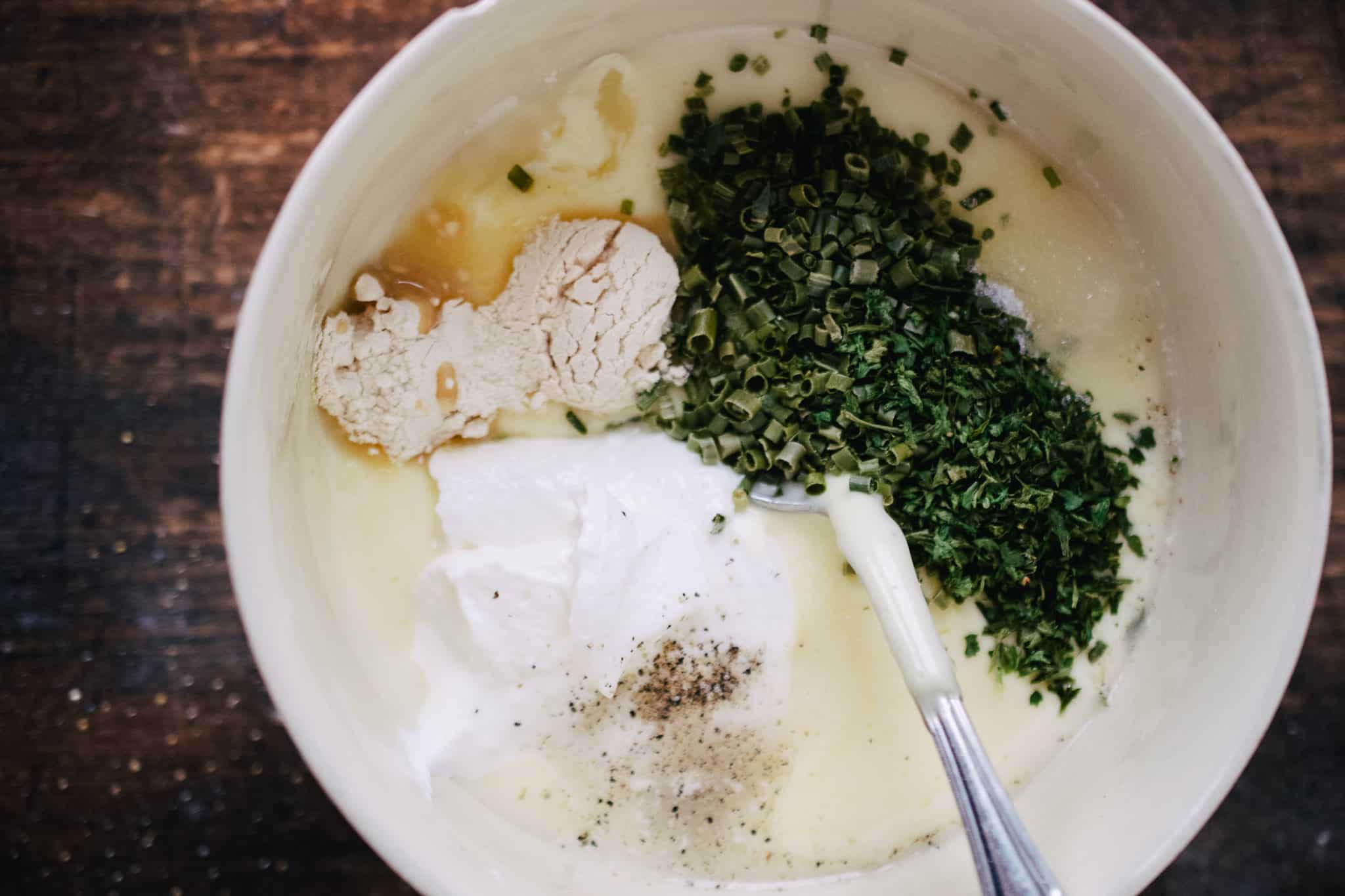 The pizza dough is as easy as combining the ingredients, letting it rise, and then stretching it out onto a baking sheet. Pizza dough is best when you let gravity do the work and stretch it, rather than roll it out with a rolling pin. That's what gives it it's chewy bite. 
Once you have the super simple crust and ranch sauce prepared, it's just a matter of topping the pizza with the ingredients that normally go on a garlic chicken ranch pizza. Plus the addition of the veggies, including a little extra garlic.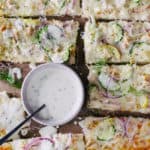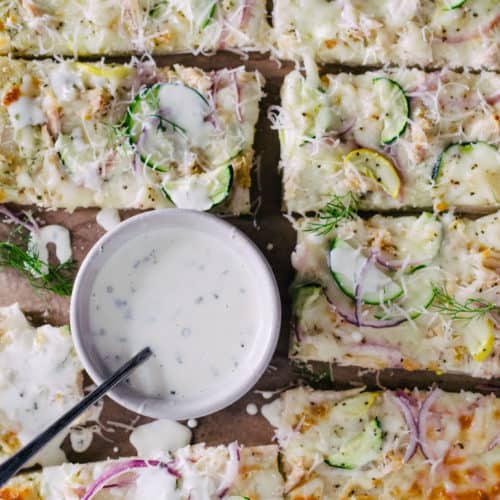 Print Recipe
Garlic Chicken Ranch with Zucchini Pizza
Homemade crust, savory ranch sauce, zucchini, red onion, shredded chicken breast, and plenty of garlic and mozzarella cheese
Resting Time for Dough
1
hr
Ingredients
For the Dough
4 1/2

cups

all purpose flour

1 3/4

cup

lukewarm water

plus or minus a tablespoon

2

tsp

sugar

1 12

tsp

salt

2

tbsp

olive oil

1

tsp

yeast

corn meal

for dusting
For the Ranch Sauce
1

cup

mayonnaise

1

tbsp

milk

1

tsp

white vinegar

1/2

tsp

garlic powder

1/2

tsp

onion powder

2

tsp

fresh or dried chives

minced if fresh

1

tsp

fresh or dried parsley

minced if fresh

1

tsp

fresh or dried dill

minced if fresh

1/2

tsp

sugar

1/2

tsp

salt

pinch

black pepper

to taste
Toppings
4

cloves

minced garlic

1

tbsp

butter

for sauteing garlic

1 1/2

cups

cooked chicken breast or rotisserie

pulled apart into bite size pieces

1

pound

mozzarella cheese

shredded off block

1

medium

zucchini

cut into half-moons

1/2

red onion

slivered

shredded Parmesan cheese

optional, for garnish
Instructions
For the Crust
Combine all ingredients by hand, in a standing mixer, or in a bread machine on the dough cycle. Knead for 10 minutes, cover and let rest for 1 hour. (Bread machine dough cycle will do the knead and rest time).

Preheat oven to 400 degrees.

Once the dough has rested, turn out onto a floured surface. Use finger tips to begin pressing it out into the shape of pan you will be using.

Using fingertips, pull and stretch the dough into a larger, thinner slab.

Sprinkle a baking sheet with cornmeal.

Transfer pizza dough onto baking sheet and press into corners and edges to fit.
For the Garlic Ranch Sauce
Combine all ingredients in a medium bowl, whisking until completely blended. Spread an even layer on uncooked pizza crust.
Top the Pizza
Saute minced garlic in a tablespoon of butter until fragrant. Set aside.

Add half of the freshly shredded cheese on top of the sauce, followed by zucchini, onion, chicken, and minced garlic.

Top with remaining shredded cheese

Bake at 400 degrees until edges are golden brown and cheese is melted, about 20-25 minutes.

Garnish with freshly shredded parmesan cheese, fresh dill and more ranch dressing. Slice, and serve!
Notes
Pizza dough can be made up ahead of time and left to rest in the refrigerator. Let come to room temp for 20 minutes before stretching it into crust. 
Ranch sauce can be made ahead of time and stored covered, in the refrigerator until ready to use. 
If you'd like extra ranch for serving with the pizza after it's cooked, double the ranch sauce recipe, and then after using half of it for the sauce, thin the rest out with a couple tablespoons of milk and whisk. Store covered, in the refrigerator until ready to drizzle over baked pizza. 
Summer squash also goes great with the zucchini and can be used with it; keep in mind yellow summer squash has more seeds. 
When making the ranch dressing, fresh or dried herbs can be used. If using fresh, make sure to mince well. 
Store leftover pizza in the refrigerator and heat on a cast iron pan or baking sheet in the oven at 200 degrees for 10 minutes.